Mastering Global Cooking – French: An Interview with Clotide & Coq Au Vin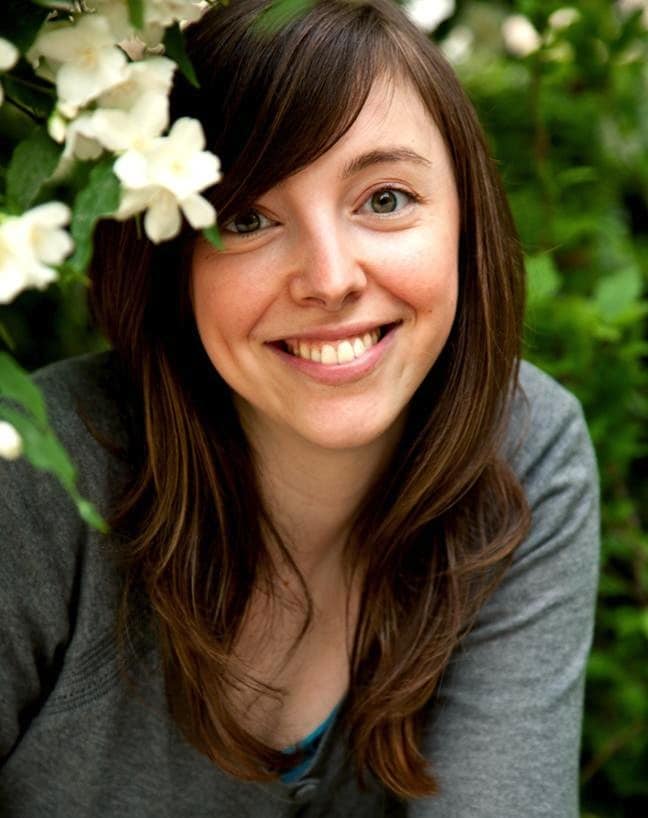 And now for one of the cuisines I have been looking forward to most – FRENCH. How can you not love French cooking? It's butter, butter, bread, and butter! 😉 This month I had the pleasure of interviewing Clotide Dusoulier from Chocolate & Zucchini!
If you could start us off with telling everyone a little bit about yourself and your blog…
My name is Clotilde Dusoulier, I am a 34-year-old French food writer based in Paris, and I write a food blog called Chocolate & Zucchini, in which I share my cooking adventures, with a focus on simple, colorful, seasonal recipes.
When did you first start cooking?
I started to cook in my early twenties, when I moved to California to work for two years. I was blown away by the cultural differences between the French food I'd grown up with and the many ethnic and American dishes I was discovering, and exploring the world of food became my favorite thing to do with my free time.
You have a new cookbook that just came out (congratulations, by the way!)! Could you tell me a little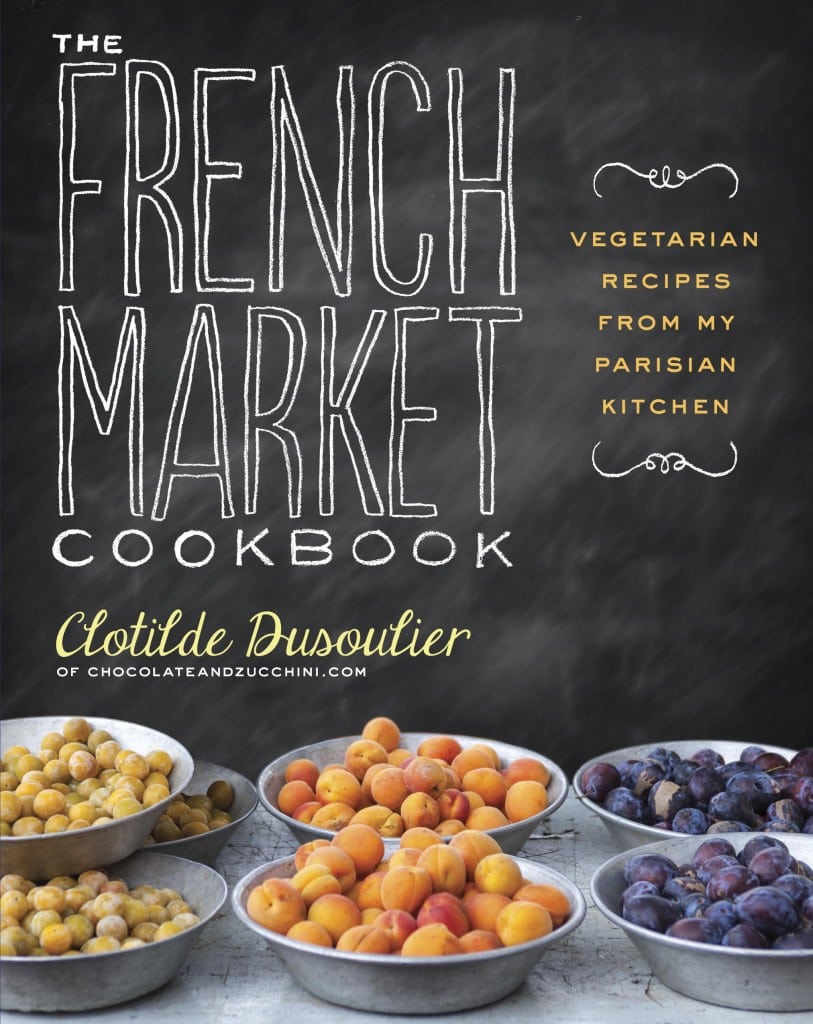 more about it? What is your favorite recipe to cook from your new book?
The French Market Cookbook is a book that celebrates the love story between French cuisine and vegetables. Often times, when people think about French food they think of a very meat- or fish-centric cuisine, and indeed it is true of classic French cuisine. But contemporary cuisine and the many regional cuisines of France provide a lot of inspiration if you want to eat a more plant-based diet. I wanted to collect a book's worth of recipes that would show just that.
It's hard to name just one favorite from the book, but one of my happiest discoveries is pascadous, or "green pancakes". A simple, fluffy, and absolutely delicious way to eat your greens.
In your opinion, is French cooking difficult to master?
I don't think it is, actually: classic French cuisine is so well documented, you can easily get a sense of the basic sauces, techniques, and preparations to master. From then on, most dishes are mere combinations of these building blocks.
Are there any dishes that you consider staples of French cuisine (i.e. how in the world do I narrow down all the amazing dishes to the ones I should try to master first)?
With any cuisine, there is no "should" — I think the trick is to follow your appetite and your curiosity. Any cuisine feels overwhelmingly vast to master at first, but you have to ask yourself, "What is the single dish that makes me most interested in this cuisine?" and start from there. I am personally very fond of vegetable tarts and quiches, so that could be a good angle to start from.
What sets apart French cuisine from others? Is it really all about butter as Julia Child would say? 😉
It stops being all about butter when you reach the southern half of the country! Then it's all about olive oil and duck fat. 🙂 It's hard to pinpoint exactly what sets French cuisine apart from others, but I think it has to do with the basic set of techniques, and the way seasonality is celebrated.
If you had to choose, what would be your ultimate full course French meal?
I'll cook from my book if I may! For this summer, I would start with my shaved fennel salad with preserved lemon, then small vegetables stuffed with beans and barley, and I would end with a peach, almond, and cardamom clafoutis. Want to come over? 🙂
Well I think the answer to that is obvious…. YES!!!
French food has a very near and dear place in my heart. My grandmother Alice studied French cuisine and she was the one who introduced me to Julia Child. Probably the reason I studied the French language for so many years! For some reason, French cooking is like coming home to me. This just happens to be my birthday month so it is perfect timing! 🙂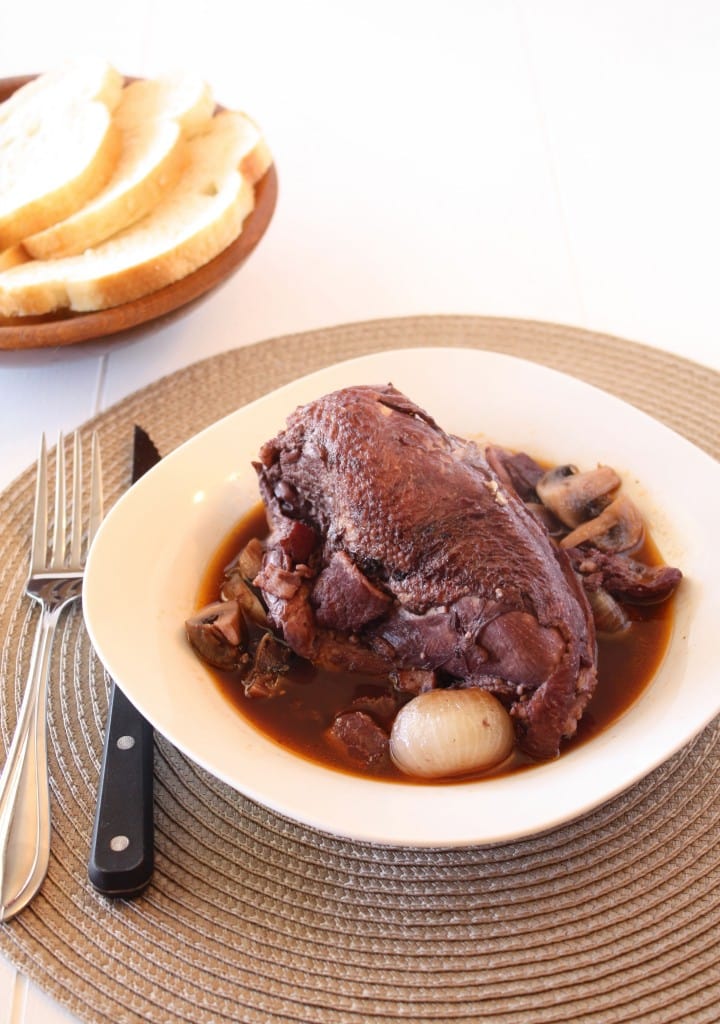 I thought I would start off with a classic for this first dish – Coq Au Vin. Slow cooked, tender, full of flavor, and WINE. That's the epitome of French cooking isn't it??
Because Julia Child has always had a place in my home and my family, I had to go with her classic recipe (which I have never tried before, can you believe it?). All I can say is, I am in love. The recipe doesn't take too much effort and the result is divine. I could just drink the broth with endless amounts bread on the side…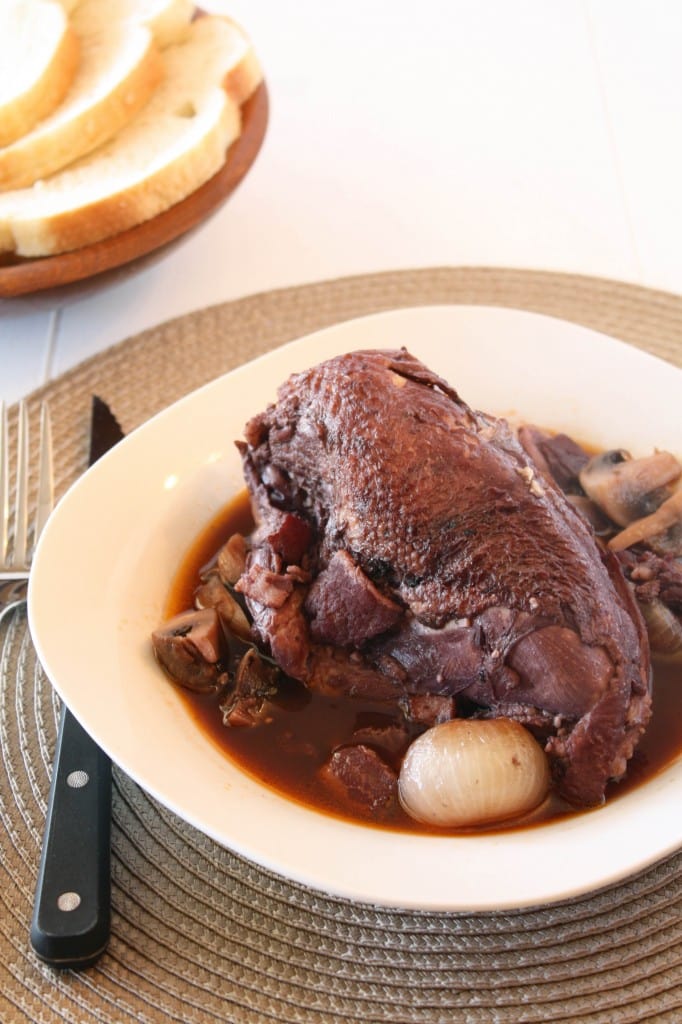 As the French say, bon appétit!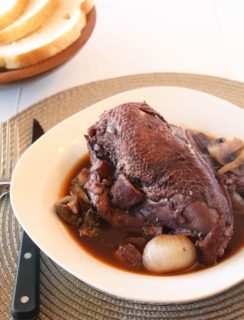 Coq Au Vin
Yield: Serves 4 to 6
Prep Time: 10 minutes
Cook Time: 35 minutes
Total Time: 1 hour 55 minutes
A French classic, this traditional dish is ideal for a winter dinner party.
Ingredients:
5 to 6 slices of bacon, cut into 1 inch pieces
4 tbsp butter
1 whole chicken broken down into pieces
1/2 tsp salt
1/8 tsp pepper
3 cups red wine such as Beaujolais or Chianti
2 1/2 cups chicken stock
1/2 tbsp tomato paste
2 cloves garlic, smashed
1/4 tsp thyme
1 bay leaf
12-15 small onions, 1 inch in diameter
1/2 lb white button mushrooms, quartered
1 1/2 tbsp oil
Directions:
In a dutch oven over medium-high heat, saute bacon in 2 Tbsp of melted butter. Once the bacon is slightly browned, strain and remove to a side dish.
Dry chicken thoroughly with paper towels. Add chicken to the dutch oven and brown in the bacon fat. Season with salt and pepper. When the chicken is browned, add the bacon back to the pan, cover and cook for 10 minutes, turning the chicken at least once.
Remove the cover and pour in wine and 2 cups of chicken stock, which should cover the chicken in the pan. Stir in tomato paste, garlic and herbs. Bring the mixture to a simmer, cover and cook for 25 to 30 minutes, or until the juices from the chicken are clear.
While chicken is cooking, prepare onions and mushrooms. In a medium skillet over medium heat, melt 2 Tbsp butter and 1 1/2 Tbsp oil. Add the onions and cook until browned. Stir in 1/2 chicken stock, cover and cook for approximately 20 minutes. Add in the mushrooms and cook for another 5 minutes or until the mushrooms are tender.
Pour the mushrooms and onions into the dutch oven. Stir to combine and serve warm (preferably in a deep bowl with lots of bread on the side to soak up the sauce!).
*Recipe adapted from Julia Child's Mastering the Art of French Cooking