My friends, tacos are not just for lunch and dinner.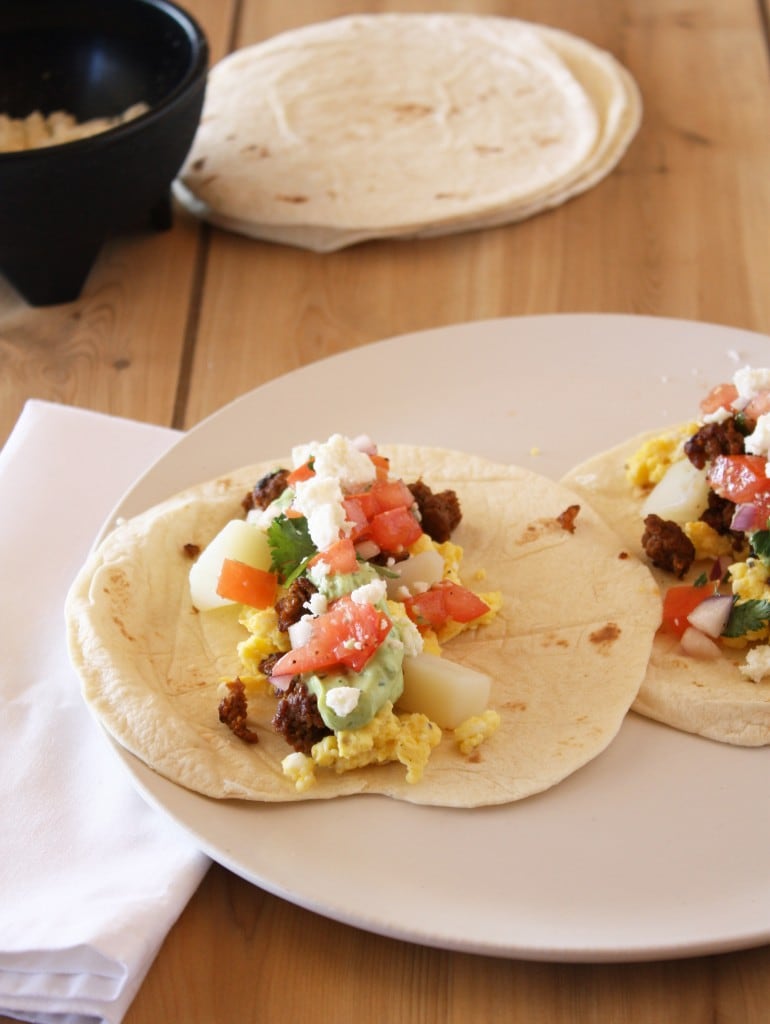 No, no, no, they most certainly are not. Lately I have been ordering breakfast tacos every time I go to brunch – however, since me going to brunch is a rare occasion, I needed a breakfast taco fix for my home life. Also known as my homebody existence that I tend to retreat to after a crazy week…
I think my absolute favorite element in these breakfast tacos is the avocado crema. I have always had an incredible love for avocados (especially when they come in the form of Chipotle's guacamole – ummmm YUM), and this tangy crema really makes these tacos shine. They are basically the perfect storm of typical breakfast and taco ingredients, all stuffed into your pie hole at one time.
Are you drooling yet? If not, you should be!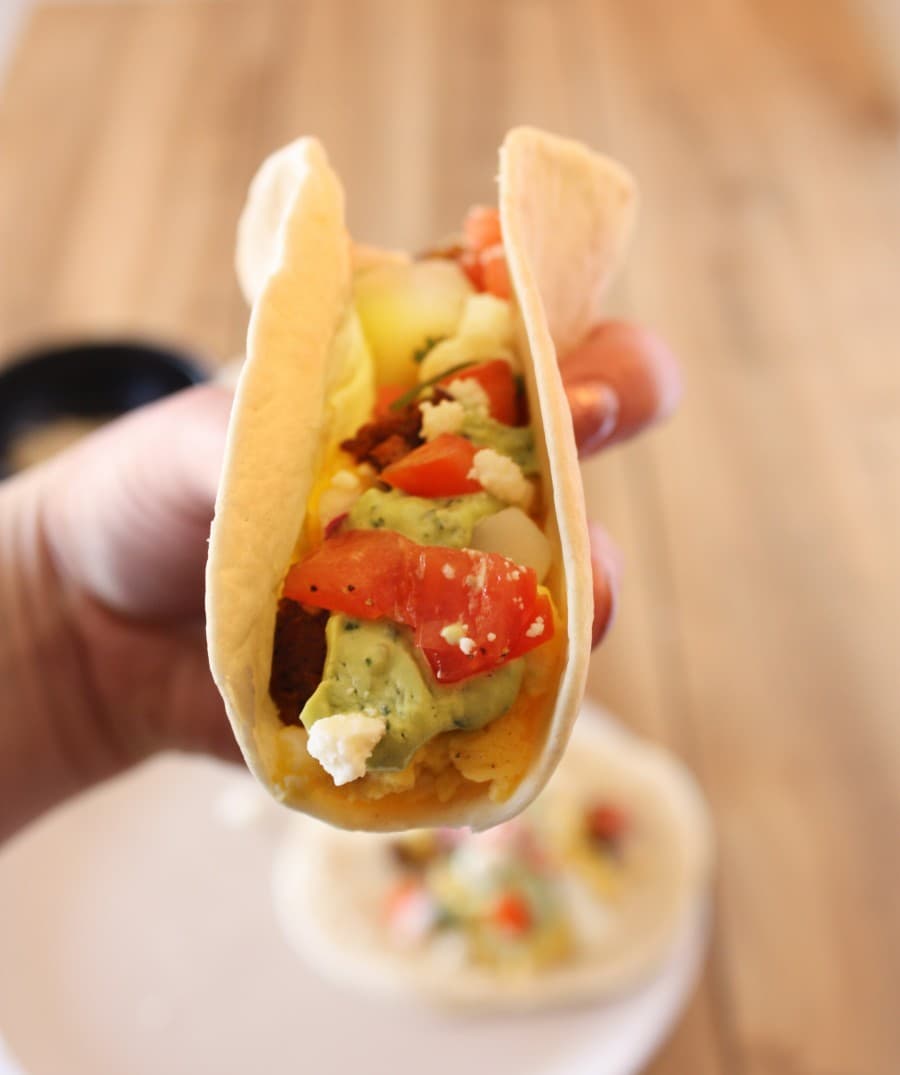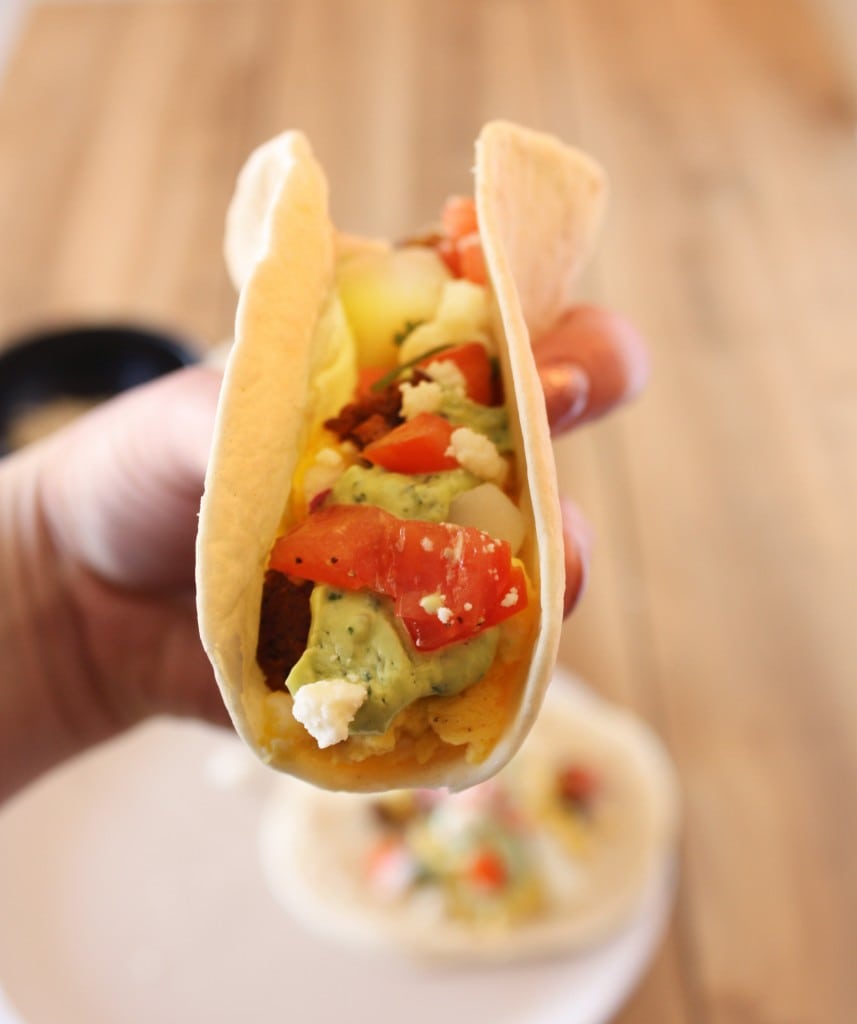 Because obviously these tacos are B-O-M-B.
Excuse me while I stuff my face with a few more tacos…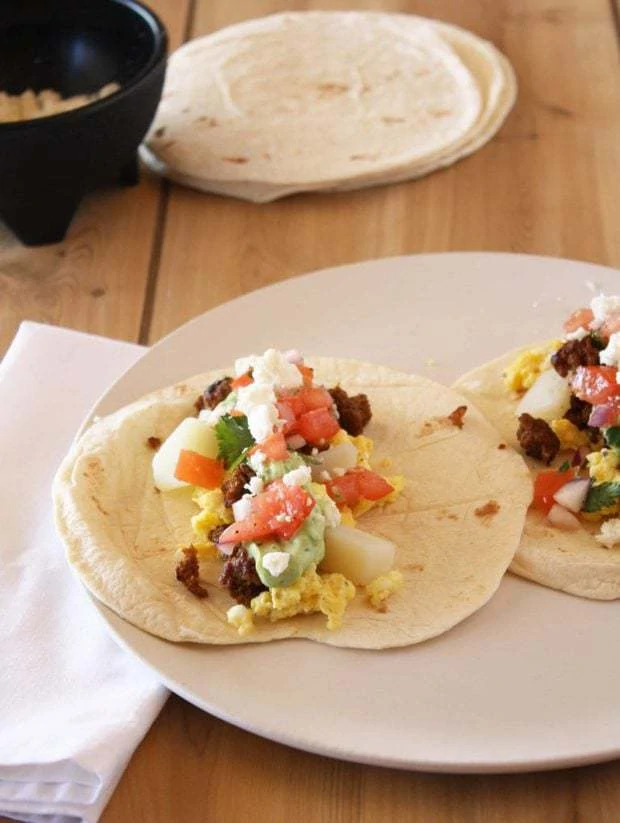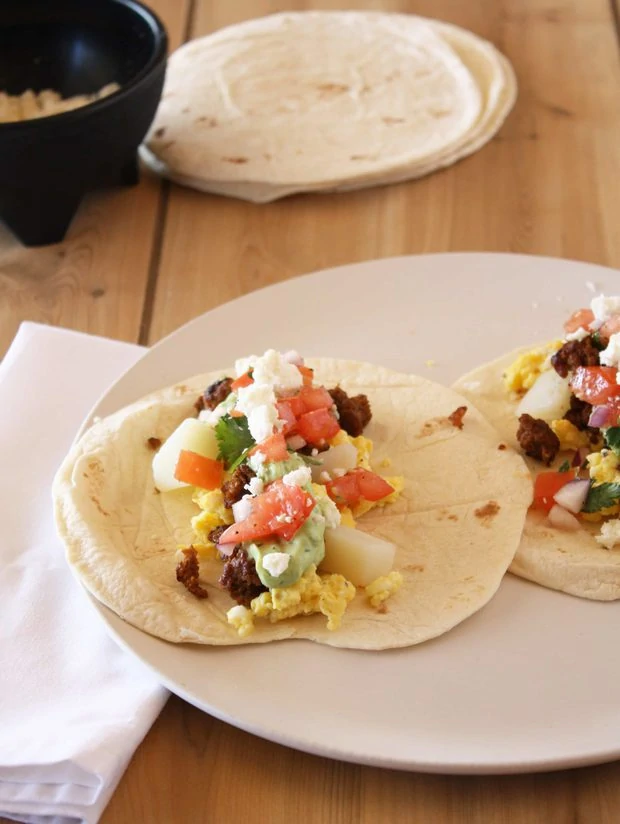 Breakfast Tacos
Wake up to bright, refreshing breakfast tacos! They are the best way to start any day.
Ingredients
4-6 small flour tortillas
1/3 lb chorizo, cooked
6 eggs, scrambled and cooked
2 potatoes, peeled, cut into small cubes, and boiled until tender
Queso fresco
Crema
1/2 cup cilantro leaves, fresh
1/4 cup sour cream
1 avocado, seeded and sliced
Juice of 1 lime
Salsa
1 1/2 cup tomatoes, diced
1/4 cup red onion, diced
1 Tbsp jalapeno, diced
1 Tbsp garlic, minced
2 Tbsp cilantro leaves, chopped
Salt & pepper
Instructions
Begin by making the avocado crema. Combine all of the crema ingredients in the bowl of a food processor and puree until mixture is smooth. Add additional salt and pepper to taste.
Next combine all the salsa ingredients in a medium bowl and stir to combine. Again add salt and pepper to taste. Once the salsa and crema are ready, it's time to build your tacos!
I started by warming my tortillas in the microwave by stacking them between two damp paper towels and heating them for about one minute. It's easiest to stuff the tortillas with all the ingredients when they are warm and flexible. Add the chorizo, scrambled eggs, and potatoes to each taco, dividing evenly between the tortillas. Add the avocado crema and fresh salsa to each taco. Then top with queso fresco - add a little hot sauce if you want!