Back to the Kitchen – Shrimp and Bacon Risotto
Coming back to reality after a week of nothing but sleeping, eating, drinking, swimming, and celebration is SO HARD.
I am seriously struggling here.
My mind is in about five hundred different places at once and my usual to-do list just tripled in size.
Finding a moment to just breathe has been damn near impossible. Really I should have had the foresight to take an extra day to get back in the swing of things before returning to my normal routine. Hindsight is 20/20, isn't it?
I know you are all dying to see my pictures of Mexico (even though I neglected to take enough pictures of food and took way to many pictures of the ocean instead because I am a freak), but that will have to wait until later in the week.
Right now, I want to talk to you about this risotto…
Risotto is one of those treats I rarely have the opportunity to eat. I have never made it before and from all the food shows I watch, it looked too easy to screw up so I avoided it like the plague. When I made it for the first time before my trip, I took the time to prepare myself (breathing exercises, pep talks, you know that stuff you see guys doing in the movies to pump themselves up before the big game? That stuff.).
I made sure I watched my risotto like a hawk. I stirred and stirred and patiently waited. I waited for the whole thing to turn into a disaster. I kept thinking of all the ways this could go wrong, scenario after scenario until I mentally accepted defeat. And still I kept stirring, kept watching, kept waiting.
Well folks, the disaster never came.
I was speechless.
I'm still speechless and struggling for the words to describe my utter disbelief.
You want to know the best part of this recipe? I didn't have to season ANYTHING. The flavor was so strong from the broth, wine, shrimp, and bacon that no salt was needed. For me, the girl obsessed with all things salt, it was beyond comprehension. If that doesn't make your jaw drop, I don't know what does (yes I realize how much of a food geek I am and how awesomely weird that makes me).
Oh and I just have to say when people say bacon goes with everything, all I can say is they are 100%, without a doubt, inexplicably CORRECT. This is just one of many bits of proof (don't make me start preaching about the Maple Bacon Ice Cream again).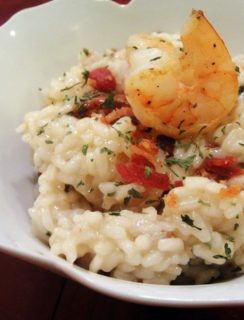 Shrimp and Bacon Risotto
Yield: Serves 2 to 4
Prep Time: 10 minutes
Cook Time: 30 minutes
Total Time: 40 minutes
Ingredients:
1 cup arborio rice
5 slices bacon, chopped
1 cup dry white wine
2 cups chicken stock + more if needed
2 garlic cloves, minced
6 oz shrimp
2 Tbsp chopped parsley
Directions:
In a large skillet over medium heat, add chopped bacon and fry until crispy. Remove with a slotted spoon and drain on paper towels. Leave the bacon fat in the pan. Add rice to the pan with the garlic. Stir and toast the rice, approximately 2 to 3 minutes.
Pour in wine and reduce heat to a simmer. Stirring frequently, allow rice to soak up the liquid. Add chicken stock, 1 cup at a time, allowing the rice to absorb it in between each addition. Test the rice for doneness in between each addition. When soft, stir in shrimp and bacon, (I used raw shrimp and sauteed it in olive oil and garlic) and fold in bacon, reserving a few pieces for garnish. Stir in parsley. Serve immediately.