Mastering Global Cooking – Chinese: Interview with the Red Cook & Chinese Stir Fry
Today I am honored to have Kian Lam Kho, the genius behind Red Cook, Adventures from a Chinese Home Kitchen, joining me! I will admit, I am extremely new to Chinese cooking so I am really excited to jump in and get started! Without further ado, let's talk Chinese food!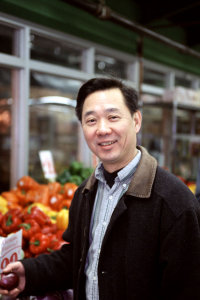 Where did you learn to cook?
Food and cooking have always been my life long passions, and I've been cooking ever since I was a young boy growing up in Singapore. I started seriously cooking by reading and learning cooking techniques when I was in college in Boston. I've since done a lot of research to understand not only Chinese cooking techniques, but how they differ from their counterparts in the Western cooking tradition.
In your opinion, how difficult is Chinese food to master?
Chinese cooking is very much misunderstood in the West because there are very few texts that describe its proper techniques. The result is that many people believe it is difficult to master Chinese cooking. But if the cooking concepts and procedures are made clear then I believe Chinese cooking can be mastered by anyone.
What ingredients are "must-have items" in your pantry, specifically when you are cooking Chinese dishes at home?
Although Chinese cooking often requires a large number of special ingredients, it is possible to stock a pantry for basic Chinese cooking. A well stocked Chinese pantry should include such ingredients like soy sauce, thick soy sauce, black rice vinegar, Shaoxing cooking wine, toasted sesame oil, oyster sauce and corn starch. There are numerous additional ingredients from different regions of China. Sauces and pastes made from soybeans and chilies alone are too numerous to count.
What is the weirdest ingredient you've experimented with?
I've eaten many weird foods including insects, worms and snails. But the weirdest ingredient I've cooked with would have to be sea cucumbers, which are really sea slugs. They are greyish brown in color and often sport spiky surface. They have a gelatinous texture with a mild ocean taste. I do in fact enjoy eating them and cook them often.
Maybe you can help settle a debate for me… I have heard there is a huge difference between American Chinese food and classic Chinese food. What would you say is the biggest difference between the two?  
The difference between American Chinese food and food in China is in the use of ingredients and slightly altered flavor profile. American Chinese food tends to favor deep-frying to create crunchiness and using sugar to enhance the sweet taste. These characteristics are created to please local American palate just as spicy chilies and numbing Sichuan peppercorns are used to delight the local Sichuan palate. Like many other immigrant food, American Chinese food is the cooking of the Chinese immigrants adapted to locally available ingredients and taste. Personally I think of American Chinese food as a distinct sub-cuisine akin to Sichaun cuisine. Furthermore, food culture evolves over time and geography. Authenticity is only valid over that particular period of time at a certain geographical location. Remember that many Chinese ingredients are foreign imports as well. Such as chili, peanut and potato.
What are the top 3 dishes that you consider staples of this cuisine (i.e. how in the world do I narrow down all the amazing dishes to the ones I should try to master first)?
It is almost impossible to reduce the options to just three Chinese staples. But I can share with you three types of dishes that are staples at a home-cooked meal. One of them is red cooked dishes such as red cooked pork, red cooked chicken or red cooked fish. Then there are the stir-fried dishes that can include simple vegetable stir-fried of bok choy, cabbage or pea shoots. Finally another staple at the dining table is a tureen of pork bone soup that can be enhanced with daikon, carrots, sweet corn or turnips. Do keep in mind that these are home-cooked foods, and banquet dishes are very different from a family meal staples.
What sets apart Chinese food from other cuisines? 
Without a doubt the quintessential stir-frying technique differentiates Chinese cooking from other world cuisine. Although this is only one of many cooking techniques in the Chinese culinary repertoire, it is the most influential and unique. Stir-frying utilizes high temperature cooking over a relatively short period of time. This method is superior in retaining natural nutrients of the ingredients, and resulting in fresh tasting and healthy dishes. Additionally the use of myriads of soybean based sauces and pastes give a uniquely Chinese flavor in many of the dishes.
If you had to choose (and this might be a bit of an unfair question), what would be your ultimate full course Chinese meal?
A full course Chinese meal would be served in a banquet manner, where dishes made from many different methods and ingredients are served. At least ten different courses should be served including cold dishes, stir-fried shellfish, braised pork, roasted squabs, steamed vegetables, soup, stir-fried lamb, crisp-fried fish, fried rice or noodles and a sweet dish.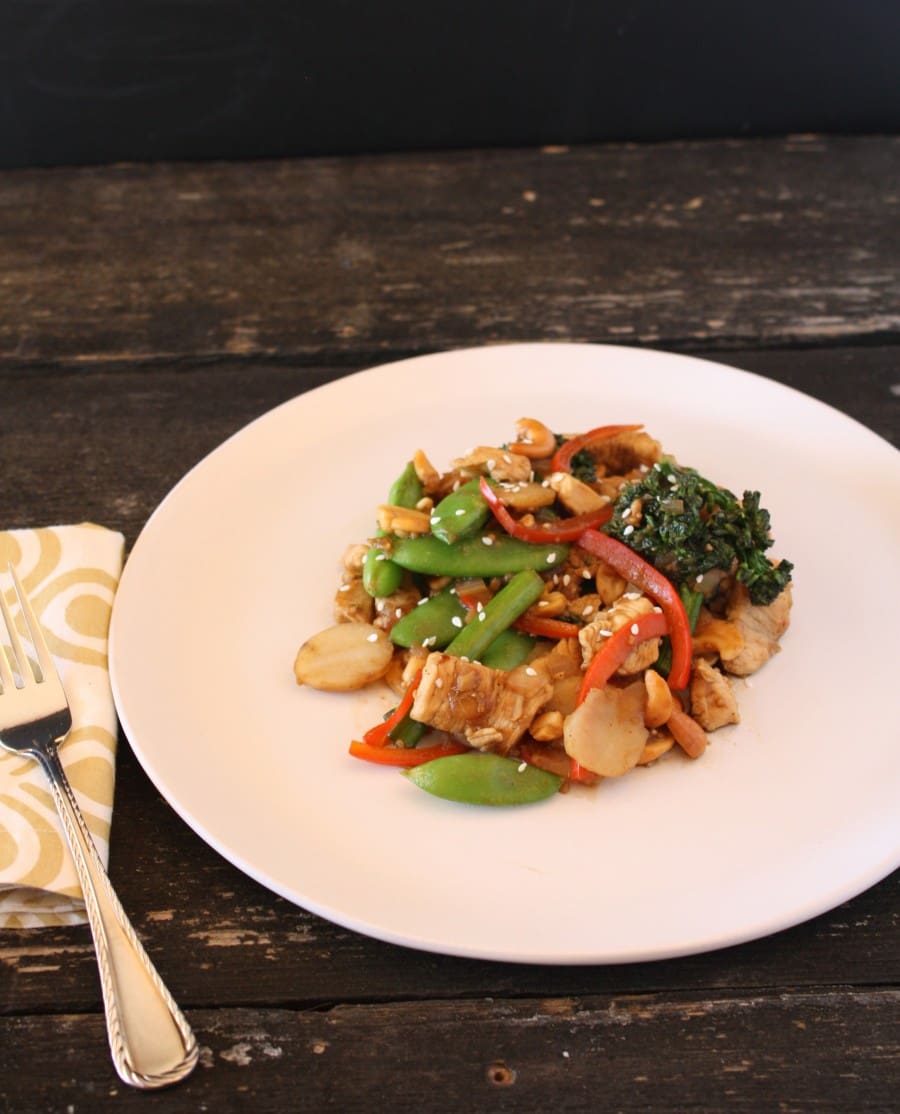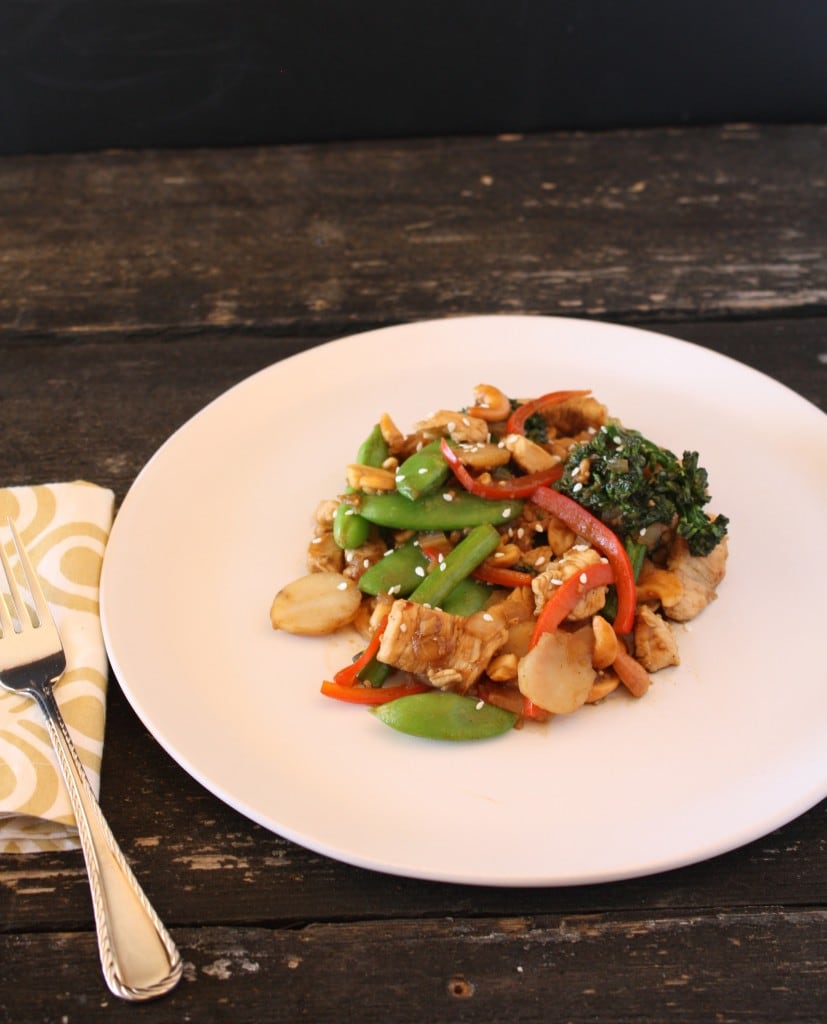 Thanks again Kian! I think I am ready to get started!
So my first venture into Chinese cooking simply had to be stir fry. It's a long-time fav of mine and surprisingly, making the stir fry itself was not as intimidating as I thought it would be! Really the stir frying technique is all about high temperature and short cooking time. It cooks SO FAST, as long as you have all your ingredients prepped before you start cooking, you will be golden.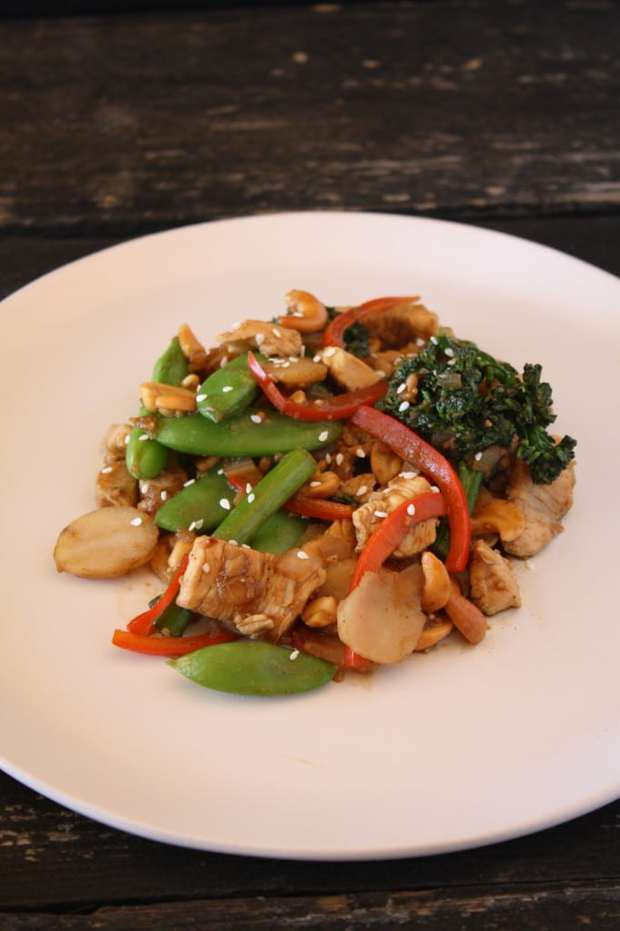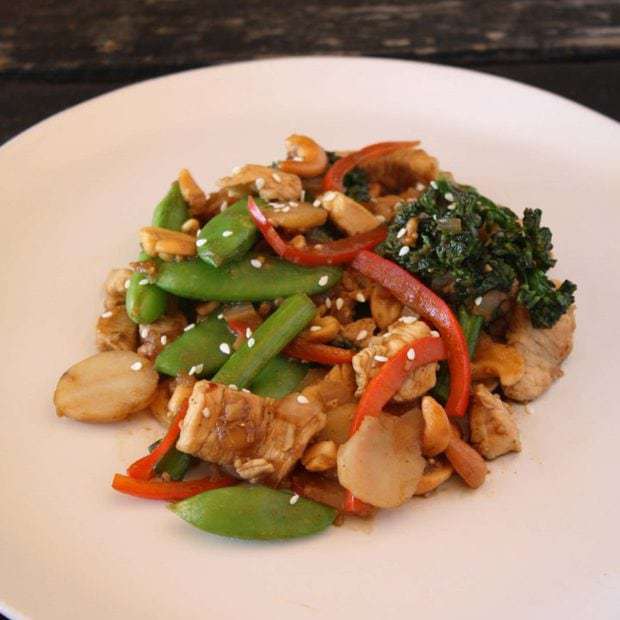 Chinese Stir Fry
Yield: Serves 2
Prep Time: 15 minutes
Cook Time: 15 minutes
Total Time: 30 minutes
Classic Chinese stir fry bursting with fresh vegetables and an amazing sauce!
Ingredients
½ onion, diced
3 cloves garlic, minced
1 Tbsp ginger, minced
1 Tbsp olive oil
2 skinless, boneless chicken breast, cut into small pieces
1 red bell pepper, cut into thin strips
1/3 lb snap peas, cleaned
1 bunch baby or Chinese broccoli, trimmed
5 oz sliced water chesnuts
¾ cup halved cashews
Sesame seeds to finish
Sauce
3 ½ Tbsp soy sauce
¼ tsp sesame oil
1 Tbsp mirin
1 Tbsp rice wine vinegar
2 Tbsp hoison
1 Tbsp honey
1 Tbsp Sriracha
Pinch of red pepper flakes
1 Tbsp Chinese Five Spice
Instructions
Make the sauce by combining all sauce ingredients in a medium bowl. Set aside.
Now make sure you have prepared all the remaining ingredients (I can't stress this enough!). Once everything is diced, chopped, and minced, heat up your work over high heat. Add olive oil by drizzling it so it coats the sides and bottom of the wok. Wait until the pan and oil are very hot. Add the onion, garlic, and ginger and cook until the onion has softened (about 2 minutes). Add the chopped chicken and cook until no longer pink. (about 3 minutes). Next, add the red pepper, snap peas, and broccoli. Cook until the vegetables are partially cooked, approximately 1-2 minutes. Finally make a well in the center of the bottom of the work and add the sauce. Stir to thicken and combine with the other ingredients. Once everything has been coated in the sauce, remove from heat. Finally stir in cashews and water chesnuts.
Serve immediately and finish with a sprinkle of sesame seeds.