Please note this post contains affiliate links.
Everything Avocado Turkey Bagel Sandwich are the loaded lunch that you have been dreaming of this week. Flavorful everything bagels are piled high with meat, avocado, roasted tomatoes, and a chipotle cream cheese that brings the creamy spice. It's my new bae(gal).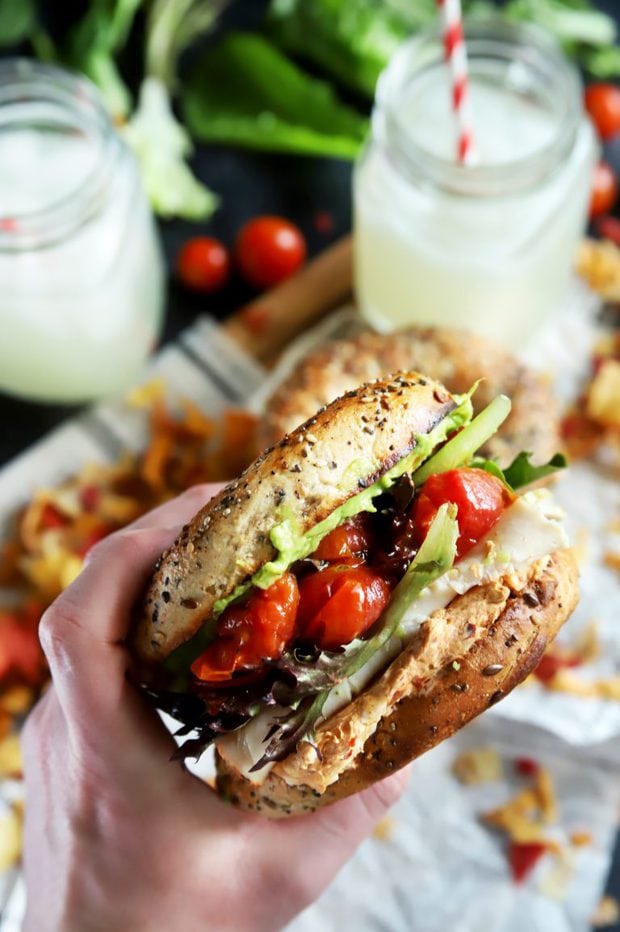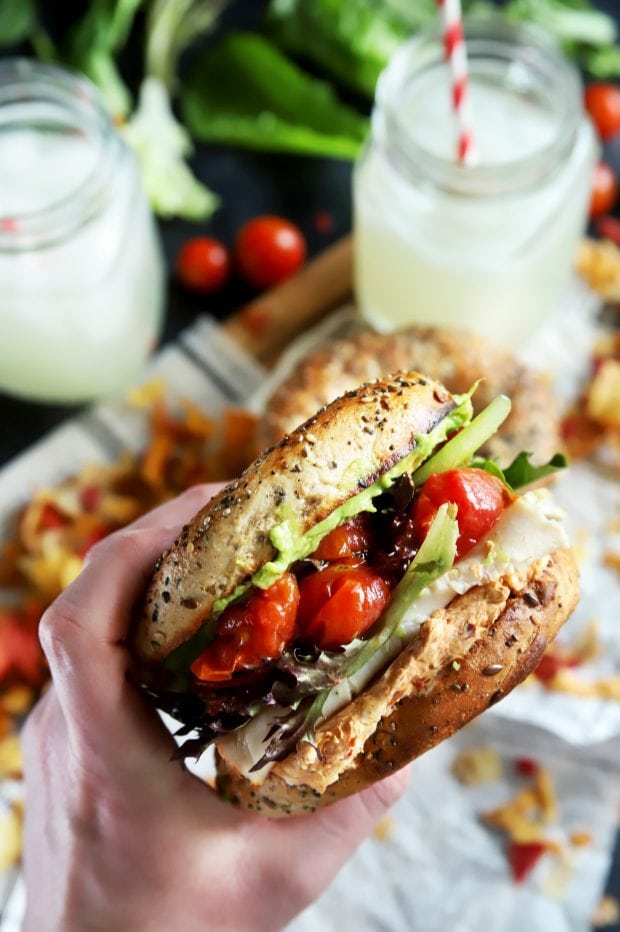 I followed my heart and it led me to the fridge.
Ok, well I suppose it was technically my stomach…
It just so happened to be on a day when I was STARVING and there was literally nothing leftover in the refrigerator…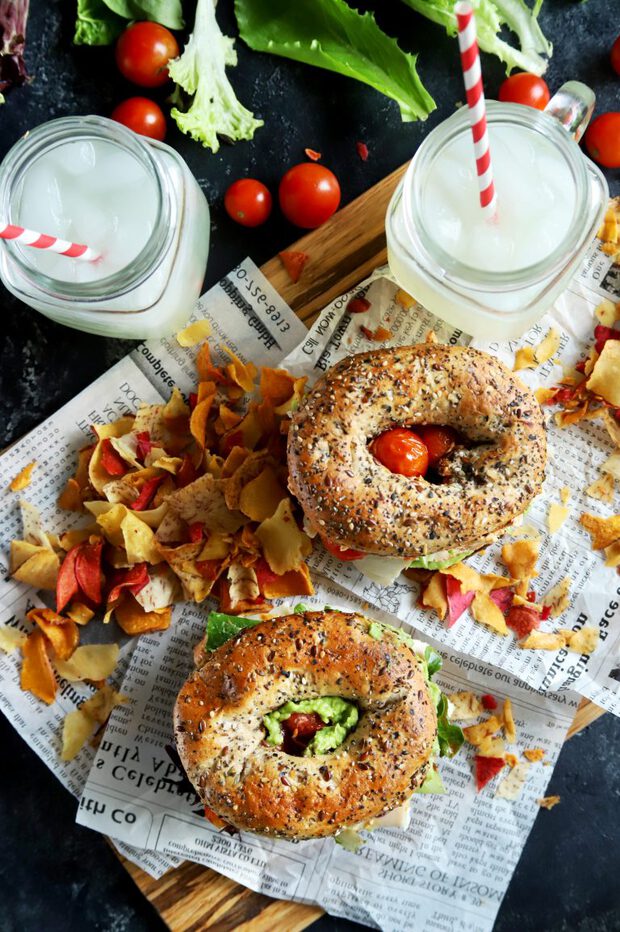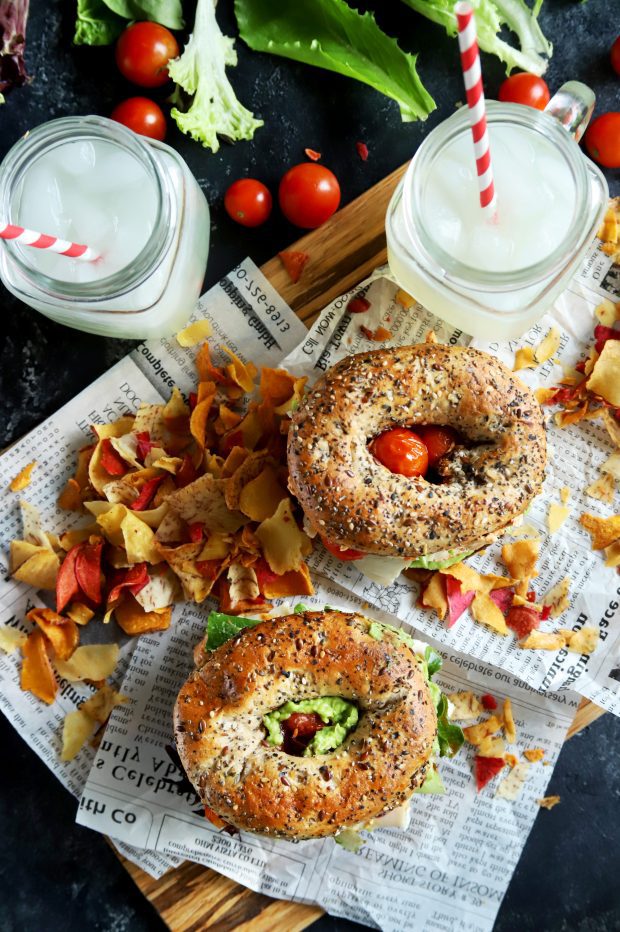 The problem with being a food blogger is that you get so used to having food ready to be reheated in the snap of a finger, you forget how to handle yourself when you run out of ready-made food.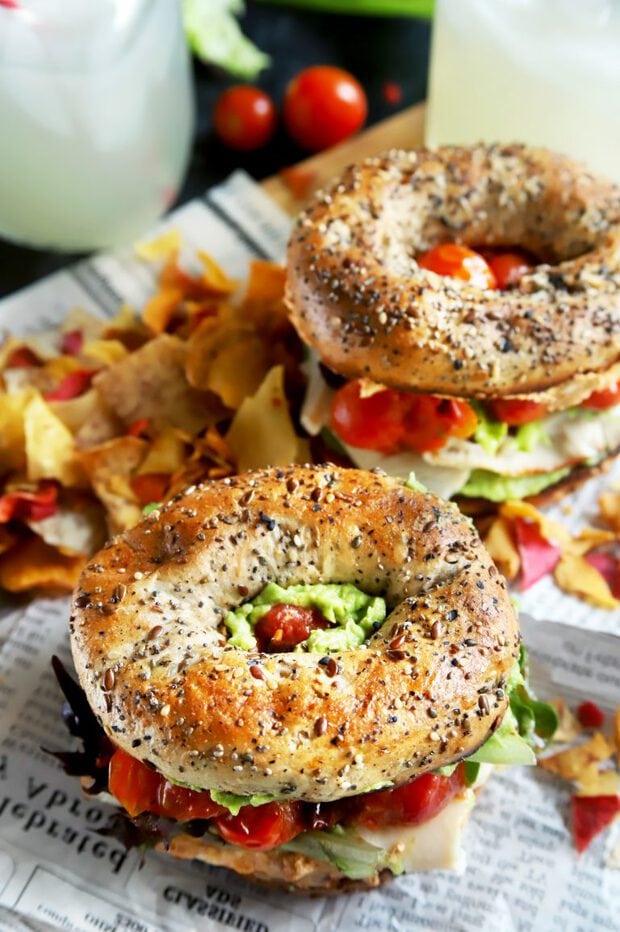 So, this turkey bagel sandwich was born out of necessity. The necessity for me to eat something before my stomach exploded from lack of food and too much stress at work.
It's funny how creative you can get with food when you are forced to make something or brave the hail that is pouring down outside your door.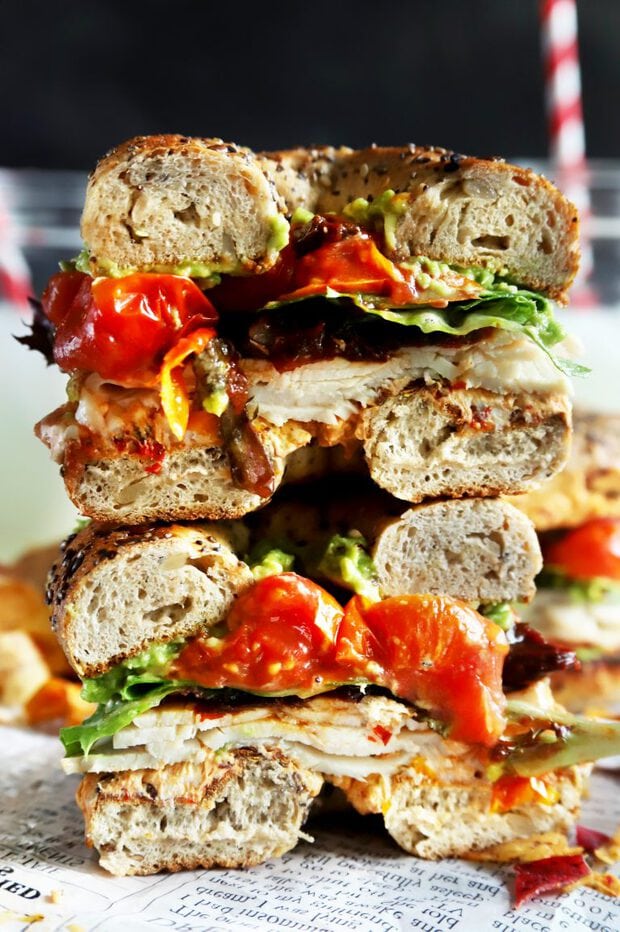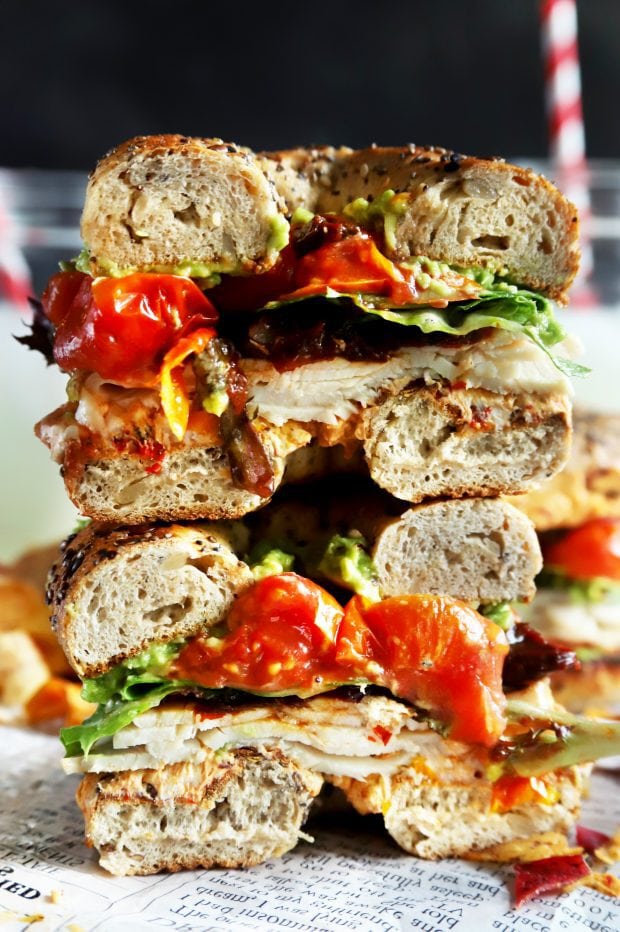 I personally LOVE everything bagels. They have such flavor and the crunch of the topping along with a soft bagel is pure deliciousness.
This Recipe's Must-Haves
To make sure you get the best slices of everything for this turkey bagel sandwich, be sure you grab your handy chef's knife and cutting board.
You'll also need some metal mixing bowls to mix up the cream cheese spread and mash the avocado.
Finally, for the roasted cherry tomatoes, grab a half sheet baking pan and a silicone mat.
Pro tip: serve up these sandwiches with some mason jars filled with fresh homemade lemonade.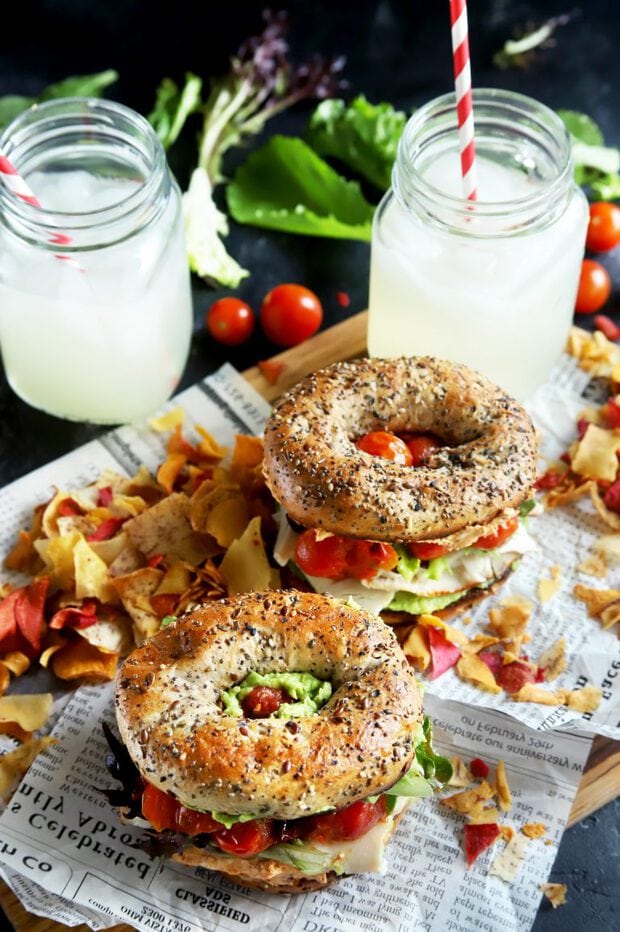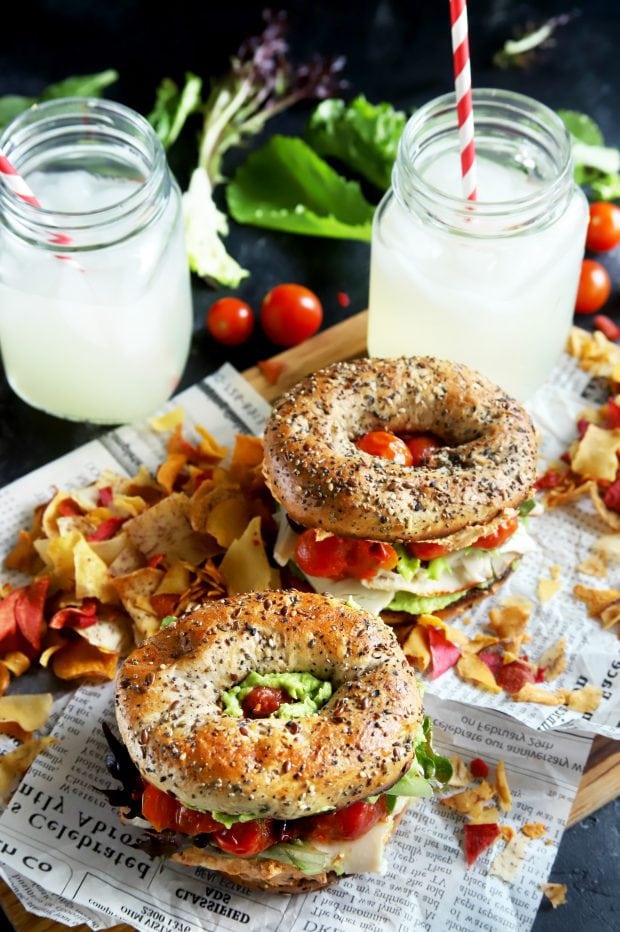 How do you make a turkey bagel sandwich?
Toast and Roast
So you start by toasting up that bad boy. While that's toasting, you quickly roast up some cherry tomatoes and make the simplest chipotle cream cheese spread.
Pro Tip: you can make the roasted cherry tomatoes and cream cheese spread ahead of time! Up to 3 days in advance for the cherry tomatoes. The cream cheese will keep in the fridge for a week or two.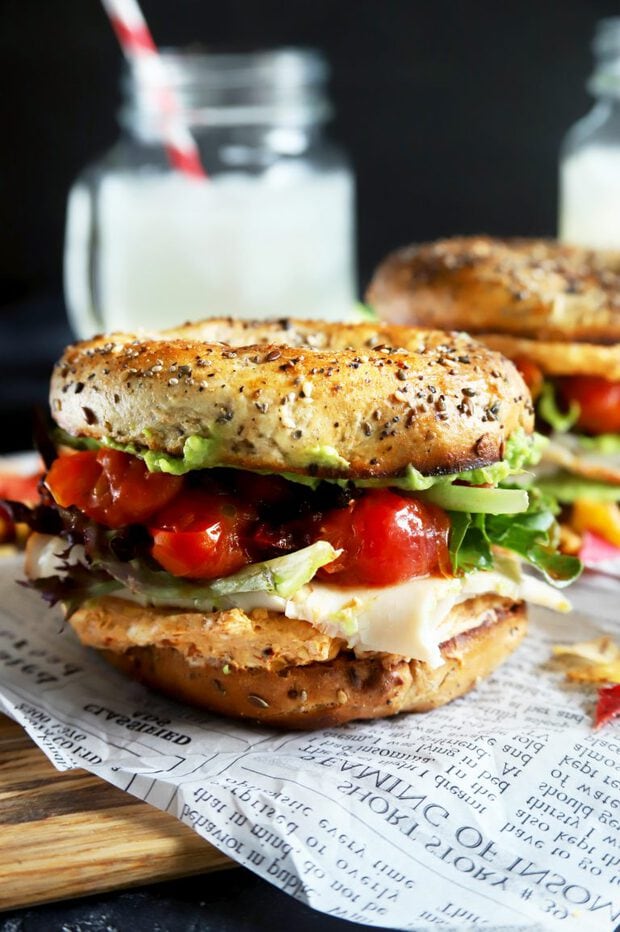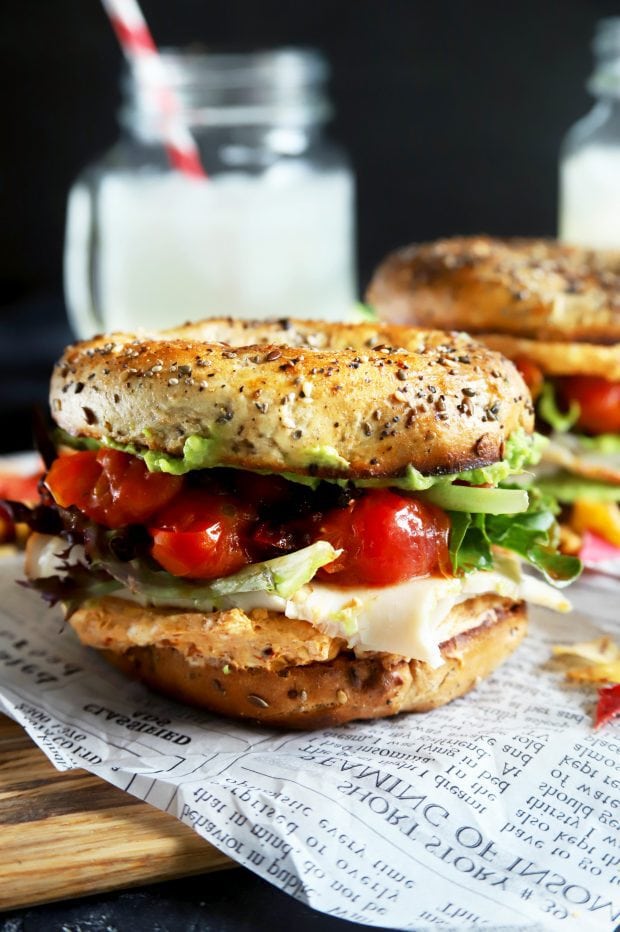 Pile It Up High
After the bagel gets golden, you pile it with your favorite turkey. Personally I like to keep it simple with black pepper turkey, sliced nice and thick for the texture. You can get thinly sliced turkey if that's your preference though!
The other toppings all get piled on from tangy and acidic roasted tomatoes, creamy mashed avocado, and that chipotle cream cheese spread.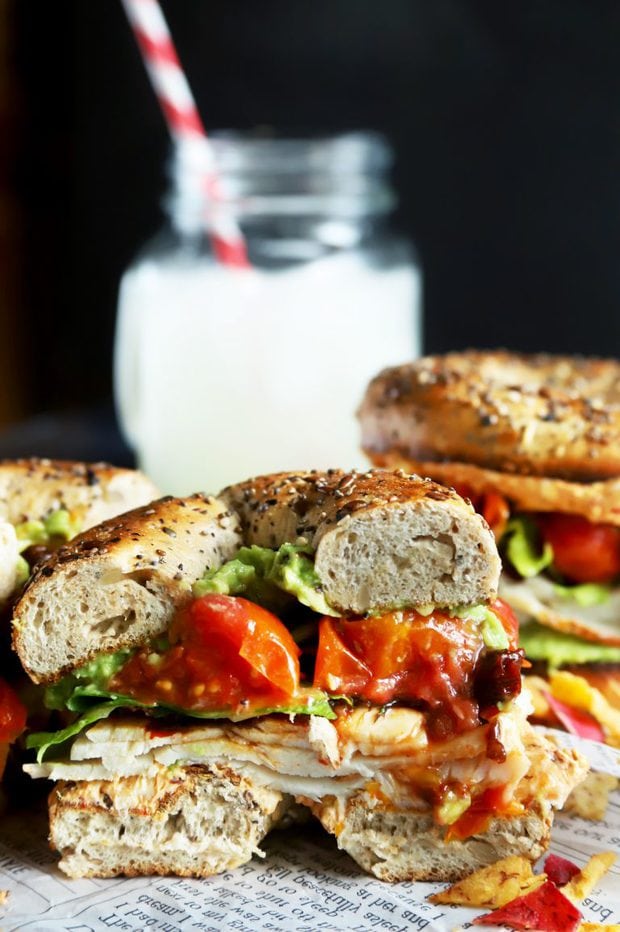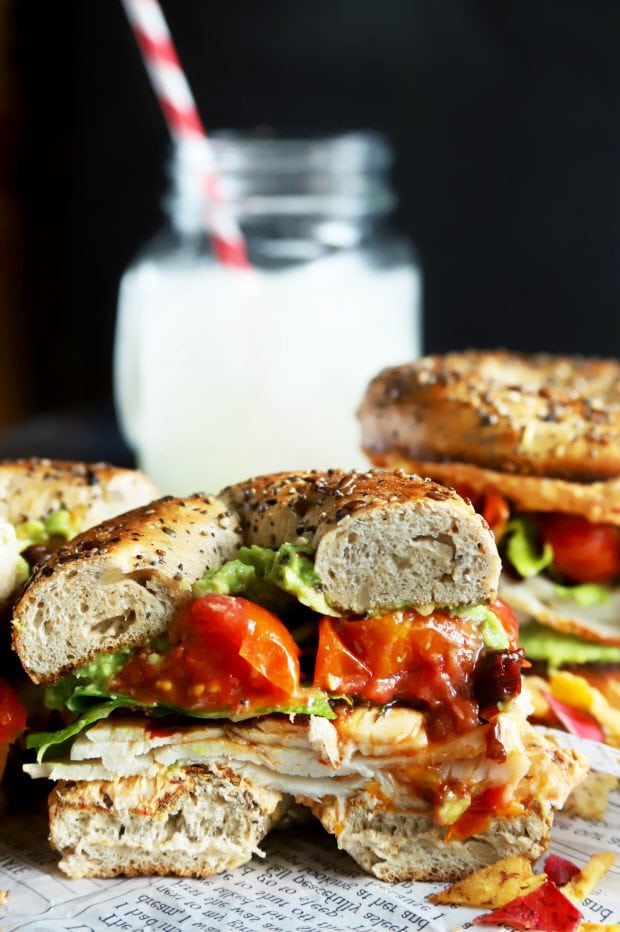 I like to add on some chopped chipotle peppers with the roasted tomatoes for a little extra spice, but that's totally optional depending on how hot you like your food.
The result is a sandwich that is full of texture and bursting with flavor. You can perk up your work day with one of these. You can even pack some up and take them for a picnic in the park! With a side of chips, it's the ultimate lunch (or dinner!).
If you need another sandwich to try out, check out this salmon sandwich recipe!
Need some more inspiration for sandwiches? Check out my sandwich recipes page!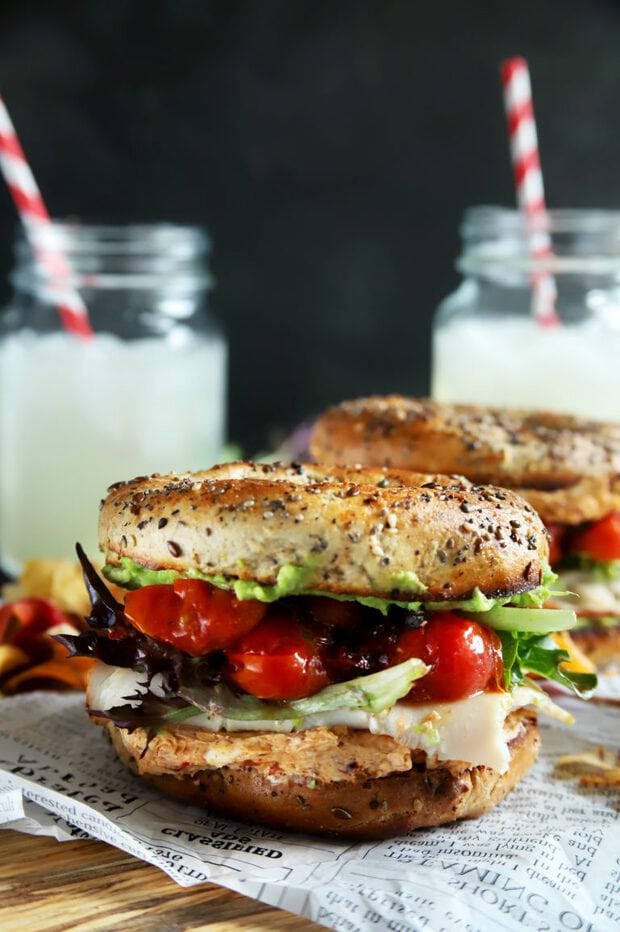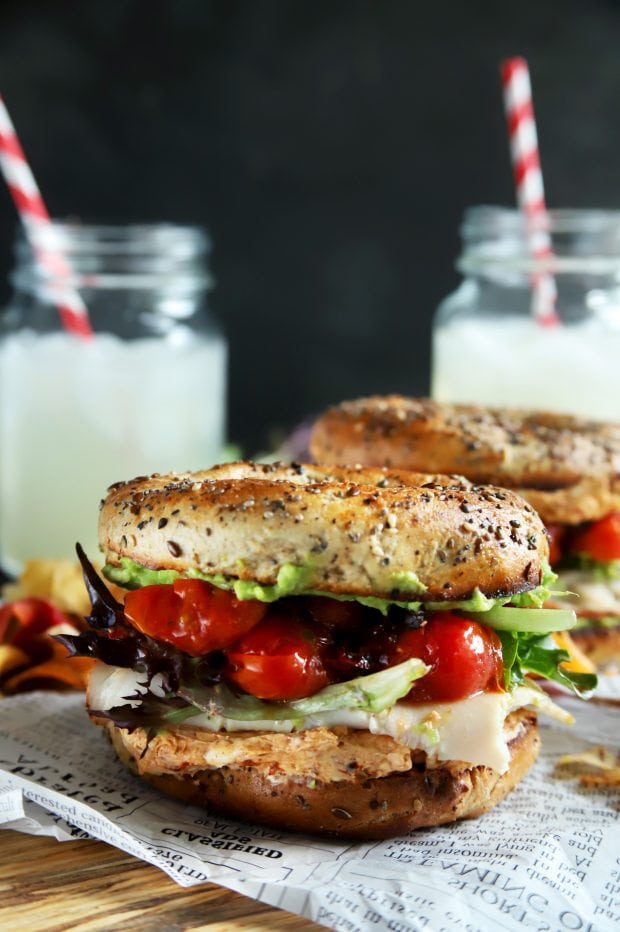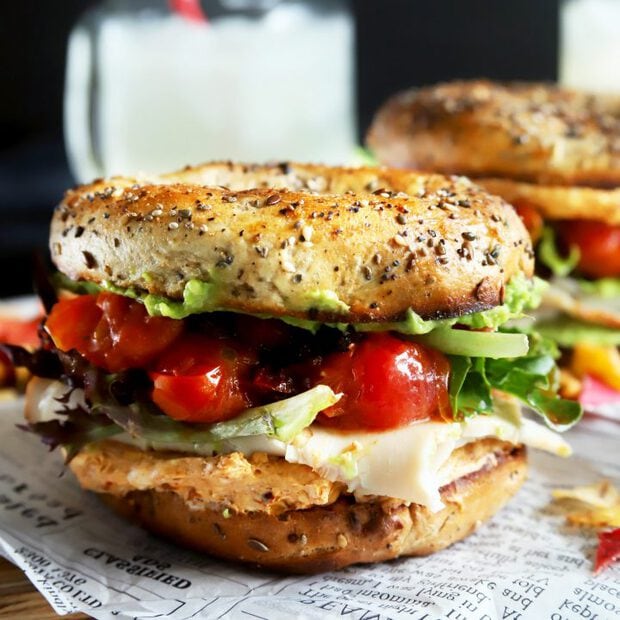 Everything Avocado Turkey Bagel Sandwich
Flavorful and perfect for lunch!
Ingredients
2 wholes Everything Bagel, halved
6 slices Deli Turkey Breast, thick-cut (get creative with flavors if you want!)
1 cup Cherry Tomatoes
6 ounces Cream Cheese, room temperature
1 tablespoon Adobo Sauce
2 Chipotle Peppers, chopped (plus more for serving, if desired, for added heat)
1 large Avocado, mashed
1 teaspoon Lime Juice
1/2 teaspoon Black Pepper
1/2 teaspoon Salt
2/3 cup Mixed Greens
Instructions
Preheat oven to 400˚F. Grease a rimmed baking sheet with cooking spray.
Add cherry tomatoes in an even layer to the prepared baking sheet. Roast tomatoes until they begin to burst, about 10 minutes, turning halfway through cooking.
While the tomatoes are roasting, make the chipotle cream cheese. In a small bowl, stir together cream cheese, adobo sauce, and 2 chopped chipotle peppers until combined. Set aside until ready to use.
In a small bowl, stir together mashed avocado, lime juice, black pepper, and salt.
Toast the bagel halves until golden brown.
To assemble, spread the bottom halves of the toasted bagels with mashed avocado mixture, dividing evenly between the two.
Divide the cream cheese evenly between the two top halves of the bagels, spreading evenly.
Add turkey to the bottom halves of the bagels and top with mixed greens and burst cherry tomatoes. If desired, top with additional chopped chipotle peppers.
Finish with the top halves of the bagels. Serve immediately.
Nutrition Information:
Yield:

2
Serving Size:

1
Amount Per Serving:
Calories:

897
Total Fat:

49g
Saturated Fat:

20g
Trans Fat:

0g
Unsaturated Fat:

23g
Cholesterol:

138mg
Sodium:

2452mg
Carbohydrates:

87g
Fiber:

13g
Sugar:

22g
Protein:

34g