Boozy Chocolate-Covered Raspberry Smoothies are the one cocktail that'll satisfy your indulgent side without ruining all the work you've put into that summer bod. No one will even realize these smoothie cocktails are so healthy!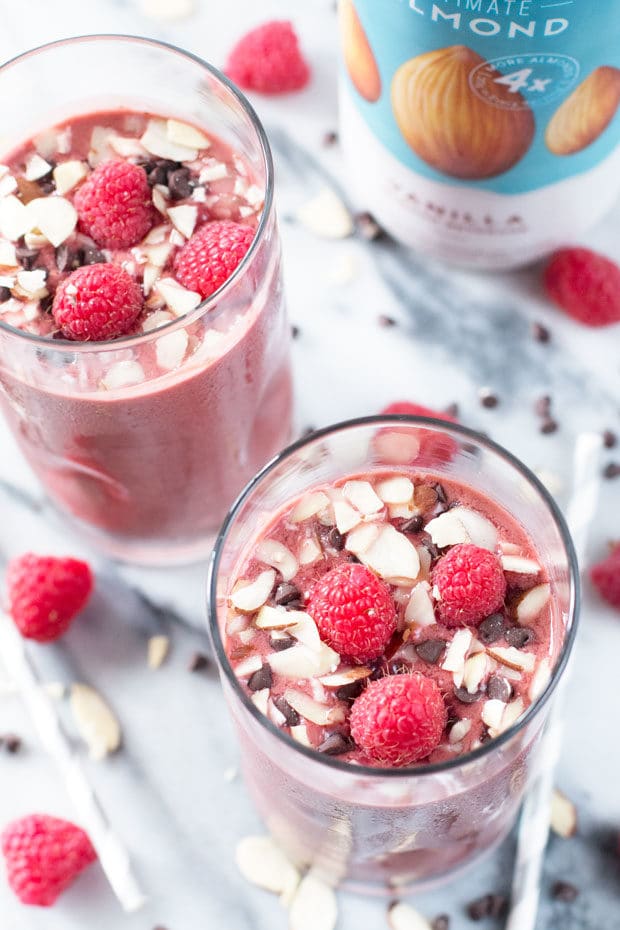 I just made you a healthy way to do cocktail hour (which means it's ok to hit you with two cocktails this week, right?). Yep, I committed to making a healthy cocktail, or as my bestie Susannah lovingly calls it, "an oxymoron smoothie."
You all KNOW me. I get on the healthy train as much as I can, but when it comes to my cocktails… Heaven help me, I can't give them up. My affinity for cocktail hour at the end of the day is just too strong and I refuse to give it up. I also refuse to give up patio day drinking when the weather gets nice.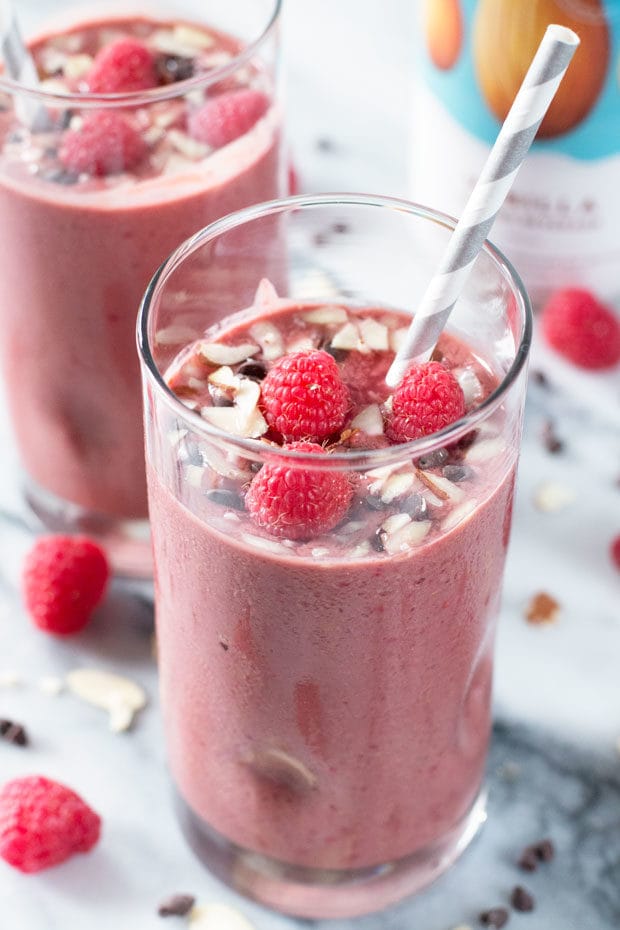 So what's a girl to do when she wants to stay on track and still indulge?
I make healthy things a little sinful.
Because logic.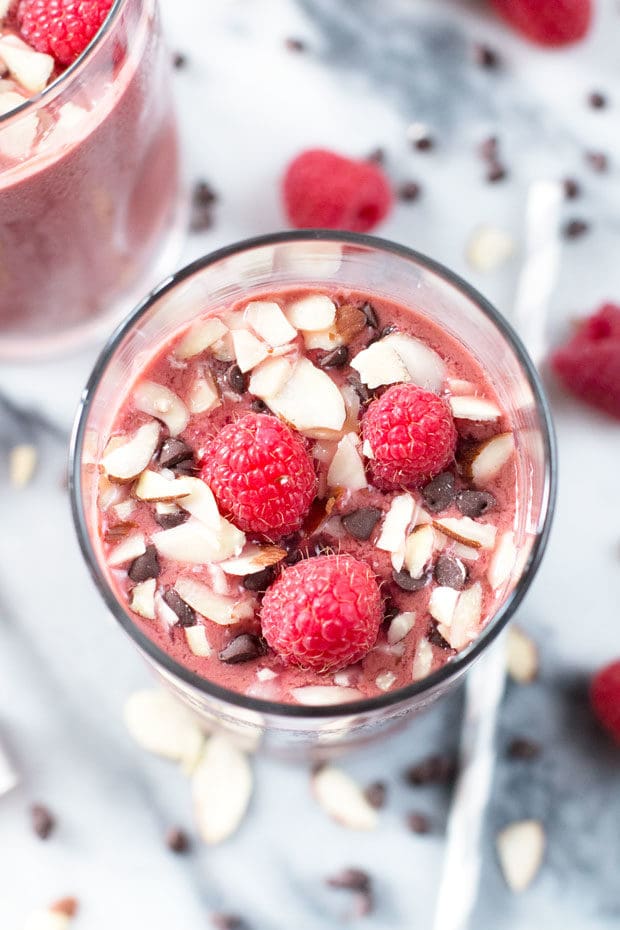 This is where my secret weapon comes in – creamy Dream Ultimate Almond.
If you are a fan of almond milk and haven't tried Dream Ultimate Almond yet, you need to walk run to the store right now and get yourself some. Of all the almond milks I've tried, Dream Ultimate Almond is the creamiest and smoothest of them all, whether you're trying sweetened, unsweetened, or my personal fav, vanilla. That's why it works SO well in drinks and smoothies.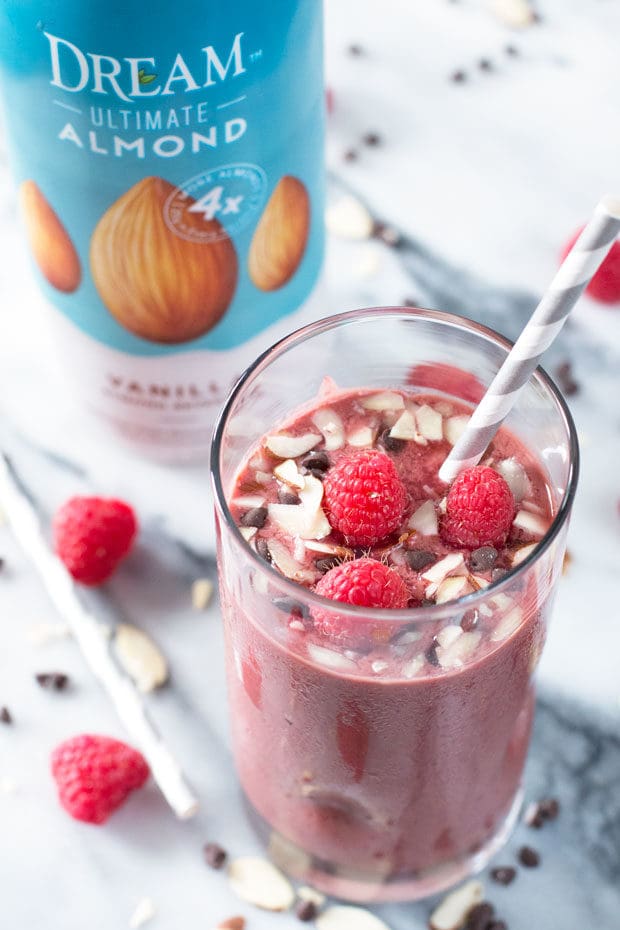 Sipping on this smoothie cocktail is like devouring a bowl full of chocolate-covered raspberries and coming out of the binge with a nice little buzz. It's a great way to enjoy your libations with a healthy twist (there's 20 grams of almonds in every serving!) and honestly, I can't think of a better way to kick off a day of day drinking.
I mean, you're getting your food base started WHILE you drink. #winning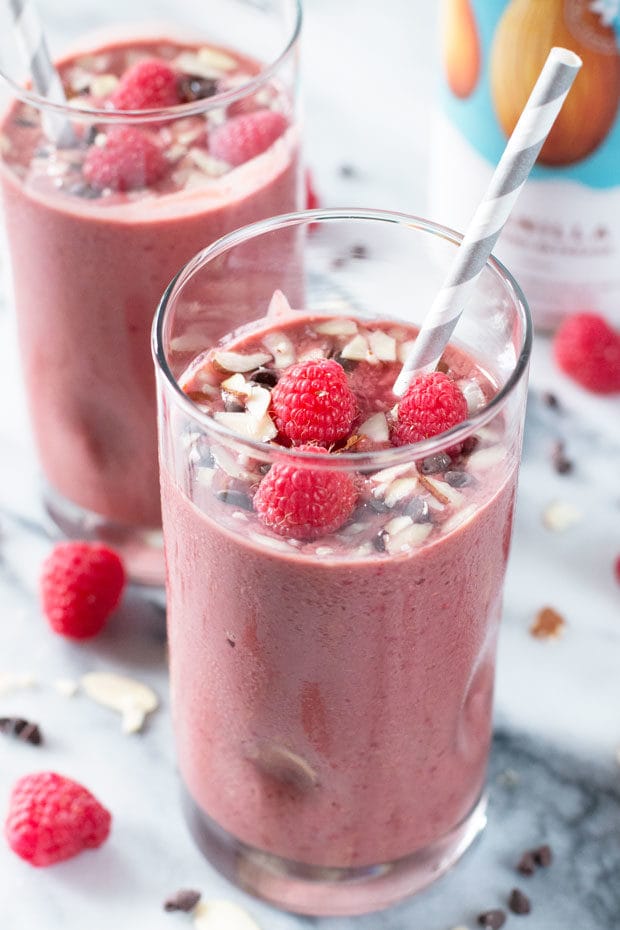 Ready to make your own? Head over to Whole Foods or Sprouts to get some right NOW. If you head over to the Dream website, there's a coupon waiting for you to use… You can grab any of the great flavors you want! Any of them work really well in this drink.
Cheers!
Disclosure: I received free product from Dream and was compensated for my time as part of this post. As always, all opinions and recipe are my own. Thanks for supporting the brands that support Cake 'n Knife!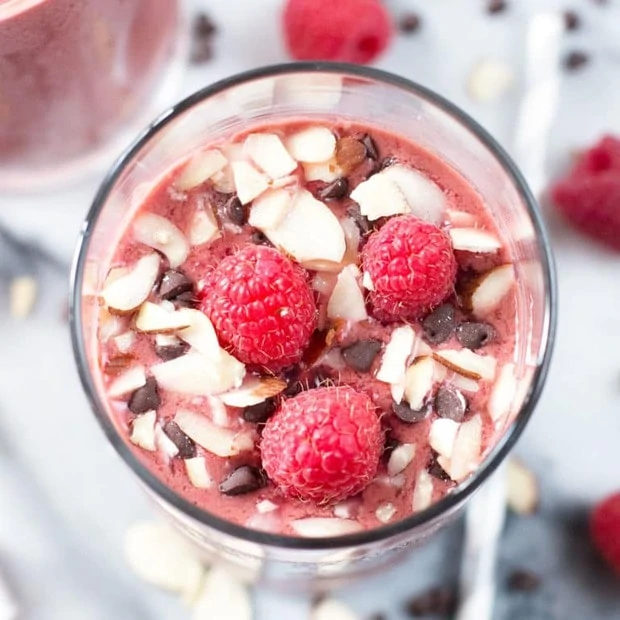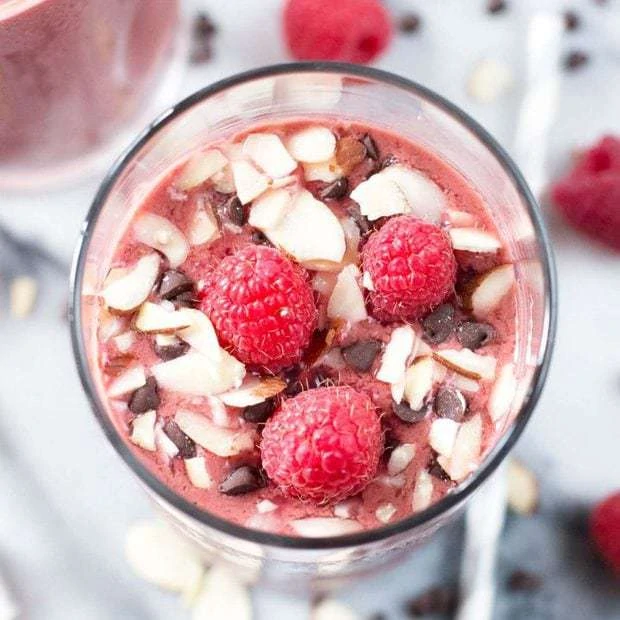 Boozy Chocolate-Covered Raspberry Smoothies
Yield:
2 cocktail smoothies
You'd never know these tasty smoothies were healthy - or that they're spiked!
Ingredients
1 cup Dream Ultimate Almond Vanilla
4 oz vodka
1 1/2 cups frozen raspberries
1 Tbsp cocoa powder
2 tsp agave
1 cup crushed ice
Garnish: sliced almonds, chocolate chips & fresh raspberries
Instructions
In a blender, combine Dream Ultimate Almond Vanilla, vodka, frozen raspberries, cocoa powder, sugar and crushed ice. Blend until smooth.
Divide evenly into two glasses.
Serve with sliced almonds, chocolate chips and fresh raspberries as desired.