Please note this post contains affiliate links.
Pollo Asado Chicken Tostadas are a great way to change things up for Taco Tuesday. The easy recipe features authentic flavors from marinated chicken thighs and colorful vegetables with a sprinkle of queso fresco. You won't be able to stop eating these crispy bad boys!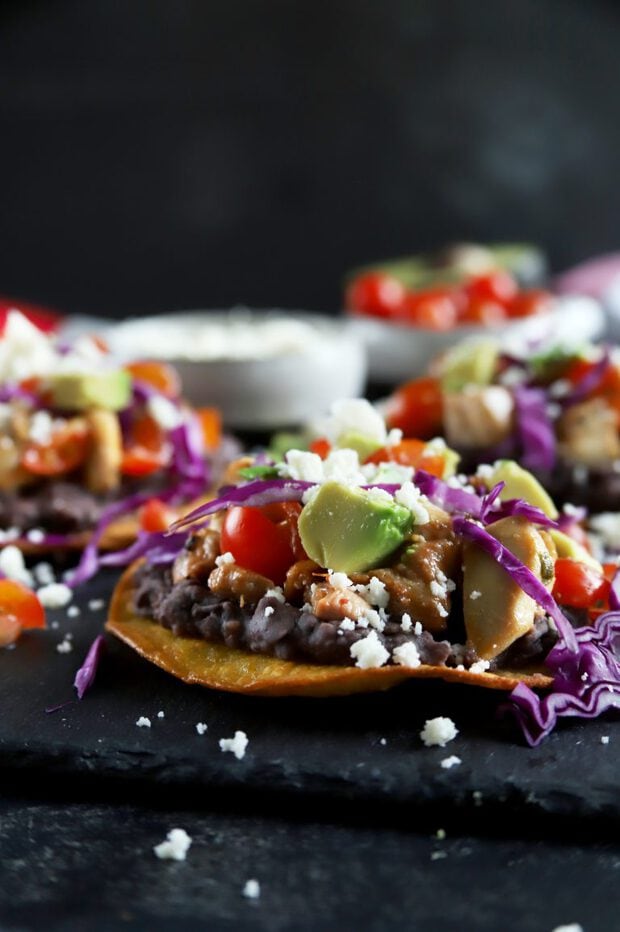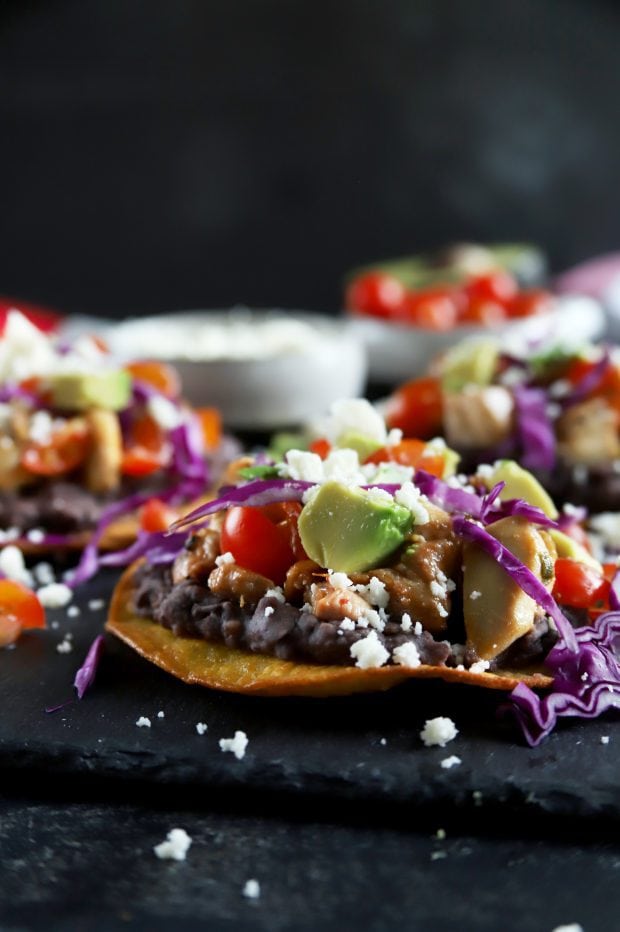 Disclosure: This post has been sponsored by Sprouts! As always, all opinions are my own. Thanks for supporting the brands that support Cake 'n Knife!
First off, thank you all for the love and support you have been sending my way the last couple of weeks. I've been a bit quiet after losing Kya and, as I shared on my Instagram stories, the miscarriage had me laid up in a puddle of pain and grief for several days.
I'm starting to get my legs back under me so the recipes will be coming at their normal rate again soon, but it's been a rough go.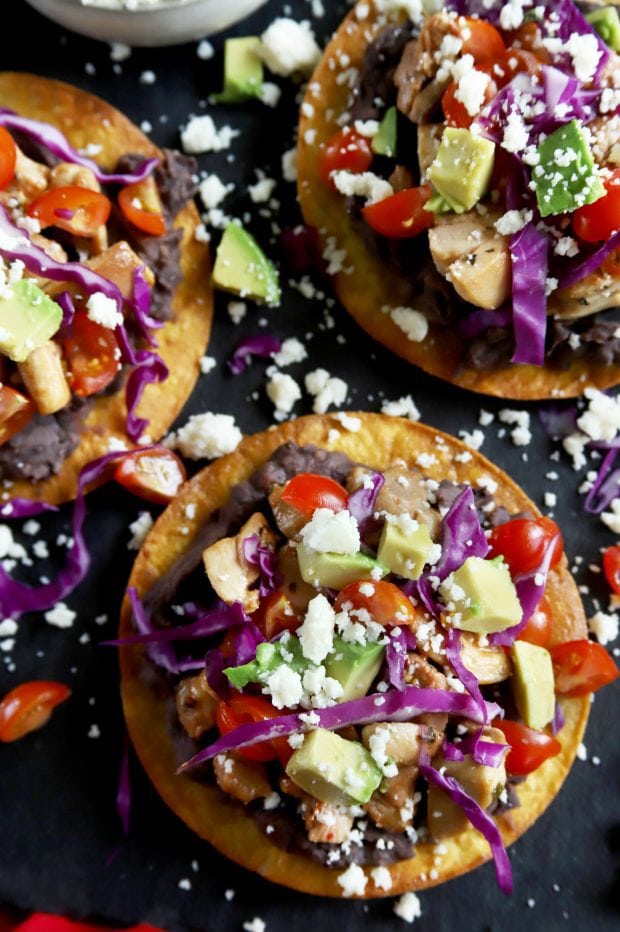 It's times like these that I cook for comfort. Whether it's a comforting soup, a grilled cheese, or a layered tostada, I just go back to the types of recipes that make me as happy as I can be at this point in time.
Note: I will be writing more on everything that has happened in the past two weeks soon, like I've said before. In the meantime, I'll be sharing some comfort food like this recipe.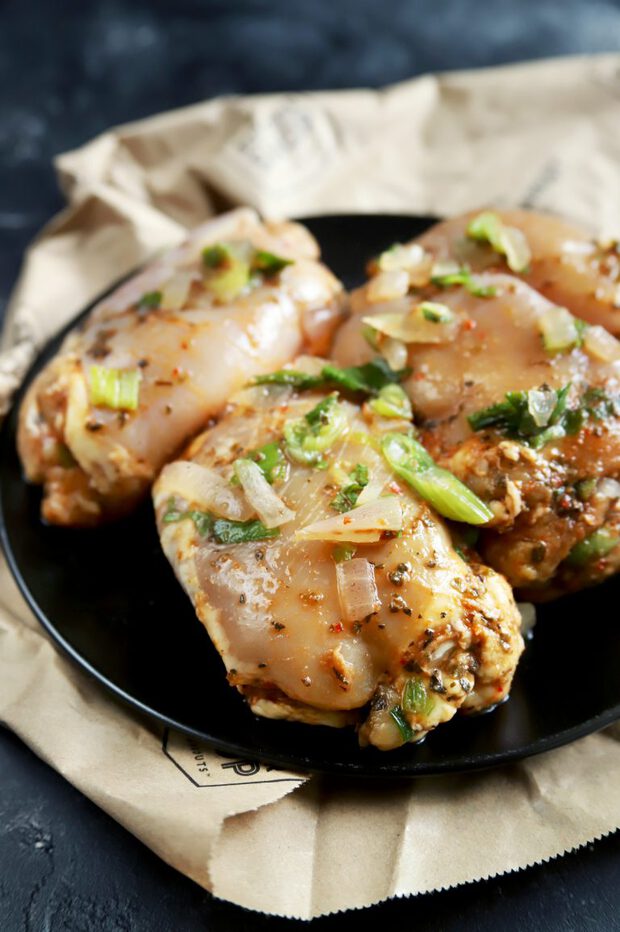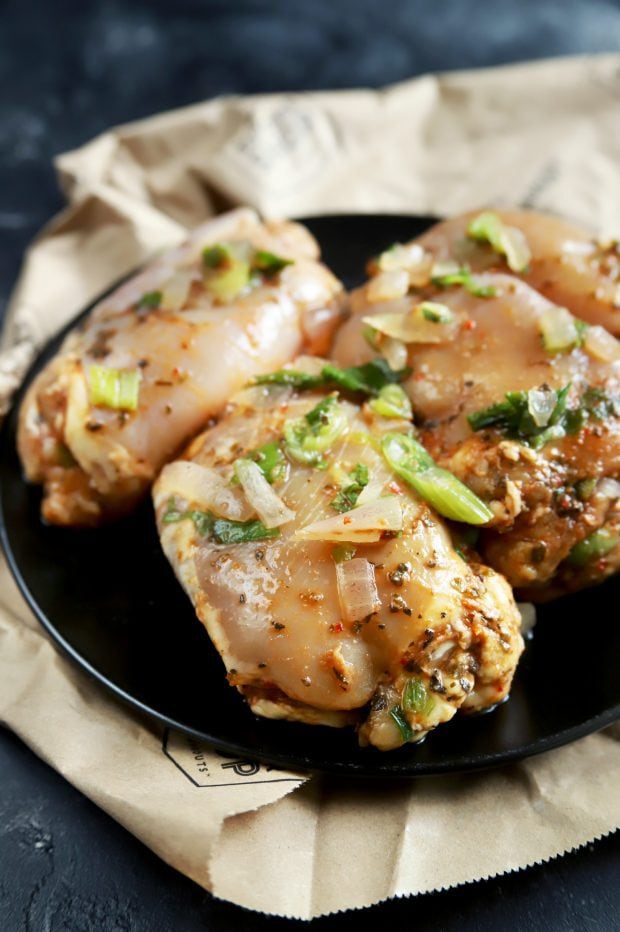 One of the first tostada recipes I ever made was when I first got into food blogging back in the day. It was this recipe from How Sweet Eats and I still make it every single summer because it's SO DANG GOOD.
When it comes to struggles in cooking, the biggest struggle with making chicken tostadas is marinating the meat ahead of time. I mean, I know it's easy to make a marinade and all, but sometimes you just forget/don't have all the ingredients/are just too lazy.
This is where my oh-so favorite store Sprouts comes in to save the day, yet again.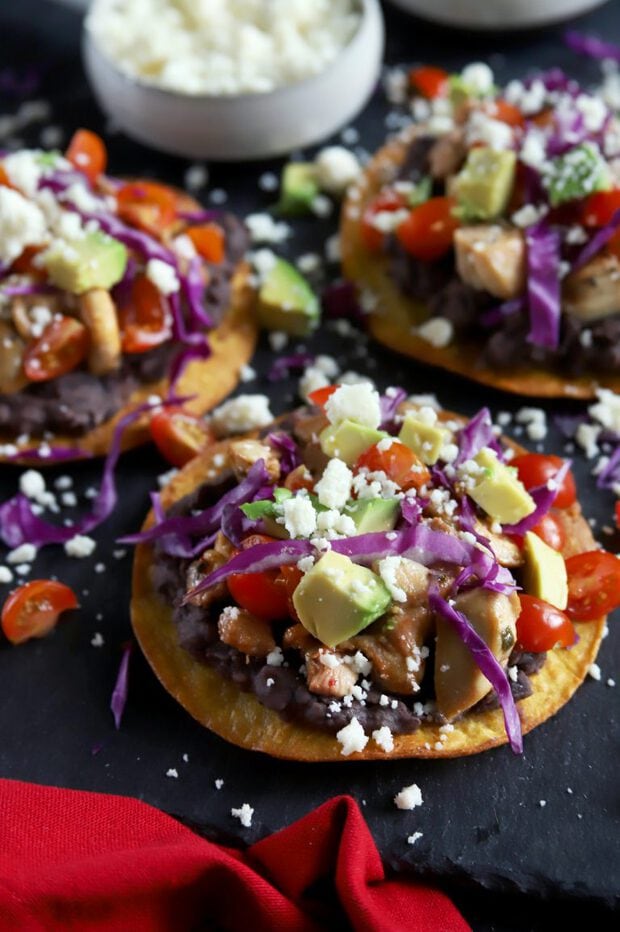 Did you know they have a whole bunch of marinated meats at their butcher shop counter?
This recipe features their tasty pollo asado, which makes for just the juicy meat to pile on top of the crunchy tostadas. However, Sprouts also has beef carne asada, marinated skirt steak chimichurri, and citrus herb chicken breast. Honestly, it saves me so much time.
It also saves me when I either have no idea what I should make for dinner or when I totally forget to get a marinade done before I start work for the day.
All I have to do is stop by Sprouts and grab whatever tickles my fancy at the time. Not to mention, Sprouts already has a killer selection of affordable and natural products to choose from for your toppings, whether it's the black beans (I love using Sprouts brand!) or the fresh vegetables you are piling on top.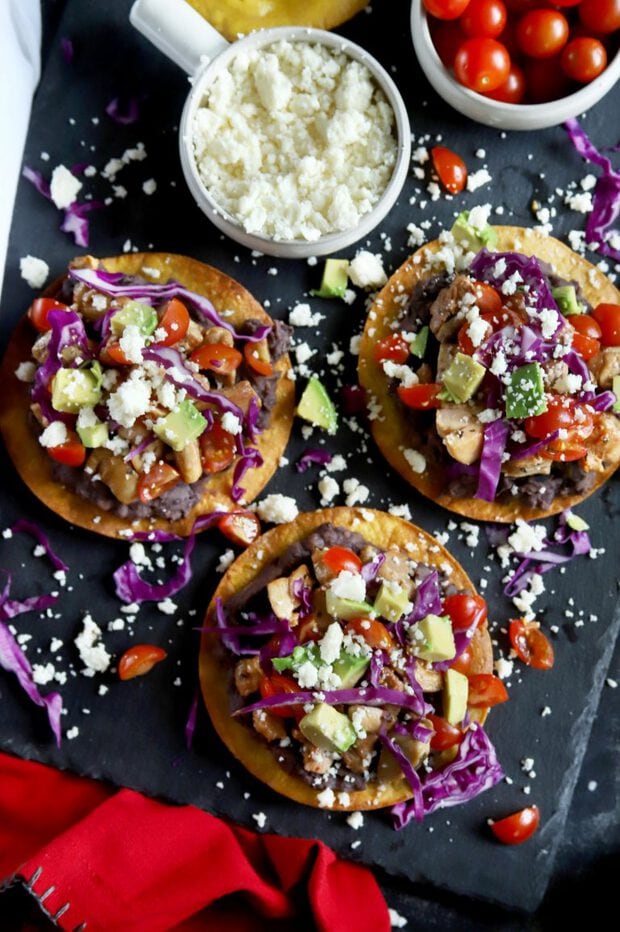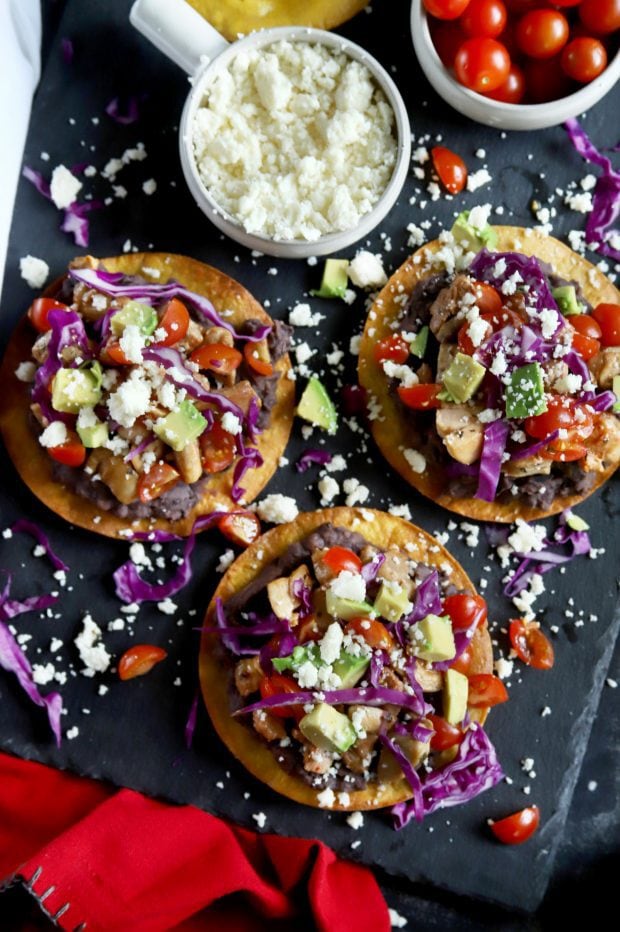 This Recipe's Must-Haves
Obviously you need the Pollo Asado from Sprouts. You can find this either at the Butcher Shop counter or in the meat section already pre-packaged. Since it's just the Man and I, I like to head to the meat counter to grab just the right amount.
When I heat up beans, I like to add them to a cast iron saucepan over medium heat. Once they are warmed through, it's super easy to just mash them up in the pan (no need to dirty another bowl, you know?).
Make sure that you have a great chef's knife and cutting board (you'll need one for veggies and one for the chicken!) so you can get everything chopped up easily.
I do all my cooking in a cast iron skillet (at least most of the time, when I'm not using a wok). I use a big one for the chicken and a small one for the tortillas.
You'll definitely want a set of these clongs for flipping the tortillas as they fry!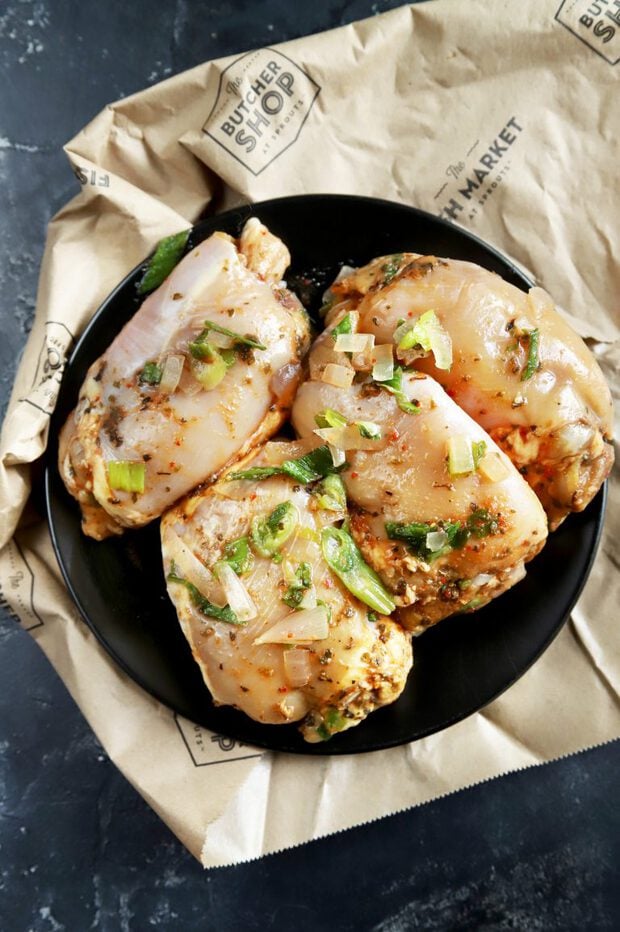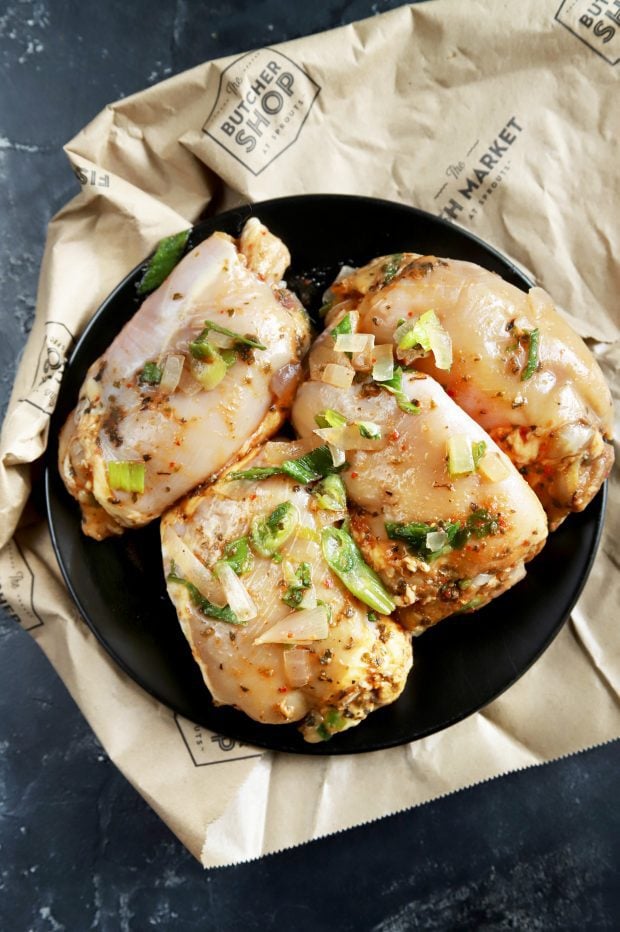 How To Make This Chicken Tostadas Recipe
Head To Sprouts
This is kind of a "duh" step. The recipe wouldn't be what it is without the pollo asado from Sprouts after all.
Fry The Tortillas and Cook The Chicken
To fry the tortillas, heat up about 1-inch of oil (I use canola) over medium-high heat. You'll be frying the tortillas one at a time until golden brown.
Be sure to remove them to a paper towel-lined plate or sheet pan when they are done. I like to hit them with a pinch of salt too!
You'll chop up the chicken before you add it to the hot pan to cook. It cooks up fast so keep an eye on it as overcooking will make it less juicy!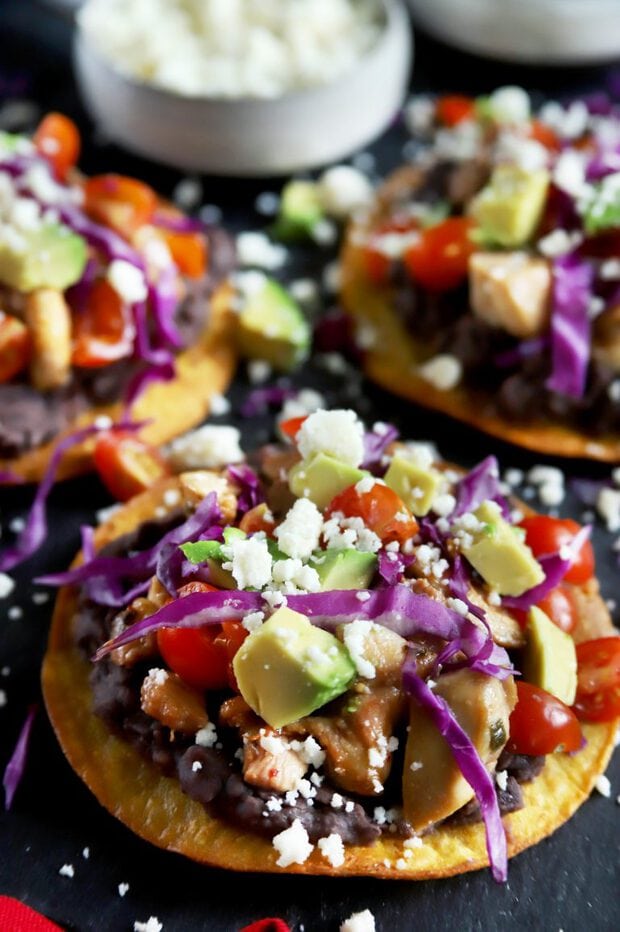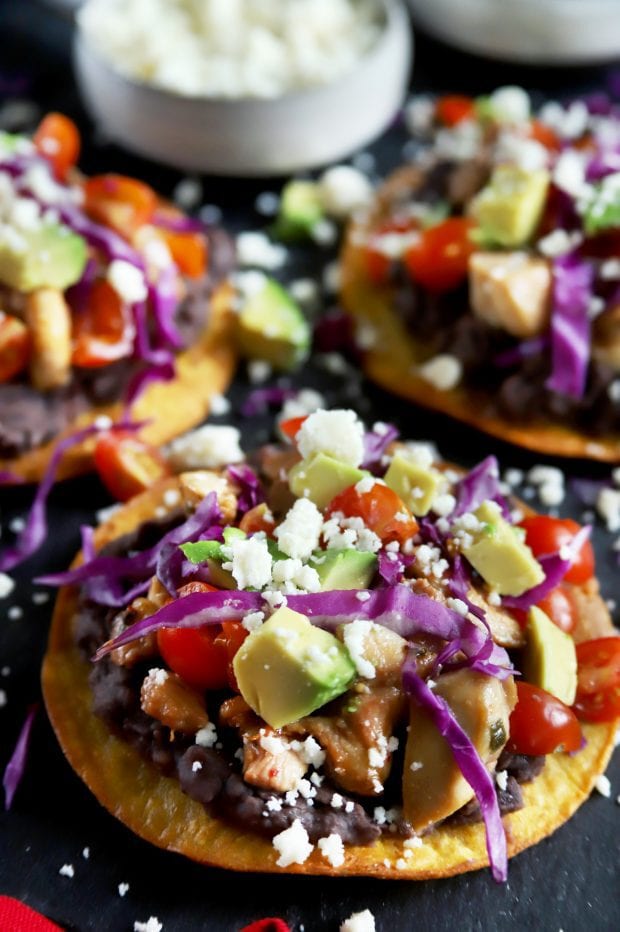 Chop, Slice, and Crumble
Prepare all the ingredients for the toppings! This will include lots of chopping and slicing/shredding. Be sure to crumble up that quest fresco too.
Assemble
To assemble, you'll want to spread a good amount of the mashed black beans on each crispy, golden brown fried tortilla. Then go to town with the chicken, tomatoes, avocado, cabbage, and cheese.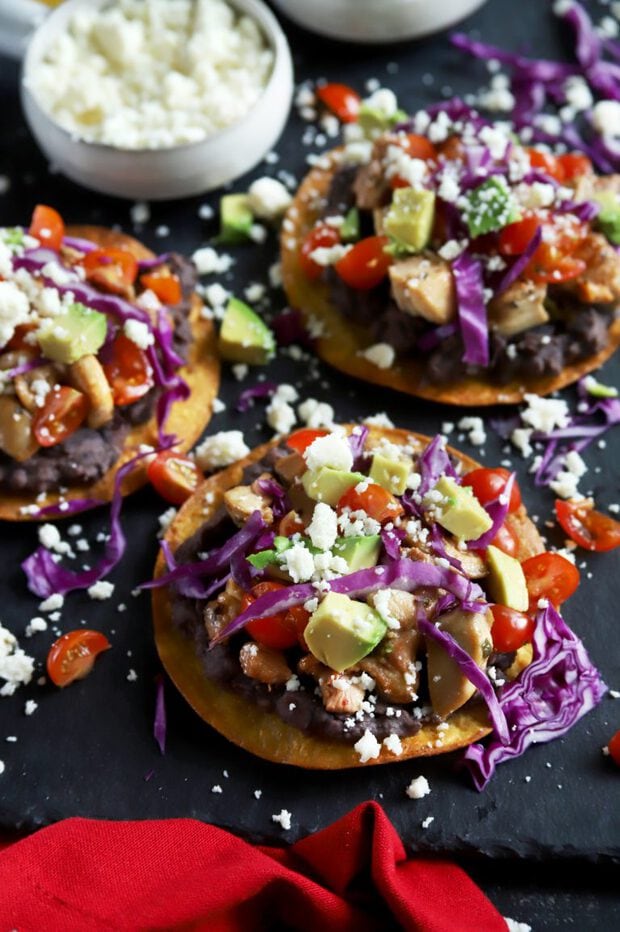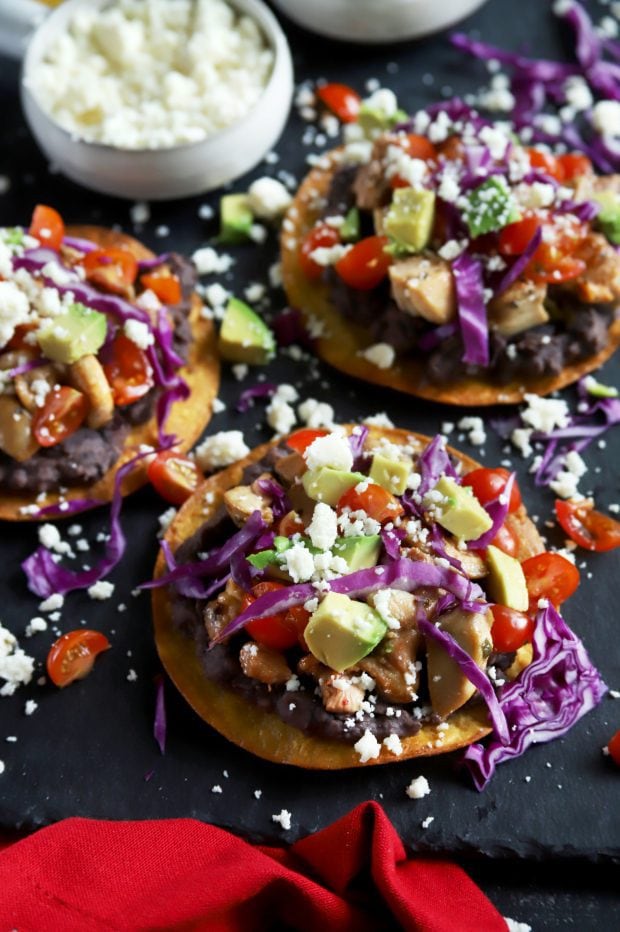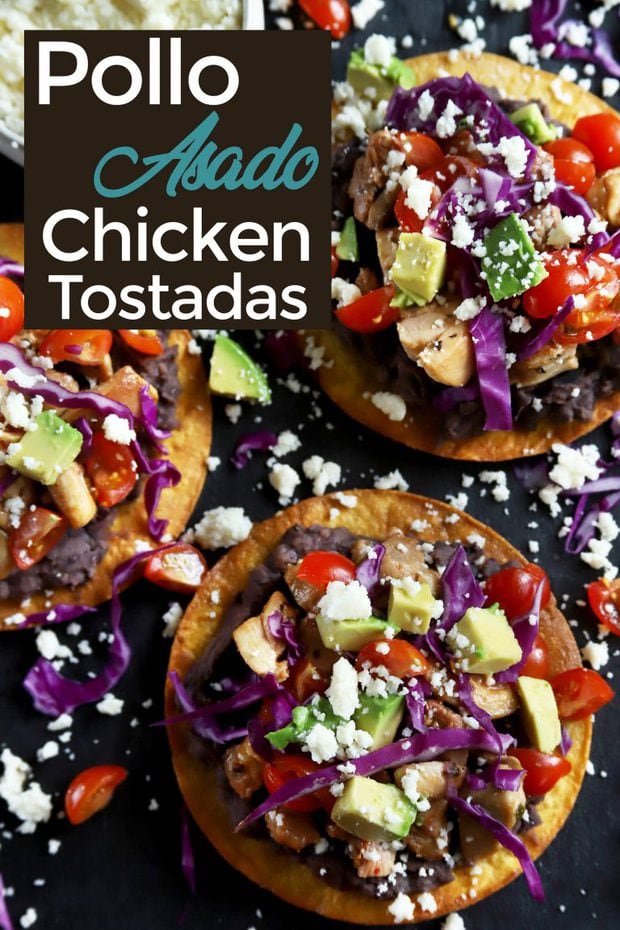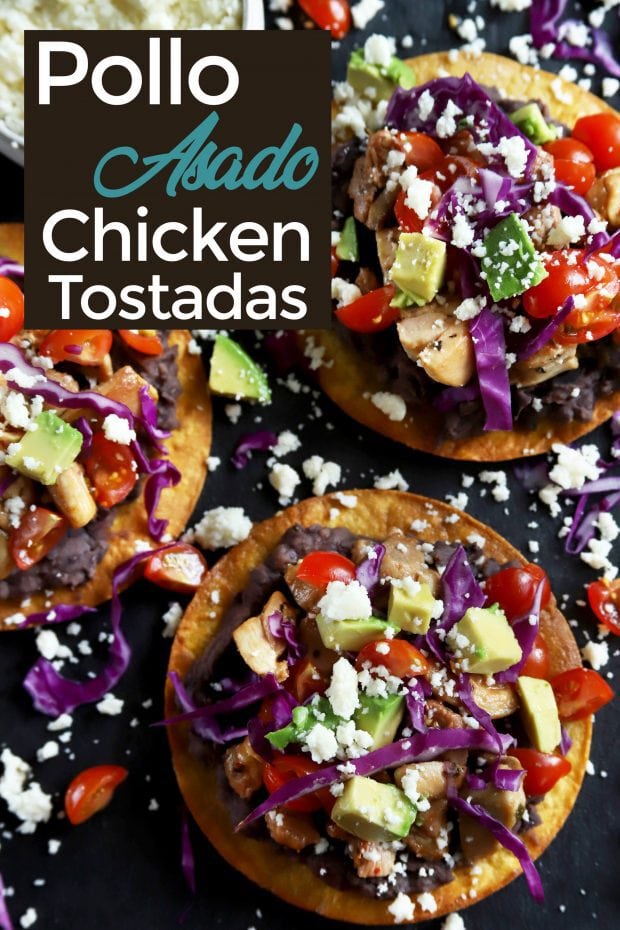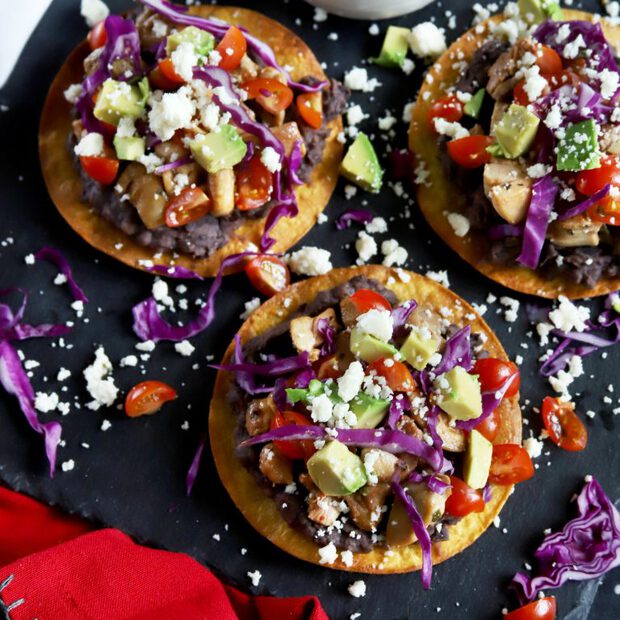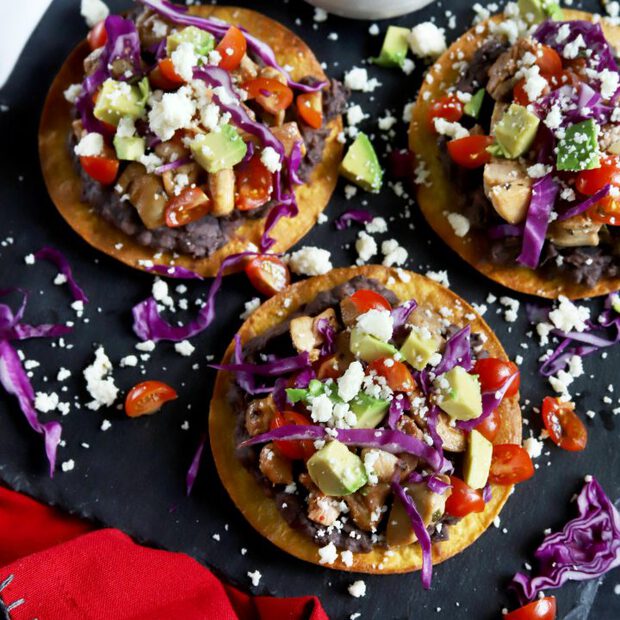 Pollo Asado Chicken Tostadas
Flavorful pollo asado is paired up with mashed black beans, tomatoes, avocado, and cabbage on fried tortillas for a great alternative to Taco Tuesday!
Ingredients
CHICKEN
1 1/2 lbs Sprouts Pollo Asado Chicken, cut into bite-sized pieces
1 tsp olive oil
TOSTADAS
4 small corn tortillas
Canola oil
1/2 cup cherry tomatoes, quartered
1 can Sprouts Black Beans, drained, warmed and mashed
1/2 cup shredded purple cabbage
1/3 cup crumbled queso fresco
1 avocado, chopped
Instructions
In a small skillet, add canola oil until about 1 inch deep. Heat oil over medium-high heat.
Once the oil is hot and shimmering, fry corn tortillas one at a time, until golden brown, approximately 1-2 minutes per side.
Remove to a paper towel lined plate to drain and sprinkle with salt. Repeat with the remaining tortillas. Set aside.
Heat a nonstick pan with olive oil over medium-high heat. Once the pan is hot, add chicken. Stir occasionally until chicken is cooked through, about 5 to 7 minutes. Remove from heat.
Spread each tostada with about 2 Tbsp mashed black beans.
Top with chopped chicken, dividing evenly between the tostadas.
Top each with cherry tomatoes, shredded cabbage, avocado, and queso fresco.
Serve immediately with your favorite hot sauce, if desired
Recommended Products
As an Amazon Associate and member of other affiliate programs, I earn from qualifying purchases.