Pickle Brined Hot Chicken Sliders are juicy, cheesy, and spicy! The pull-apart sandwiches are ready in less than 30 minutes, making them an easy weeknight meal or a spicy appetizer for a small gathering. Makes 12 sliders.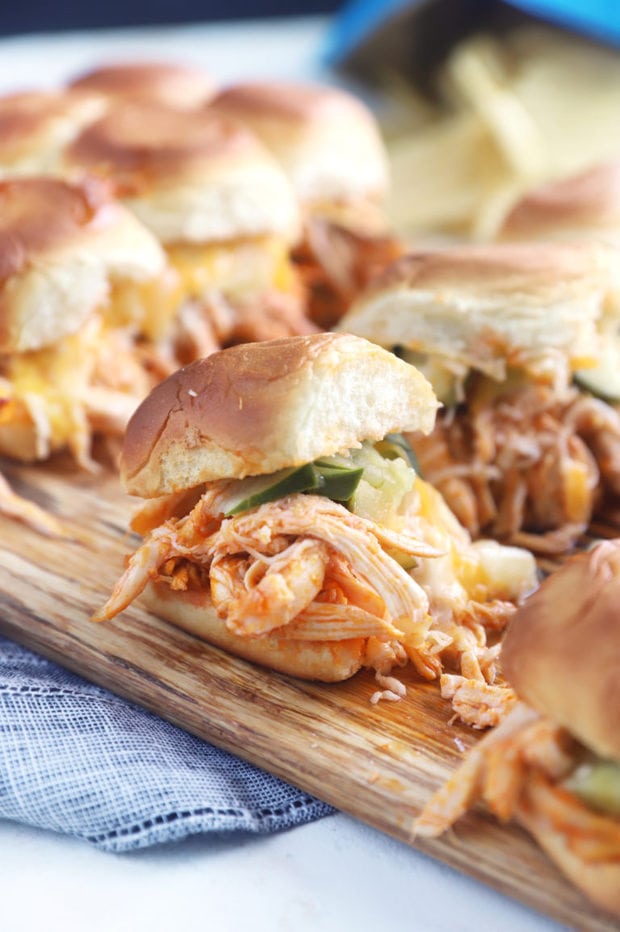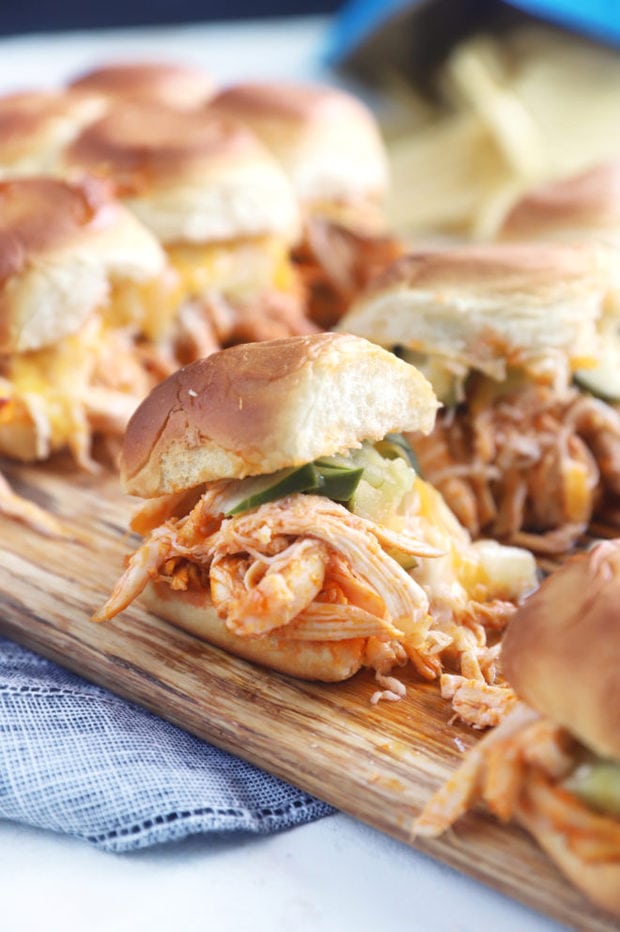 Disclosure: This post is sponsored by Sprouts Farmers Market. As always, all opinions are my own.
As you all know, I am a fan of so many foods, but I have a few favorites. They include avocados, a killer roasted chicken, chocolate, and PICKLES.
This past year has been the year of the pickle, you know? I mean, we've seen it all from hot dogs stuffed into pickles to pickle ice cream (still can't bring myself to try that one…). Pickle is a hot item right now, and while I've always love pickles, there's something else about them that I love.
The pickle brine.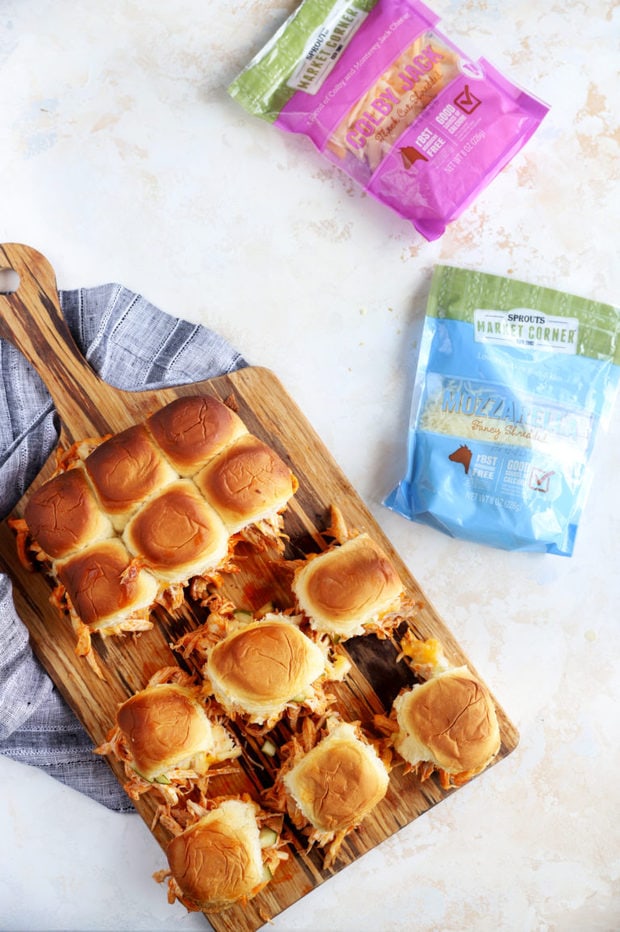 Brining is something I always do for my chickens and turkeys, but it takes a verrrrrry long time. You have to make the brine, then let it brine, then roast it in the oven.
During the week with little Babycakes on my hip, you know I don't have time for all that jazz. I love cooking from scratch, but when I can, I freely admit that I take shortcuts to make my life easier! One of my favorite things to do is to pick up a whole roasted chicken from Sprouts Farmers Market.
Now that's doubly true because there's a whole new flavor this month… PICKLE BRINED. This is my new favorite thing to grab because it tastes incredible. The pickle flavor really comes through with a lovely dill aftertaste that lingers on your tongue alongside a little bit of tang.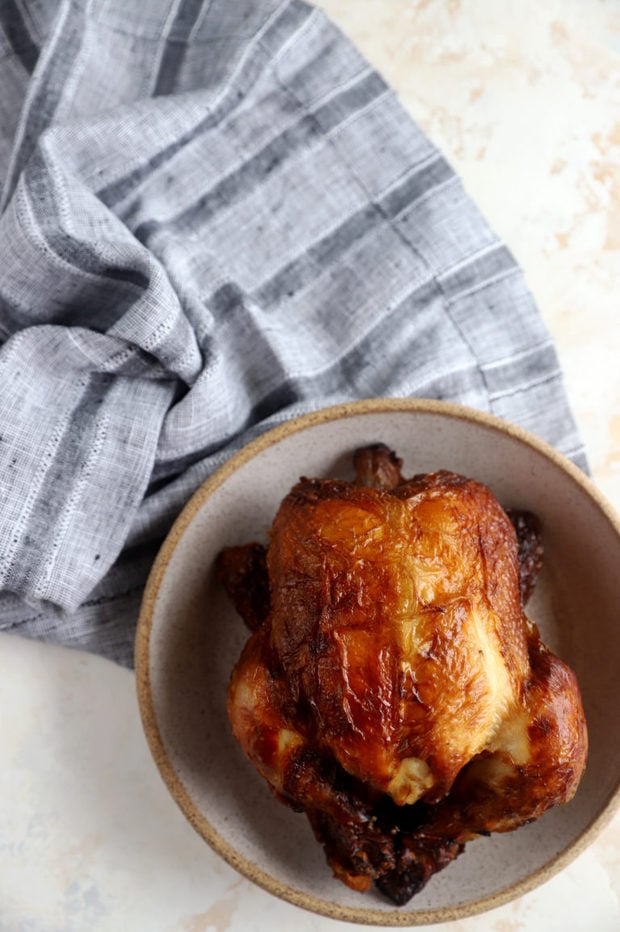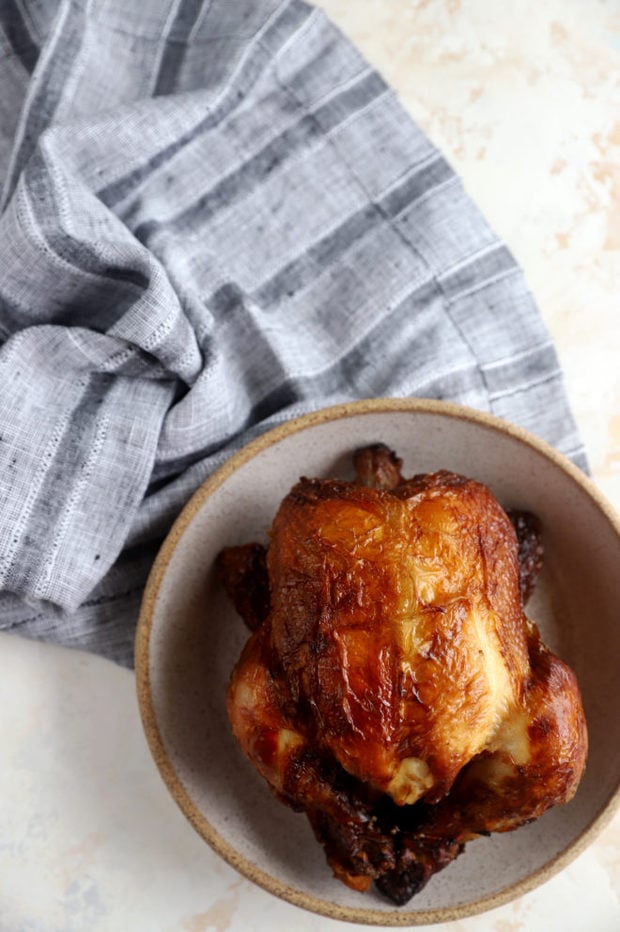 Plus I can feel good about buying these roasted chickens because they have no added antibiotics and the chickens are humanely raised (something that is especially important to me!).
It makes for a killer filling for these hot chicken sliders! If you've ever had a hot chicken sandwich, you know that the pickles are a must, and this recipe gives you a double hit of them.
There's the pickle brined chicken that takes a dip in some seriously tasty spicy butter, then it's topped off with a touch more pickles for crunch. Oh and plenty of cheese because what's a pull-apart slider without some cheese?!
Be sure to head to Sprouts Farmers Market ASAP to pick up this tasty roasted chicken – the flavor is only available for a limited time and it's a must-try in my book!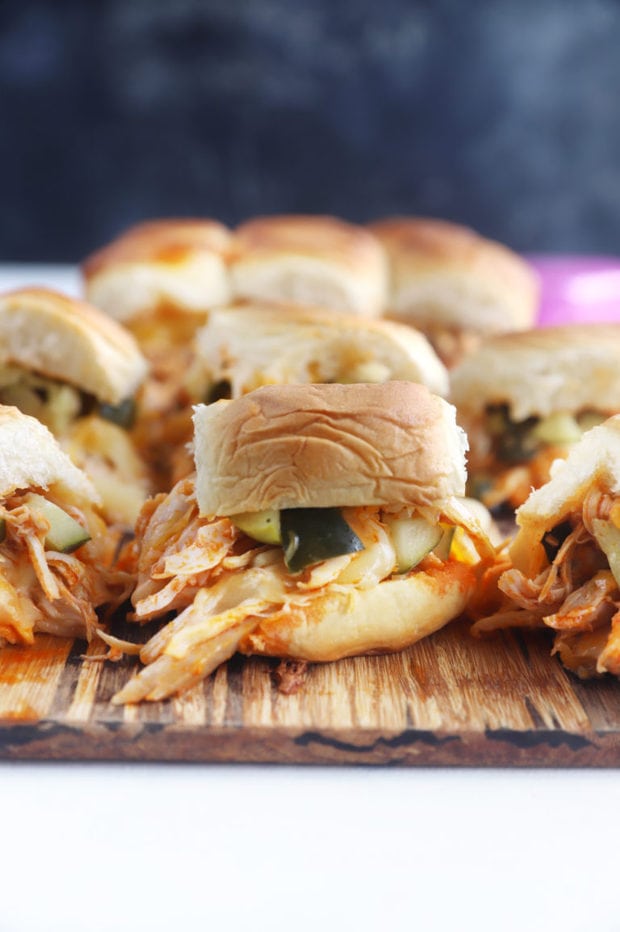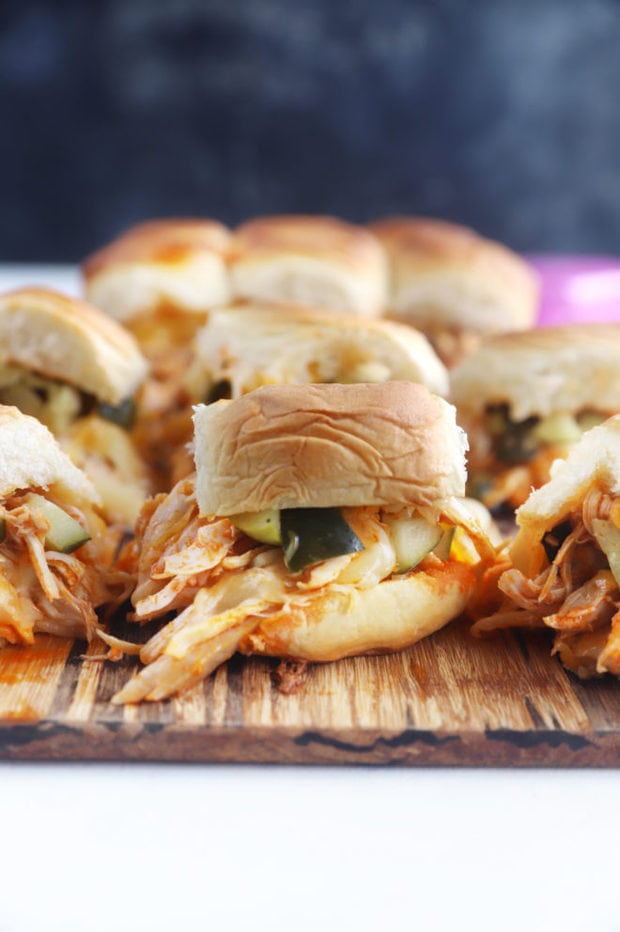 this recipe's must-haves
All of the ingredients for these easy peasy sliders are available at your local Sprouts Farmers MarketI The pickle brined roasted chicken is a must, but if you can't locate the flavor, you can grab one of their regular roasted chickens too.
You will need a half sheet baking pan for the sliders, as well as a saucepan and a whisk to make the spicy butter. Pretty low maintenance, am I right?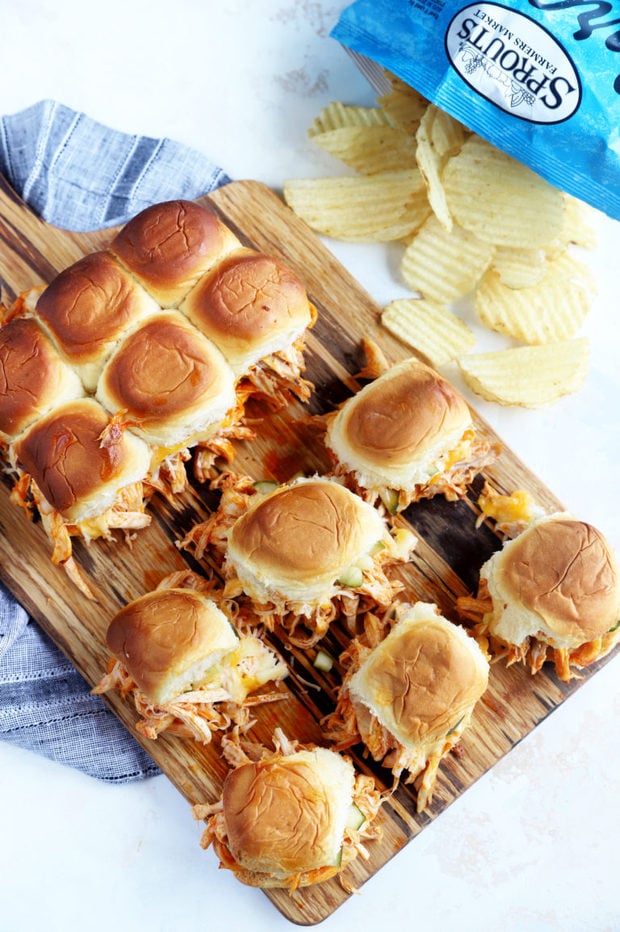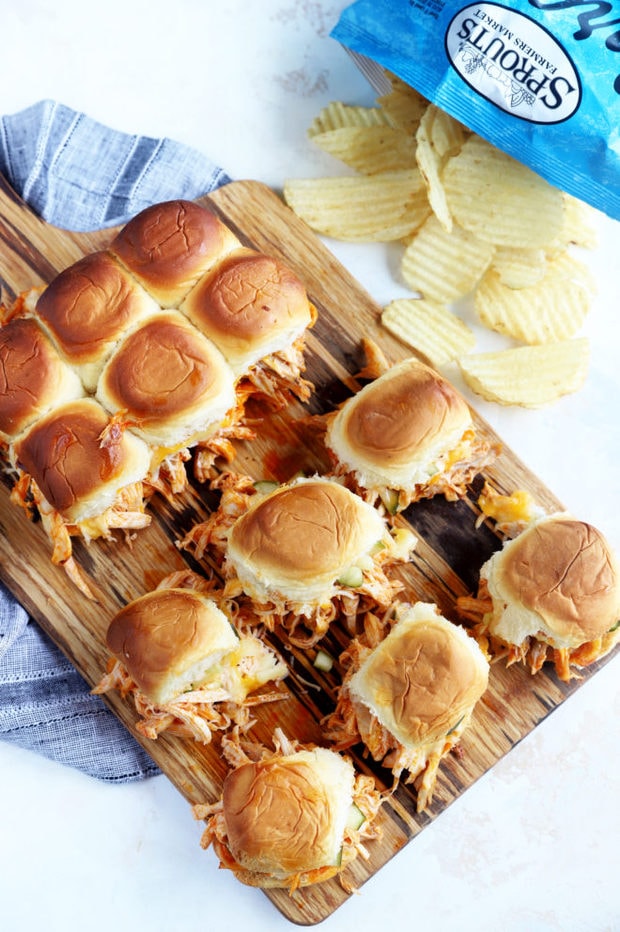 let's make yummy pickle brined hot chicken sliders!
Prep Buns and Chicken
Cut buns in half and then add them to a baking sheet to toast under the broiler. I like to toast both halves because it gives you better texture!
For the chicken, you'll remove all the meat from the bones. Shred the meat and add it to a large bowl. I like to reserve the bones and skin and any excess meat stuck to the bones for making a quick chicken stock. The flavor is awesome!
Melt the butter on the stove, then whisk in the hot sauce. Add the spicy butter to the chicken and stir it all together until all the chicken is coated in the butter.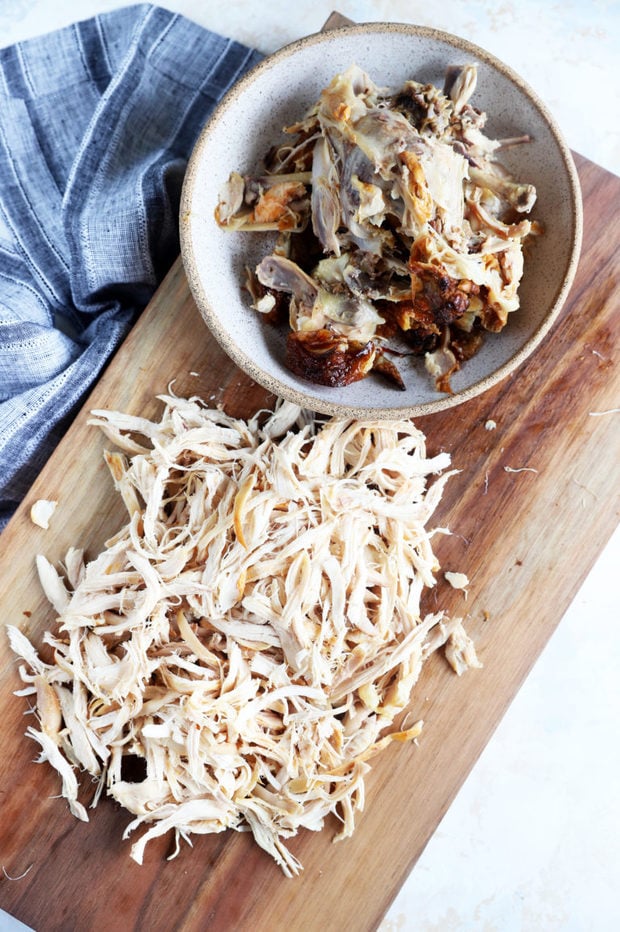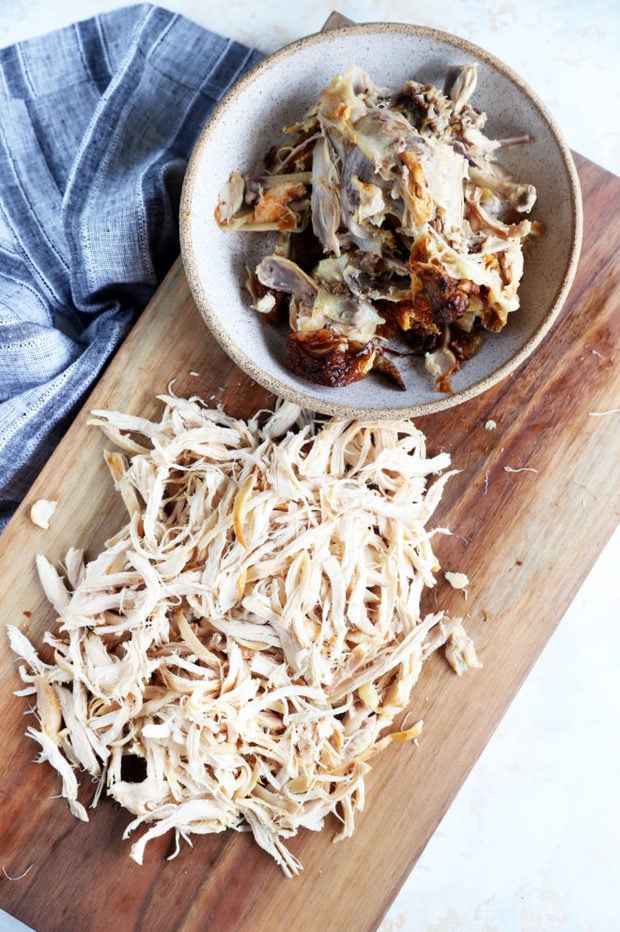 Assemble
Add the chicken in an even layer to the bottom halves of the buns.
Spread both cheeses on top, evenly. Sprinkle over chopped pickles and add the tops of the buns.
Bake
Bake until the cheese is melted and the rolls are golden. This will take just 12 to 15 minutes. Serve immediately!
Need some more inspiration for appetizers? Check out my appetizers recipe page!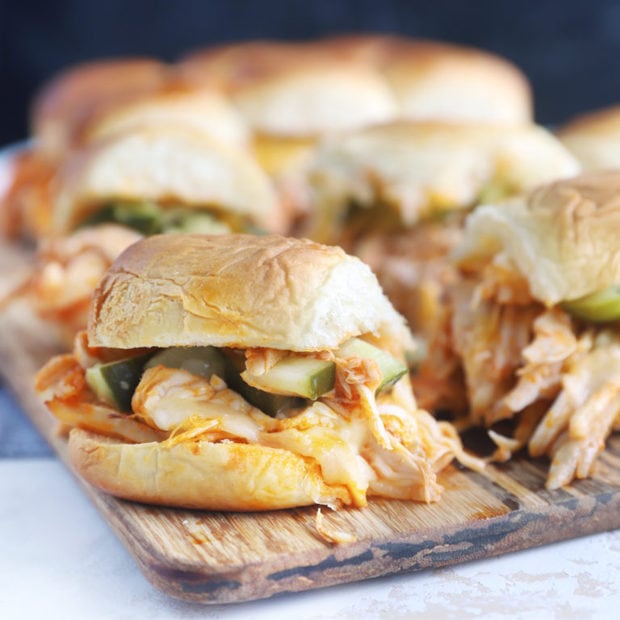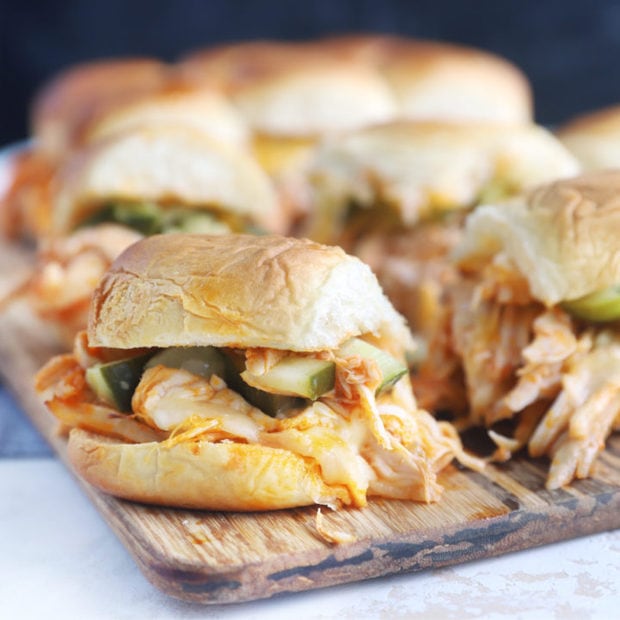 Pickle Brined Hot Chicken Sliders
These pull apart sliders are ready in less than half an hour, making them an easy weeknight meal or spicy appetizer for a small gathering.
Ingredients
Hot Chicken Sliders
One (1 1/2 to 2 lbs) Sprouts Pickle-Brined Roasted Chicken
One 12-pack pull-apart dinner rolls
1 cup shredded Monterey Jack cheese
1 cup shredded mozzarella cheese
1 1/2 cups chopped dill pickles
Spicy Butter
4 Tbsp (1/2 stick) unsalted butter
2/3 cup hot sauce (like Frank's Red Hot Sauce)
Instructions
Use your hands to remove the meat from the roasted chicken. Reserve the carcass and skin to make your own chicken stock!
Shred the meat and set aside. I just use my hands to do this.
Preheat broiler. Cut rolls in half and place both halves cut side up on a baking sheet. Toast until browned, about 1 to 3 minutes. Make sure you keep a close eye on it to avoid burning the rolls.
Remove from the oven and set the pan aside. Preheat the oven to 400˚F.
In a small saucepan, melt butter over medium-high heat. Whisk in hot sauce until smooth.
In a large bowl, combine shredded chicken and spicy butter, stirring to coat the chicken well.
Spread the chicken on the bottom halves of the rolls in an even layer. Top with both cheeses, spreading them evenly on top. Sprinkle over chopped pickles and place the roll tops on top.
Bake until bread is golden and cheese is melted, about 12 to 15 minutes. Serve immediately.

Recommended Products
As an Amazon Associate and member of other affiliate programs, I earn from qualifying purchases.