I really did try to take a break from goat cheese and bread in an effort to be healthy and eat in moderation… But then I made these crostini and remembered just how goooooooood goat cheese and bread are….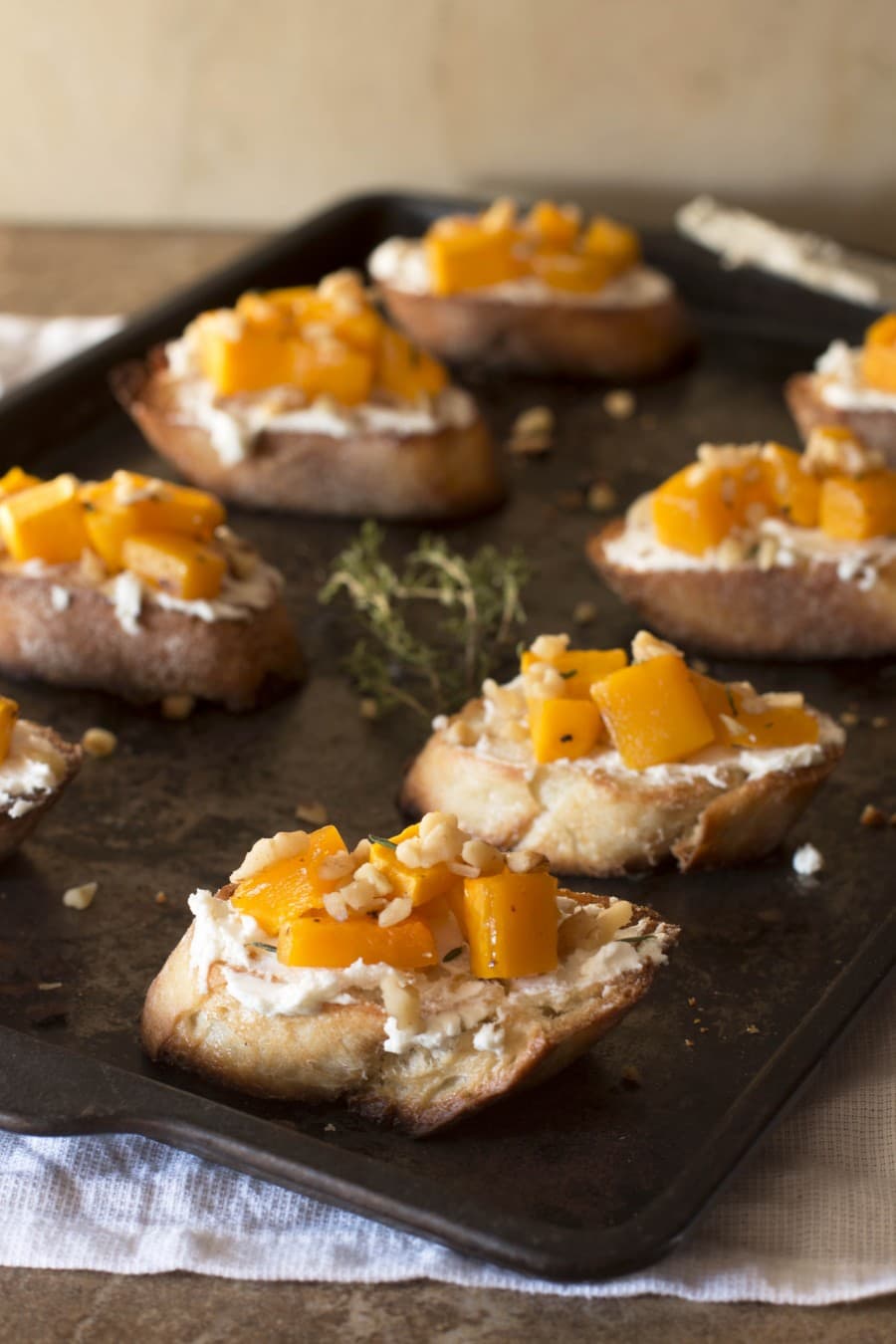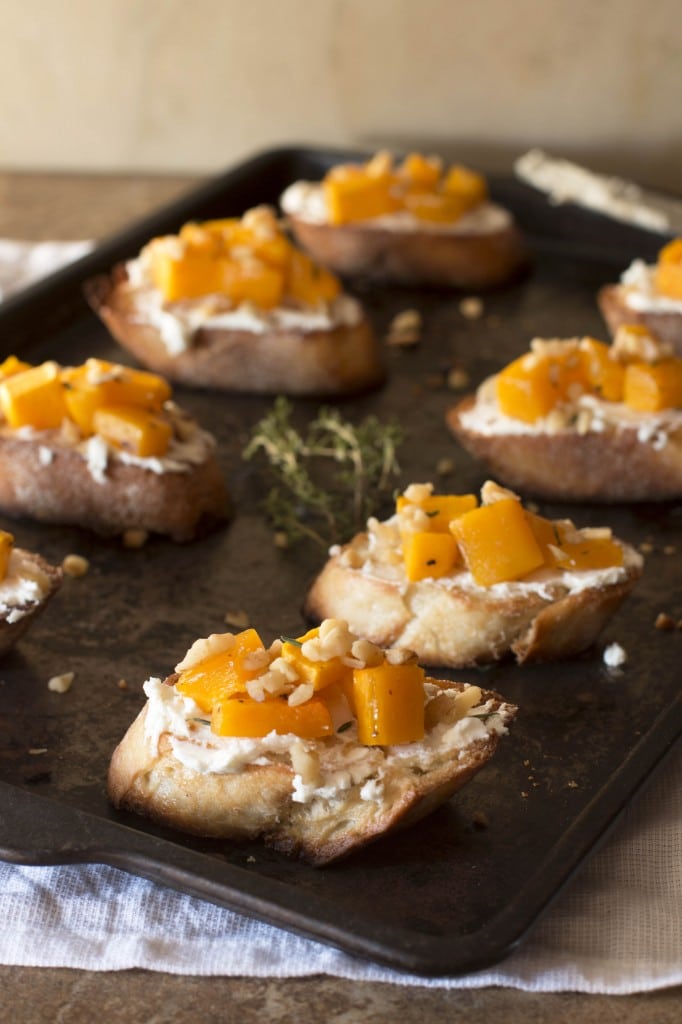 If I could have a love affair with any food, I think it would be bread. Apparently this is not a new idea; when reading The Man Who Ate Everything by Jeffrey Steingarten I happily found that he devotes an entire chapter to bread. My favorite section out of the entire book is "Bread is the only food I know that satisfies completely, all by itself. It comforts the body, charms the senses, gratifies the soul, and excites the mind."
*sigh* Doesn't that make you want to stuff your face with an entire loaf of bread and never go a day without it?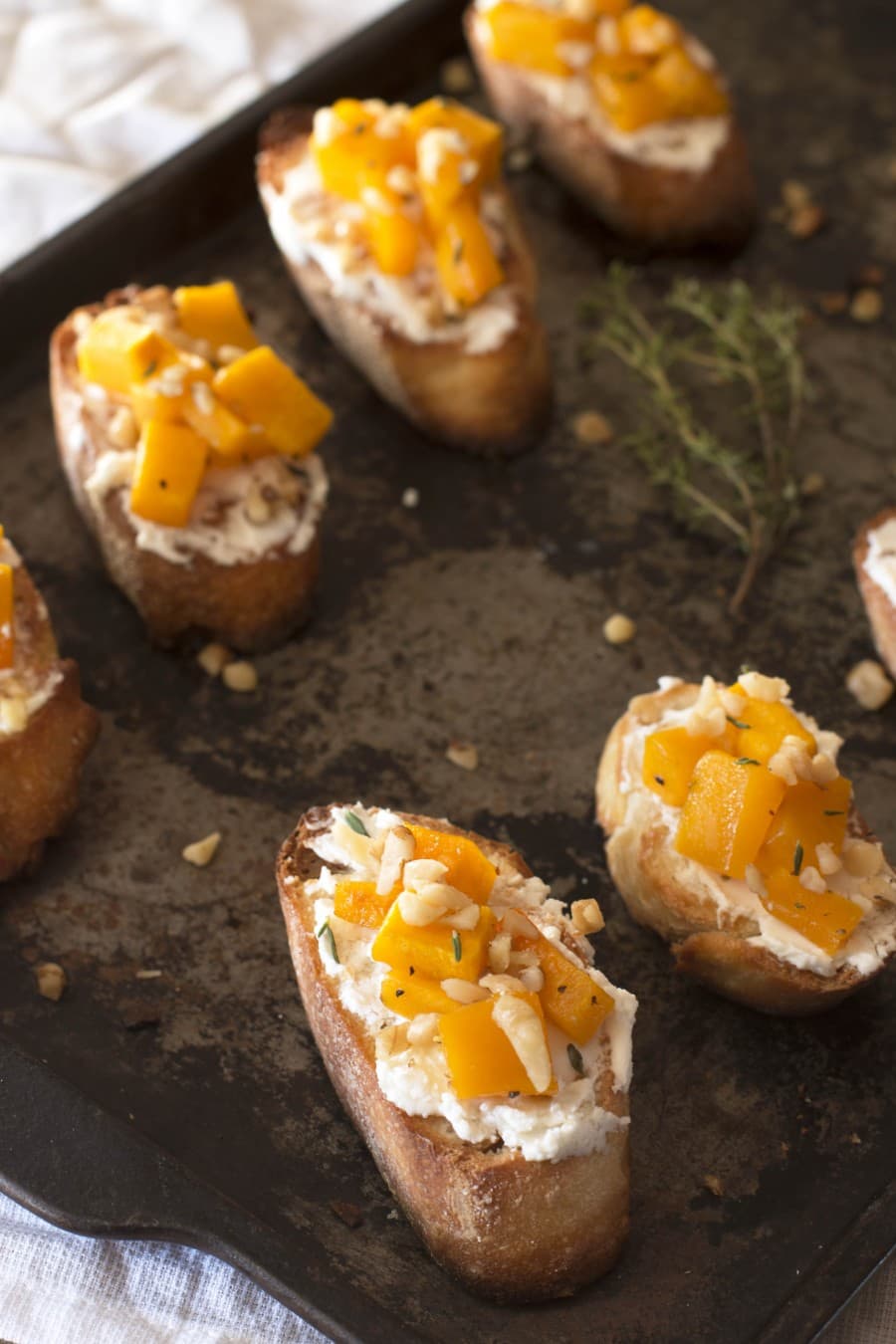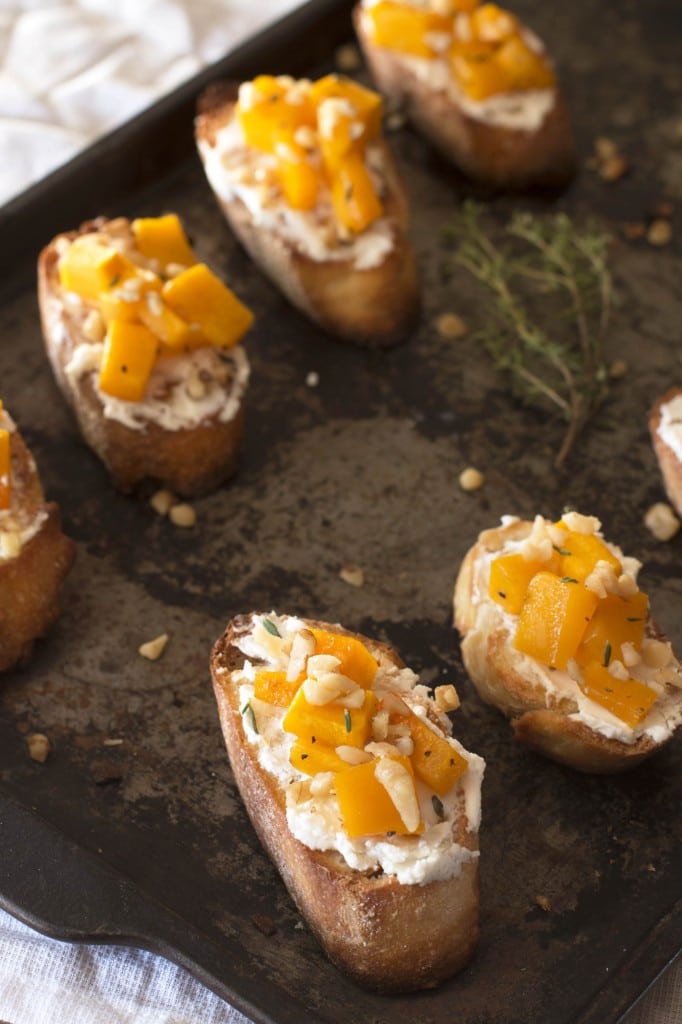 The flavors of these crostini scream harvest to me with every sweet and savory bite. Truly this recipe is not only an homage to the fall season, but also to bread. The crunchy, toasted bread is incredibly enhanced by the caramelized squash and smooth tangy goat cheese. If you make this recipe, promise me you will make it with good great bread. It's a MUST.
As I eat them, in my mind, I am in a cozy house nestled deep in a forest full of orange and red leaves, enjoying these crostini as I prepare a huge fall feast for my family.
In reality, I am in my cozy house, in my sweatpants and sweatshirt, devouring these crostini as my dog pleads with me to share and I just sit in awe of my stomach's endless capacity for bread.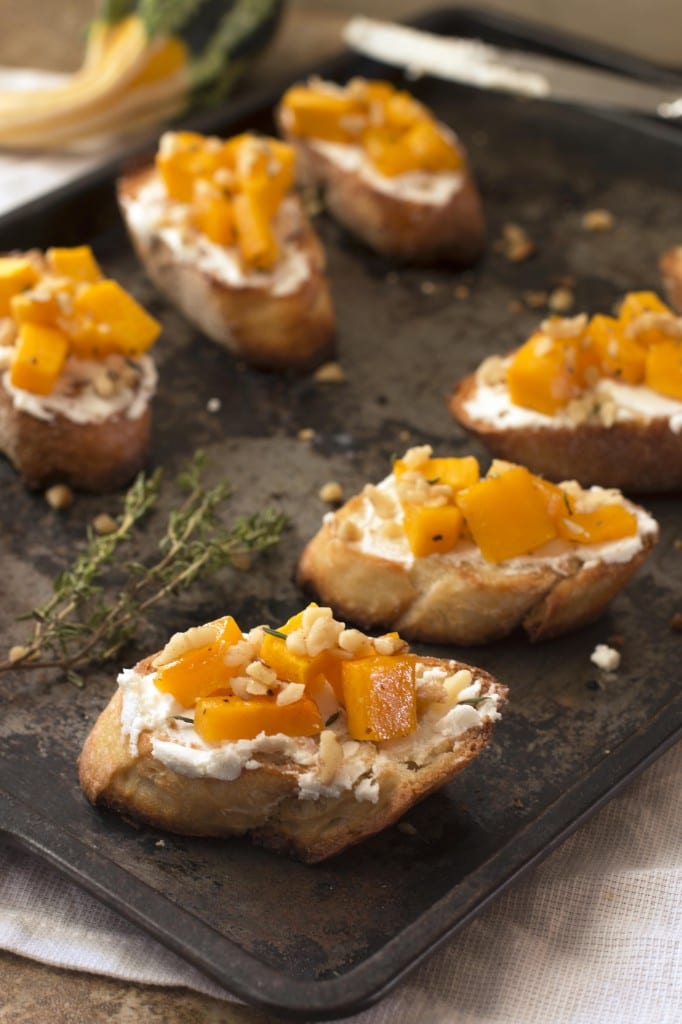 But think of me in the house in the forest, with a clean apron and not burning a thing, ok?
Seriously, you have to read The Man Who Ate Everything. It will make you fall in love with food all over again. It will also make you insanely hungry so be sure you have some of these crostini nearby when you dive in.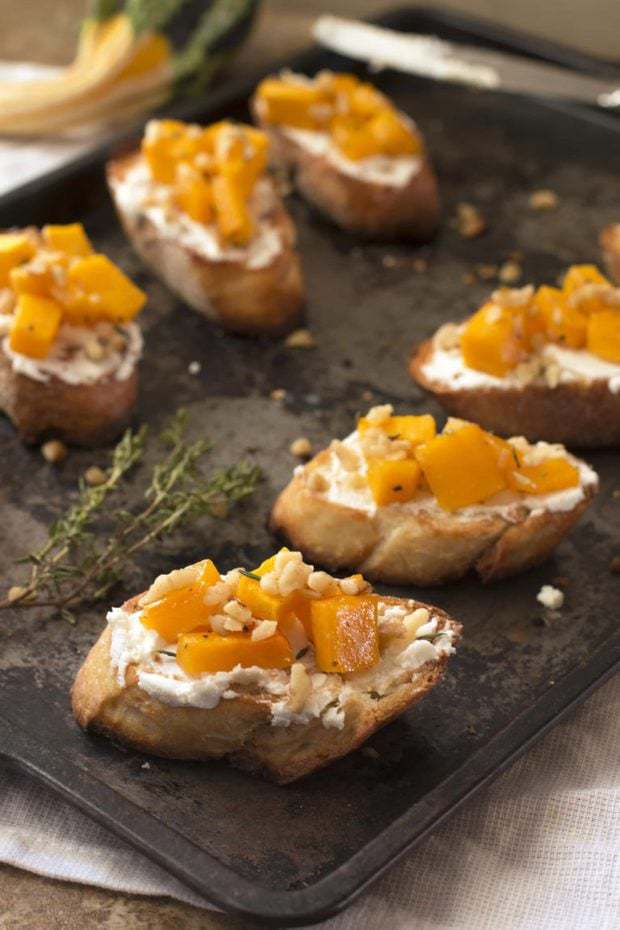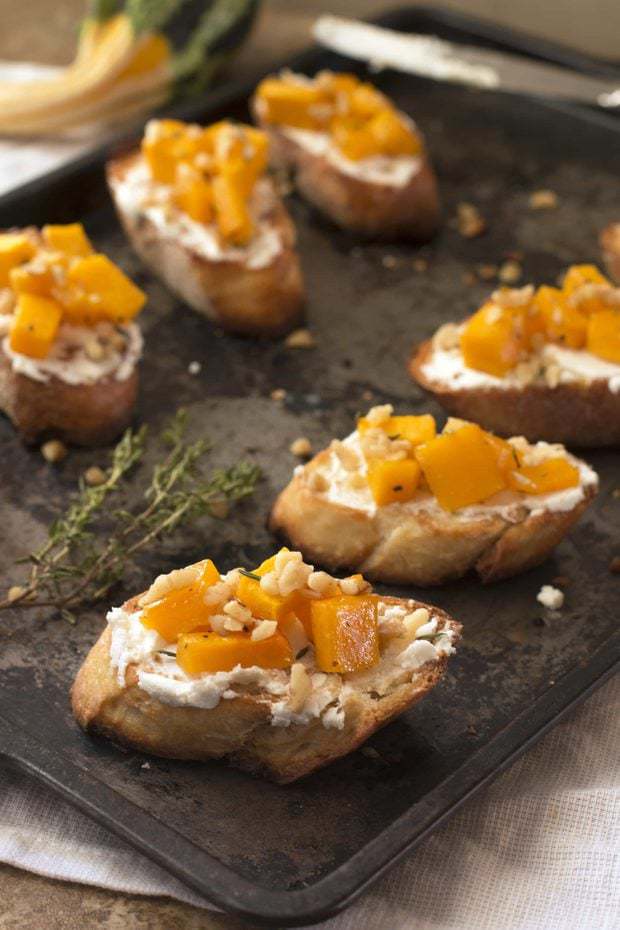 Roasted Butternut Squash, Goat Cheese, & Walnut Crostini
Sweet, tangy, and crunchy - this crostini has all the textures and flavors of fall!
Ingredients
1 medium-large butternut squash
1 tsp olive oil
1 tsp honey
1/4 tsp salt
1/4 tsp pepper
1 French baguette, sliced into 1/2" thick pieces & toasted
8 oz goat cheese, room temperature
1/3 cup walnuts, chopped
Fresh thyme
Instructions
Preheat oven to 420 degrees.
Cut the butternut squash into 1/2" to 3/4" cubes. Spread on a lined baking sheet in one even layer. Drizzle olive oil and honey over the squash, then sprinkle with salt and pepper. Place baking sheet in the oven and cooke for approximately 15-20 minutes, until roasted and fork tender. Remove from oven to cool slightly.
Add your toasted slices of bread to your serving tray. Spread an even layer of goat cheese on each piece of bread. Top with the roasted butternut squash pieces and chopped walnuts. Sprinkle the fresh thyme leaves on top. Serve immediately.