I know all last week was Blogsgiving Dinner, but I couldn't pass up the opportunity to share a little dessert!!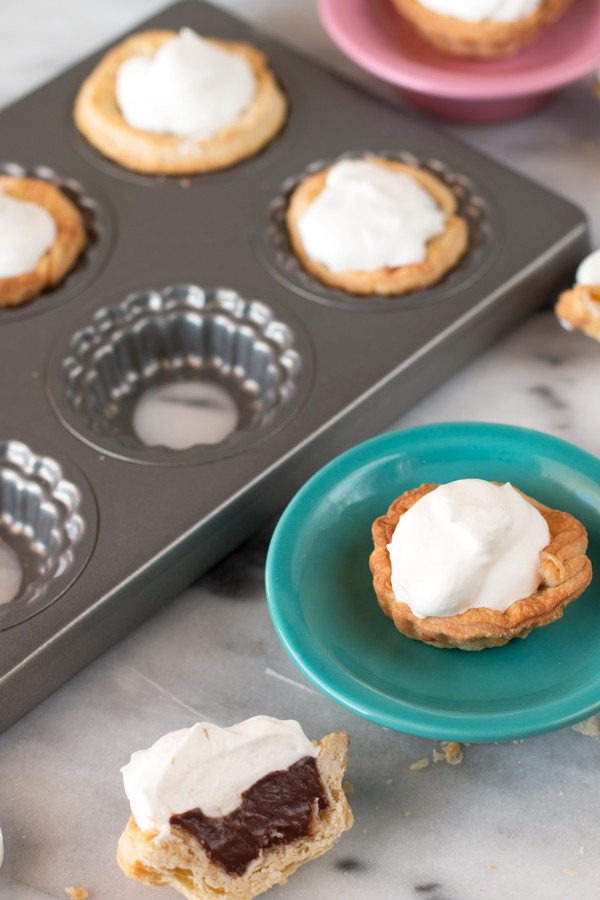 At Thanksgiving I am all about three things – trying to make dessert simple, make it ahead of time, and give everyone a little bit of what they love. The hours leading up the Thanksgiving tend to require a bit of organization and a lot of patience. Once the meal is over, I want to be able to pull dessert out of the refrigerator and continue enjoying myself! Not to mention I am likely on my second glass of wine at this point – the time when I generally ban myself from all flames, stove tops, and ovens (did I mention I tend to burn myself a lot?).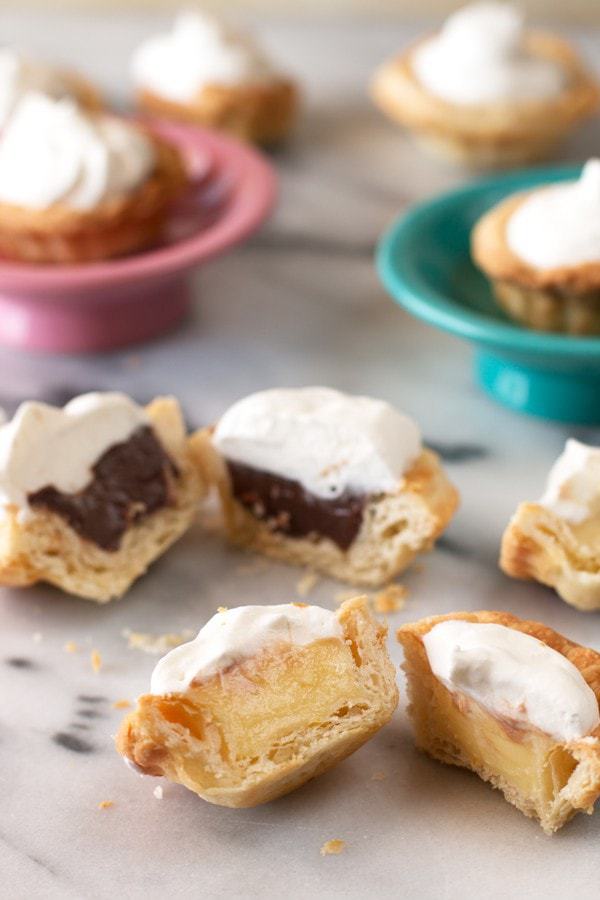 Sometimes I wish I had inherited what my entire family calls "the Foley hands", named loving after my unfairly talented grandmother who could reach into a piping hot oven and pull out a casserole without using an oven mitt. Instead, Instead I burn myself every which way I possibly can.
My solution to this problem (which I shared in waaaaaay too much detail)? Mini cream pies!! With this recipe you can make three different types of mini cream pies and they'll be happy just resting in the refrigerator overnight until Thanksgiving day. At the end of Thanksgiving dinner, you'll be able to pull these out and serve immediately so you can keep enjoying the company of friends and family. In the end isn't that what Thanksgiving is all about (you know, aside from FOOD)?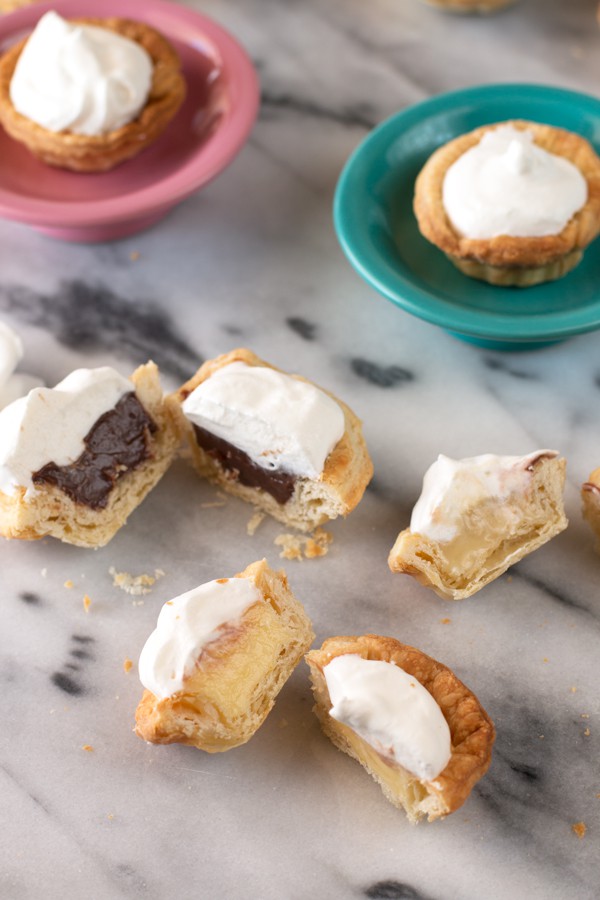 Of course, I didn't even register the idea for mini cream pies until I saw this KitchenAid® Professional Grade Mini Pie Pan. Talk about the perfect pan… It's nonstick, creates adorable little pies, and the bottoms are removable. That's right, no need to try to pry these little guys out of the pan. You just pop them right out from underneath the pan and voila! You can make pies, tart shells, quiches, I could go on and on and on.
For my mini cream pies, I went with Nutella, Banana, and Orange for the fillings. However you could add melted chocolate or peanut butter in place of Nutella, lemon or lime juice/zest instead of orange, and even pumpkin puree in place of banana. Just use the same measurements for the add-ins depending on whether it's liquid (orange), thick and creamy (Nutella), or a puree (banana). Have fun with it!!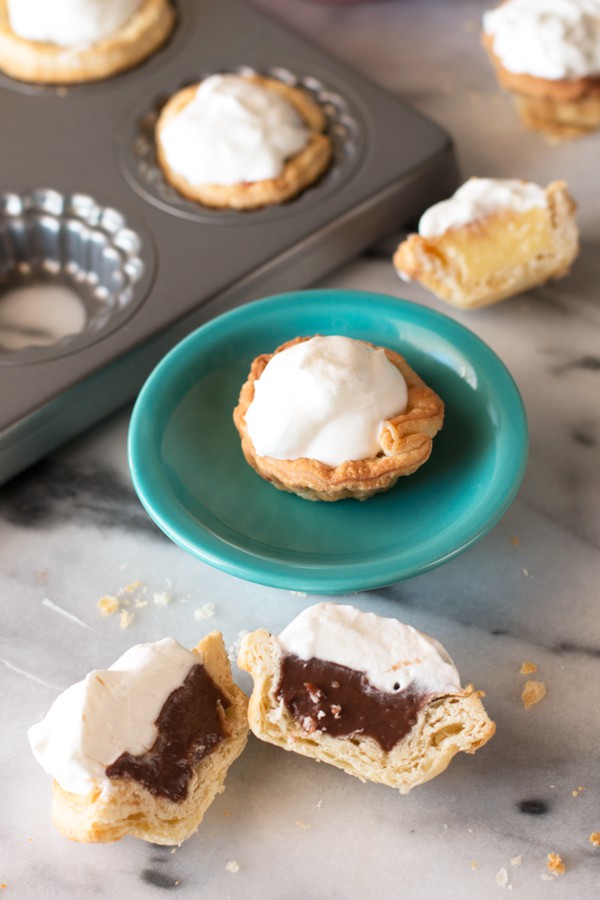 I'll just be over here finishing off the rest of these Nutella cream pies…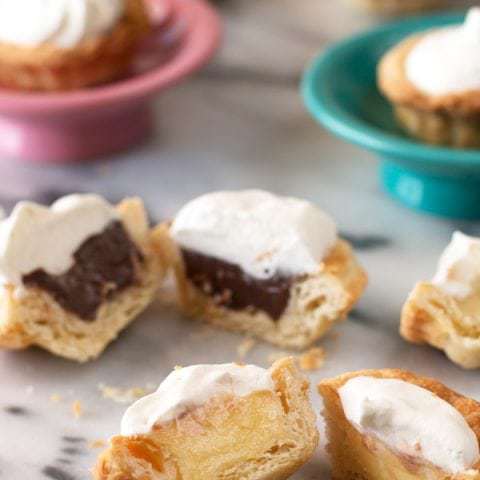 Mini Cream Pies with Three Flavors
Total Time:
3 hours
55 minutes
These mini cream pies are a great dessert to make the night before a big holiday meal! With three different flavor options, you can appeal to anyone's taste!
Ingredients
Crust
3 cups all-purpose flour
1 tsp salt
1 cup unsalted butter, cut into 1/2" pieces
6-7 Tbsp heavy cream
Filling
2 cups whole milk
1/2 cup sugar
3 egg yolks
1/4 cup cornstarch
1/4 tsp fine sea salt
Add Ins
1 ripened medium banana, mashed2 Tbsp Nutella
1 1/2 Tbsp freshly squeezed orange juice
1/2 tsp orange zest
Topping
1 cups whipped cream (store-bought or homemade)
Instructions
Preheat oven to 425 degrees.
To make the crust, stir together flour and salt in a large bowl. Add the unsalted butter to the flour mixture and mash the butter in with the back of a fork (or using your hands), until the mixture resembles coarse crumbs. Drizzle 6 Tbsp heavy cream over the mixture to start. Stir the mixture until the crumbs look damp and hold together when pinched. If the mixture looks dry, add in heavy 1 Tbsp at a time until you reach the damp crumbs.
It is best to divide the pie crust into two batches, unless you have a large enough work surface to roll it all out at once. Turn out half the dough onto a clean work surface which has been lightly dusted with flour. Roll out with a rolling pin until the dough is approximately 1/4" thick. Using a 3 1/2" circle cutter (or using a bowl to trace around with a knife), cut the dough into circles. Repeat this process with the other half of the dough.
Gently pat each circle of dough into the KitchenAid® mini pie pan cavities. Using a small fork, poke holes in the bottom and up the sides to prevent the dough from puffing up and shrinking too much. Bake for 18-20 minutes until the edges are golden brown. Remove from oven and once the pan is cool enough to touch, pop out the mini pie crusts to cool on a cooling rack.
To make the filling, stir together the milk and 1/4 of sugar in a medium saucepan over medium-high heat, until bubbles form around the edge. In a large bowl, whisk the eggs yolks with 1/4 cup sugar, cornstarch and salt. Slowly whisk approximately one-third of the warm milk mixture into the large bowl to temper the eggs. Pour the mixture back into the saucepan and continue to cook over medium heat, whisking constantly until very thick, approximately 3 minutes. Remove from heat and separate into three medium bowls. To the first bowl, add the mashed banana and whisk until combined. To the second bowl, add the Nutella and whisk until combined. To the final bowl, add the orange juice and orange zest and whisk until combined.
Strain the banana filling into another bowl to get rid of any larger chunks of banana. The Nutella and orange fillings should already be creamy and smooth with no lumps.
Divide the mini pie crusts into three groups for the different fillings. Fill each of the mini pie crusts with approximately 1 Tbsp of filling (just to the top). Refrigerate for at least 3 hours before serving.
When ready to serve, top with a Tbsp of fresh whipped cream. Enjoy!