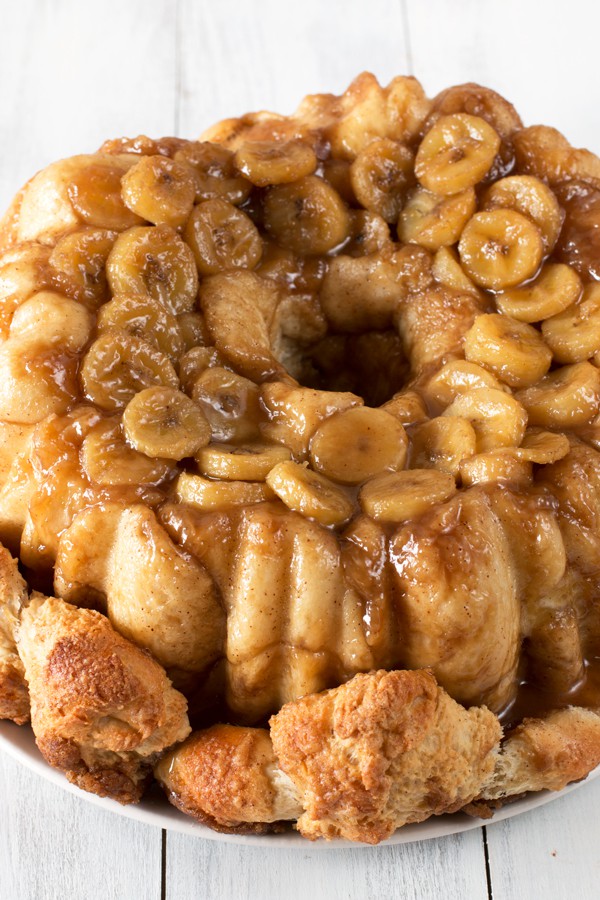 Monkey bread is a long-standing tradition in my life. I remember the first time I ever had monkey bread was back when I turned 22 (wow does that feel like decades ago!). I woke up early in the morning to a thick slice of this caramel and pecan covered magical bread. Within two bites I was hooked, and I have to tell you, I haven't found a better breakfast since.
For years I haven't even tried to mess with the classic recipe that I've made every year for Christmas. I mean, why try to break a good thing?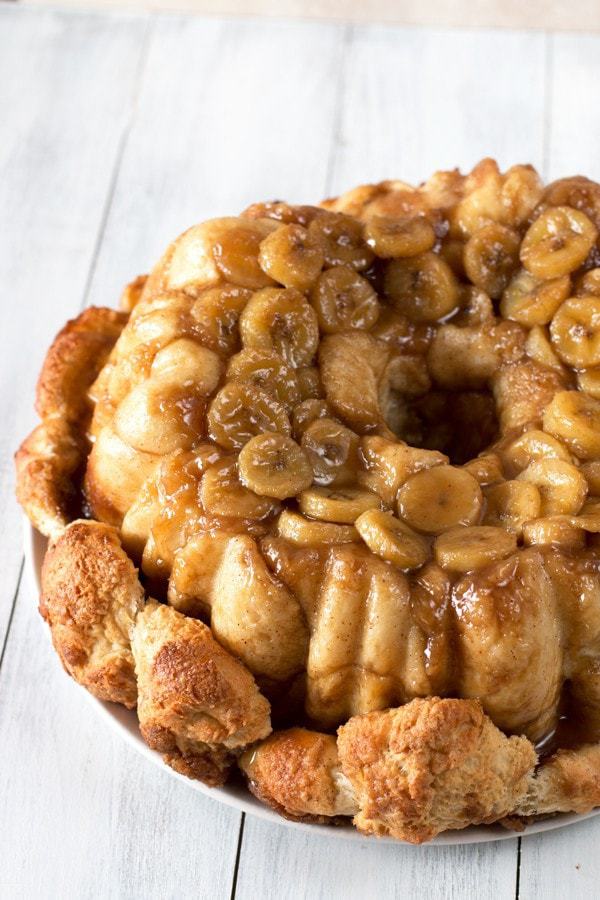 But I have to tell you; this bourbon bananas foster version is pretty damn good. Bananas foster is the perfect thing to pair with monkey bread because the caramelized banana flavor is so easy to create without much effort.
The bourbon caramel sauce the covers the bananas while the rolls rise soaks into those slices of fruit and creates the most delicious bananas foster you could ever dream of. Think of it as the ultimate bourbon bananas foster with sweet bread to help you mop up all those flavors.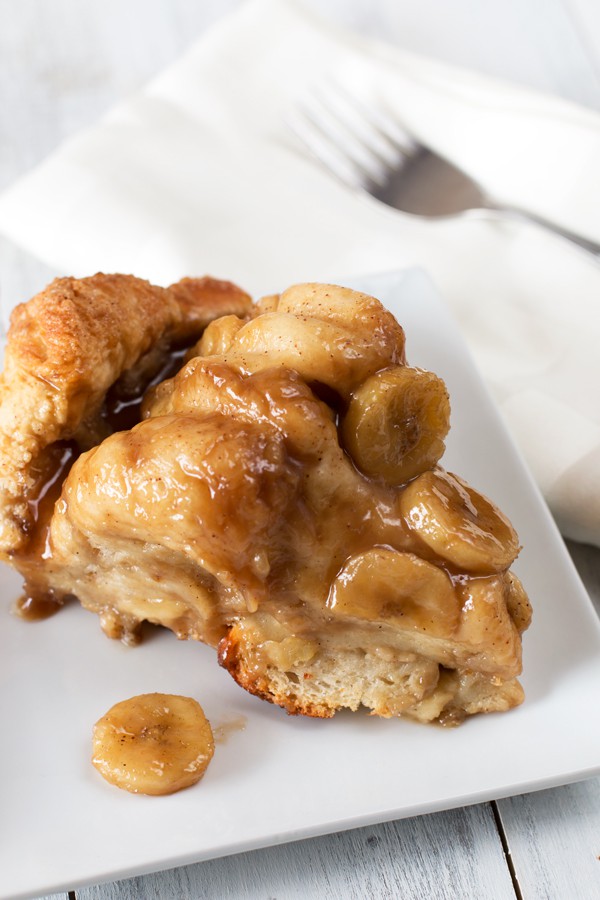 How can anyone resist this gorgeous caramel-soaked mess of a breakfast?!
Bourbon Bananas Foster Monkey Bread
Prep Time:
1 hour
20 minutes
Total Time:
2 hours
20 minutes
A family favorite, this monkey bread is covered with bourbon caramel sauce and bananas to create a bananas foster inspired breakfast.
Ingredients
30 frozen dinner rolls, thawed (I used Rhodes)
4 bananas, peeled and sliced
1 cup brown sugar
2 tsp cinnamon
3 Tbsp melted unsalted butter
1 tsp vanilla extract
Bourbon Caramel Sauce
1 cup brown sugar, packed
1/2 cup heavy cream
4 Tbsp unsalted butter
Pinch of salt
1 Tbsp vanilla extract
2 Tbsp bourbon
Instructions
Preheat oven to 350 degrees. Grease a bundt pan and coat with a thin layer of flour. Set aside.
To make the caramel sauce, in a medium saucepan, bring 1 cup brown sugar sugar, heavy cream, 4 Tbsp unsalted butter, and pinch of salt to a boil over medium heat. While stirring continuously, cook until the mixture thickens and deepens in color, approximately 7-9 minutes. Add 1 Tbsp vanilla extract and bourbon and continue to cook for another 1-2 minutes. Remove from heat and allow to cool for 15 minutes.
Line the bottom of the bundt pan with half of the sliced bananas. Drizzle half of the caramel sauce over the bananas.
Combine 1 cup brown sugar with cinnamon in a bowl. Cut 15 dinner rolls in half and roll each piece in the cinnamon sugar mixture. Layer the sugar coated rolls over the bananas and caramel in the pan.
Add the remaining banana slices in an even layer over the rolls. Drizzle the remaining caramel sauce over the bananas.
Cut the remaining rolls in half, rolling each piece in the cinnamon sugar, and layer on top of the bananas and caramel once again. Add the 3 Tbsp of melted butter to the cinnamon sugar mixture and, once combined, pour over the final layer of rolls. Pour 1 tsp of vanilla over the final layer of rolls as well.
Cover the pan with cling wrap and allow to rise in a warm place for 45 minutes to 1 hour.
Place the bundt pan on a rimmed baking sheet and bake for approximately 40-45 minutes. Turn out onto a large serving dish that is at least a couple inches wider than the bundt pan when turned out. Serve immediately.