Mexican Pulled Pork Tartine is a south-of-the-border twist on the classic French open-faced sandwich. This meal is a breeze to make and is ridiculously filling to boot.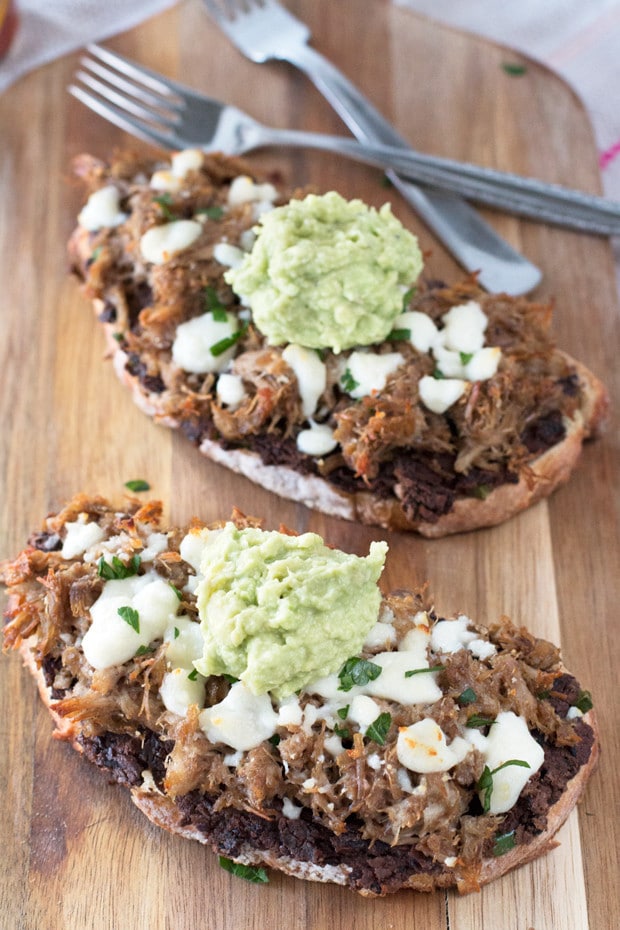 On my last trip to Paris, I remember hearing about this restaurant that I simply had to go to for a delicious meal on the cheap. It was this tiny little modern place (of course the name of it completely escapes me now) and I remember sitting down, taking out the menu and realizing that all they served was tartine. At the time, I was overwhelmed after popping around Europe for a week already and I kept thinking "tartine" was "tartin" like tarte tartin. I fumbled my way through my rusty French and thought to myself, what the heck did I just order?
To my surprise and delight, it was a tartine. The perfect open-faced sandwich served on the biggest slice of bread I'd ever seen in my life.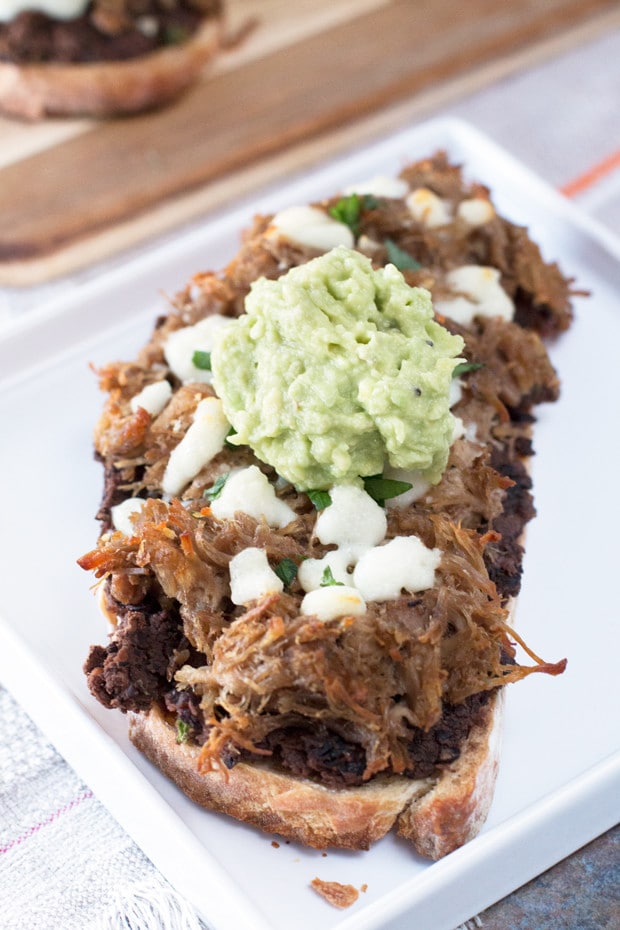 Oh the bread in Paris… Scratch that, in Europe period…
Sorry, having a moment. It's over now.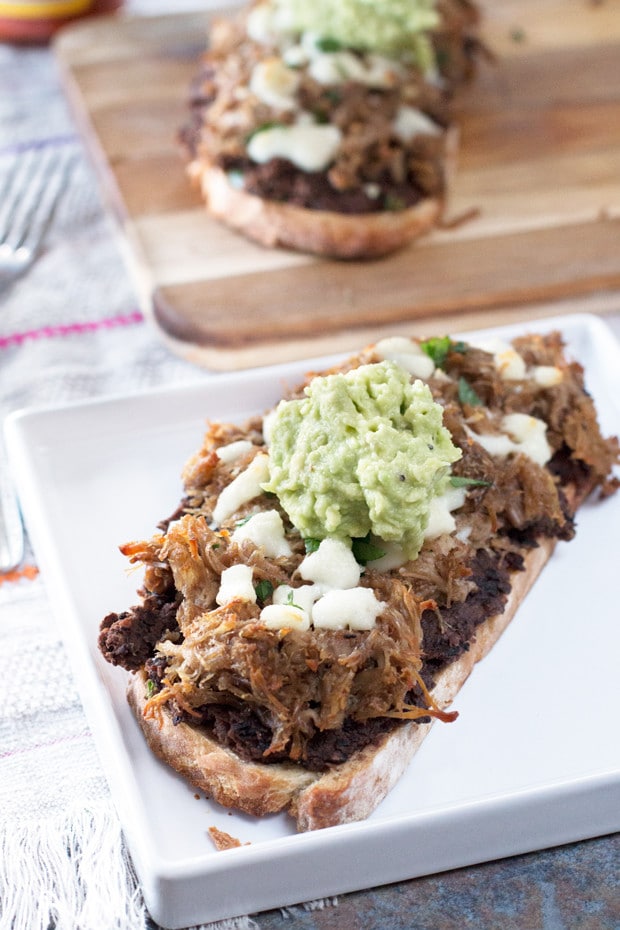 ANYWAY, recently I've been eating a lot of tartine. The open-faced sandwiches not only make me feel a tiny bit healthier because I'm cutting a slice of bread out of the equation, but I love piling them with whatever I can find sitting in my fridge and pantry. Of course, as you all know, the things that are usually in my house are avocados, pulled pork, salsa and hot sauce.
How long do you think it took me to make up my own Mexican version of a tartine? Not long, let me tell you. It took some tweaking but this is officially the BEST combination of flavors. There are a few different pulled pork recipes I refer to in the recipe, but if you want the exact one I used, it's this beer carnitas recipe.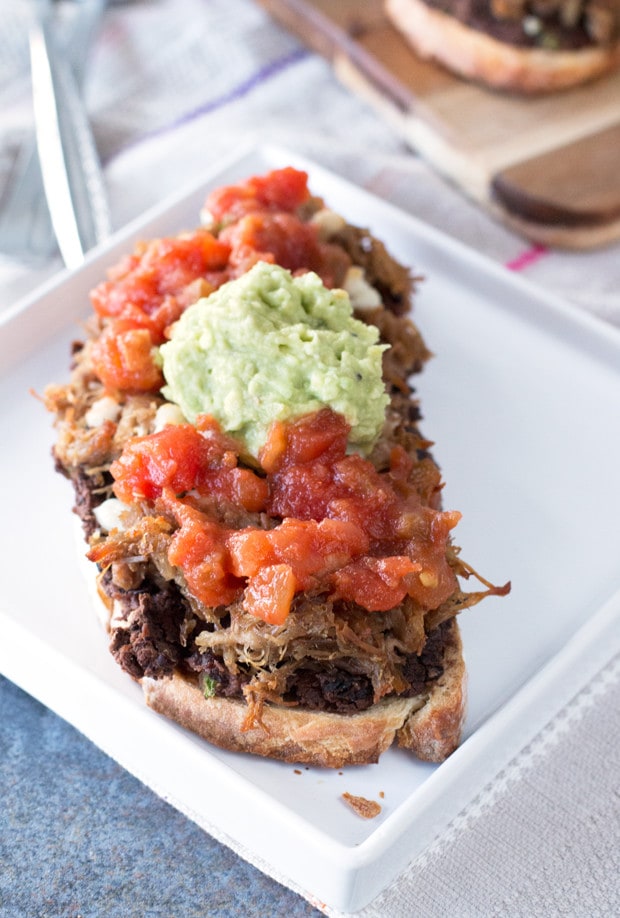 Out. Of. This. World.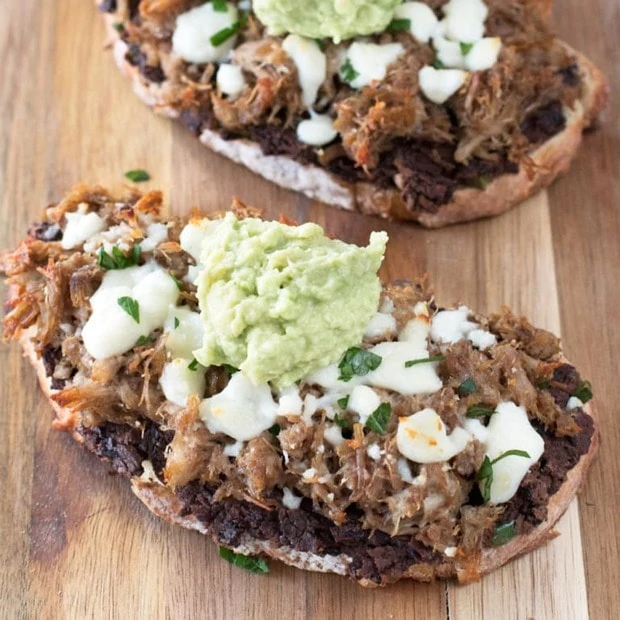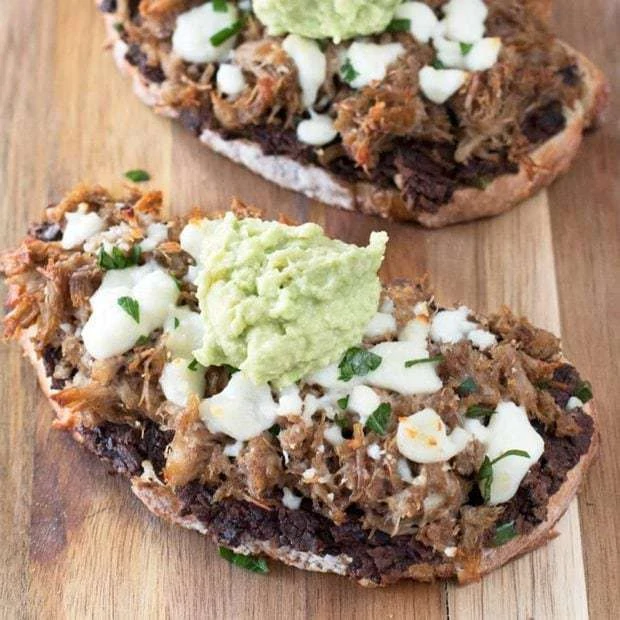 Mexican Tartine
Packed with pulled pork, beans and cheese, this open-faced sandwich is a Mexican twist on a French classic.
Ingredients
2 slices crusty Italian bread, toasted
1 Tbsp olive oil
1 garlic clove, minced
1 cup canned black beans, drained
1/2 jalapeno, diced
1/2 cup crumbles queso fresco
1/2 cup guacamole or mashed avocado
Cilantro, chopped
Optional: your favorite salsa and hot sauce
Instructions
Preheat oven to 425 degrees.
In a small saucepan, heat the olive oil over medium-high heat. When hot, add garlic and brown until fragrant, approximately 30 seconds to 1 minute. Add the drained black beans and jalapeño. Heat the beans for 2 to 3 minutes until hot. Remove from heat and using a fork or potato mash, mash the beans together until smooth, adding a Tbsp of water or two if needed.
Spread the toasted slices of bread with the bean mixture, evenly dividing it between the slices (you will have leftovers!). Top the sandwiches with pork and bake until the pork is heated all the way through, approximately 7 to 10 minutes. Add the crumbled queso fresco and bake for another 4 to 5 minutes until the cheese is melted. Remove from the oven and top with guacamole or mashed avocado, cilantro and salsa/hot sauce as desired. Serve immediately.