Please note this post contains affiliate links.
Pomegranate Pulled Pork Tacos are how I celebrate the holiday season with my favorite meal ever – TACOS. The pomegranate juice and seeds in this dish give such luscious depth and a hit of bright sweetness that totally hits the spot.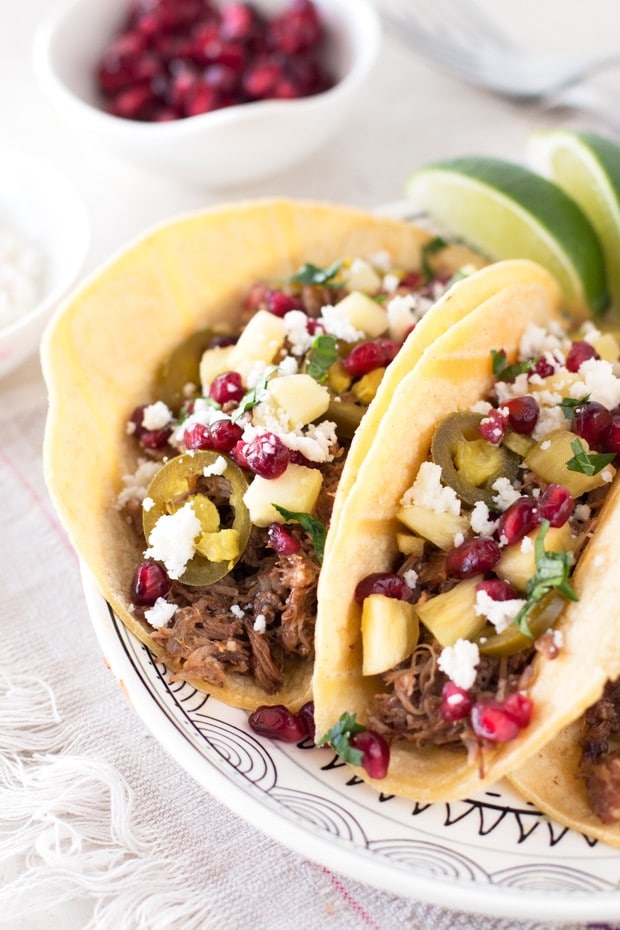 You know those days where you just aren't feeling the whole cooking thing? Yes, I actually do have those days and they usually creep in right before I know I have a big meal to cook. Next week not only am I cooking Christmas Eve dinner, I'm also catering a small wedding (*tiny scream*). There's going to be a LOT of cooking happening and this week, I am just not feeling it. It's like when you fast before a major meal (ok, I don't really know what that's like, but I've heard it happens sometimes). You just don't even want to deal with it in anticipation of everything you're going to eat.
That's kinda how I'm feeling about being in the kitchen this week. I just don't wanna. So I made pomegranate pulled pork and plan to live off it for the next few days. I REALLY love having a pressure cooker or slow cooker when I am feeling this slump. Throw a bunch of stuff in and let it cook for hours, get a fabulous meal on the other side. Just like that.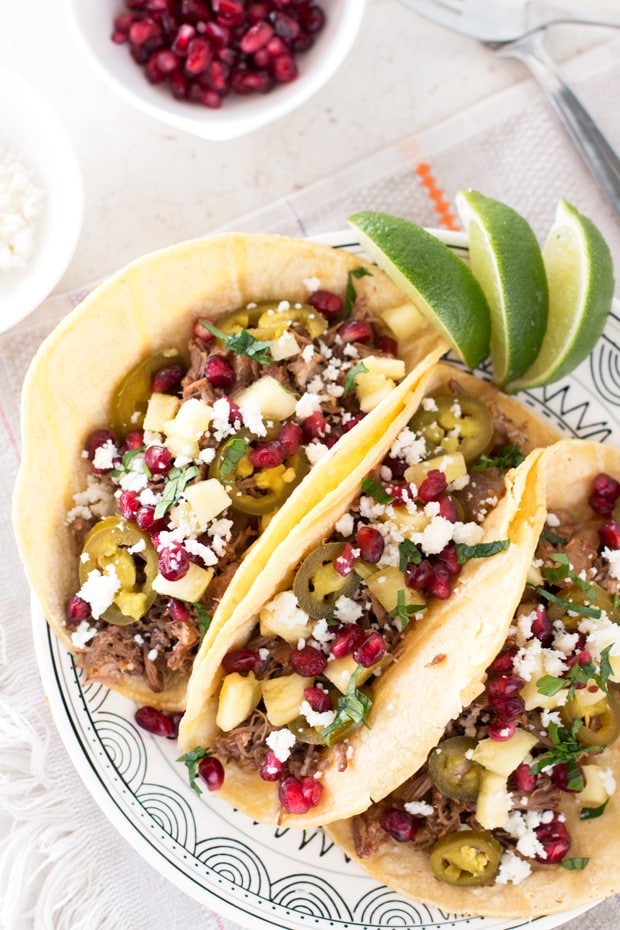 It's like magic, except even better because you're not pulling a rabbit out of a hat. You're pulling out delicious, tender meat out of a slow cooker. That's the kind of magic I love.
Plus, it's the perfect time of year to bust out the pomegranate juice and pomegranate seeds for meals! Nothing like a little fruity brightness in the middle of dead cold weather to make you perk up a bit, right?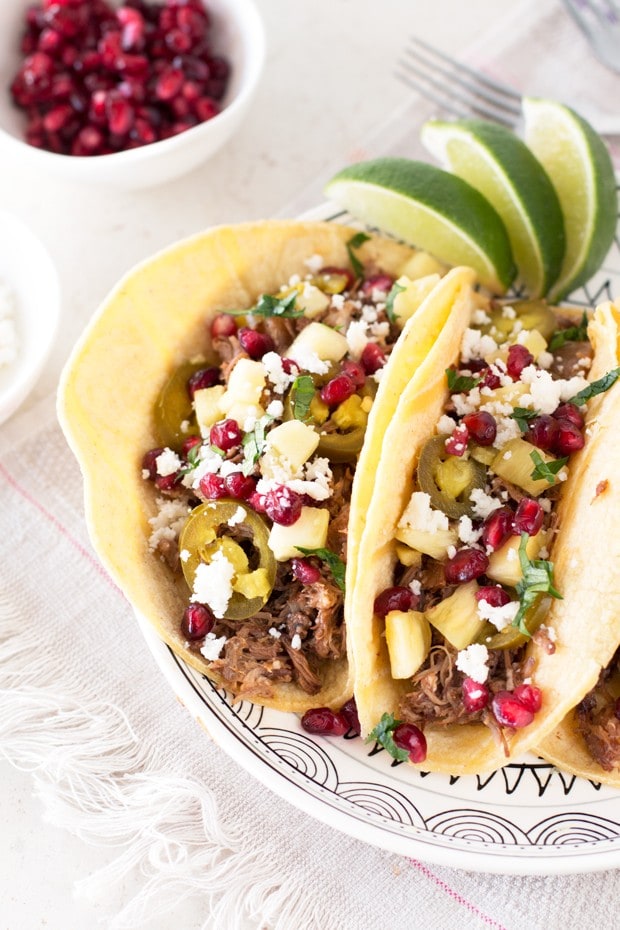 Happy slow lazy cooking friends!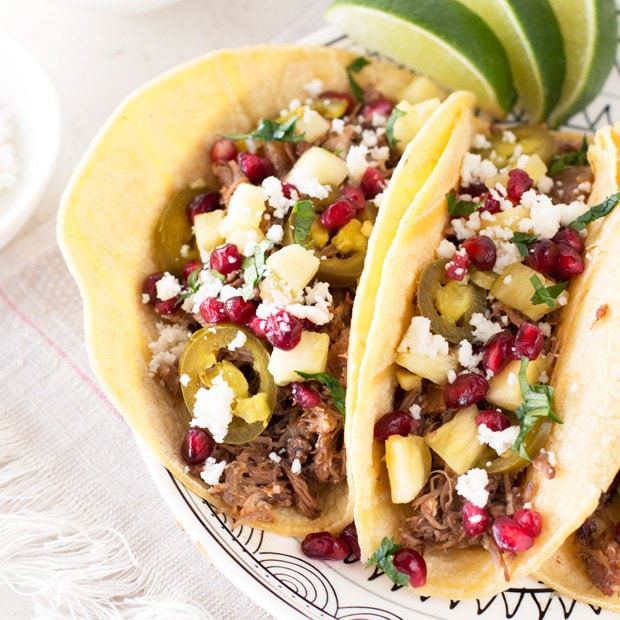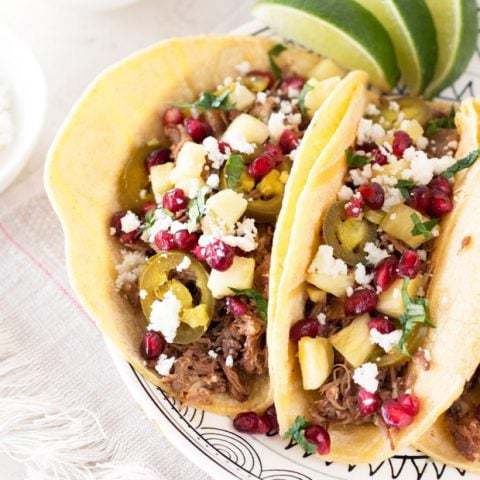 Pomegranate Pulled Pork Tacos
Total Time:
7 hours
10 minutes
Pomegranate juice and seeds give this pork a depth and pop of bright flavor that's downright addictive.
Ingredients
Pomegranate Pulled Pork
3 to 3 1/2 lbs pork shoulder, cut into 1-inch cubes
3 Tbsp chile powder
2 Tbsp salt
1 tsp cayenne
1 tsp black pepper
10 garlic cloves, smashed
1/2 onion, diced
1 cup diced pineapple (fresh or canned without the juices)
3 Tbsp honey
1 1/2 cups POM pomegranate juice
2 cups chicken stock
Tacos
Corn tortillas
Pickled jalapeños
Pomegranate seeds
Fresh pineapple, diced
Cilantro
Queso fresco
Lime juice
Instructions
Add the cubed pork, chile powder, salt, cayenne and black pepper to a pressure cooker or slow cooker. Stir to coat the meat in the spices. Add in the garlic cloves, onion, pineapple, honey, pomegranate juice and chicken stock. Cook on high pressure for 80 minutes in a pressure cooker, or for 5 to 7 hours on low in a slow cooker. If you are using a pressure cooker, be sure the let the pressure release naturally.
Remove the meat from the juices to a clean bowl. Shred the pork using two forks. Meat can be stored in an airtight container in the refrigerator for 3 to 4 days.
To make tacos, fill corn tortillas with pulled pork and top with pickled jalapeños, pomegranate seeds, fresh pineapple, cilantro, and quest fresco. Serve with lime wedges. Add the pork, chile powder, pepper, cayenne and salt to a pressure cooker or slow cooker. Stir to coat the meat in the spices. Add all other ingredients and cook for 80 in pressure cooker (natural release), 5-7 hours on low in slow cooker.