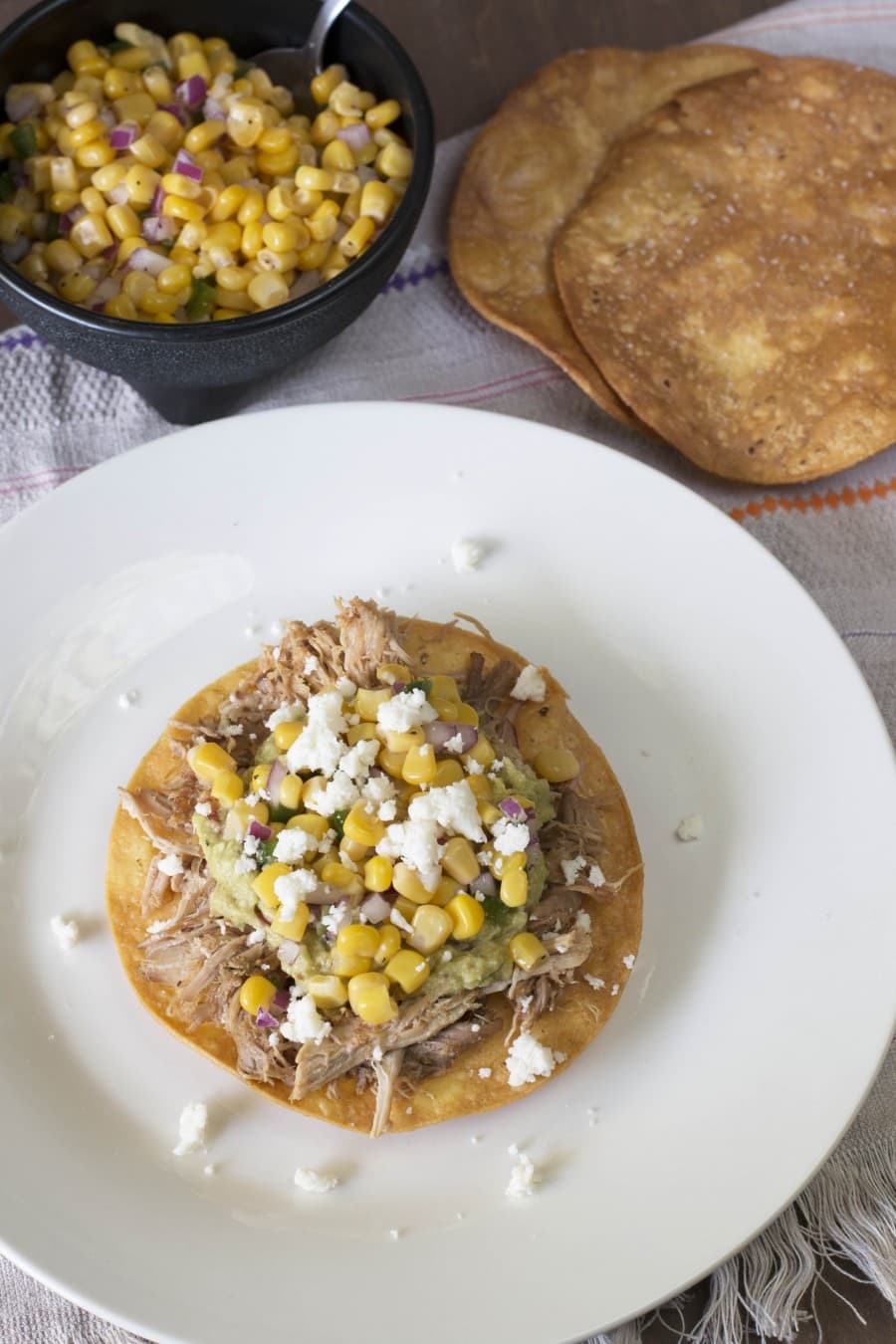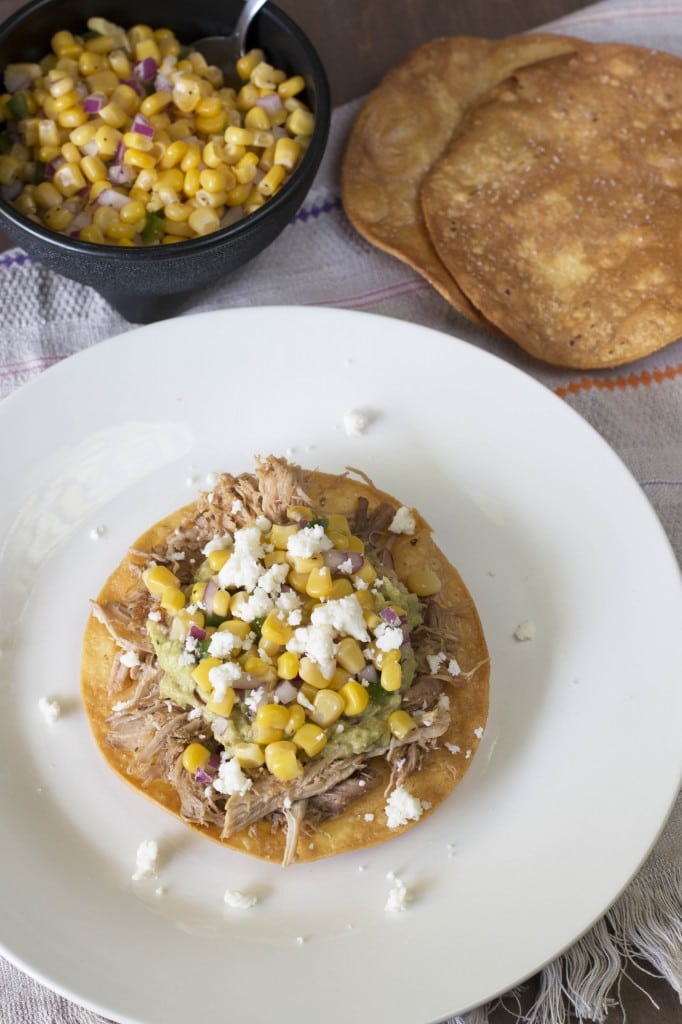 It's the smell of the pork carnitas that hits you first. The hops from the IPA and the peppery spices fill your nostrils the minute you walk into the house after a long day at the office. This smell screams home to me – it's not the smell of my childhood, it's the smell of my adulthood.
I always can recall smells, sounds, and flavors from my childhood with great ease. They are burned into my brain so much more intensely than the ones that are so much more recent. Is it strange that I have trouble remembering what I was doing in 2012 versus 2002? Maybe it's age, maybe it's the fact that I am not learning as much every day as I was ten years ago.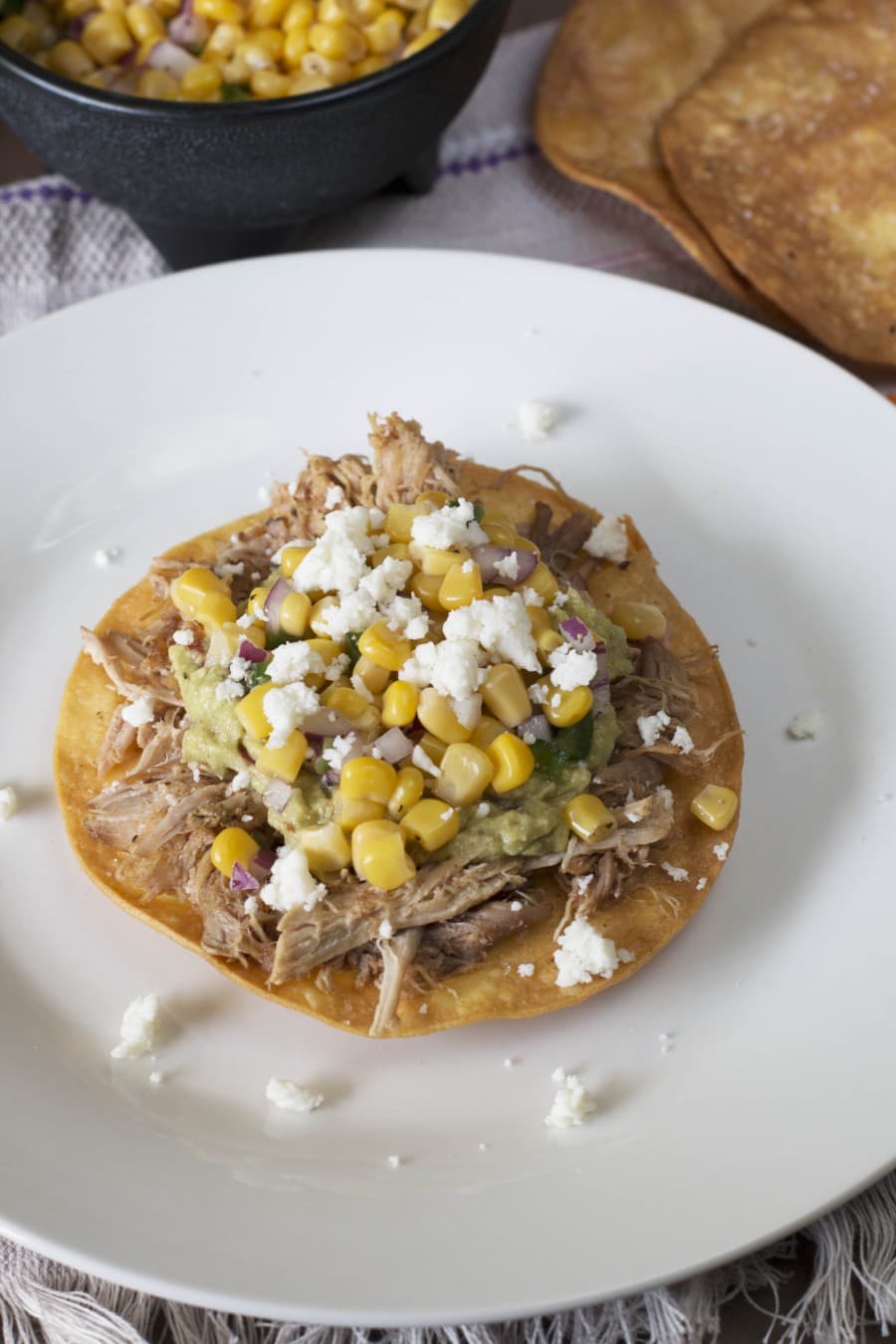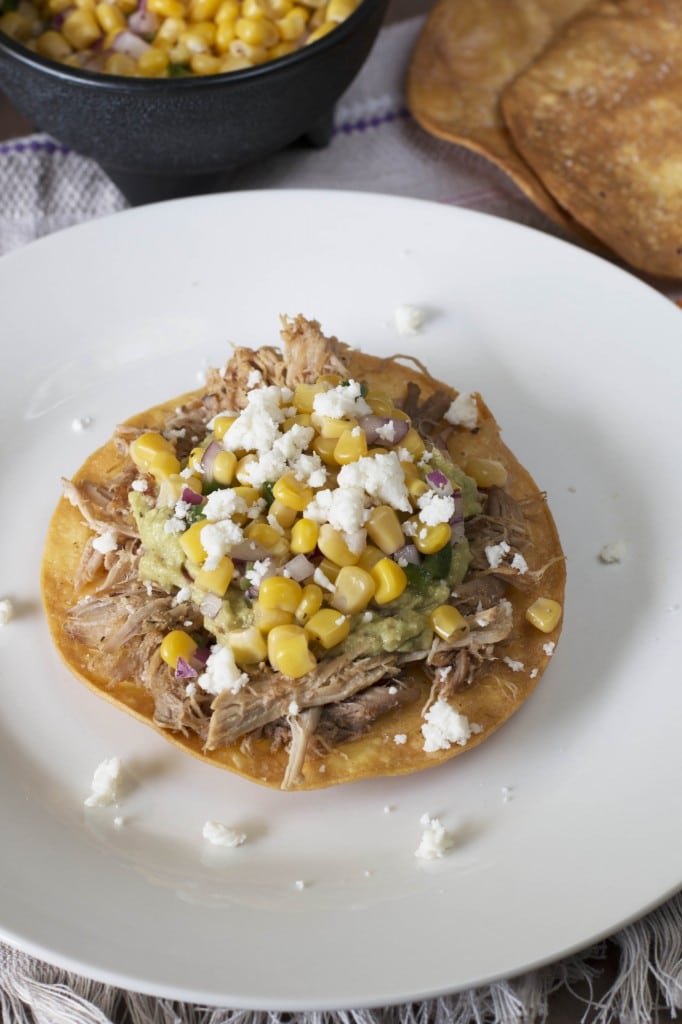 Regardless, this pork makes me think of home as it is now. Me walking in the door to a practically screaming puppy (those of you who have met Kya know EXACTLY what I am talking about) and heading straight for the computer to work on editing photos.
This tostada is what I would call the "end of summer" tostada. It's like a segway into fall and winter where we all start pulling out our slow cookers and start wearing layers. The IPA and other spices infuse this meat so strongly – it's smoky, floral and spicy, all in the same bite. Once you pile it on a tostada slathered in guacamole and add a heaping pile of crunchy corn salsa, your mouth literally explodes with every bite.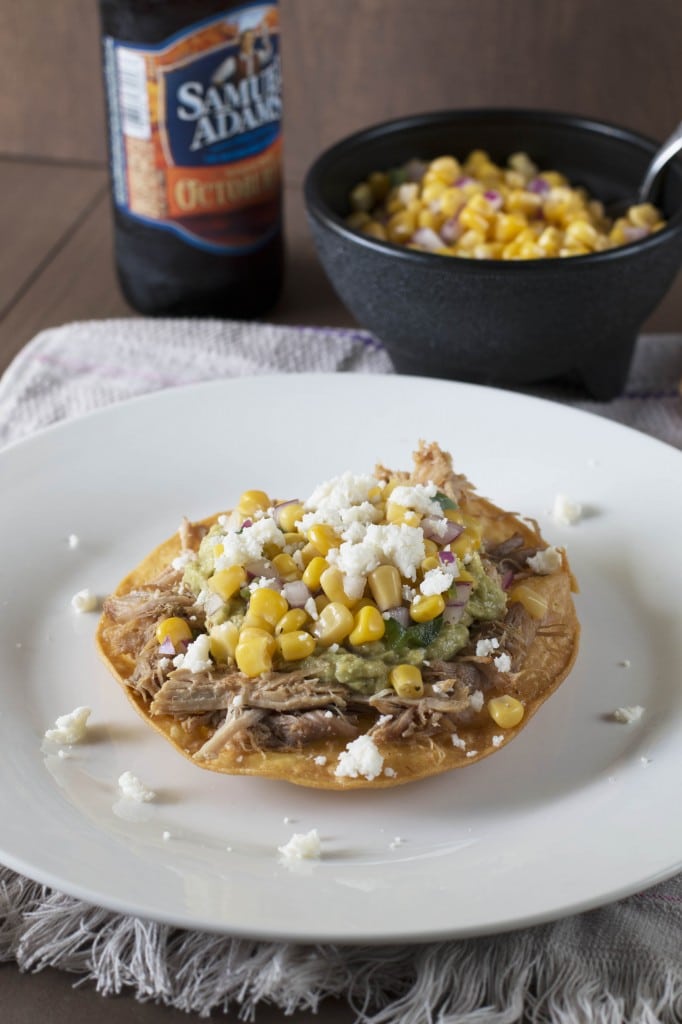 Definitely add everything to your tostada, don't skip the creamy, cooling queso fresco or the crisp fried corn tortilla. Every ingredient in this meal plays off each other in the most delightful way. The corn kernels literally burst in your mouth and the smokey spice of the pork comes in like a warm blanket.
As we reluctantly say goodbye to summer and welcome fall, I'll be happily chomping away on tostadas and sipping hard cider in the comfort of my own home… It just feels right, you know?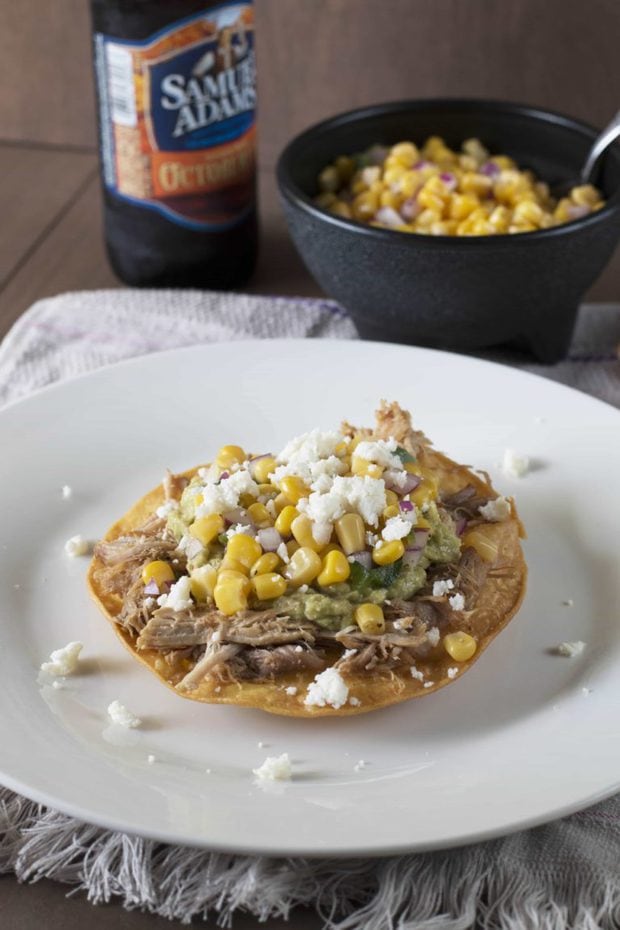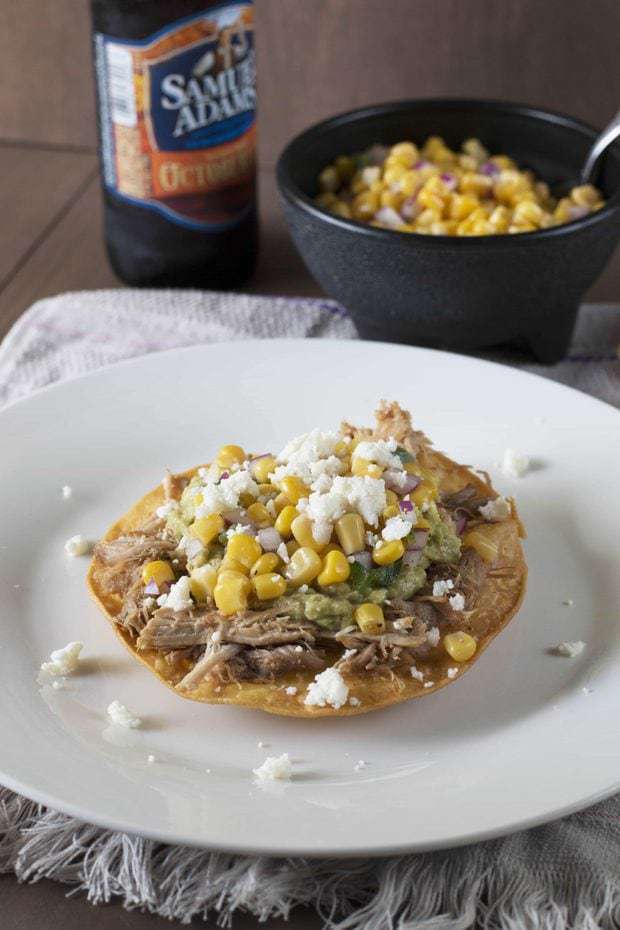 Beer Pork Carnitas Tostadas with Corn Salsa
Cook Time:
10 hours
15 minutes
Total Time:
10 hours
25 minutes
The end of summer is perfectly captured in the smoky, spicy and floral pork carnitas tostadas!
Ingredients
Pork Carnitas
2 1/2 lbs pork shoulder
10oz beer (I used an IPA)
1 tsp garlic powder
1/2 tsp cayenne pepper
1 1/2 paprika
1/2 tsp cumin
1/2 tsp pepper
1/2 tsp salt
Corn Salsa
1 cup corn kernels, cooked
1/2 red onion, diced
1/2 jalapeño, diced
Juice of 1/2 lime
1/2 tsp salt
1/2 tsp pepper
6 corn tortillas
Canola oil
1 cup guacamole
Queso fresco
Instructions
Add pork shoulder, beer, garlic powder, cayenne pepper, paprika, cumin, pepper, and salt to the insert of a slow cooker. Set slow cooker to low and cook for 10 hours. Using two forks, pull apart the pork shoulder until all of it has been shredded. Set aside and keep warm.
In a medium bowl, combine corn kernels, red onion, jalapeño, lime juice, salt, and pepper. Toss to combine. Set aside.
In a small skillet, add canola oil until about 1 inch deep. Heat oil over medium-high heat. Once the oil is hot and shimmering, fry corn tortillas one at a time, until golden brown, approximately 1-2 minutes per side. Remove to a paper-towel lined plate to drain and sprinkle with salt. Repeat with the remaining tortillas.
To build your tostadas, slather the crispy corn tortilla with a thick layer of pulled pork. Top with guacamole, corn salsa and a sprinkle of queso fresco. Serve immediately.