Mexican Chocolate Filled Doughnuts are light, fluffy and filled with a spicy cinnamon-infused dark chocolate pastry cream that'll knock you off your feet. Crunchy and golden on the outside, with a smooth and creamy filling, these festive and flavorful doughnuts are just the thing you need to kick off Cinco de Mayo in style!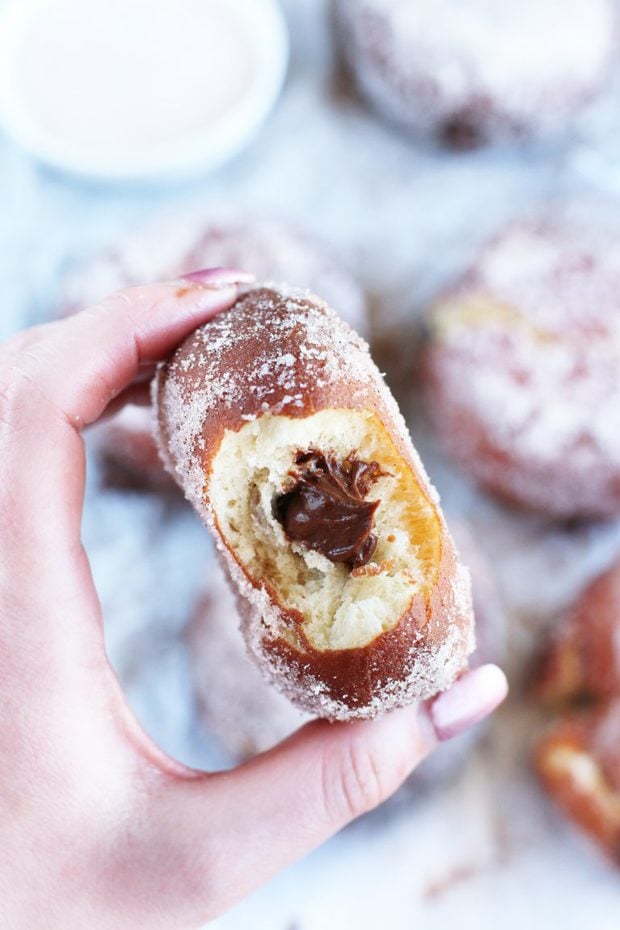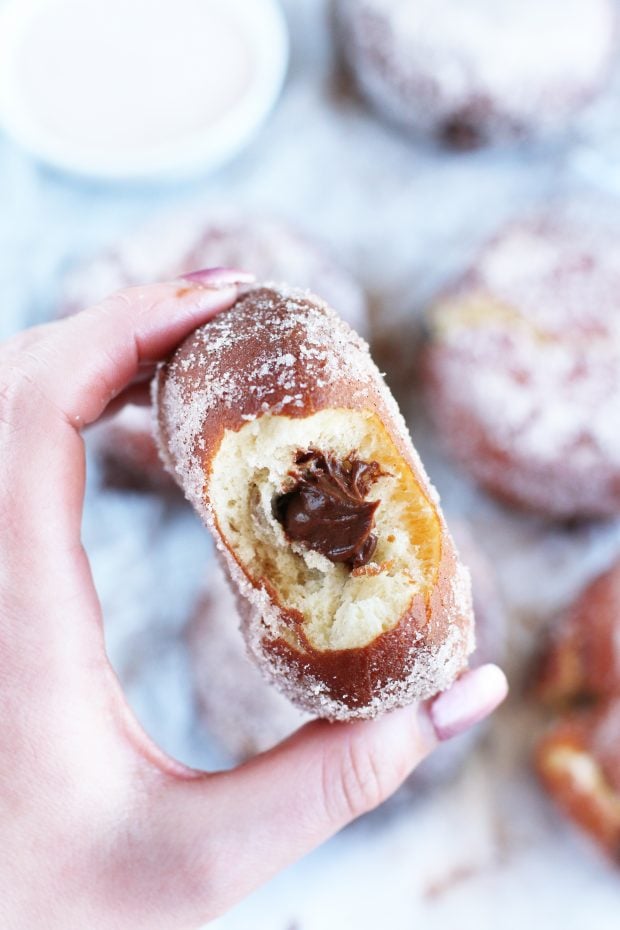 Please note that some of the links below are affiliate links. If you make a purchase through one of these links, I will receive a small commission.
I LOVE DOUGHNUTS.
So. So. Soooooo much.
The crispy, golden-fried exterior. The fluffy and light dough inside. The delicious filling whether it's curd, pastry cream, or custard.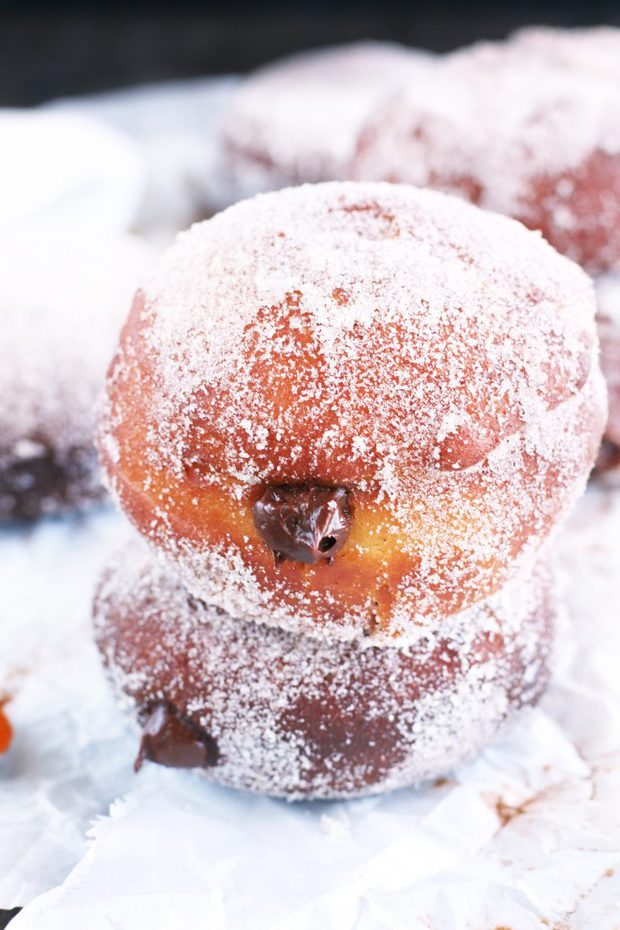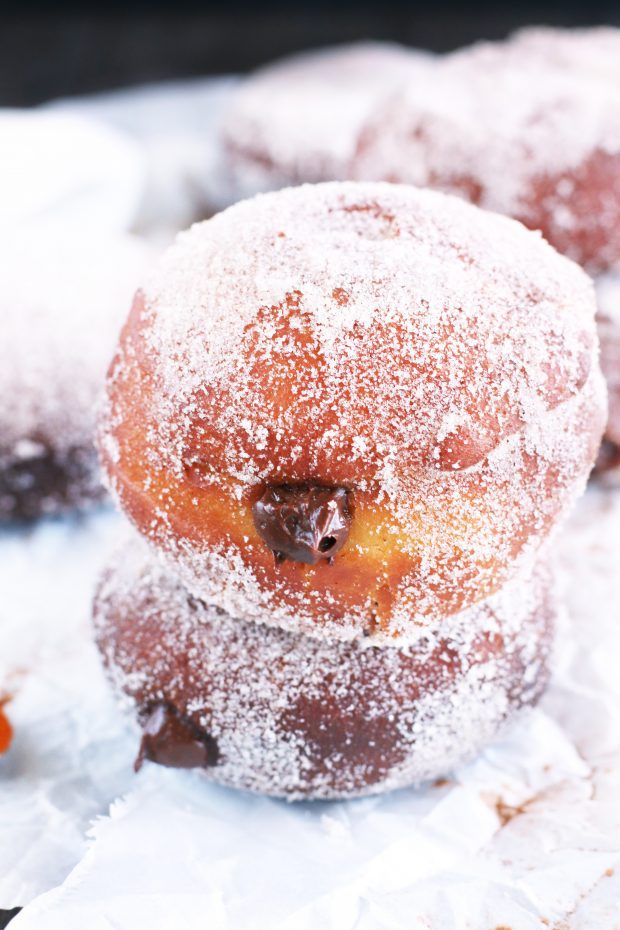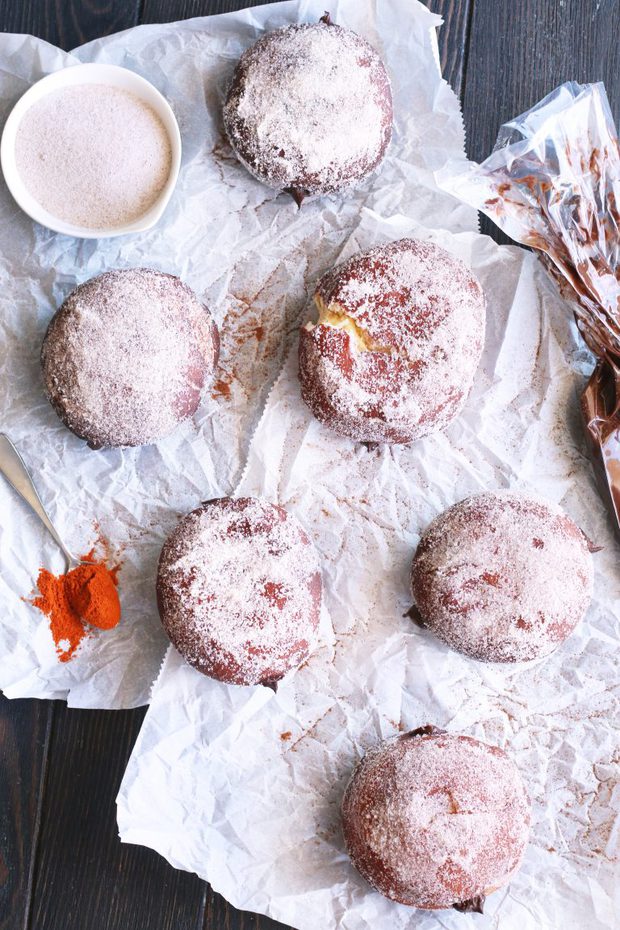 It's the only kind of breakfast perfection that I will obsess over, you know, aside from cereal and Santiago's breakfast burritos.
We were extremely lucky to find a house that is not anywhere close to an amazing doughnut shop.
Otherwise, I would have zero money.
And be really really REALLY fat.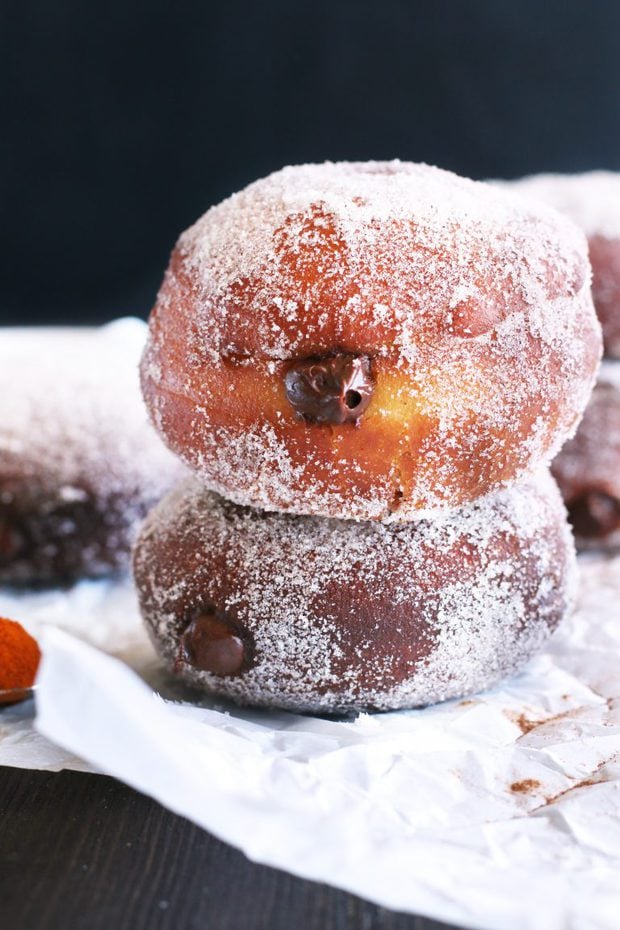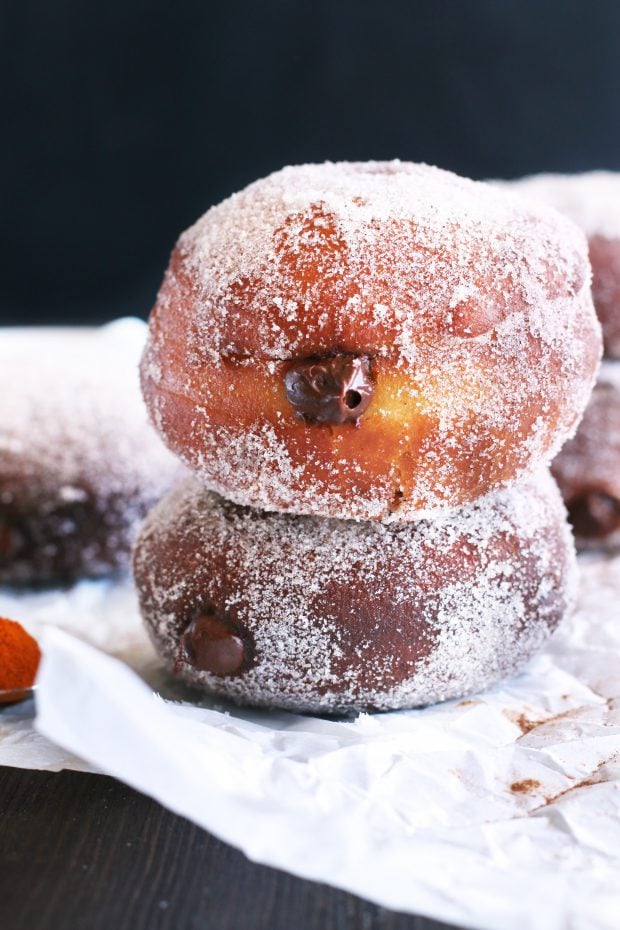 With Cinco de Mayo coming up, I've been thinking about breakfast items to start the day off with, especially since the magical day lands on a Saturday this year.
Instead of heading to my normal classics, I am going for something sweet this year.
If you love Mexican chocolate, you are going to be obsessed with these doughnuts. The dark chocolate pastry cream has ground cinnamon and cayenne pepper in it, giving it a rich and spicy kick that balances out the richness of the sultry filling.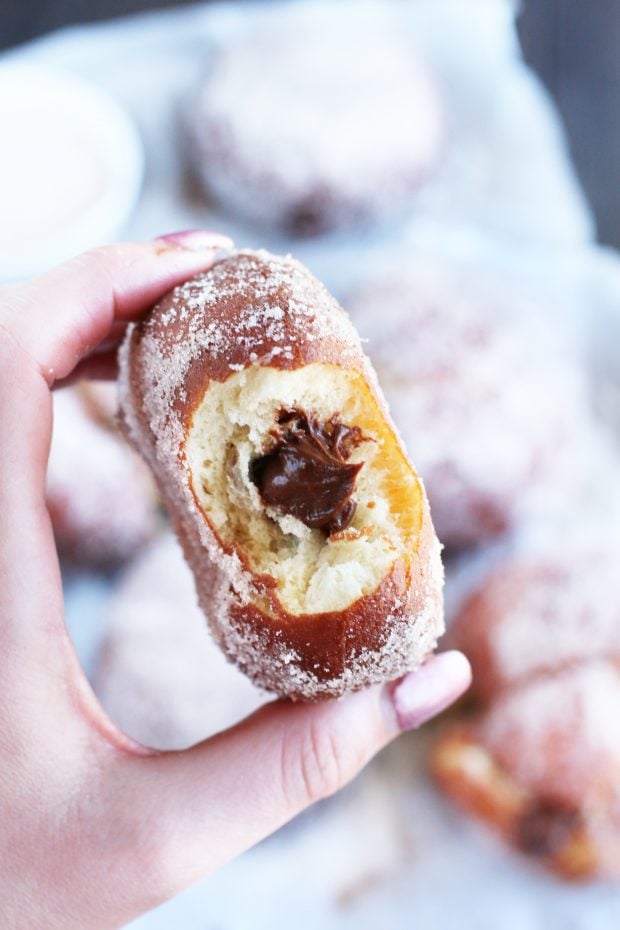 A light and fluffy dough wraps itself around the chocolate, making it an explosion of flavor and textures.
It pairs perfectly with your morning caffeine fix, whether you are trying coffee or cafe con leche!
The best part is that you make the dough the night before so it can rise, making it easy to whip up the morning of.
Freshly fried and warm, these bad boys won't last for long at all. ENJOY!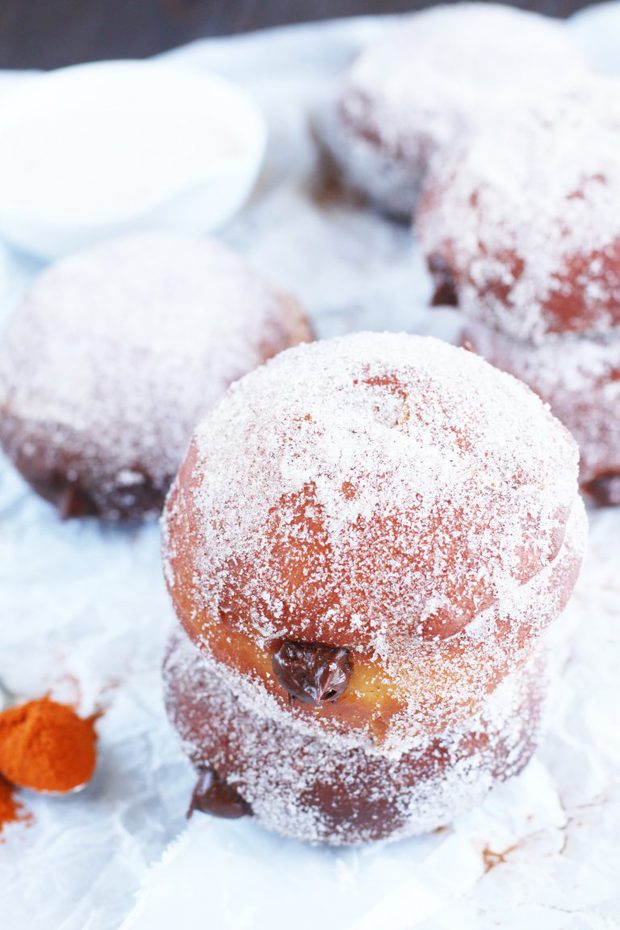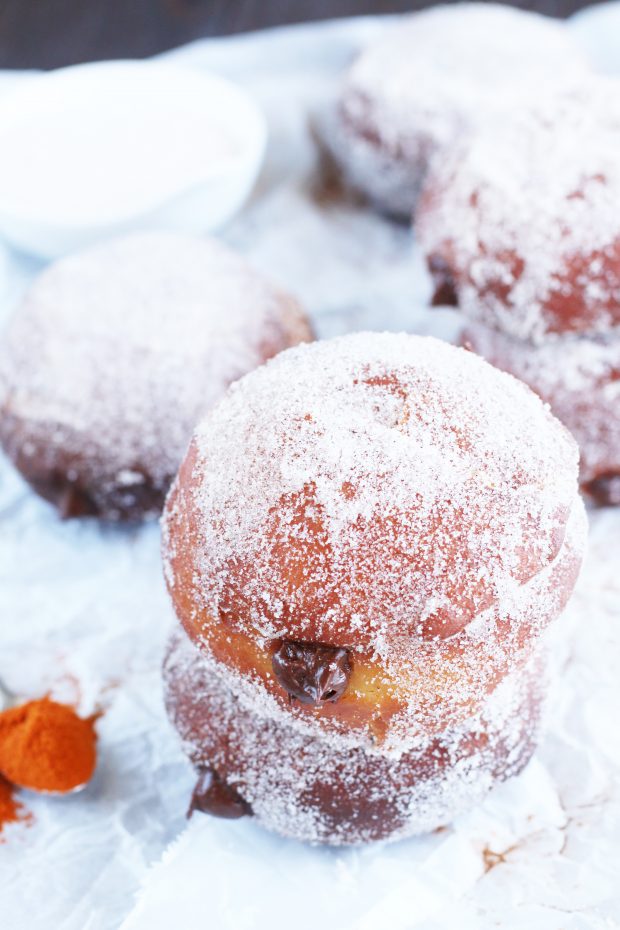 Planning on hosting a Cinco de Mayo brunch? Here are more breakfast ideas to get in the spirit of the day!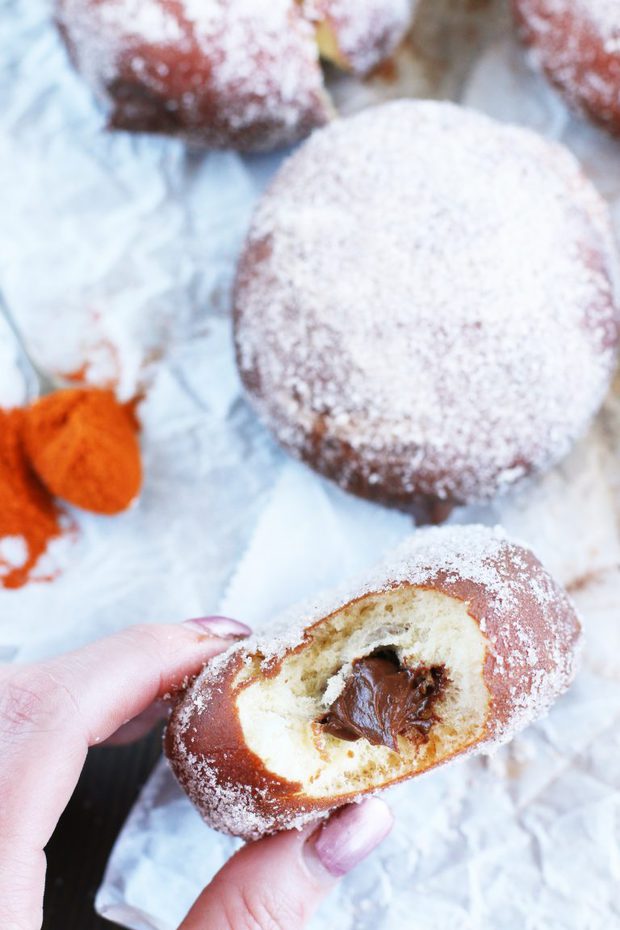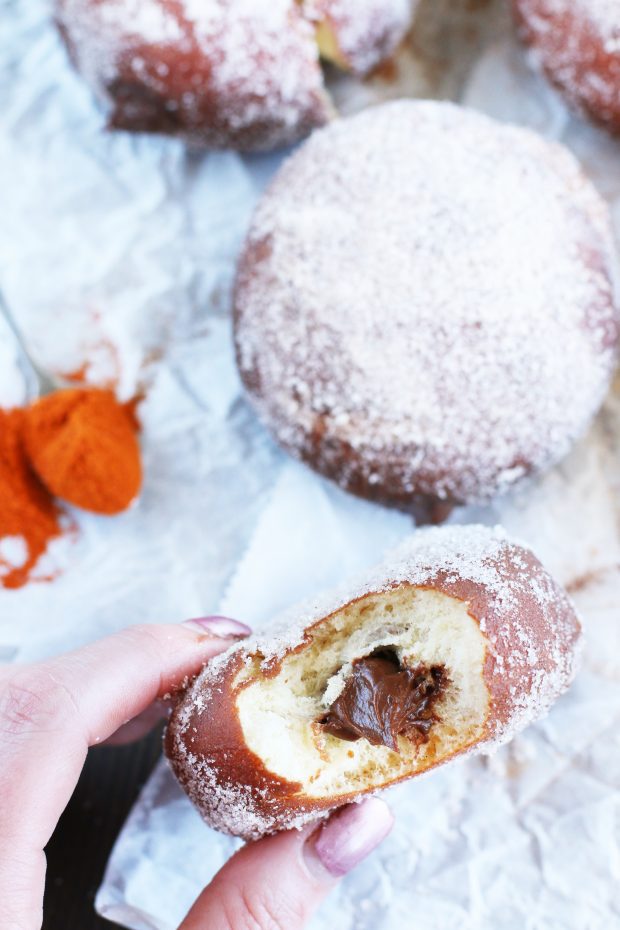 This Recipe's Must Haves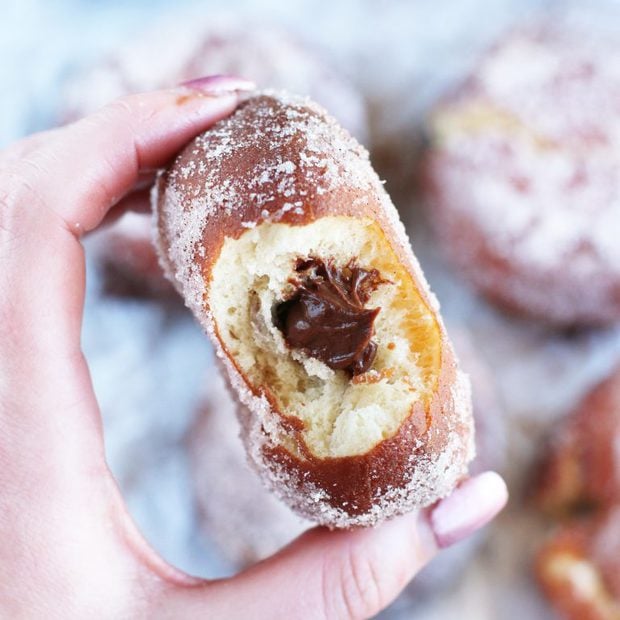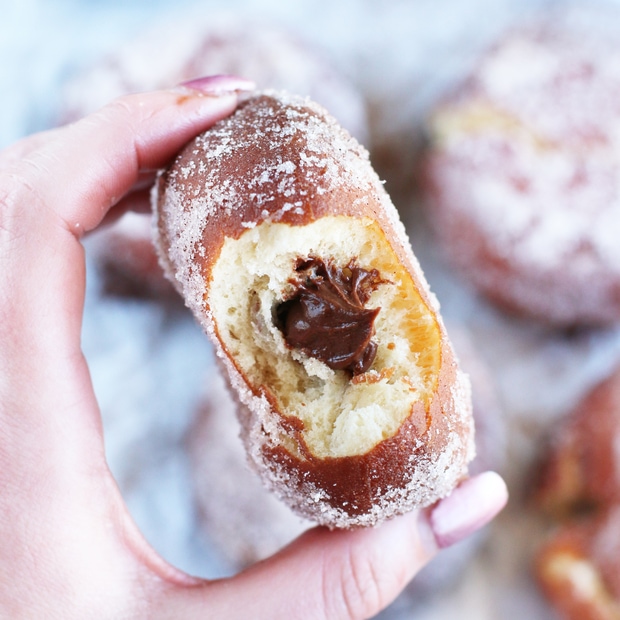 Mexican Chocolate Filled Doughnuts
Yield:
Makes 10-12 doughnuts
Prep Time:
2 hours
15 minutes
Total Time:
2 hours
35 minutes
Cinnamon-y and slightly spicy chocolate pastry cream fills these delicious, crispy fried and fluffy doughnuts! So addictive and a real breakfast show-stopper.
Ingredients
Dough
2 1/2 tsp dry active yeast
2/3 cup warm milk
1/4 cup granulated sugar + more for coating
3 large eggs, room temperature
3 1/2 cups all-purpose flour
1 1/2 tsp fine sea salt
8 Tbsp unsalted butter, softened
Canola oil for frying
Cinnamon Sugar
1 1/3 cup granulated sugar
2 1/2 tsp ground cinnamon
Mexican Chocolate Filling
4 large egg yolks
1/4 cup granulated sugar
2 Tbsp cornstarch
3 1/2 Tbsp cocoa powder
1/4 tsp salt
1 cup whole milk
3 1/2 oz dark chocolate, cut into small pieces
2 Tbsp unsalted butter
1 tsp pure vanilla extract
1 tsp cinnamon
1/4 tsp cayenne pepper
Instructions
To make the cinnamon sugar, whisk together sugar and cinnamon. Set aside.
To make the doughnuts, add yeast, 2 tsp sugar and warm milk in the bowl of a stand mixer. Let stand for 5 to 8 minutes, until the mixture is foamy. Whisk in remaining sugar and eggs.
Add half of the flour and all of the salt to the bowl. Using a dough hook, mix on low until the dough starts to come together. Add the rest of the flour and mix until the dough looks a bit shaggy. Slowly add the butter and beat at medium speed. Knead for about 3 minutes until the mixture is a smooth dough.
Add dough to a bowl that's been greased lightly with oil. Cover with plastic wrap. Place in the refrigerator and let chill overnight.
To make the filling, whisk together egg yolks, sugar, cornstarch, cocoa powder, and salt in a medium saucepan. Slowly whisk in the milk. Place pan over medium low heat and slowly warm the mixture, stirring constantly.
Once the mixture comes to a boil, the chocolate mixture will thicken. Remove from heat and continue to whisk until thick and smooth. Add chocolate chunks, butter, vanilla extract, cinnamon and cayenne pepper. Stir until the chocolate and butter has melted and is well-combined.
Add pastry cream to a small bowl and cover with plastic wrap, making sure the plastic touches the top of the cream. Chill for at least 2 hours.
When you are ready to make the doughnuts, flour a flat work surface and roll out the dough to approximately 1/2 inch thick. Using a 4 inch round cutter, cut out the doughnuts, placing them on a parchment lined baking sheet. Cover the rounds with plastic wrap and let rest for 45 minutes. They should be puffy!
Add oil to a large, heavy bottomed pot (I used a Dutch oven) and heat over medium heat until oil is 350 degrees F.
Fry the doughnuts in batches of approximately 2 to 3 rounds. Cook for approximately 2 minutes per side until golden brown. Remove when cooked and toss in cinnamon sugar. Set on plate aside. to cool.
When the doughnuts are cooled, use a straw or chopstick to poke holes on either side of the doughnut.
Fill a pastry bag, fitted with a small piping tip, with the chilled pastry cream. Pipe in the pastry cream on both sides of each doughnut, approximately 1/4 cup of cream on each side. Serve immediately.