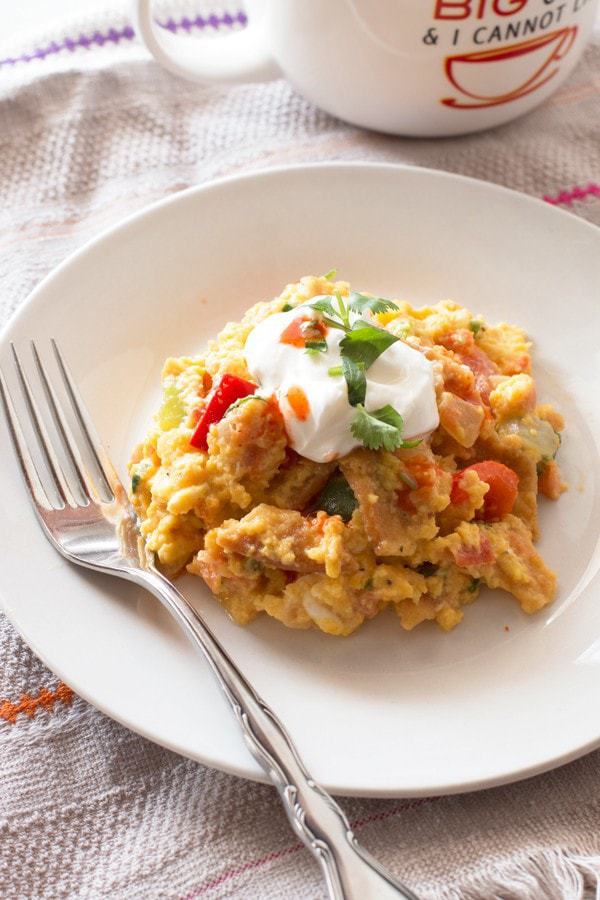 Waking up to a plateful of migas is the best feeling in the world. The scent of fresh cilantro and eggs, the bright and playful colors – it is a giant plate of sunshine, just waiting to be gobbled up.
March 17th is coming soon, which inevitably means March 18th will follow with a mean hangover for anyone who had a little too much fun celebrating the night before. You all know I am not a huge breakfast person, but after one too many glasses of wine the night before, I can always go for a big plate of something breakfast-y to help me feel normal again.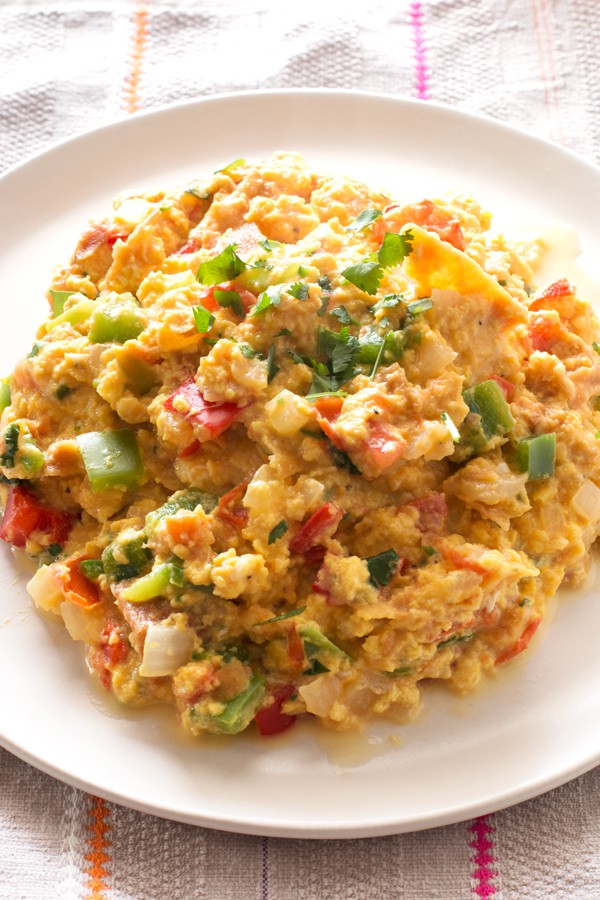 Of course I always end up with at least a few stragglers who stayed over (smartly!) and are also craving a plate of food to help them level out.
Enter this gorgeous plate of breakfast-y mess.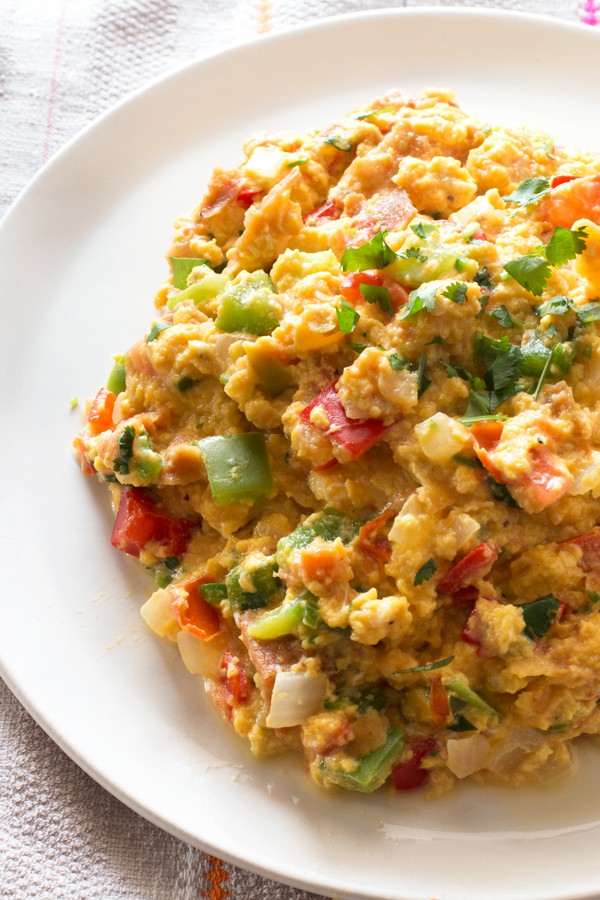 Whether you are nursing a hangover or searching for a simple, incredibly satisfying breakfast, migas is exactly what you are looking for. This Tex-Mex dish is full of fresh veggies, cheese, egg and crispy tortilla chips, making it a smorgasbord of texture in every single bite. Plus, all you really have to do is chop ingredients, crack eggs, and stir. Heck, if you chopped the ingredients a day ahead, all you have to do is dump it in a pan and stir! Everyone will think you spent all morning preparing breakfast as they groggily drag themselves to the table.
And don't forget to get some toppings ready! Sour cream, more fresh cilantro, salsa, hot sauce, more cheese, guacamole – all these things are a must on the table (and things you can easily have in your refrigerator the night before!).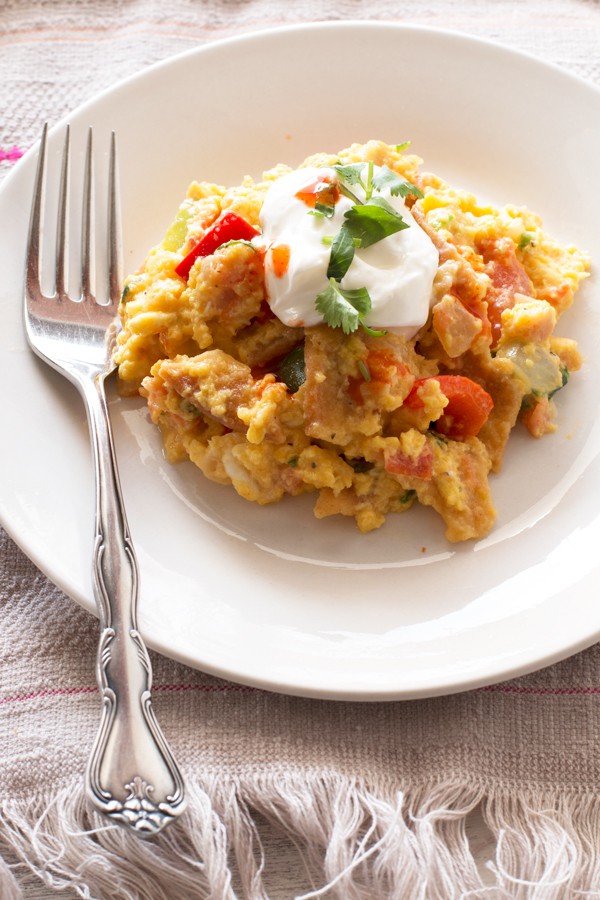 Bonus: eggs are scientifically proven to help cure a hangover. Jus' sayin.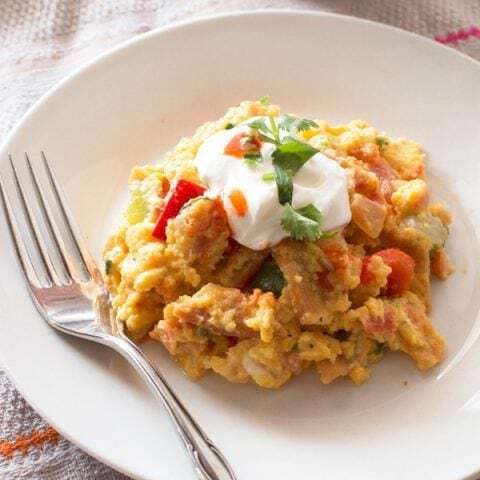 Migas
Full of colors and flavors, this breakfast comes together easily in a few simple steps.
Ingredients
4 corn tortillas (or 1 cup tortilla chips if you prefer not to make your own)
Oil for frying
12 eggs
1/2 tsp paprika
1/4 cup heavy cream
1 Tbsp olive oil
1 green pepper, chopped
1 red pepper chopped
1/2 white onion, chopped
1 jalapeno, seeded and chopped
1 large tomato, seeded and chopped
1 cup shredded sharp cheddar cheese
1/4 cup fresh cilantro, chopped
Salt & pepper
Toppings: Cholula hot sauce, salsa, sour cream, extra fresh chopped cilantro, guacamole, extra shredded sharp cheddar cheese
Instructions
In a small skillet, pour in frying oil until it is approximately 1/2" deep. Heat over medium-high heat. Once the oil is hot, add one corn tortilla to the skillet. Fry until golden brown on both sides, approximately 45 seconds to 1 minute per side, and remove to a paper towel lined plate to drain. Repeat with the remaining tortillas. Once cool, chop the tortilla chips into 1" pieces. If you are using store-bought tortilla chips, chop them into the same size. Set aside.
In a medium bowl, whisk together eggs, heavy cream, and paprika. Season with salt and pepper. Set aside.
In a large skillet, heat 2 Tbsp of olive oil over medium-high heat. Once the oil is hot, add in onion, green pepper and red pepper. Cook until the onions are browned, approximately 4 to 5 minutes. Stir in jalapeño and tomato. Stir in the tortilla chips and reduce heat to low.
Pour the egg mixture into the large skillet. Gently stir and fold the mixture, cooking until the eggs are cooked to your liking. Personally, I prefer my eggs to be a little runny, but it's up to you! Stir in cheese and cilantro. Once the cheese is melted, remove from heat.
Serve immediately with lots and lots of toppings!