Blueberry Jalapeno Bacon Cornbread Muffins will wake up your taste buds with a luscious combination of sweet, spicy and savor flavors. They make the perfect addition to your breakfast/brunch spread, and are even better to surprise mom with on Mother's Day!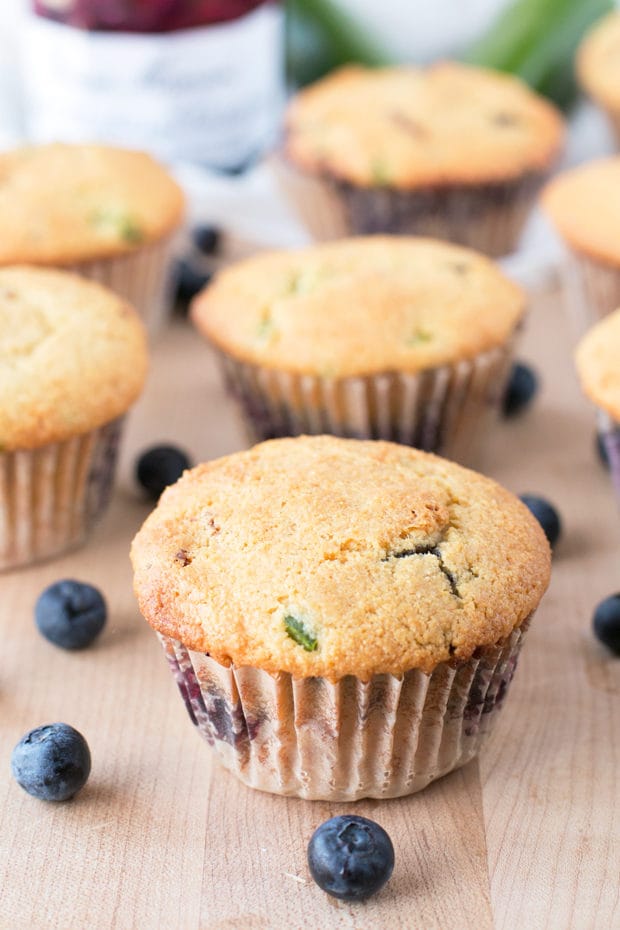 Cornbread is one of my favorite breads out there, and for a bread-lover like myself to say that, you know that's pretty darn high praise.
When I was at The Broadmoor, I had the honor of sneaking a taste of a new muffin they were testing in the bakery. It was a bacon and chive cornbread muffin and it was absolutely divine. The muffins were very savory, with a slight sweetness from the cornbread and I remember thinking "this is what breakfast should be!"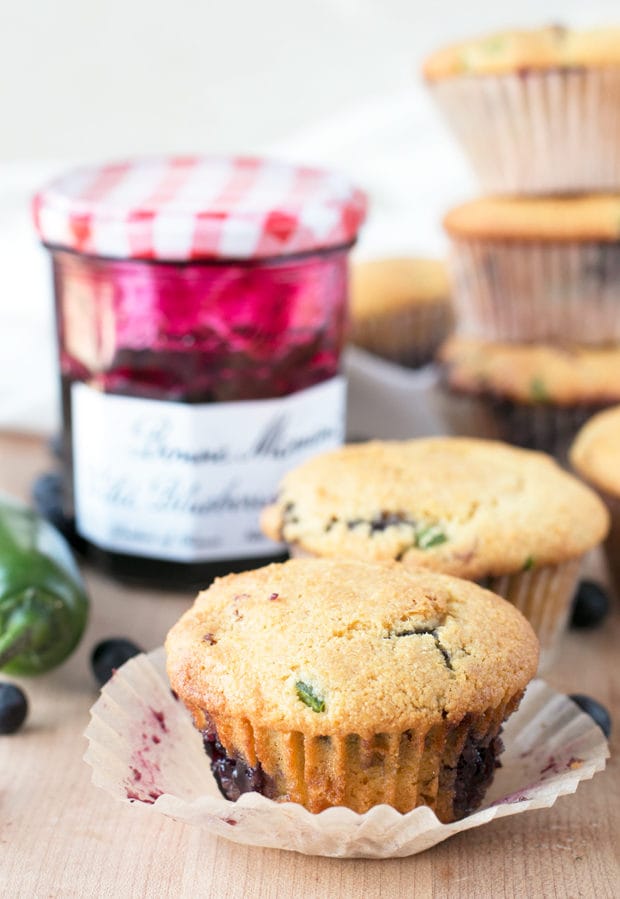 Please note that some of the links below are affiliate links. If you make a purchase through one of these links, I will receive a small commission. Thank you for supporting Cake 'n Knife!
The more and more I thought about it though, the more I realized how much I wanted to make my own take on it. While I loved the savory flavors, I felt like a balance of sweet and spicy were missing from the muffin that I sampled.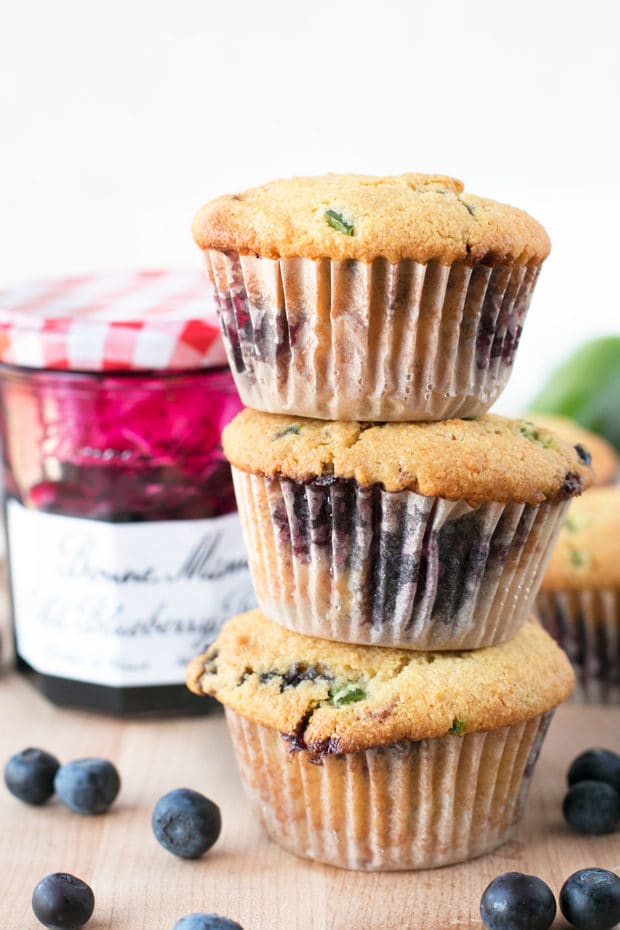 Bonne Maman then asked me to create a savory recipe for Mother's Day with their preserves and it hit me. Blueberry jalapeño bacon cornbread muffins.
These muffins are stupid simple to make. In a little over 30 minutes, you have a little cup-sized breakfast that has everything you could ever want. The sweet and tart Bonne Maman Wild Blueberry Preserves mellow out the bites of bacon and the heat from the jalapeño.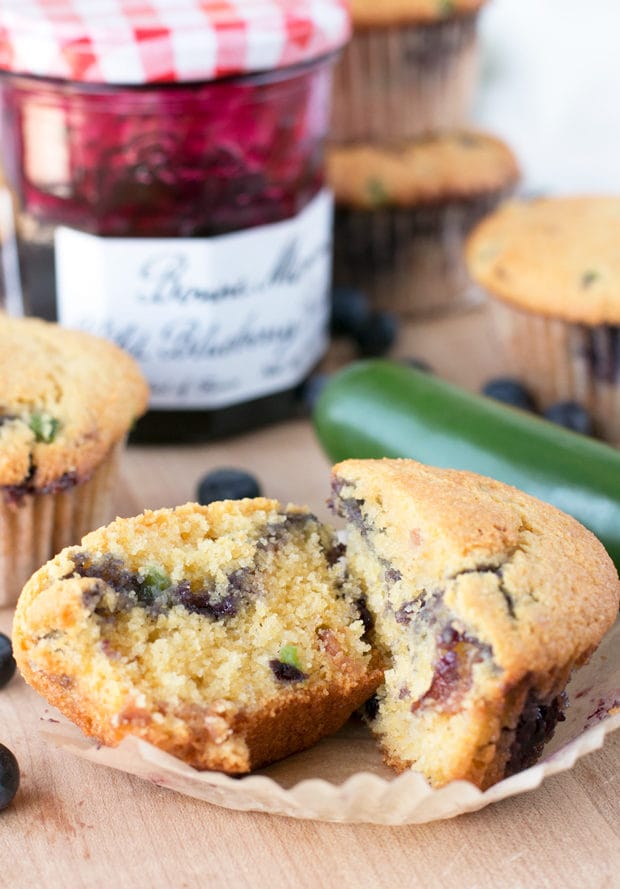 I mean, just look at that swirl of blueberry goodness…
The muffins are soft and moist (*cringes* I still hate that word….), giving you little bits of all the flavors in every single bite you take.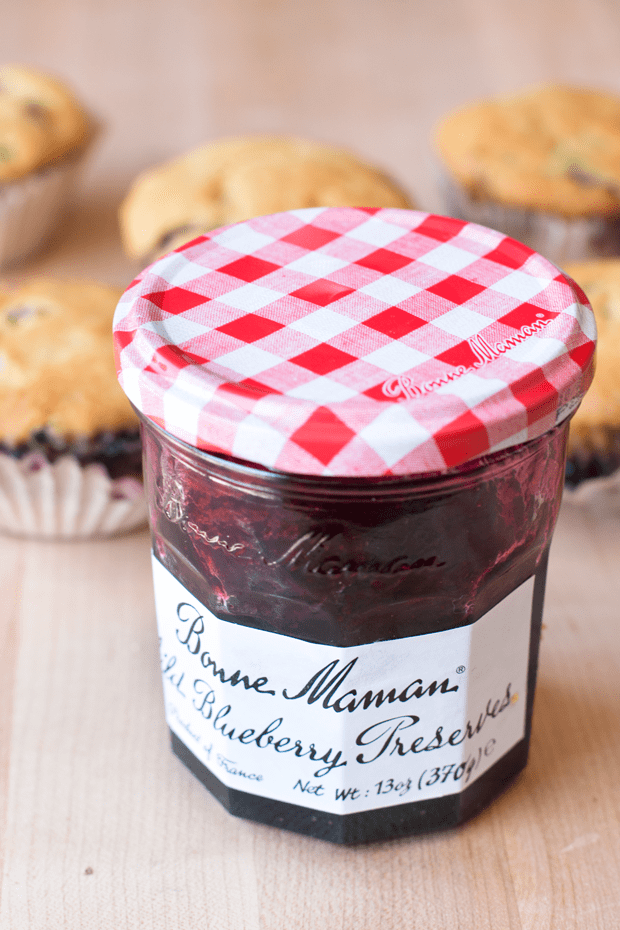 Everyone will be clambering to devour these bad boys – just make sure you don't let them before you bring one to your mama in bed!
Make sure you enter the Bonne Maman contest, by the way. It'll definitely make your Mother's Day even sweeter 😉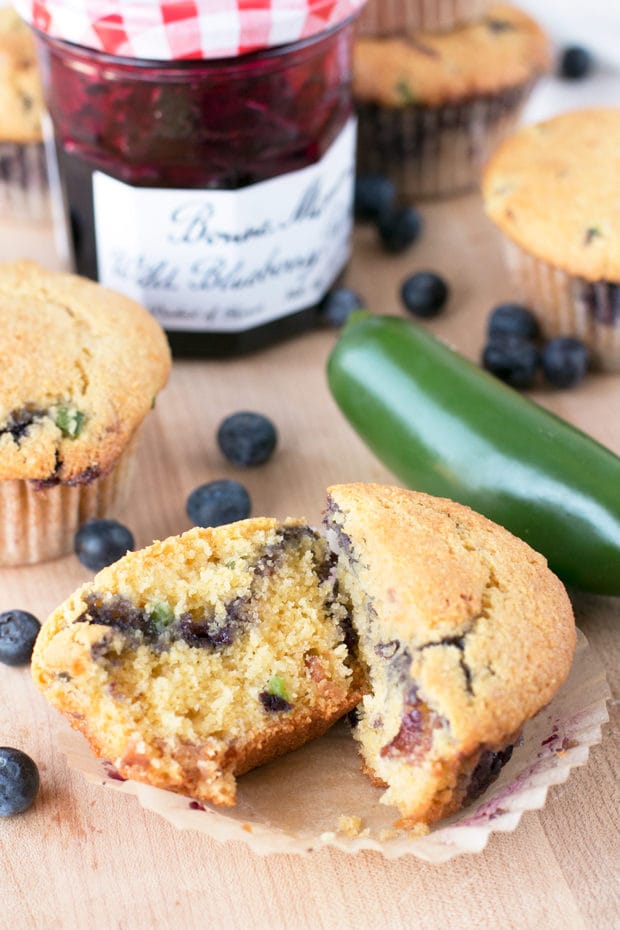 Disclosure: I received free product and compensation from Bonne Maman as part of this post. As always, all opinions and recipe are my own. Thanks for supporting the brands that support Cake 'n Knife!
This Recipe's Must-Haves
Pin this Blueberry Jalapeno Bacon Cornbread Muffins recipe for later!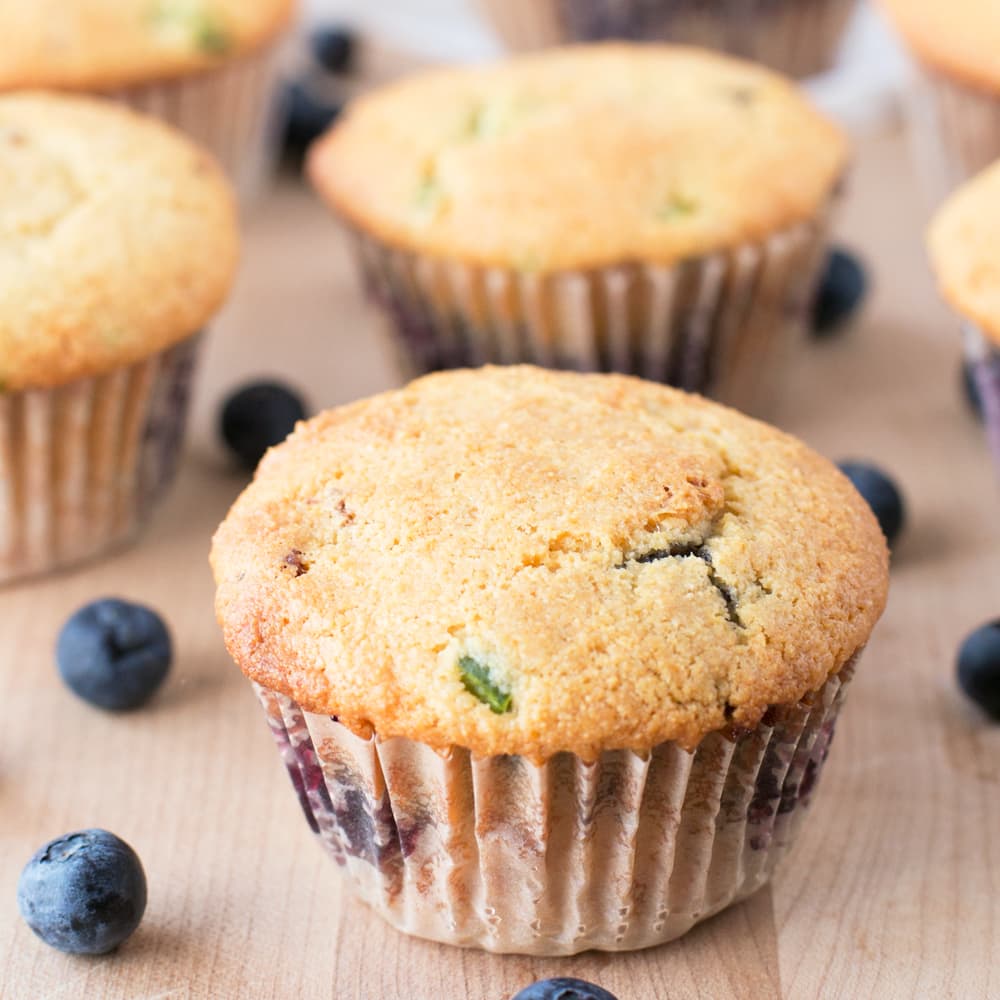 Blueberry Jalapeno Bacon Cornbread Muffins
Sweet blueberry preserves come together with spicy jalapeño and savory bacon cornbread for the best breakfast muffin EVER.
Ingredients
1 cup cornmeal
1 cup all-purpose flour
1 tsp baking powder
1/2 tsp baking soda
Pinch of salt
8 Tbsp unsalted butter, melted and cooled
2 Tbsp canola oil
1/3 cup brown sugar
2 1/2 Tbsp agave
1 large egg
1 cup buttermilk
2 1/2 jalapeños, seeded and chopped
3 slices bacon, cooked and chopped
1/3 cup Bonne Maman Wild Blueberry Preserves
Instructions
Preheat oven to 350 degrees. Line a 12-cup cupcake tin with parchment cupcake liners.
In a large bowl, whisk together cornmeal, flour, baking powder, baking soda and salt.
In a medium bowl, whisk together butter, oil, sugar, and agave. Add egg, whisking to combine. Whisk in buttermilk until just combined.
Add wet ingredients to the dry ingredients, stirring to combine. Fold in jalapeño and bacon.
Fill the cupcake liners halfway full with the batter. Add 1 tsp of Bonne Maman Wild Blueberry Preserves to each cup. Fill cups the rest of the way with muffin batter.
Bake for 25 minutes, until golden brown on top and a toothpick inserted in the center comes out clean.
Cool for 5 minutes in the pan. Remove to a cooling rack. Serve warm or store in an airtight container for up to 4 days.