Chilaquiles, aka hangover food, are spicy, full of texture, and so many flavors all you'll be able to do is sigh with pleasure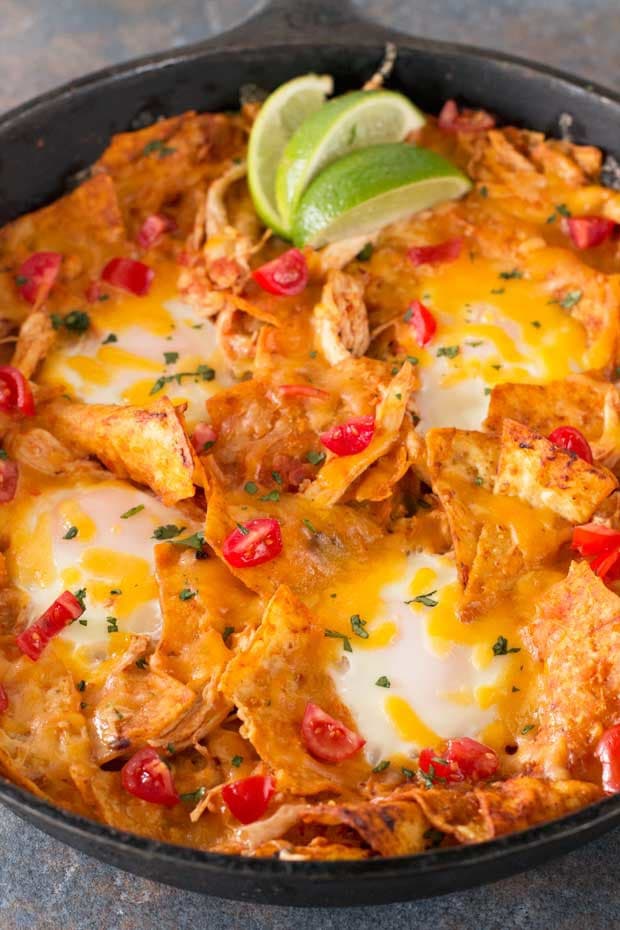 So you had an epic bash last night where you drank too much Guinness and took one too many shots of Jameson. You tore into some serious corned beef and about half the party ended up staying at your house last night. Morning is here, you wake up and realize you have a massive group of people moaning and groaning from the hangovers that just started to hit them.
As much as you'd love to shove a few ibuprofen in their hands and send them packing, you are suffering too and wishing you had remembered to pull together some quick and easy breakfast that will shut everyone up and quell the pounding in your head.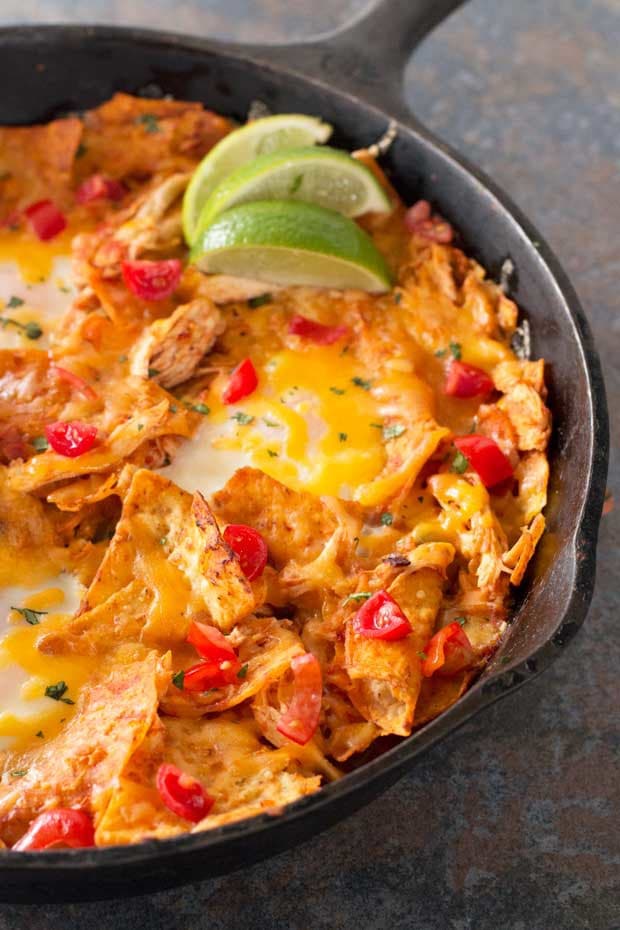 That, my friends, is where I come in. You see, this year, I really thought ahead (a first, I know!) about what I wanted to feed my wrecked body once I woke up from a green beer haze on March 18th. The answer was simple, I had to go for Mexican. Mexican is the one thing I go to when I have a hangover or need comfort food in general.
Tragically this year St. Patrick's Day fell on a Thursday, so I am up and working already. Thankfully, I have a massive plate of these chilaquiles by my side to bring me some comfort. Along with massive amounts of coffee and ibuprofen…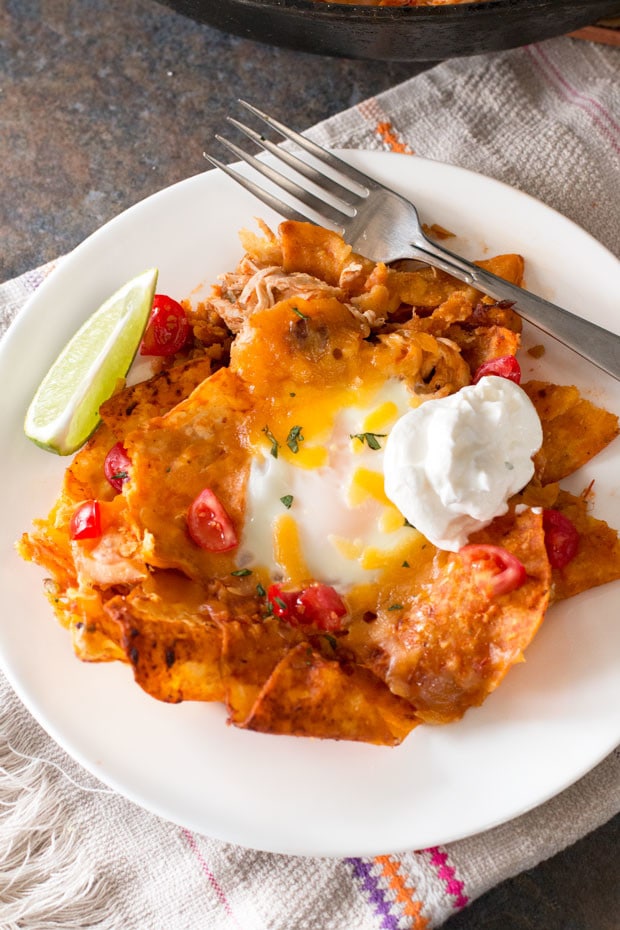 This dish is a pile full of chips, chicken, and sauce with a few eggs thrown in to round it out. It might look like a huge mess of nachos (and you wouldn't be too inaccurate there), but it's a glorious mess that you won't be able to resist stuffing your face with, hungover or not.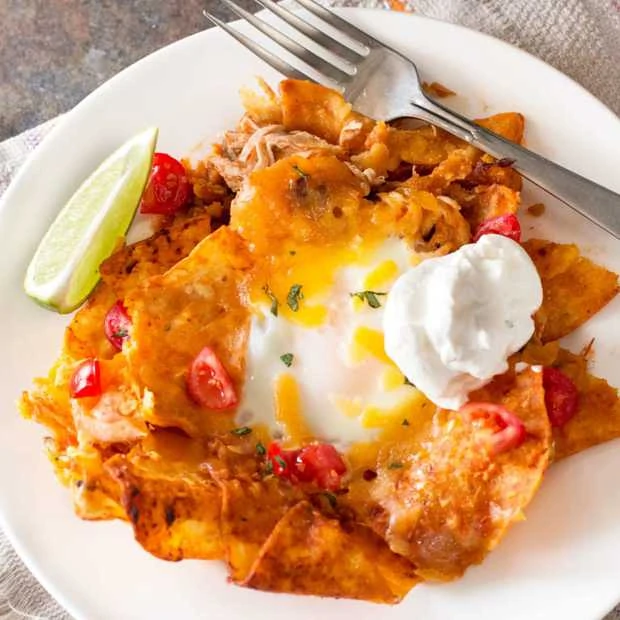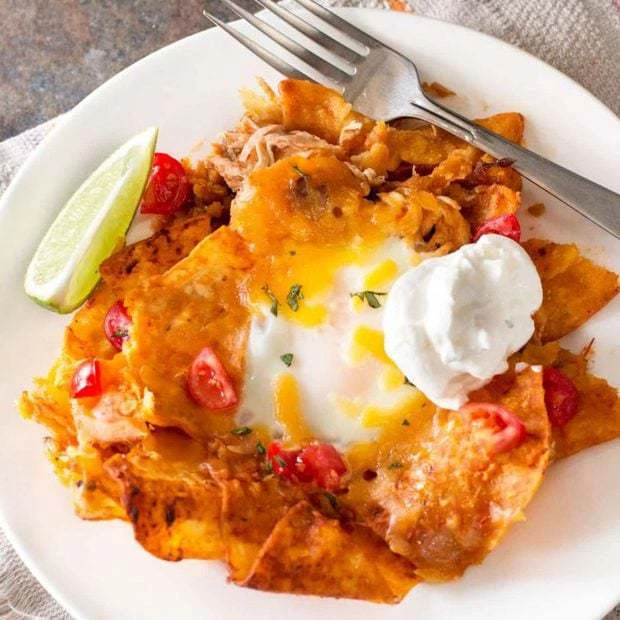 Chilaquiles
Just the right amount of spicy, textures and flavors to cure that hangover.
Ingredients
1 Tbsp olive oil
2 minced chipotles in adobo
2 Tbsp adobo sauce (from can)
4 1/2 cups corn tortilla chips
1 cup shredded chicken
2 cups salsa
4 large eggs
1/2 cup sharp cheddar cheese or Mexican cheese blend
Chopped cherry tomatoes
Chopped cilantro
Lime wedges
Sour cream
Hot sauce
Instructions
Preheat oven to 375 degrees F.
Heat olive oil in an oven-safe skillet over medium-high heat. Stir in the chipotles and adobo sauce. Gently stir in the tortilla chips, breaking them up slightly and you turn them to cover them in sauce. Fry for approximately 1 to 2 minutes, then stir in salsa and shredded chicken.
Make 4 wells in the nachos for the eggs and crack each egg in one. Place the skillet in the oven and bake for 13 to 15 minutes, or until eggs are set but the yolks are still runny. Top with cheese and bake for an additional 1 to 2 minutes until the cheese is melted.
Garnish with lime wedges, chopped cilantro and chopped cherry tomatoes. Serve with sour cream and hot sauce.