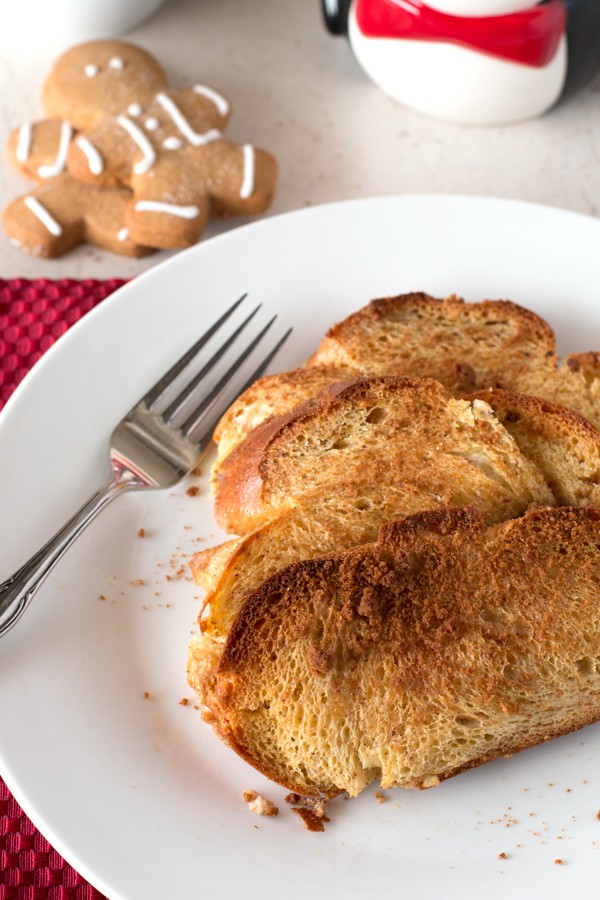 'Tis the season for all things gingerbread! If you've ever wanted an excuse to eat gingerbread cookies for breakfast, this is the perfect way to get that fix.
For me, a breakfast filled with the flavors of gingerbread is exactly what I want to wake up to on Christmas morning. Christmas mornings when I was young were all about the family getting together for breakfast. We would always stay with my grandparents Christmas Eve and would wake up early to rip through our stockings as we waited for the rest of the family to arrive.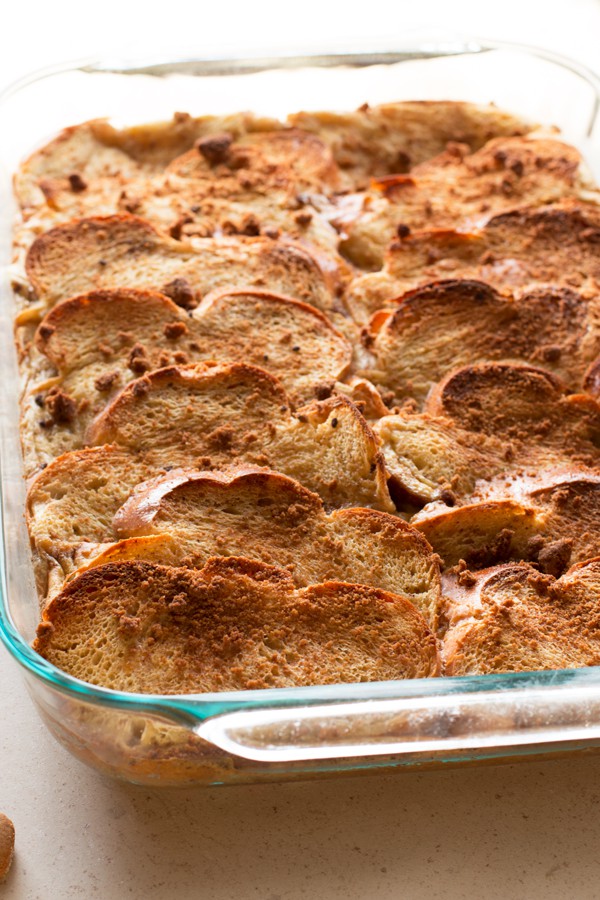 This recipe for overnight French toast hits all the right notes for your Christmas morning. First, it's SO easy. Whip it up the night before, stick it in the fridge and bake it when you wake up. No muss, no fuss, and you can focus on watching everyone open their gifts!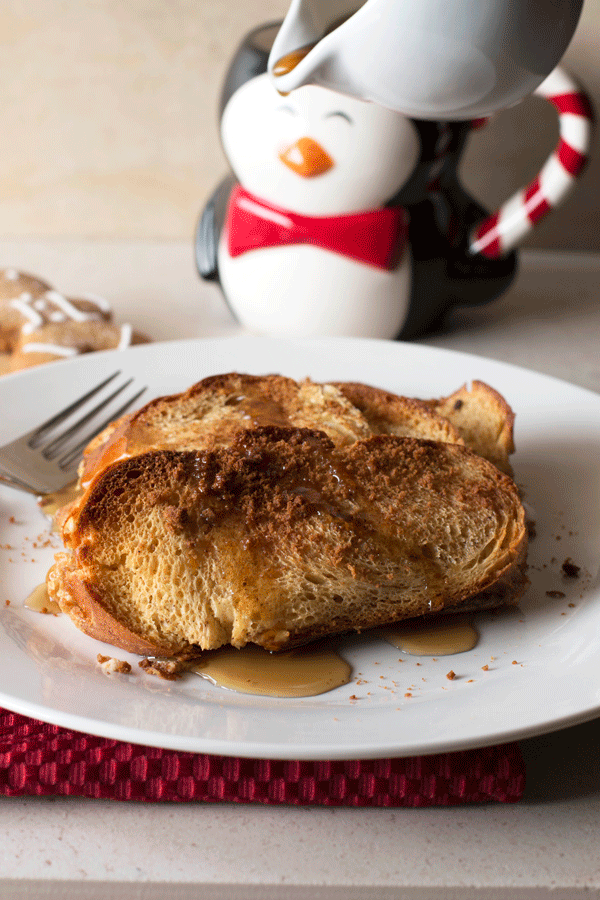 Second, this French toast tastes just like gingerbread. The combination of ginger, cinnamon, clove, allspice, and vanilla not only make you feel like you are biting into a gingerbread cookie, they fill your entire home with a scent that screams Christmas.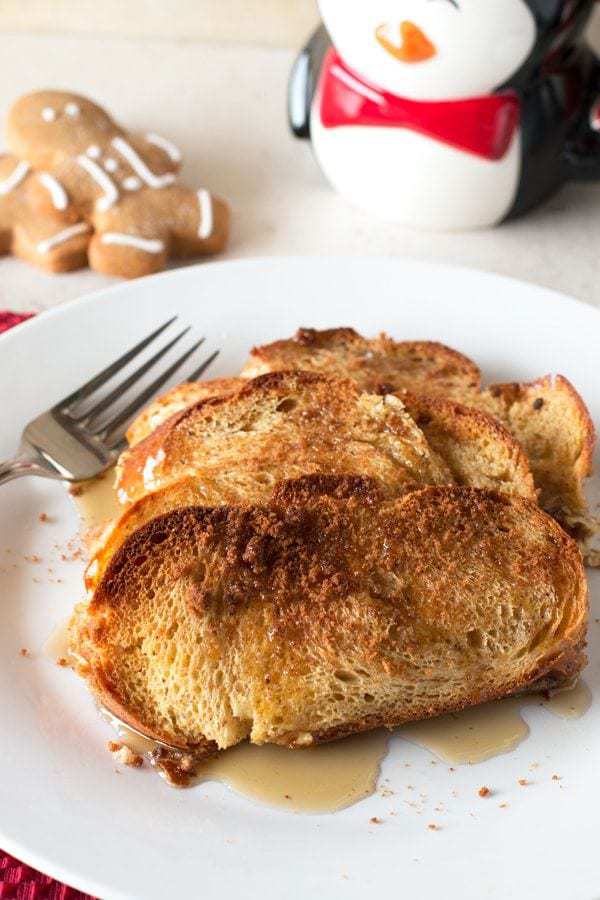 You might even be able to resist all the treats in your stocking in anticipation of digging into a syrup-covered bite of this French toast!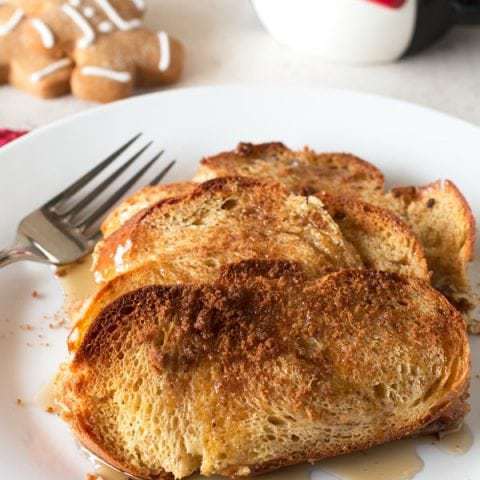 Overnight Gingerbread French Toast
This will become your new holiday go-to breakfast for years to come! Comes together in minutes and you simply bake in the morning. In minutes you'll be enjoying the gingerbread flavor you know and love!
Ingredients
1 loaf challah bread, sliced into 1" thick slices
8 eggs
2 cups heavy cream
3/4 cup skim milk
3 Tbsp sugar
1 1/2 tsp vanilla extract
1/2 tsp ground cinnamon
1/2 tsp ground ginger
1/4 tsp ground clove
1/4 tsp ground allspice
Pinch of salt
6-7 gingersnap cookies, crushed
Instructions
Butter a large 9x13 inch casserole dish. Arrange the sliced challah bread into two rows in the baking dish, just slightly overlapping the pieces.
Combine the eggs, heavy cream, milk, sugar, vanilla extract, spices, and salt in a large bowl and whisk until just blended. Pour the mixture evenly over the slices of bread, making sure they are all coated well. Cover with foil and refrigerate overnight.
When ready to bake, preheat oven to 350 degrees. Sprinkle the crushed gingersnaps over the French toast. Bake for 30 to 40 minutes, until lightly golden. Serve with whipped cream and maple syrup.