Breakfast Taquitos are a spicy flavorful breakfast that will wake you right up in the morning. They can be devoured the morning of, or you can even make them ahead and freeze them for the rest of the week.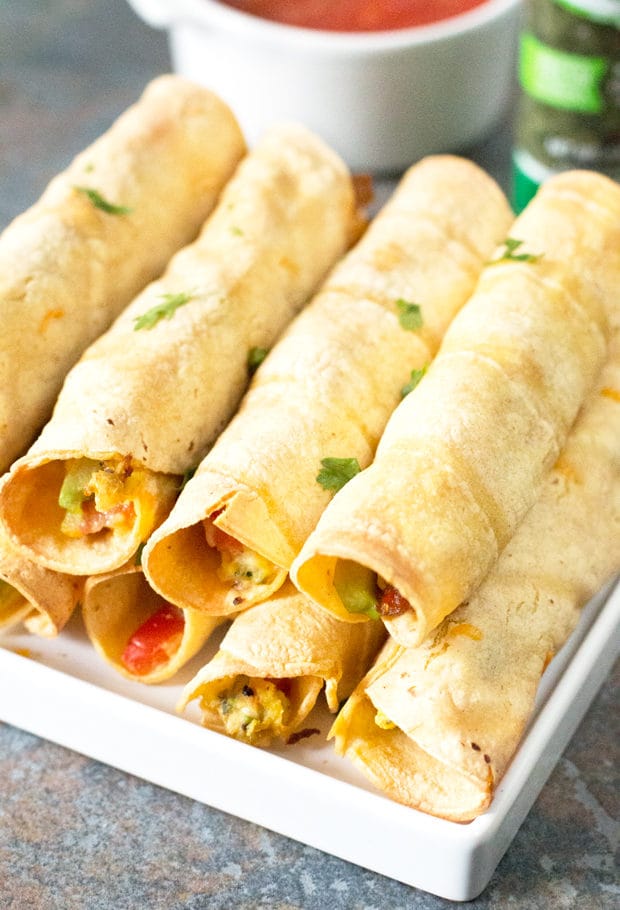 I'm sure I've mentioned it before, but I'm not generally a big breakfast person. I reserve breakfasts for special weekend celebrations, brunches and the occasional nursing of a hangover. That is, except for taquitos.
Taquitos have been a weakness ever since college when I used to run over to the 7-11 to stuff my face with a couple before class each morning. Cereal in the food hall didn't always cut it, you know?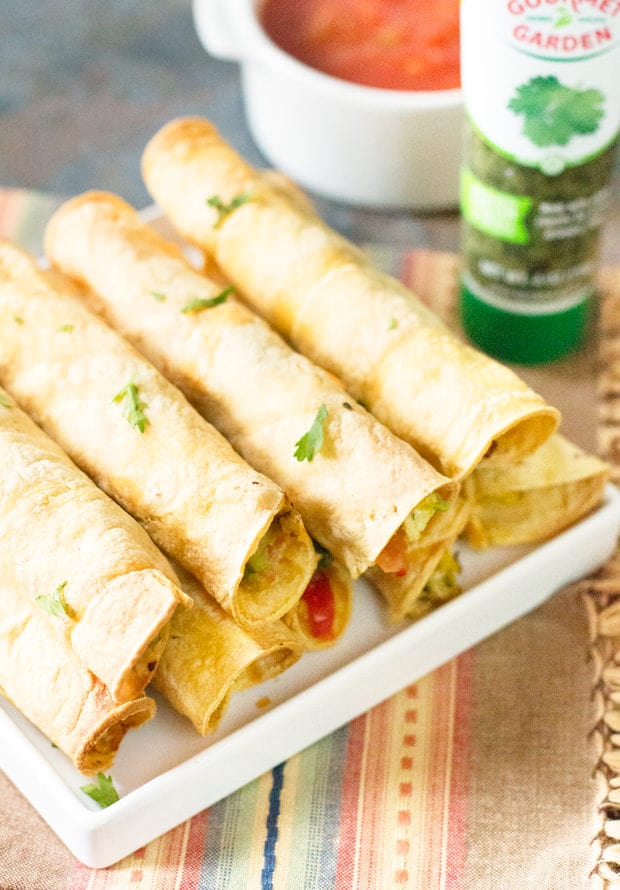 I just love that crunchy outside, the warm cheese-covered inside filled with whatever my heart desires, and especially that whole dunking it in plenty of salsa part.
I never really pushed myself to make my own taquitos before, but this week I decided it was about time I learned to make my own. Turns out, taquitos are so easy to make. You literally just fill and roll, fill and roll, fill and roll. Bake them up and in about 15 minutes, you are dunking piping hot, crunchy taquitos in salsa and wondering why you didn't try this whole thing sooner.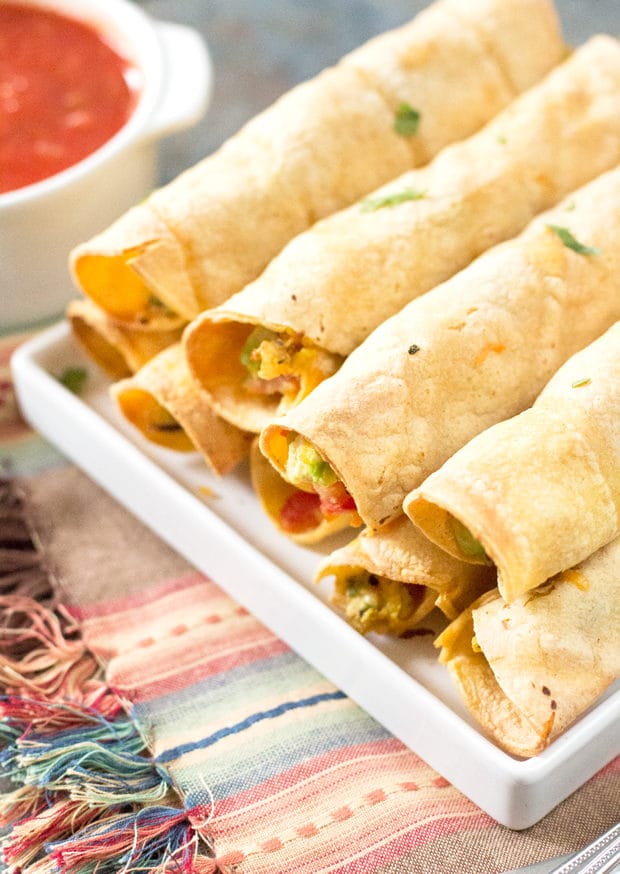 Instead of throwing some plain old eggs in these breakfast taquitos and calling it good with a sprinkle of cheese, I wanted to pack these little guys with flavor. I threw just about everything I could think of in there, and then I went one step further. I leveled up my scrambled eggs with Gourmet Garden's Cilantro Paste. I don't know if you are familiar with Gourmet Garden, but they are my go-to for herbs right now. The stores by my house have been so hit or miss lately with their fresh herbs, and with it still being just a tinge early for farmer's markets, I've been frustrated trying to track down what I need.
That's why I am in love with these pastes. You just stir them in and they pack a ton of flavor in a very small amount. Plus they last up to 12 WEEKS. Whoa.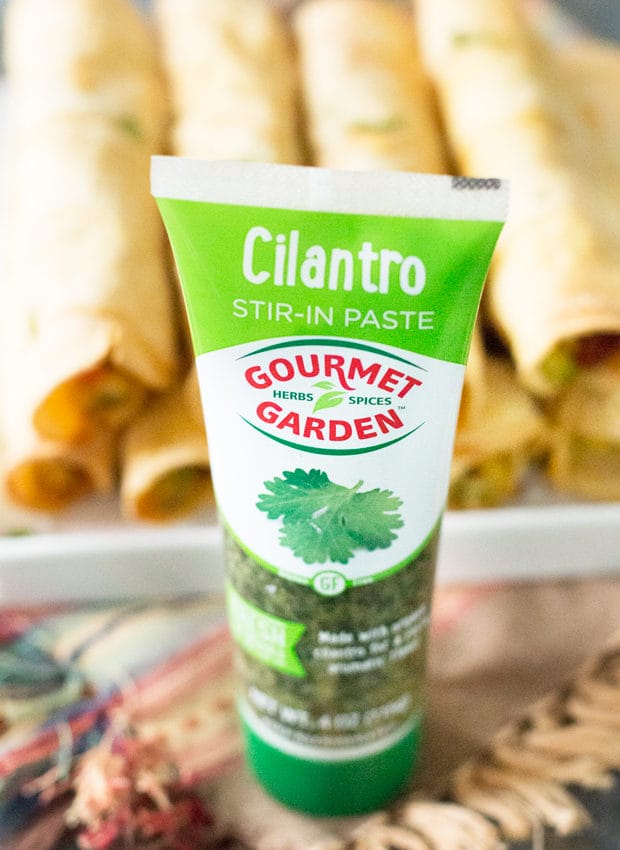 I stirred in some of this bomb cilantro paste into my eggs and honestly, it was hard for me to resist eating them as I was filling the taquitos – I might have ended up with one or two less than I intended…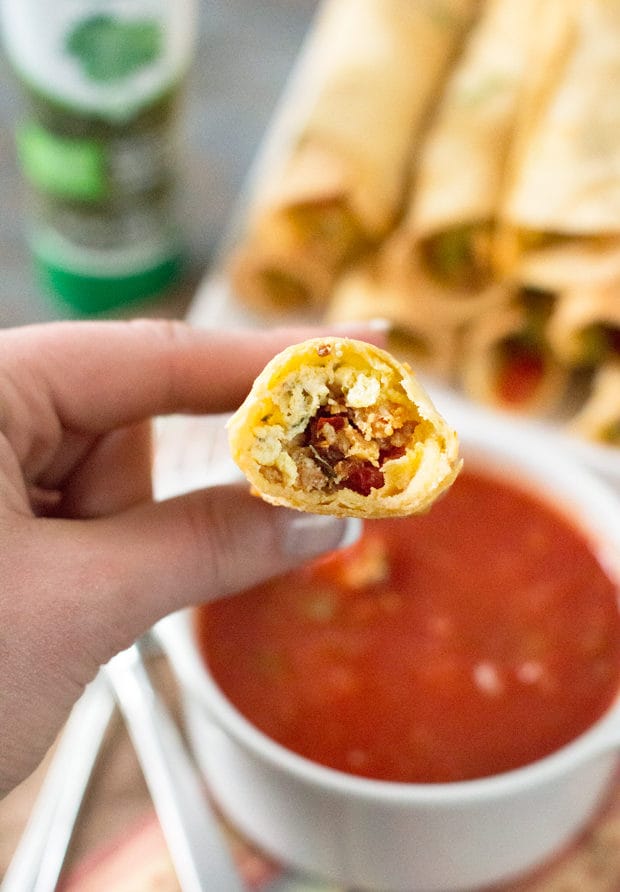 Aren't you happy I tortured you with these little beauties first thing in the morning? Happy Friday!
Disclosure: I received free product from Gourmet Garden and was compensated for my time as part of this post. As always, all opinions and recipe are my own. Thanks for supporting the brands that support Cake 'n Knife!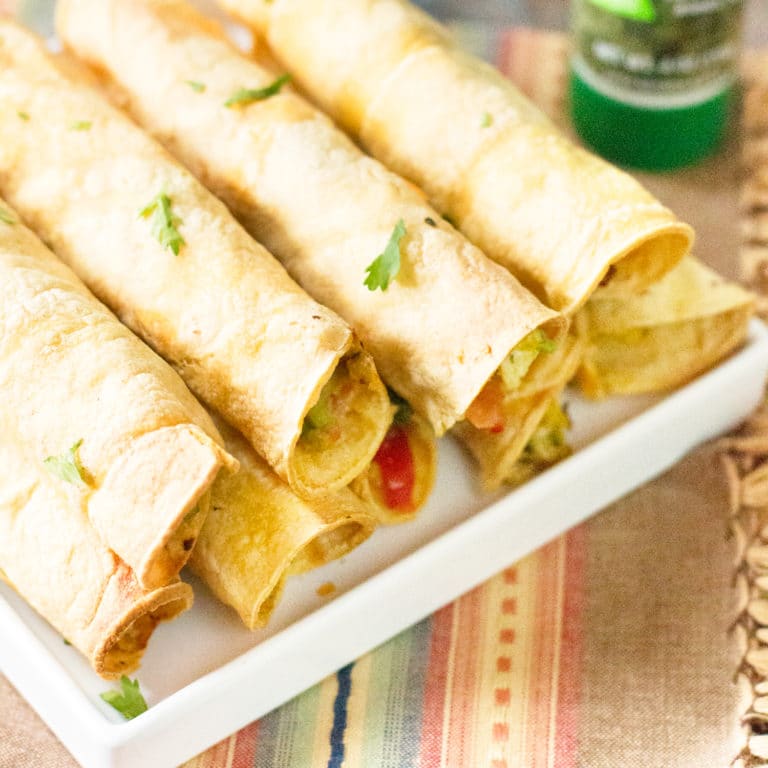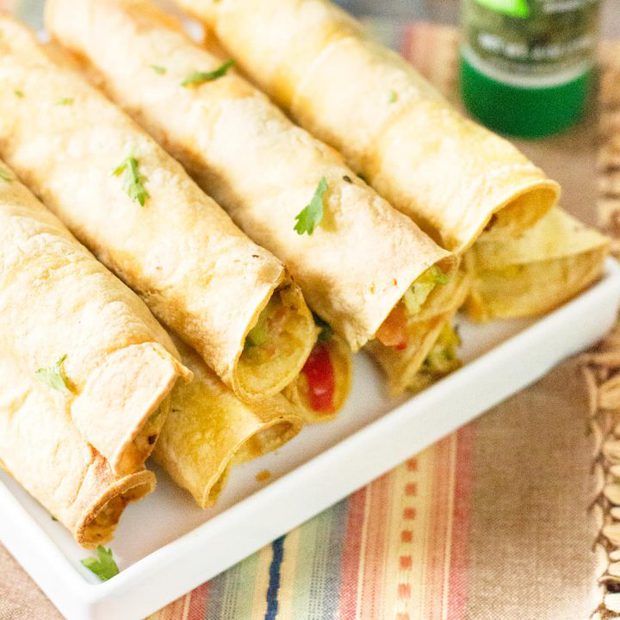 Breakfast Taquitos
Yield:
Makes 12 to 14 taquitos
These little guys pack a punch of flavor and spice so they'll wake you right up in the morning!
Ingredients
12 to 14 corn tortillas, softened in the microwave for approx. 15 to 20 seconds
4 eggs
1tsp Gourmet Garden Cilantro Paste
8 oz cooked chorizo, crumbled
2 roma tomatoes, seeded and chopped
1 avocado, pitted, peeled and diced
1 cup Mexican shredded cheese
Chopped pickled jalapeños
Hot sauce (optional)
For serving: Salsa, sour cream
Instructions
Preheat oven to 425 degrees. Line a rimmed baking sheet with silpat or parchment paper. Set aside.
In a medium bowl, add the eggs and cilantro paste. Beat the eggs with the paste until combined.
Heat a medium skillet over medium-high heat. When the skillet is hot, scramble eggs to desired doneness.
On a flat work surface, wrap up the taquitos. Begin with one warm corn tortilla. Add a small amount of each filling ingredient - scrambled cilantro eggs, chorizo, tomatoes, avocado, pickled jalapeños and cheese. Add a dash of hot sauce on top if desired.
Working from the bottom, roll the tortilla tightly and place seam side down on the lined baking sheet.
Bake until crispy and the cheese is melted, approximately 14 to 15 minutes.
Serve with salsa and sour cream.
Pin this Breakfast Taquitos recipe for later!