Vanilla Poached Pears
Poached pears have been on my bucket list for a while now.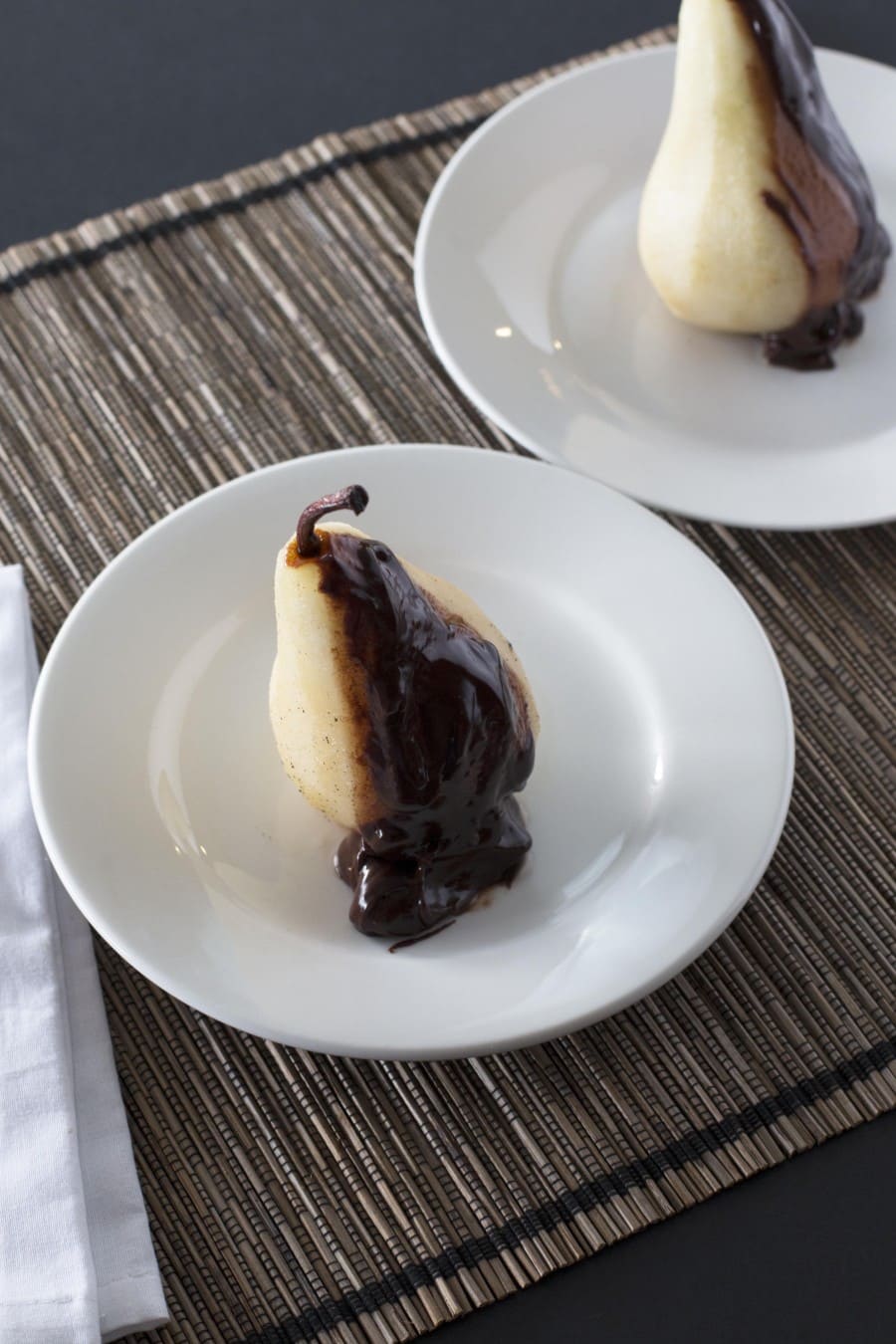 Though I could never quite master perfectly elegant plating, I always thought that poached pears were so gorgeous that you there isn't much you would have to do to make them gorgeous – which as it turns out is totally TRUE. Gobs of chocolate sauce can't drown out the beauty! 
I am pretty sure any bit of elegance in me was quickly weeded out as I grew older. Some women seem to grow into their elegance as they move to adulthood. I somehow become more awkward with each passing year.
Thankfully poaching pears is a good trick to make people think I am much more put together than I seem. The real miracle is how easy it is to make these pears. Sure it takes a little time, but most of that time involves you doing nothing and the pears just soaking up the goodness of the poaching liquid.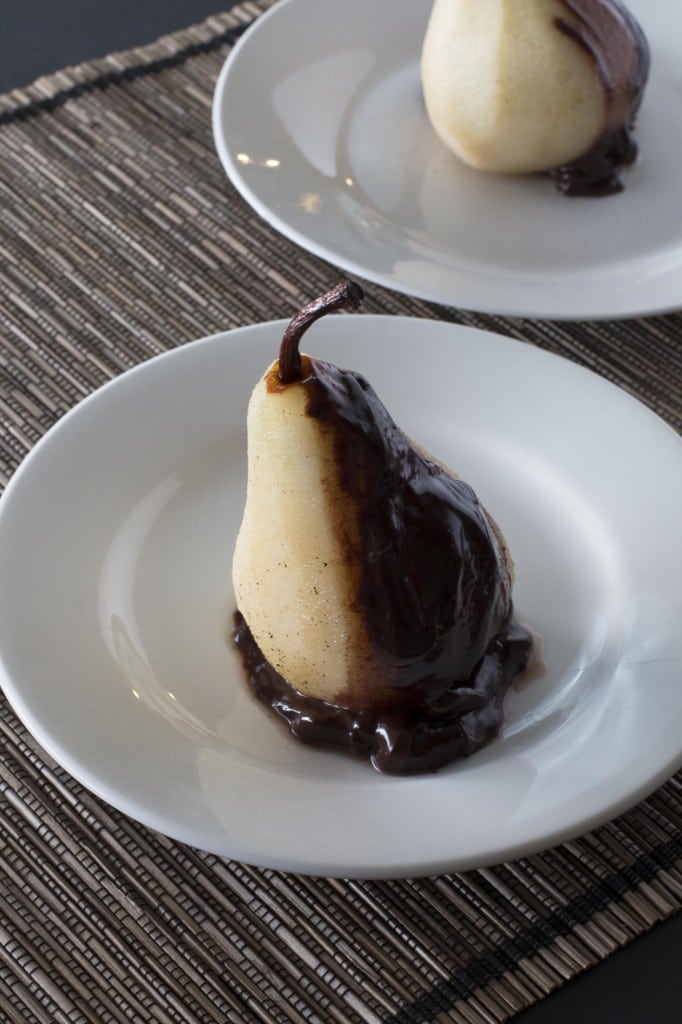 Deceivingly simple and oh so good. Just the right hit of vanilla and spices, along with a luscious chocolate ganache to really take you over the edge.
I am sure these pears would be great on their own, but I rarely have the capability of NOT involving chocolate in my dessert in some way. I am one gorgeously flawed chocoholic…
I'll take that any day of the week. 🙂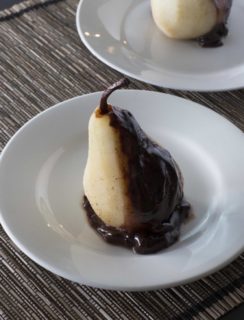 Vanilla Poached Pears with Chocolate Sauce
Yield: 6 poached pears
Prep Time: 5 minutes
Cook Time: 35 minutes
Total Time: 1 hour 25 minutes
Simple and stunning, these vanilla poached pears are one of my favorite ways to end a meal.
Ingredients:
Pears
6 cups water
3 cups sugar
2 cinnamon sticks
Zest of 1 lemon
1 vanilla bean
6 Bosc pears
Chocolate Sauce
1 cup heavy cream
16 oz dark chocolate chips
Directions:
In a large saucepan, combine water, sugar, cinnamon stick, and lemon zest. Cut the vanilla bean in half lengthwise, scrape out the seeds, and add both the seeds and pod to the pan. Over high heat, bring the mixture to a boil and stir occasionally, until the sugar is completely dissolved.
Peel the pears. Bring the poaching liquid down to a simmer over low-medium heat. Add the pears and cook until tender, about 15 minutes. Remove the pan from the heat and allow the pears to rest in the poaching liquid until completely cooled, approximately 45 minutes.
Heat the heavy cream in a small saucepan over low heat. Add the chocolate to a bowl and pour the heavy cream over the chocolate chips. Let rest for one minutes and stir to combine.
Serve each pear with a drizzle or dollop of sauce.