Please note this post contains affiliate links.
Belgian Waffle Ice Cream Sandwiches are, simply put, a stupid easy dessert to bust out any day of the year. The slightly sweet Belgian waffles are a fantastic vehicle of ice cream sandwiches, because they are soft while also being a tad crisp on the edges. They are easier to eat than those crumbly cookie ice cream sandwiches, and you can experiment with SO many flavors! Make it your own every time you make them.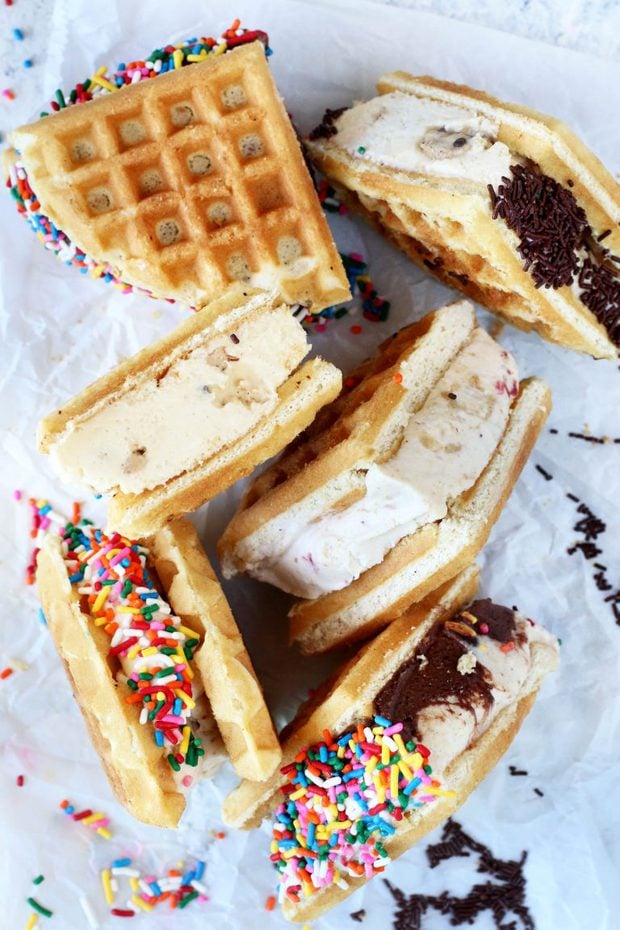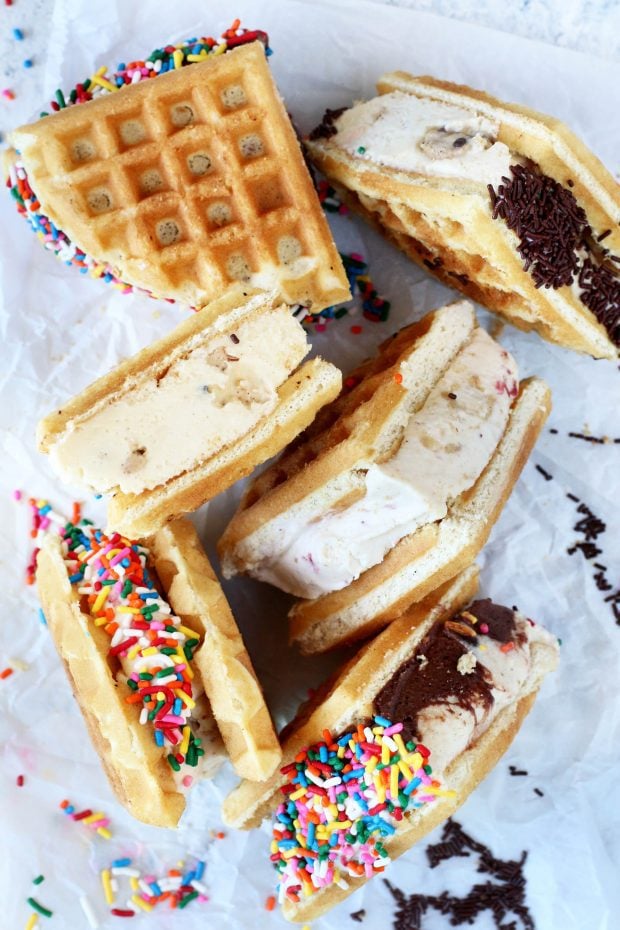 Please note that some of the links below are affiliate links. If you make a purchase through one of these links, I will receive a small commission.
I almost feel like I am cheating by putting up such a simple recipe.
Perhaps I feel like it's a little too simple, but honestly, it's one of those recipes that you can pull out all summer long and can change up in fun and new ways each time.
So, waffle ice cream sandwiches. Let's talk about that a little bit more.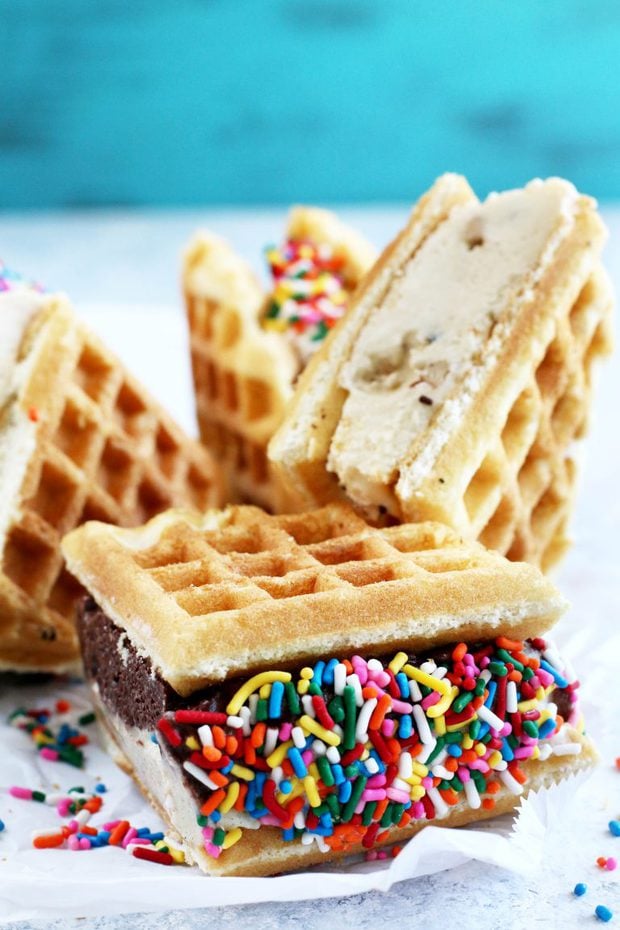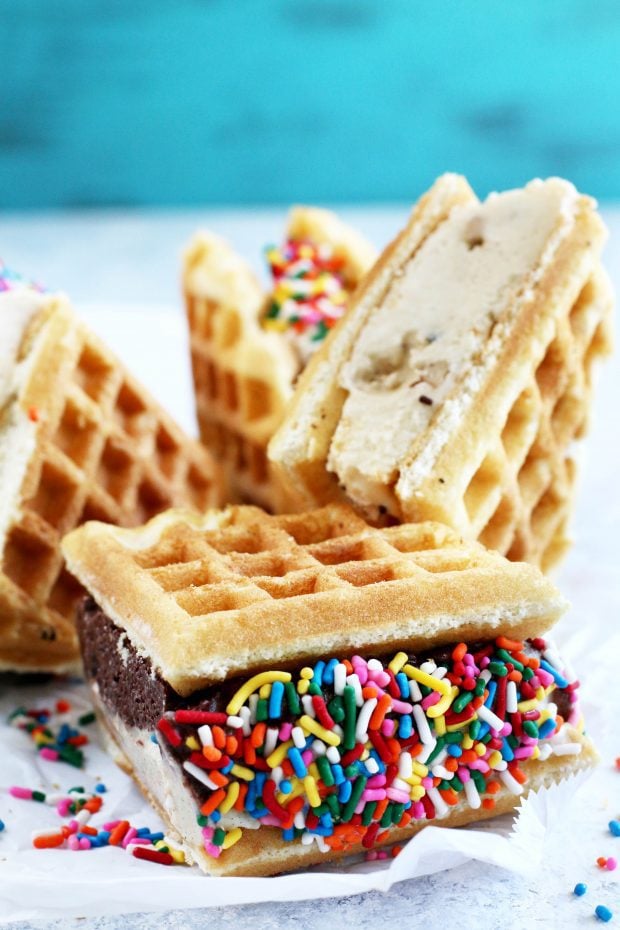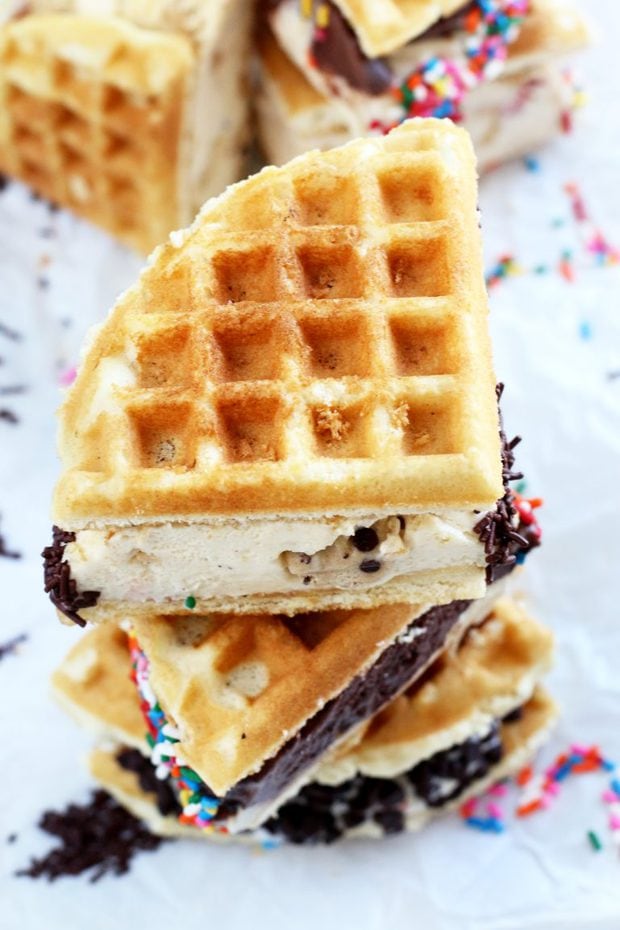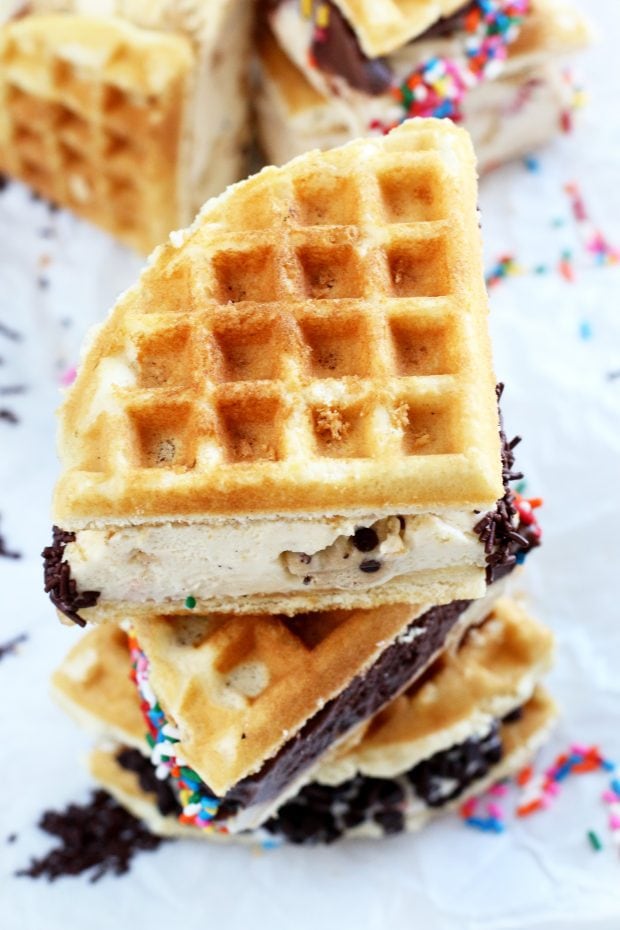 During the summer, I start craving ice cream again. I tend to kind of shy away from it when it's cold, but when it's insanely hot outside, cooling off with ice cream is much better than eating a cookie or warm slice of cake for dessert.
As much as I love a good ice cream cone, sometimes I don't want to go through the motion of waiting for the ice cream to thaw, and then get it into the cone without making a mess.
I know I sound ridiculous right now, but really, when it's 100+ degrees outside and you are exhausted from a long day… It FEELS like a lot of work.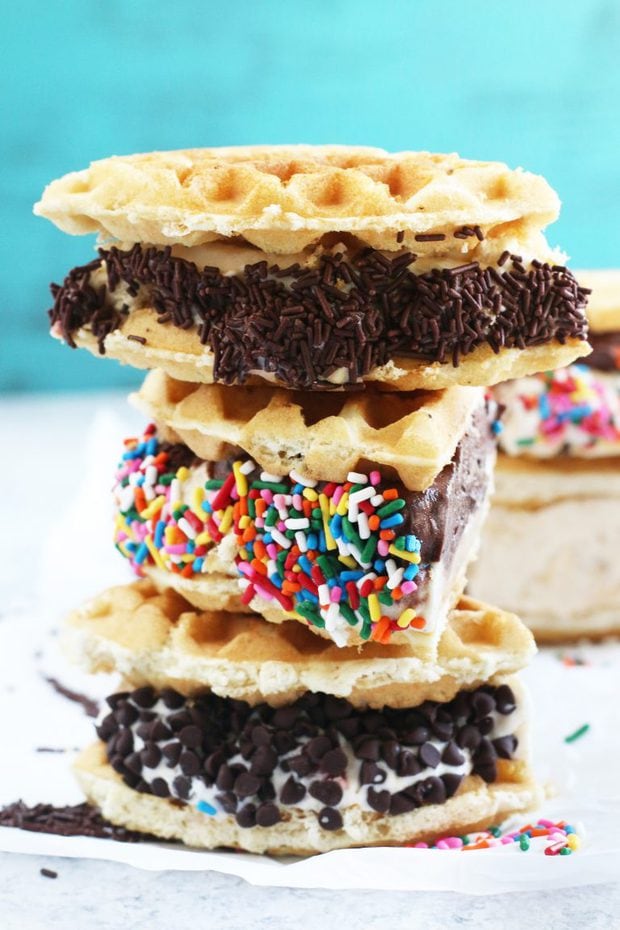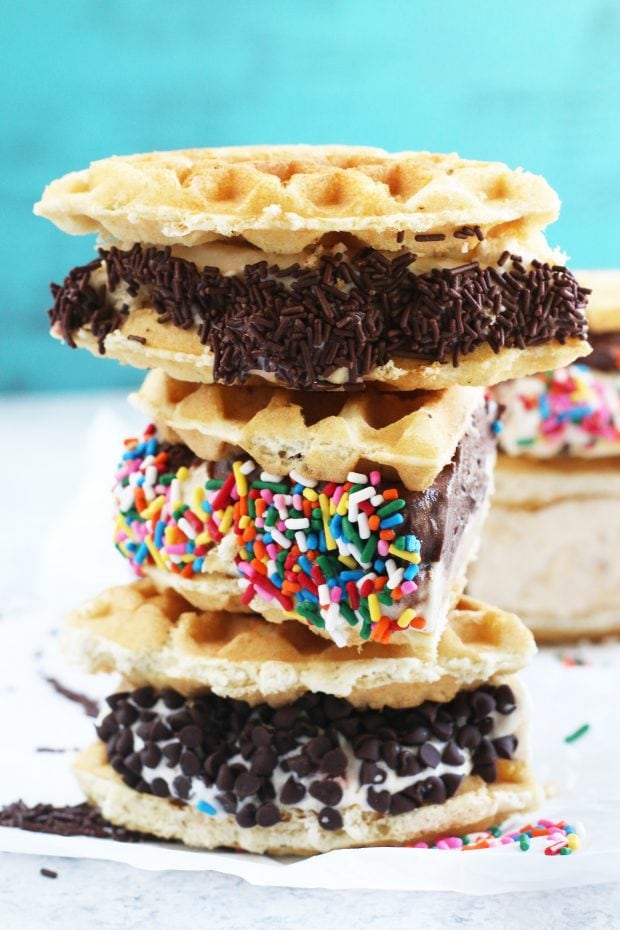 Why not just have those little ice cream treats ready to eat in the freezer so you can simply grab and go?
These Belgian waffle ice cream sandwiches are the easiest thing in the world to make and it's oh-so rewarding when it comes time to eat it.
It's a simple enough concept, but it's one that allows you to use your creative side, if you want to.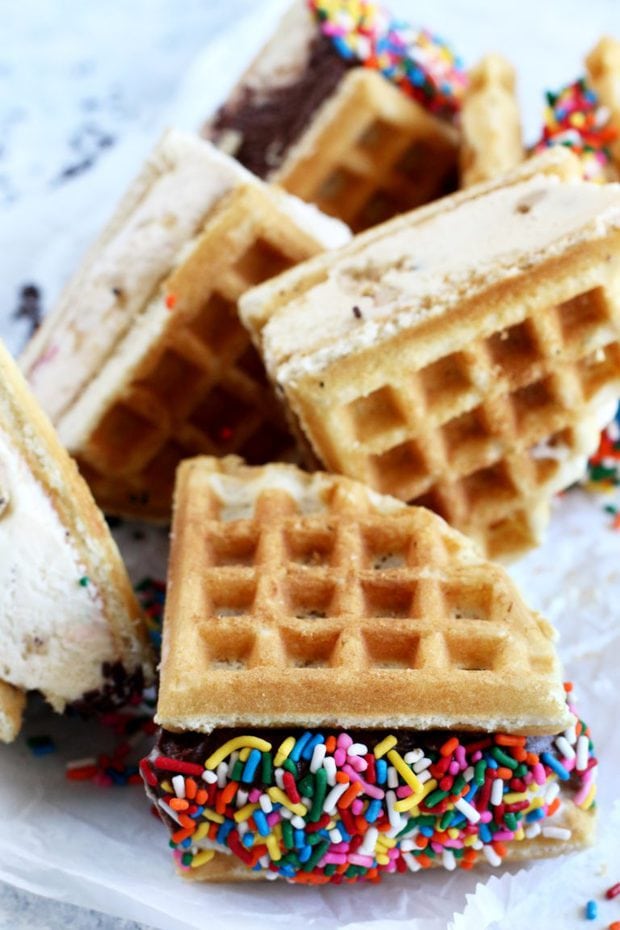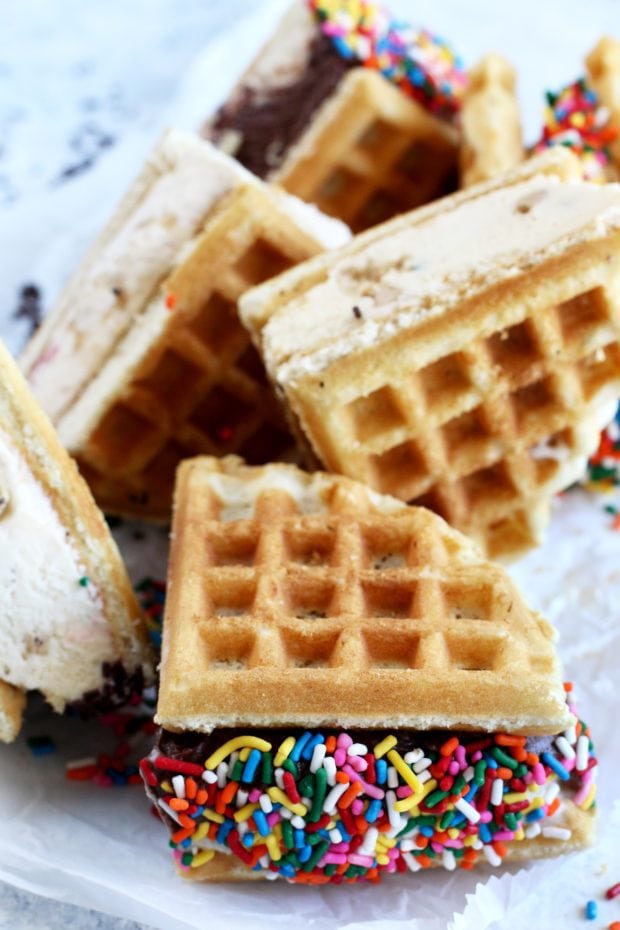 You can go with a classic like cookie dough in the center and call it good.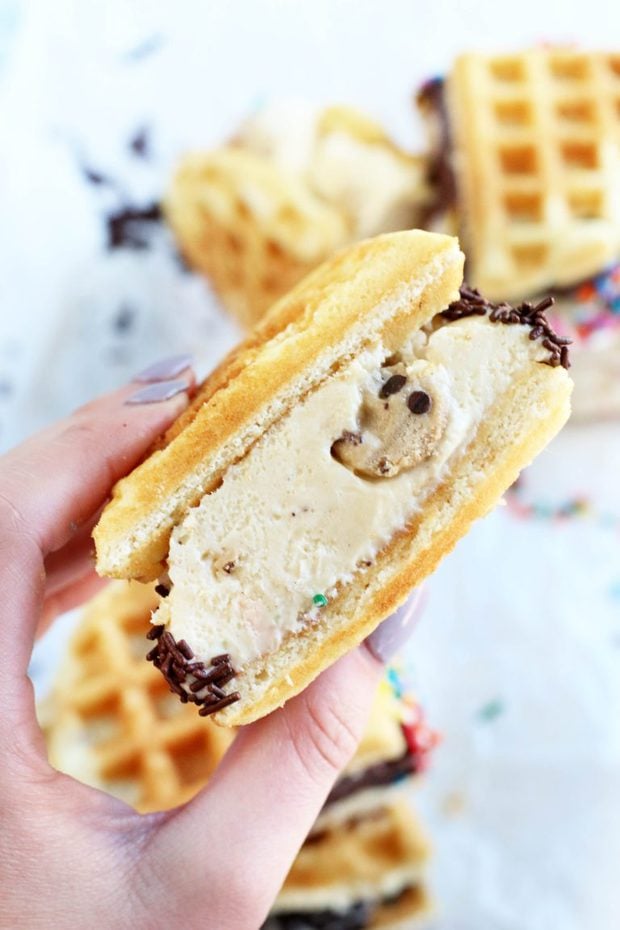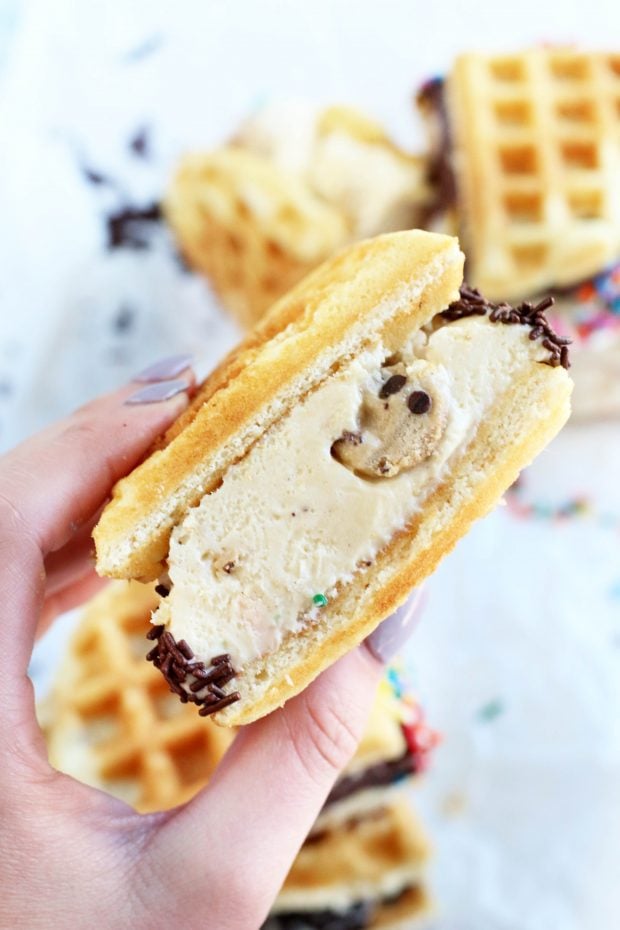 Or you can keep things interesting and layer up a couple of your favorite flavors.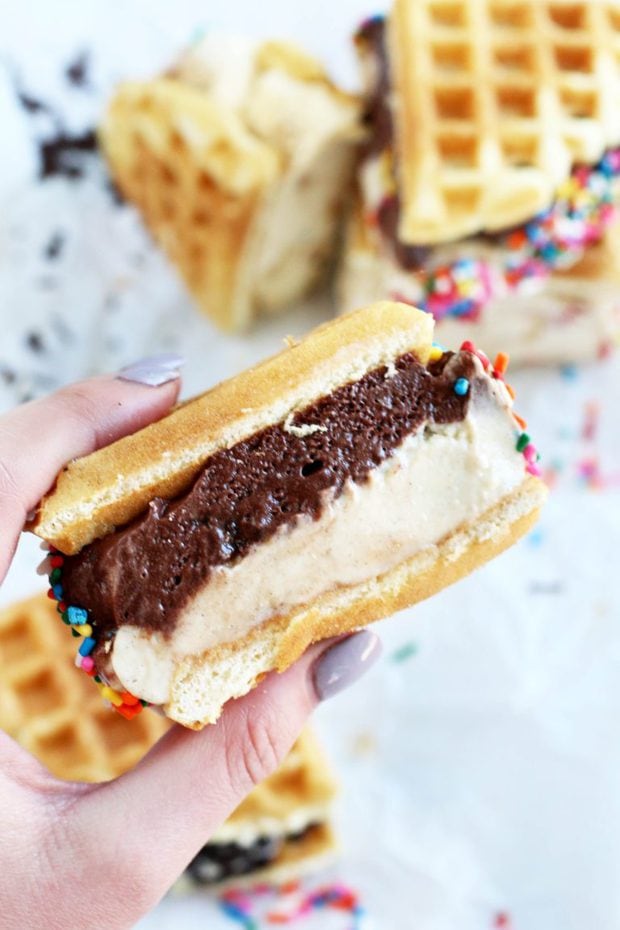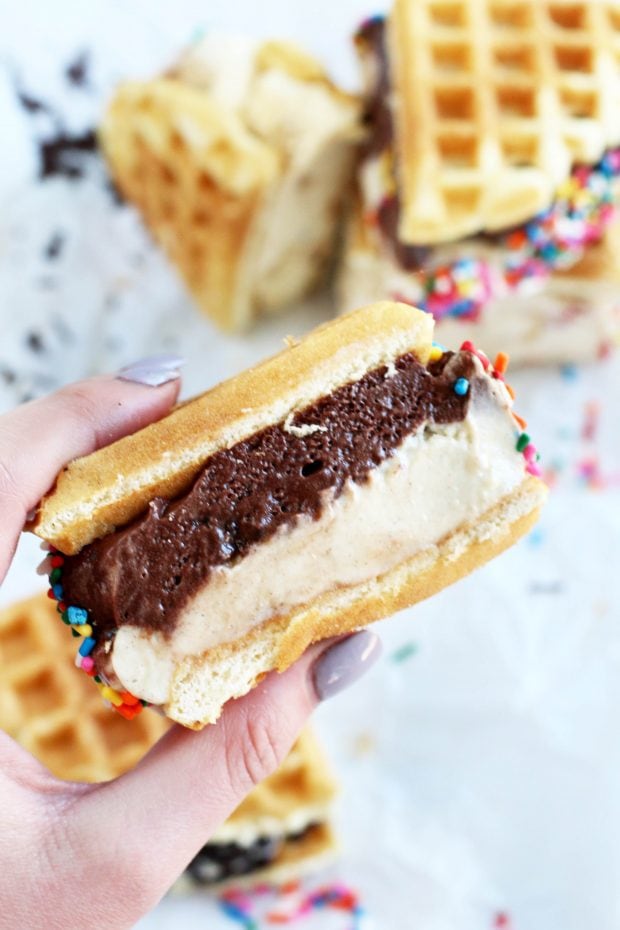 You can roll the sandwiches in sprinkles…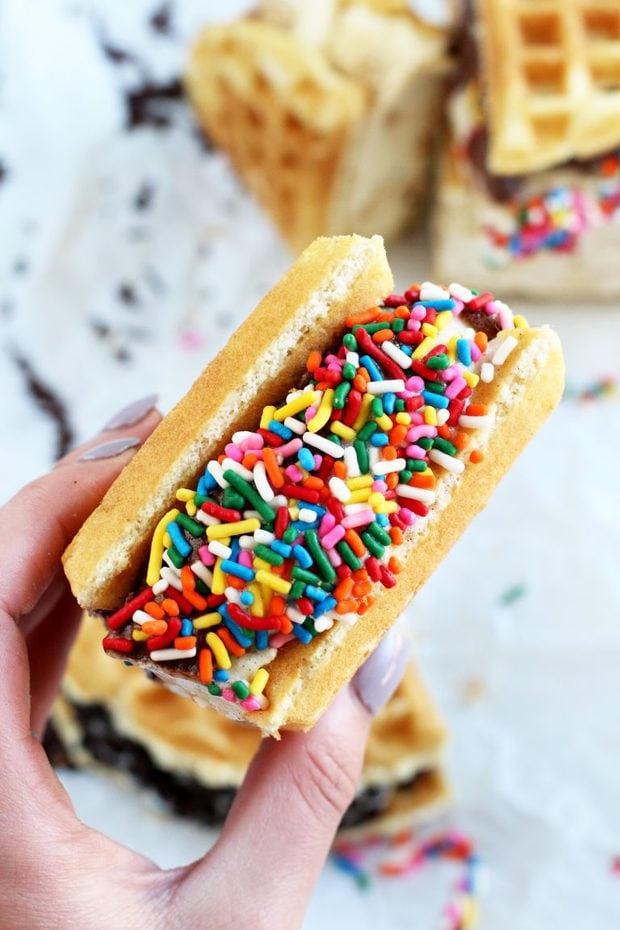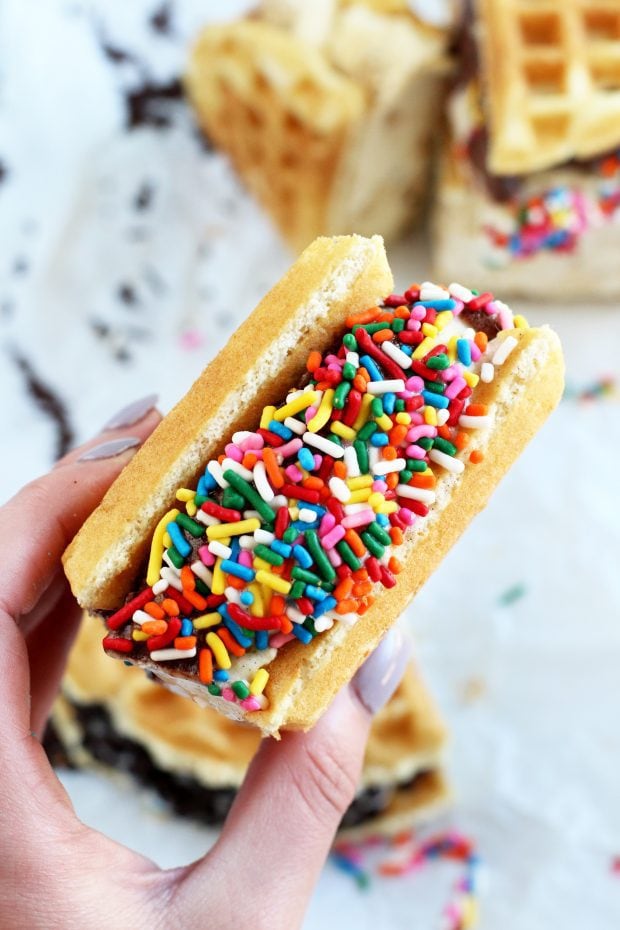 Or chocolate chips…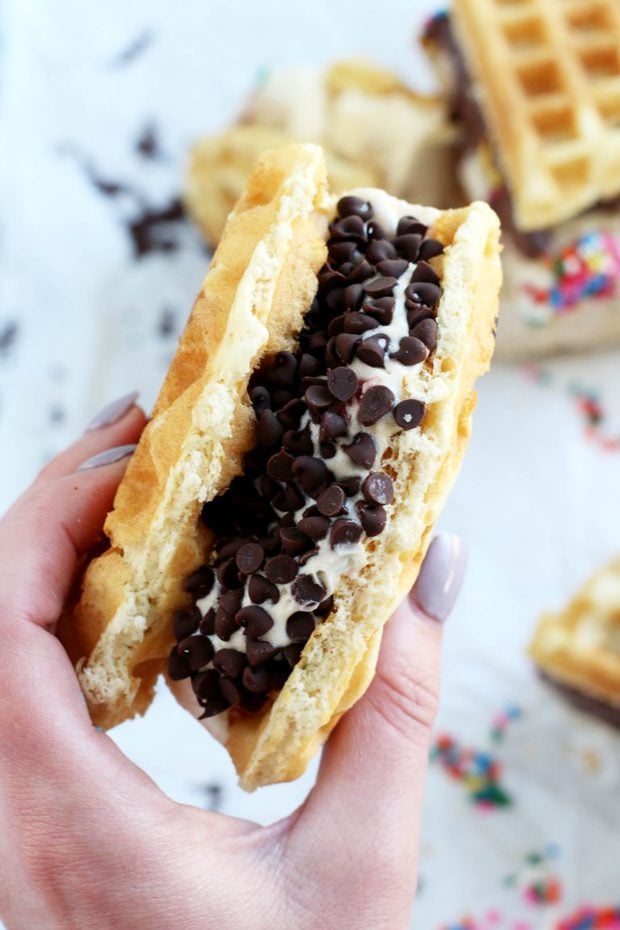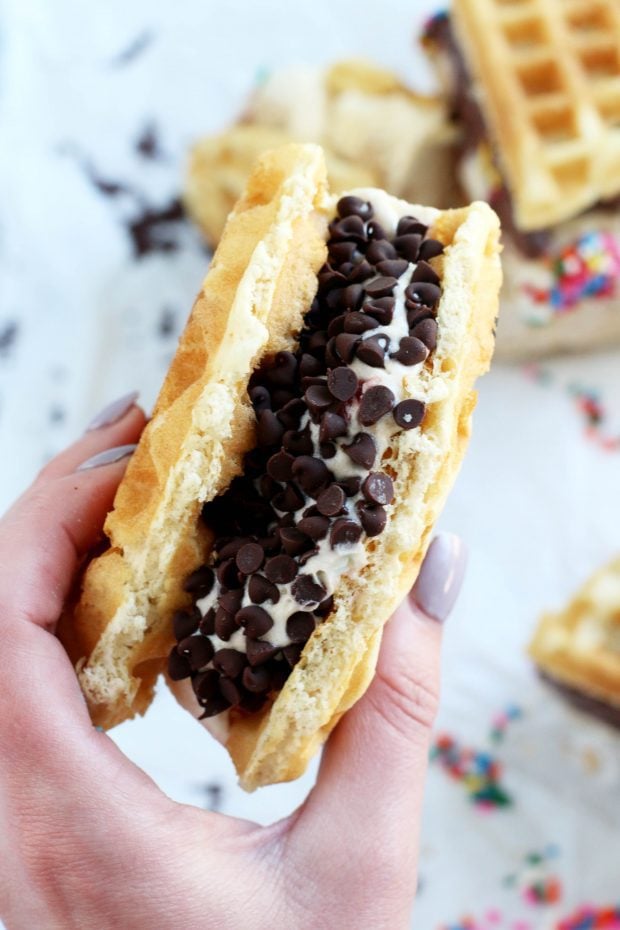 Or whatever else your heart desires!
It's a fun way to eat ice cream during the summer that is not only easy to make but HANDHELD.
If anyone needs me, I'll just be over here at my desk, eating an ice cream sandwich as I try to beat the heat by staying inside in the air conditioning. Forever.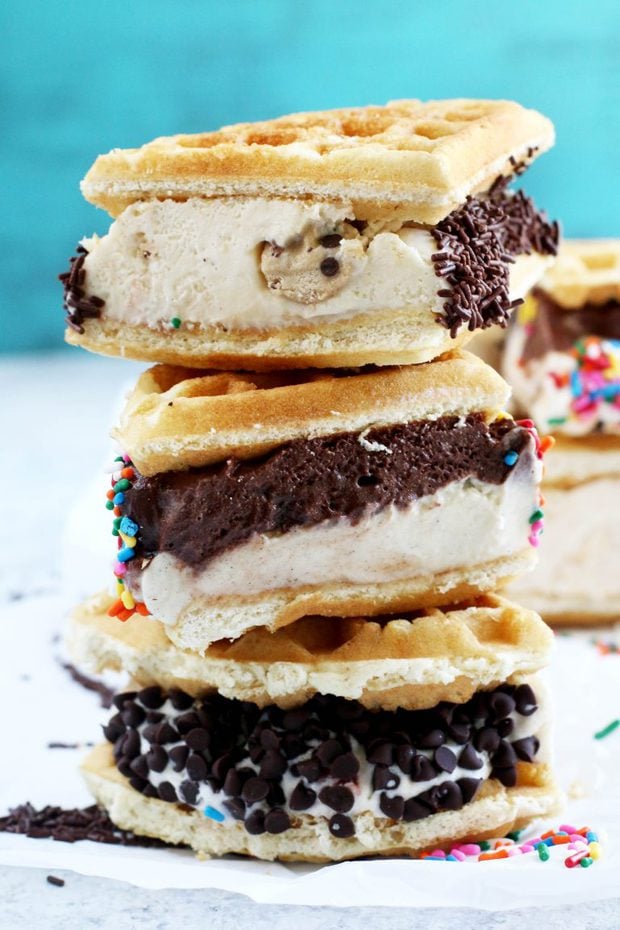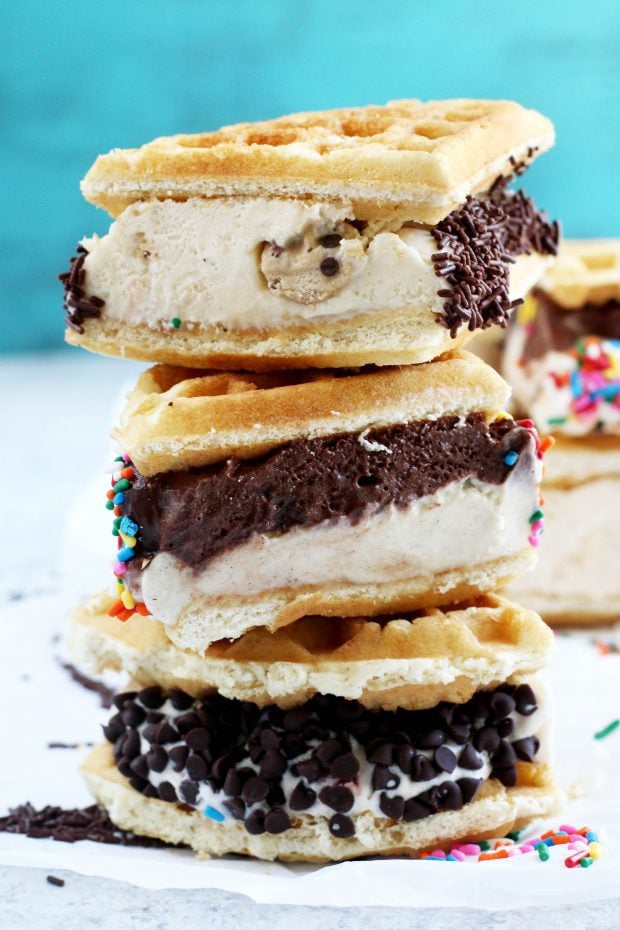 This Recipe's Must Haves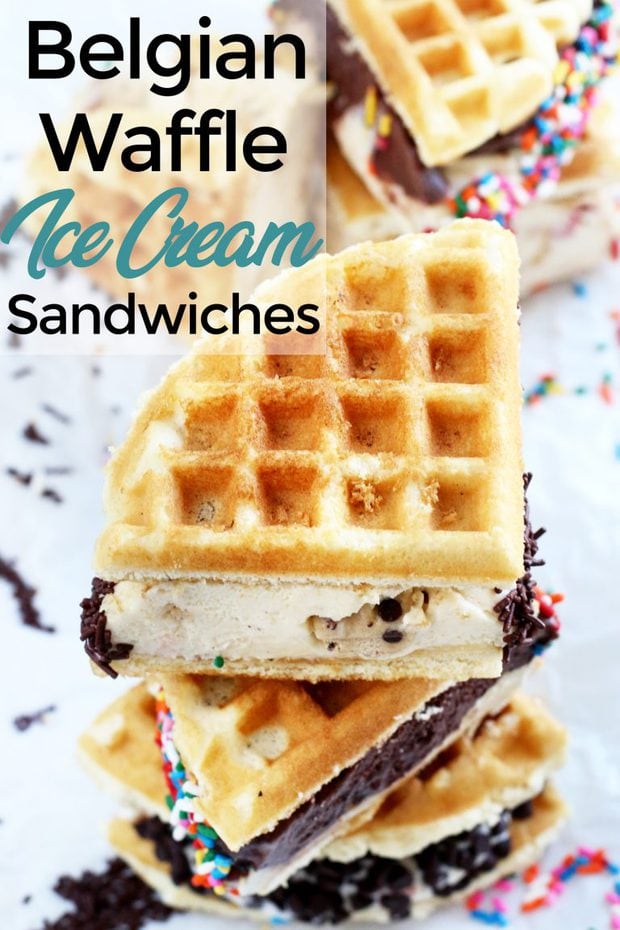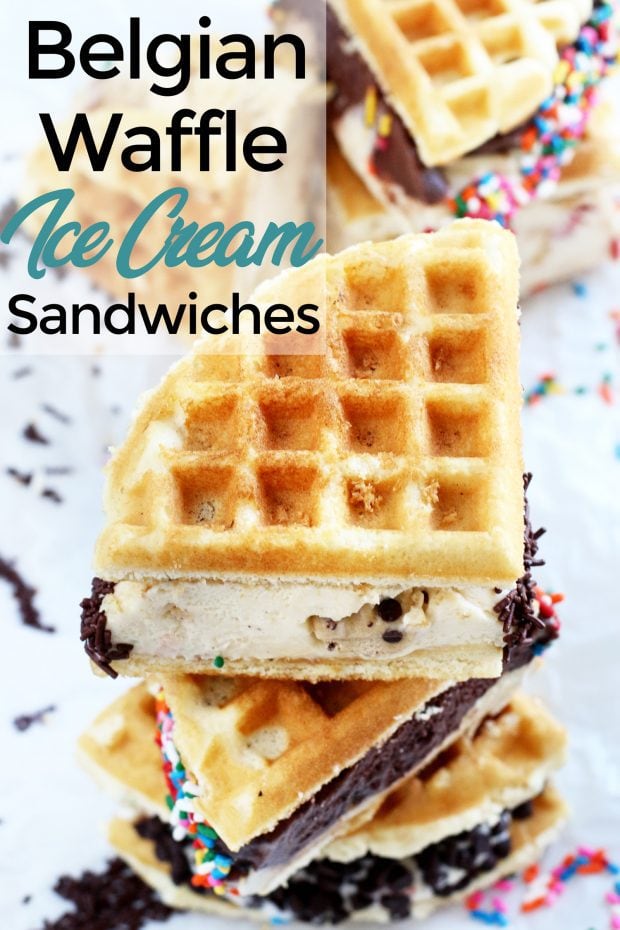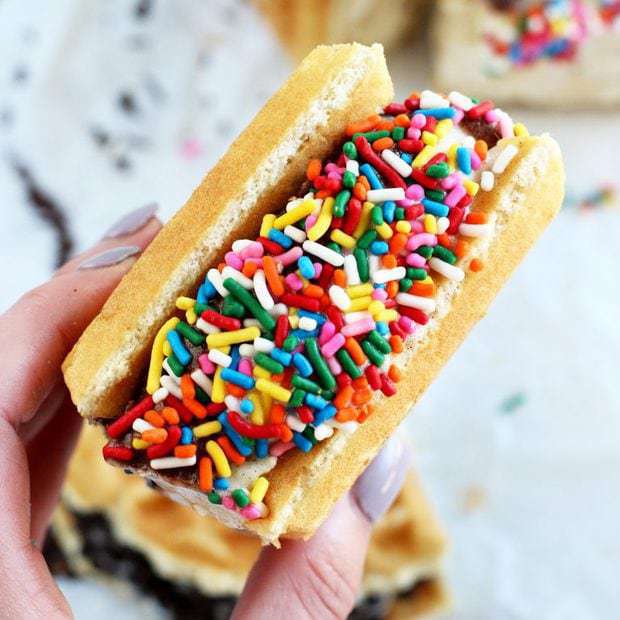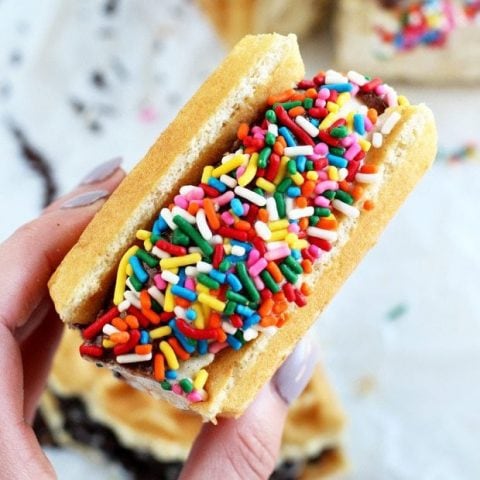 Belgian Waffle Ice Cream Sandwiches
Yield:
Makes 16 sandwiches
Additional Time:
1 hour
45 minutes
The simplest dessert idea you could possibly ever make. EVER.
Ingredients
8 round Belgian waffles (I used a mix to make my Belgian waffles - no shame in that!)
2 to 3 pints of ice cream (pick your favorite flavors! also, think about what flavors would go well TOGETHER)
Mini chocolate chips
Rainbow sprinkles
Chocolate sprinkles
Any other topping you can think of! Ex. coconut flakes, white chocolate chips, nuts, etc
Instructions
Line a cookie sheet with parchment paper. Place the waffles on the prepared sheet and freeze for 15 to 25 minutes. The waffles should be cold.
Let ice cream sit out for 10 to 15 minutes until it is softened.
Scoop a generous scoop and a half onto each waffle, then top with a second waffle to form a sandwich. I like to form layers so you can do half as a layer and top with another half - thick chocolate and vanilla, strawberry and cookie dough, etc. Have fun with it!
Return the sheet pan to the freezer and freeze for about 3 to 4 hours, or until frozen. Once frozen, cut each waffle sandwich into 4 smaller sandwiches. Roll the outside of the waffles in your choice of toppings. Freeze until ready to serve.