Cajun Shrimp & Andouille Sausage Stuffed Potatoes are the ultimate way to do surf 'n turf, potato-style. Stuffed with the flavors of New Orleans, these spicy cheesy over-the-top potatoes are a serious crowd-pleaser.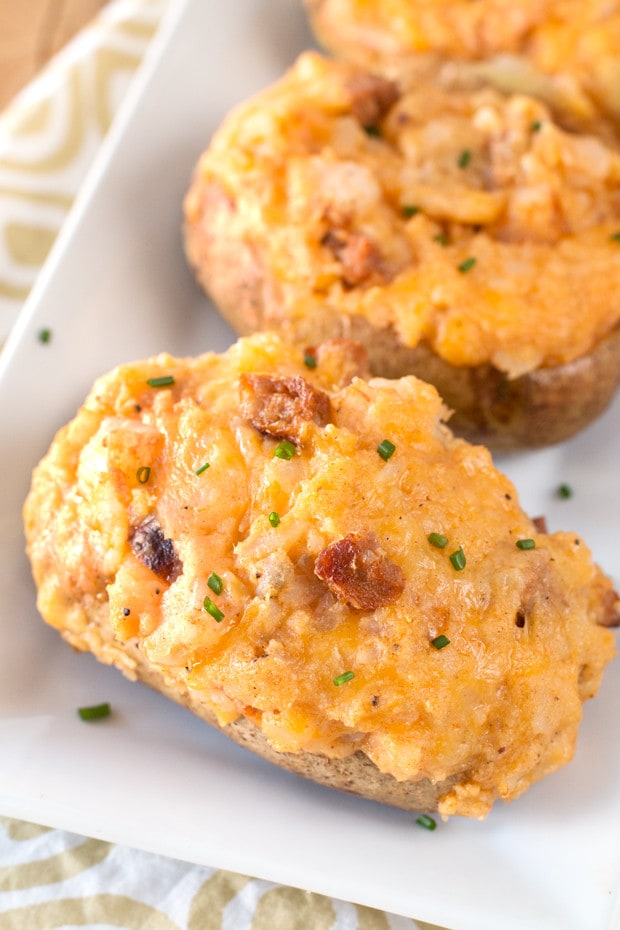 *welp* I think I went a little overboard with these potatoes… In the best way possible. Can you blame me though? There's not a lot out there that's better than a twice-baked potato stuffed with some surf 'n turf action. Unless we're talking about poutine of course… But I digress.
The real genius of this recipe revolves around the potato – well, russet potatoes to be exact. Potatoes are a staple in my life, russets in particular. You all know it's not because I'm a meat and potatoes kind of girl. It's because potatoes are so gosh darn versatile! There's an endless stream of recipes you can make from all over the world with potatoes. They are even good for you. Scary I know…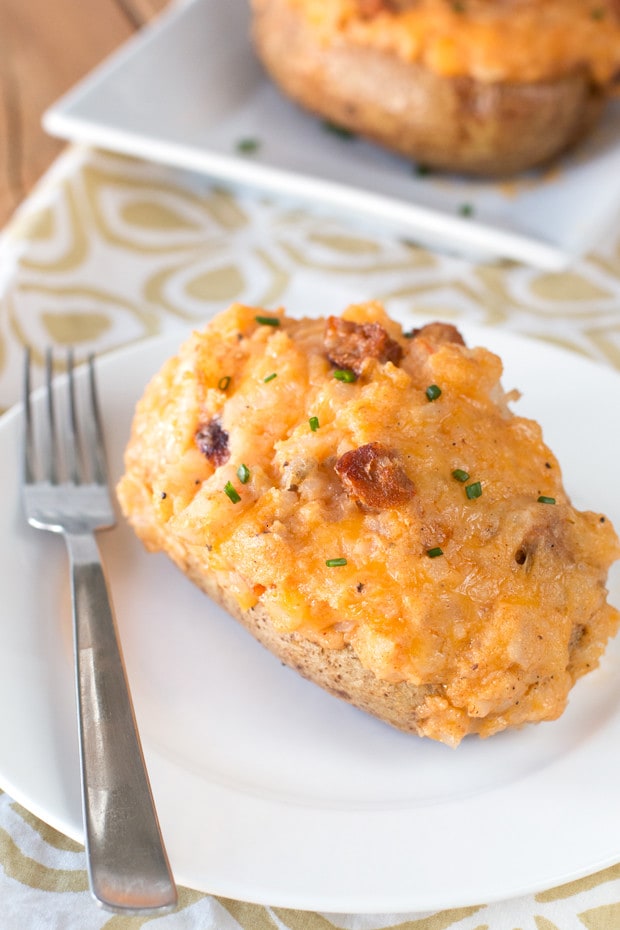 But they have those important things like potassium, fiber, vitamin C, B6 and iron – you know, the stuff that keeps you alive and such. Plus they are ridiculously cheap when compared to most of the produce out there AND they don't taste like kale. I mean, there's really no way to lose with a potato.
Especially when you're loading it up with lots of goodies like these New Orleans-inspired twice-baked potatoes. The inspiration for such genius (yes I know, genius is pushing it a bit)? I kept seeing Mardis Gras cake posts floating around the blogosphere, but my patience with baking recently (well baking desserts, i.e. a king cake) has been short. I took my inspiration to dinner instead. Voila, cajun inspired dinner, all packed into a glorious russet potato. I guarantee you won't be disappointed with this recipe, folks.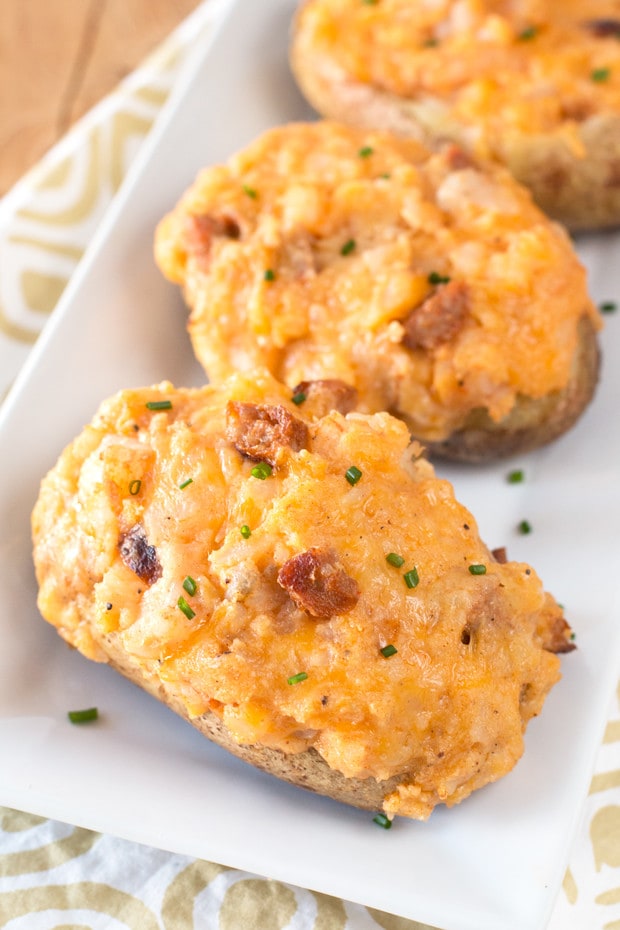 Bomb. Dot. Com.
Disclosure: This post is sponsored by the U.S. Potato Council. While I was compensated for my time, as always, all opinions and recipe are my own. Thanks for supporting the brands that support Cake 'n Knife!
Check out this recipe for even more potato fun!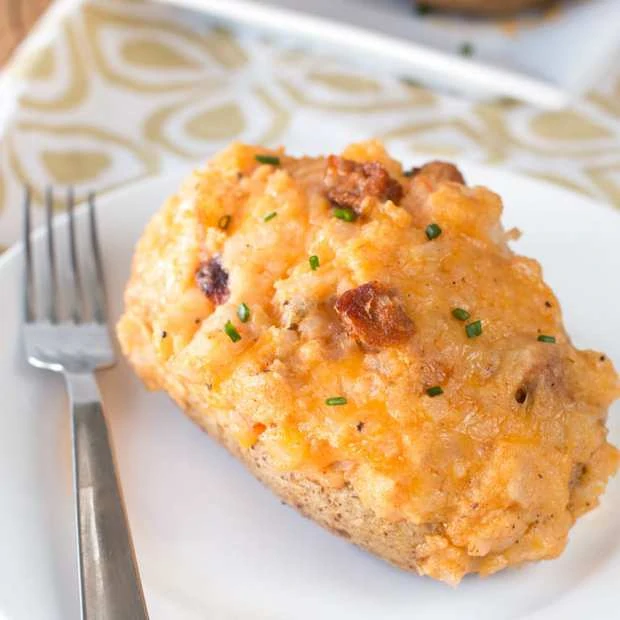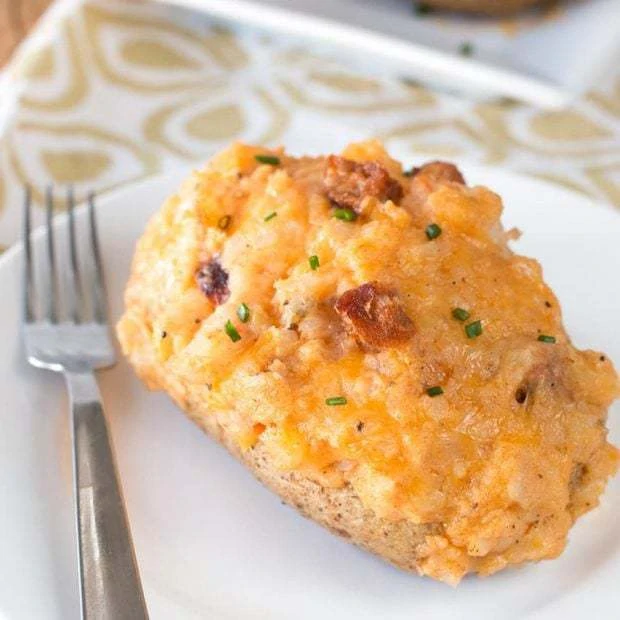 Cajun Shrimp & Andouille Sausage Stuffed Potatoes
Cook Time:
1 hour
25 minutes
Total Time:
1 hour
40 minutes
The ultimate way to do surf 'n turf, potato-style.
Ingredients
6 large russet potatoes, scrubbed and rinsed
Olive oil
8 Tbsp (1 stick) unsalted butter
1 cup sour cream
1 tsp paprika
1/2 tsp cayenne pepper
1 tsp garlic powder
1/2 tsp creole seasoning
1 tsp salt + more for seasoning
1/2 tsp pepper
1/2 lb shrimp, peeled, cooked and chopped
1/2 lb andouille sausage, chopped
10 oz shredded sharp cheddar cheese
Chopped chives for garnish
Instructions
Preheat oven to 350 degrees.
Coat the potatoes in olive oil and season the outside with salt. Set the potatoes on a baking sheet and bake for 1 hour until cooked through. Remove from the oven to cool.
Once the potatoes are cool enough to handle, slice the top third off of each potato. Scoop out the insides of the potatoes into a large bowl. Be sure to be very gentle so you do not break the skin of the potatoes.
Add the butter to the bowl with the potatoes. Beat them together with an electric hand mixer, then stir in sour cream, paprika, cayenne, garlic powder, creole seasoning 1 tsp salt and pepper. Gently fold in the chopped shrimp, sausage and cheese.
Stuff each potato skin with the potato mixture. You'll want to pile the mixture up high for each. Bake the potatoes for 20 to 25 minutes. Serve immediately.