Please note this post contains affiliate links.
Pineapple Jalapeno Smash is a sweet and spicy cocktail that's guaranteed to cool you off this summer. Pair it with your heavy grilled meats for a refreshing twist on your next backyard BBQ!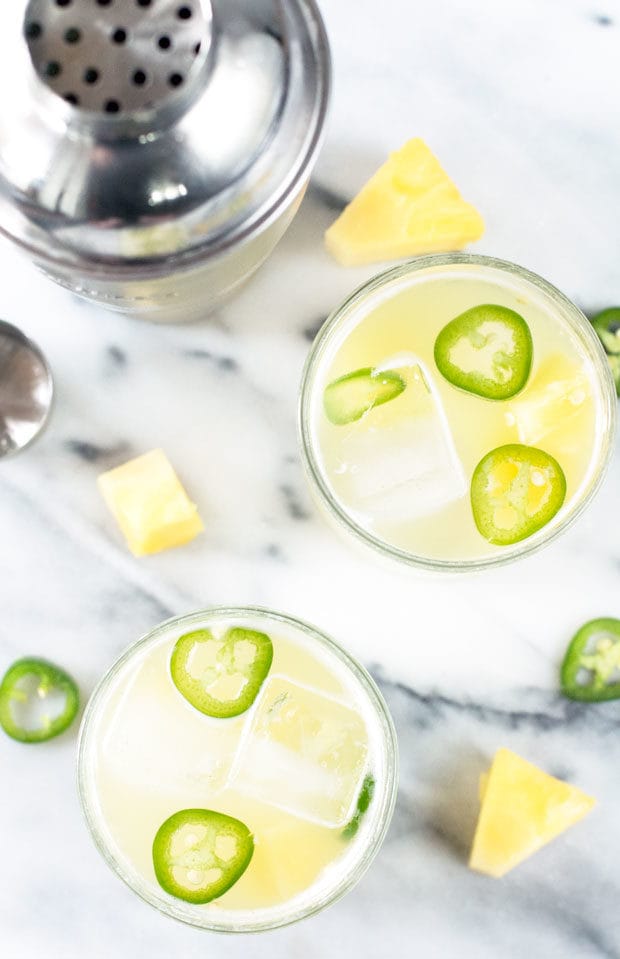 I'm back to a "normal" routine again after my trip to Charleston last week. Of course, there's no way in hell I was going to get there without a cocktail or two (you do know me, don't you?).
Getting back into the swing of things after a vacation is probably my least favorite feeling in the world.
Usually I build in an extra day of vacay after I get home to compensate for all the unpacking, laundry, time change, etc.
Alas, the woes of a self-employed gal kick in and I did not have the luxury to spend a day in bed sleeping and continuing my marathon of Supernatural (Sam and Dean though… I just can't).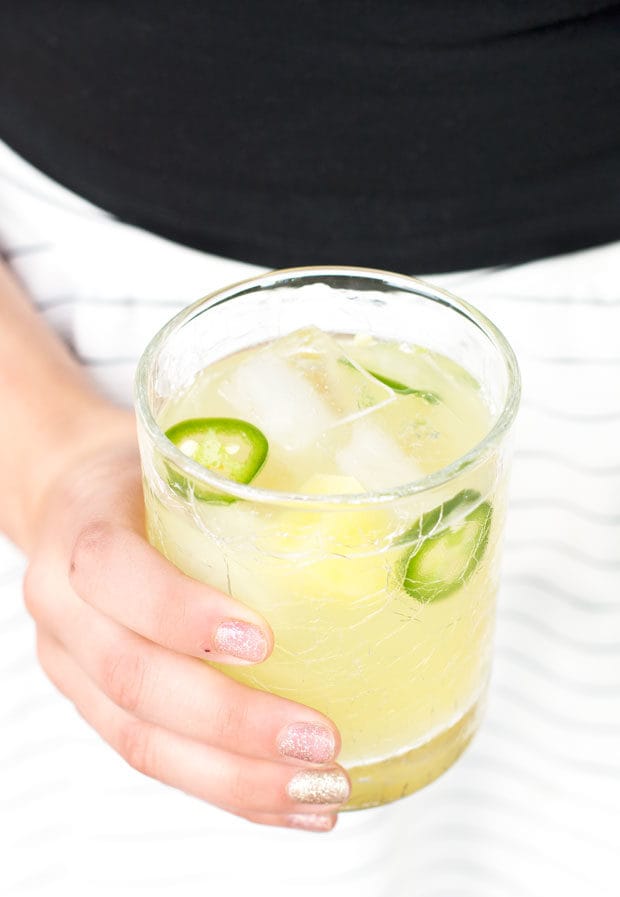 It took me getting back into the kitchen for me to feel normal again this week. Sometimes you just need to physically DO something to make you feel like a normal human again.
I spent an entire afternoon cooking (with the help of my ridiculously awesome girl, Bridget), chatting and dancing around the kitchen so I feel like a brand new woman.
Granted, it could also have been the buzz I got off this cocktail and a glass of wine.
Food blogging life is SO hard, I know.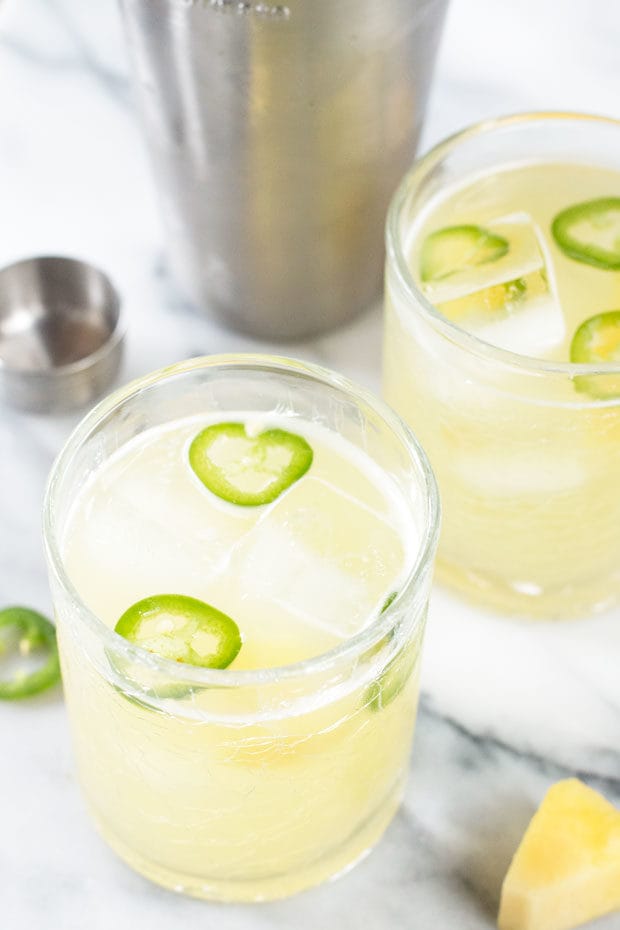 I've been sooooo into the spicy cocktails lately.
When I was in Charleston last week, I had this cocktail that was spicy and pure perfection. While I am working to recreate that deliciousness for you all, this cocktail will hold you over in the meantime.
Pineapple jalapeño is a damn good drink combo and it's the one that will distract you all summer long. When smashed together, pineapple jalapeno is all the flavor you could ever want.
This sweet and spicy cocktail packs the heat, especially if you happen to grab a particularly hot jalapeño, but it's not so spicy that it's off-putting.
Instead, you feel the slow burn tickle your tongue and once the sensation fades away, you have to have another sip. And another. And another.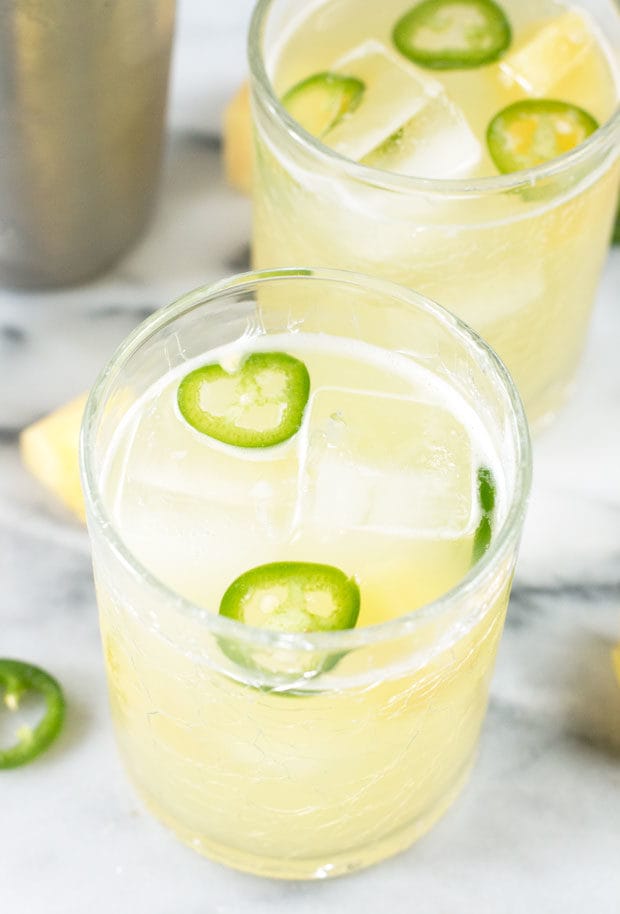 Before you know if you are a couple of cocktails in and wondering if the gym is REALLY worth it tonight…
My answer right now is that sitting on the porch heavily outweighs running to the gym tonight. Instead, I am going to kick back and soak up some much needed relaxation at home on the porch. Hopefully tomorrow I will be back in the saddle of being super productive!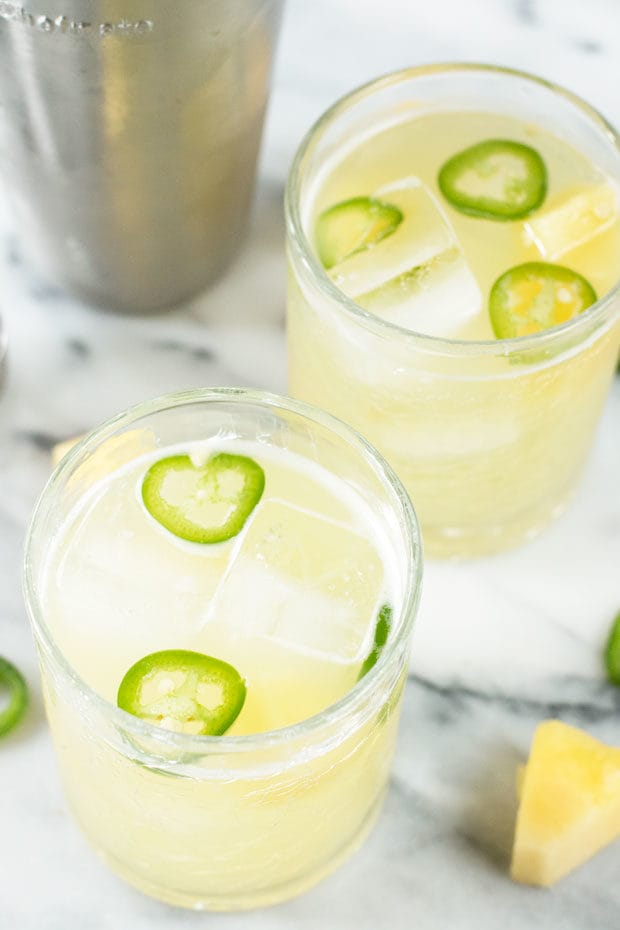 This Recipe's Must-Haves
This pineapple jalapeno smash cocktail calls for the simple bar tools that you likely already have on hand. First you will need a shaker (like this Boston shake) and you will also need a muddler to bring out the flavor of the pineapple and jalapeño for the drink.
You will also need a set of cocktail glasses (I prefer rocks glasses or double old fashioned glasses) for serving! Really this cocktail works in any glass so don't stress about it 😉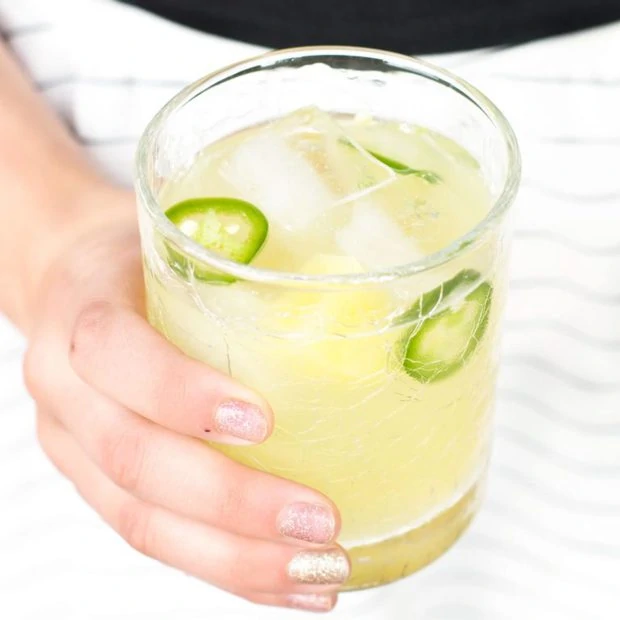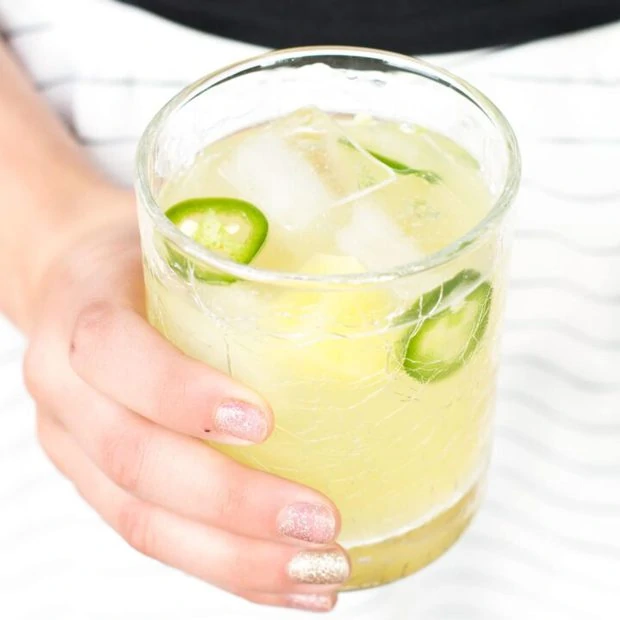 Pineapple Jalapeño Smash
Sweet, spicy and ridiculously refreshing.
Ingredients
1/2 jalapeño, sliced
1 oz fresh lime juice
4 oz silver rum
6 oz pineapple juice
Garnish: jalapeño slices, pineapple chunks
Instructions
In the bottom of a shaker, muddle together jalapeño slices and lime juice.
Add rum and pineapple juice. Fill the shaker with ice and shake for 5 seconds.
Strain into two rocks glasses filled with ice.
Garnish with jalapeño slices and pineapple.
Recommended Products
As an Amazon Associate and member of other affiliate programs, I earn from qualifying purchases.