Why helllllloooooo gorgeous…
I am still trying to recover from my candy coma I went into last night. I don't even have children to blame for bringing candy into the house. Instead I just ate a good amount of the candy I was supposed to give to children… Such a mess, I know…
Every time I eat too much sugar, I always need some sort of sweet and savory combo to get me back into the realm of normal eating.
Enter the flatbread of my sugar hangover dreams…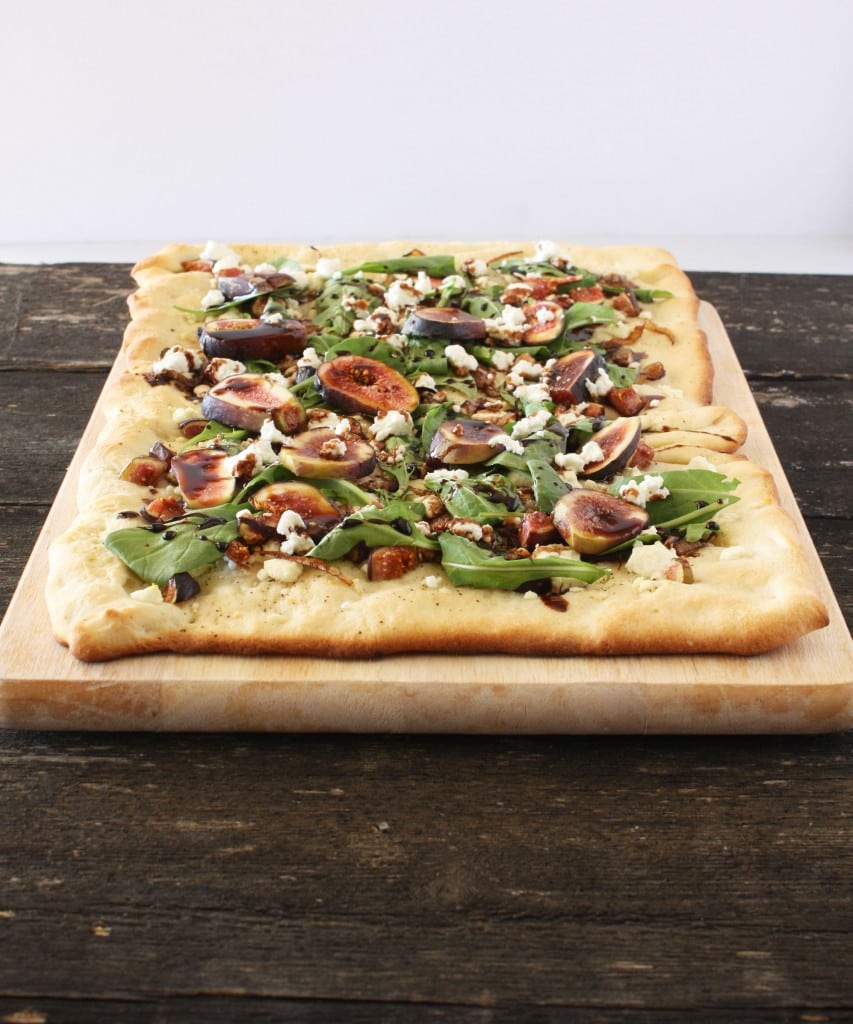 There's something magical about the combination of figs, goat cheese, and caramelized onions. You know that perfect bite that has the wonderful balance of sweet and savory? It's literally in EVERY BITE of this flatbread. I wish I could eat this every day, even if it was only one bite a day.
No I take that back, I would need more than one bite. More like two, or three, or ten…
Ugh it's just too delicious…
Excuse me while I not so politely stuff my face. You know you would will too!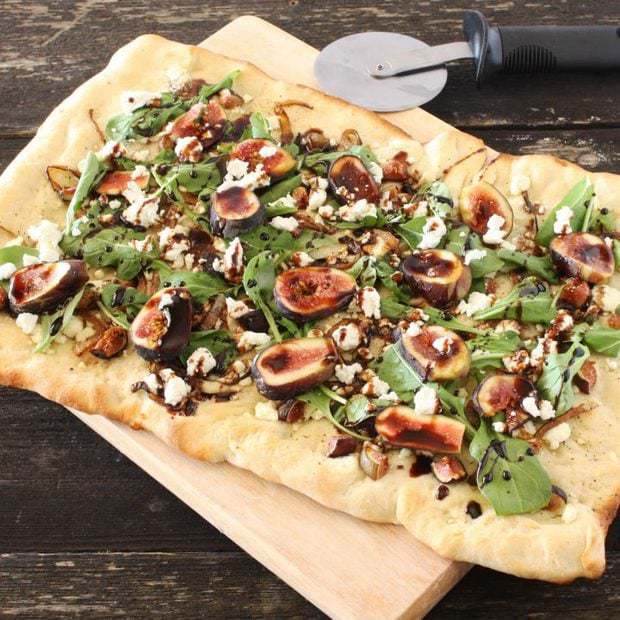 Fig, Goat Cheese, & Caramelized Onion Flatbread
Sweet and savory, this flatbread hits the spot every time!
Ingredients
12 oz store-bought or homemade pizza dough
2 1/2 tbsp extra virgin olive oil
Kosher salt & fresh ground pepper
1 white onion, sliced into thin strips
1/4 cup water
1/3 cup balsamic vinegar
1 1/2 tbsp brown sugar
8 oz goat cheese
6 ripe brown turkey figs
1 cup arugula
Instructions
Preheat oven to 450 degrees.
Add the sliced onion to a dry medium sauté pan over medium heat. Spread the onions out evenly over the pan, cover, and cook, stirring occasionally. If your stovetop burner is strong, you may need to reduce the heat to medium low to prevent burning. Once a good amount of color has developed (about 5-7 minutes), deglaze your pan with the water, stirring to scrape up the brown bits on the bottom of the pan. Once the water has cooked off, add 1 tbsp olive oil and salt. Continue to cook for an additional 5 minutes. The onions should smell sweet and have a deep dark brown color. Remove from heat.
Roll out pizza dough on a floured surface into a rectangle about 1/4-1/3 inch thick. Transfer to a baking sheet that has been lined with either parchment paper or a Silpat. Brush the dough with 1 1/2 tbsp olive oil and sprinkle with salt and pepper.
Cut two figs into small pieces and sprinkle them over the dough. Crumble almost all of the goat cheese evenly over the dough (reserve approximately 1-2 oz for finishing) and top with the caramelized onions. Bake the flatbread for about 12-15 minutes, until golden brown and cooked through.
Prepare the balsamic reduction while the flatbread is cooking. Heat balsamic vinegar in a small saucepan over medium heat. Simmer until it has reduced by half and has thickened. Remove from heat and stir in the brown sugar. Set aside to cool.
Thinly slice the remaining figs and once the flatbread is cooked, arrange them on the flatbread. Top with arugula and crumble the remaining goat cheese over the flatbread. Drizzle generously with the balsamic reduction. Slice and serve!