South of the Border Hummus is a super simple way to mix things up using Sabra hummus and your favorite fresh ingredients. Grazing before dinner just got much more interesting. Welcome to the Unofficial Meal!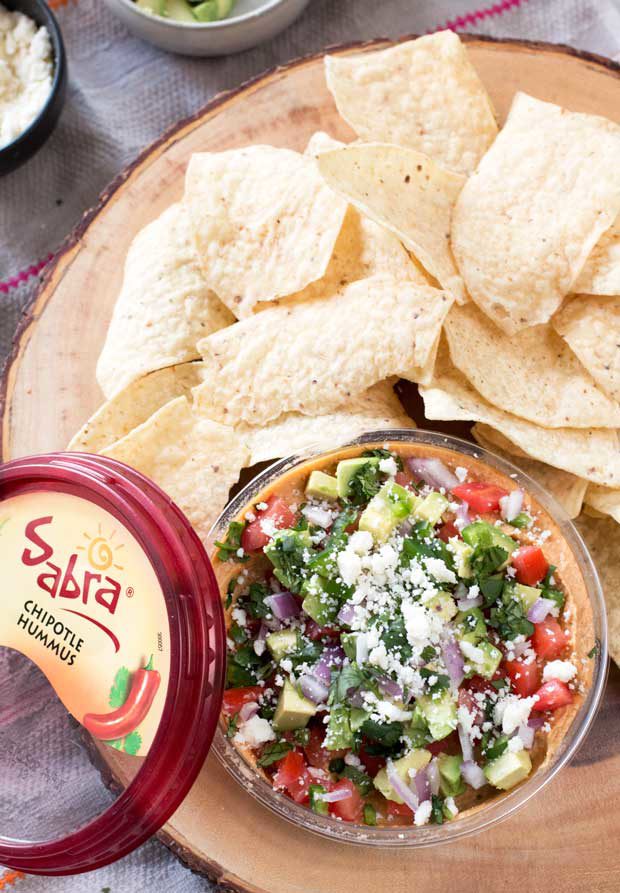 Is anyone out there a crazy grazer like I am? Half the time I'm eating it's never an actual meal. It's me pulling out a little bit of this, a little bit of that, tasting as I cook along the way, or just catching up with friends and family as I eat and eat and eat.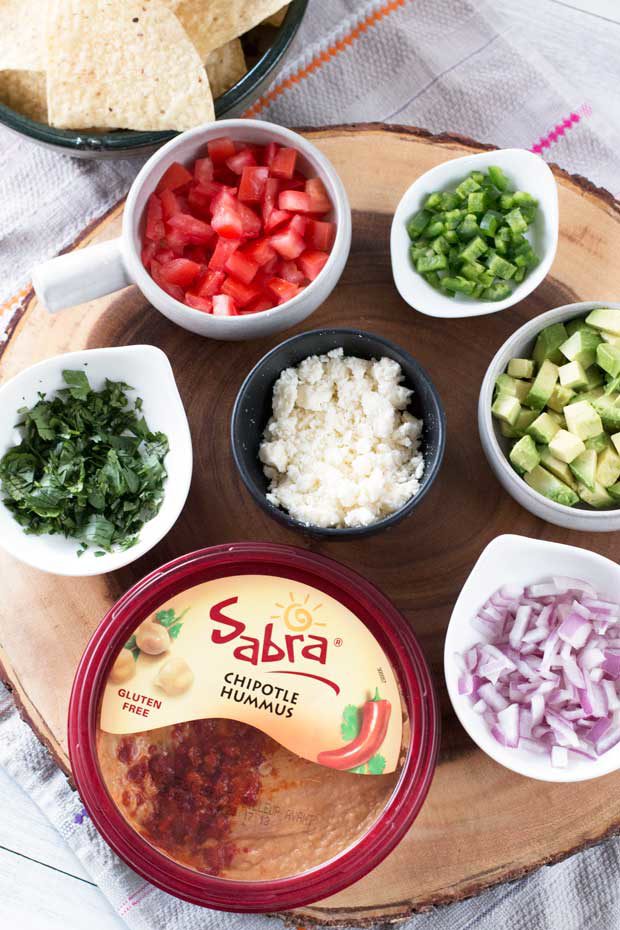 There's a long-standing tradition in my family of congregating in the kitchen before any meal and that always leads to grazing. Whether it's my uncle trying to sneak a bite of bacon before brunch or my cousins sneaking oyster crackers before the big Christmas Eve dinner, we're always getting our grub on before meals.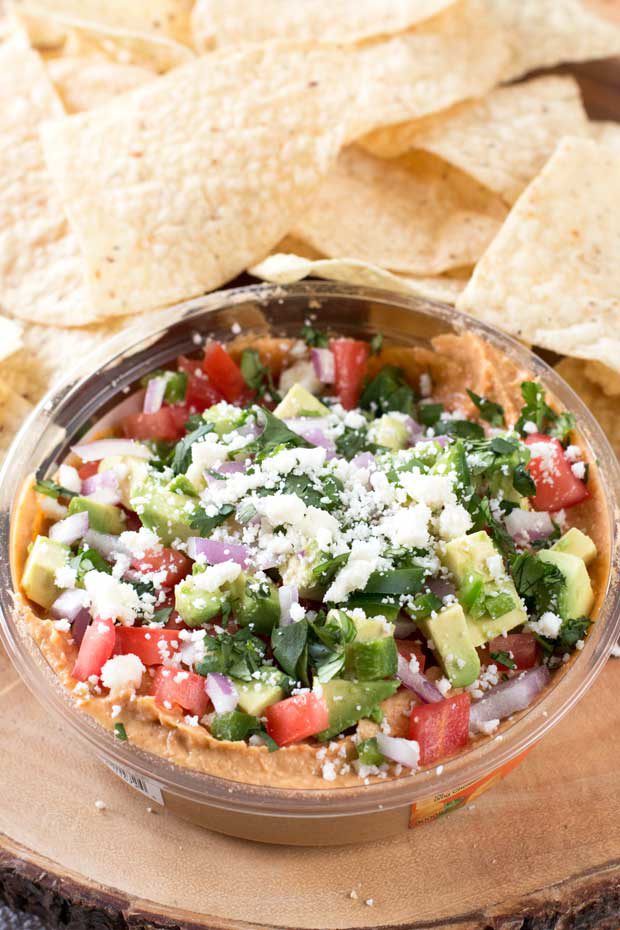 It's one of those special moments in time that never really gets noticed and that's why I'm coming together with Sabra today to bring it to life for you all. Eating fresh flavorful food together every day is a ritual and shouldn't we be paying just as much attention to the meals we eat as we do to the snacks we have while those meals are being prepared.
You all know it's impossible to wait for mealtime to actually start eating, right?
Instead of just grazing on some random things before dinner this week, it's time to bust out a fresh take on hummus with this South of the Border Hummus. It's a fun, fresh, flavorful additional topping to an already incredible chipotle hummus that Sabra makes. Plus it's a healthy option to snack on whenever that unofficial mealtime comes up.
For me it tends to be around cocktails with my friends while we spend a night in or before heading out for a big night on the town. There's nothing better than blasting some T-Swift, doing your makeup together, and enjoying a glass of wine with your besties, am I right?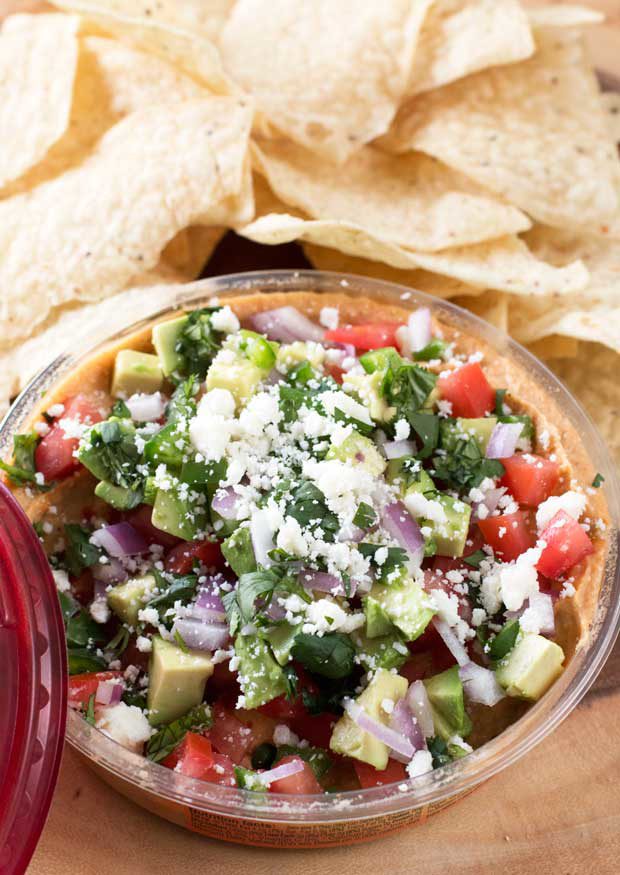 Plus there's NO dishes to clean up when you create a topping like this on top of Sabra chipotle hummus. No dishes, no mess, just fresh food and great memories.
Disclosure: I received free product from Sabra and was compensated for my time as part of this post. As always, all opinions and recipe are my own. Thanks for supporting the brands that support Cake 'n Knife!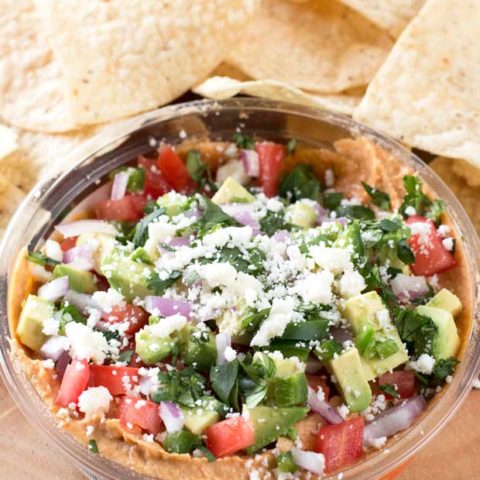 South of the Border Hummus
Pack in the fresh flavors at snack time with this bold and flavorful combination.
Ingredients
1 container Sabra Chipotle Hummus
1/4 red onion, diced
1 roma tomato, seeded and diced
1/2 jalapeño, seeded and minced
1/2 avocado, peeled and chopped
2 Tbsp cilantro, chopped
1/4 cup crumbled cojita cheese
Tortilla chips
Instructions
Add red onion, tomato, jalapeño and avocado on top of the Sabra Chipotle hummus.
Garnish with cojita cheese and fresh cilantro.
Serve with tortilla chips
Recommended Products
As an Amazon Associate and member of other affiliate programs, I earn from qualifying purchases.