Please note this post contains affiliate links.
Grilled Lemon Kale Ricotta Flatbread is the perfect grilled appetizer for your summer BBQ parties. It's full of fresh, bold flavors and just a touch of Nielsen-Massey Vanilla's Lemon Extract that brightens up the whole dish!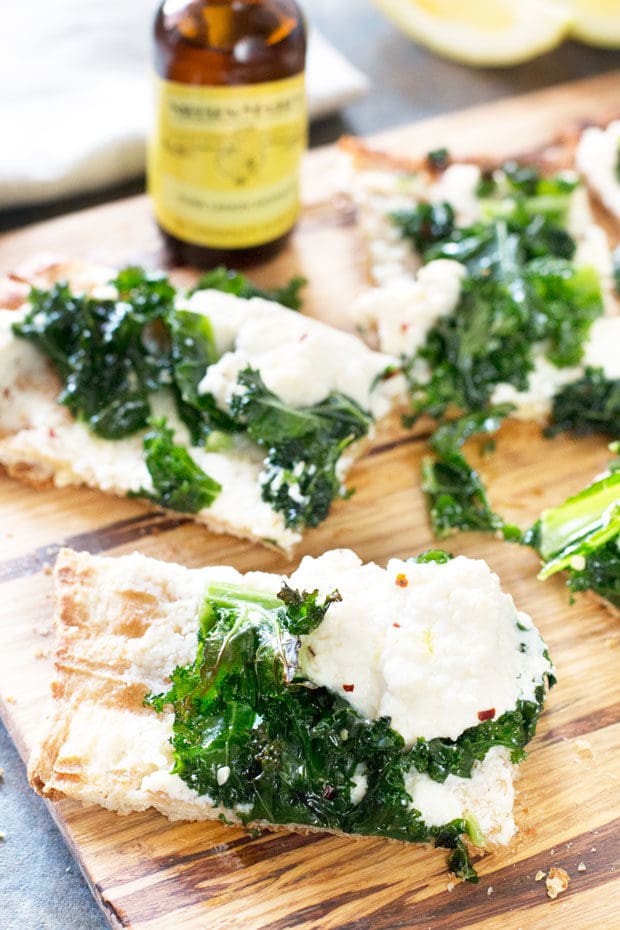 Disclosure: I received free product from Nielsen-Massy Vanillas and was compensated for my time as part of this post. As always, all opinions and recipe are my own. Thanks for supporting the brands that support Cake 'n Knife!
Summer is here and that means one thing in my mind – it's time to bust out the charcoal and start grilling all the things.
The typical staples are always in rotation on my grill – steaks, chicken, shrimp, vegetables, etc. Lately though, I've been all about the grilled pizzas and flatbreads. As much as I wish my oven and pizza stone would produce that crispy crust I love, it never works like the simple charcoal grill in my backyard does.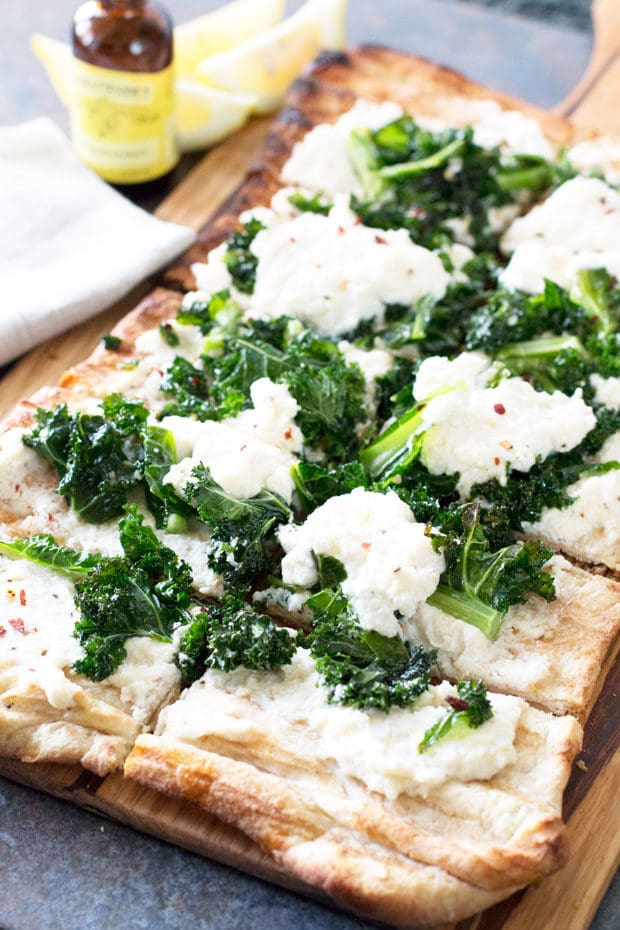 Grilled flatbreads are the perfect summer appetizer because you can throw just about anything on them and it'll be a pure masterpiece. To offset all those heavy meats and veggies that usually grace my grill for dinnertime, I opted for a lighter, more refreshing grilled flatbread this time.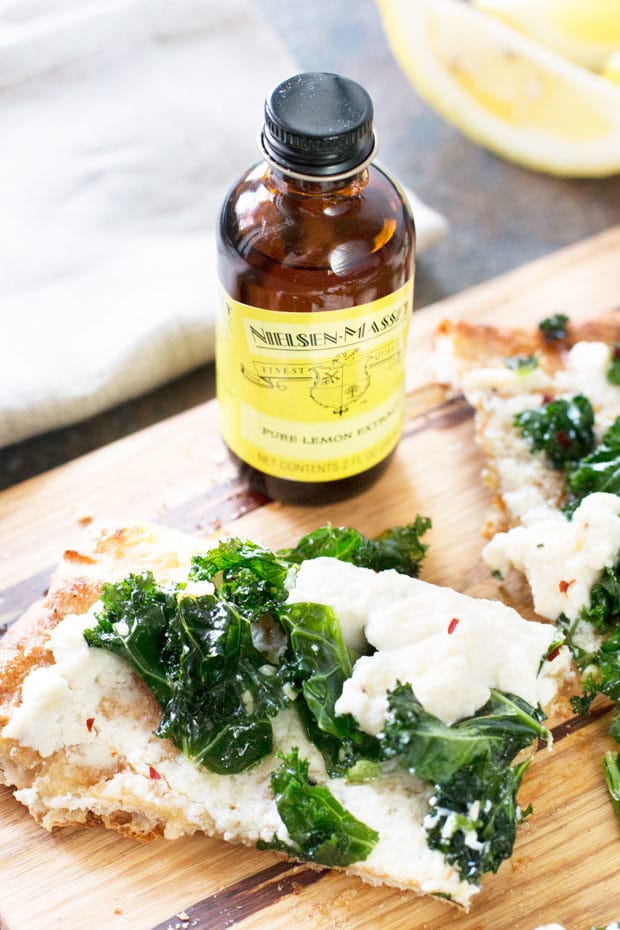 The lemon-infused ricotta and kale combination is bright, light and fresh. The kale crisps up while it's baking away on the grill, providing even more texture.
Then smooth and creamy ricotta gets a huge flavor injection from the Parmesan and even more so from the Nielsen-Massy Vanillas pure lemon extract I used. It's surprising how such a small amount of extract can go such a long way, but the lemon freshness really comes through without having to use much.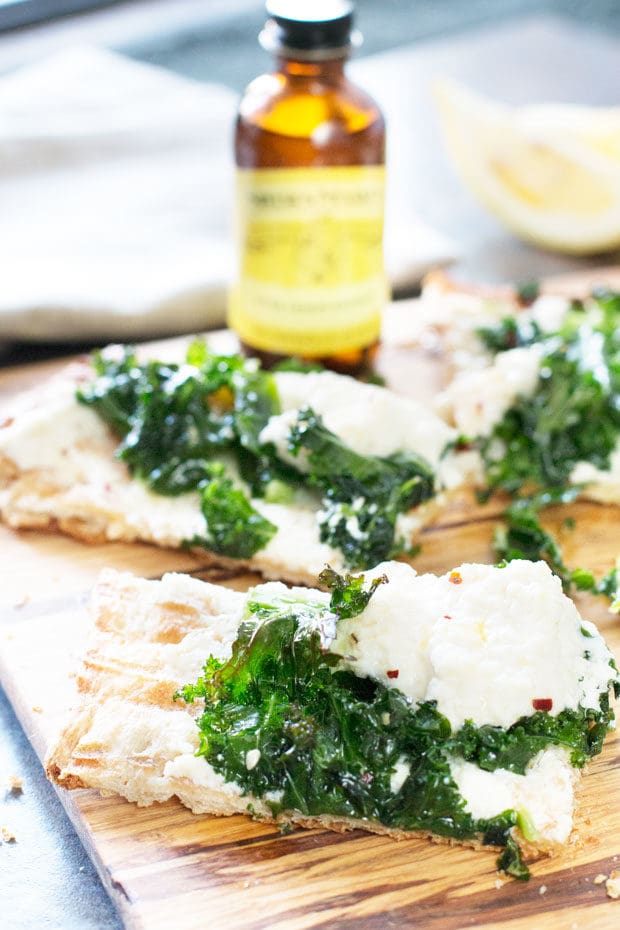 I can only imagine how delicious this extract would be with grilled chicken or grilled seafood! It'll be your new favorite secret weapon to substitute for lemon juice and lemon zest.
Put that grill to good use for more than just the main event! Appetizers were meant to be grilled too, guys. Pair this flatbread with a crisp cider or pale ale and you'll be in grilled summer heaven.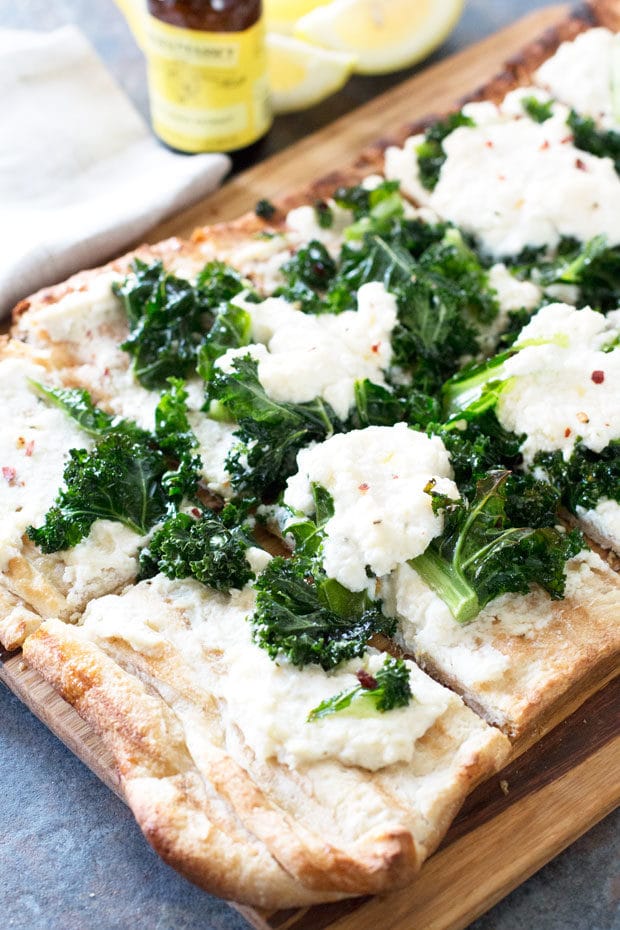 Pin this Grilled Lemon Kale Ricotta Flatbread recipe for later!