Gin and Tonic Cake
The moment I saw the recipe for this cake, I knew it was fate that brought it to me.
I am one of those rare birds who appreciates the simplicity of a gin and tonic after a long day at work. There's something about the bubbly delicious lime flavor that leaves me refreshed and utterly relaxed.
And someone decided to put all this gorgeousness into a CAKE. Commence drooling in five, four, three, two, ONE…
The recipe creator is, to put it simply, my culinary soul mate. When I first made the cake, I was expecting it to reek of gin (to be more accurate, I was hoping it would reek of gin because that would be absolutely fantastic). I was expecting (again secretly and selfishly hoping) to be the only person who would enjoy this delightfully moist cake since I don't know anyone who has the same love for gin and tonics as I do. Unfortunately both my husband and my mother enjoyed the cake… I was forced to share…
This is a cake that has a surprising depth of flavor. The lime in the cake is more upfront, but there is a little tang of gin when you finish each bite. Despite not having the opportunity to eat the entire cake in one setting, I am flipping over this recipe. Definitely make it and share it (if you think you can) with your friends (particularly the booze-y ones).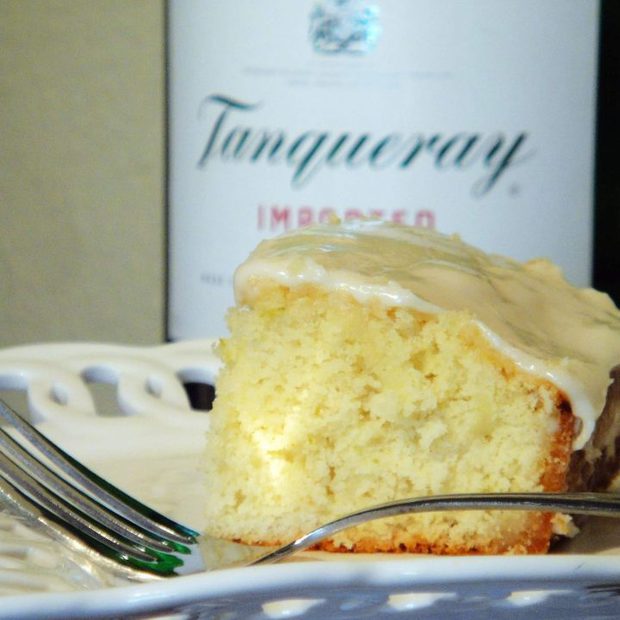 Gin and Tonic Cake
Yield: 9x13 inch cake
Prep Time: 15 minutes
Cook Time: 40 minutes
Additional Time: 5 minutes
Total Time: 1 hour
A boozy cake to honor my favorite cocktail!
Ingredients
Cake
3 cups all-purpose flour
2 tsp baking powder
1/4 tsp salt
1 cup unsalted butter, at room temperature
1 3/4 cup granulated sugar
4 large eggs
1 1/2 tsp vanilla extract
1 Tbsp freshly zested lime rind
1/4 cup gin
1/4 cup milk
Juice of 1 lime
Gin Glaze
1 3/4 cups powdered sugar
4 Tbsp gin
Juice of 1 lime
Gin Icing
2 1/2 cups powdered sugar
3 Tbsp gin drop of vanilla extract
Instructions
Preheat oven to 350 degrees. Grease a 9x13 inch baking dish. Whisk together flour, baking powder and salt in a bowl and set aside. For the cake, in the bowl of a stand mixer, beat butter until creamy. Beat in sugar on high until the mixture is fully, approximately 5 minutes. Beat in each egg one at a time, fully incorporating between each addition. Beat in vanilla and lime zest. With the mixer on low speed, beat in half of the dry ingredients. Add in gin, milk and lime juice, mixing until combined. Beat in the rest of the dry ingredients and beat until just combined. Pour into the baking dish and bake for 35 to 40 minutes, until golden. While the cake is baking, make the gin glaze. Whisk glaze ingredients together until it comes together. Start with 1 to 2 Tbsp of gin, and add more as needed. You can also use milk or cream if 4 Tbsp is not enough to thin it out. Gently poke holes in the top of the cake, approximately 10-12 in total. Pour the glaze over the cake to soak in. While cake is cooling, make the icing. Stir ingredients together until an icing forms. Once cake is cooled, spread a thin layer of icing over the cake.
Notes
Note: For the cake, you can sub tonic water in for the gin/milk portion of the recipe if desired. For the glaze and icing, you can substitute tonic instead of gin.