This Foster Farms® Spicy Grilled BBQ Chicken Sandwich is combination of all your favorite things—spicy, meaty, sweet, creamy, and charred. Made with juicy and tender Foster Farms® Simply Raised® No Antibiotics Ever Free Range Chicken Thigh Fillets, this sandwich delivers everything you could ever want for your next backyard gathering. All you need is a cold beer to make the meal complete!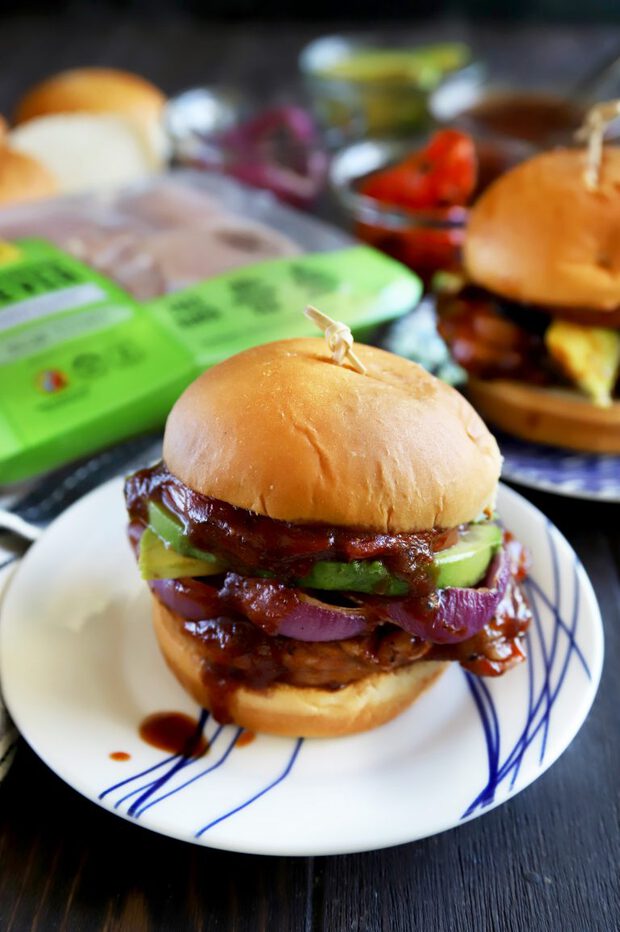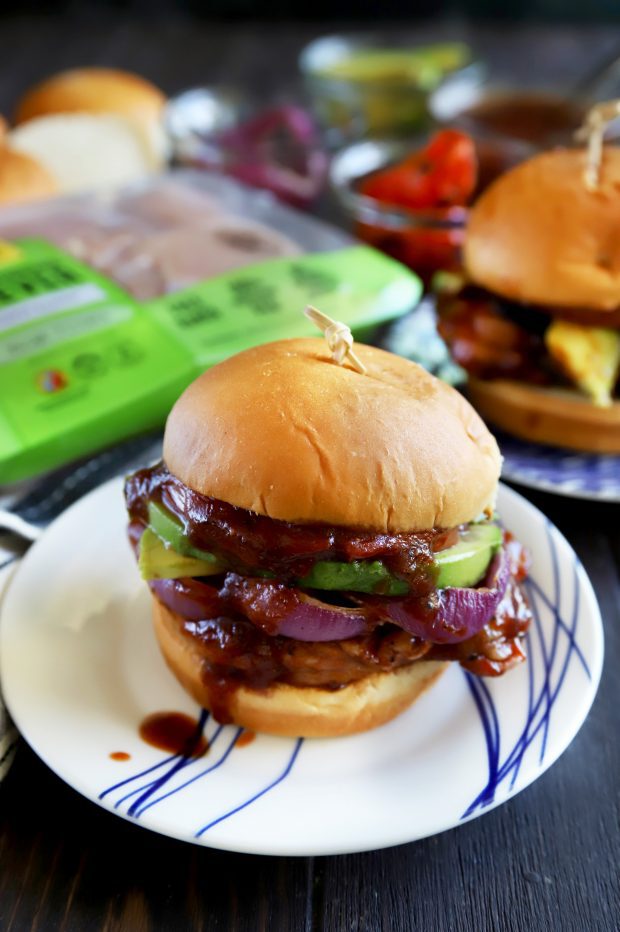 This post has been sponsored by Foster Farms®. All thoughts and opinions are my own.
I know we all love a juicy burger, but I am so over those beefy patties right now. This summer, it's all about the CHICKEN. More specifically, Foster Farms® Simply Raised® No Antibiotics Ever Free Range Chicken Thigh Fillets.
There's something about a juicy bbq chicken sandwich that sets my mouth watering the moment I utter the words. I am taken right back to last summer, with all the backyard BBQs and all that sweet and spicy BBQ sauce running down my chin.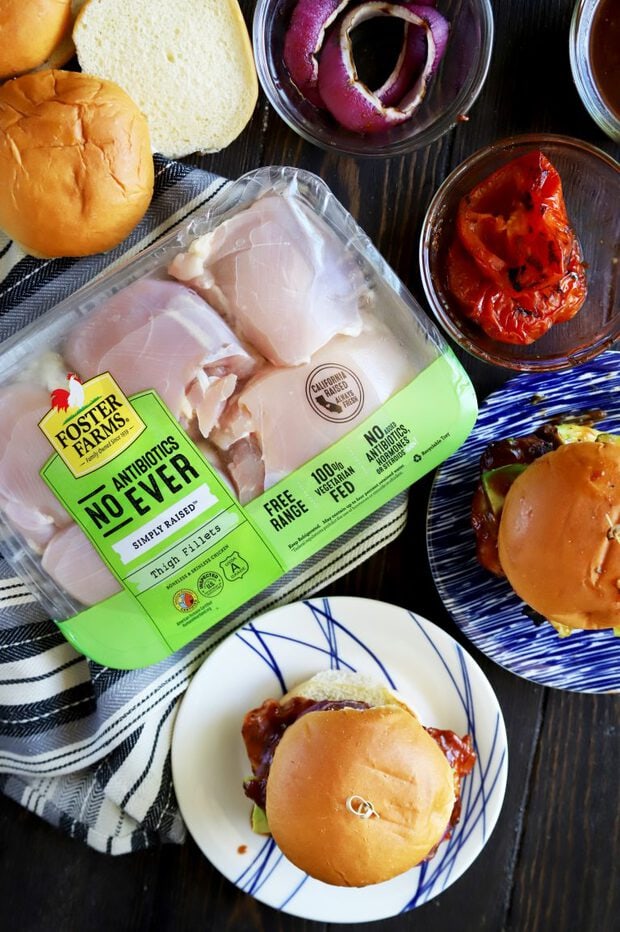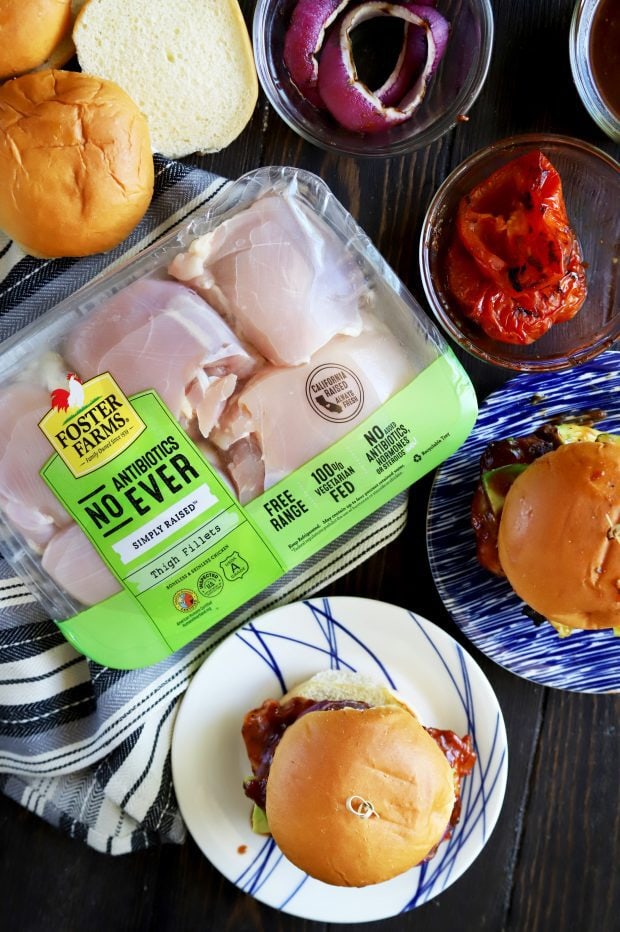 Hey, you all know that I am not one to eat like a lady after all. Getting messy is my JAM.
So, this summer, I decided that I needed to get more chicken action in my life. Thus, this sandwich has been making it on the menu rotation as often as possible lately.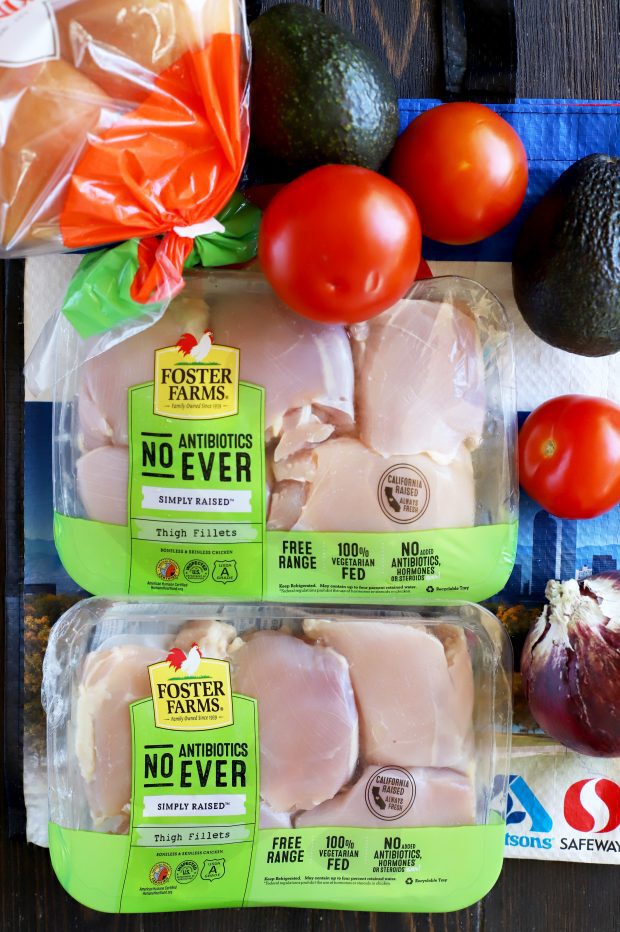 I mean, it's sweet, it's savory, it's charred, and it's smoky. So, there's not much more you could want out of a summer meal.
However, if you didn't know already, this sandwich lives or dies by the chicken you use.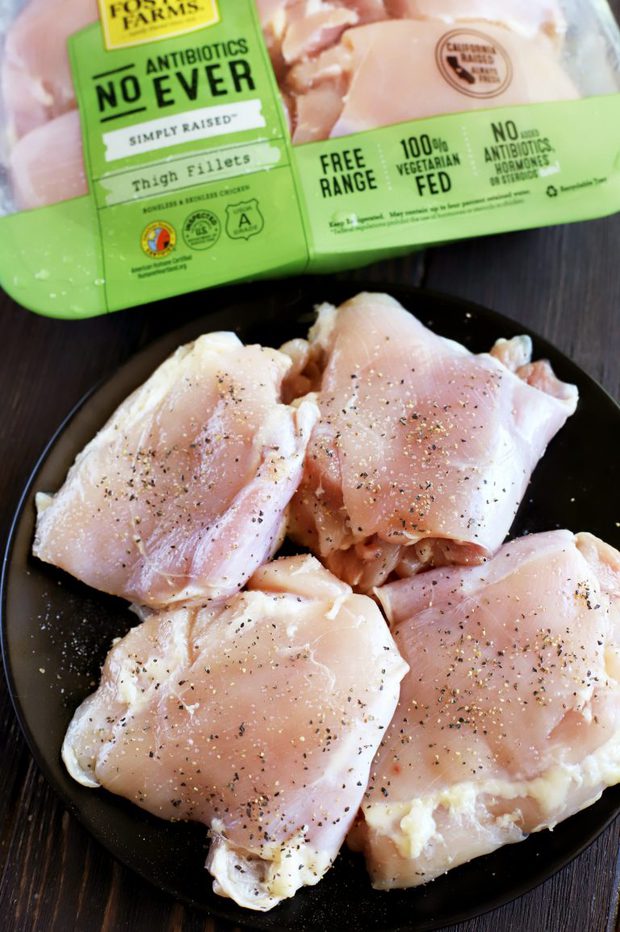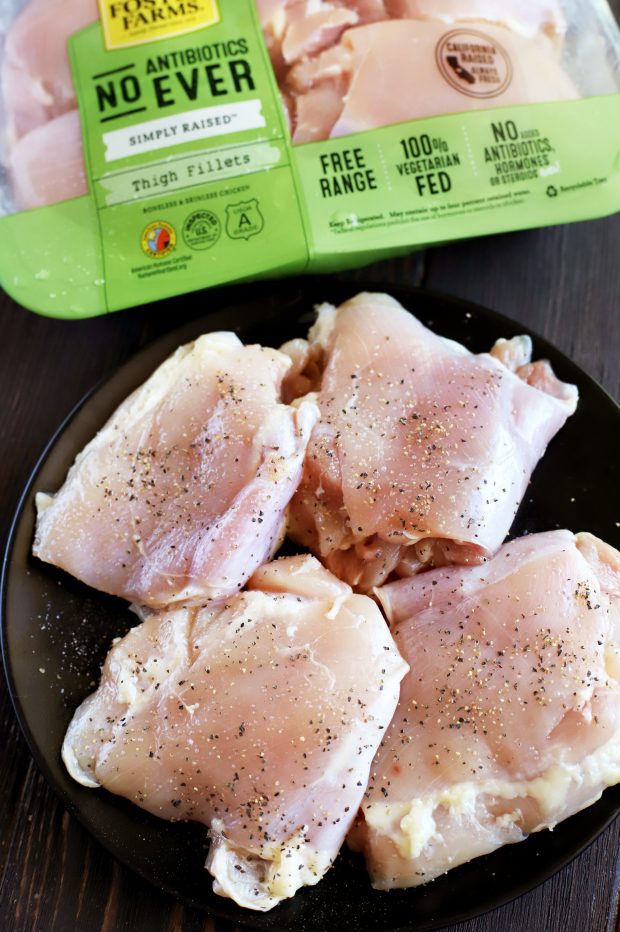 There are so many chicken options at Safeway but when it comes to the labels, I'm looking for the green Foster Farms® Simply Raised® No Antibiotics Ever Free Range Chicken packaging every single time.
When it comes to picking the products I use in my recipes, you all know I prefer to pick the ones where I know what's in them and where they are from. Foster Farms is local, always fresh, and never frozen, which is super important to me. I like to know that they are US-based family owned business (in California) and they never use any antibiotics.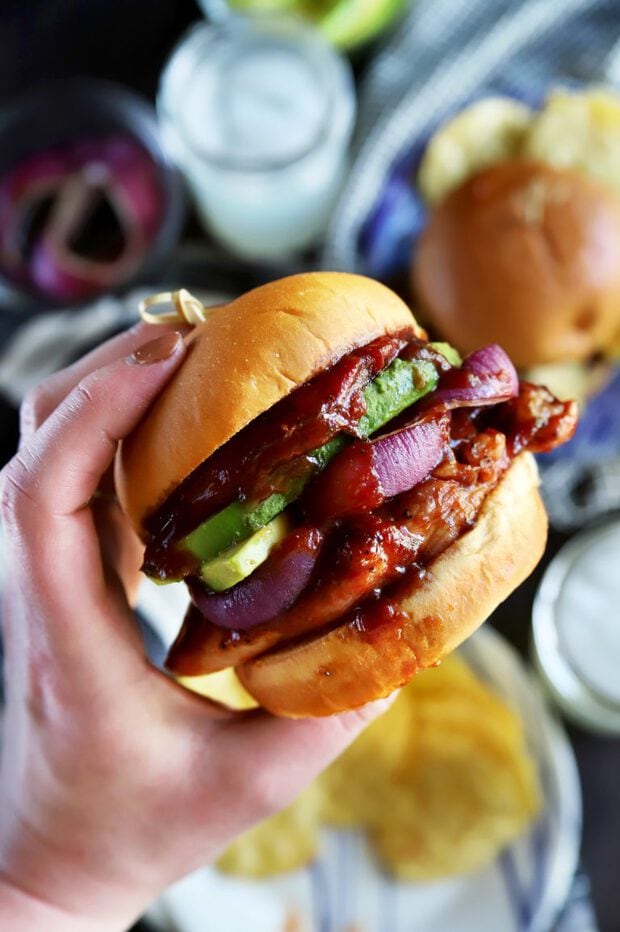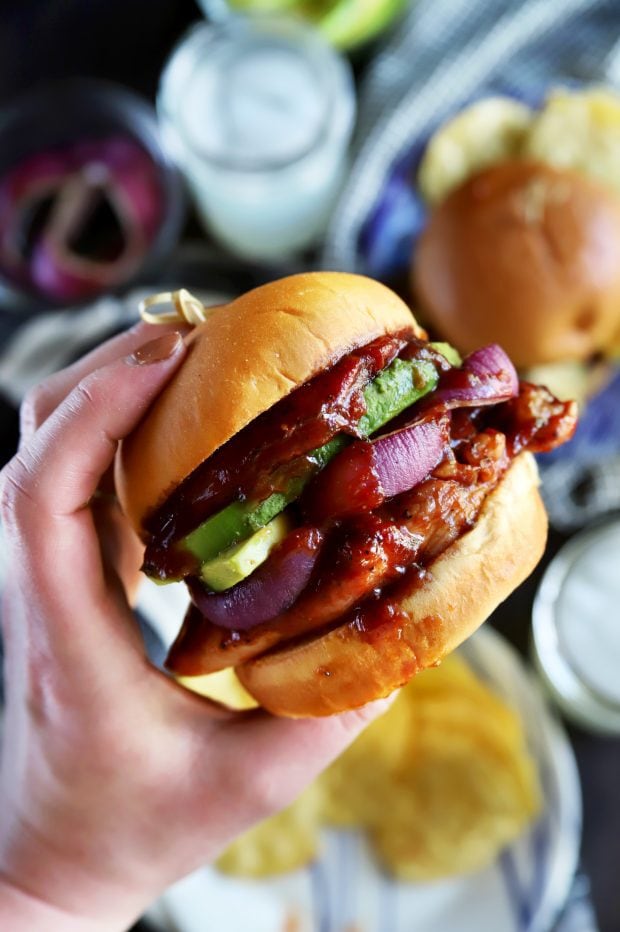 Fresh really matters when it comes to chicken, especially in taste because it helps make recipes like this bbq chicken sandwich taste so much better.
You really get the premium taste in every mouthful, and Foster Farms® Simply Raised® No Antibiotics Ever Free Range Chicken is so darn juicy, which is exactly what you need when you are sandwiching these thigh fillets between two pieces of carb-loaded goodness.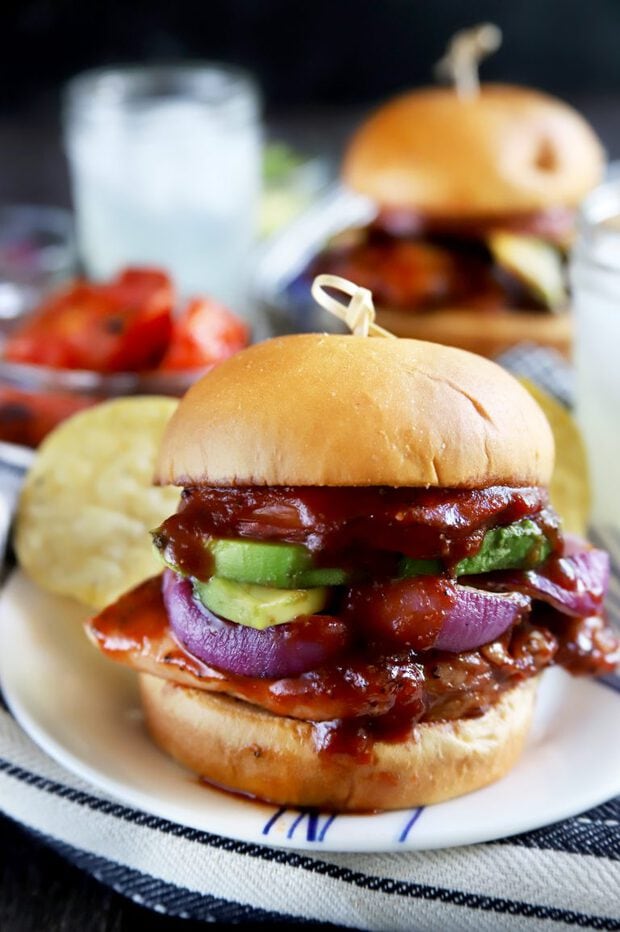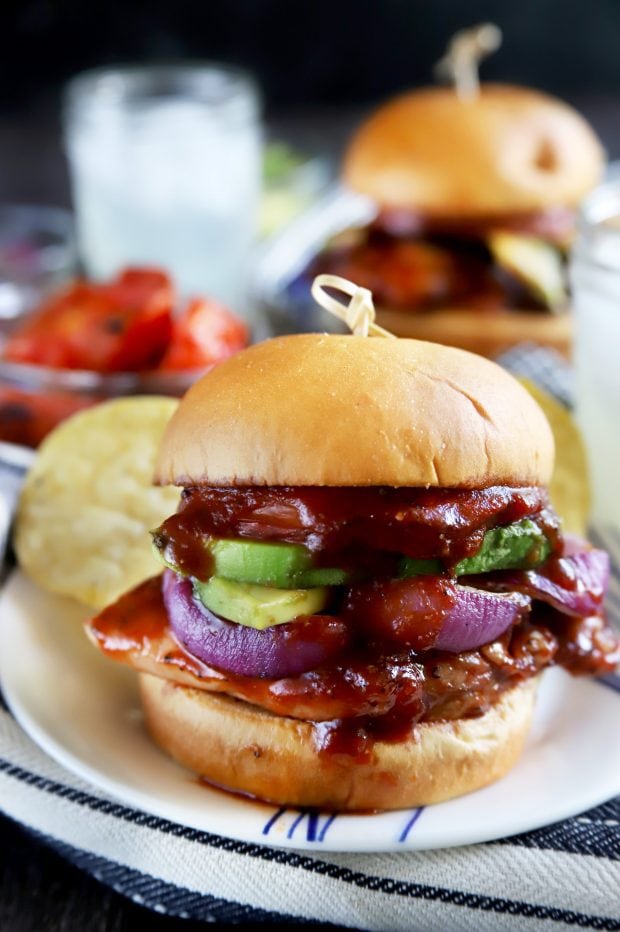 How To Make This Sandwich
Season
First and foremost, you want to make sure you season everything with a good helping of salt and pepper after coating with olive oil. I like to recommend using a "chef's pinch." If you haven't heard of this method, it's essentially grabbing a pinch of the salt or pepper with your thumb, forefinger and middle finger. It ends up being about 1/4 to 1/2 tsp of the spice in total (and it's easier that worrying about measuring!).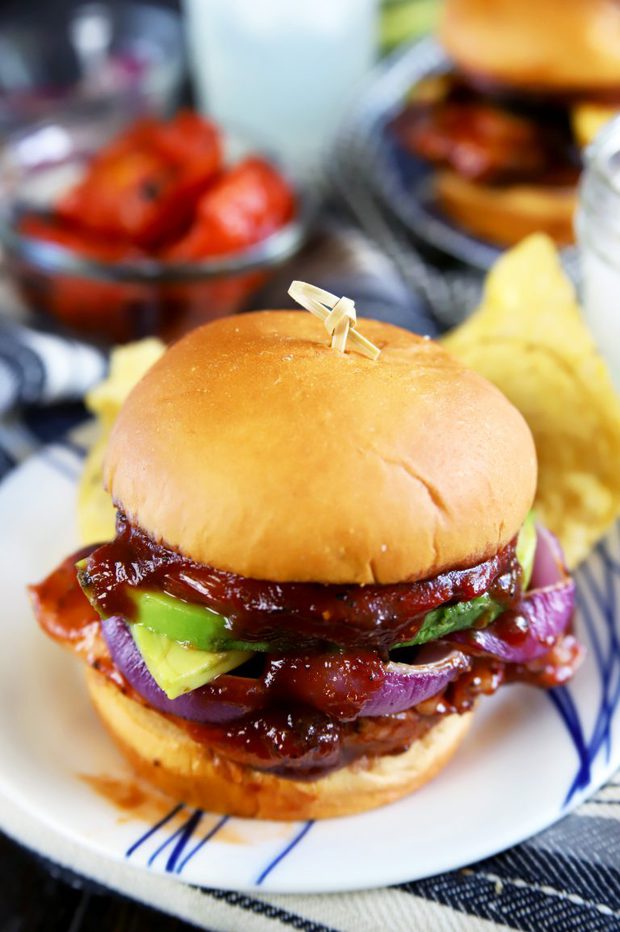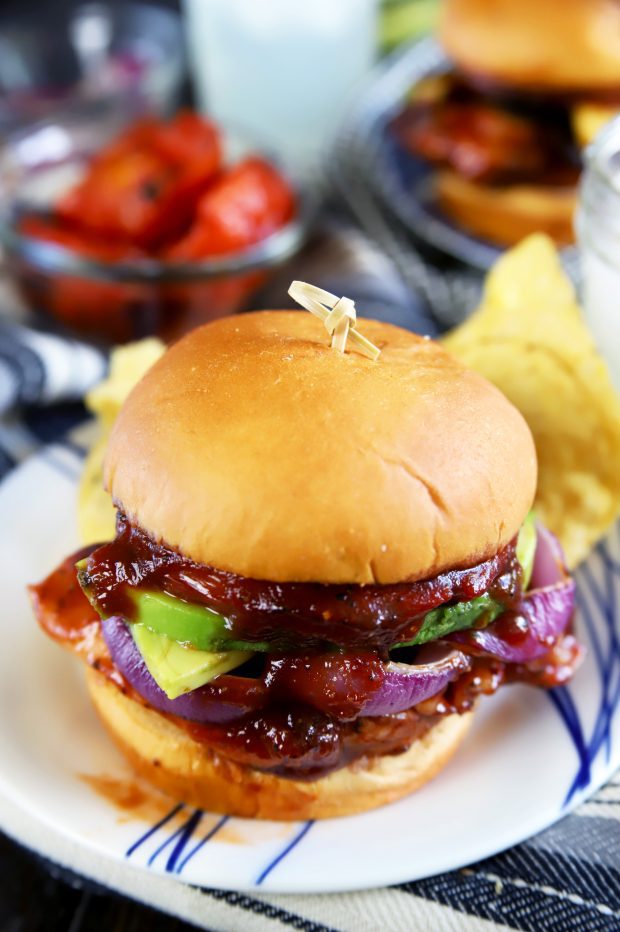 Grill & Baste
Throw everything on the grill! You want the red onions and tomatoes to be cooked through and getting a little black around the edges before you pull them off the grill.
For the chicken, each time you flip it, you baste it with the spicy BBQ chicken sauce. This gets the BBQ flavor into the chicken, keeps the chicken juicy, and the sauce forms these little charred spots all over the thigh fillets.
Assemble
Finally, assemble! It's pretty straightforward here, but I recommend assembling in the order I outlined in the recipe card below. That way, you aren't figuring out a balancing act with everything. However, don't be afraid to smush the sandwich down a bit if you need to!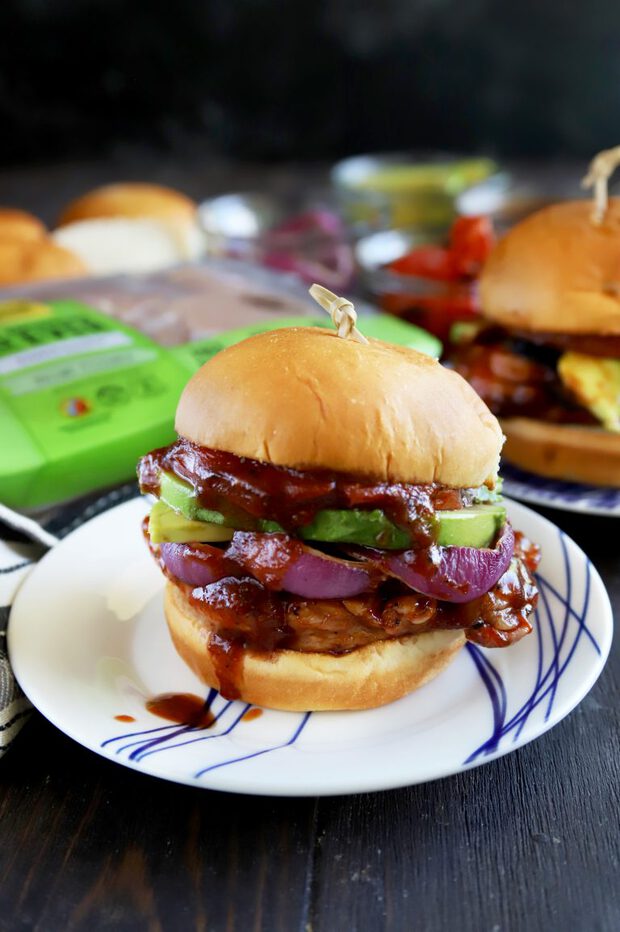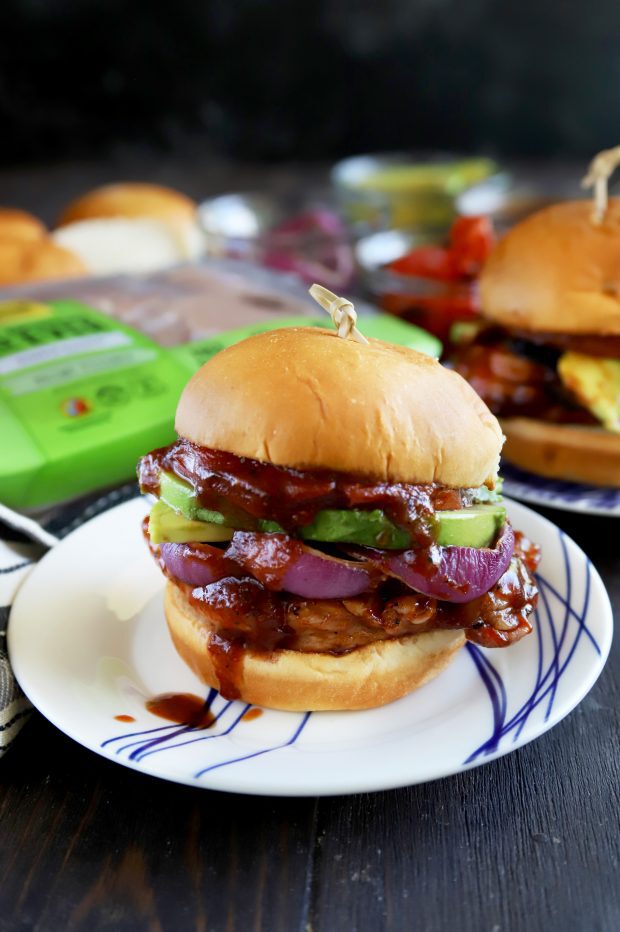 What goes with a BBQ chicken sandwich?
For pairing things up with this grilled bbq chicken sandwich, I highly recommend your favorite cold beer to drink with it!
As for sides, really any classic backyard BBQ side works, from potato salad to chips and fresh/grilled vegetables to fruit salad.
How do I know when the chicken is done?
The chicken is done when a thermometer inserted into the thickest part of the thigh fillet registers 165 degrees Fahrenheit. You want to check this before you take the chicken off the grill! Obviously, no one wants to serve raw poultry to ANYONE.
See how easy it is with the video below!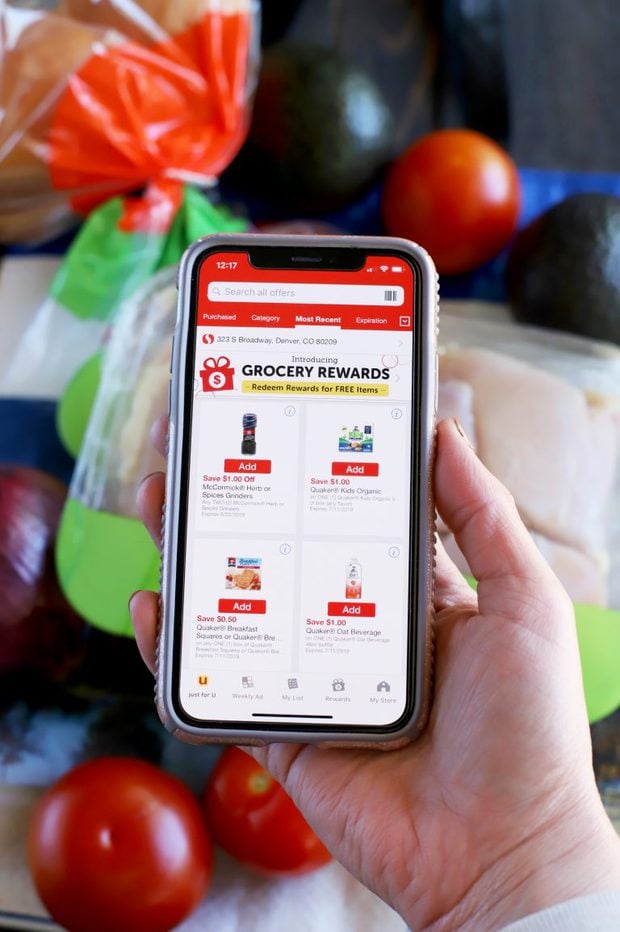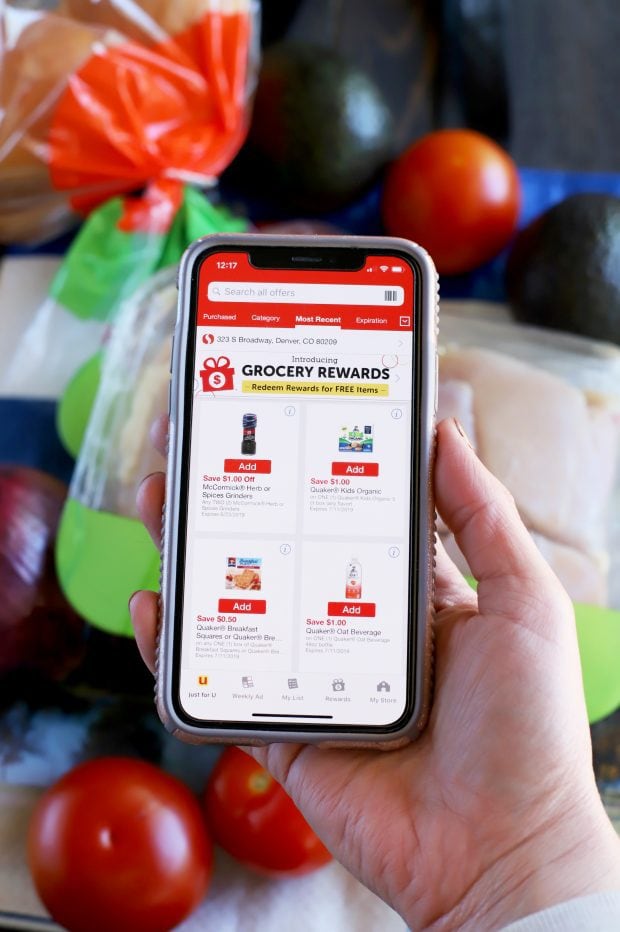 If you are shopping at Safeway, be sure to download the Safeway mobile app because that's where you can really take advantage of all the deals that are offered. I wouldn't know about any of the deals/coupons without this app, so it's an absolute MUST on my phone!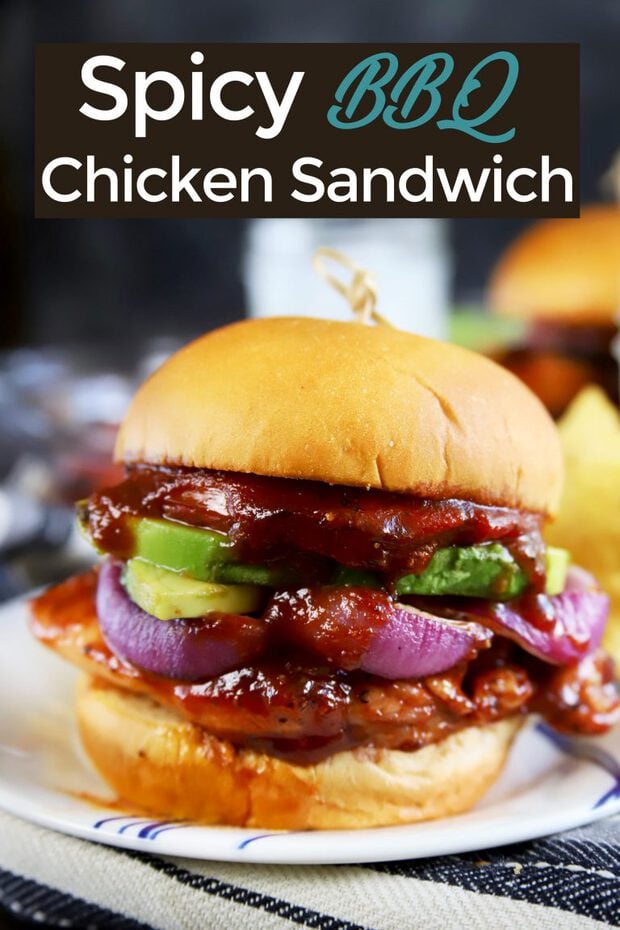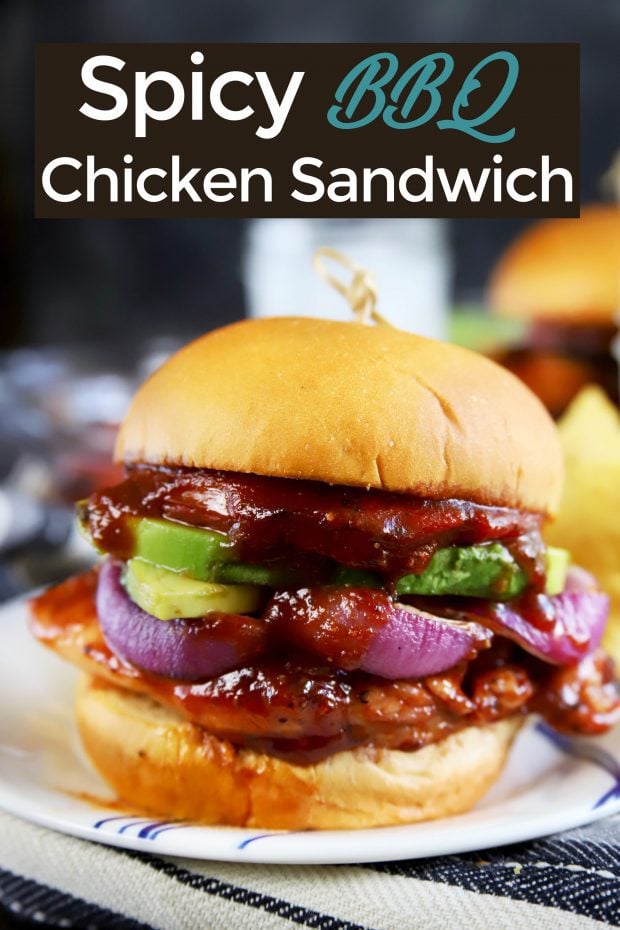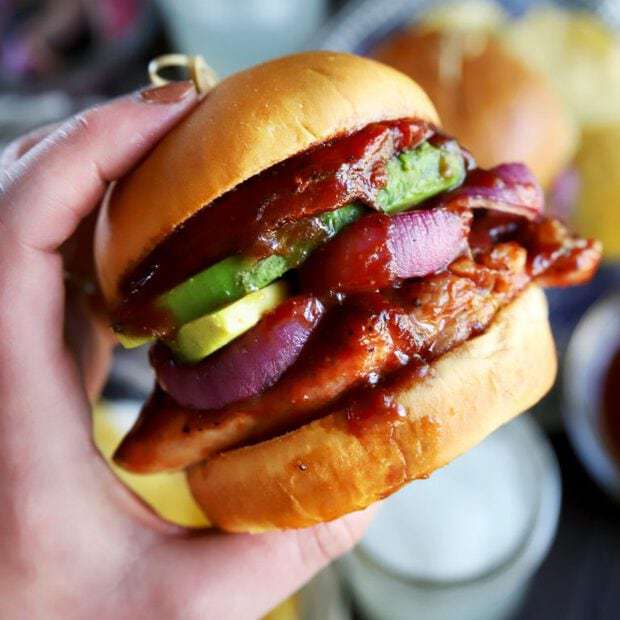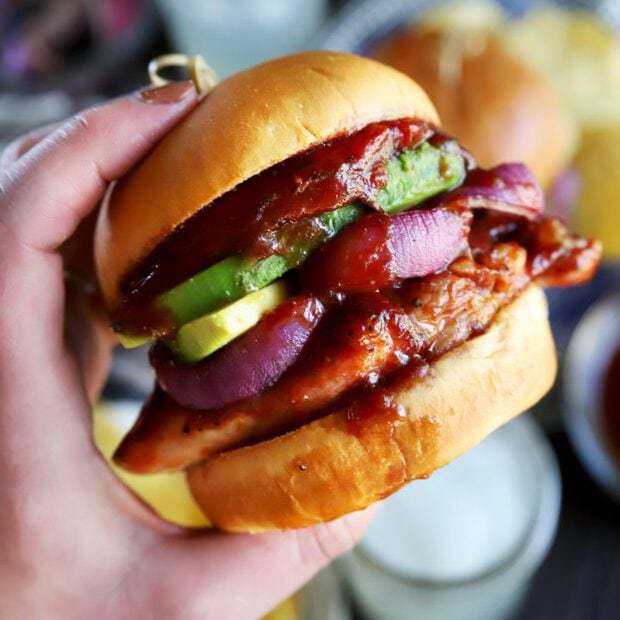 Foster Farms® Spicy Grilled BBQ Chicken Sandwich
Spicy, meaty, sweet, creamy, and charred, these sandiwches deliver everything you could ever want!
Ingredients
Spicy BBQ Sauce
1 cup your favorite BBQ sauce
1/2 tsp cayenne pepper (use more to taste if you want it spicier)
1/2 tsp black pepper
Sandwich
Olive oil
Salt & pepper
4 Foster Farms® Simply Raised® No Antibiotics Ever Free Range Chicken Thigh Fillets
1 red onion, peeled and sliced
2 medium tomatoes, sliced in half
2 avocados, pitted and sliced
4 Hawaiian burger buns, halved and toasted
Instructions
Preheat grill.
In a small bowl, combine ingredients for the spicy BBQ sauce. Set aside until ready to use.
In a medium bowl, toss red onion rings with 1 tsp olive oil. Season with salt and pepper, set aside.
Remove the pulp from the tomato halves. Drizzle tomato halves with 1 tsp olive oil and season with salt and pepper.
Drizzle Foster Farms® Simply Raised® No Antibiotics Ever Free Range Chicken Thigh Fillets evenly with 1 tsp. Season with salt and pepper.
When ready to grill, add chicken thighs, tomato halves (cut side down), and onion rings to the grill.
Grill onion rings for 5 to 6 minutes, until slightly charred and soft, flipping halfway through. Grill tomatoes for 10 to 12 minutes, until soft and slightly charred, flipping halfway through.
Grill chicken for 3 minutes, then flip and baste with spicy BBQ sauce. Cook for another 2 minutes, then flip again and baste with BBQ sauce. Flip the chicken every minute for another 4 minutes, until the thickest part of the chicken has reached 165 degrees Fahrenheit, as read on a digital meat thermometer. Every time you flip the thigh fillets, be sure to baste them with more sauce!
To assemble the sandwiches, add a thigh fillet to each bottom half of the buns. Top with slices of red onion, then slices of avocado. Add one tomato half on top of each and top with more spicy BBQ sauce. Top with the other half of the bun and serve immediately.
Recommended Products
As an Amazon Associate and member of other affiliate programs, I earn from qualifying purchases.