Please note this post contains affiliate links.
Green Chile Cornbread Stuffing is a fun southwestern twist to one of the classic Thanksgiving side dishes. The bold flavor of the green chiles comes through in every moist mouthful that pairs perfectly with turkey.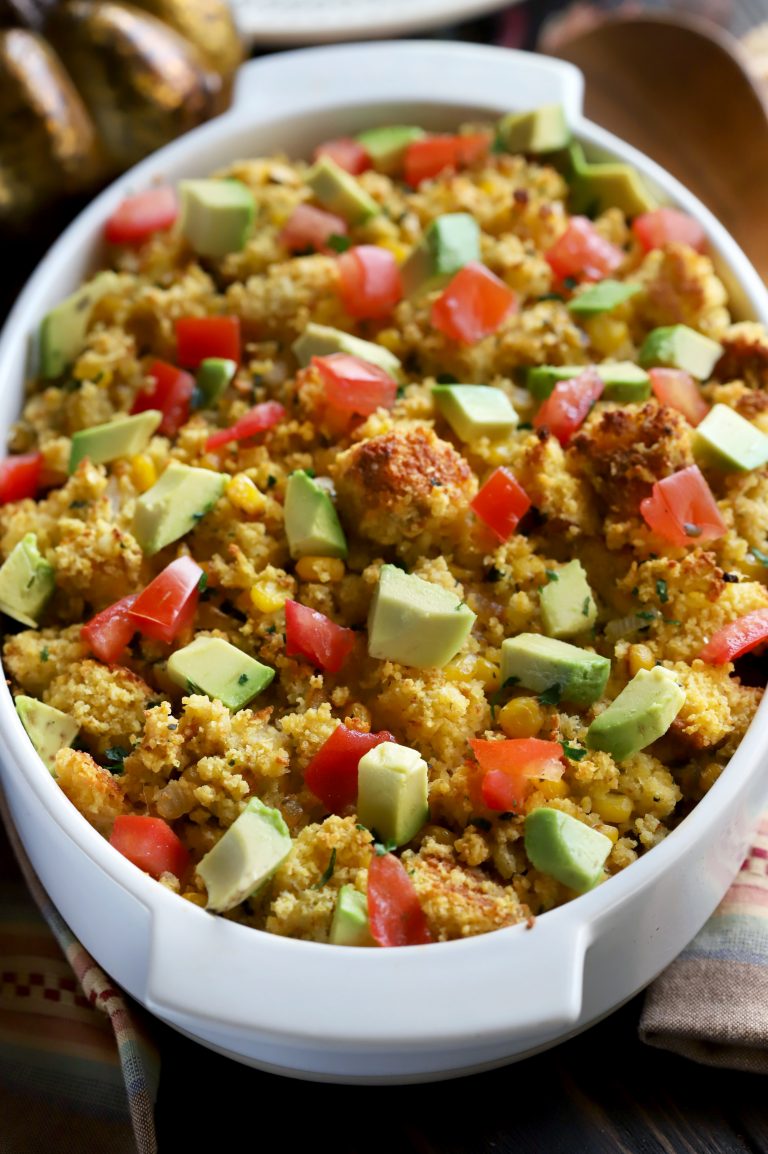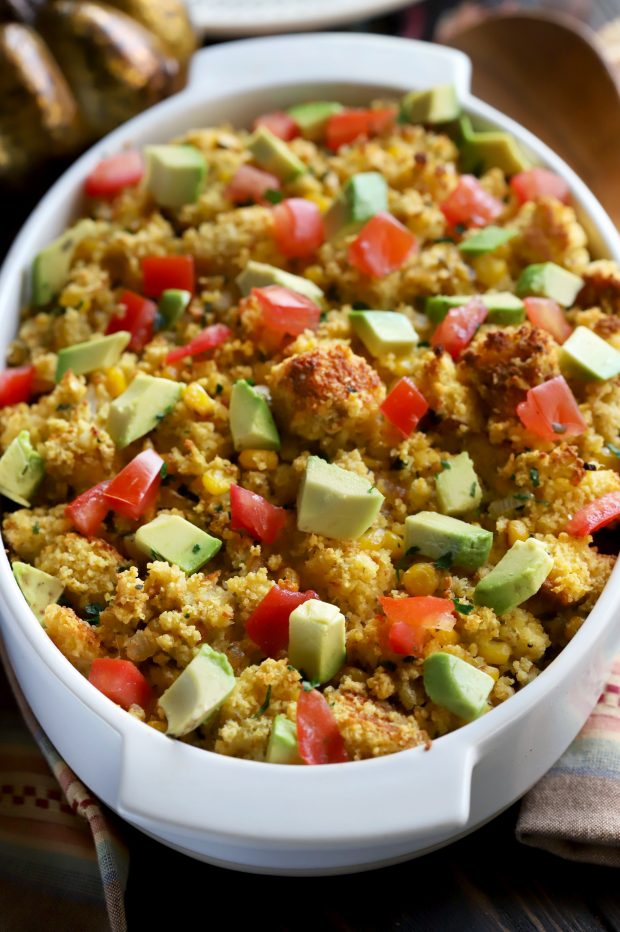 Please note that some of the links below are affiliate links. If you make a purchase through one of these links, I will receive a small commission.
Thanksgiving is a big, big, biiiiiiiiig deal in my world. My grandmother used to spends hours making a giant feast for all of our extended family – all 20+ of us.
I remember being in the kitchen, helping as much as I could, with uncles, aunts, cousins, and family friends laughing and sharing stories.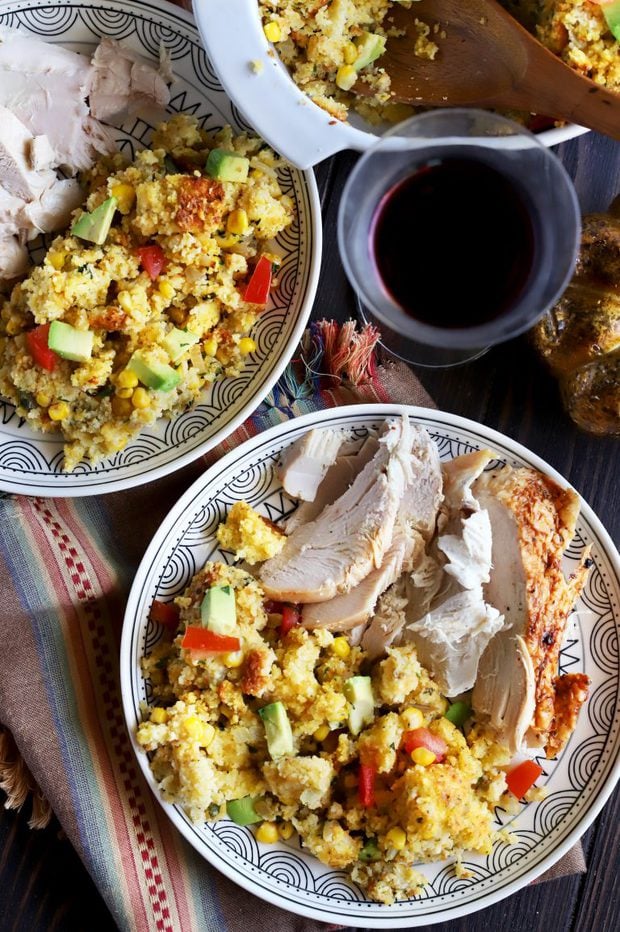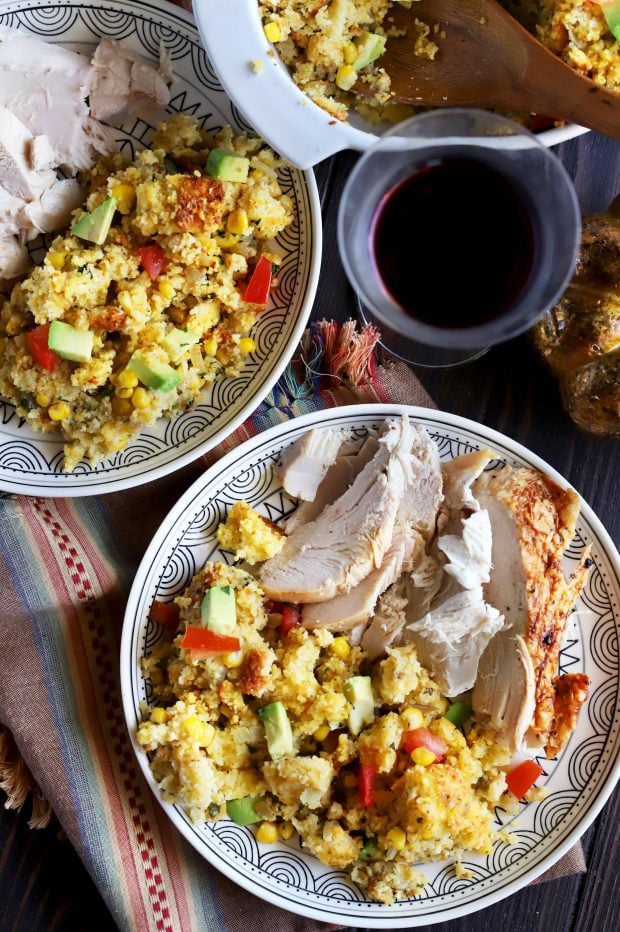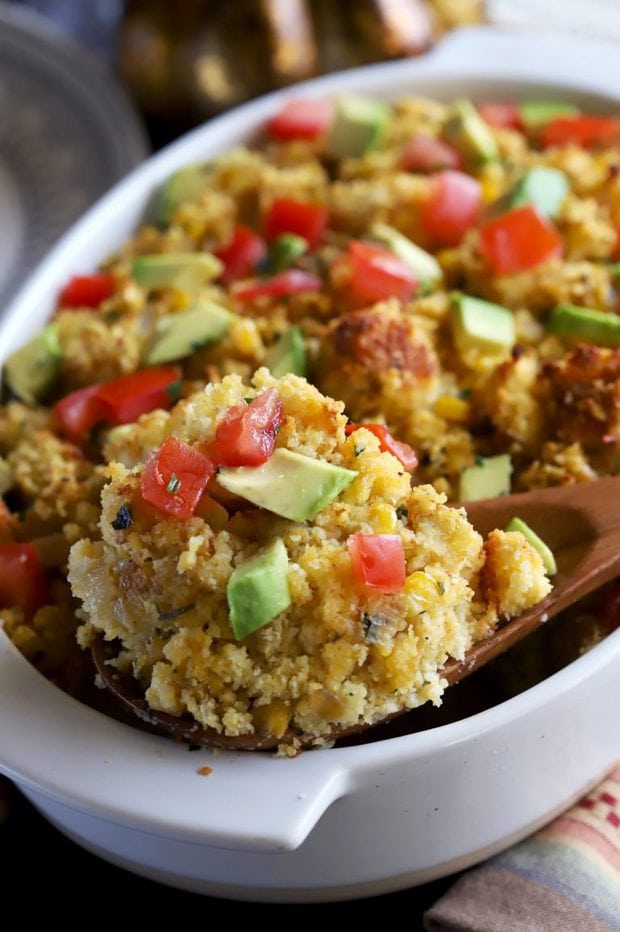 The holiday holds such a special place in my heart because it is one of those first true large gathering food memories I hold. Every time I take a bite of turkey with a bit of stuffing and cranberry sauce, I am transported back to the kids' table with my cousins.
I even remember the day I was graduated to the adults' table… that was a BIG day for me. Did anyone else go through that upgrade?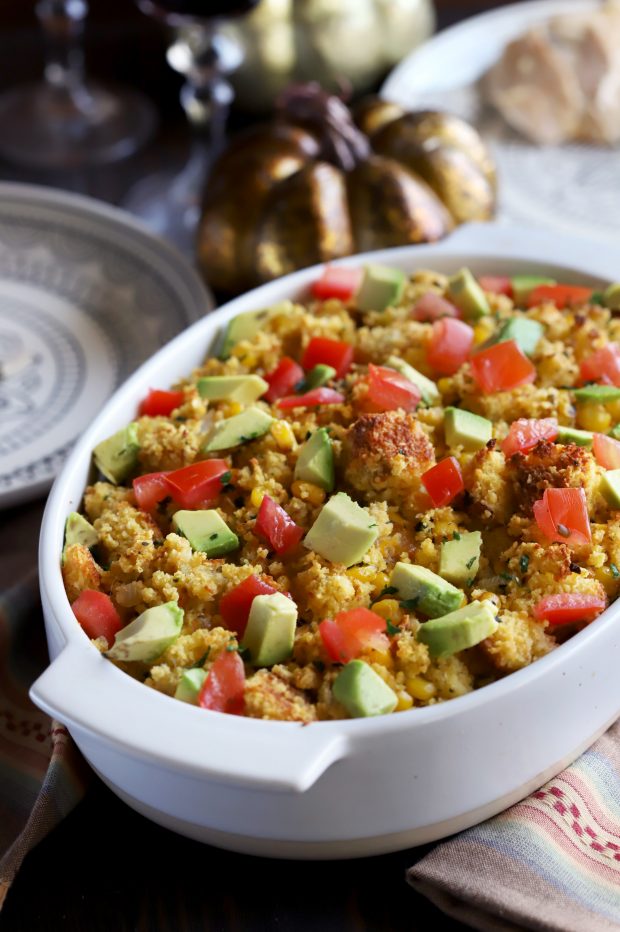 When it comes to the staple dishes on the table alongside the turkey, the first thing that comes to my mind is stuffing.
I confess, in my college years I used to buy the boxed stuffing and make several meals out of the stuff… It was what I would make when I was a little homesick in the dorms.
Now that I have become a little more obsessed with cornbread, I personally believe it's the best kind of stuffing you can ever eat. The moist and rich bread is a fantastically delicious take on the standard side dish, and this version is even better.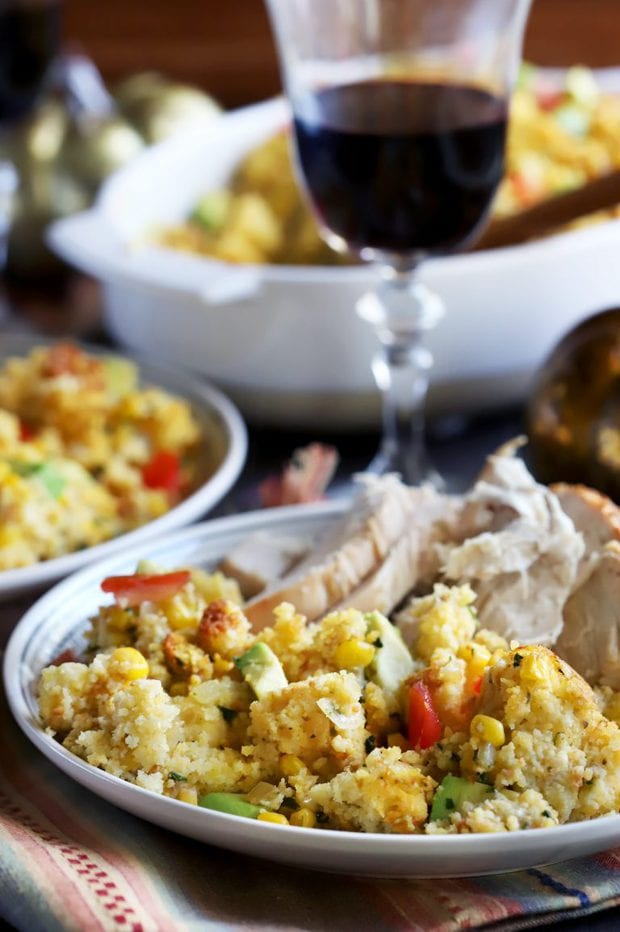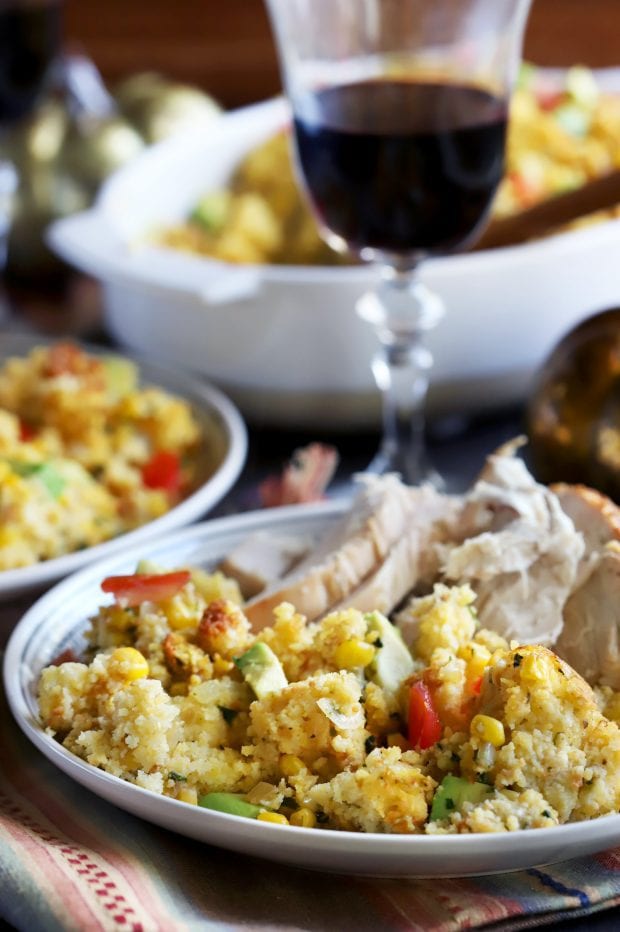 With the green chile cornbread, you are getting a strong base for the stuffing with tons of flavor and spice. Then you add in layers of flavor with onion, garlic, and whole kernels of corn.
If you haven't had whole corn kernels in your cornbread, you are totally missing out. Those kernels popping with a touch of sweetness in your mouth is pure happiness.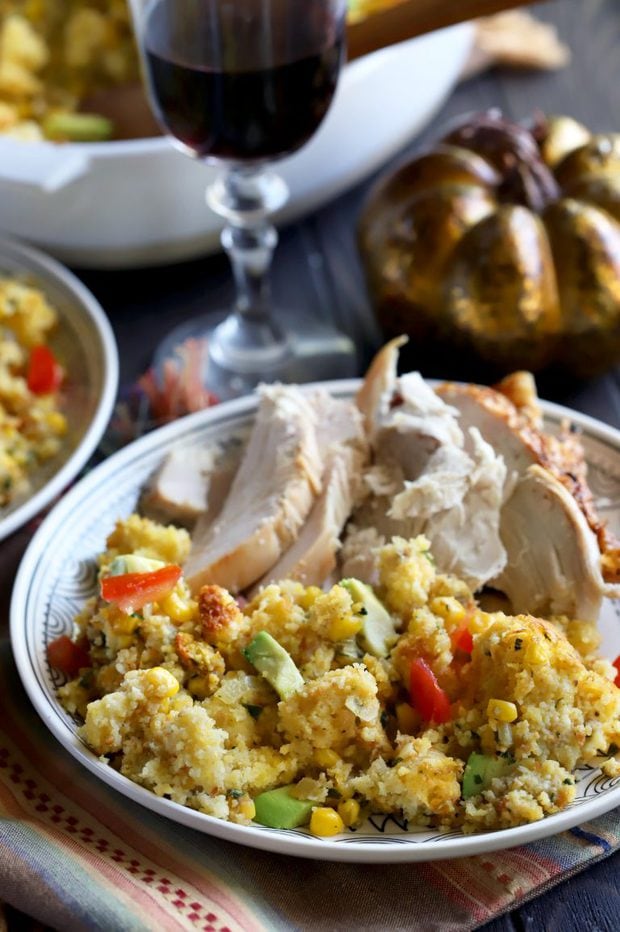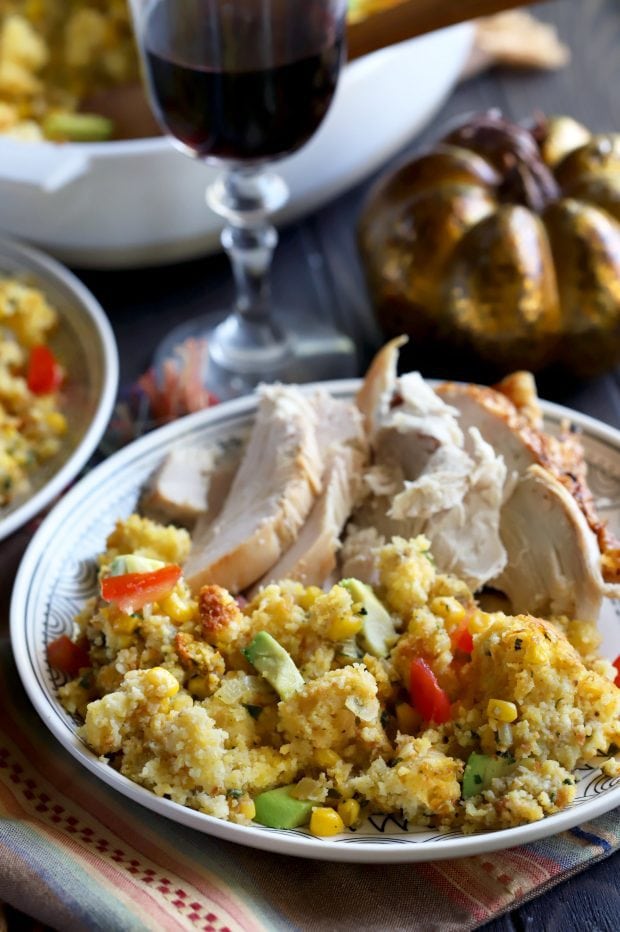 Finally, you top off that golden brown top with diced avocado and tomato for a added lift of creaminess and acid to compliment the richness in every scoop. It's kind of like a southwestern spin on stuffing, and it's one that you'll never get sick of.
Alongside that perfectly golden brown bird, it's everything your Thanksgiving table needs to stand out! Plus it's AWESOME in any of my favorite Thanksgiving leftoversrecipes.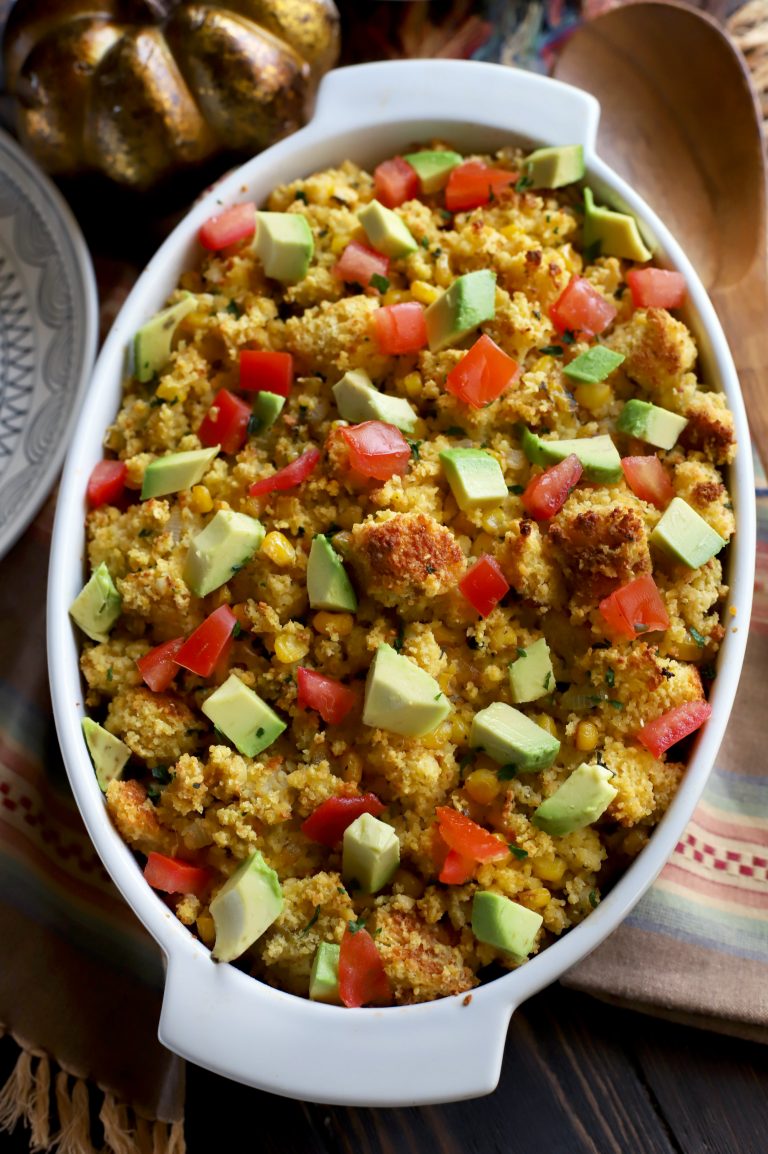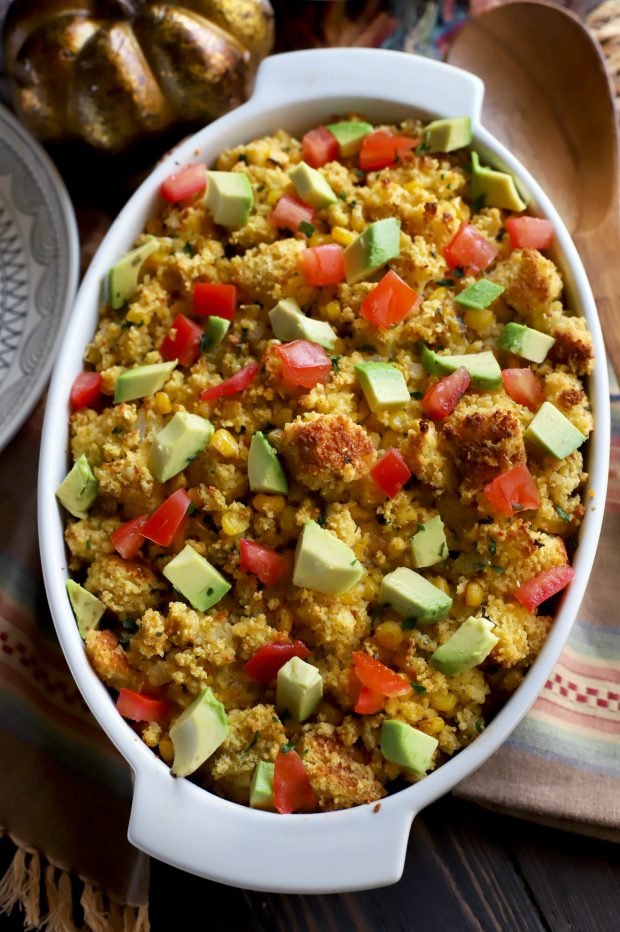 This Recipe's Must-Haves
I bought my oval dish on sale at William Sonoma years ago and I can't for the life of me find a link to buy it online. So this Le Creuset Stoneware Oval Dish
is a great alternative! It's the same size as mine and it's the kind of quality that'll last years and years.
To make the cornbread, you'll need a Le Creuset Heritage Stoneware 9″ Square Dish
!
Of course, everyone needs a great knife so here's one that I love to turn to my favorite chef's knife.