So I need to tell you about these amazing fries….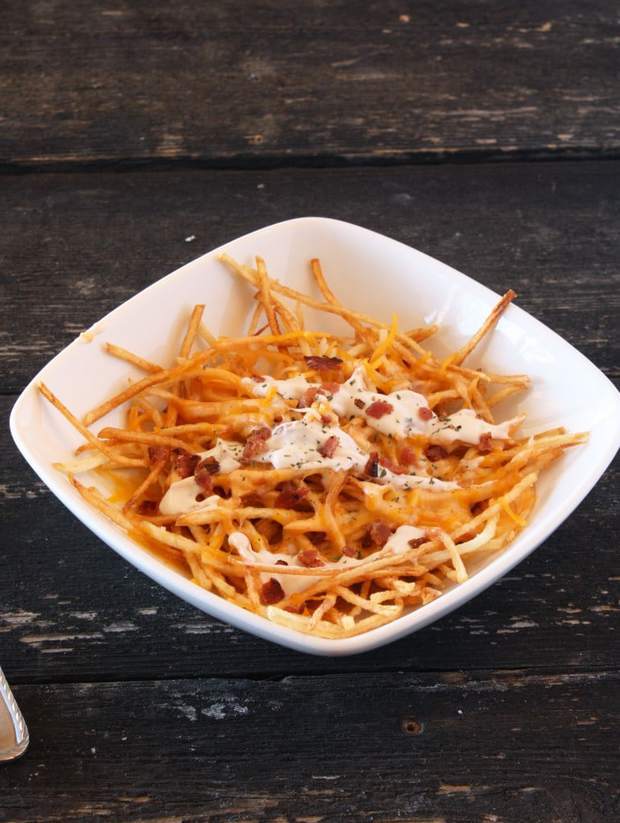 There's this restaurant in Denver called D Bar, which aside from having the most incredible chocolate cake I have EVER had, has these unbelievably delectable fries. They are smothered in a cheese sauce and topped with more cheese, homemade ranch dressing and bacon…. COME ON, right?! They seriously are some of the most amazing fries you will ever taste.
I only get to D Bar for special occasions and since that's not every single day, I had to find a way to recreate them at home. Now usually when I attempt to recreate recipes from restaurants, it doesn't turn out so well. I think my only previous success was this pan-roasted chicken. Normally it ends up with me creating something that is just slightly off and I can never quite nail down that missing ingredient that made it so so good.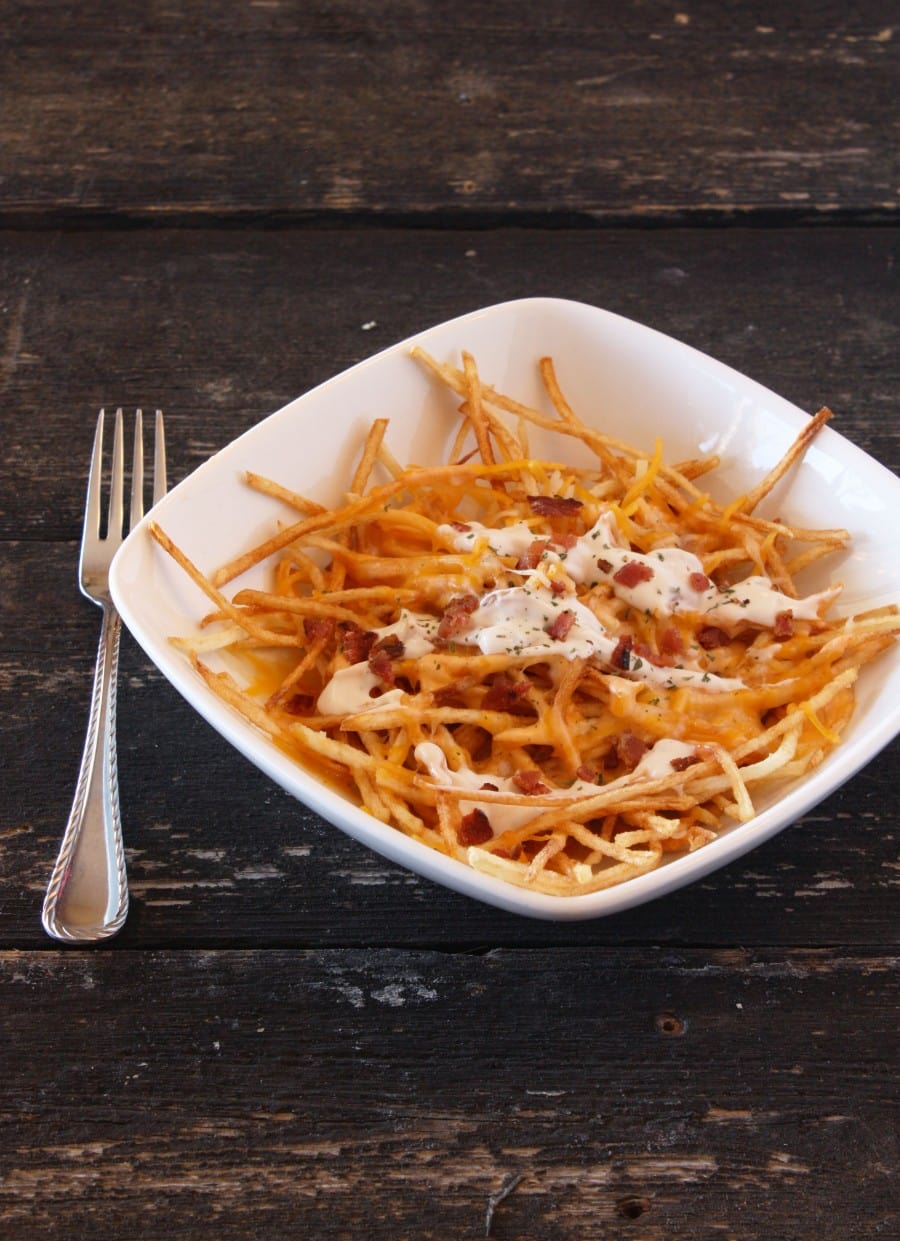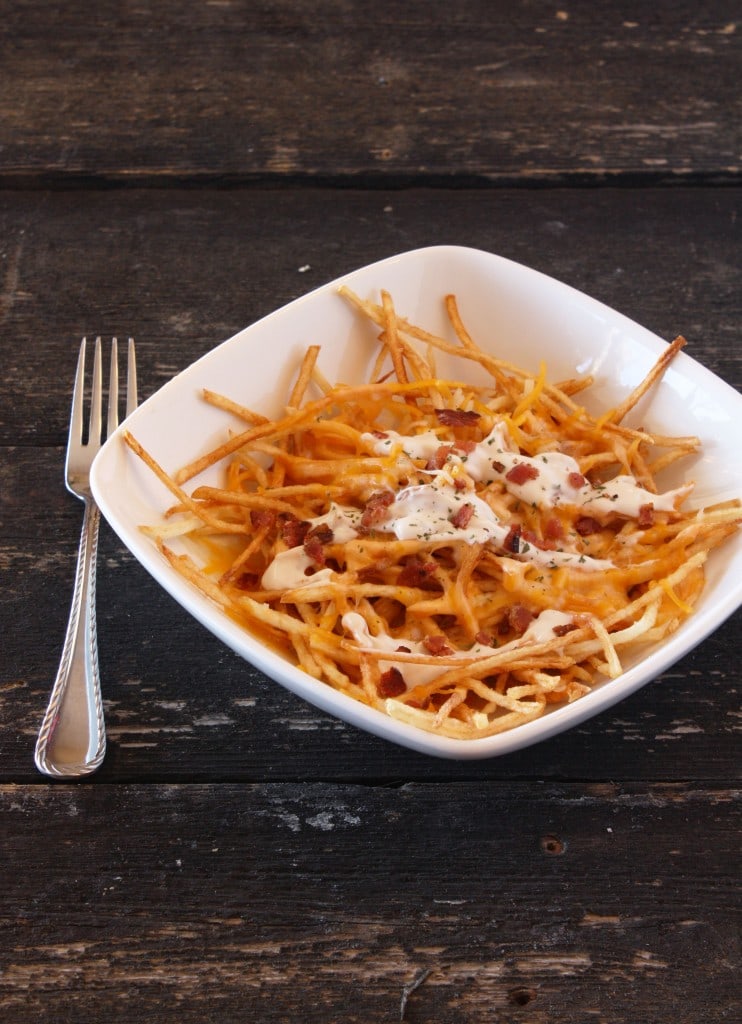 However, this is the closest, and I mean the closest I have come to almost perfectly recreating a recipe from a restaurant. As soon as I took that first bite, it was love. I dished them up and sat in complete silence as I gobbled up each and every bite. To me, that's the sign of true gluttonous bliss. Complete silence and just the occasional murmur of "OMG this is soooo good" or "I can't stop eating this!" That's when you know you have some darn good food.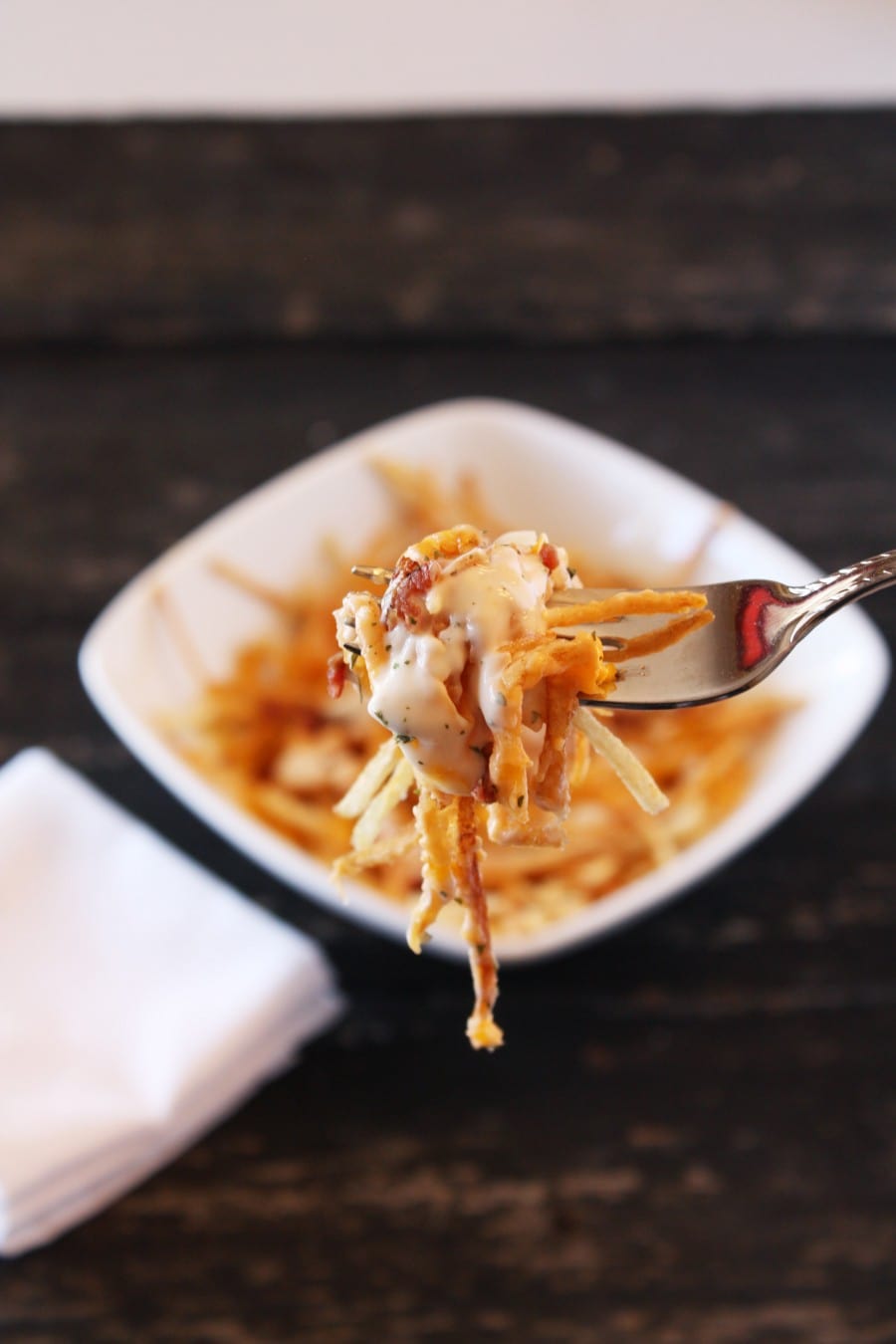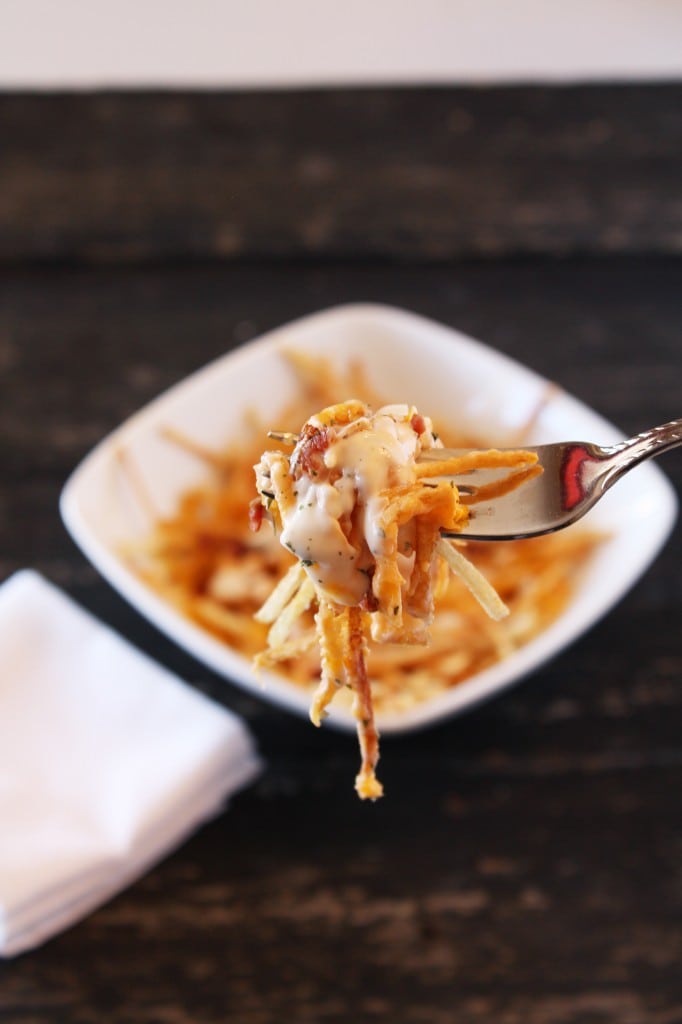 I know that I really should be starting off the New Year with healthy food of some sort… What can I say? You may be back on a diet but that doesn't mean you don't deserve a treat every once and awhile… 😉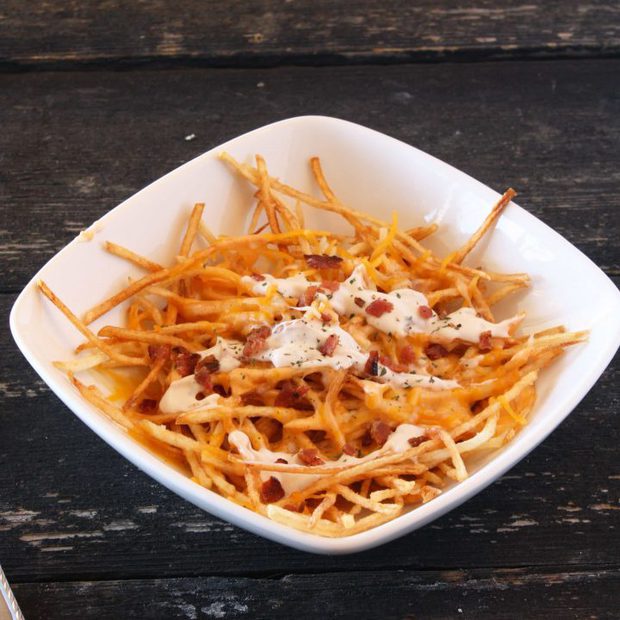 The Best Fries You Will Ever Eat
Additional Time:
30 minutes
Seriously, these ARE the best fries you will ever eat!
Ingredients
1 lb russet potatoes (approximately 2 medium potatoes), peeled
Canola oil, for frying
4 oz cream cheese
4 Tbsp whole milk
2/3 cup sharp cheddar cheese, shredded
1 tsp garlic powder + more for sprinkling
1/3 cup colby jack cheese, shredded
4-5 slices of bacon, cooked and chopped into small pieces
1/4 cup ranch dressing
Course ground sea salt
Instructions
Cut potatoes with a mandoline into shoestring thick fries (or if you are cutting them by hand, as thin as you can get them!). Place in a large bowl, cover with cold water and refrigerate for about 30 minutes.
While you are letting the potatoes soak, make the garlic cheese sauce. Melt the cream cheese in a small saucepan over medium heat. Stir in milk, shredded cheddar cheese, and 1 tsp garlic powder. Once the cheese has melted remove from heat. If the sauce seems a little too thick, add additional milk until it reaches the desired consistency.
Pour oil to a depth of approximately 3" in a Dutch oven or other heavy bottomed pan and heat over medium-high heat until thermometer reads 350 degrees. Drain potatoes and dry thoroughly with paper towels (if they are wet with water, this will cause the hot oil to boil over so be careful!). Working in small batches, add potatoes to the oil and fry, tossing occasionally, until crisp and golden brown. Transfer fries to paper towels to drain and sprinkle with sea salt and garlic powder.
Divide fries evenly between two bowls. Top each with the garlic cheese sauce and colby jack cheese. Place bowls in microwave, or under a broiler if they are oven safe, until cheese has melted (about 30 seconds to 1 minute). Finish with a drizzle of ranch dressing and bacon pieces.