When it's giggle juice o'clock, it's time to bring out the Spiced Tropical Holiday Champagne Punch! Made with tropical juices, a homemade spiced simple syrup, and fresh cranberries, it's a fruity and tart twist on the seasonal flavors you know and love. Trust me when I say, you won't be able to stop sipping on it.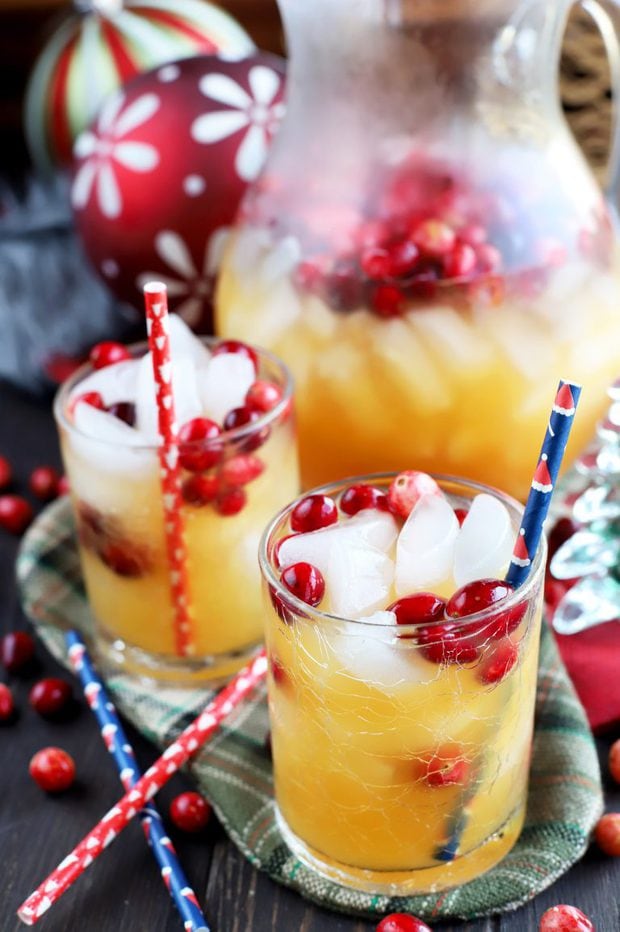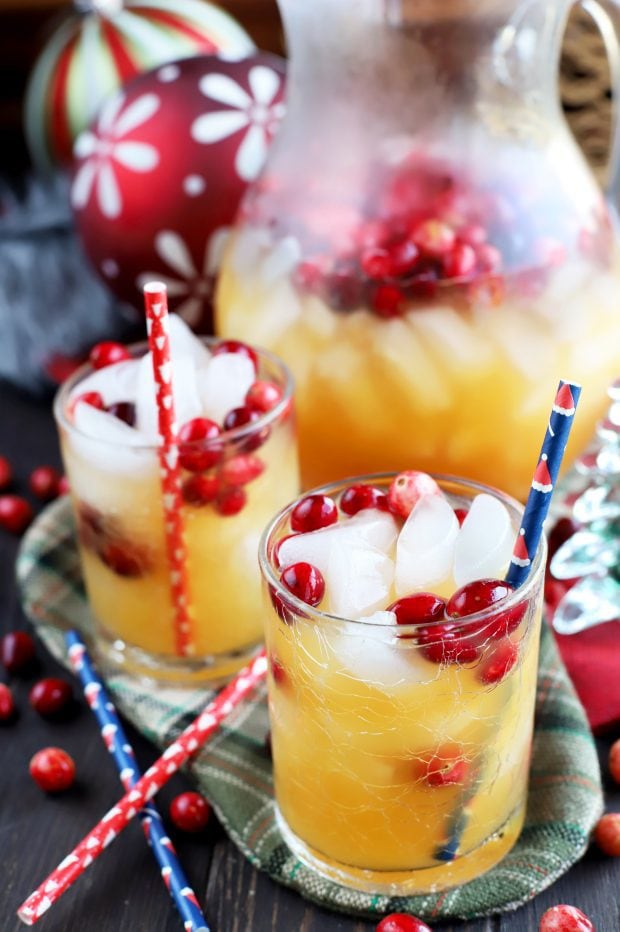 Disclosure: This post is sponsored by Sprouts! As always, all opinions are my own. Thanks for supporting the brands that support Cake 'n Knife!
My kind of giggle juice is forever and always champagne. No matter what mood I am in, when anything with that bubbly goodness hits my lips, it's like a cloud lifts and the lightness transports me to the place in my mind where nothing can get me down.
For me, the holiday season is the ideal time of year to bring out the champagne.
Champagne is always brought out for festivities and celebrations. Since the holiday season is all about celebrations, you have an excuse to bust out the champagne at every single even this season without shame.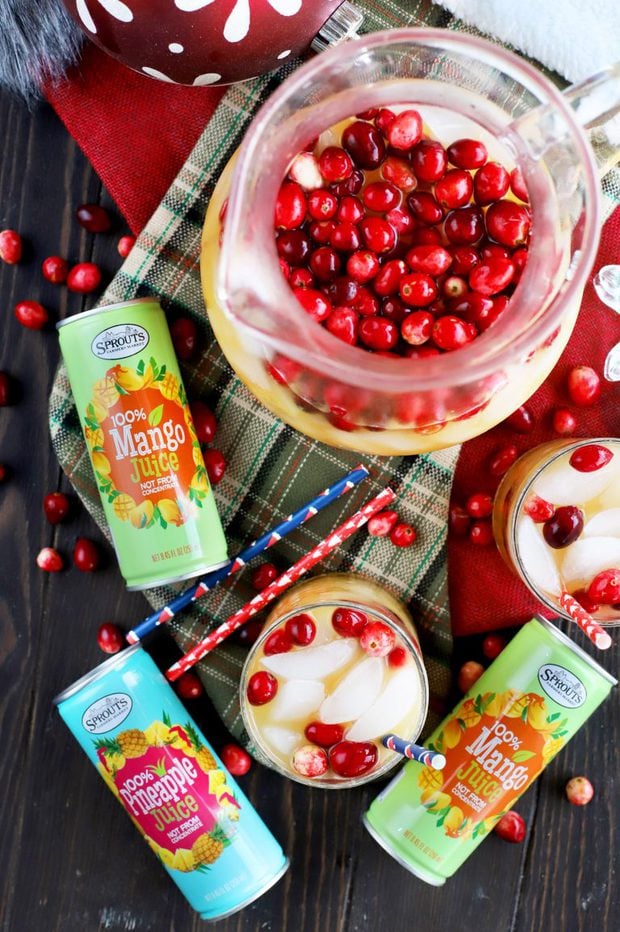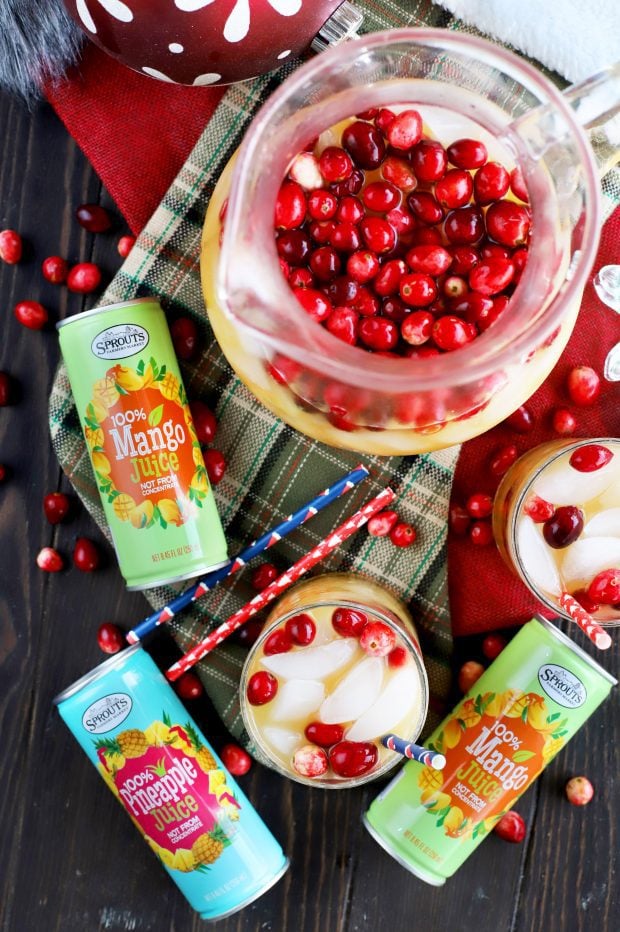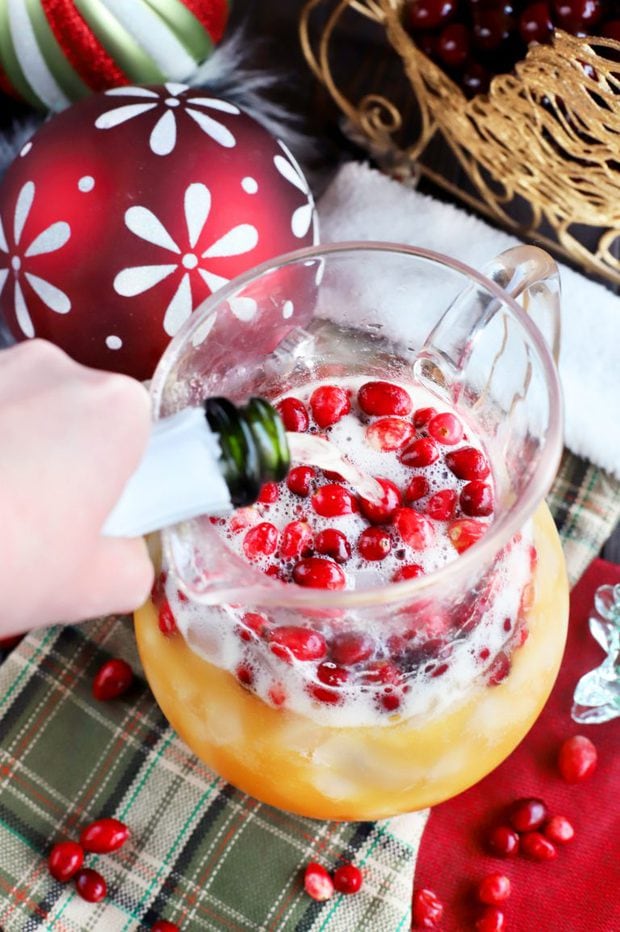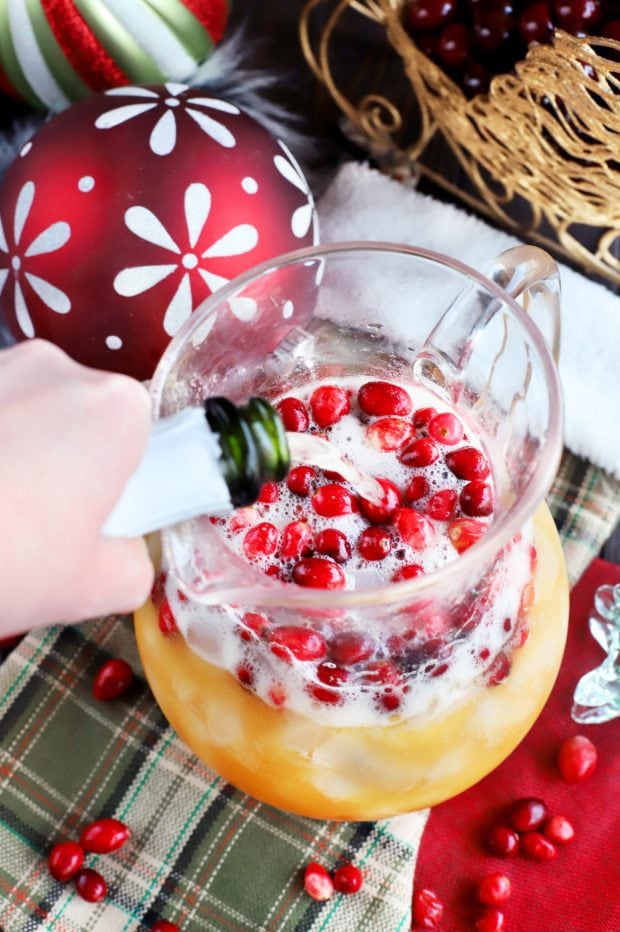 Please note that some of the links below are affiliate links. If you make a purchase through one of these links, I will receive a small commission.
This holiday champagne punch is a little different than the others that you see floating around this time of year, in the best way possible.
The punch features a homemade spiced simple syrup with cloves, cinnamon, and star anise so you get those warming elements of seasonal flavors in the background of each sip.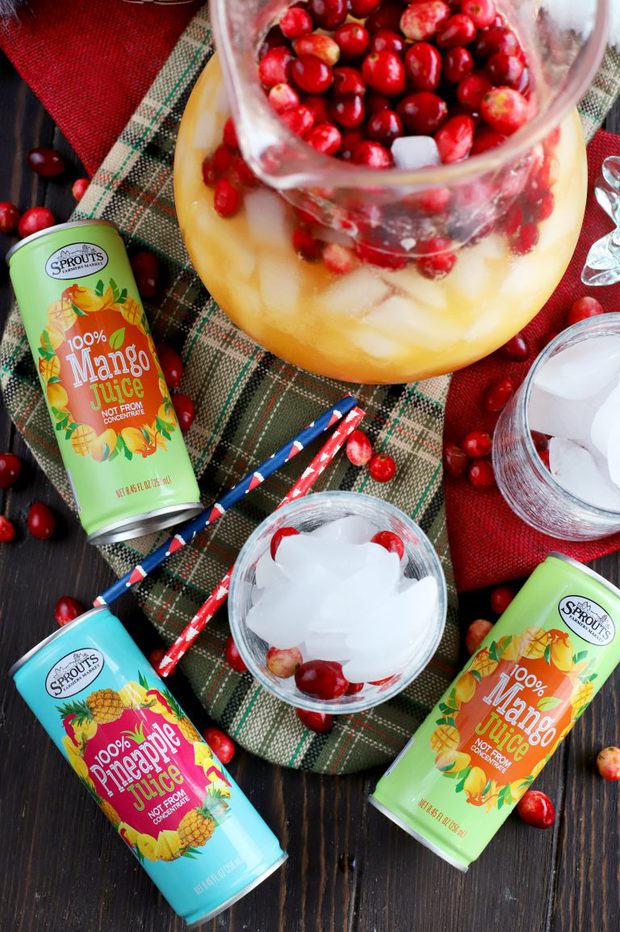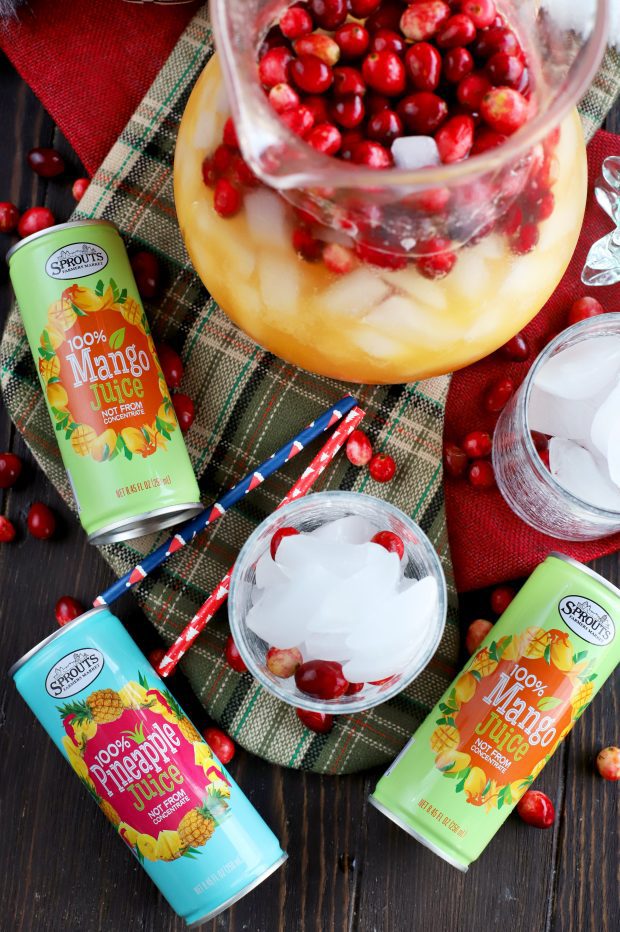 Then you mix that up with tart and tangy juices to bring an island-y twist to the party.
The tropical flavor brought to the party is due to the most amazing Sprouts Brand 100% pineapple and mango juices that are brand spanking new in stores right now. The little cans of juice are the best size to sip on straight out of the can (if any of you love pineapple the way I do, it's downright delicious and pure pineapple flavor), but they also make for the ideal mixers for punches, sangria, mixed drinks, and even adding to your club soda for an easy afternoon sipper at the office.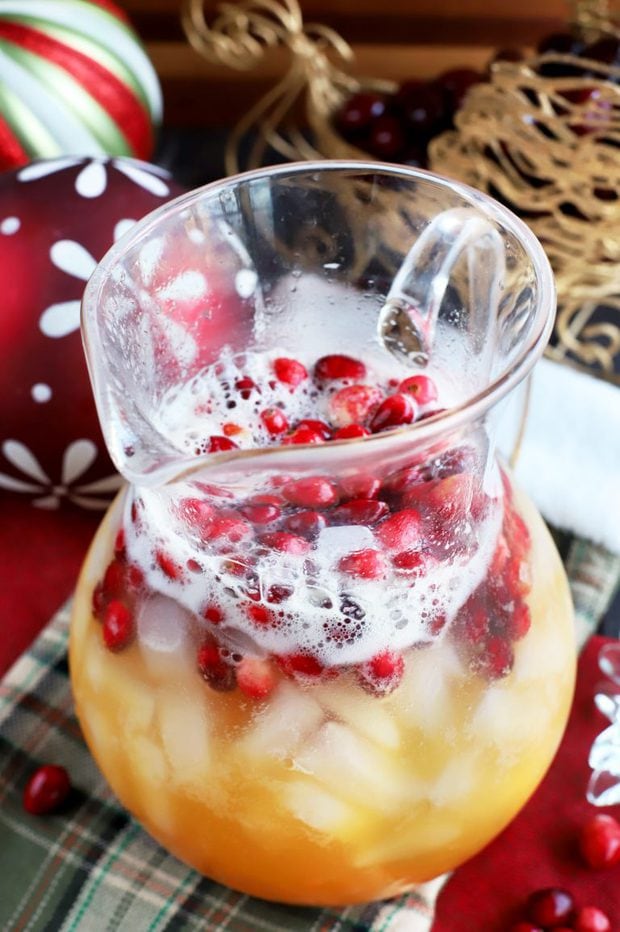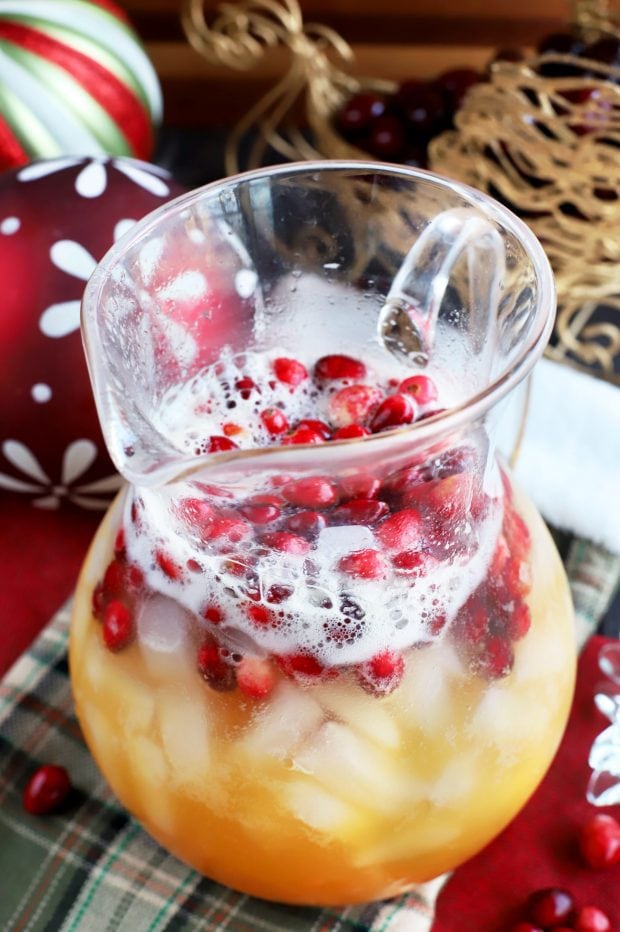 These Sprouts juices are such a great addition to light and bubbly brut champagne, and they partner so well with the homemade spiced simple syrup. Surprisingly, spices like cinnamon and clove pair elegantly with mango and pineapple.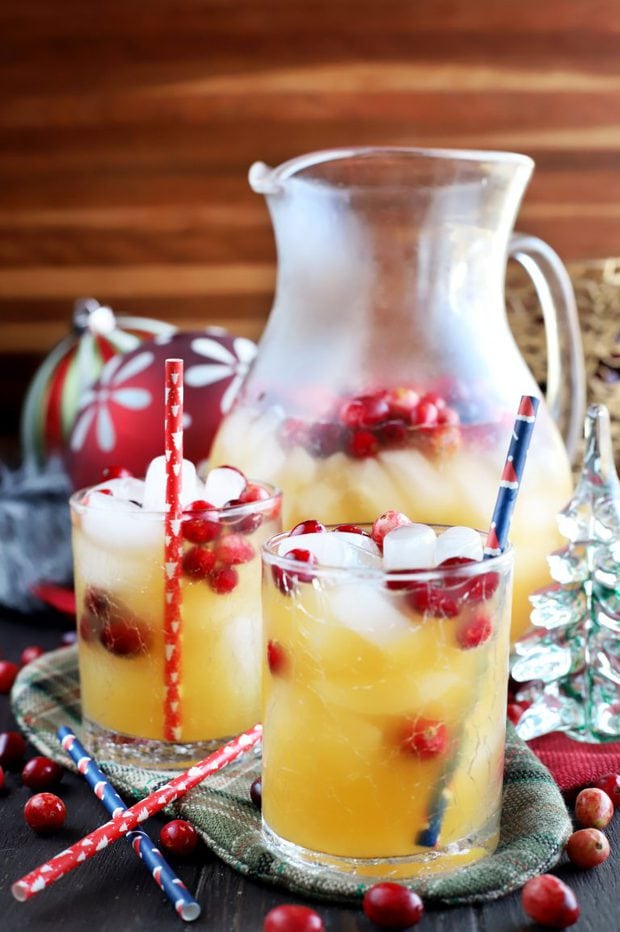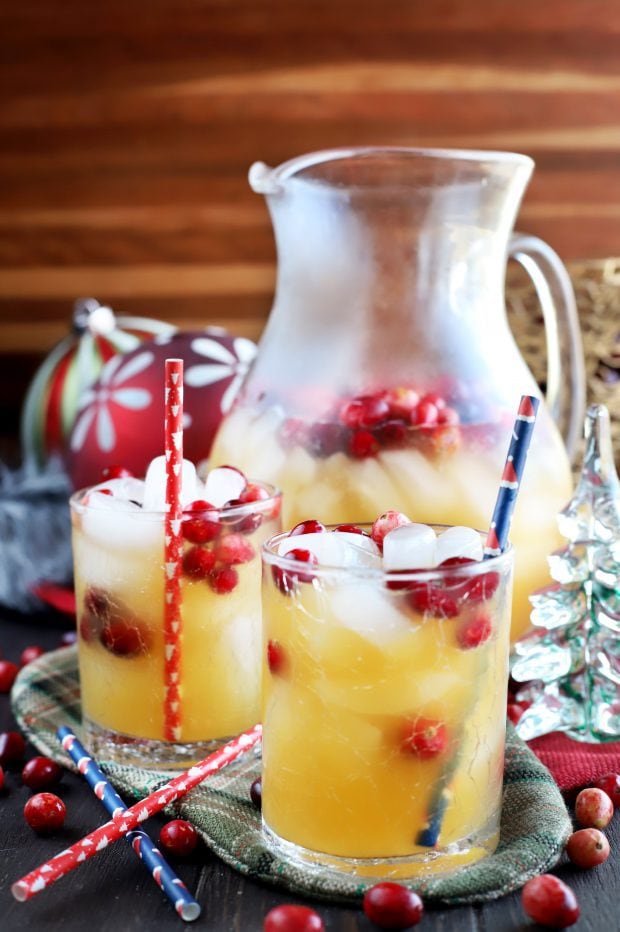 You won't be able to stop yourself from having a second glass of the delightful punch recipe.
It's great for serving at holiday parties or whip it up for a ladies night! Serve it with a garnish of additional cranberries and a sweet candied orange slice for the perfect flair.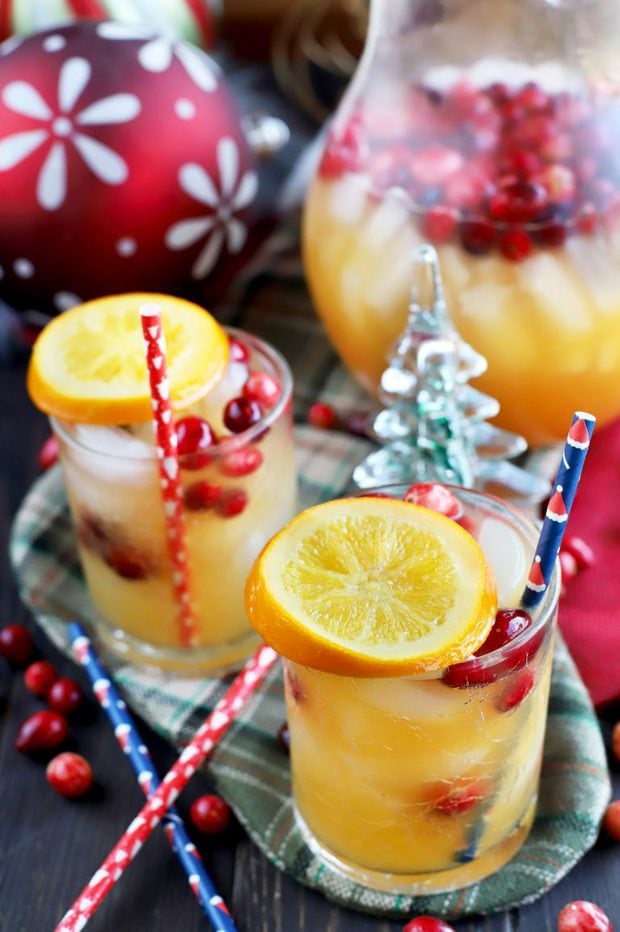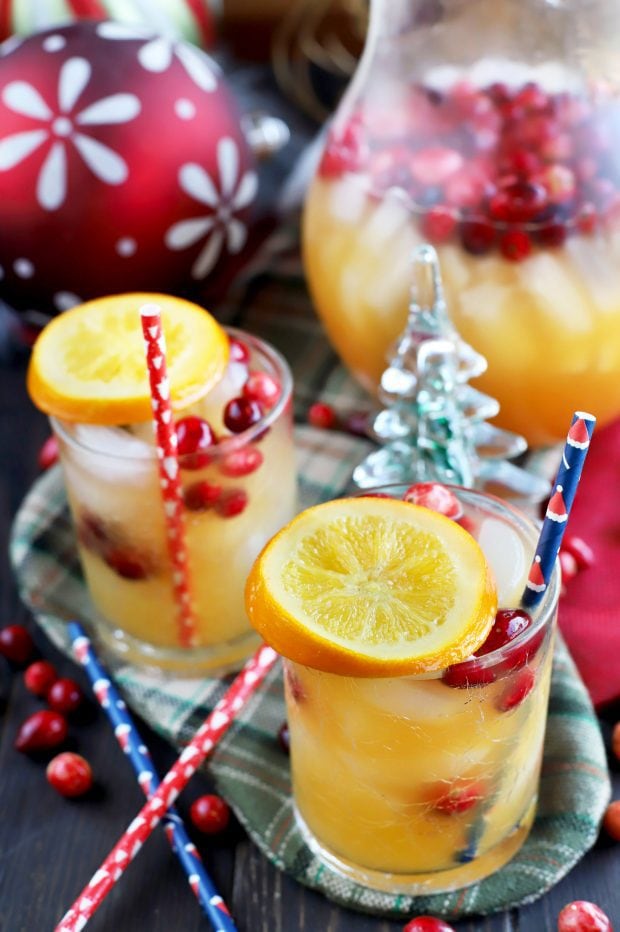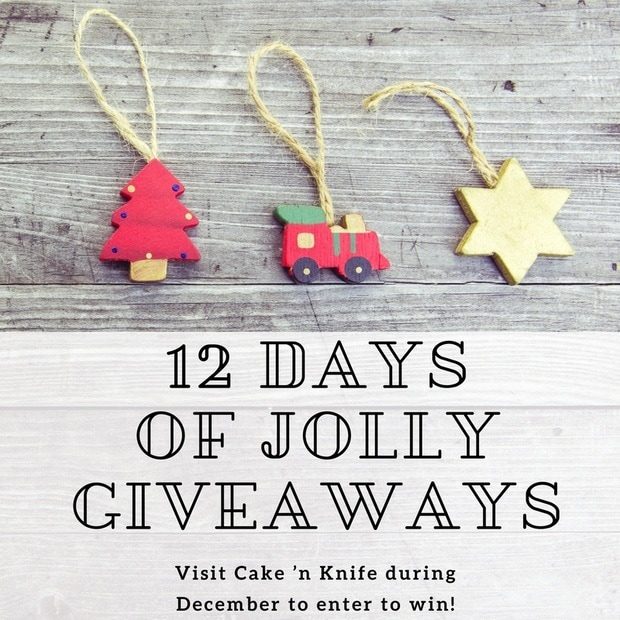 THIS GIVEAWAY IS NOW CLOSED.
You might have seen that I have a special promotion going on right now… It's the 12 Days of Jolly Giveaways! I kicked off Day One on Tuesday and now we are already at Day Three! How time flies, am I right?!
To go along with this oh-so tasty holiday champagne punch, I'm partnering with Sprouts to give you a $50 gift certificate to kick off your holiday celebrations on the right foot. You all know how much I love Sprouts, from their fresh and flavorful produce, incredible meat selection, and all the Sprouts Brand products that are affordable and tasty.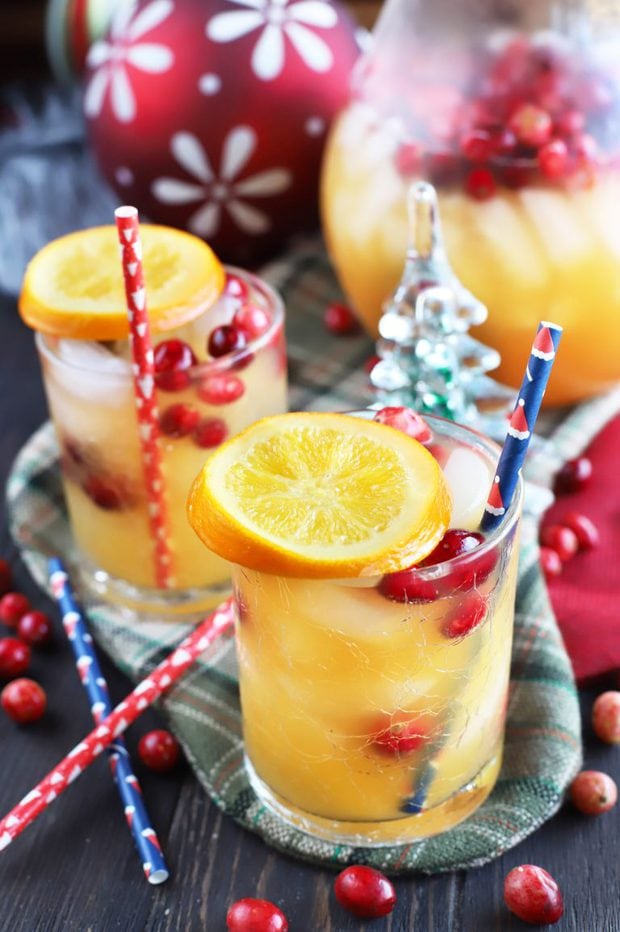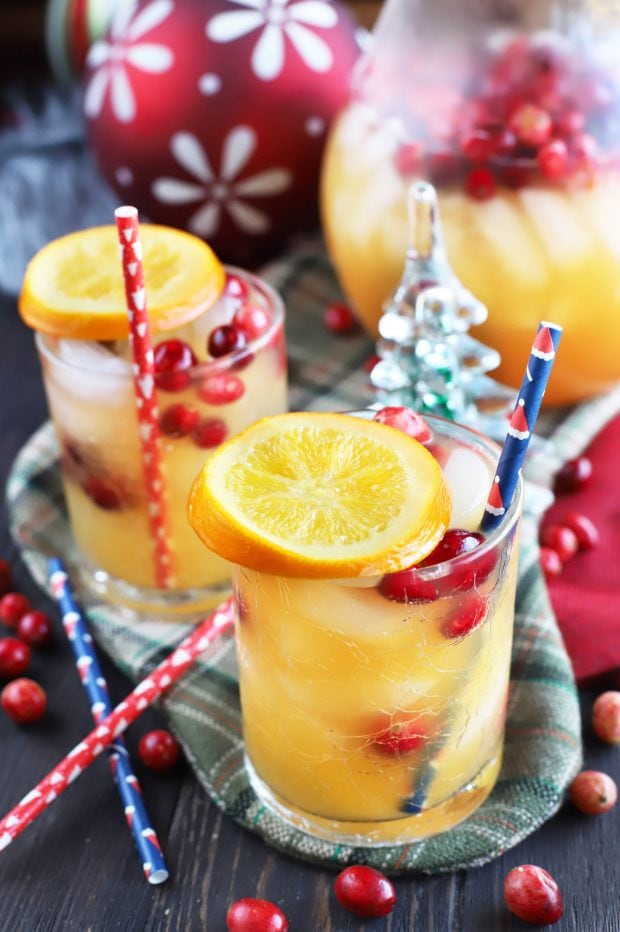 Be sure to keep up with all of the giveaways this year – check out this page for all the current posts! Two giveaways are still live (in addition to this one!) right now, along with recipes for Ginger Cranberry Orange Loaf Cake AND Chook Smashed Sweet Potatoes with Fresh Herbs.
Head below the recipe card to enter the giveaway for a chance at a $50 Sprouts gift card!


This Recipe's Must Haves
To get the look you see here, grab my favorite Mikasa Cheers Glass Beverage Pitcher
!
You'll need an OXO Good Grips Wooden Corner Spoon & Scraper
to stir together this glorious punch and to help make that homemade spiced simple syrup.
Make the spiced simple syrup with this GORGEOUS All-Clad Copper Core 5-Ply Bonded Dishwasher Safe Saucepan with Lid… The entire cookware line is on my Christmas wish list.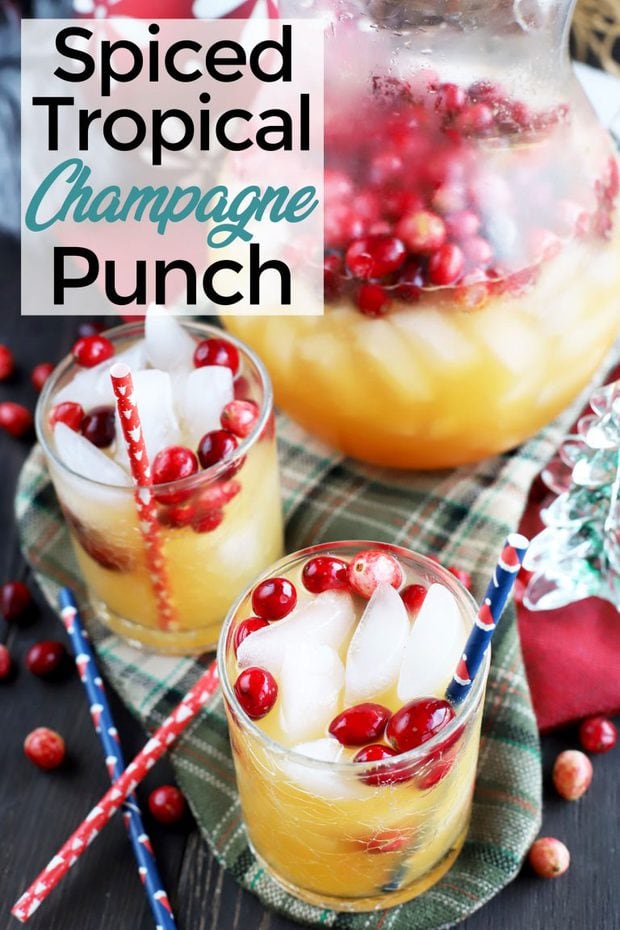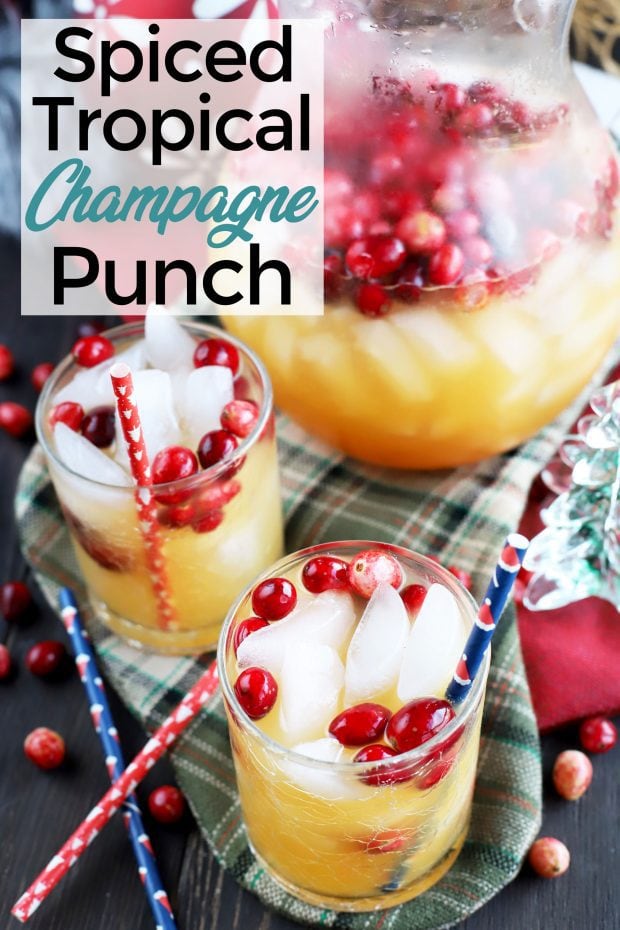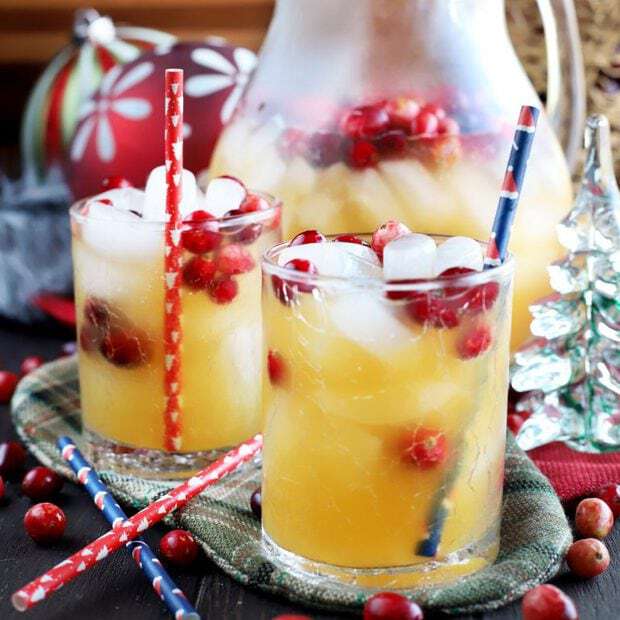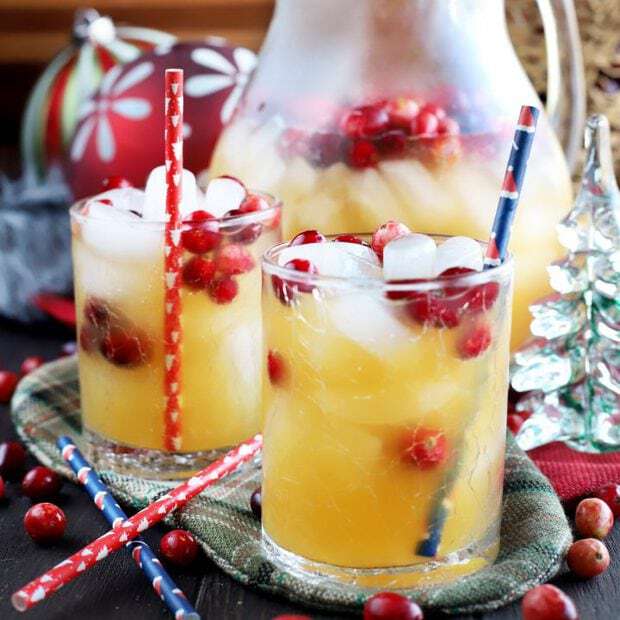 Spiced Tropical Holiday Champagne Punch
A holiday punch to beat all others! The spiced simple syrup with tropical juices are the ideal combination, and a more unique take on the typical holiday champagne punch.
Ingredients
PUNCH
One 750ml bottle brut champagne
1 8.45oz can Sprouts 100% Mango Juice
1 8.45oz can Sprouts 100% Pineapple Juice
1/3 cup pomegranate juice
1/4 cup brandy
1/4 cup Spiced Simple Syrup (recipe below)
1 cup fresh cranberries
Garnish: candied orange slices, additional fresh cranberries
SPICED SIMPLE SYRUP
1/2 cup sugar
1/2 cup water
2 star anise
2 cinnamon sticks
1/2 tsp whole cloves
One 1-inch piece ginger, peeled and sliced
Instructions
In a small saucepan, stir together ingredients for the spiced simple syrup. Bring the mixture to a boil over medium-high heat.
Once the mixture reaches a boil and sugar is dissolved, remove from heat.
Cover and let steep for 15 minutes before straining out the whole spices and ginger. Let simple syrup cool completely before using.
In a large pitcher filled halfway with ice, stir together champagne, mango juice, pineapple juice, pomegranate juice, brandy, spiced simple syrup and fresh cranberries.
Serve with cups filled with additional fresh cranberries and ice. Garnish with slices of candied orange.
Recommended Products
As an Amazon Associate and member of other affiliate programs, I earn from qualifying purchases.
a Rafflecopter giveaway