Ummm yea you read that right. COOKIE DOUGH. Bite size. Drizzled with chocolate.
Do I have your attention yet? Thought so….
I know I put this whole diet thing on pause a while ago, but apparently that break hasn't been long enough. Now that my ankle is finally healed, I can at least get back to my workouts. That is, if you can make me stop shoving cookie dough in my mouth for more that 30 minutes. We all know that won't happen…
To be honest, all functionality has ceased this past week in a blur of barbeques, get-togethers, and overall celebration. Why this ridiculous amount of parties and a packed calendar for the next couple weeks? Well, I am making a huge transition to a new job. At first it seemed easy. But as soon as I put in my letter of resignation, all hell broke loose. I am now suddenly working non-stop and the rest of my time is filled with preparations and celebrations. I don't think I have celebrated anything this intensely for myself since my wedding. It has been about 2 years since that happened, so I suppose I am due for some fun.
Though this is directly following a week of fun in Mexico which I am still trying to recover from…
It can't hurt, right? Other than the overwhelming desire to constantly make unhealthy dishes and stop exercising in exchange for parties, booze, and more unhealthy eating…
Seriously THIS HAS TO STOP.
And it will.
One day.
Probably the day I look in the mirror and realize I am 200 lbs…
No really, I am going to stop. NOW….
Let's just go with next Monday, shall we?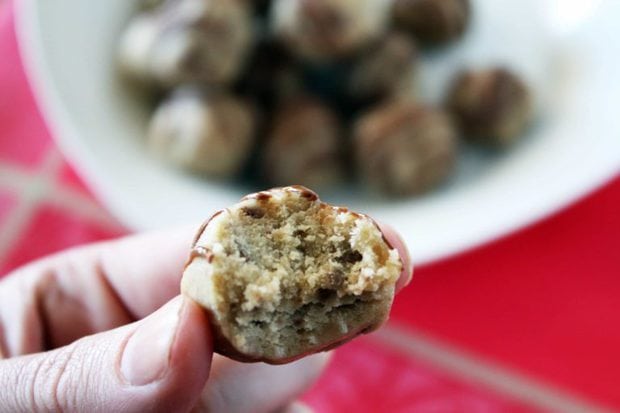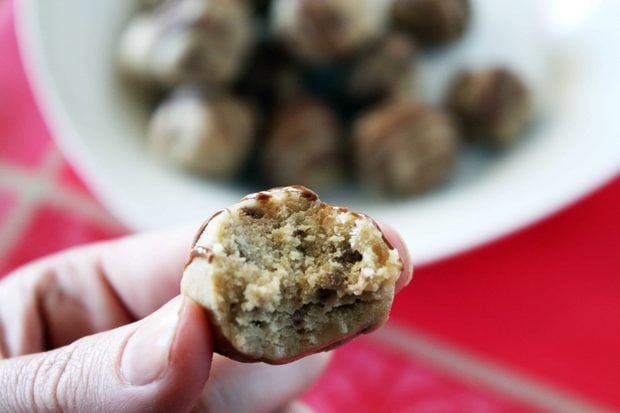 Cookie Dough Bites
Cookie dough flavor without the risk of eating raw eggs!
Ingredients
1/2 cup salted butter, softened
3/4 cup packed light-brown sugar
1/3 cup granulated sugar
1/4 tsp salt
3 Tbsp heavy cream
1 tsp vanilla extract
1 1/2 cups all-purpose flour
1/2 cup milk chocolate chips, chopped (the idea is to get them to be about 1/2 - 1/3 their original size)
Optional Topping:
1/3 cup milk chocolate chocolate chips
Instructions
In the bowl of an electric mixer, beat butter, brown sugar, sugar and salt until fluffy, approximately 3 - 4 minutes. Beat in cream and vanilla extract. Gradually add in flour and mix until just combined. Fold in chopped chocolate chips.
Scoop dough out 1 Tbsp at a time and roll into balls. Place on parchment paper.
If drizzling with chocolate, place 1/3 cup milk chocolate chips in a microwave safe container and microwave in 30 seconds intervals, stirring between each, until melted. Pour melted chocolate into a small ziploc bag, seal bag and cut off the tip. Drizzle chocolate over tops of truffles.
Place truffles in freezer for 5 minutes until the chocolate is set. until chocolate sets and hardens.