Please note this post contains affiliate links.
Lemon Raspberry Filled Cupcakes with White Chocolate Buttercream Frosting are the burst of fresh citrus and fruit to take your cupcake game to the next level. With rich white chocolate buttercream on top, there's no other cupcake you'll crave more!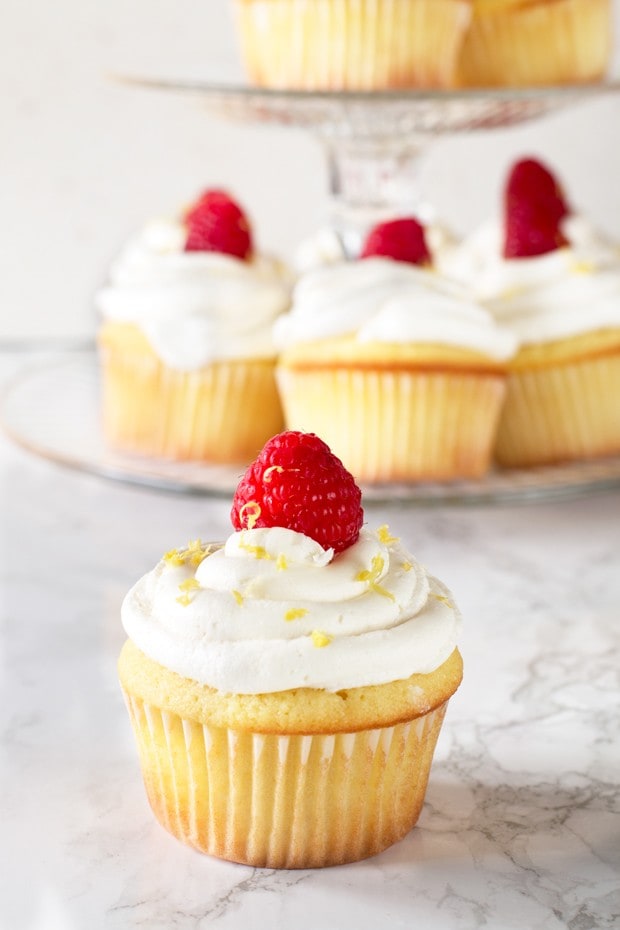 I am SO excited to share this recipe with you all today! And I swear, it's not just because I made cupcakes that actually turned out well. 🙂
Ok if I am being completely honest, it's partially because of that.
I am literally the worst cake decorator in the entire world and the fact that these actually look cute is a huge win for me!
*insert happy personal victory dance here*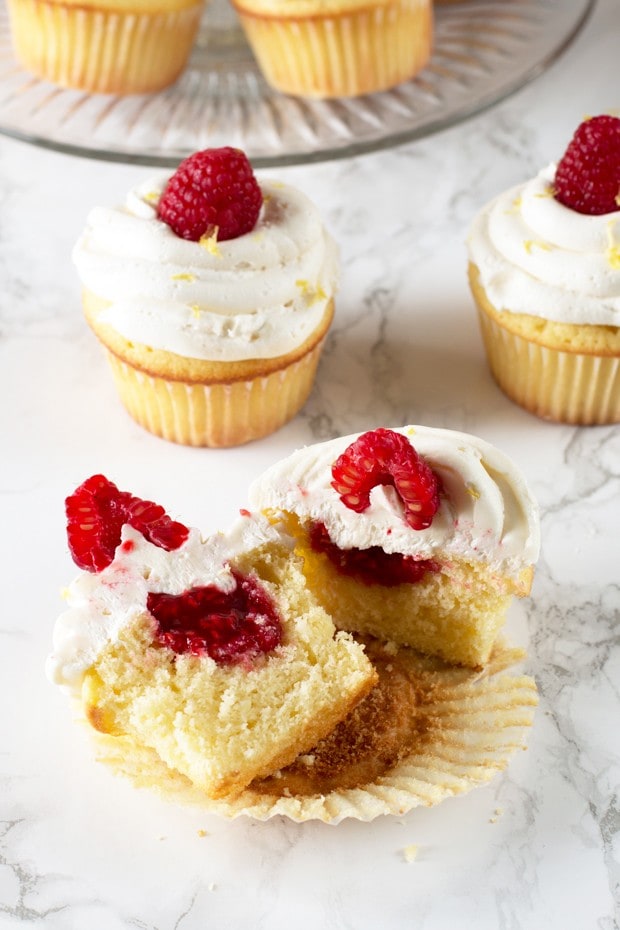 Lemon and raspberry is such a classic combination and I have wanted to put them together in a cupcake for a long time.
I'm sure you've noticed by now that I LOVE filling my cupcakes with something. I love that surprise you get once you bite into a filled cupcake and discover there's an extra flavor in there!
It's another way to amp up the flavor and it never fails to bring a smile to people's faces.
A surprise in the center of a cupcake always brings a grin to my lips, I don't know about you 😉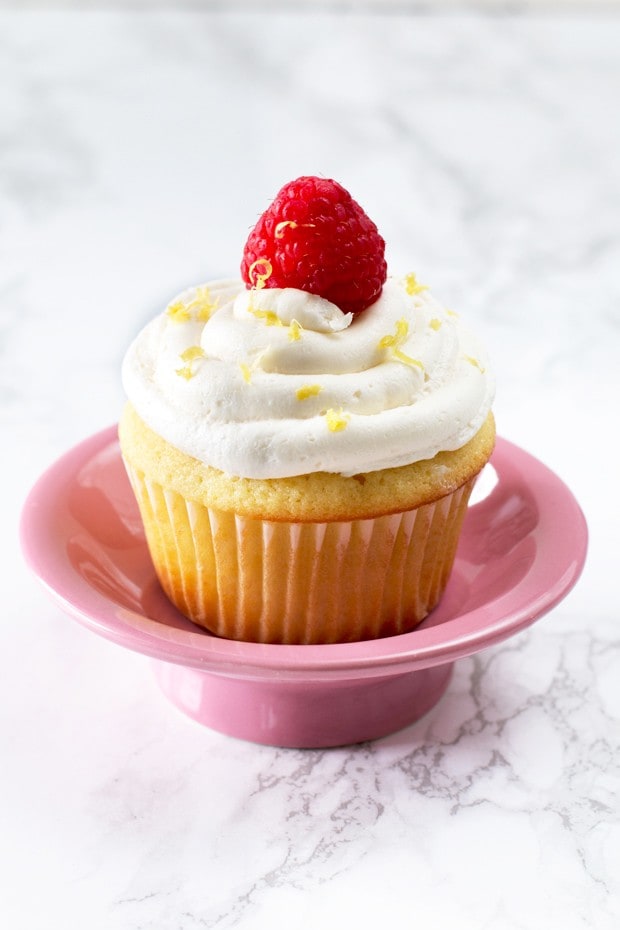 Though cupcakes can seem daunting, straightforward cupcake recipes like the one below are easy to master.
The best advice I can give anyone who is afraid of baking is, measure out all your ingredients ahead of time.
Then, as you follow the instructions, that little panic feeling won't start rising in your throat as you furiously try to scroll up to see the measurement, then back down to pick up where you left off with the recipe.
Just channel your inner Anne Burrell and remember mise en place!
Funny story about mise en place and these lemon raspberry filled cupcakes…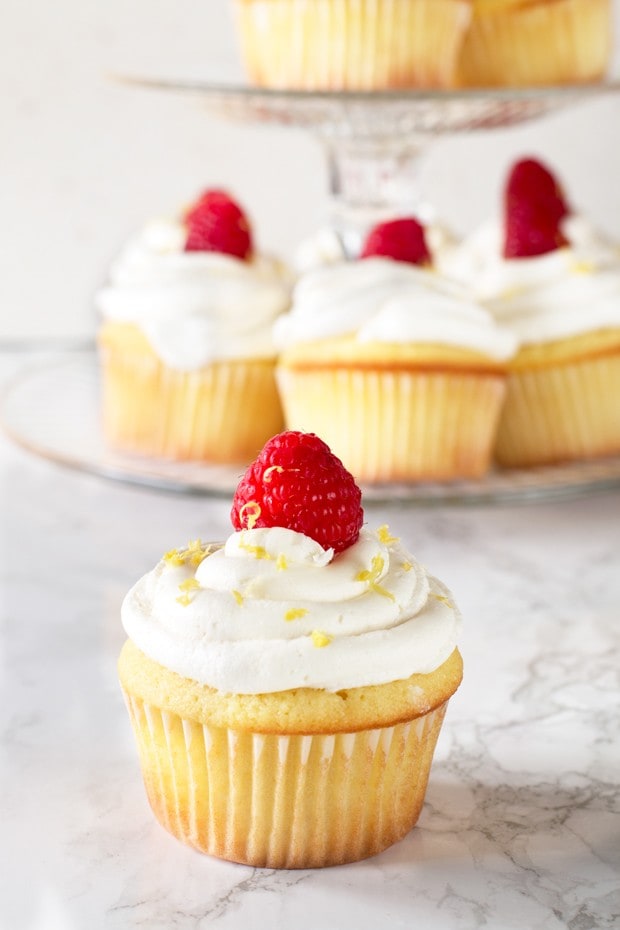 Went to the refrigerator and discovered we had heavy cream instead of buttermilk when I was halfway through the recipe (I really should listen to my own advice…)!
Instead of venture out into the rain this weekend to buy buttermilk, I made buttermilk.
For real.
Like old-fashioned, churn by hand buttermilk.
Did you know you can just fill a mason jar about halfway with heavy cream, seal it and shake it for about 10 minutes and you'll end up not only with buttermilk, but also fresh butter?! *mind blown*
Now I have cupcakes AND fresh butter. #winwinwin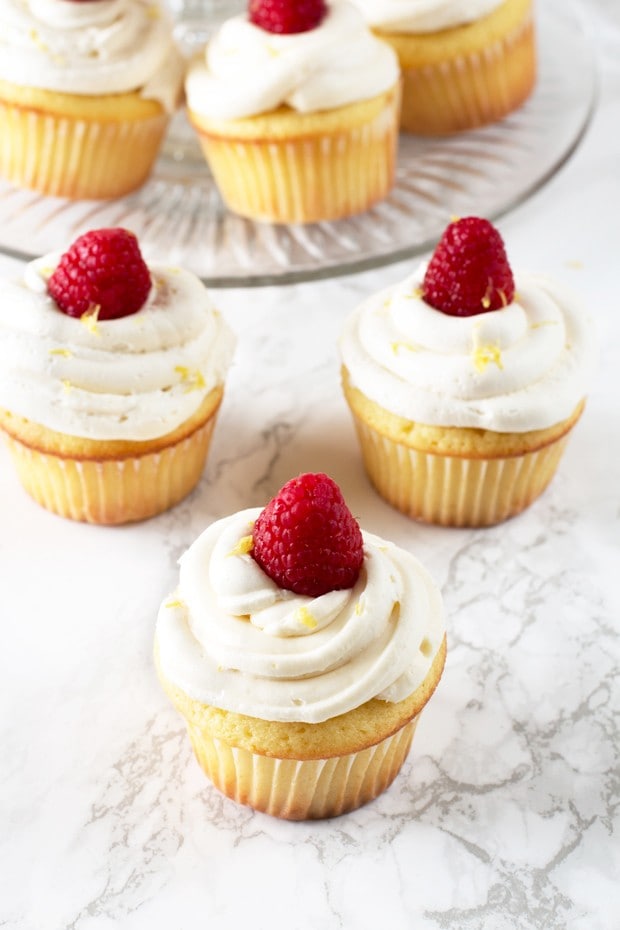 These cupcakes have just the right amount of lemon in the moist cake to let the raspberry filling shine.
The white chocolate buttercream cuts through the acidity and will have you swooning in no time.
Please promise me one thing…
Ignore my attempt at frosting cupcakes. I don't have the touch of a true cake decorator, no matter how hard I try…
I am 100% sure you will be able to do a better job with all those Pinterest guides out in the world!
Honestly, my personal favorite are these fox cupcakes. This tutorial walks you through how to create the most adorable little characters on top!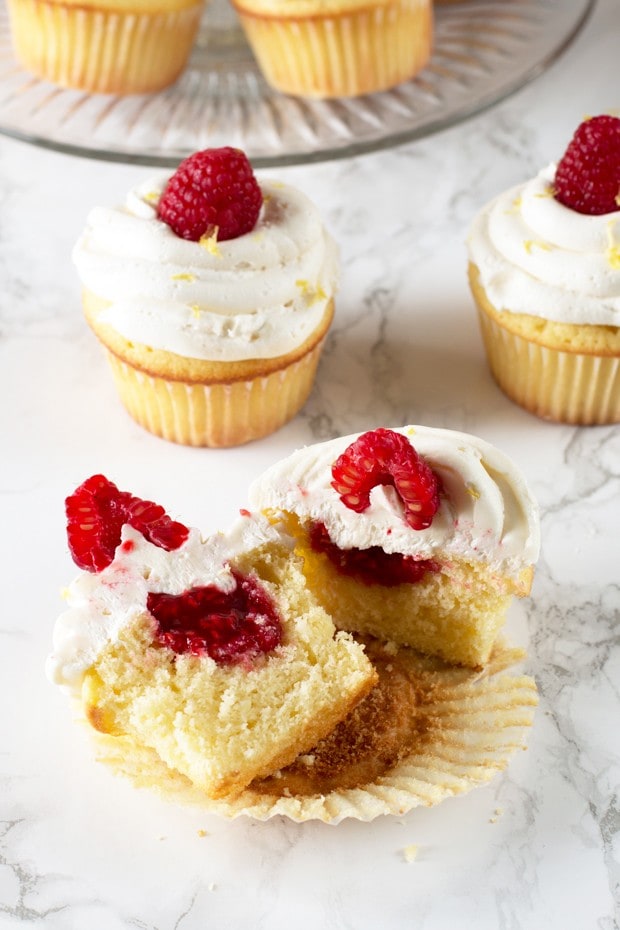 Love everything raspberry and lemon? Check out my Raspberry Lemon Ricotta Cheesecake or my Raspberry Lemon White Chocolate Chip Loaf video below!
This Recipe's Must Haves
For bakeware, I prefer to use this cupcake pan – it's lasted me for years!
You will also need cupcake decorating icing tips and disposable decorating bags to decorate your cupcakes however you would like.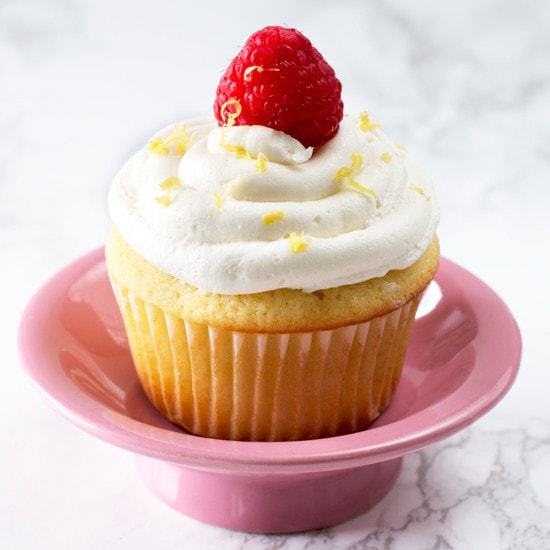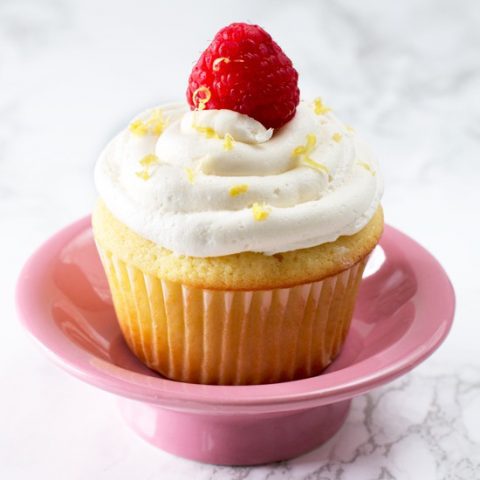 Lemon Raspberry-Filled Cupcakes with White Chocolate Buttercream Frosting
Moist lemon cake filled with bright raspberry filling and topped with a rich white chocolate buttercream.
Ingredients
Cupcakes
3 cups sifted all-purpose flour
1 tsp baking powder
1 tsp baking soda
1/2 tsp salt
1 cup (2 sticks) unsalted butter, room temperature
2 cups sugar
4 eggs
1 1/4 cups buttermilk
1 1/2 tsp vanilla extract
2 Tbsp fresh lemon juice
Zest of 1 large lemon
Filling
2 pints raspberries
½ cup granulated sugar
2 Tbsp fresh lemon juice
1 1/2 tsp cornstarch
Frosting
1 cup butter, softened
4 cups confectioner's sugar
1/4 tsp salt
1 tsp vanilla
10 oz white chocolate, melted and slightly cooled
2 Tbsp milk + more if needed
Instructions
In a medium saucepan over medium-high heat, combine the ingredients for the raspberry filling. Stir to combine and simmer for 10 minutes, stirring occasionally to break up the berries. Once thickened, remove from heat. Cool completely in the refrigerator or freezer (be careful not to let it freeze!).
Preheat oven to 350 degrees. Line two 12-cup cupcake tins with cupcake liners or grease well.
In a large bowl, sift the flour, baking powder, baking soda, and salt together. Set aside.
In the bowl of an electric stand mixer, using the paddle attachment, beat butter on medium speed with the sugar until it forms a softened paste, approximately 1 minute. Add the eggs in one at a time, beating after each until incorporated, making sure to scrape down the edges as needed.
Set the mixer to a low speed and alternate between adding the flour mixture and the buttermilk, working in two batches for each. Once fully incorporated, beat in the vanilla, lemon juice and lemon zest.
Divide the batter evenly between the cupcake pans, filling each cupcake liner approximately three-quarters full. Bake in the oven for 20 to 25 minutes or until a cake tester comes out clean. Transfer the pans to wire racks and cool for at least 15 to 20 minutes, before turning out the cupcakes to cool completely.
While the cupcakes are cooling, make the frosting. In a clean bowl using a hand mixer or in the bowl of a stand mixer, beat butter for approximately 1 to 2 minutes. Beat in sugar slowly on low. Add white chocolate, salt, milk and vanilla extract and beat on low until incorporated. Increase speed to medium and beat until smooth and fluffy, approximately 4 to 5 minutes. If the icing is too thick, add more milk (1 Tbsp at a time) until desired consistency is reached.
Using a cupcake corer (or a small pairing knife), remove the center of each cupcake. The hole you create should be about a 1/2 inch to 3/4 inch deep. Fill each cupcake with approximately 1 to 2 tsp of the raspberry filling.
Frost cupcakes as desired and garnish with raspberry on top.