Please note this post contains affiliate links.
Pina Colada Popsicles are how you get that dreamy tropical flavor, in dessert form. The sweet treat is made with just three ingredients, but you can also add some booze in if you want an extra kick! Makes 8 popsicles.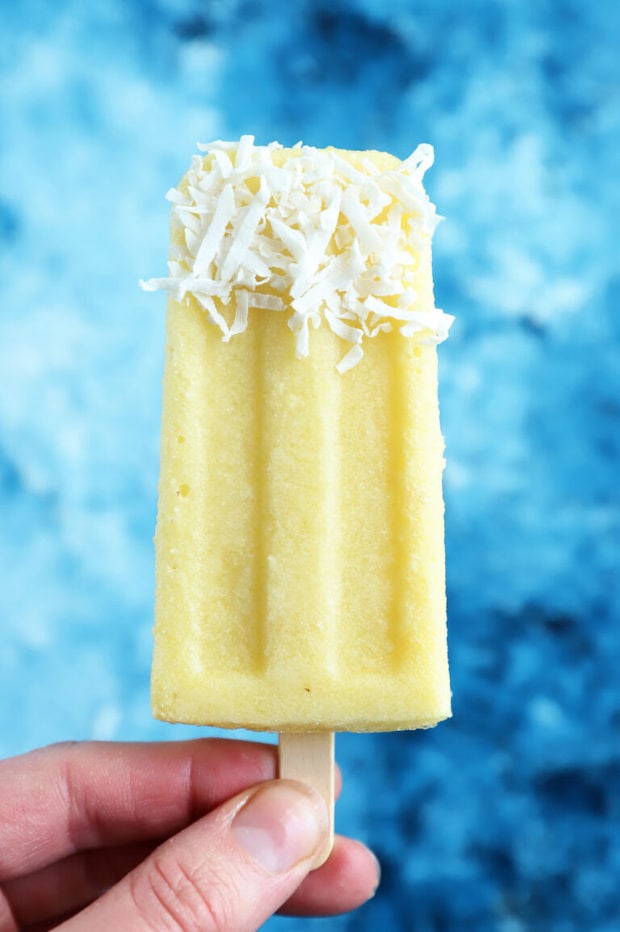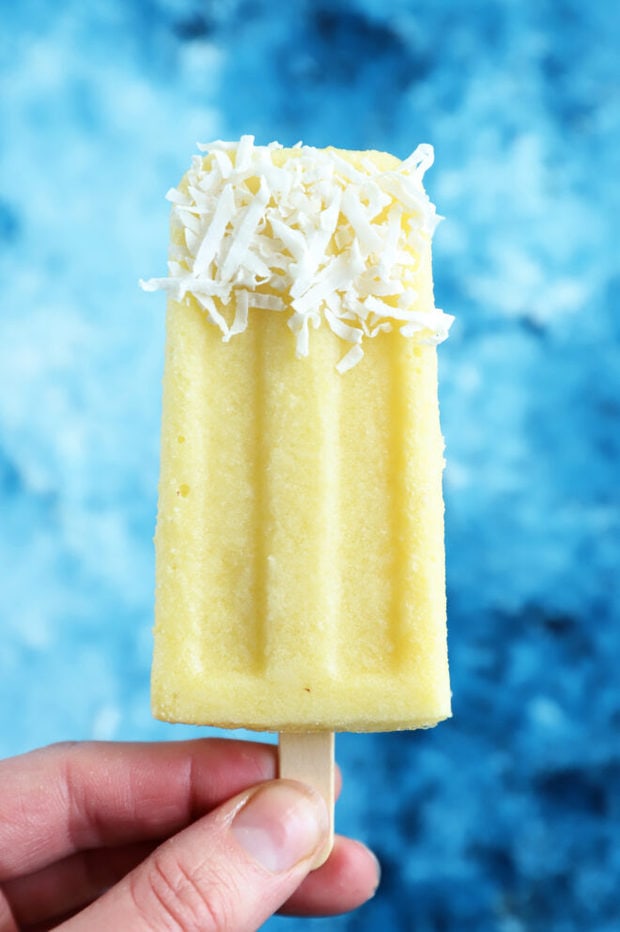 Literally anytime I hear someone say pina colada or read it in a magazine or book, I think of that one song…
Ok, let me be a little more specific. I think of Cameron Diaz and Christina Applegate in The Sweetest Thing singing this song on their road trip… If you know this movie, you know what I am talking about LOL.
Yes, it's a terrible movie, but it is also fantastic in how terrible it is.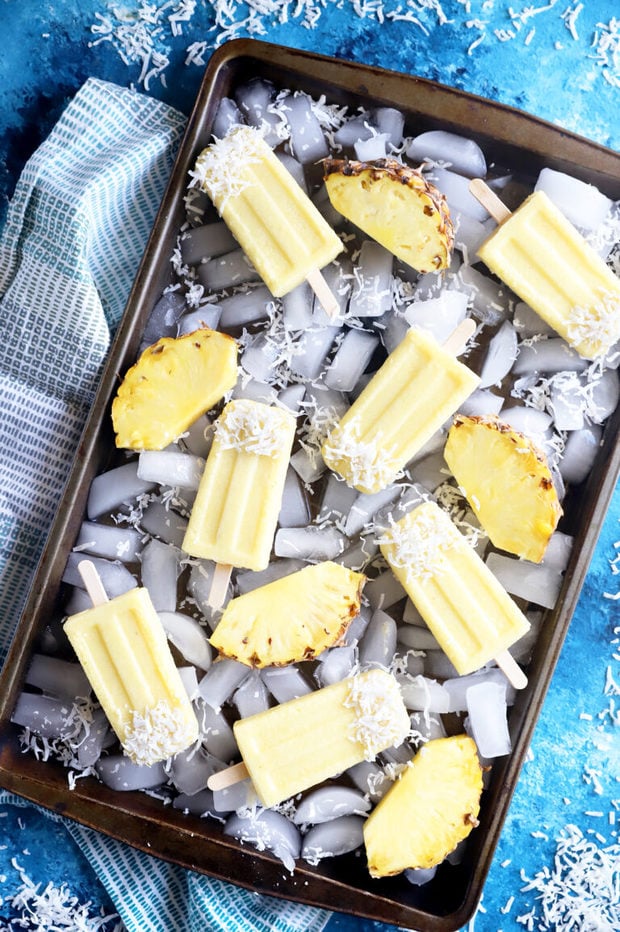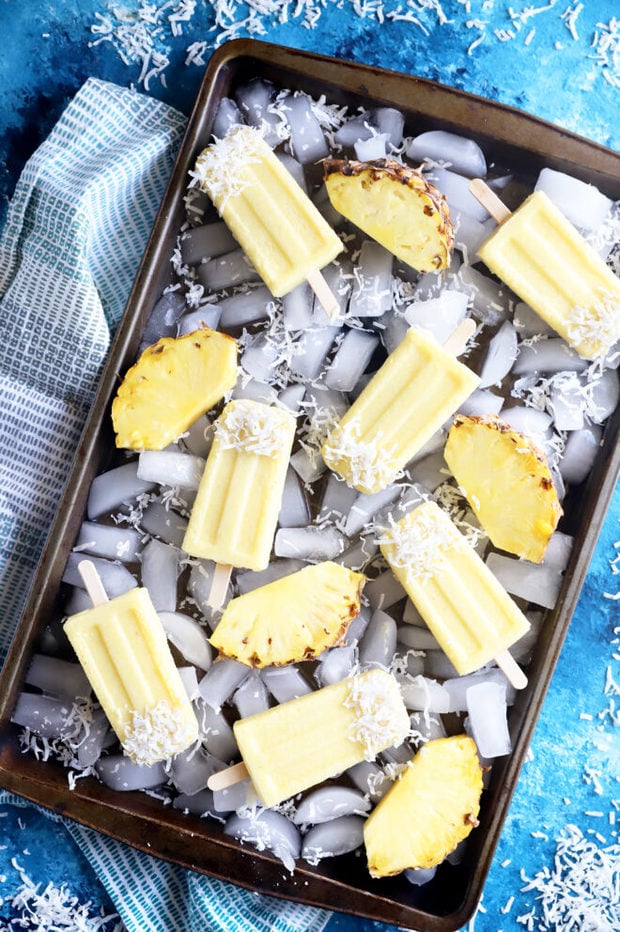 Anyway, today is National Pina Colada day!
Instead of making the cocktail, I decided it was time to turn the magical drink into popsicles!
Now, for the ones I made, I did omit the alcohol because growing a tiny human kinda dictates that one for me.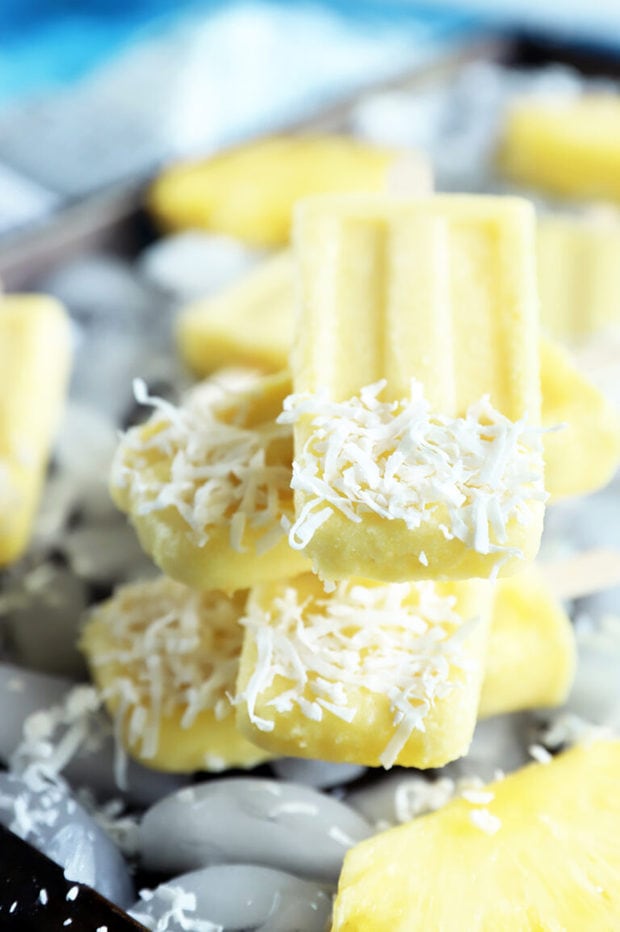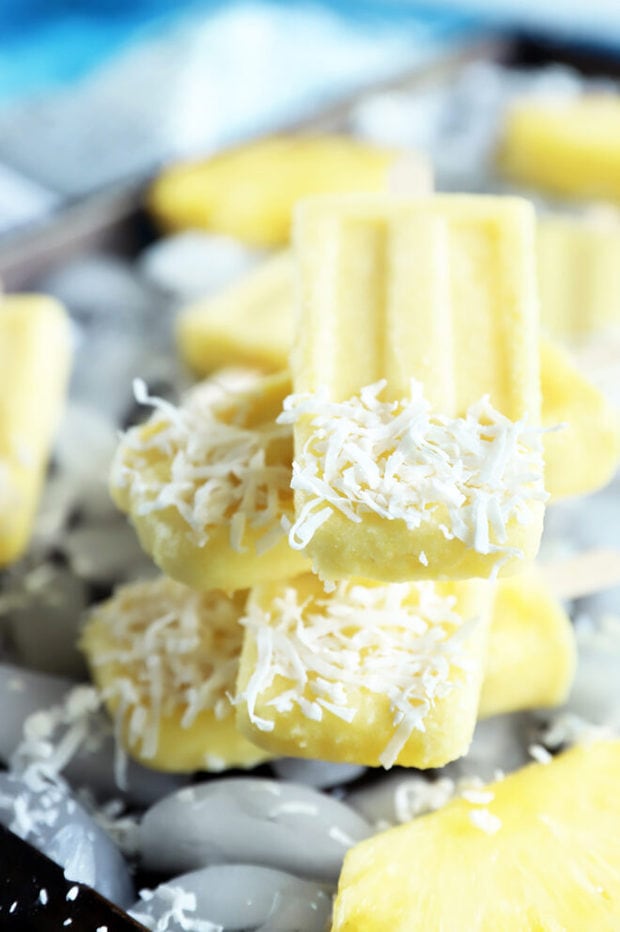 Of course, I included instructions to makes these both boozy AND non-boozy so you can make them for happy hour or make them for the kiddos!
These popsicles are SO simple and only three ingredients (without the alcohol)! Just whip them up in the blender and freeze 'em up. That's all you gotta do!

this recipe's must-haves
All you need to mix up the base for these popsicles is a Vitamix or other blender.
You will also need a popsicle mold to freeze the popsicles in and popsicle sticks too!

here's how to make pina colada popsicles!
Blend
Add all the ingredients, including the alcohol if you are using it, to a blender. Blend it all together until it's nice and smooth. You don't want any big pieces of pineapple in there!
Freeze
Pour the mixture into the popsicle mold, filling each of them all the way. I like to freeze the mold for about 1 hour before adding the sticks because it let's them set a little. This helps the sticks go straight in and not float around, causing crooked popsicles.
Freeze until solid, at least another 5 hours or overnight.
Need some more inspiration for your sweet tooth? Check out my dessert recipes page!

got questions?
Can I use fat-free coconut milk?
I do not recommend using fat-free because you lose a lot of the creaminess and flavor in the popsicles. Go for the full-fat! It really isn't that much fat 😉
Can I use canned or frozen pineapple?
Sure thing! Of course, you know me, I always recommend using the fresh stuff. If you are in a pinch though, no problem!
You can simply drain the canned pineapple if you would like to use that.
If you are using frozen, go ahead and thaw the pineapple, then drain it before you use it.

How do I remove them from the mold?
To remove the popsicles, fill your sink with hot water about halfway full. Place the popsicle mold into the water, not letting the water spill over the edge.
Hold it there for about 15 to 20 seconds. Remove from the water and you should be able to easily slide out the popsicles.
I like to wrap mine individually in plastic wrap and place them in the freezer if I am saving them for later!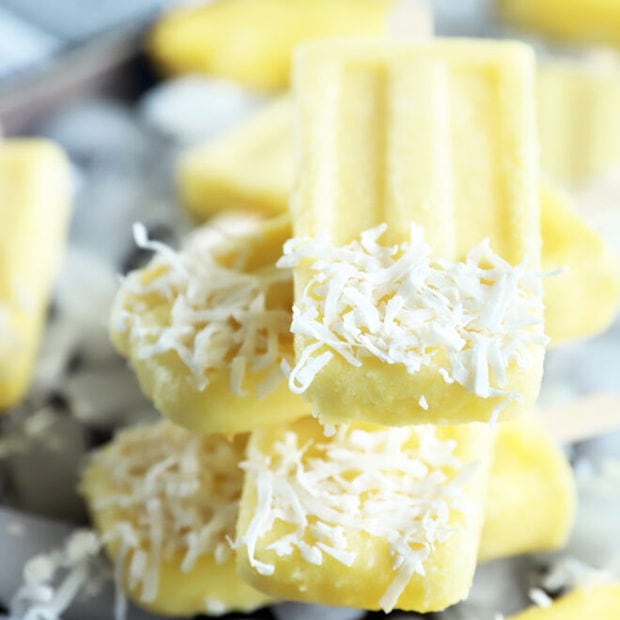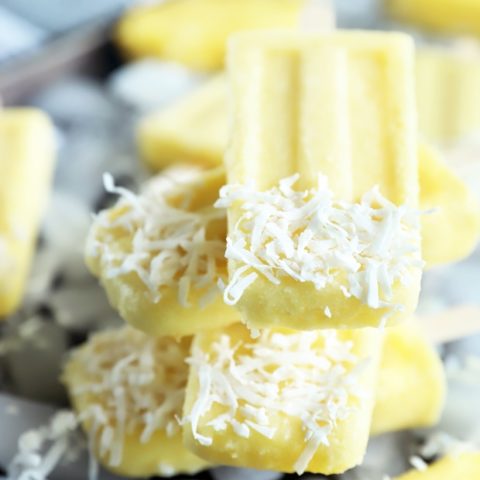 Pina Colada Popsicles
Total Time:
6 hours
5 minutes
Ingredients
2 1/2 cups fresh pineapple, cubed
14 ounces full-fat coconut milk
2 Tbsp honey or agave
Optional: 3 oz white rum
Instructions
Place all ingredients in the blend. Blend until the mixture is smooth.
Pour the mixture into a popsicle mold, filling each to the top.
Freeze for one hour, then add popsicle sticks.
Freeze for an additional 5 hours until solid, or overnight.
Recommended Products
As an Amazon Associate and member of other affiliate programs, I earn from qualifying purchases.