Chorizo, Jalapeño & Sun-Dried Tomato Pizza will take your average pizza night to a whole new level of deliciousness. From the spicy flavors in the chorizo and jalapeño to the savory and tangy flavors in the sun-dried tomatoes and goat cheese, this pizza is an off-the-charts recipe everyone will be grabbing seconds of!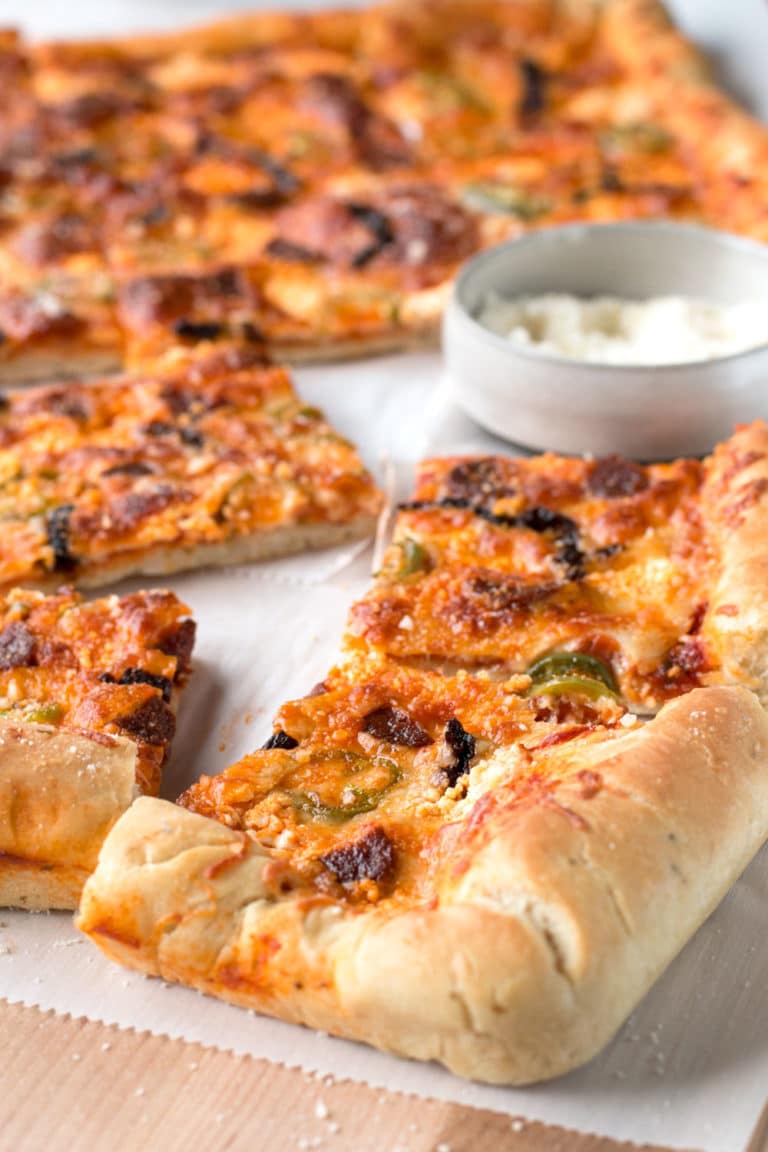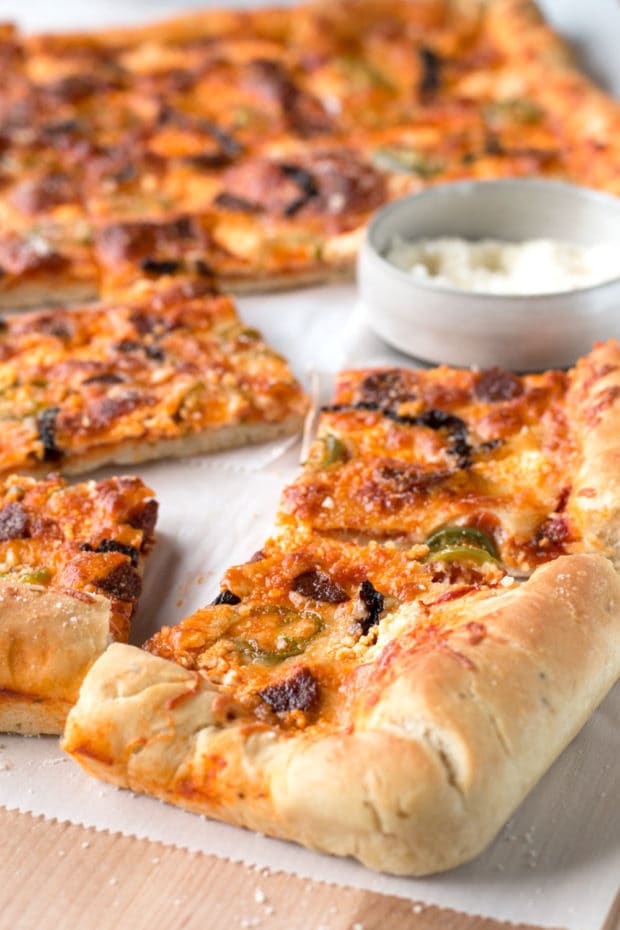 Remember that whole road trip I went on back in August from Portland alllllllll the way back to Denver? Along the way, the Man and I stopped in Salt Lake City where we attempted to have a meal out on the town.
However, some little furry critter was freaking out in the motel room and couldn't handle being out on a patio, so the what were we to do?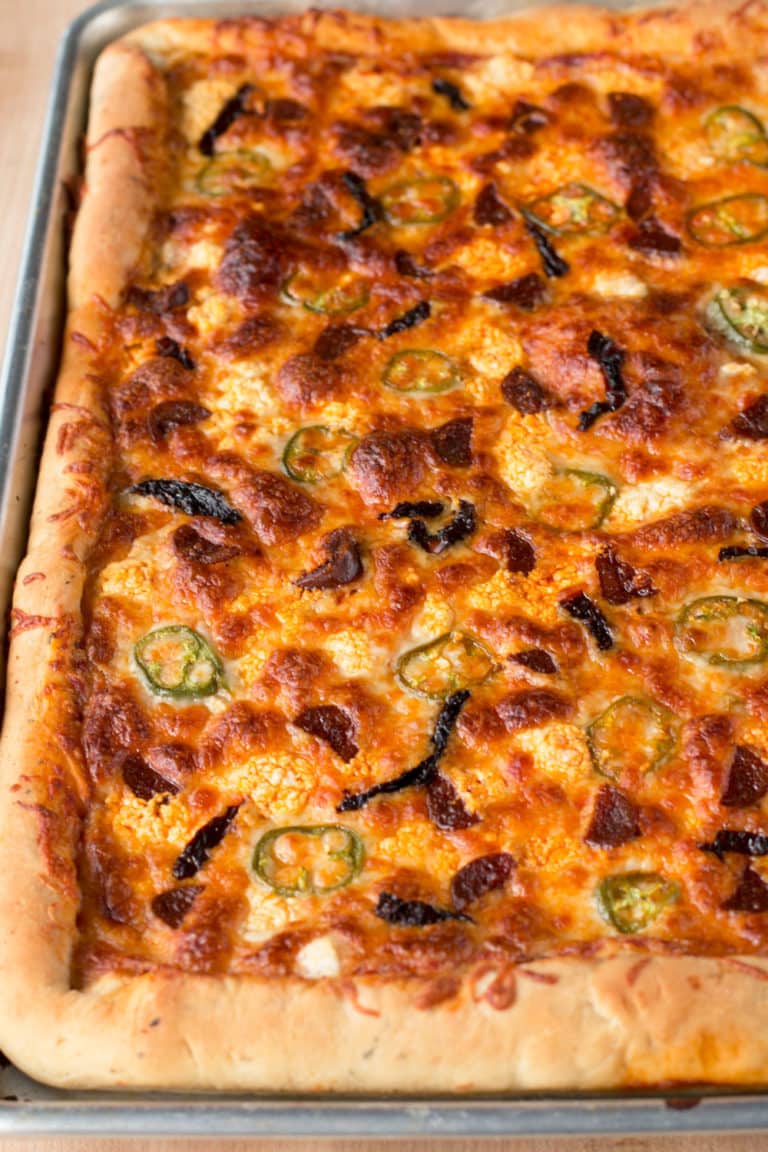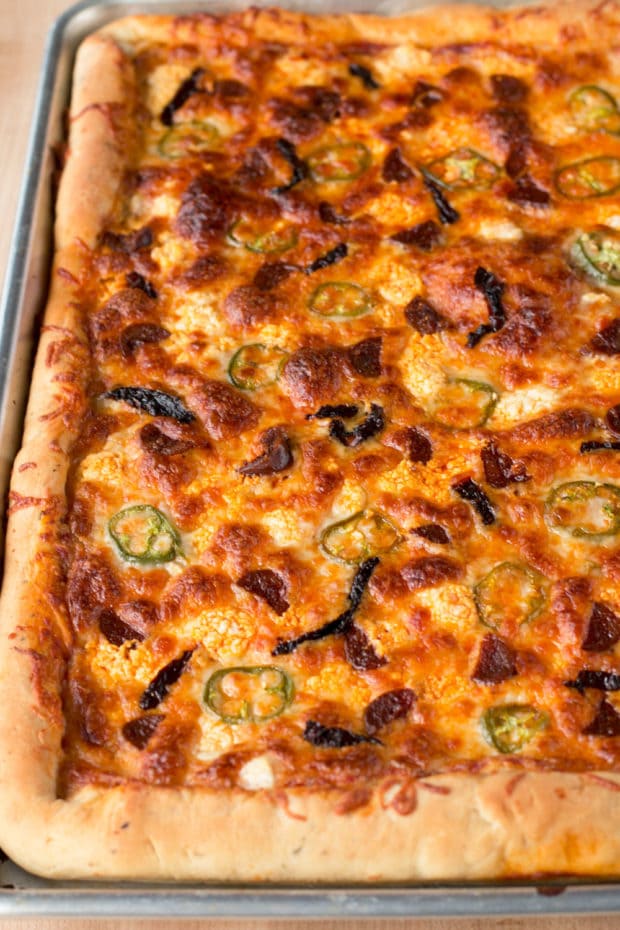 Well, we loaded up on some beers and then drove over to a pizza place in downtown Salt Lake City for a movie and pizza night in. Little did we realize just how bomb dot com that pizza place would be…
This concoction is based on a somewhat life-changing pizza we had in SLC. It was topped with goat cheese, jalapeño, chorizo and sun-dried tomatoes, on this New York style crust that just melted in your mouth.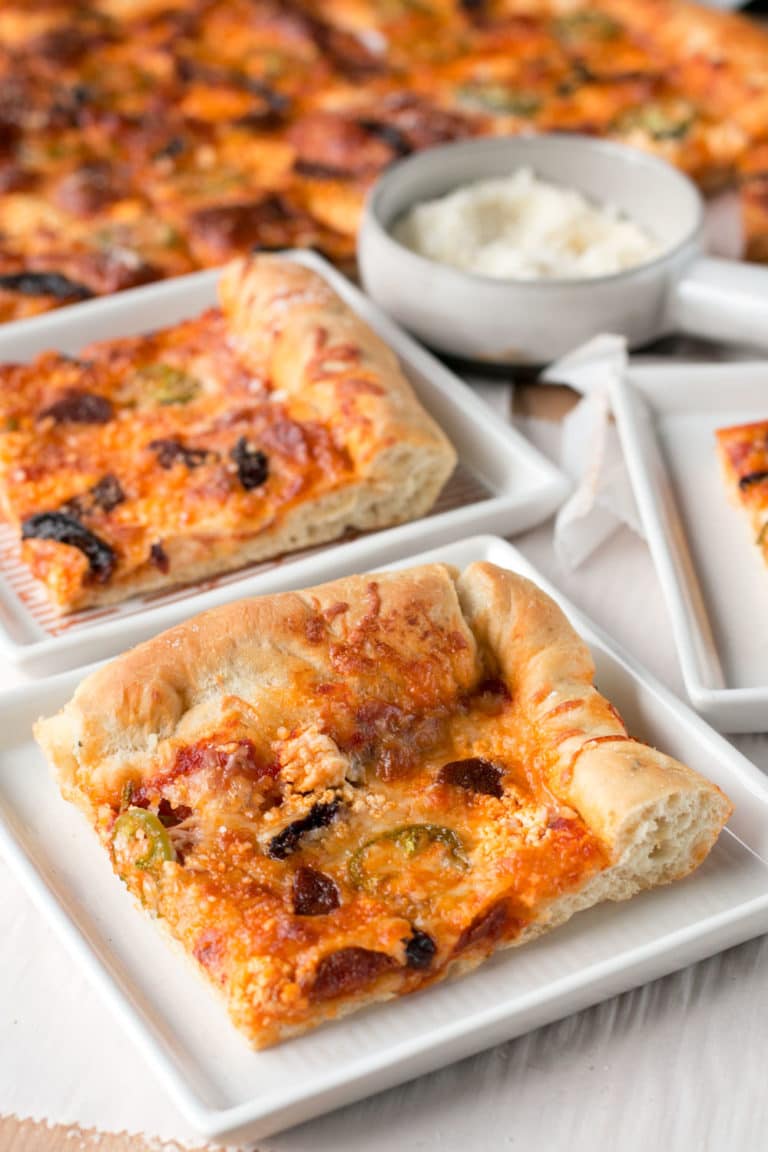 Seriously, this pizza was so good I actually got mad that the Man ate the last piece without offering me a bite.
Legit anger was rising in me because I didn't get a chance at one more bite of that goodness.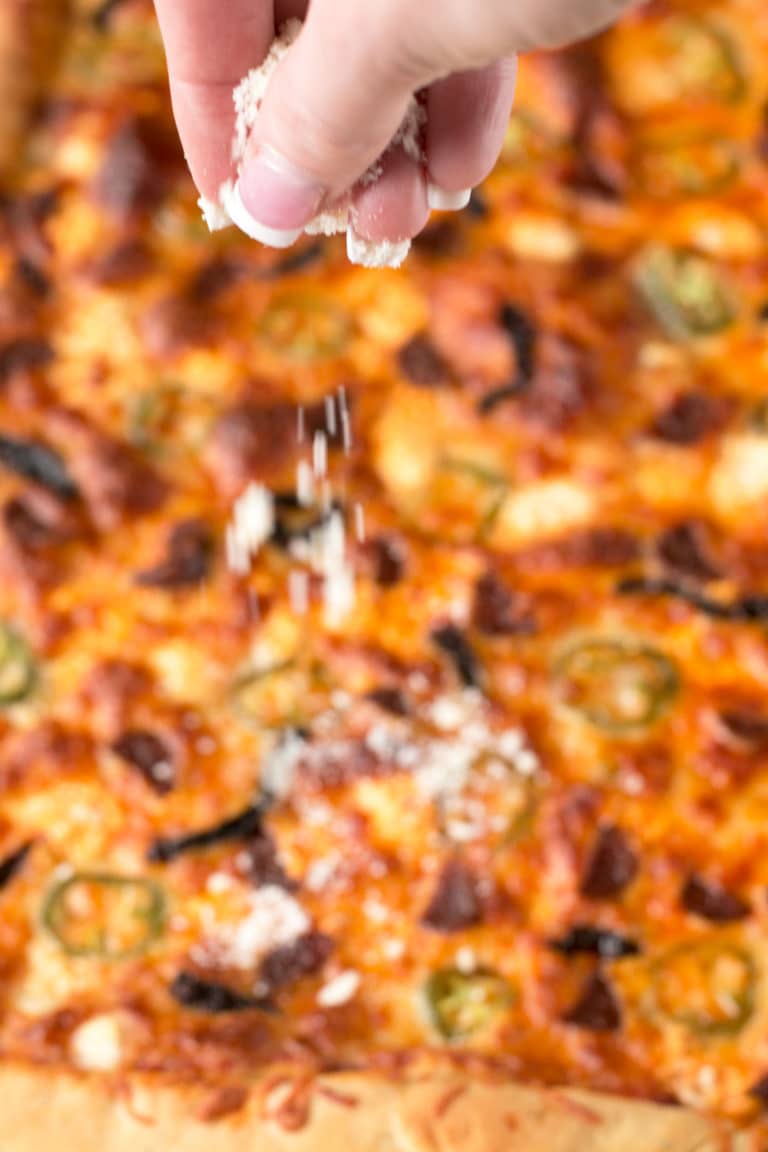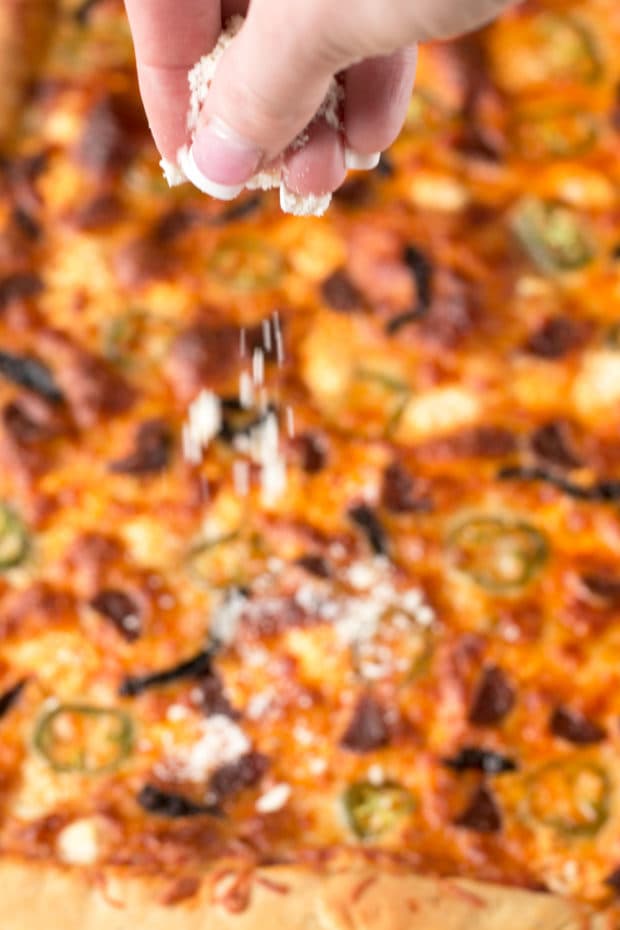 Overreaction you say? I think NOT.
Once you make this pizza, you'll understand exactly why I was so anger/sad/oh-so depressed to have missed out on the final piece.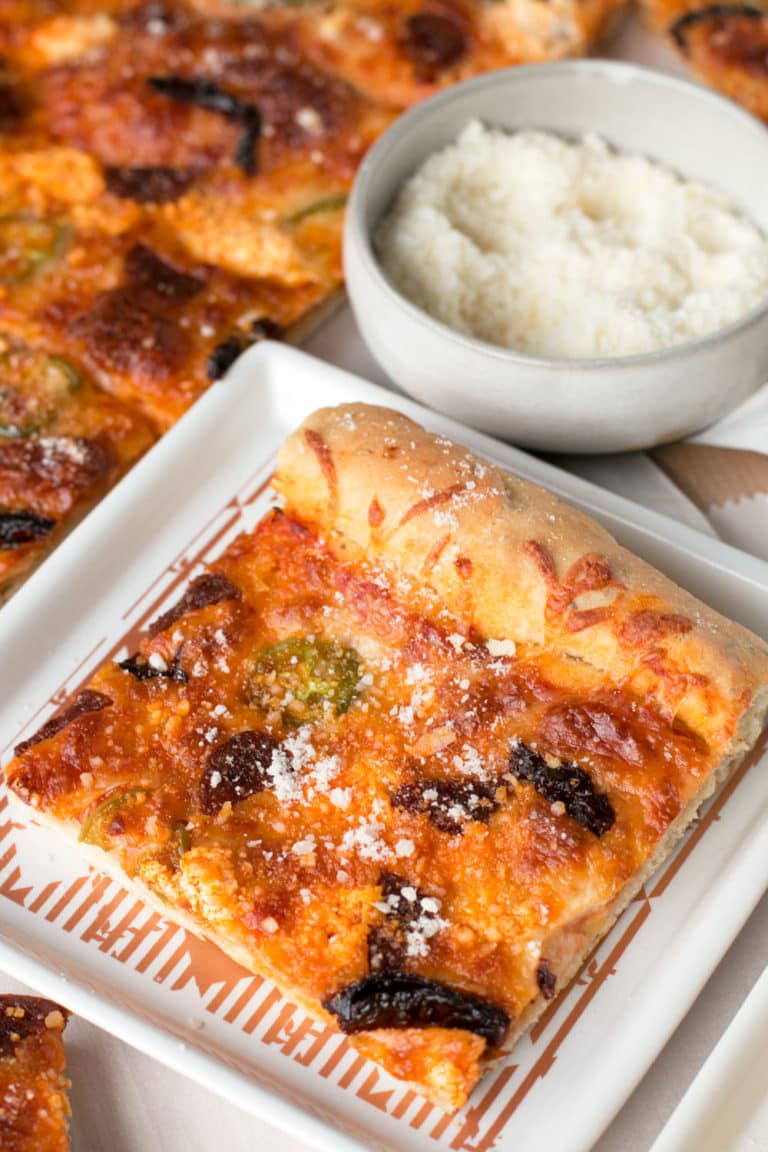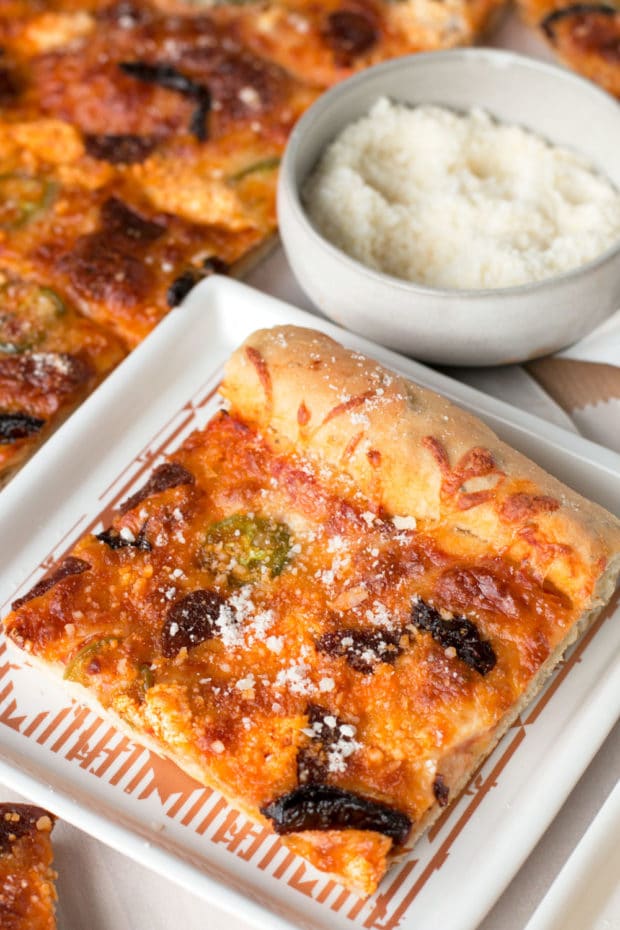 I added all the delicious toppings from that pizza to my perfect garlic agave pizza crust and holy crap. It took all of the goodness of that pizza to a whole new level.
All I can say is, your pizza night just got a WHOLE lot better.
You can thank me later. 😉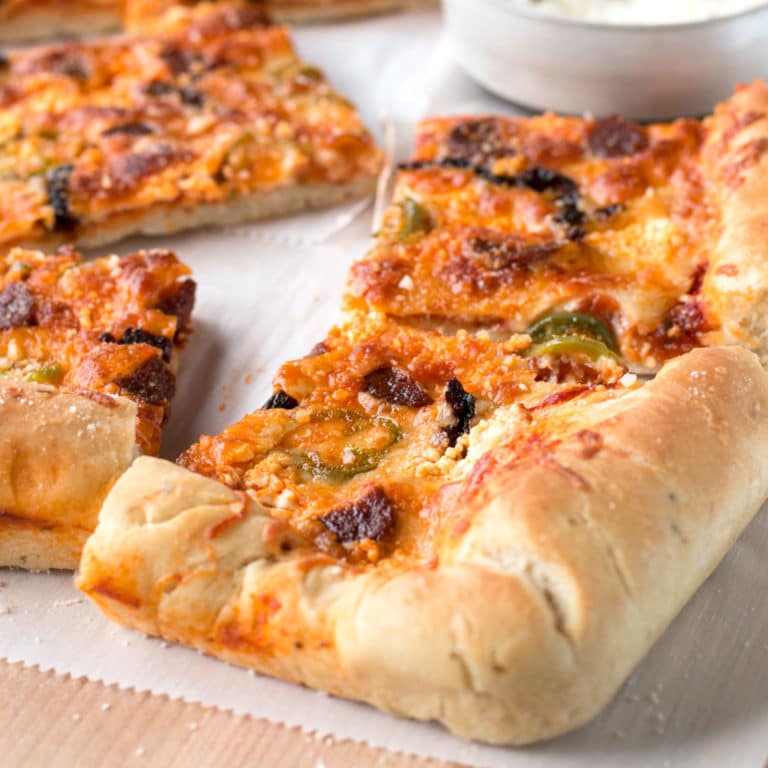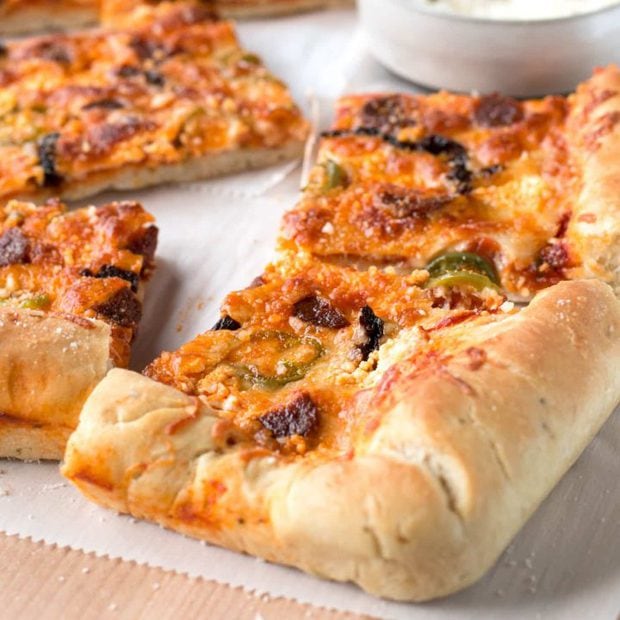 Chorizo, Jalapeno & Sun-Dried Tomato Pizza
Prep Time:
1 hour
45 minutes
Total Time:
2 hours
10 minutes
The combination of spicy chorizo, jalapeño, sun-dried tomato and goat cheese makes this pizza off-the-charts delish!
Ingredients
2/3 cup marinara sauce
1 to 1 1/2 cups shredded mozzarella cheese
1 jalapeño, sliced
1/4 cup sun-dried tomatoes, chopped
4 oz chorizo sausage, chopped
2 oz goat cheese crumbles
3 Tbsp butter, melted
Instructions
Make the Perfect Garlic Agave Pizza Crust per the recipe instructions, up until rolling out and baking.
Preheat oven to 375 degrees.
Once the dough is ready, roll it out onto a flour surface and, using a rolling pin, work it into your desired form. Create a crust by rolling in the edges slightly, if desired, pinching to close.
Spread marinara sauce on the interior crust, leaving the outer rim of crust. Top with mozzarella cheese, sun-dried tomatoes, chorizo, goat cheese crumbles and jalapeño slices.
Brush crust with 2 Tbsp of melted butter. Bake for 25 minutes, or until the crust is golden brown and the cheese is all melted.
Remove from the oven and brush with the remaining butter (you might have to nuke the butter for 15 to 20 seconds if it firms up on you). Serve immediately.
Pin this Chorizo, Jalapeno & Sun-Dried Tomato Pizza recipe for later!