I have been really into "firsts" lately.
For example, I went to a casino and gambled for the first time EVER. I also drank a whole beer for the first time last weekend. Oh and I ate a whole loaf of homemade bread in one day with a truckload full of ricotta, fig jam, and goat cheese. And then I did it again the very next day.
Yep. I'm a winner.
Then there are all the "firsts" I am doing in the kitchen. Like bone marrow? That was a HUGE first.
I decided to follow that up immediately with another first. Pork belly.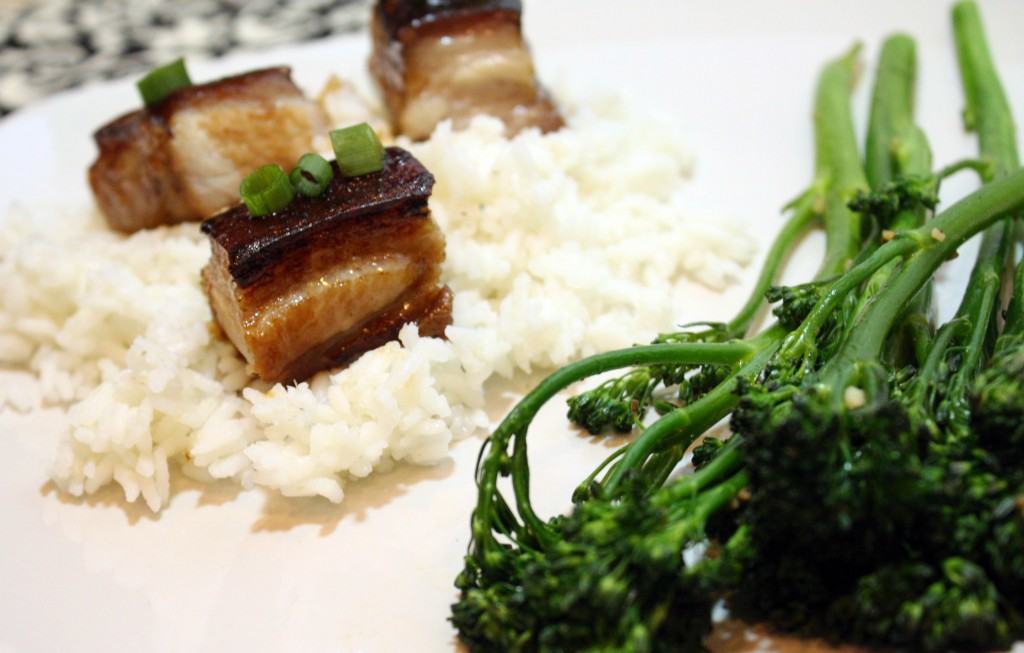 My hubby always gets so excited when anyone mentions pork belly. So I decided I would try my hand at making crispy pork belly using lots of Asian flavors.
The recipe below is DELICIOUS. Crispy and then moist, it's just a powerhouse of flavor packed into a tiny bite. Oh and the sauce…. I could bathe in that stuff. Every. Single. Day.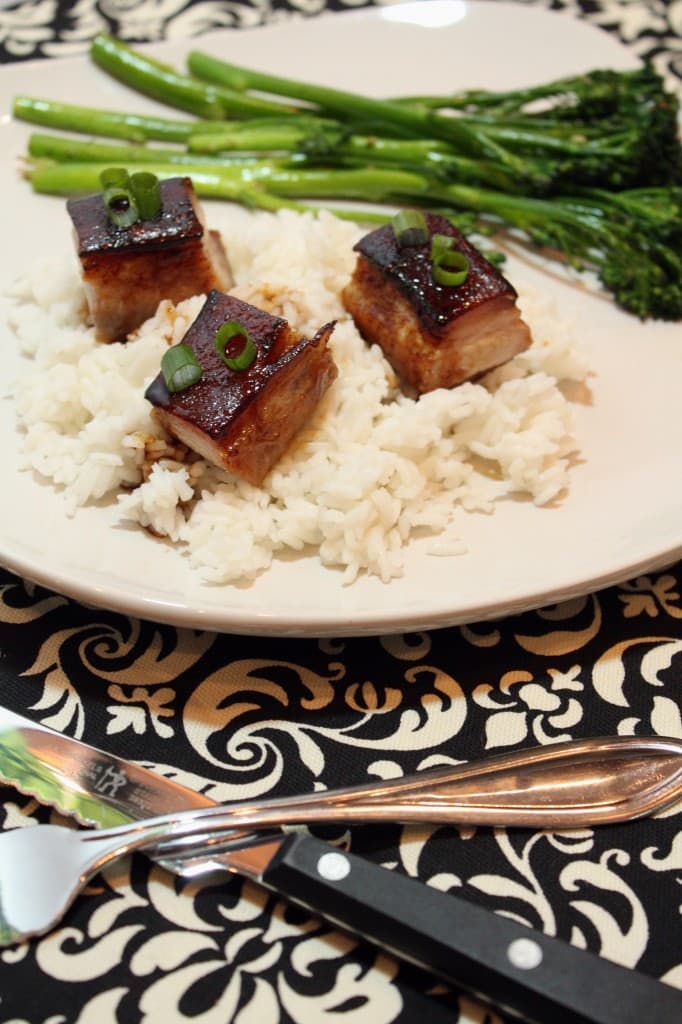 So now it's your turn! Tell me all those firsts you have been doing in the kitchen! I need to add some more things to my cooking bucket list so I am relying on you, people.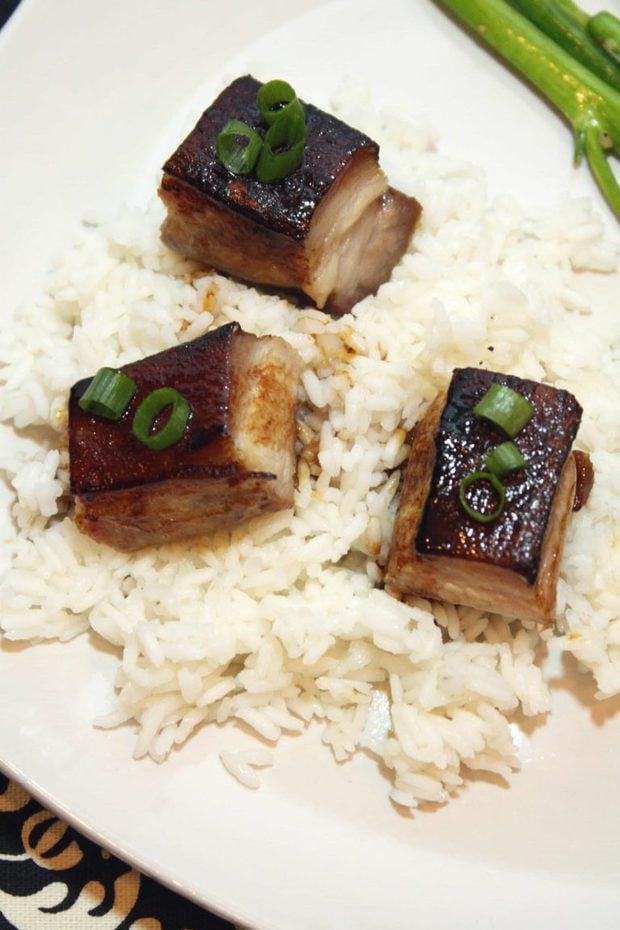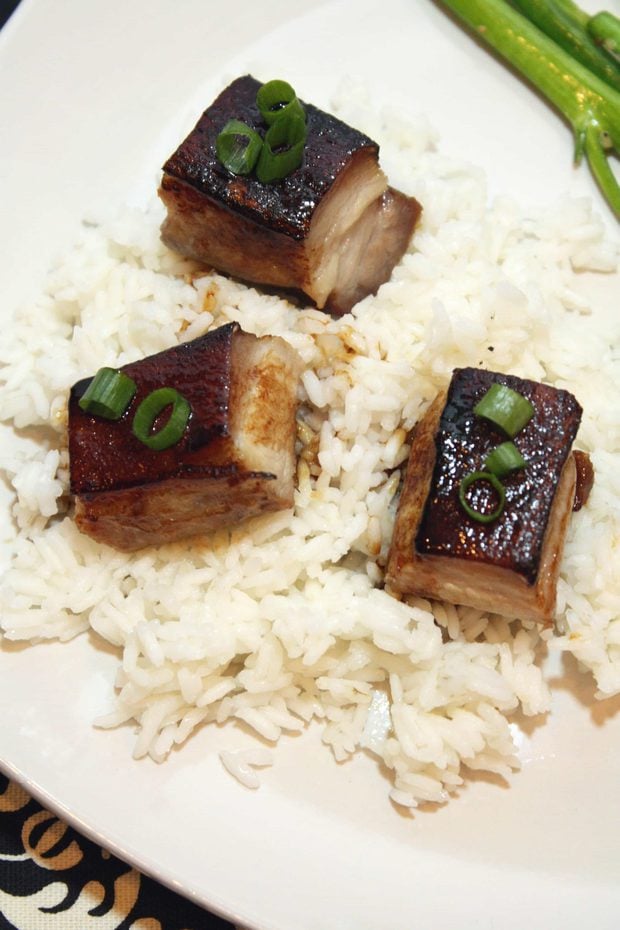 Crispy Pork Belly
Total Time:
6 hours
10 minutes
This pork belly is topped with one of the most amazing sauces I have ever tasted. Pair with some broccoli rabe and rice for an incredible meal.
Ingredients
Pork Belly
2 lbs pork belly
1/3 cup brown sugar
1/3 cup kosher salt
Sauce
1/4 cup soy sauce
2 Tbsp mirin
1-2 Tbsp honey
2 tsp sriracha
2 tsp sesame oil
Sliced scallions for garnish
Instructions
Stir together salt and sugar and rub all over the pork. Wrap it tightly in plastic wrap and refrigerate for at least 4 hours.
Preheat oven to 350 degrees.
Rinse pork belly with cold water and pat dry. Place on a baking rack in a rimmed baking sheet lined with foil. Cover the pork in foil and roast for 1 hour and 30 minutes.
In a small saucepan over medium heat, bring the sauce ingredients to a simmer and cook until thickened, approximately 6 to 8 minutes.
Once pork is roasted, remove from the oven and raise temperature to 450 degrees.
Brush pork with the sauce and place back in the oven, uncovered, for 10 minutes. Remove pork, flip it and brush with more sauce. Roast for another 10 minutes. Remove the pork again, flip it and brush with sauce. Roast for 15 minutes until the top is crispy.
Sprinkle with a bit of salt and serve over rice with any remaining sauce and scallions.