Tomato & Provolone Grilled Cheese with Kalamata Olive Chutney is how I take grilled cheese sandwiches up a notch. The Kalamata olive chutney is the hero of this sandwich, bringing intense flavor to the cheesy goodness inside.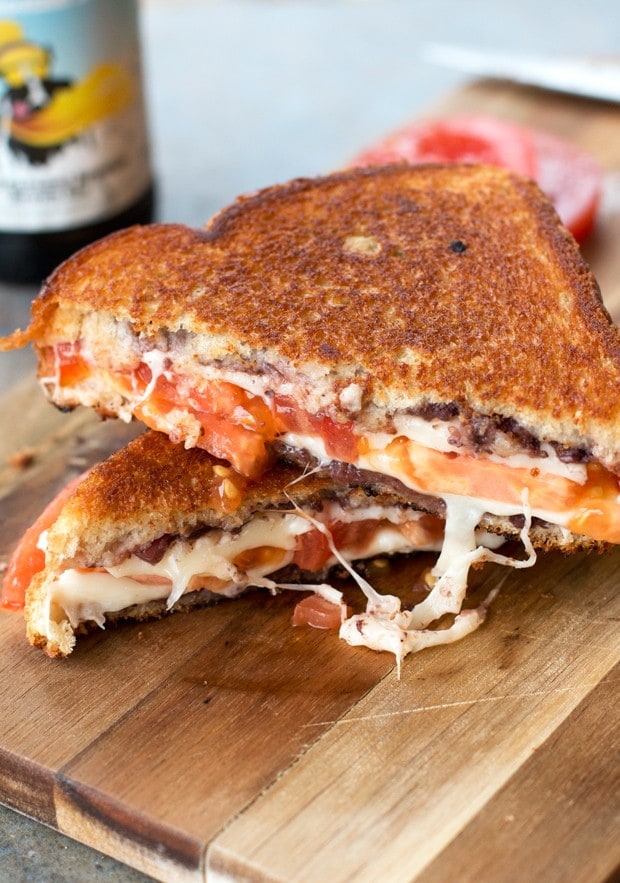 In case you haven't noticed, I'm really into sandwiches lately. This sandwich is my take on a sandwich I had a few weeks ago from a local Denver bakery. I thought I was ordering a simple grilled cheese sandwich with tomato, but what I got was a glorious cheesy mess packed with so much flavor. I couldn't stop myself from stuffing my face with it (super attractive to my date I'm sure…). But when you have something that good in your hands, it's kind of tough to resist…
The sandwich I had was on a Kalamata olive loaf that just blew my mind. Who knew I would start coming around to olives, right? Apparently all I needed was bread and cheese to make them more palatable (that's the case with a lot of foods isn't it?). As much as I would love to slave over recreating the olive loaf, in the interest of time, I threw together a ridiculously easy chutney that gives this sandwich the exact same flavors as the masterpiece I tasted.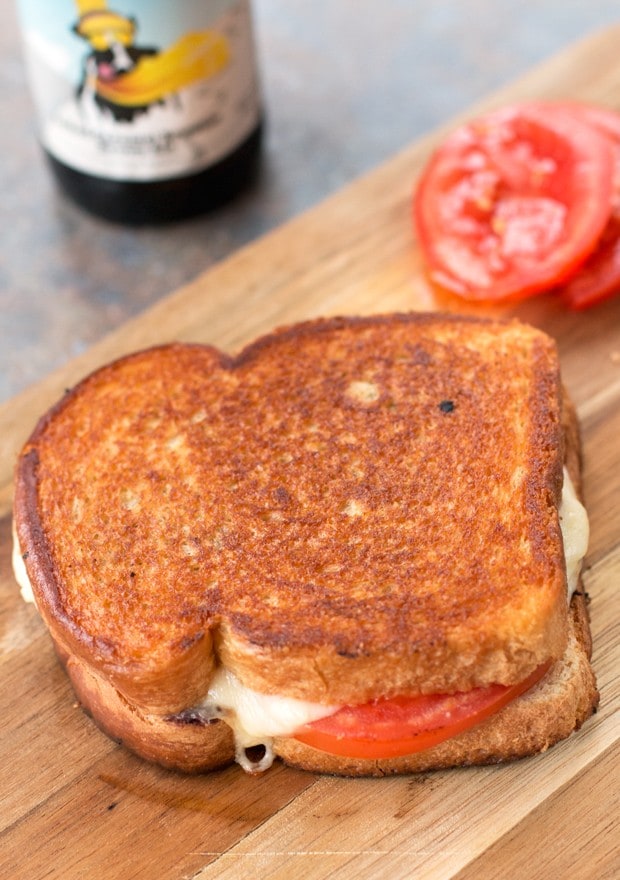 Sidenote: Ok yes, I said "date" up there and glossed over it pretty quickly huh? Well folks, welcome to a whole new world of sharing that I'm going to expose you to now… Dating is officially weird, awkward and… odd. Just odd. Now I am seriously considering starting a series on the blog dedicated to recreating dishes I love from dates (both good and disastrous) I go on. Or is that sharing too much?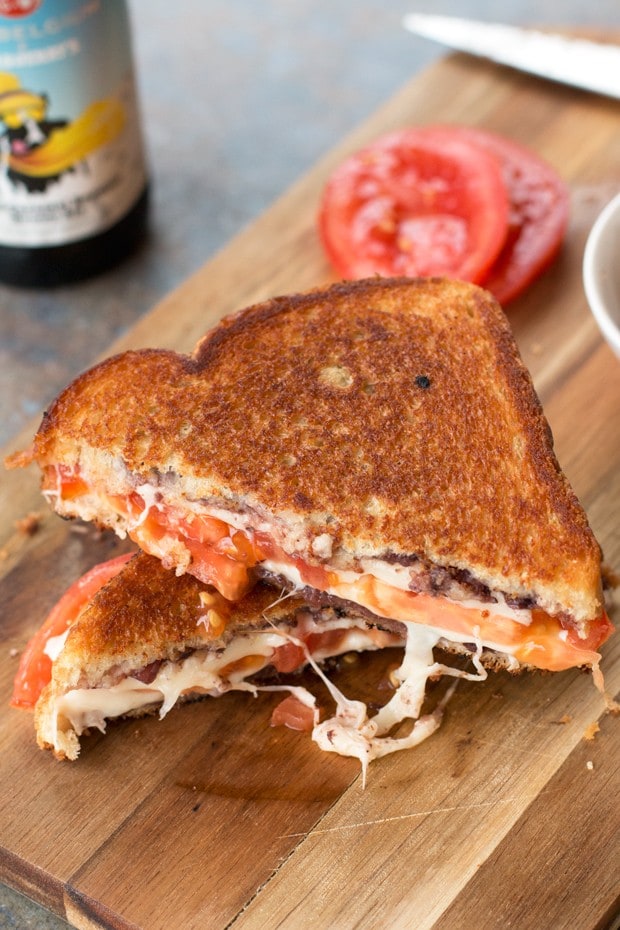 Hey as long as it's good food, I'm guessing you don't care THAT much about the rambling that comes along with it, amIright?
ANYWAY, this sandwich entered my life for a reason and I'm pretty sure it was to bring me comfort before we launch headfirst into the holidays. GAH, how is it halfway through November already? *commence freakout*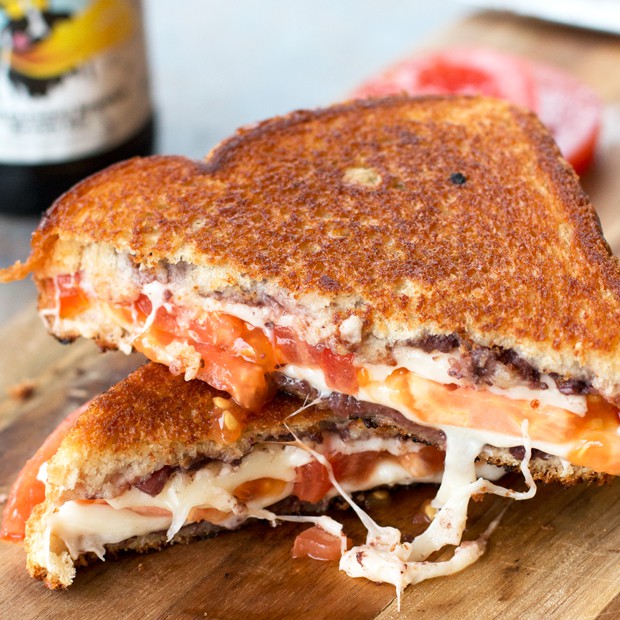 Tomato & Provolone Grilled Cheese with Kalamata Olive Chutney
A simple grilled cheese with a huge kick of intense flavor from a Kalamata olive chutney.
Ingredients
4 slices white bread
4 Tbsp butter
4 slices provolone cheese
1 large ripe tomatoes, cut into thick slices
Kalamata Olive Chutney
1/2 cup chopped Kalamata olives
1/4 red onion, peeled and chopped
1/2 cup red wine vinegar
1/4 cup water
2 Tbsp brown sugar
Instructions
Add all ingredients for the olive chutney into a pan and bring the mixture to a boil. Add the lid, turn down heat and simmer 15 minutes, or until the onions are soft and tender. Remove from heat and cool 5 to 10 minutes before using.
In a medium skillet over medium heat, melt 1 Tbsp of butter.
Assemble your sandwiches as the butter melts. Spread each slice of bread with a thin layer of the olive chutney and top with one slice of provolone. Add 2 to 3 slices of tomato to the bottom halves of the sandwiches, then top with the other cheese covered slices of bread.
Once the butter is melted, add one sandwich to the skillet. Cook until golden brown, approximately 1 to 2 minutes. Add another Tbsp of butter to the skillet and flip the sandwich. Cook again until golden brown and the cheese is melted, approximately 1 to 2 minutes. Repeat this cooking process with the other sandwich.
Serve immediately.