Oh yea, I went there.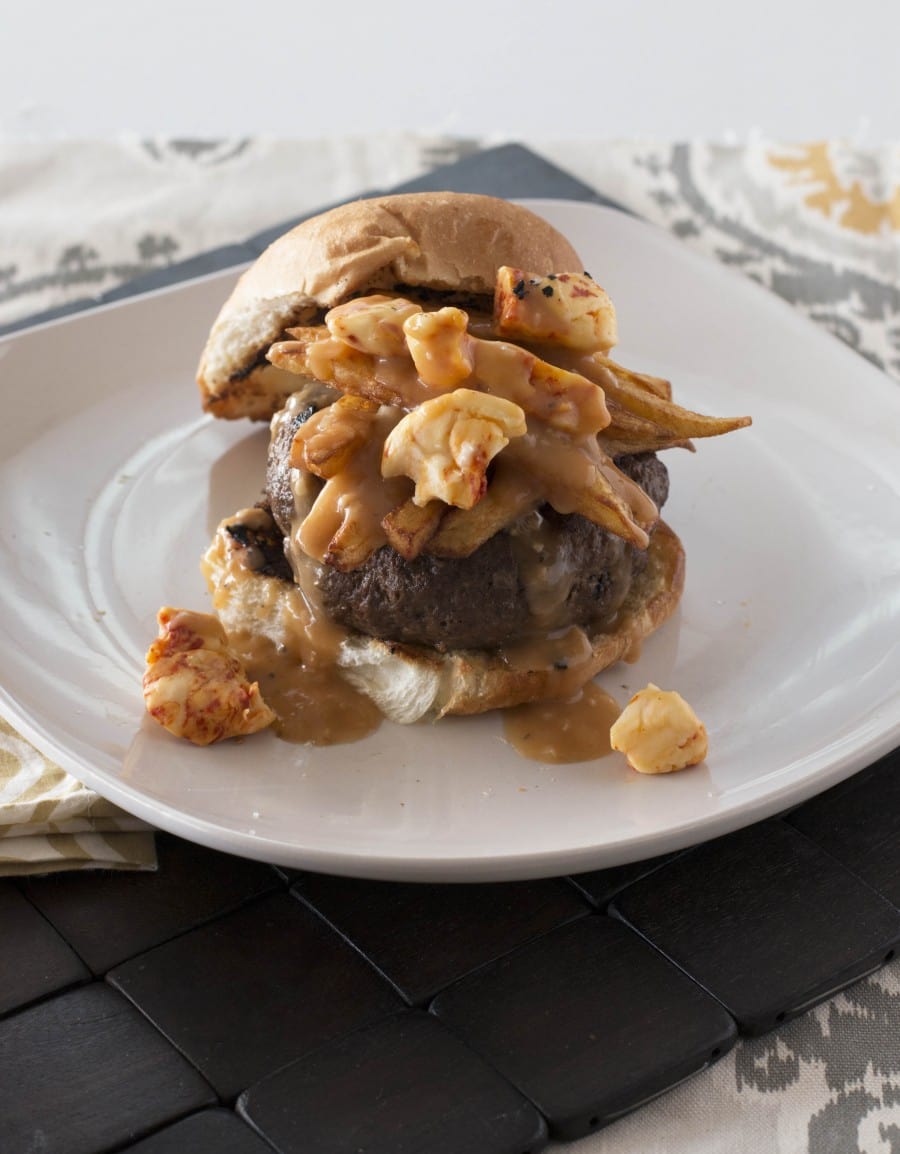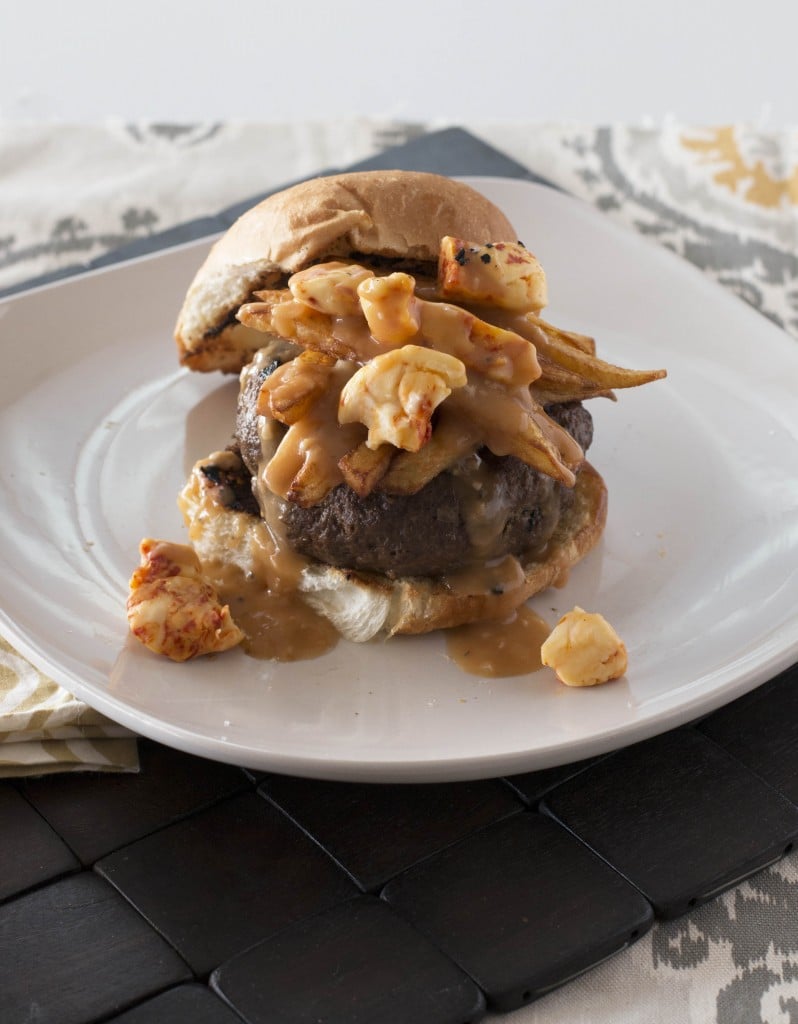 This is the product of attempting to diet too harshly and not being able to think about anything but poutine for several weeks… It's quite evident that my self-control has very struck limitations – especially when there are cheese curds involved. I know it's terrible, but OMG this calorie overload is so worth every single bite.
Also, summer is coming which means grilled burgers so this is just the first Epic Burger of the season. Oh yes, there will be more amazing burgers.
I mean just look at that unbelievable awesomeness piled on top of an amazing, juicy burger.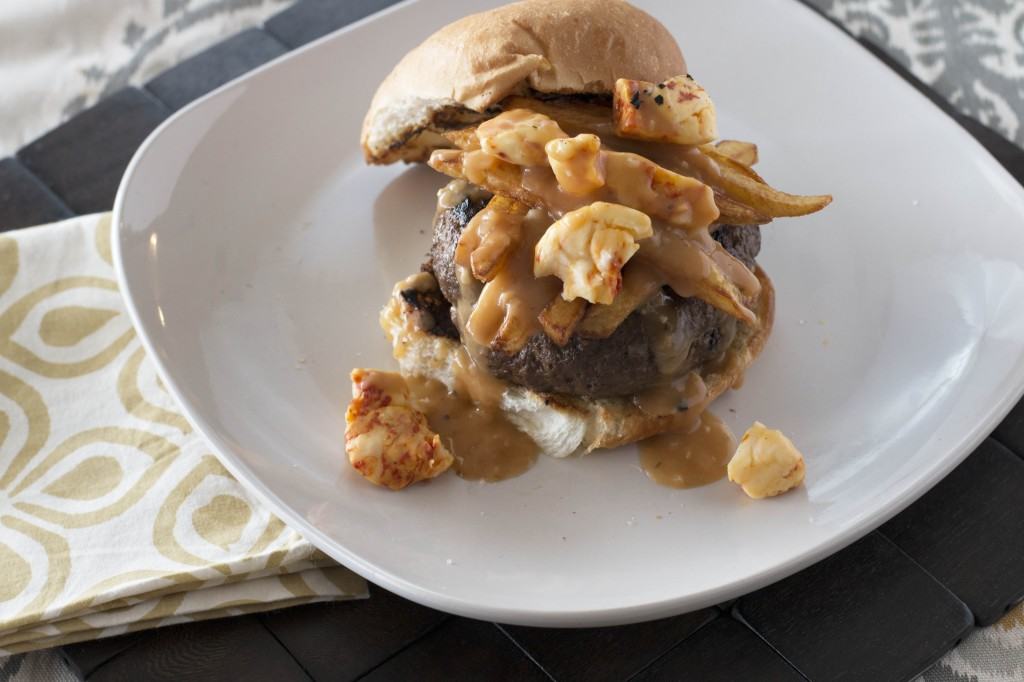 GAH, I could have beautiful dreams about burgers topped with poutine for the rest of my life.
You know what would go with that? Endless Netflix. Oh yes, I have found another show to binge on and it's called House. I know I am a little late to be picking this one up but boy oh boy is it a great show. I really should hate Dr. House but he is just too damn funny. If he really existed, I would make him my best friend. I would be the Wilson to his House. Talk about endless hours of entertainment.
Ok, back to the point… Seriously, is this burger not the most beautiful think you've ever seen? Beautiful in a ridiculous mess kind of way…
My brain is going a million miles a minute lately and I feel like it's been a non-stop whirlwind of craziness. Thus this mess of a burger and my ongoing ranting about gorgeous burgers and Netflix and life and…. *deep breath* I swear I am keeping it together over here.
Ignore me. Instead eat meat and potatoes and gravy and cheese.
Poutine Burger
Additional Time:
1 hour
20 minutes
Total Time:
2 hours
10 minutes
Beautifully grilled burgers get topped with a healthy helping of poutine - making this one of the most epic burgers of all time.
Ingredients
Poutine
2 lb. russet potatoes, skin-on, washed and dried
2 tbsp. unsalted butter
1/8 cup flour
1/2 shallot, minced
1/2 clove garlic, minced
2 cups beef stock
1 tbsp. ketchup
1/4 tsp. Worcestershire sauce
Kosher salt and freshly ground black pepper
Canola oil, for frying
Burger
2/3 lb ground beef
Kosher salt and freshly ground black pepper
2 thick hamburger rolls
1 Tbsp butter
1 cup cheddar cheese curds
Instructions
Cut potatoes into french fry lengths (a mandoline comes in handy here). Place in a large bowl, cover with cold water, and refrigerate for about 1 hour.
While your potatoes are chilling, heat butter in a 2-qt. saucepan over medium-high heat. Add flour, and cook, stirring until smooth, about 2 minutes. Add shallot and garlic, and cook until soft, about another 2 minutes. Add stock, ketchup, Worcestershire, salt, and pepper, and bring to a boil; cook, stirring occasionally, until thickened, about 10 minutes. Remove from heat and keep warm.
Pour oil to a depth of about 3″ in a Dutch oven, and heat over medium heat until a thermometer reads 325 degrees. Drain potatoes, and dry thoroughly with paper towels. Working in small batches, add potatoes. Fry the potatoes, tossing occasionally, until tender and slightly crisp.
Drain on paper towels, and let cool for 20 minutes. Increase temperature to medium-high, and heat the oil until it reaches 375 degrees. Again work in small batches and return potatoes to oil. Fry potatoes until crisp and golden brown, about 2 minutes. Transfer fries to paper towels to drain briefly and sprinkle them with salt. Set aside and keep warm.
Heat a grill pan over medium high heat. Divide ground beef into two balls and flatten slightly into two hamburger patties. Add both patties to the hot pan. Be sure to sear both sides really well and cook to your preferred doneness – about 5 minutes for medium. As the patties are reaching the end of their cooking time, cut the hamburger rolls in half and butter the insides with the butter. Add the rolls cut side down to the grill pan and toast for a couple minutes.
Now it's time to build the epic poutine burgers! Add a burger patty to the bottom of each roll. Top with fries, smother the entire thing in gravy, sprinkle on cheese curds, and top with the other half of the roll. You may now stuff your face.