Soft Chewy Gingerbread Cookies With Eggnog Cream Filling are all the Santa wants for Christmas this year. Perfectly soft cookies are spiced and fluffy, with a creamy eggnog filling sandwiched in between. They are so easy to make and are ideal for gifting to friends and family!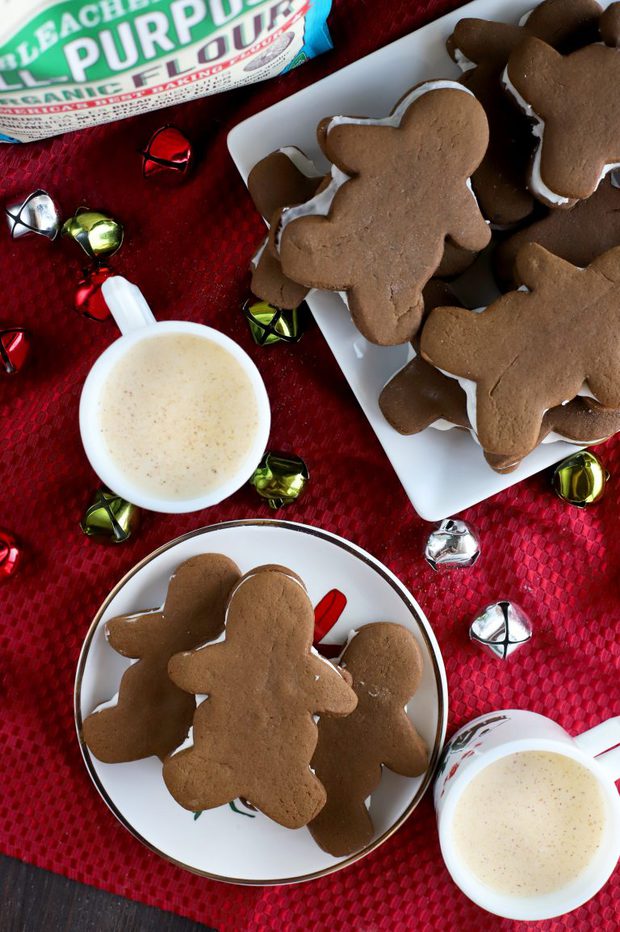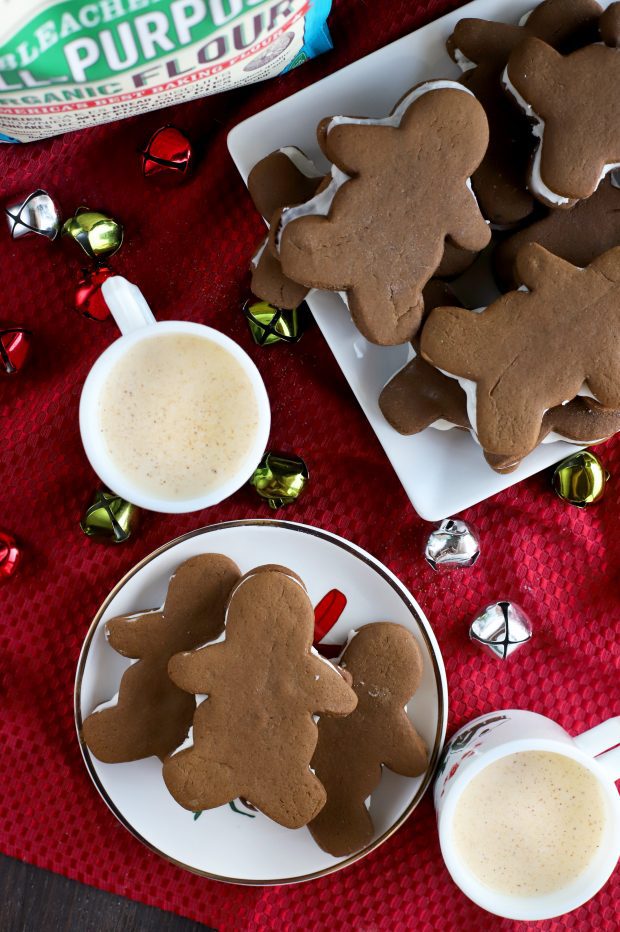 Disclosure: This post is sponsored by Bob's Red Mill! As always, all opinions are my own. Thanks for supporting the brands that support Cake 'n Knife!
"Simply haaaaaaving a wonderful Christmas time!"
This song and Rocking Around The Christmas Tree are on constant repeat in my brain (and in my home, much to the dismay of The Man) right about now. Every time I step into the kitchen, I am turning on the holiday music and singing at the top of my lungs.
Unfortunately I'm feeling a little under the weather, so I am hoping that it's just a little exhaustion and not my body deciding to get sick during my favorite time of year…
That's what cookies are for! Cookies solve everything, am I right?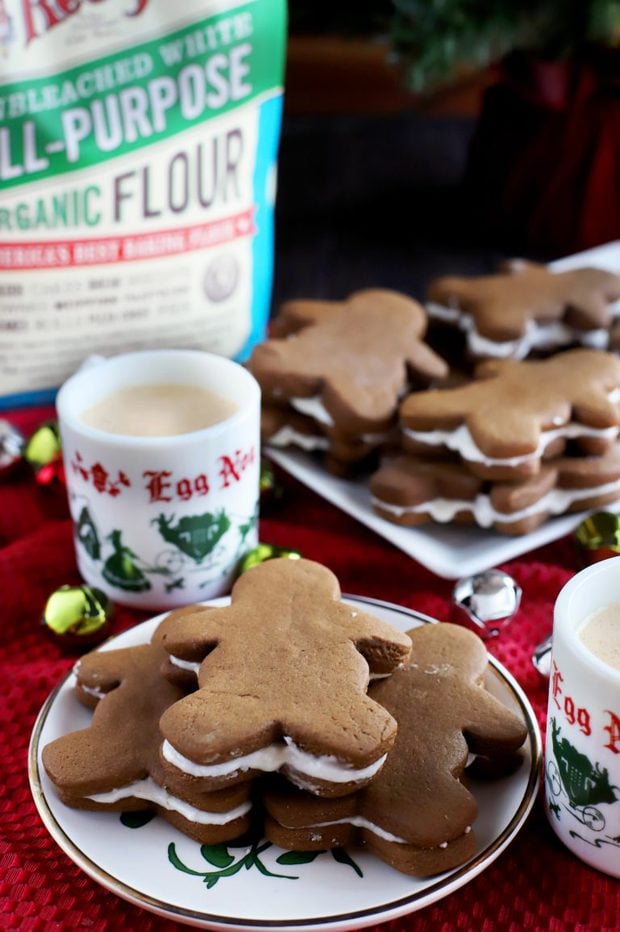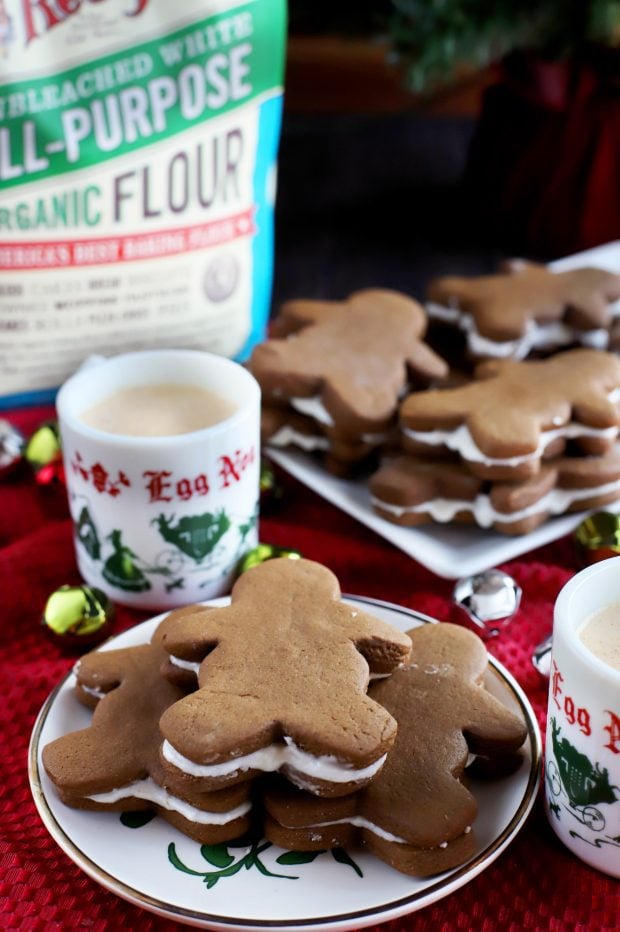 Please note that some of the links below are affiliate links. If you make a purchase through one of these links, I will receive a small commission.
I don't know about you, but I used to HATE gingerbread cookies. The ones I had as a kid were brittle and tasted like cardboard. So I always ran away from them as fast as I could.
When I finally tasted a soft and chewy gingerbread cookie, my entire life felt like it changed.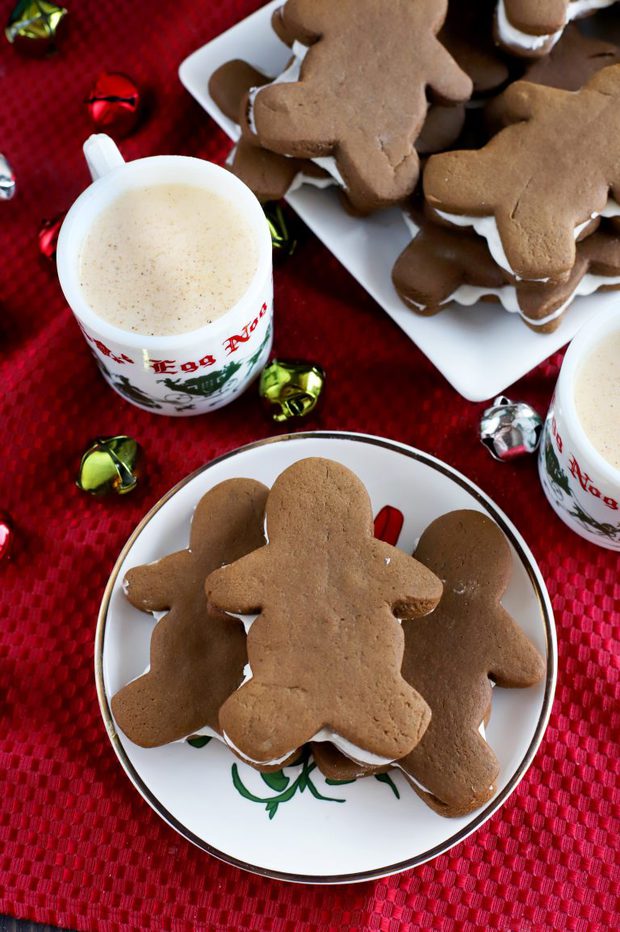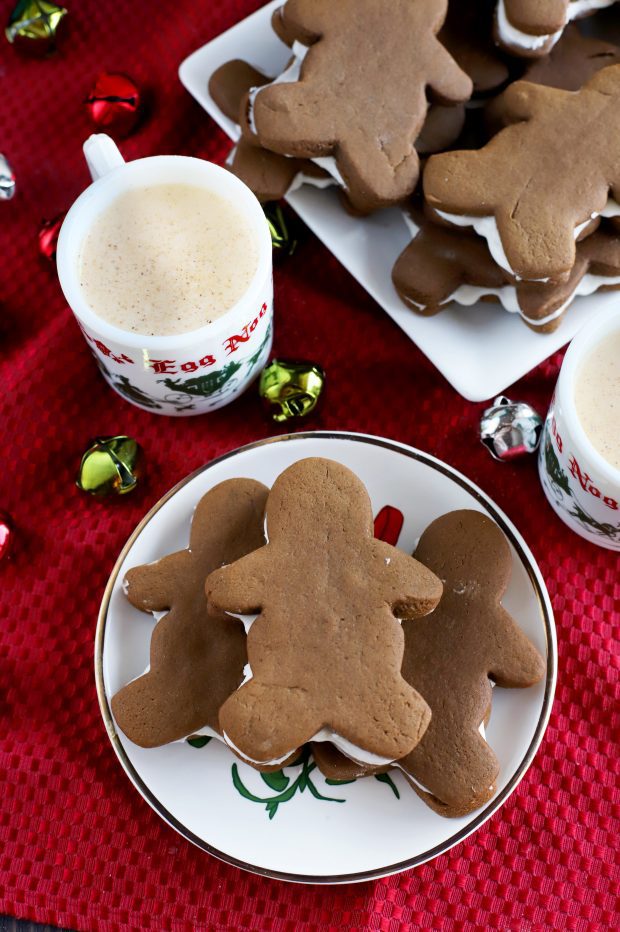 Where were those spiced cookies during my childhood?!
Have a baker in your life you want to shop for? Here's my baking favorites gift guide!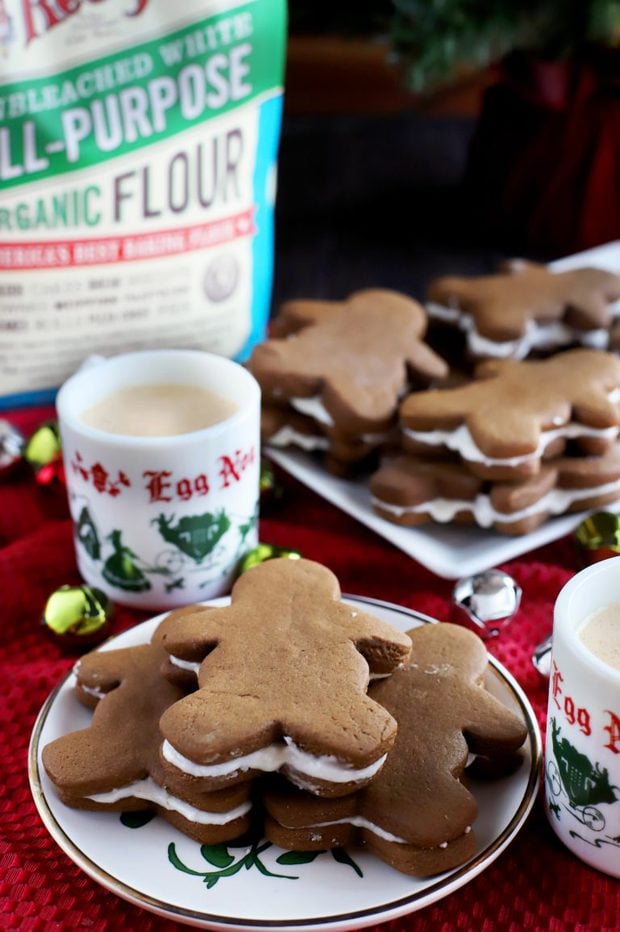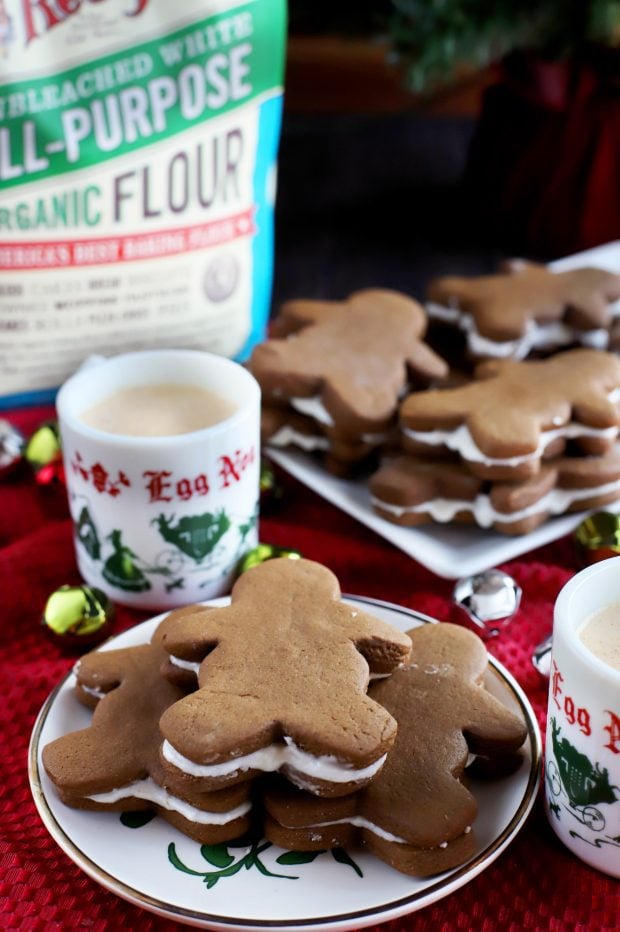 Now I will never go through another holiday season with out soft chewy gingerbread cookies. After a lot of tinkering, this cookie recipe is my favorite of them all. The spices are strong but not too overpowering. The texture is soft and chewy, making them absolutely divine.
Part of the tastiness of these soft chewy gingerbread cookies comes from my absolute favorite flour in the world. I always have a big bag of Bob's Red Mill Organic All Purpose Unbleached White Flour in my pantry. It's honestly the best flour I've ever used and I'll never go back to any other brand.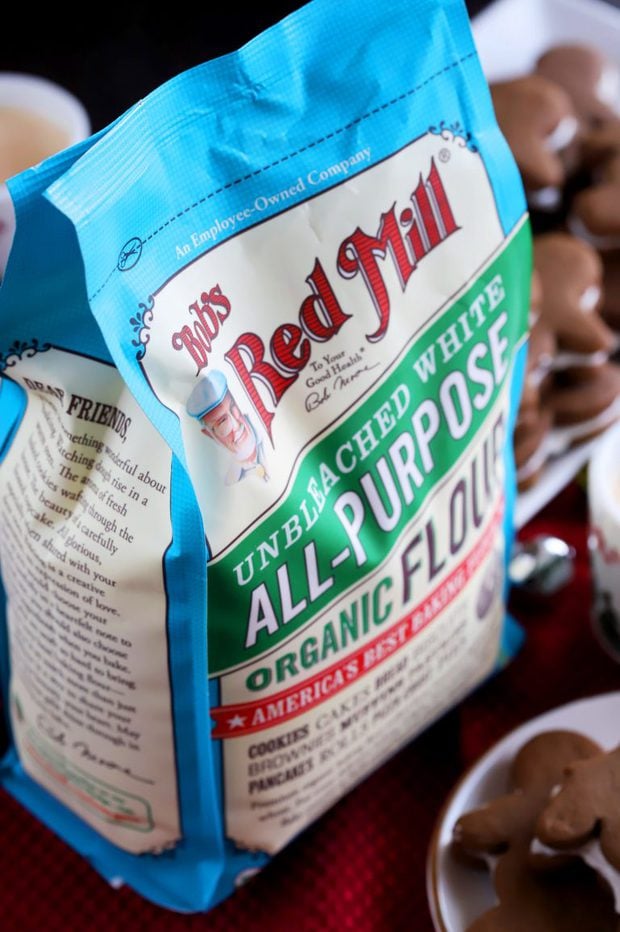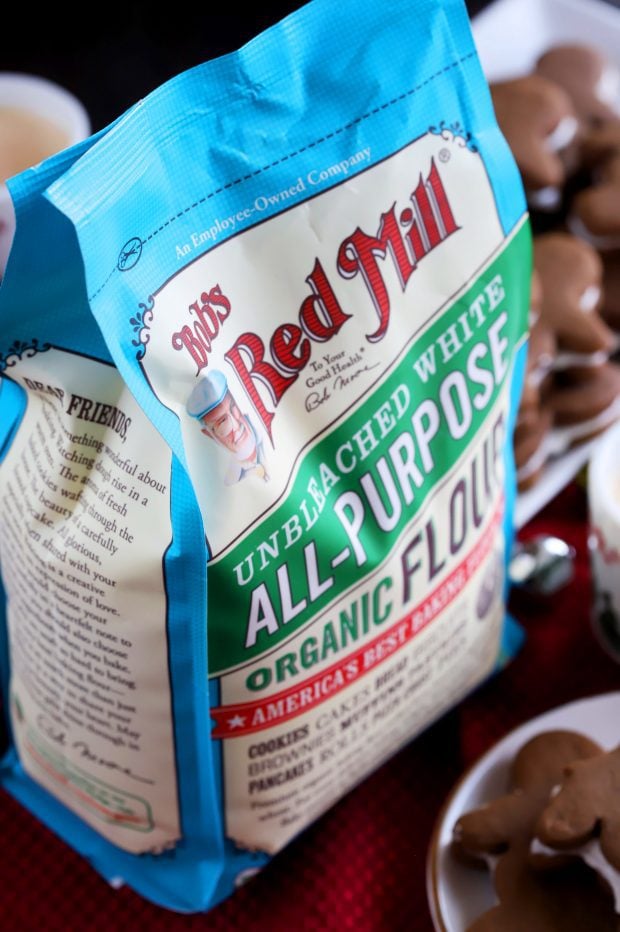 The flour is freshly milled from certified organic, hard red wheat. That makes it truly high quality flour that you can use in all of your baked goods. You don't have to worry about any ingredients that you wouldn't want to find in flour! That's because this all purpose flour is unbleached, unenriched, and there's no added potassium bromate.
For me, knowing that I can trust the brand and the ingredients they use in their products is a huge selling point. That way, I know when I bake and share those baked items with my friends and family, I am giving them the best of the best.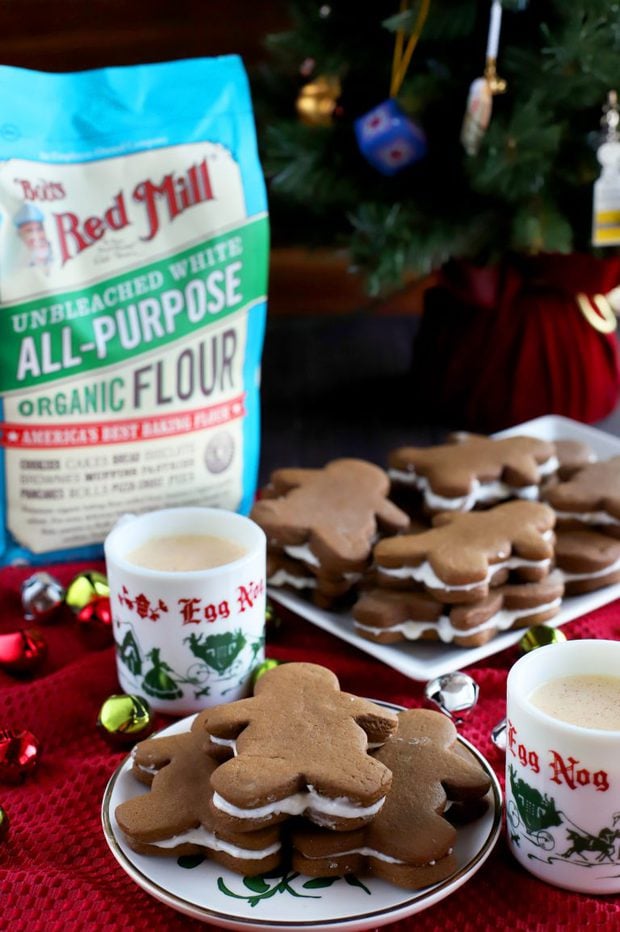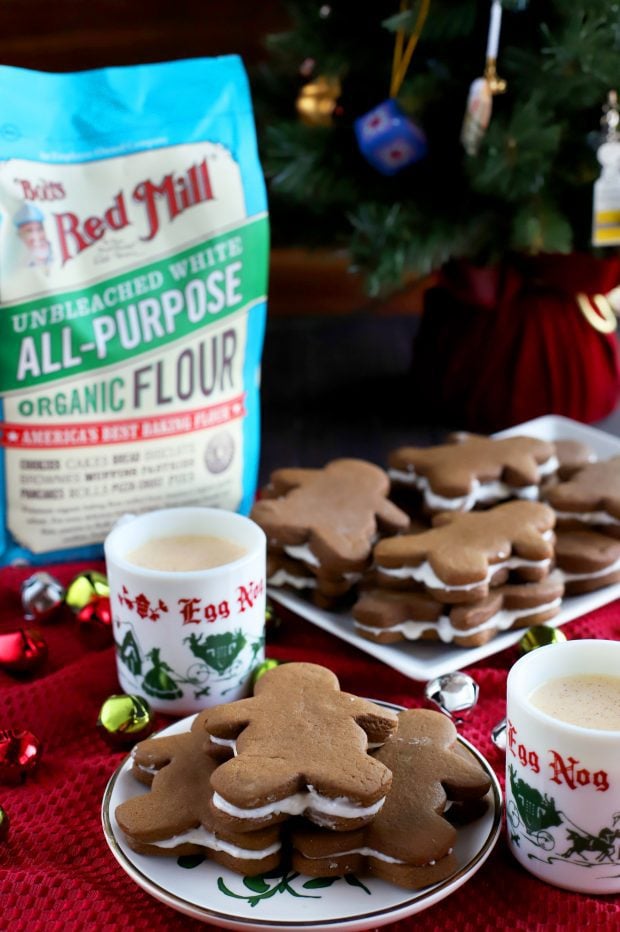 Trust me when I say, anyone with one of these cookies in hand will know that fact immediately.
To amp them up even more, I added in an eggnog cream filling that is just a little boozy and full of my favorite holiday drink flavor. It's just the best sandwich cookie EVER.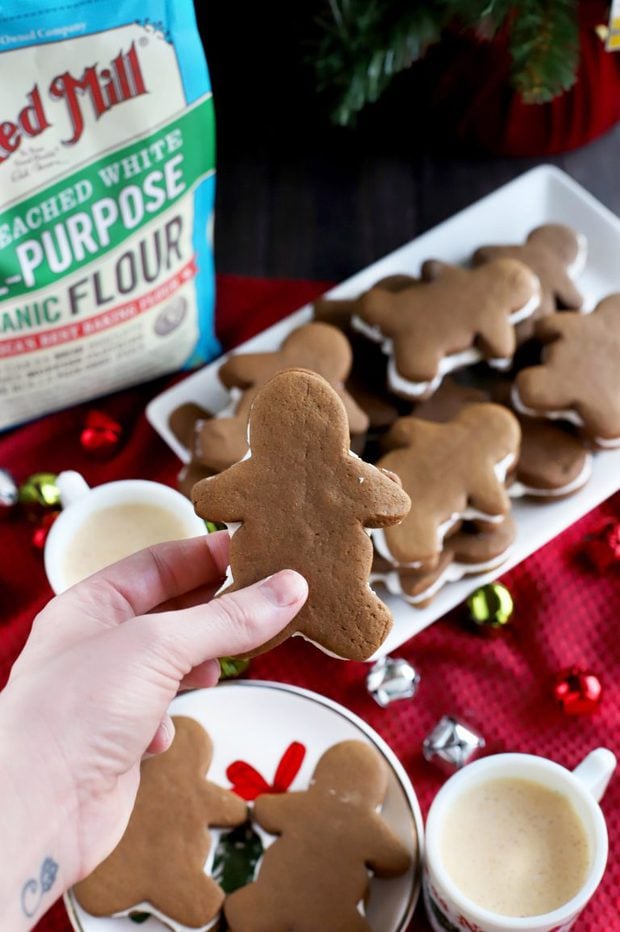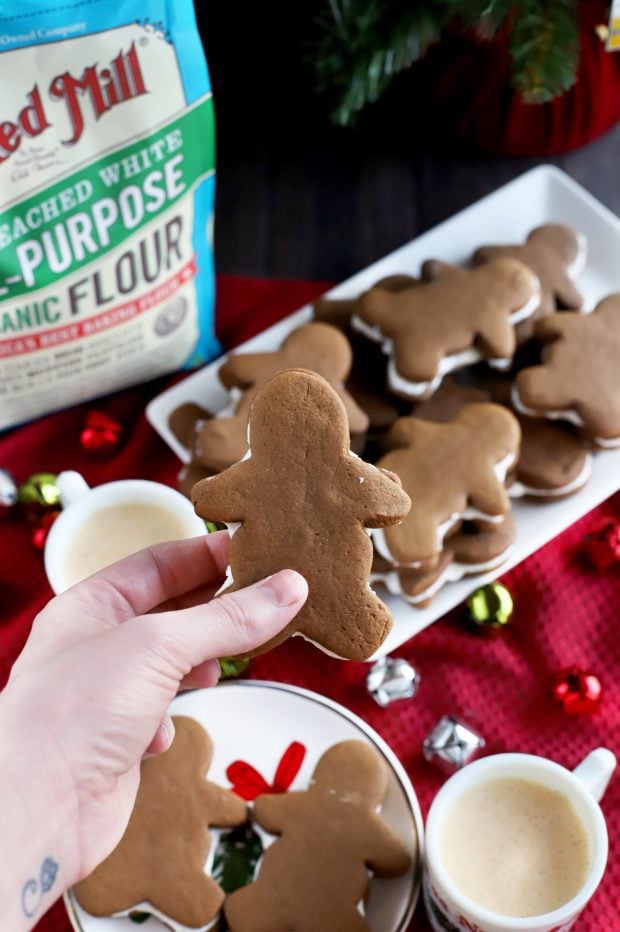 Check out just how easy this recipe is to make below!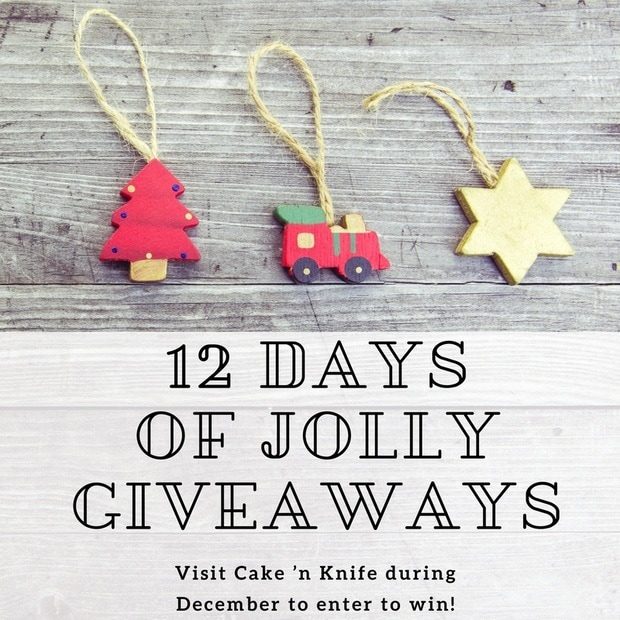 THIS GIVEAWAY IS NOW CLOSED.
Here we are at Day Eight of the 12 Days of Jolly Giveaways! This is the big final week of giveaways!
I am SO excited to announce that Bob's Red Mill and I have teamed up to give you the perfect bundle of goodies to start the New Year on the right foot. The bundle from Bob's Red Mill includes Organic All Purpose Flour, Organic Whole Wheat Pastry Flour, Almond Flour, and some of their sparkling sugar PLUS a $50 gift certification to bobsredmill.com!
Be sure to keep up with all of the giveaways this year – check out this page for all the current posts! There are a couple giveaways that are live right now, so be sure to head over to enter.
Head below the recipe card to enter the giveaway for a chance at the Bob's Red Mill bundle of goodness!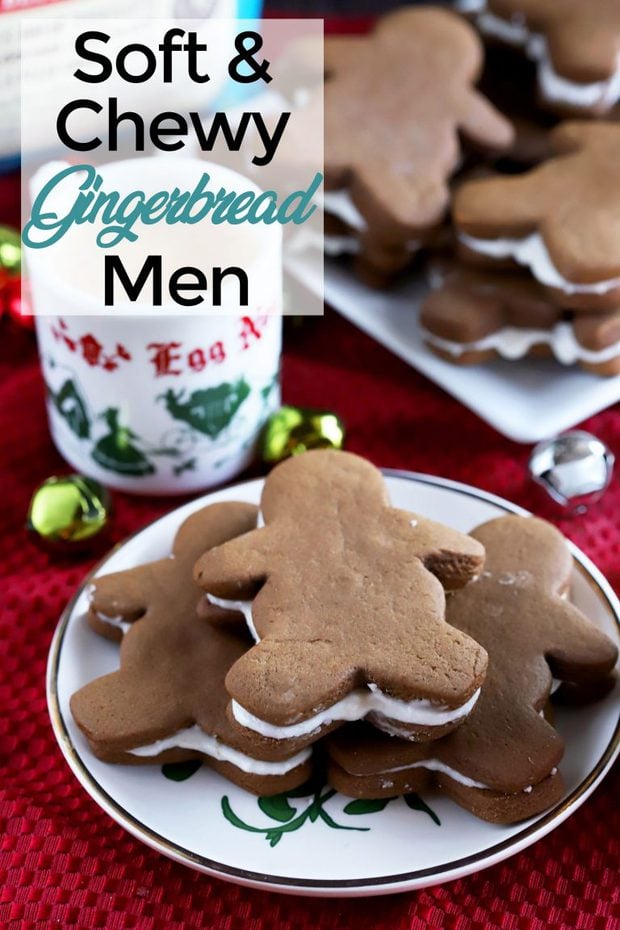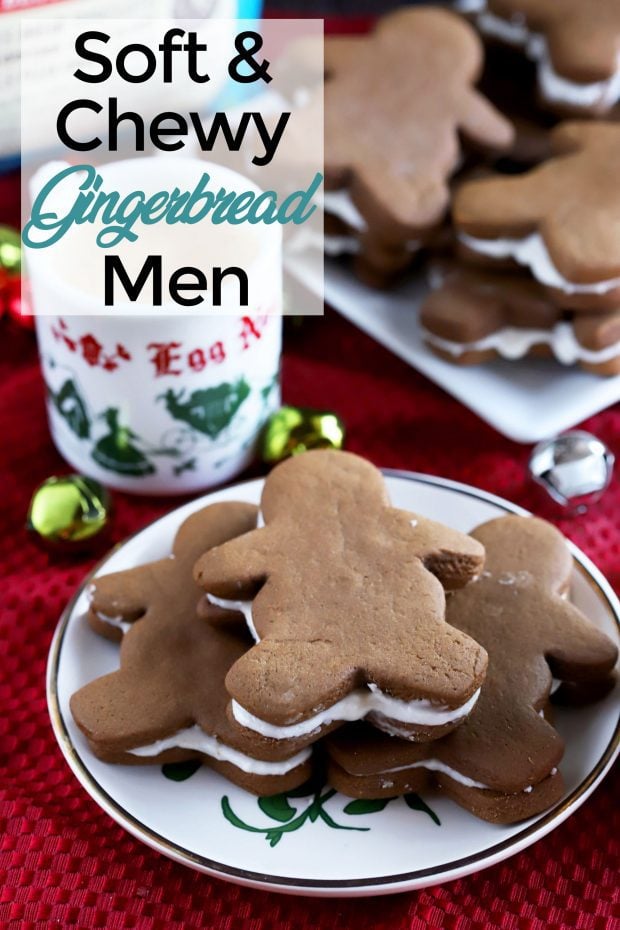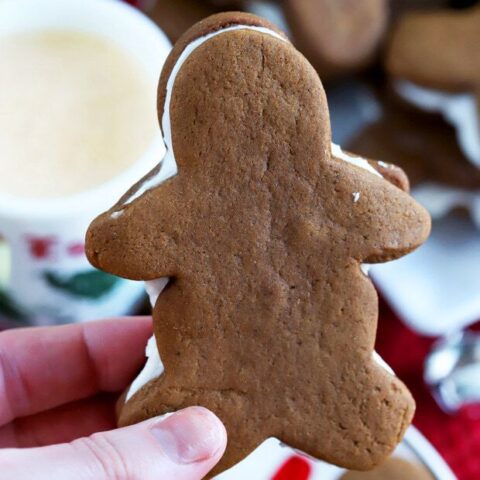 Soft Chewy Gingerbread Cookies With Eggnog Cream Filling
Yield:
Makes approx. 2 dozen cookie sandwiches
Prep Time:
3 hours
10 minutes
Total Time:
3 hours
20 minutes
The perfect spiced gingerbread cookie with a festive and creamy eggnog filling!
Ingredients
COOKIES
1 cup butter
1 cup brown sugar
1 cup molasses
1 egg
5 cups Bob's Red Mill Organic Unbleached All-Purpose Flour
1/4 tsp salt
1 tsp baking soda
2 tsp ground ginger
1 1/2 tsp ground cinnamon
1 1/2 tsp ground cloves
1/2 tsp ground nutmeg
1/2 tsp ground allspice
FILLING
3 cups confectioners sugar, sifted
1/4 cup brandy
1/3 cup egg nog plus more for thinning
Instructions
Cream together butter and brown sugar in the bowl of a stand mixer, until smooth. Add molasses and egg, mixing until combined. Make sure to scrape down the sides of the bowl as needed.
Add flour, baking soda, and spices to the bowl. Mix until everything is combined.
Dump the dough out onto large piece of plastic wrap. Wrap the dough up and shape into a disc. Place in the refrigerator to chill for 3 hours, or overnight.
Preheat oven to 350 degrees F when ready to bake. Line two large baking sheets with parchment paper or silicone mats.
Roll dough out on a clean, floured work surface until it is ¼-inch thick. Cut the dough into gingerbread men.
Add cookies to the baking sheets. You don't need to leave too much room between the cookies, but don't let them touch.
Bake for 10 minutes, until they set. Do not over bake so they stay nice and soft.
Cool for 5 minutes on the pan, then remove to cooling racks to cool completely.
In a large bowl, whisk all the filling ingredients together thoroughly until a thick frosting forms.
Spoon about 1 Tbsp of the cream filling on the center of a cookie and top it with another cookie, pressing down lightly to ensure that the filling spreads evenly in between but not beyond the cookie edges.
Repeat this process until all the cookies are filled.
Recommended Products
As an Amazon Associate and member of other affiliate programs, I earn from qualifying purchases.