Cheesy Herb Individual Potato Gratin is a fun twist on the classic side dish, perfectly portioned for everyone at your holiday dinner table. The individual side dishes hold creamy, cheesy, herbaceous potato gratin, layered up in mini cocottes that will really wow all of your guests!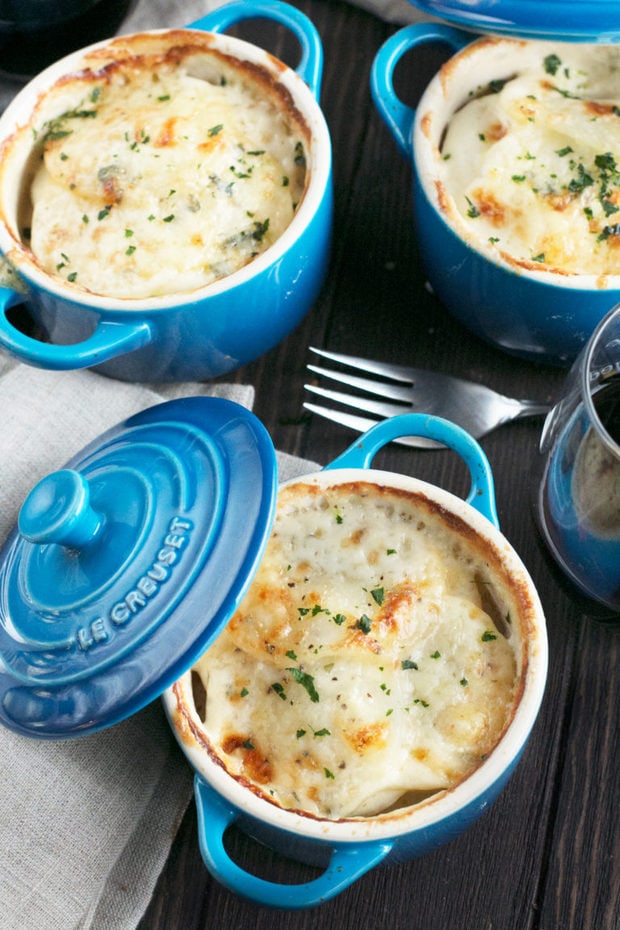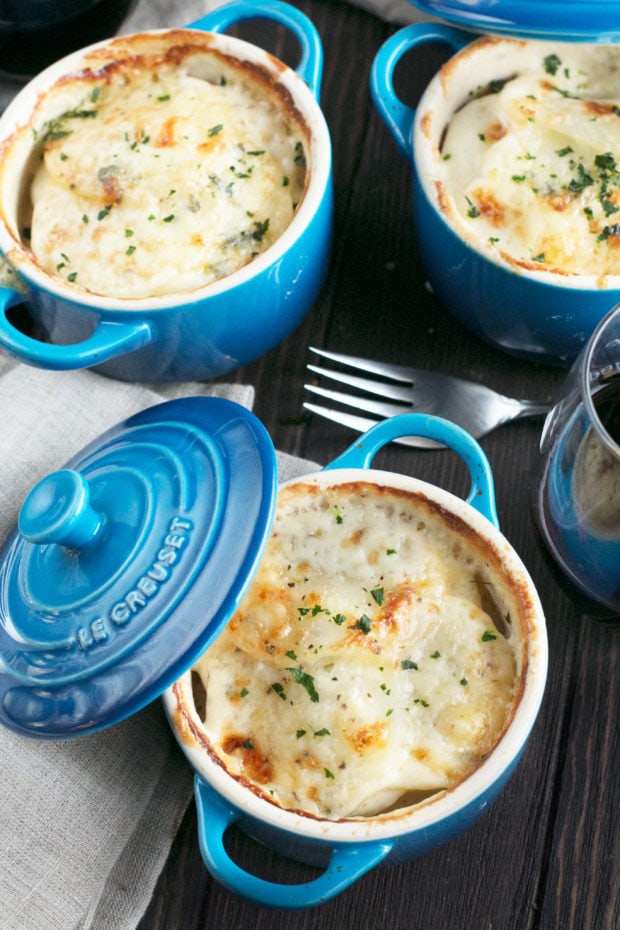 Disclosure: This post is sponsored by the Le Creuset. While I was compensated, as always, all opinions and the recipe are my own. Thanks for supporting the brands that support Cake 'n Knife!
Let's talk Thanksgiving things.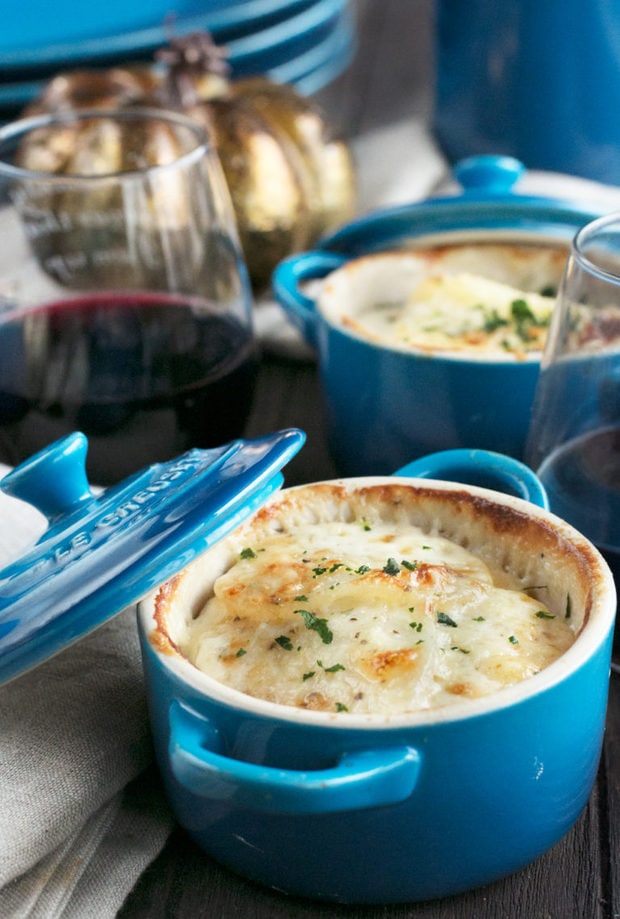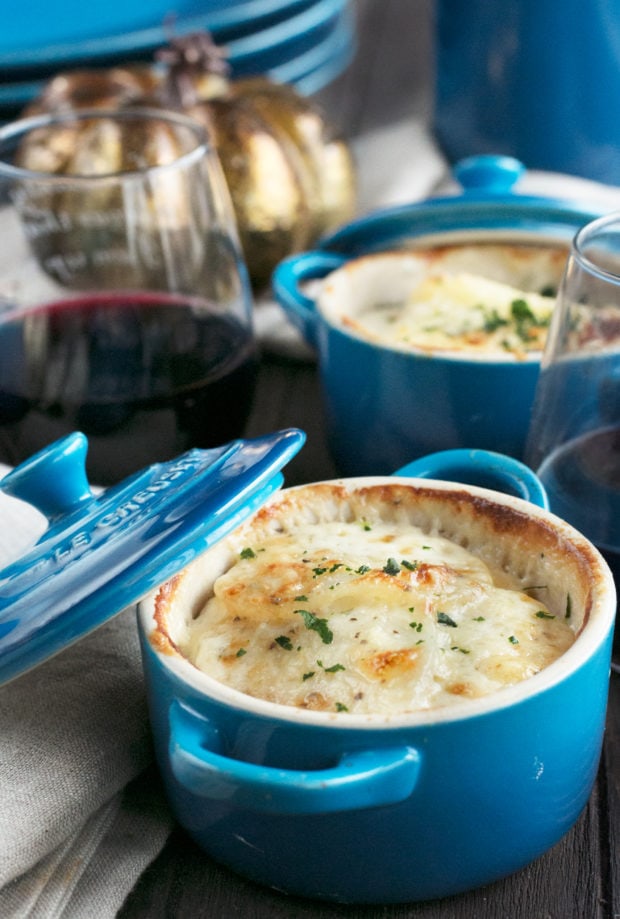 Every year when I think about a Thanksgiving menu, I always like to think about new and simple ways to update those old recipes that my whole family loves.
It's tough when you are someone who loves to cook something different all the time, especially when your family loves the classic recipes every year.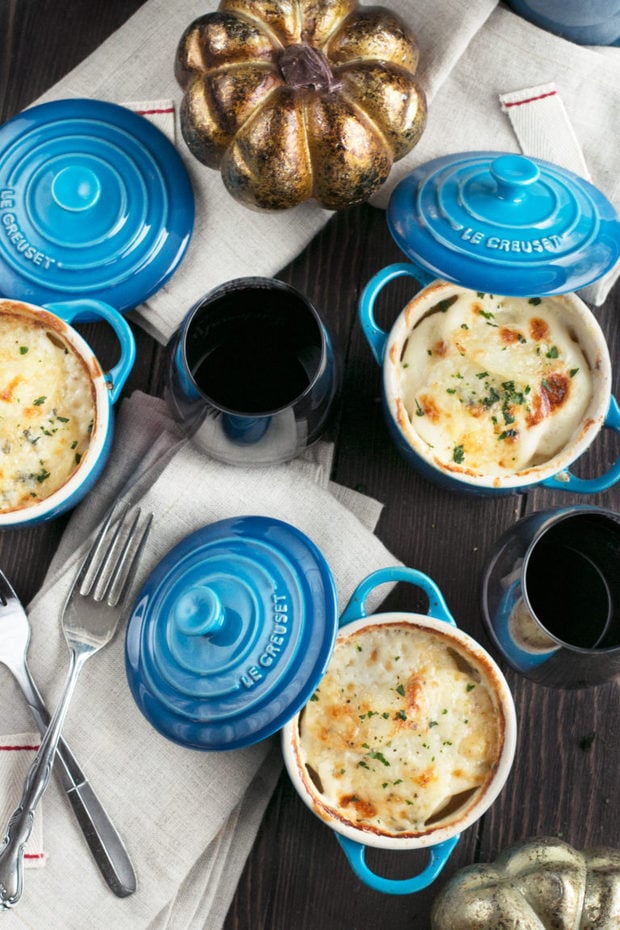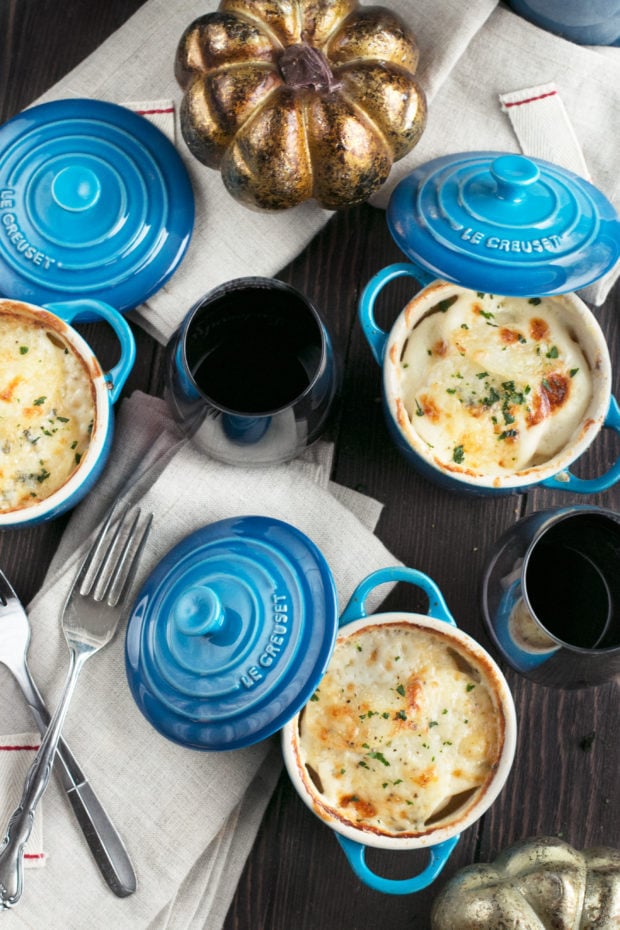 Please note that some of the links below are affiliate links. If you make a purchase through one of these links, I will receive a small commission. Thank you for supporting Cake 'n Knife!
So while I would love to have a global inspired Thanksgiving, so often the demand for the familiar Thanksgiving dishes outweighs my crazy menu ideas.
Which of course I am totally fine with, because who doesn't love a bit of tradition in their lives?
That's why I end up making up new takes on familiar flavors for the holidays!
My inspiration for my potato side dish this year came from one place… Le Creuset!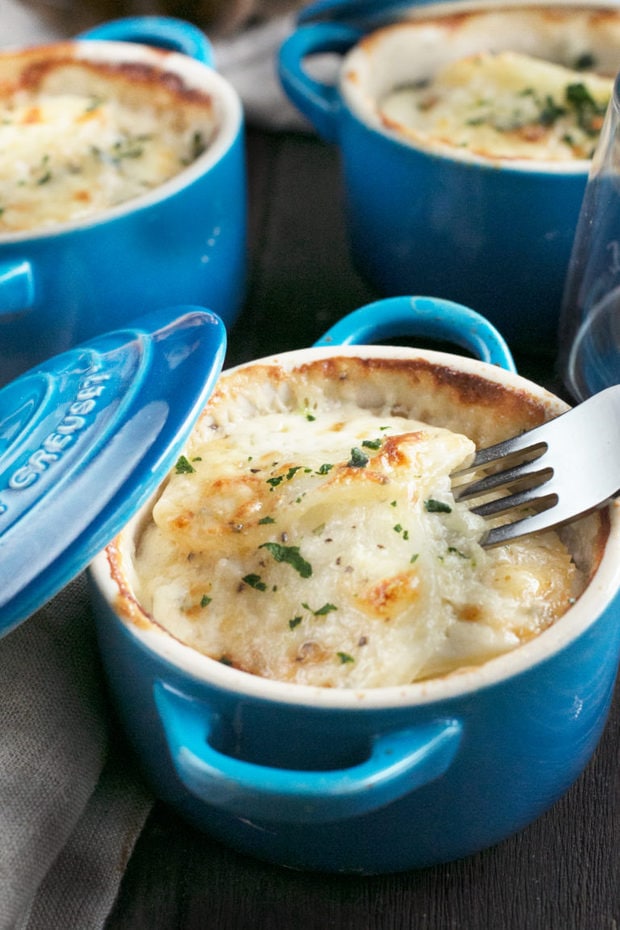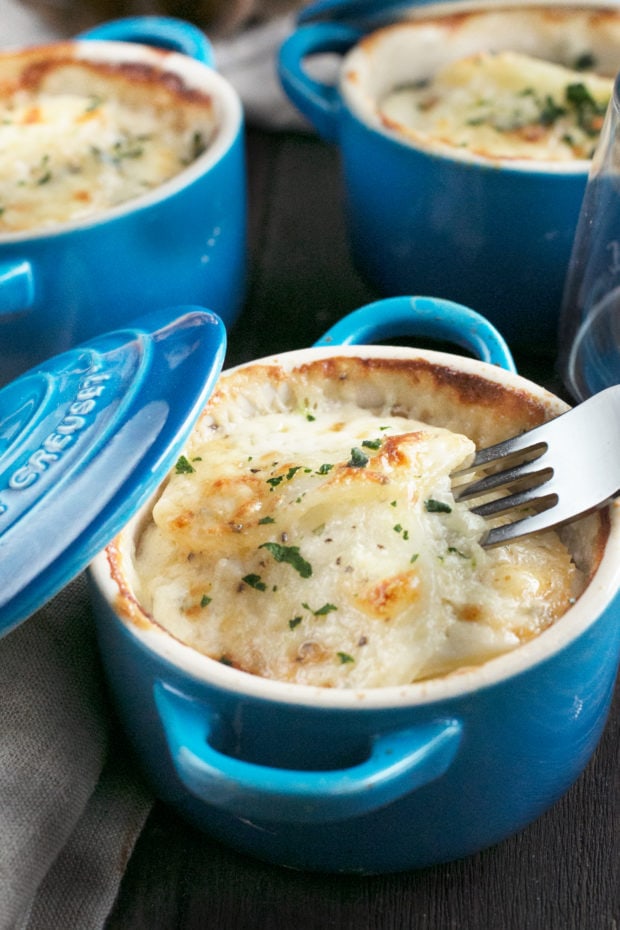 These little individually portioned potato gratins are creamy, cheesy and filled with fresh herb flavors. The potatoes are melt-in-your-mouth tender and you'll be hard pressed to have any leftovers, that's for sure.
Not to mention, they are even easier to make than a giant batch of potato gratin, and everyone gets a taste of that perfectly golden cheese on top!
Can we take a second and honestly talk about how adorable these Le Creuset Mini Cocottes are?!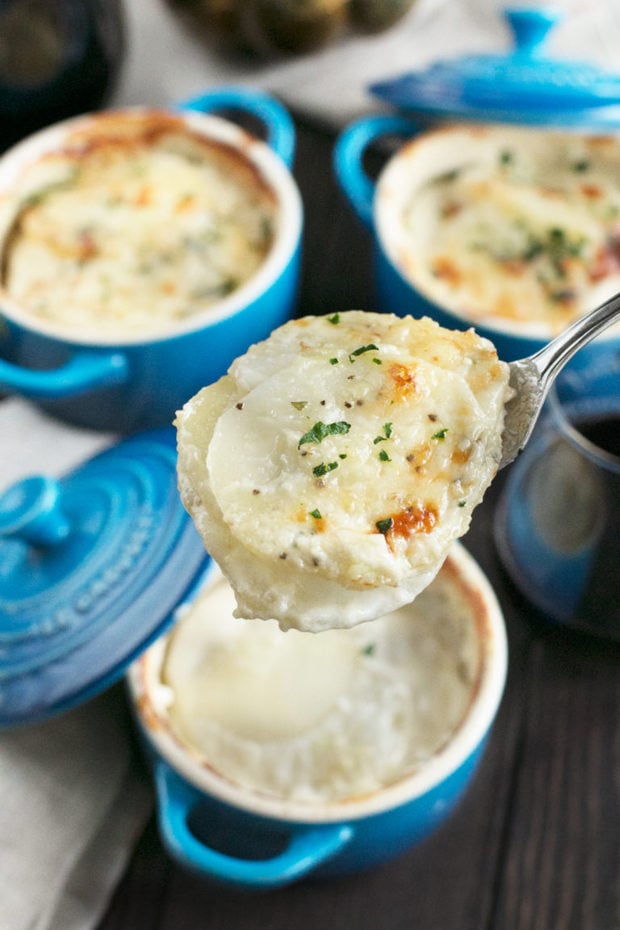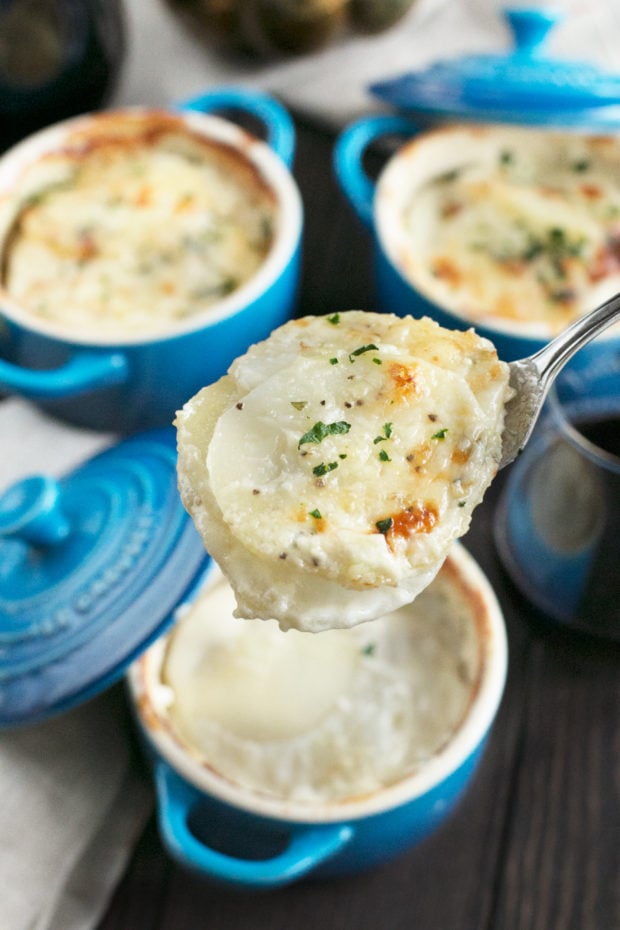 Not only are they the perfect size for any individually portioned side dishes or desserts.
PLUS the colors are absolutely STUNNING on the holiday table. Personally, I am in love with the Marseille flavor, but the Cerise and all the other colors are absolutely brilliant.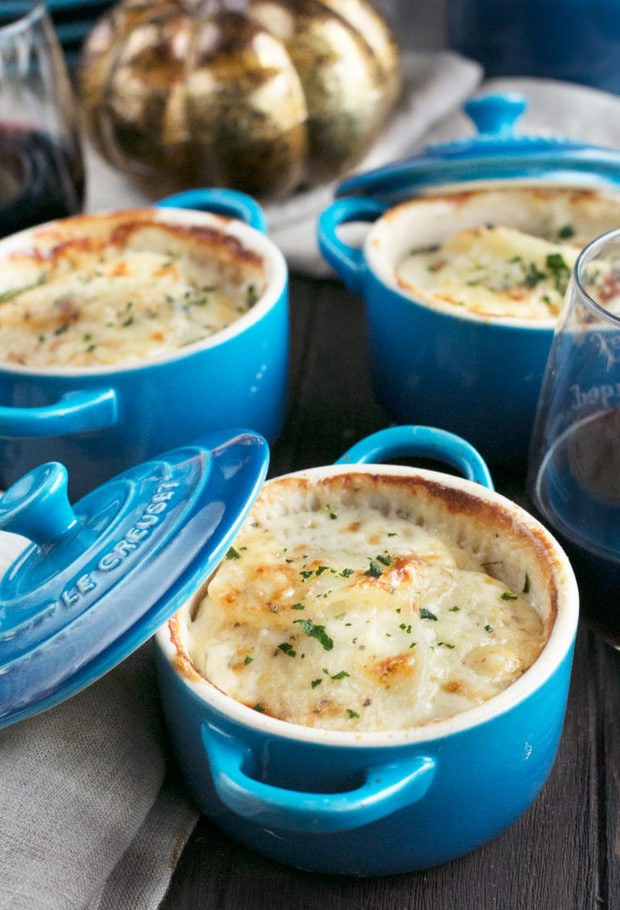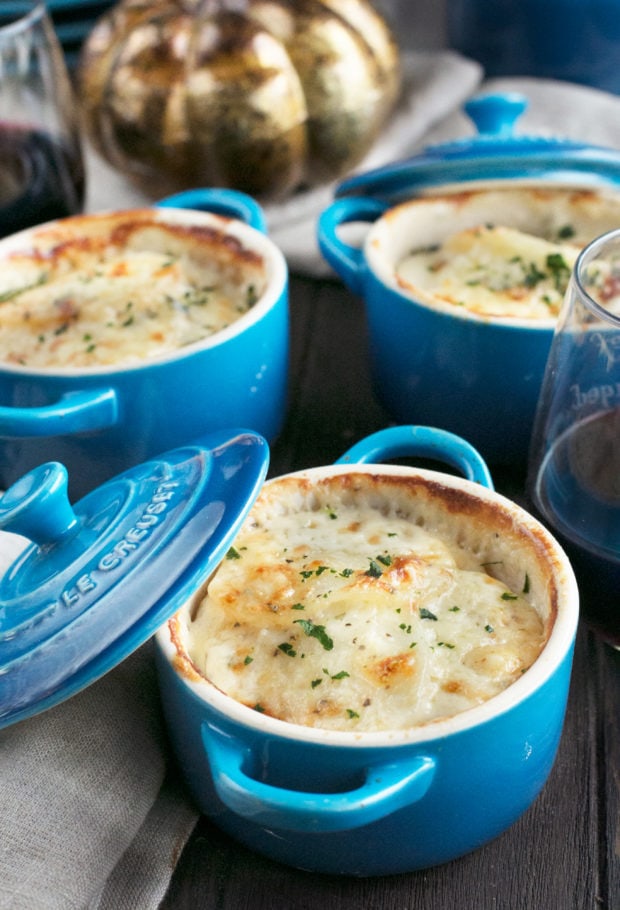 They bring so much life to the table at any time of year!
Plus these little cocottes are dishwasher AND microwave safe (as well as oven safe, obviously), making them my little lifesavers when it comes to hosting dinner parties. With the quality of Le Creuset's cookware, these are the kind of dishes you want to stock in your cabinets for years and years to come!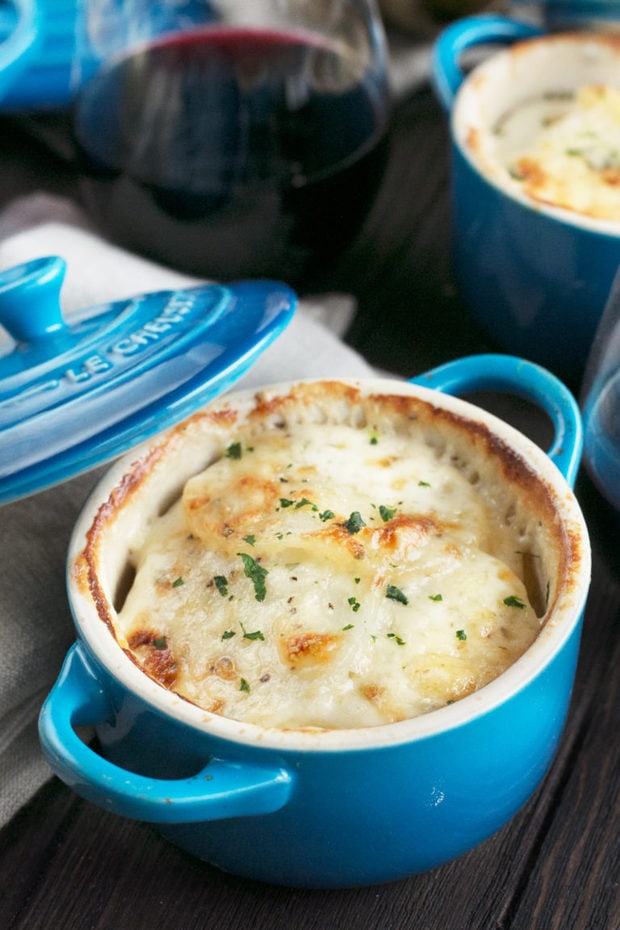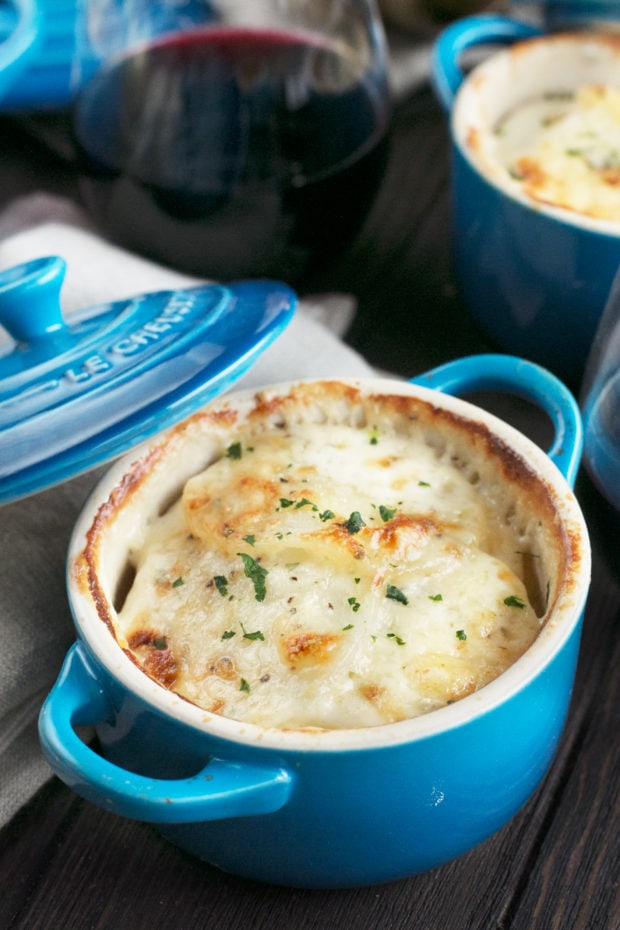 Le Creuset wants you to have a pop of color in adorably sized dishes this holiday season too, so they are oh-so graciously giving away one of their Le Creuset Set of Mini Cocottes (a $75 value)! Check out the giveaway below the recipe. GOOD LUCK!
ALSO, just a little tip from me to you… Keep your eye on my blog in December. I've got HUGE things coming up for y-o-u this holiday season!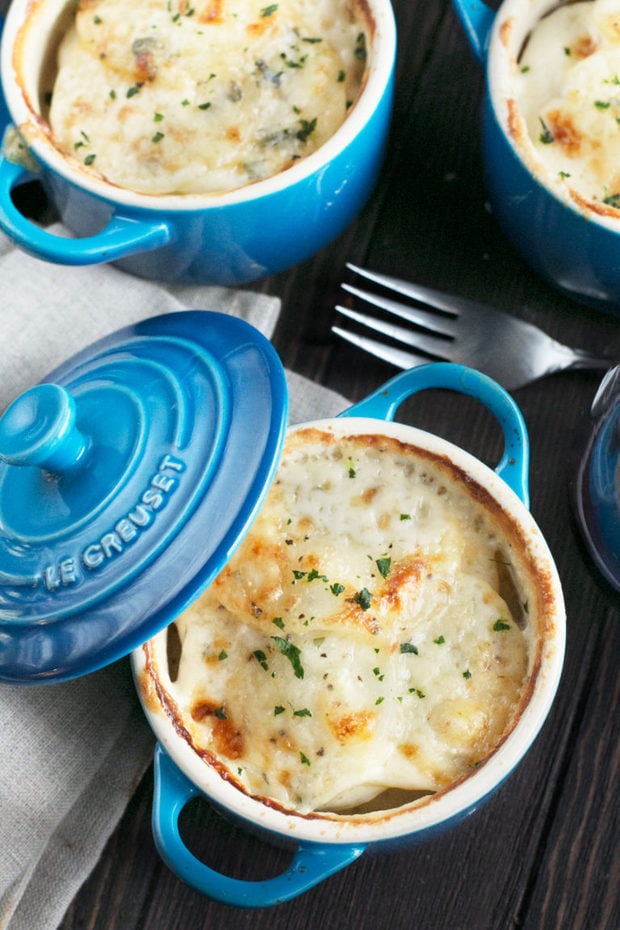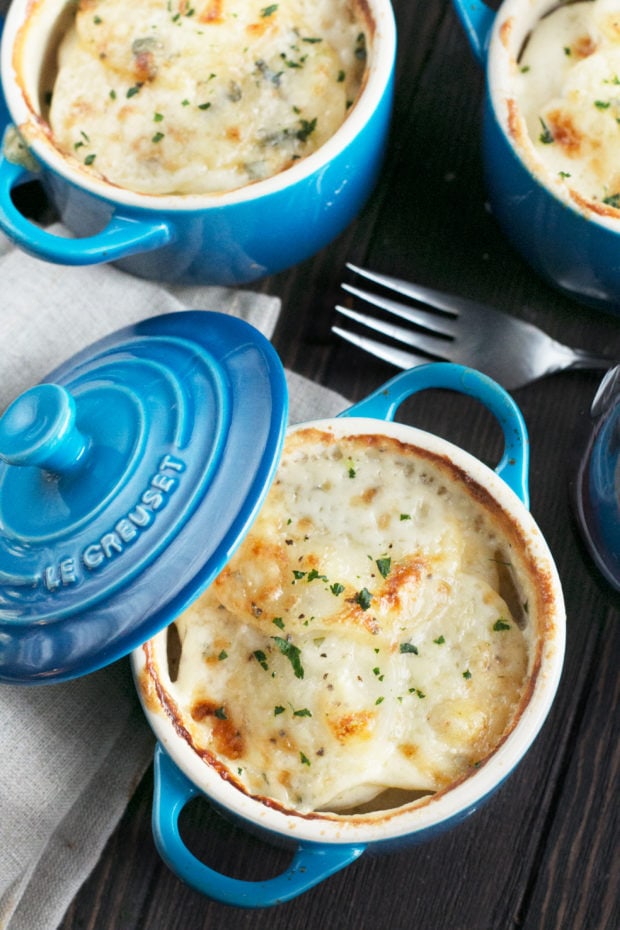 This Recipe's Must Haves
Pin this Cheesy Herb Individual Potato Gratin recipe for later!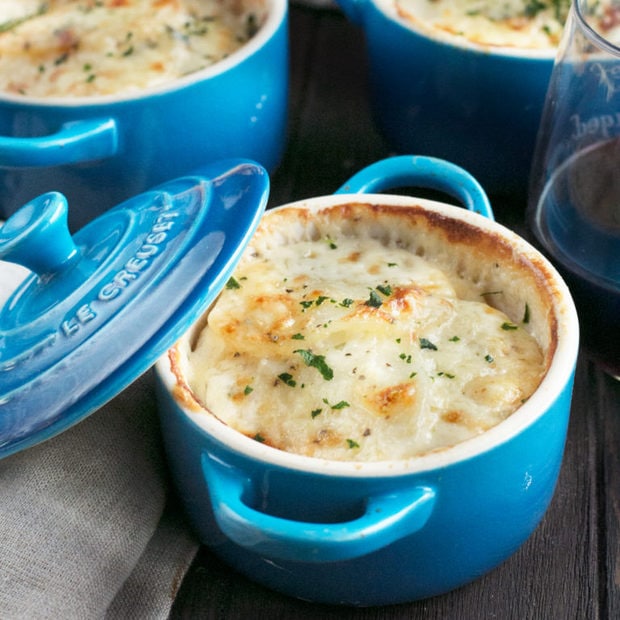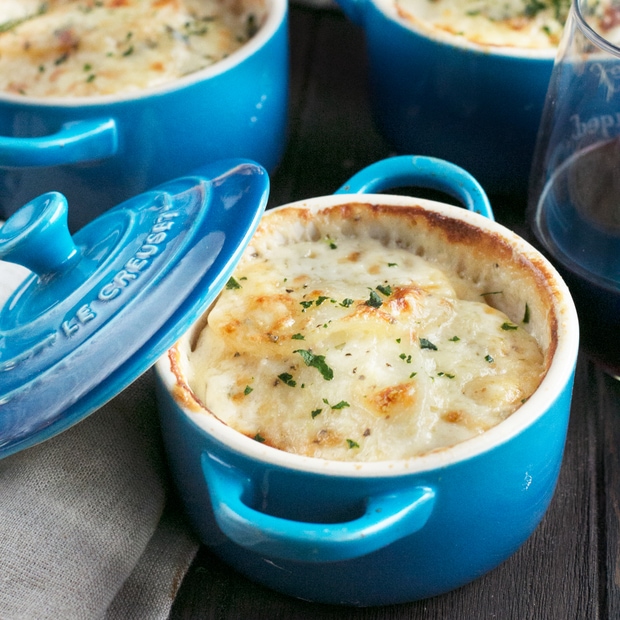 Cheesy Herb Individual Potato Gratin
Additional Time:
10 minutes
These cute little potato gratins are an even easier version of your favorite potato side dish, with fresh herbs and extra cheeeeeeese!
Ingredients
3 small russet potatoes, peeled and cut into thin slices
2 cups heavy cream
1 tsp freshly chopped thyme
1 tsp freshly chopped oregano
1 bay leaf
1 1/2 tsp. kosher salt
1/2 tsp black pepper
4 oz. white cheddar cheese, shredded
3 oz. Gruyère cheese, shredded
Freshly chopped parsley
Instructions
Preheat oven to 400 degrees. Line a baking sheet with parchment paper. Set 4 mini cocottes on the baking sheet.
Divide potato slices evenly between the mini cocottes, layering them in a staggered circle so the slices lay flat.
Over medium high heat, add heavy cream, thyme, oregano, bay leaf, salt, and pepper to a medium saucepan. Bring the mixture to a simmer. Remove from heat. Remove and discard the bay leaf.
Stir 3 oz white cheddar cheese and 2 oz gruyere cheese into the cream mixture, until melted. Slowly pour the mixture into the 4 cocottes, dividing evenly between them.
In a small bowl, stir remaining cheese together. Sprinkle the cheese on top of the cocottes, dividing evenly between them.
Add the baking sheet with the mini cocottes to the oven. Bake for 30 minutes, until the potatoes are cooked through and golden brown on top.
Let rest 10 minutes before serving. Garnish with fresh parsley and serve immediately.
Giveaway rules:
Enter the giveaway through the Rafflecopter widget below. Everyone gets a free entry! You can enter multiple times by following and sharing on social media. (If you've followed in the past, that counts! Just enter the information as prompted.) All entries will be verified. No purchase is necessary to win.
The giveaway is open until Monday, November 20th at 11:59 p.m. CST. One winner will be chosen at random and e-mailed within 48 hours. Winners must claim prize within 48 hours of initial contact. The retail value of the prize is $75. Prizes listed above are the only ones available.
Open to U.S. residents with a valid shipping address only.