Garlic Confit Oil with Thyme and Black Pepper is a delicious way to amp up your plain ol' olive oil. You can use it in just about anything for a boost of roasted garlic flavor.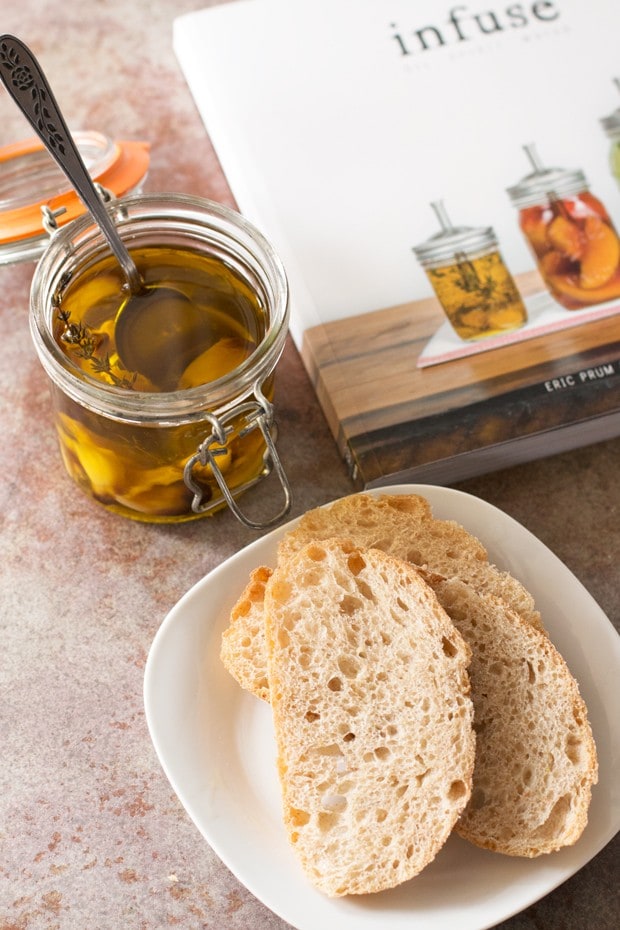 I've had a really weird obsession with infusions lately. It really was the only reason I even considered picking out infuse for myself. I love the idea that you can transform something as simple as olive oil or vodka into an infused masterpiece with a ton of flavor. You all have seen my cocktails that include infusions, like this Habanero Infused Tequila, but it was about time for me to explore other options.
Enter infuse, my new go-to infusion recipe booklet that I haven't been able to put down for months.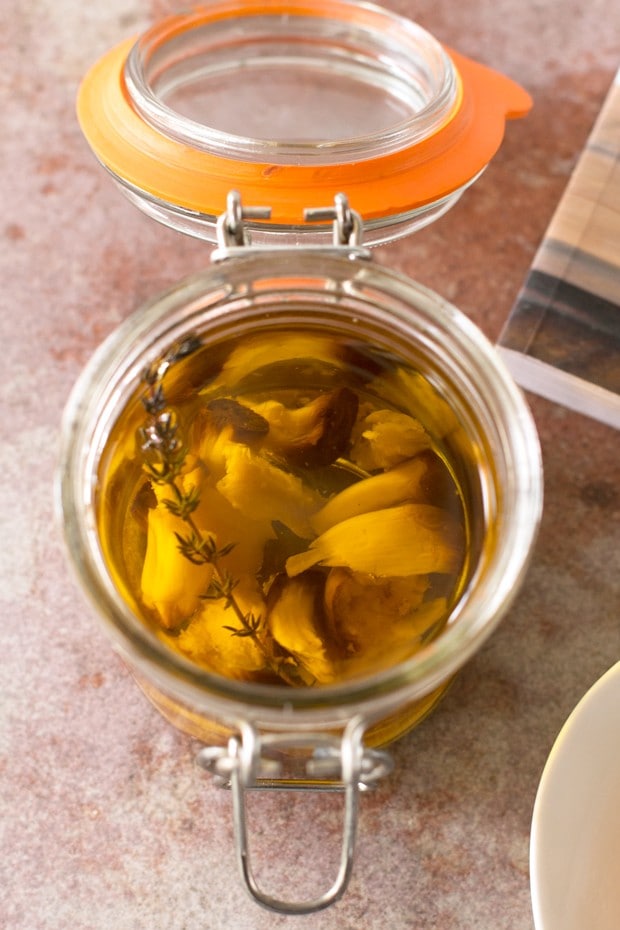 It's pretty difficult to find cookbooks that take something like infusions and make them approachable. As I was reading through this cookbook, not only was it an easy and enjoyable read, I realized I was only a few steps away from a plethora (yep, I said plethora) of infusions. I also realized the $20 bottles of infused olive oils and vinegars in my pantry were kind of a waste… Making them at home? Yep, totally doable and cheaper.
This is what drove me to try the Garlic Confit Oil first. By roasting the garlic with herbs, peppercorns and olive oil, you get this aromatic hefty punch of garlic with every use. I've been dipping my bread in it every time I pass through the kitchen, but I also just tried using it while making dinner last night and WOW what a different it made instead of using regular oil.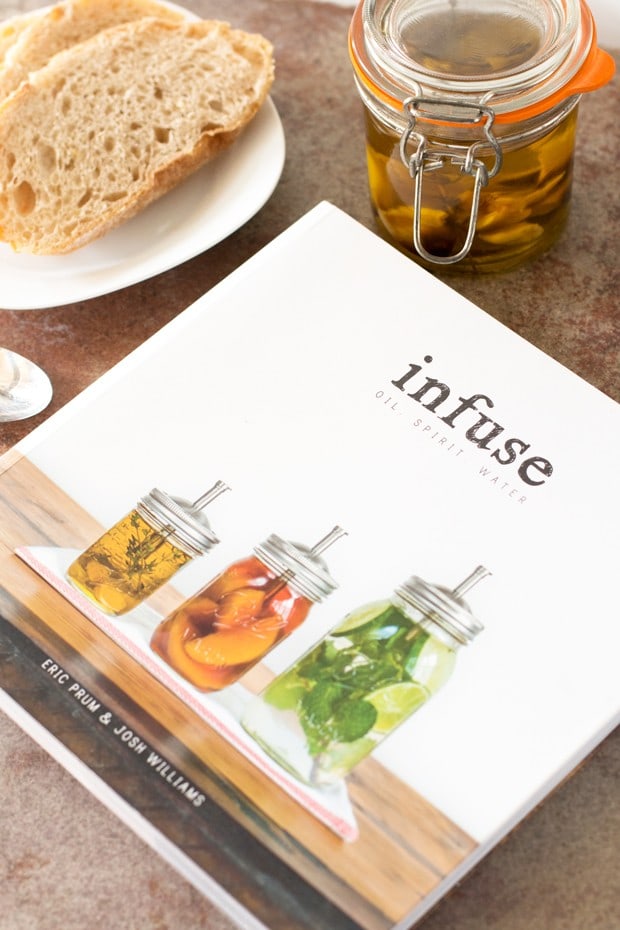 I'm completely sold on this book and I have a feeling all of you are now exceptionally curious to dig into its pages. Rest assured, when I tell you anyone can make these recipes, I mean anyone can make these recipes. Even those prone to burning things. You'll end up referring to it day after day after day!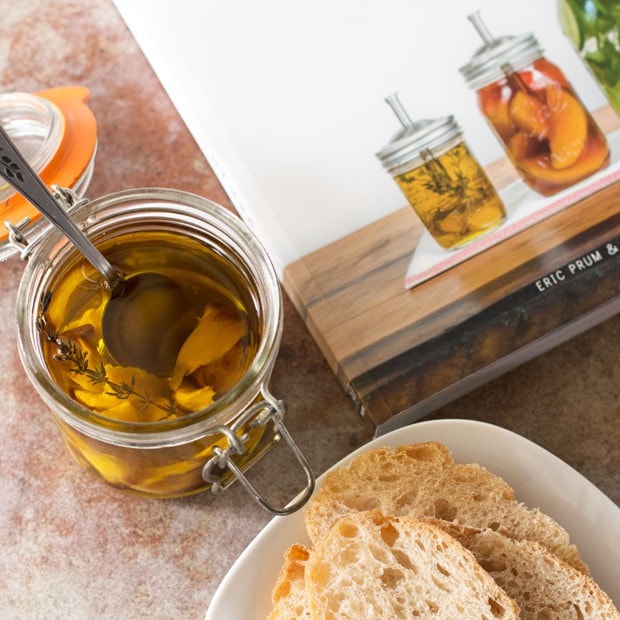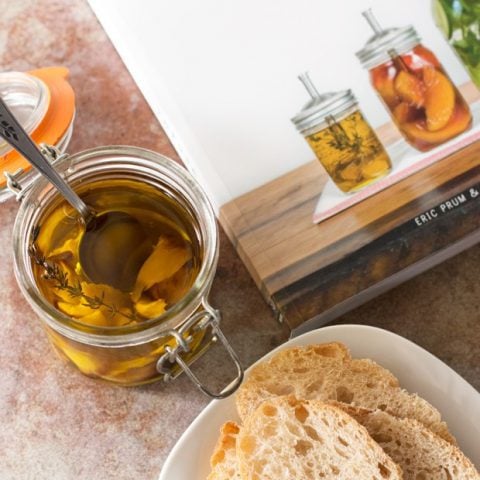 Garlic Confit Oil with Thyme and Black Pepper
An incredible, flavorful oil from the cookbook infuse.
Ingredients
1 head of garlic
Sea salt
Freshly ground black pepper
1 cup of extra virgin olive oil
5 whole black peppercorns
4 sprigs of fresh thyme
Instructions
Preheat the oven to 300 degrees. Rinse the head of garlic and cut off the top, exposing the cloves. Season the exposed edges with salt and pepper and place facedown in a deep baking dish.
Add the olive oil, peppercorns, and fresh thyme to the baking dish, cover with aluminum foil, and roast for one hour.
Remove from the oven and let cool for 30 minutes, covered. Uncover and remove the garlic, placing on a towel to drain. Strain the oil through cheesecloth and into an 8 oz Mason jar, adding one fresh sprig of thyme.
Squeeze the cloves of garlic from the head and add them to the Mason jar. The infusion and roasted garlic cloves will keep in the refrigerator for up to one month.
Notes
Umami alert! Don't let the roasted garlic cloves in this infusion go to waste! Use them alongside the infused oil. They have a caramelized, umami-packed richness you won't want to miss.