Please note this post contains affiliate links.
Get the luck of the Irish with these Lucky Charms cereal treats! Made with just three ingredients, this is an easy dessert to celebrate St. Patrick's Day.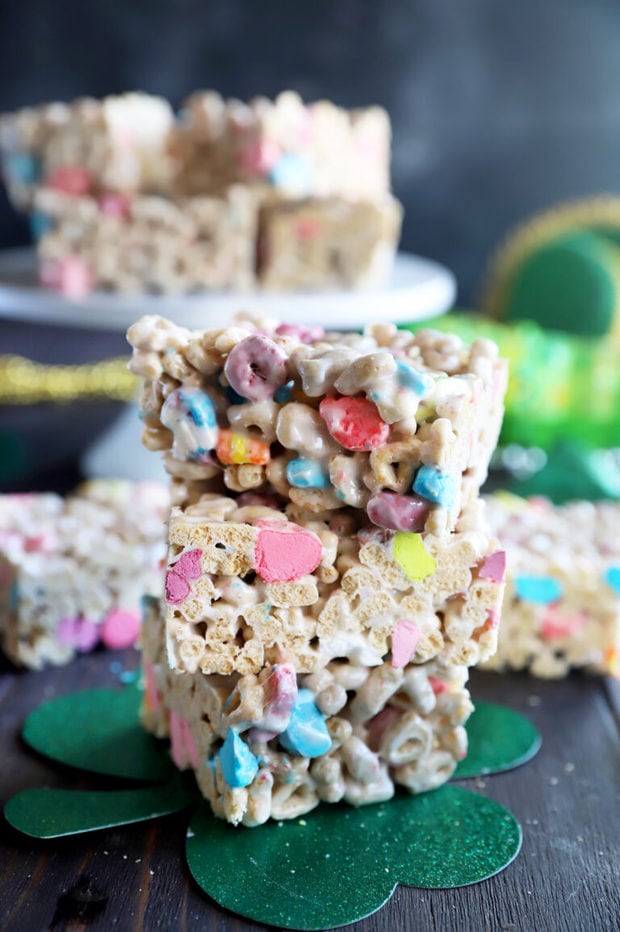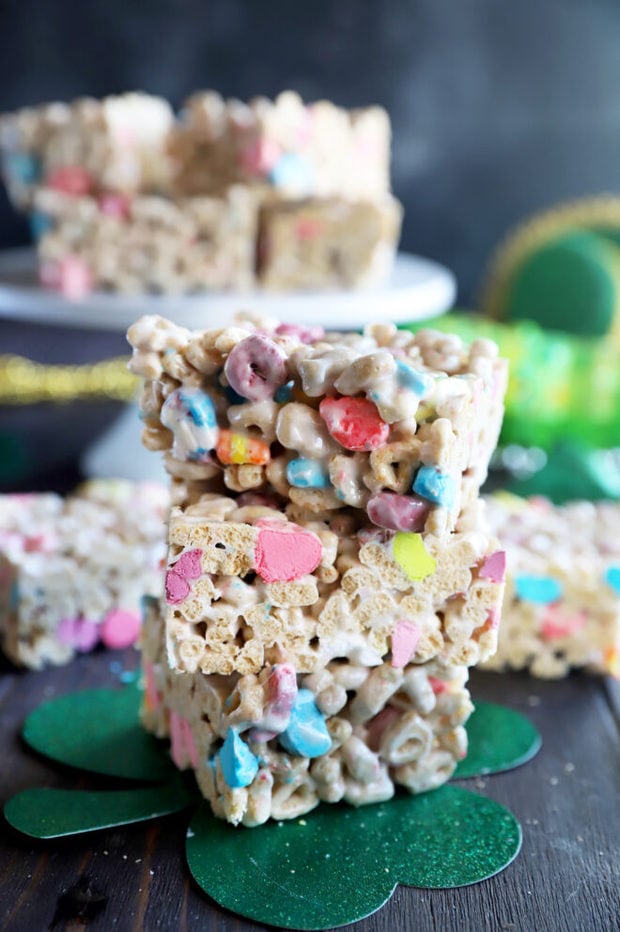 I LOVE CEREAL TREATS.
Caps can't even express the appropriate amount of excitement I have for this recipe. I made them and I think the Man got his hands on two before I finished the rest off all by myself.
Normally I would be totally embarrassed by that fact, but I really don't care. They are THAT GOOD.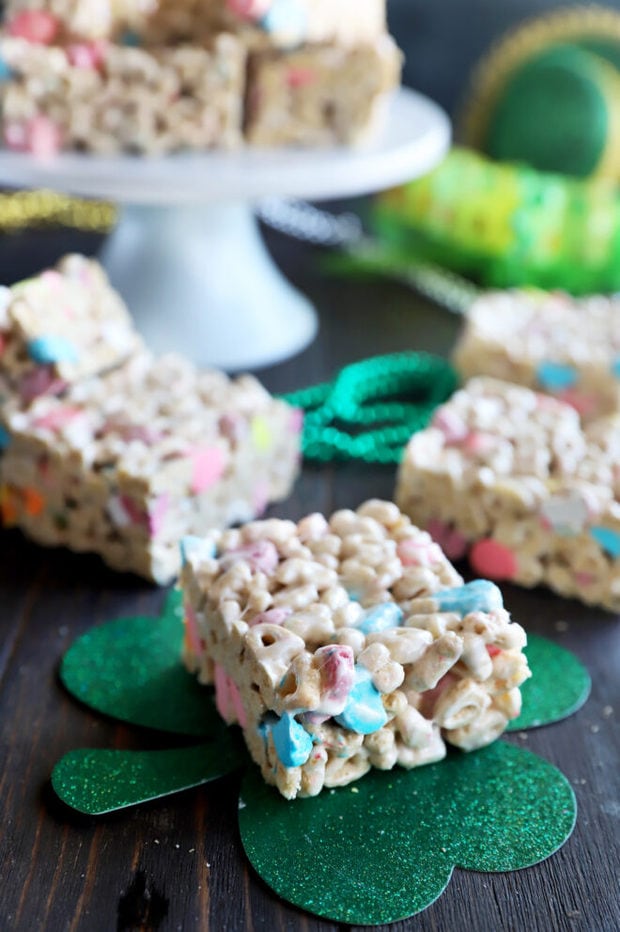 You know when you get a really good rice krispy treat? When it's the perfect balance of marshmallow gooeyness to cereal?
That's exactly what this recipe is. These treats are just the right amount of gooey and chewy.
PLUS you get extra marshmallows because there's marshmallows in the cereal, people.
If that doesn't get you excited, I don't know what else will 😉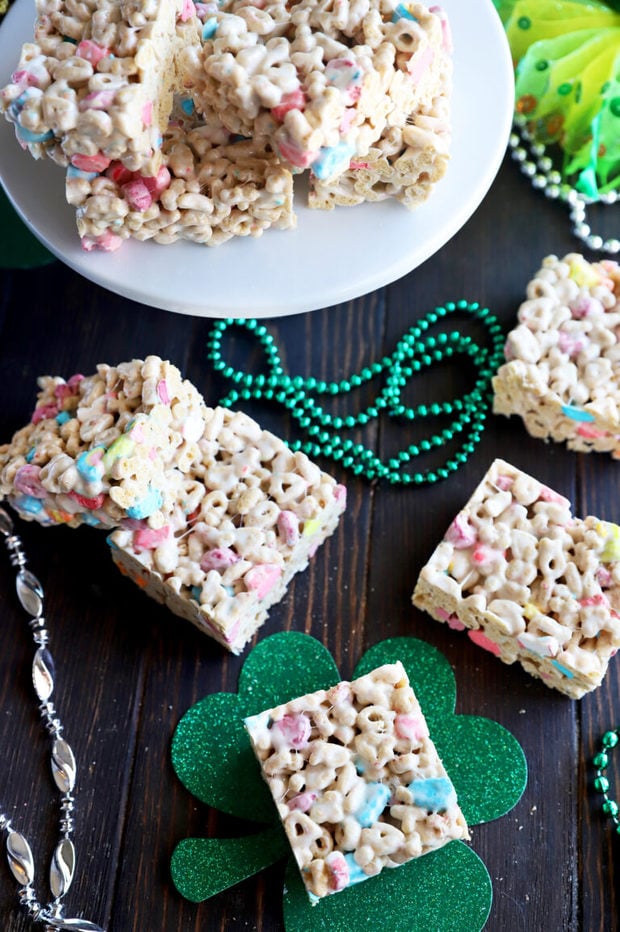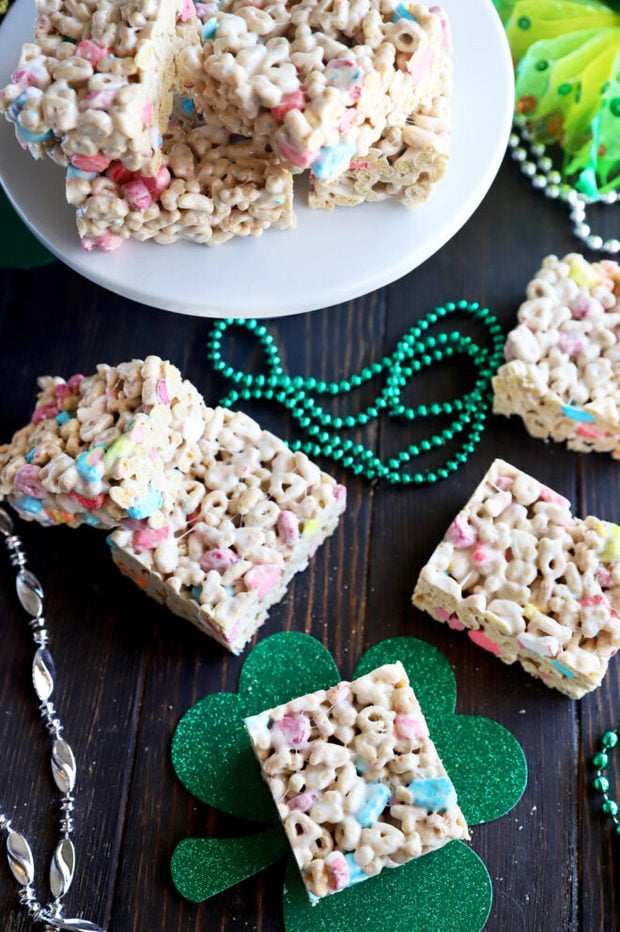 Also, I'm kinda thinking that I need to make a bunch of different cereal treats now with other cereals. I already have Golden Grahams cereal treats, so obviously I need to do Cinnamon Toast Crunch, Reese's Puffs, and Captain Crunch.
What others should I do?
Put your requests in the comments below and I'll add them to my list!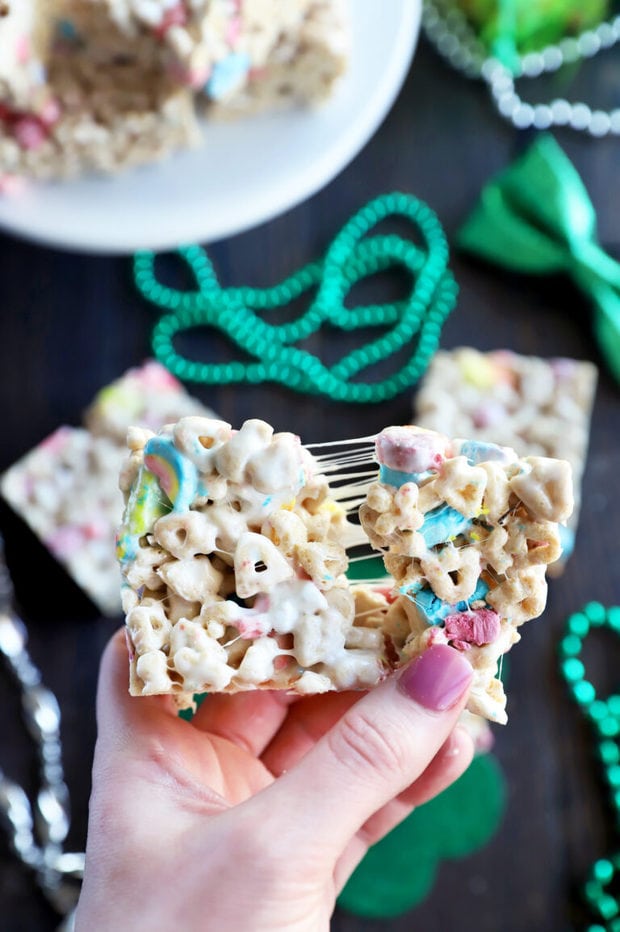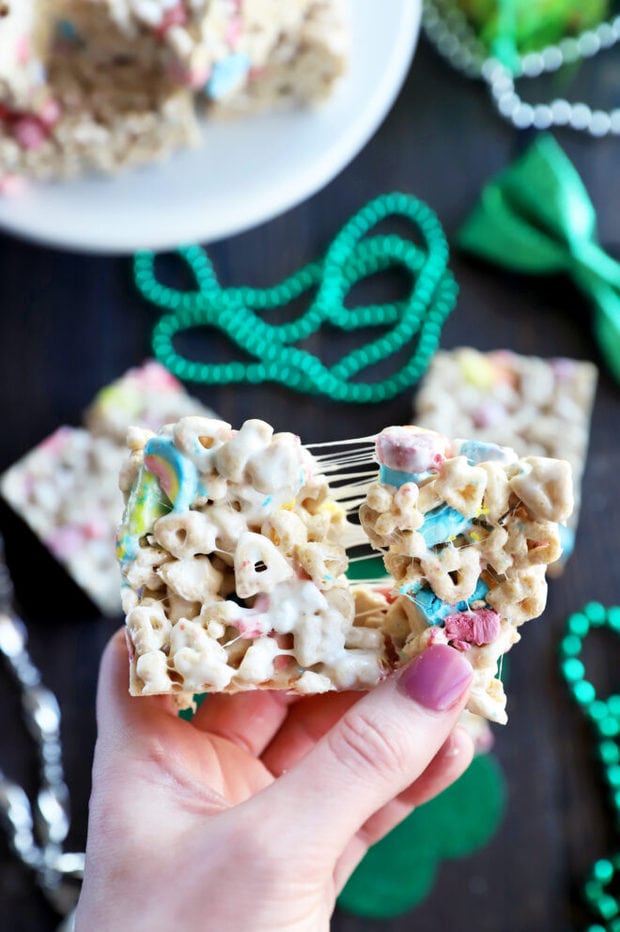 This Recipe's Must-Haves
You only need three ingredients for this recipe, so the tools for it are pretty darn basic. First you need a saucepan to cook down the marshmallows and the butter.
After that, you'll dump everything in the largest of your mixing bowls and stir it together with a spatula.
Finally, press it down into a 9-inch baking pan before chilling, cutting, and serving!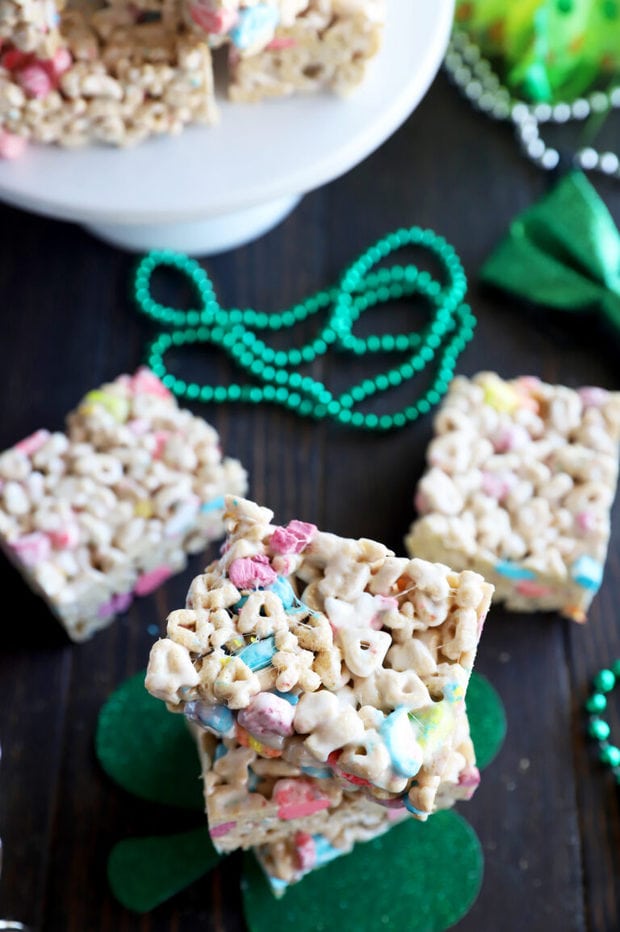 Let's make tasty Lucky Charms cereal treats!
Melt marshmallows
Add the marshmallows with butter to a saucepan. You want to melt them down and get it all mixed together well.
Mix it all together
Once melted, you pour the marshmallow mixture over the cereal in a big bowl. REMEMBER TO USE COOKING SPRAY ON THE SPATULA! More tips on that below though.
Mix it all together and press it into a 9-inch square baking dish.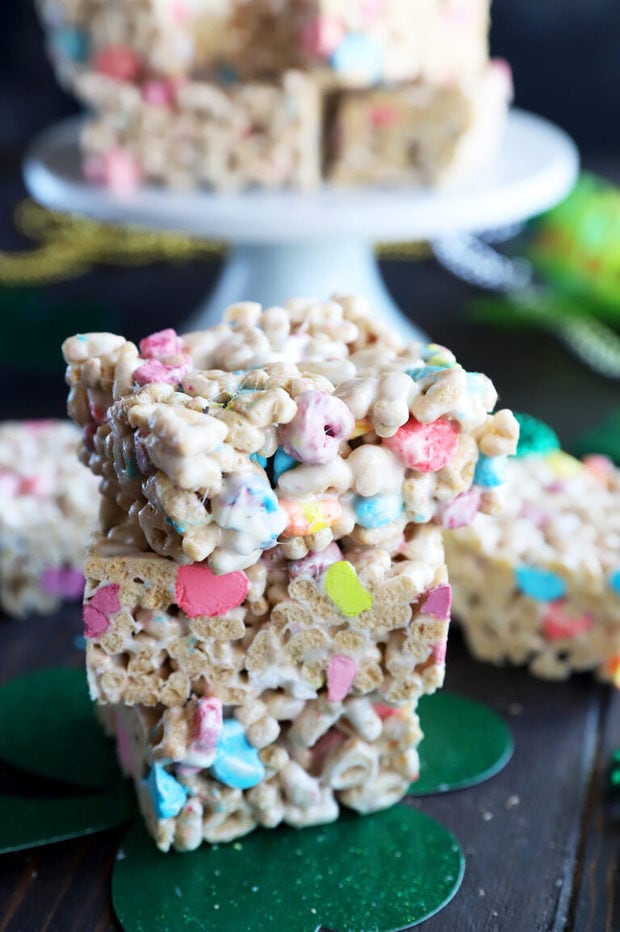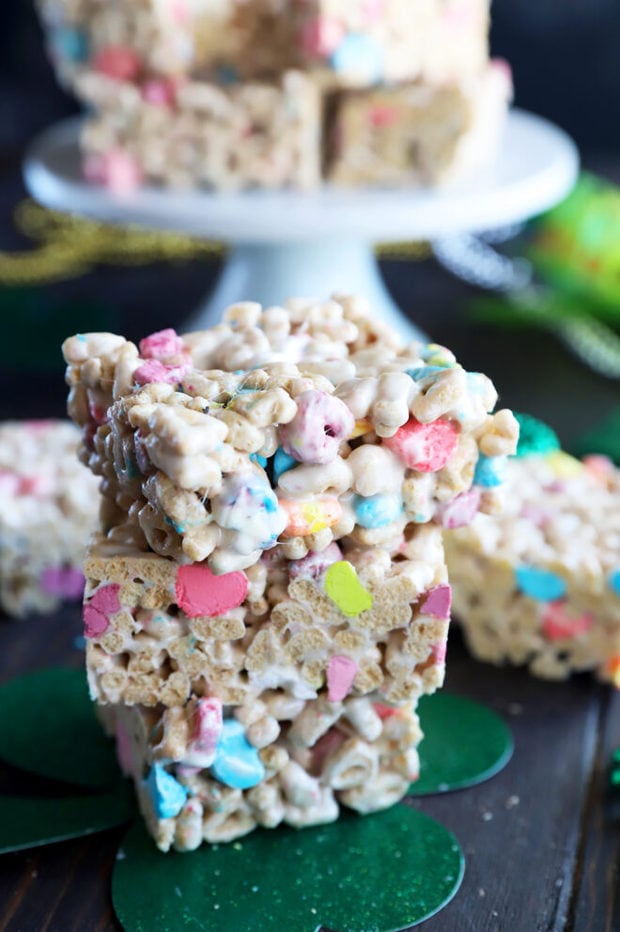 Chill and slice
All you have to do now is refrigerate it for one hour and then you can cut it into pieces as big or small as you want!
Need inspiration for St. Patrick's Day dinners? Check out my St. Patrick's Day recipes for some tasty ideas.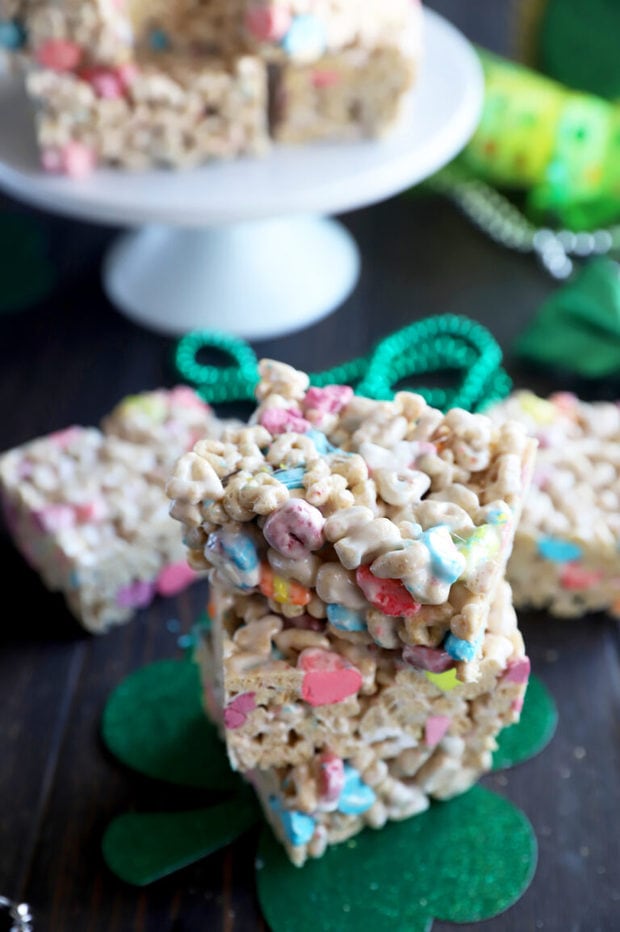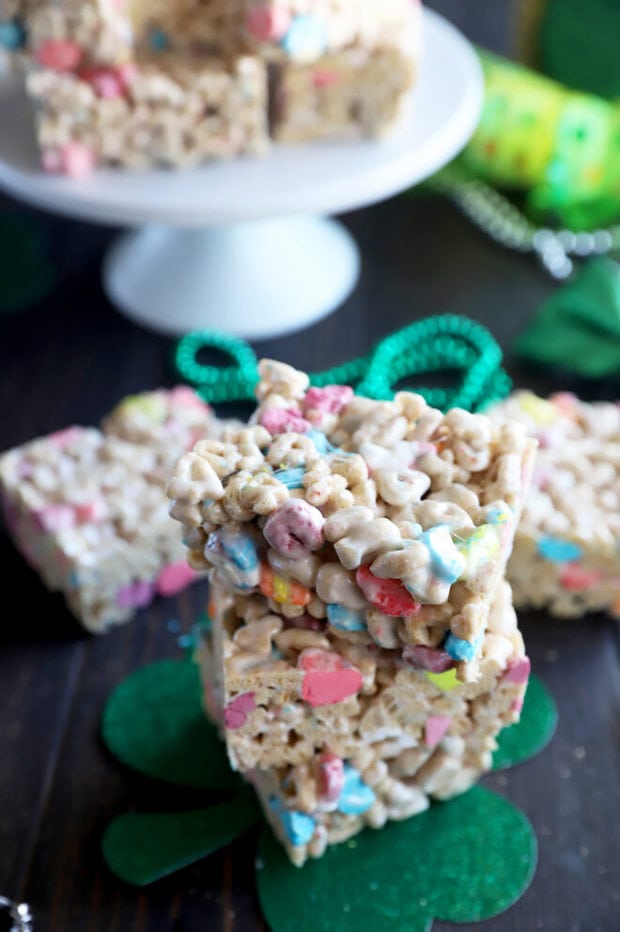 Got questions?
Can I use regular sized marshmallows?
If you can't get your hands on mini marshmallows, you can use regular ones. Just be sure to cut each one into quarters, otherwise it'll take a really long time for the marshmallows to melt!
Can I double the recipe?
Yes you can! All you need to change up is chilling the treats in a 9×13-inch pan instead of a 9-inch square pan. The treats will be a little thicker than what you see here.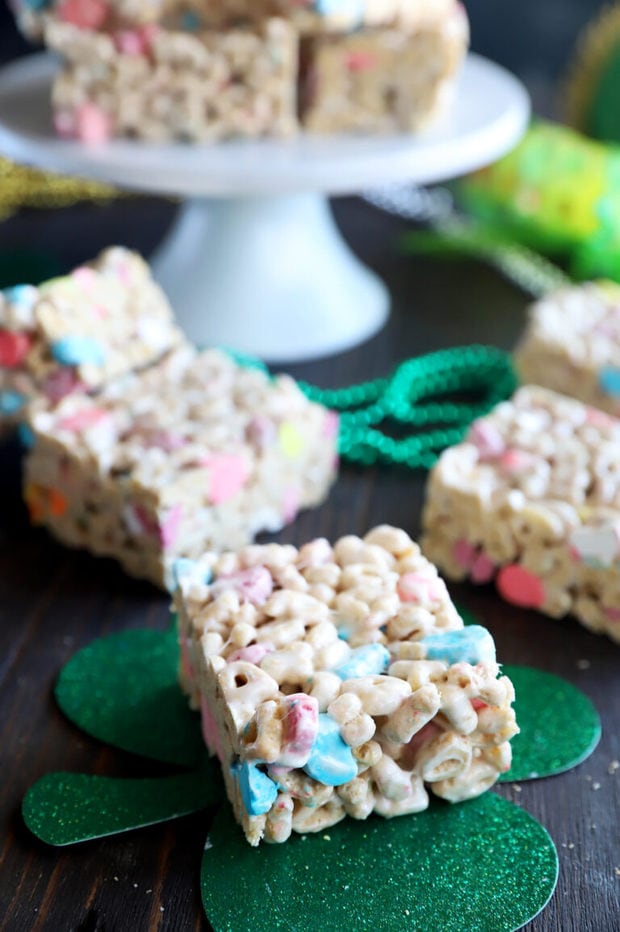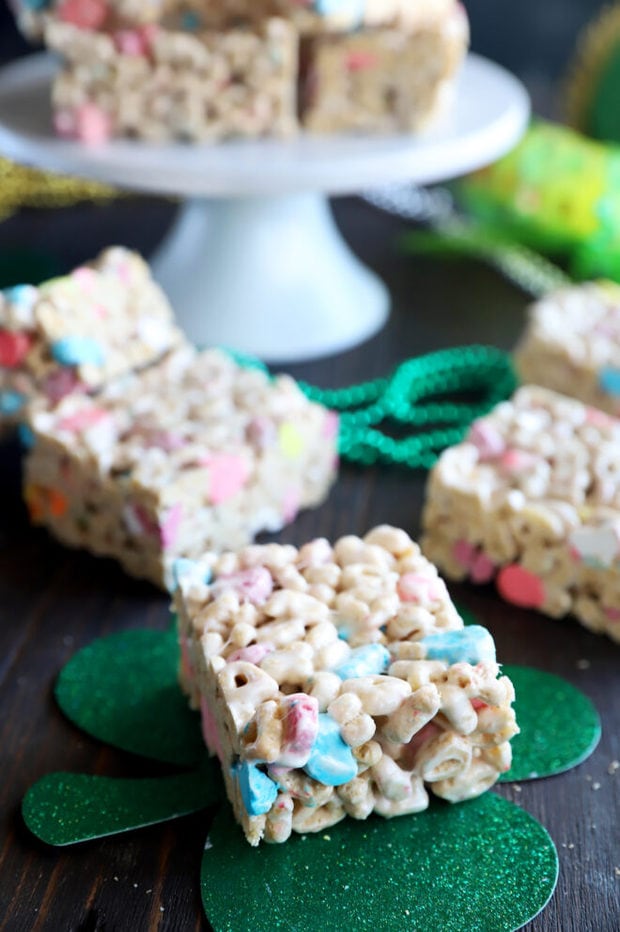 A Couple Pro Tips
• Cooking spray is your best friend for this recipe! Be sure to coat the bowl you mix everything up in with it. Coat the spatula with it. Coat the pan with it. It helps SO MUCH because things can get really sticky and messy without it.
• Use unsalted butter for the recipe. You don't want to add salt into the mix!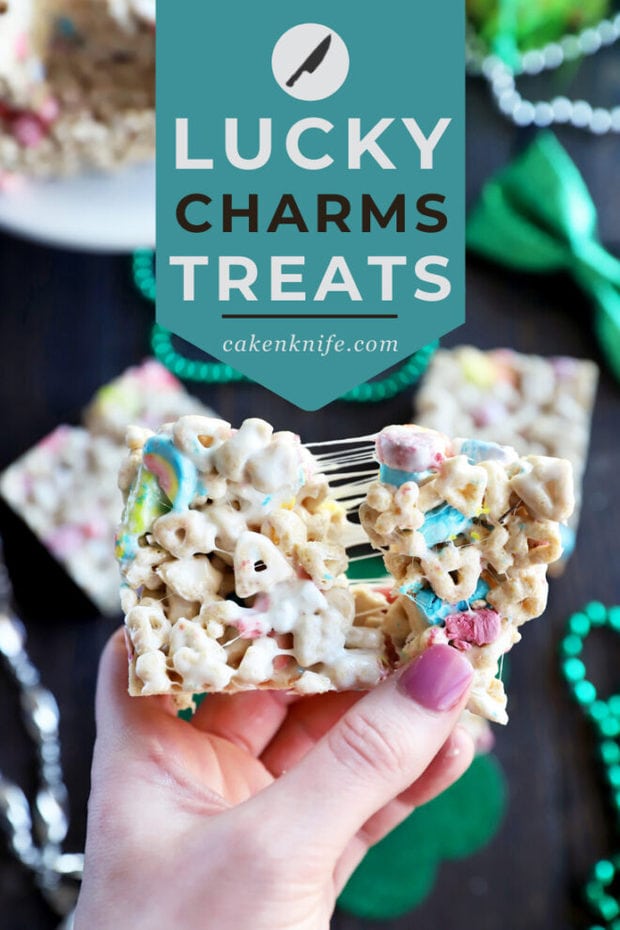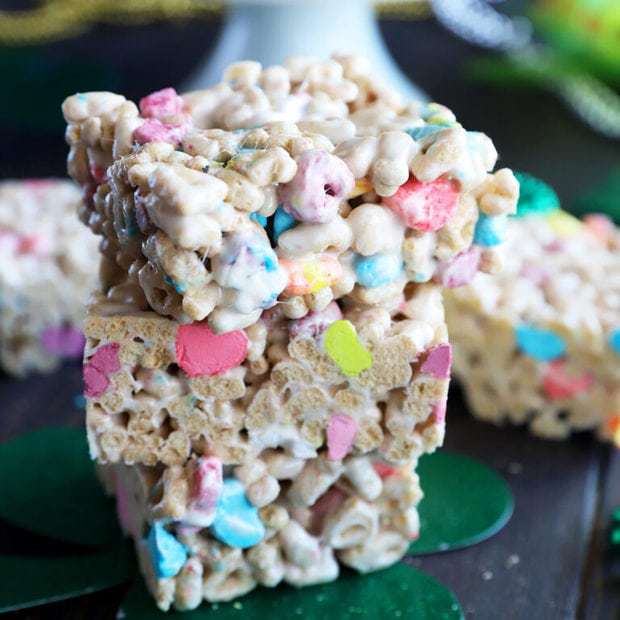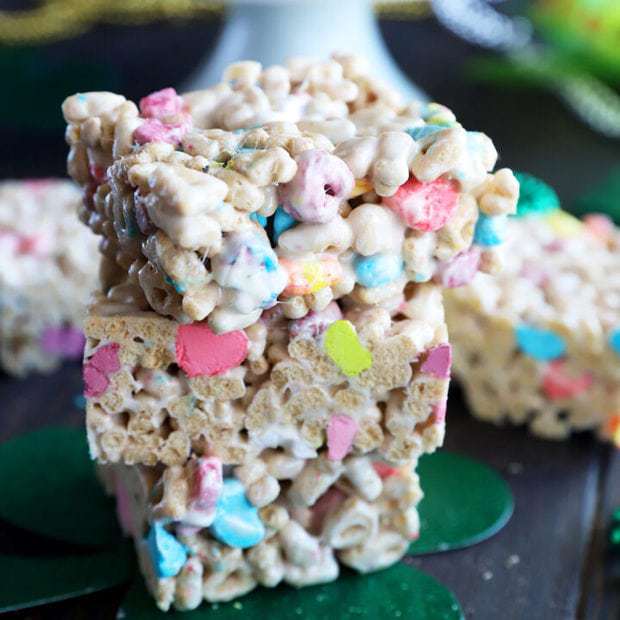 Lucky Charms Cereal Treats
Total Time:
1 hour
15 minutes
Easiest treats to make, with a fun Lucky Charms twist for St. Patrick's Day!
Ingredients
6 cups Lucky Charms cereal
4 cups mini marshmallows (one 10oz bag)
3 Tbsp unsalted butter
Cooking spray
Instructions
In a medium saucepan over medium heat, combine the mini marshmallows and butter.
Stir until the mixture is melted, then remove from heat.
Coat a large bowl lightly with cooking spray, add the cereal and marshmallow sauce, stir until the cereal is well coated with the sauce.
Add the cereal mixture to a small casserole dish that has been coated with cooking spray.
Spread with a spatula (one that's been coated with the spray is helpful since this mixture gets sticky!) until one even layer.
Refrigerate for at least one hour before cutting into treats.
Recommended Products
As an Amazon Associate and member of other affiliate programs, I earn from qualifying purchases.