Peach Plum Cobbler is a divine combination of stone fruits in a simple, straightforward dessert. The fruit is combined with a rich white wine syrupy sauce and topped with made-from-scratch biscuits, making it the ideal transition recipe from summer to fall!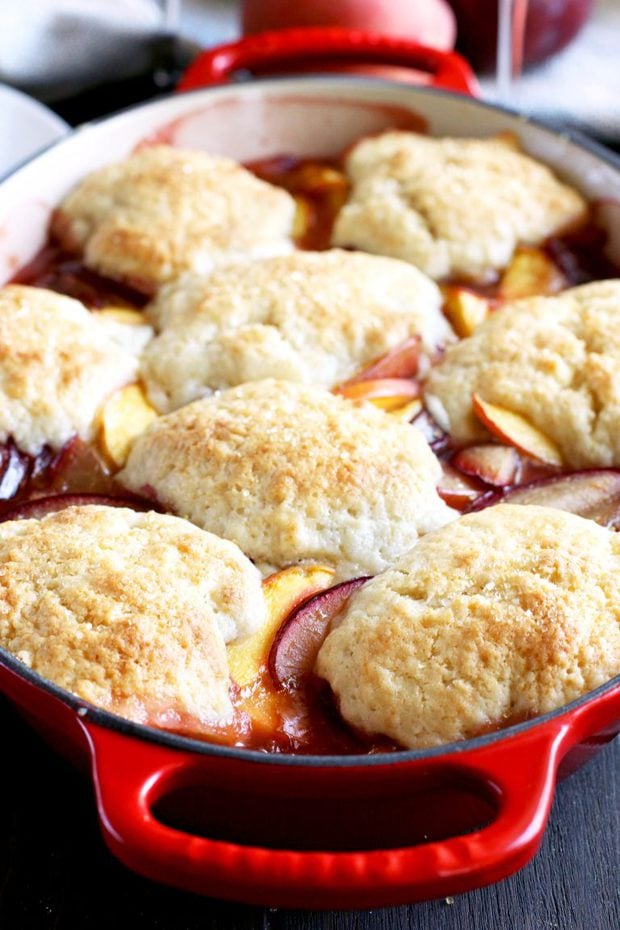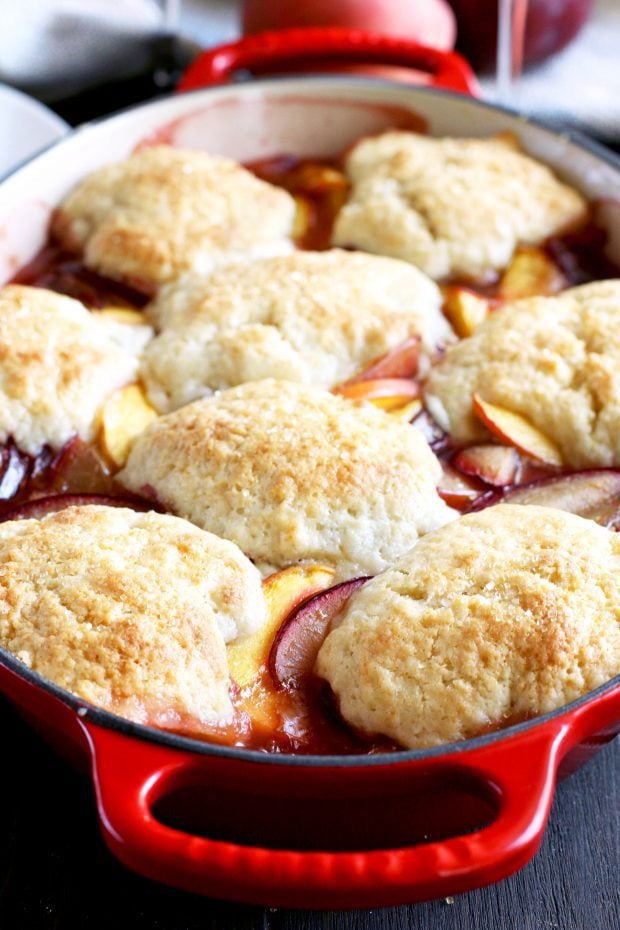 Please note that some of the links below are affiliate links. If you make a purchase through one of these links, I will receive a small commission.
As I write this, I can hear the crack of thunder shaking my house as the rain comes down in sheets outside.
It's the perfect end of summer/beginning of fall thunderstorm to kick off the beginning of September, and that just happens to be exactly what this dessert is all about.
I love the combination of stone fruit in this cobbler so, so much.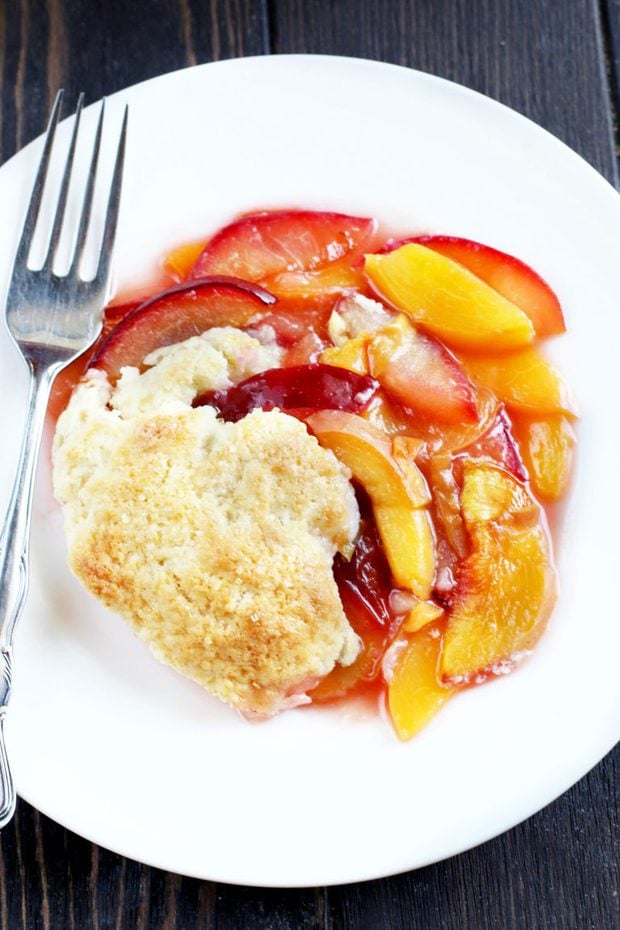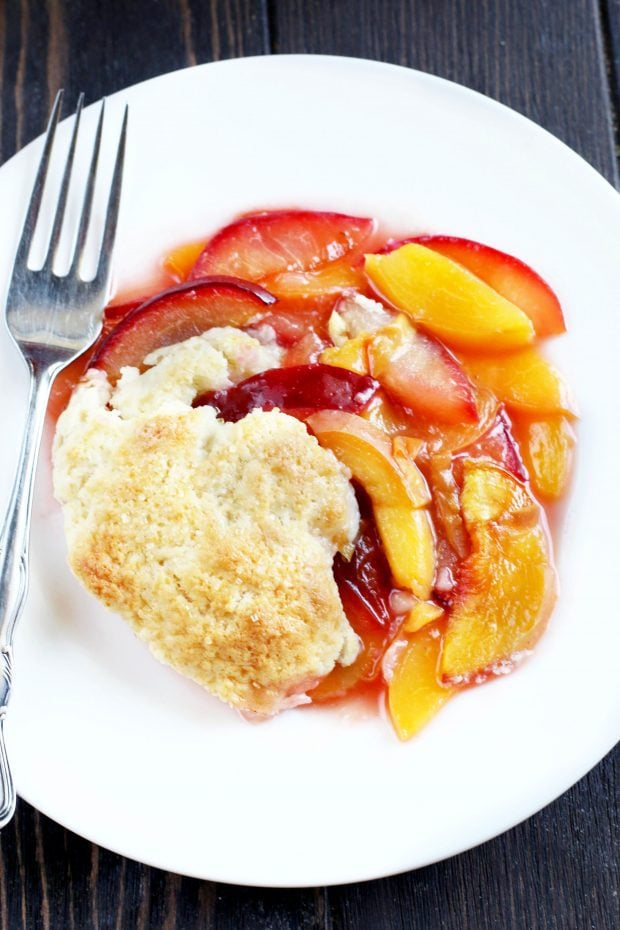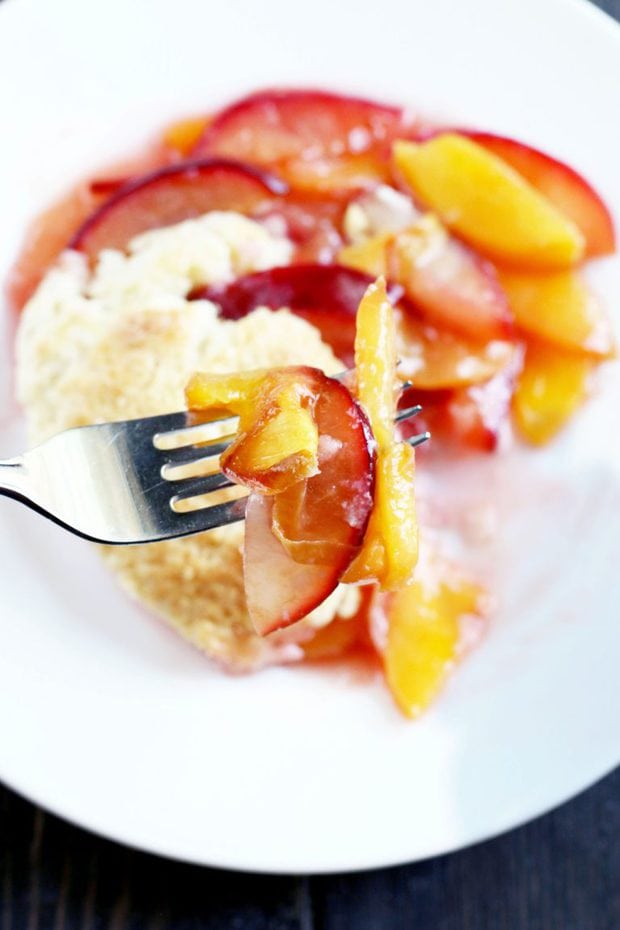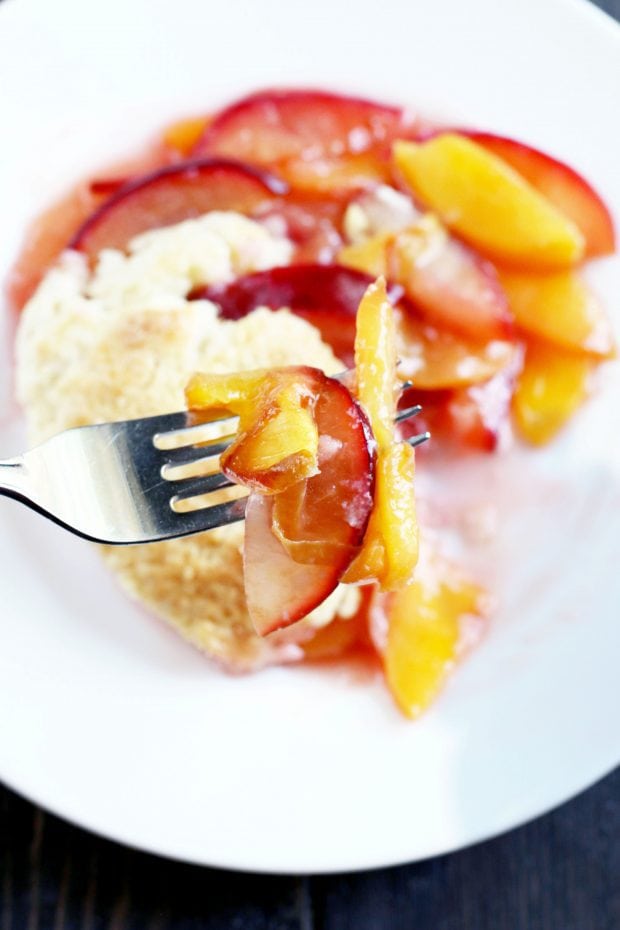 The peaches are everything to remind you of those late summer vibes, with the vibrant sweet juices running down your chin every time you bite into a ripe one.
The plums however, those have a sweet and slightly tart element to them, filled with complex flavors that remind me so strongly of fall.
When you put the two together, you get an explosion of fruity flavors that gently falls across your taste buds.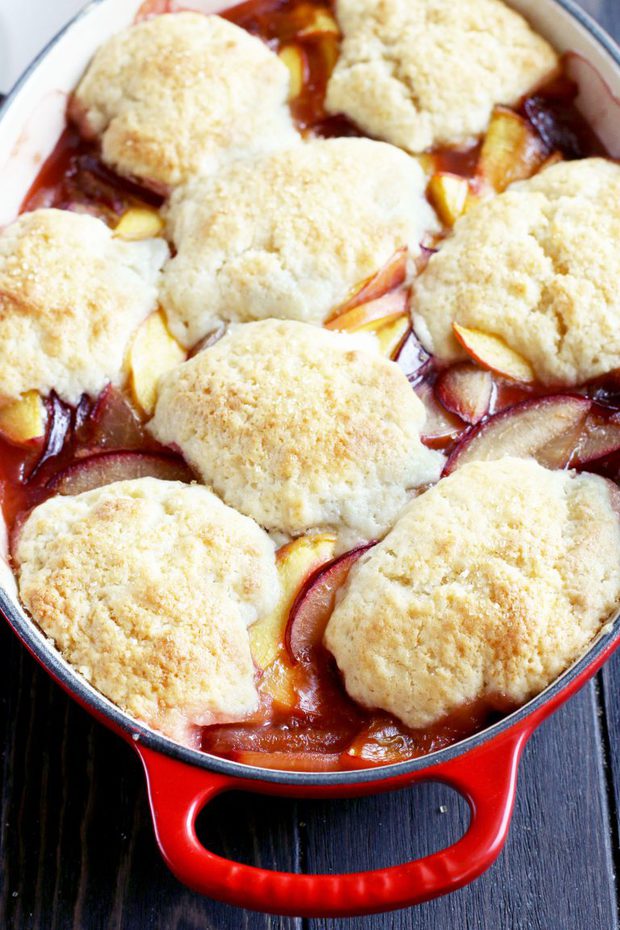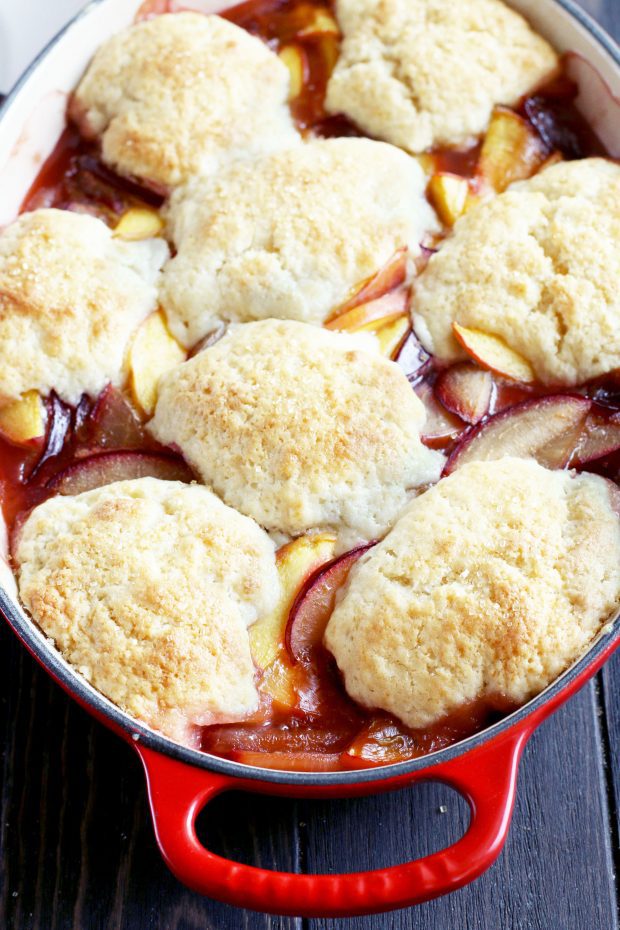 It helps even more that these flavorful fruits are combined with a reduced white wine sauce that is both sweet and tart from the addition of lemon.
All of this is topped with homemade biscuits that are oh-so easy to make and come out perfectly flaky and golden brown.
You honestly won't be able to stop making this dessert every single week as you roll on into the fall season.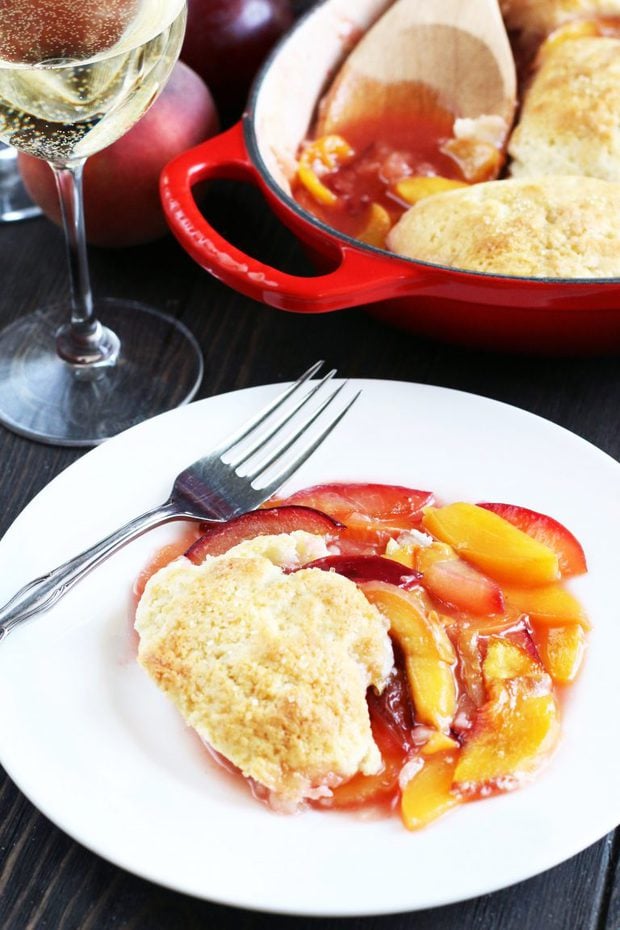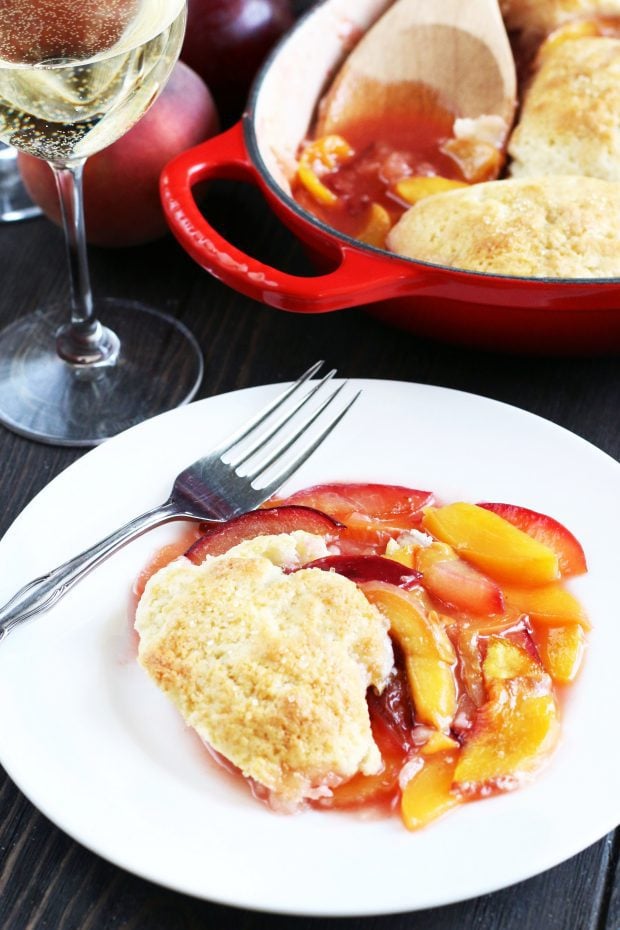 This Recipe's Must Haves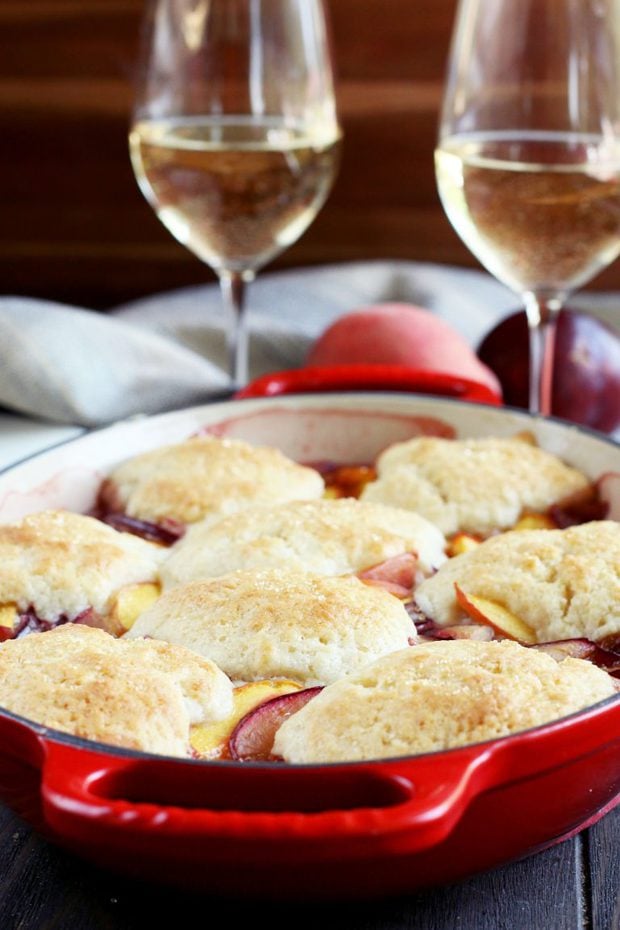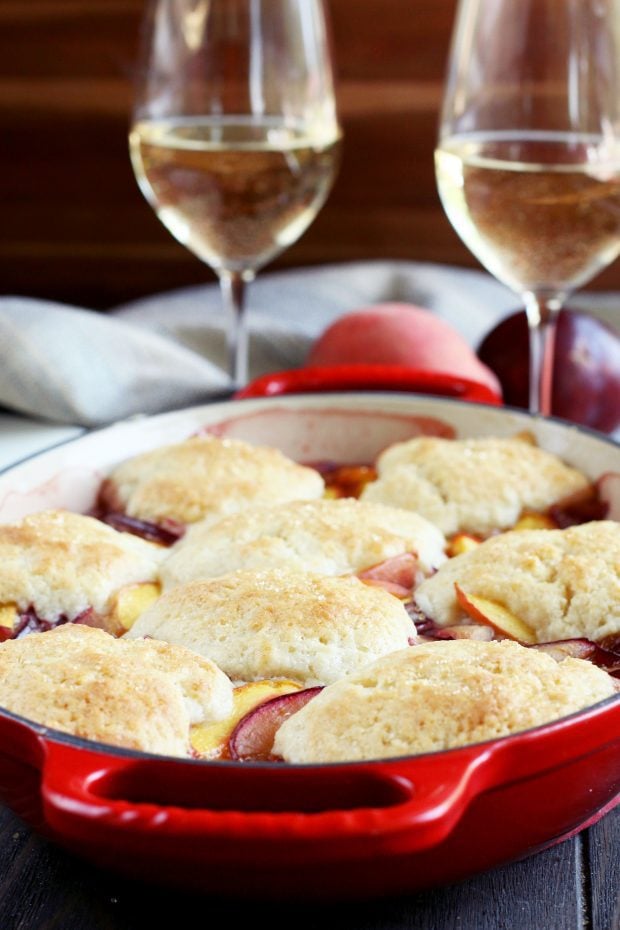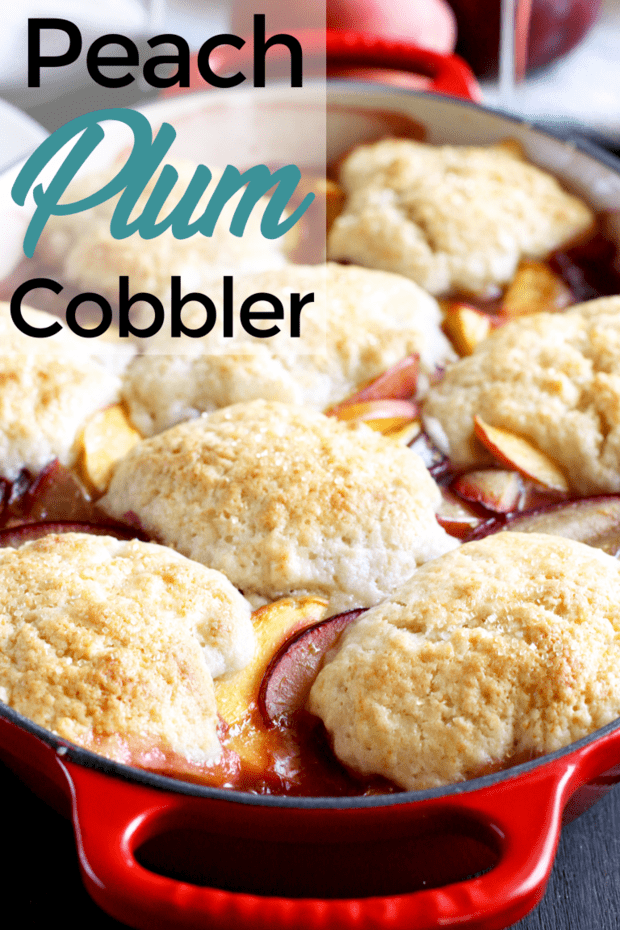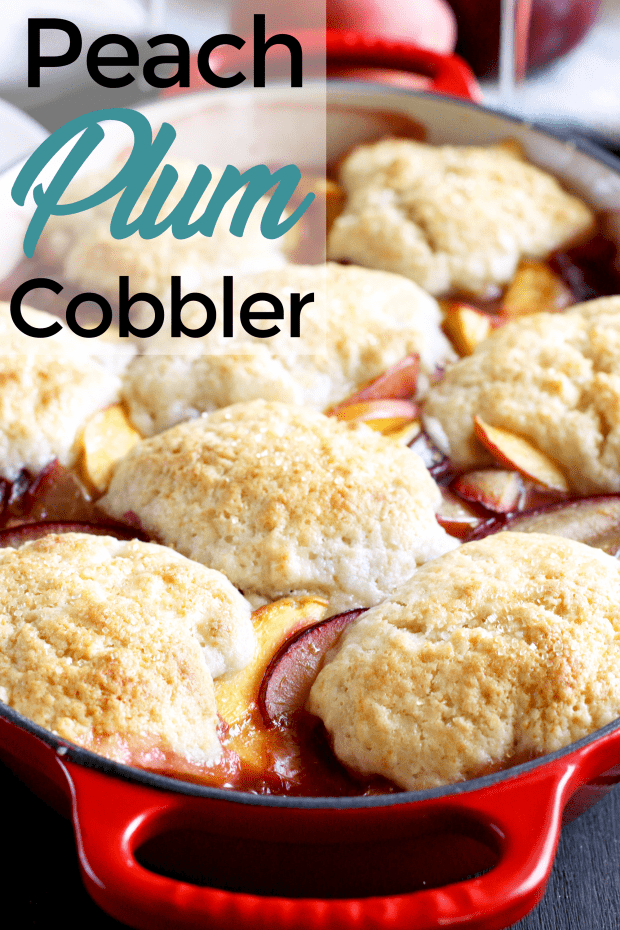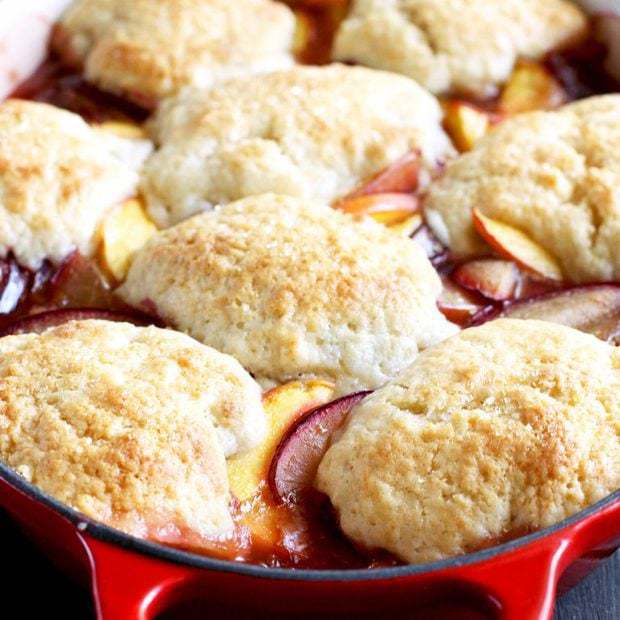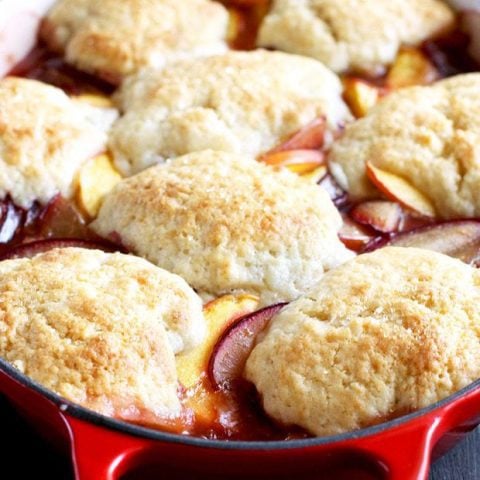 Peach Plum Cobbler
Total Time:
1 hour
10 minutes
The combination of peaches and plums is just the right sweet and rich base for this classic cobbler.
Ingredients
Fruit Filling
1 1/3 cups white wine (pinot grigio or sauvignon blanc)
1/3 cup light brown sugar
1 Tbsp fresh lemon juice
1 2-inch strip lemon peel
1 Tbsp plus 1 tsp cornstarch
1 1/2 lbs sliced fresh peaches
1 1/2 lbs sliced fresh plums
Topping
1 cup flour
1/4 cup sugar
1 1/2 tsp baking powder
1/2 tsp salt
3/4 cup + 3 Tbsp heavy whipping cream (more for brushing)
1 Tbsp turbinado sugar
Instructions
Preheat oven to 400 degrees F.
To make the filling, combine white wine, brown sugar, lemon juice, and lemon peel in a small saucepan. Cook over medium-high heat, stirring occasionally, until mixture is reduced to about 1/2 cup. Remove the lemon peel and whisk in the cornstarch.
In a large bowl, mix peaches, plums, and white wine mixture until the fruit is evenly coated. Add the mixture to a 2 qt baking dish.
To make the topping, whisk together flour, sugar, baking powder and salt. Add 3/4 cup plus 3 Tbsp heavy whipping cream to the flour mixture and stir until the dough comes together.
Add the biscuit topping in dollops on top of the peaches and plums. Space the dollops out so you have evenly spread mounds.
Lightly brush the biscuits with additional heavy cream and sprinkle with turbinado sugar.
Bake for approximately 35 to 40 minutes, until the biscuits are golden brown and the fruit is bubbling.