Please note this post contains affiliate links.
Caramel Apple Ice Cream is full of apple pie spices, fresh apples, and creamy dulce de leche for the ultimate fall sweet treat. It's a no-churn dessert so you don't have to worry about having an ice cream maker to make it! You'll want a double scoop every single day.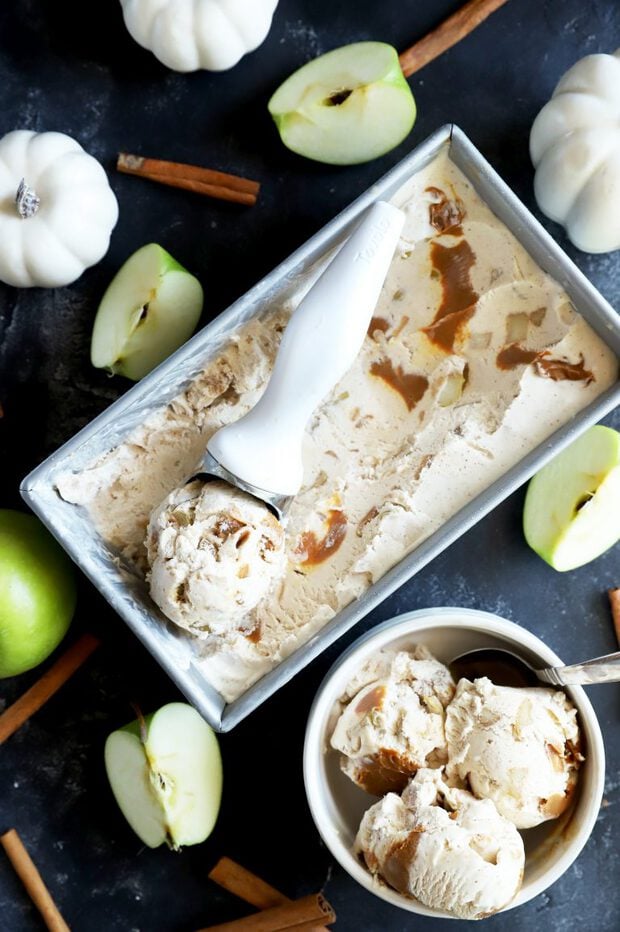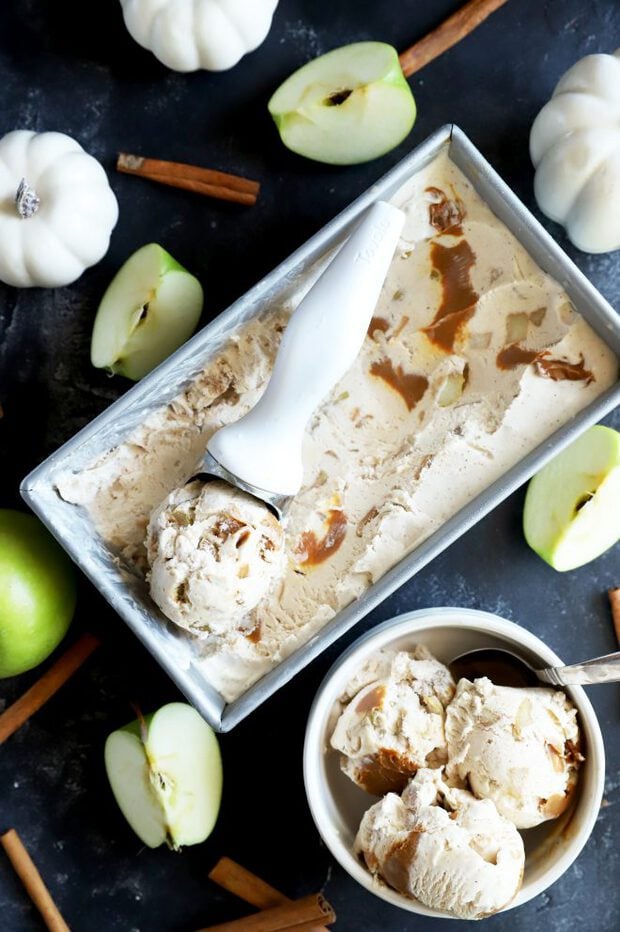 HOLY OMG EVERYBODY.
This is the fall frozen treat to beat all other frozen treats.
For me, fall is all about caramel apples. I used to be OBSESSED with them, so much so that everyone I knew would start bringing me caramel apples from the grocery store anytime they saw me between September and November.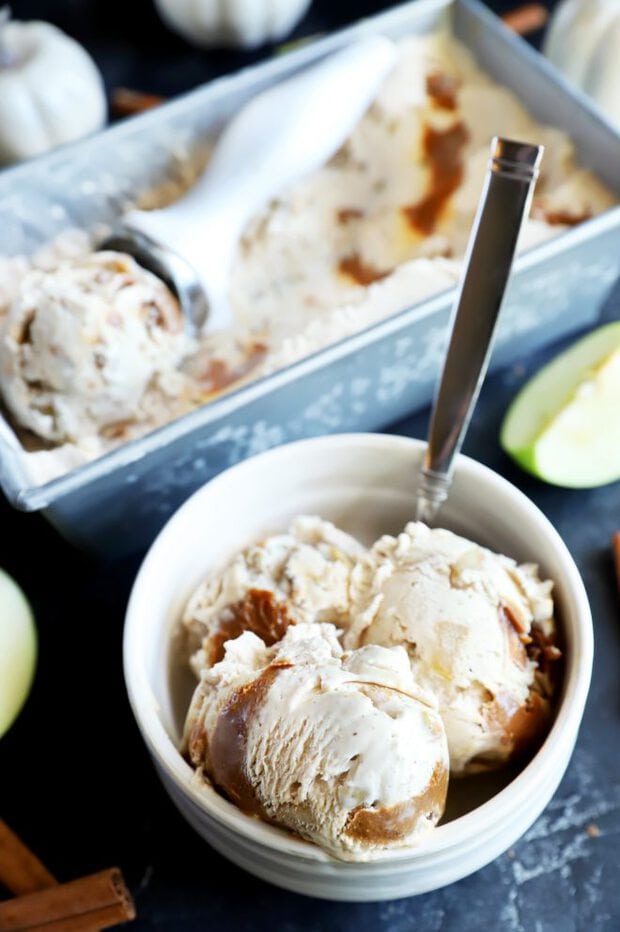 The combination of the crisp and slightly sour apple coated in sweet caramel and fun toppings was just my JAM.
The last couple of years, I haven't been enjoying them as much as usual, so I have had a SERIOUS craving this year.
Therefore, let's just make it into an ice cream, ok?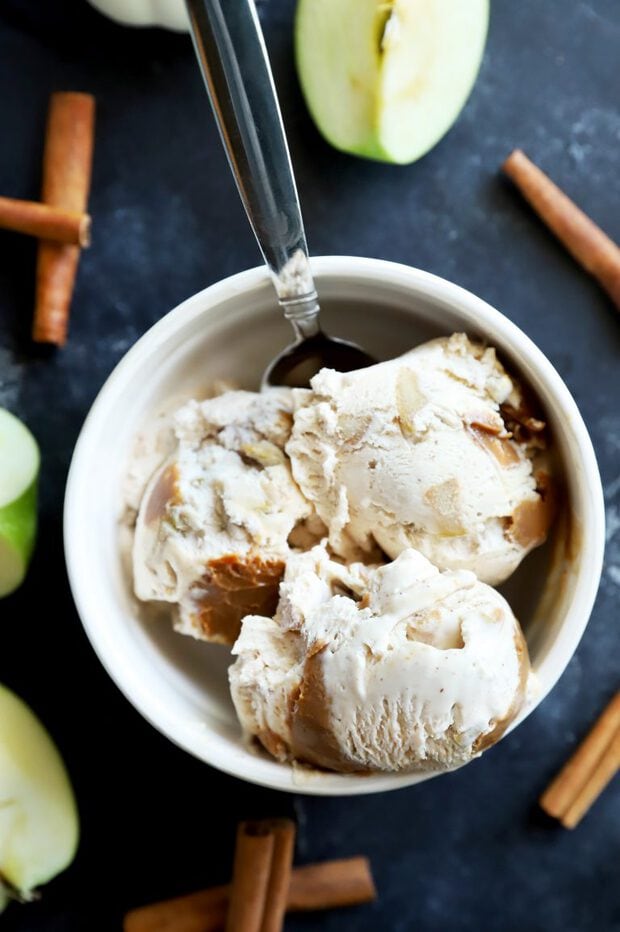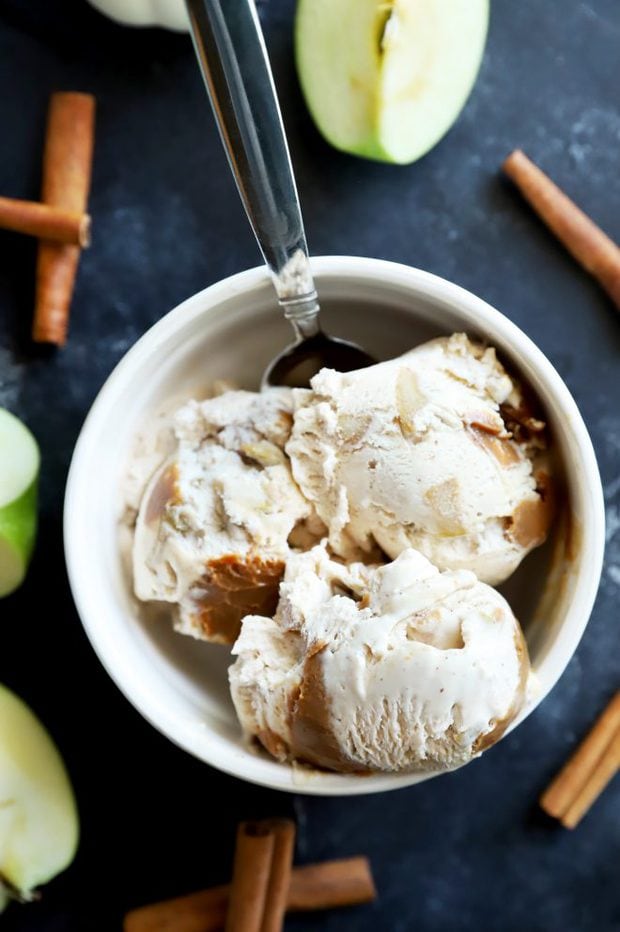 The ice cream is spiced with the same spices as apple pie, with real chunks of cooked fresh apple that burst in your mouth. Then you get the creamy dulce de leche for the caramel element and holy CRAP is it perfection.
You might never go back to that plain old caramel apple treat again…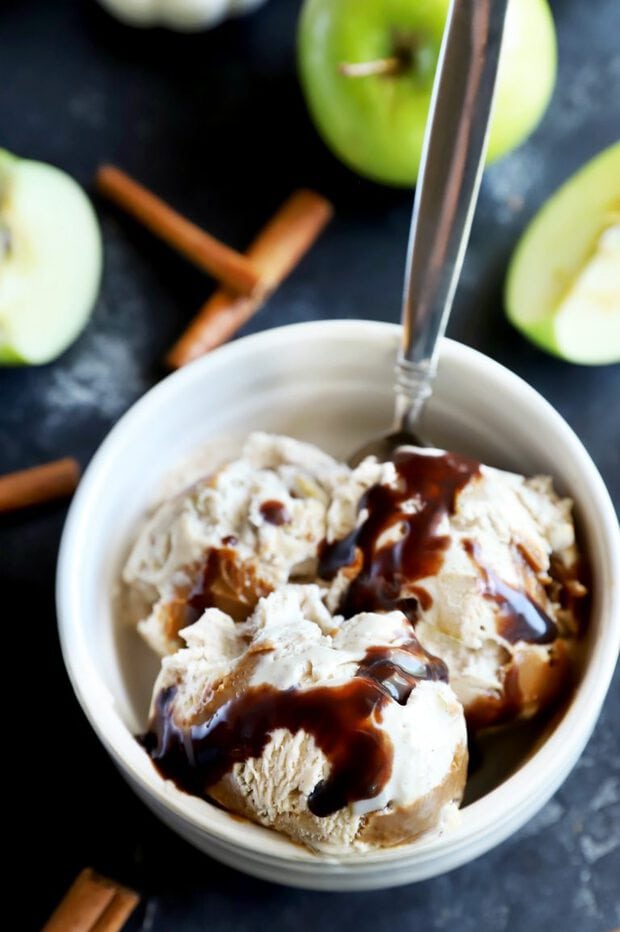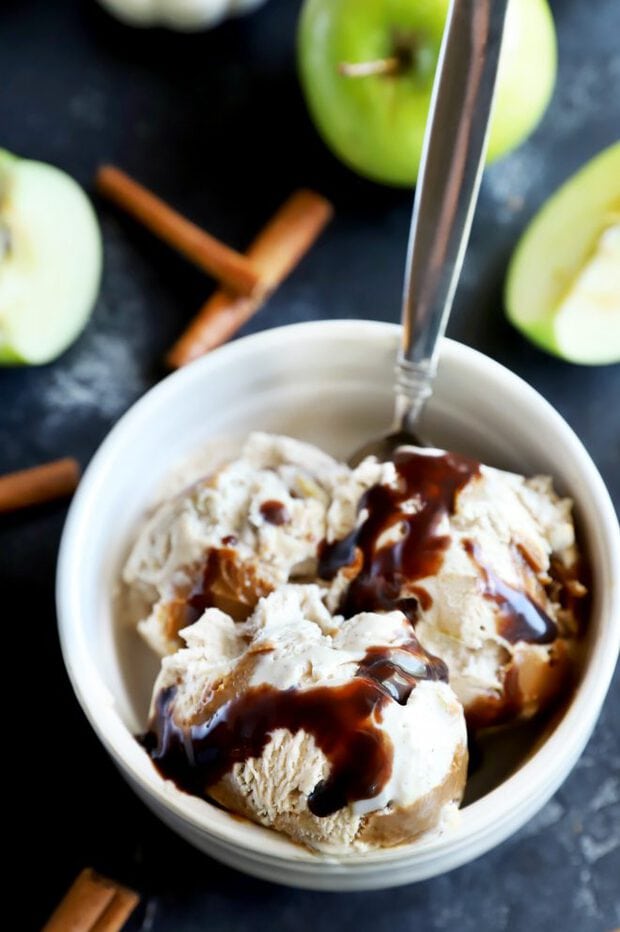 This Recipe's Must Haves
To cook up the apple mixture that give you bites of yummy apple and all the apple pie flavor, you need a killer nonstick skillet. I recently have been working a lot with Tuxton Home Concentrix Cookware, and it is BOMB. It's truly a reliable nonstick skillet, and it comes in these bright colors that fill your kitchen with life. I am OBSESSED, and let me tell you, they are SUPER affordable. I talked about them a bit last month on Instagram, but you get two skillets (small and large) for only $89. Can you believe it??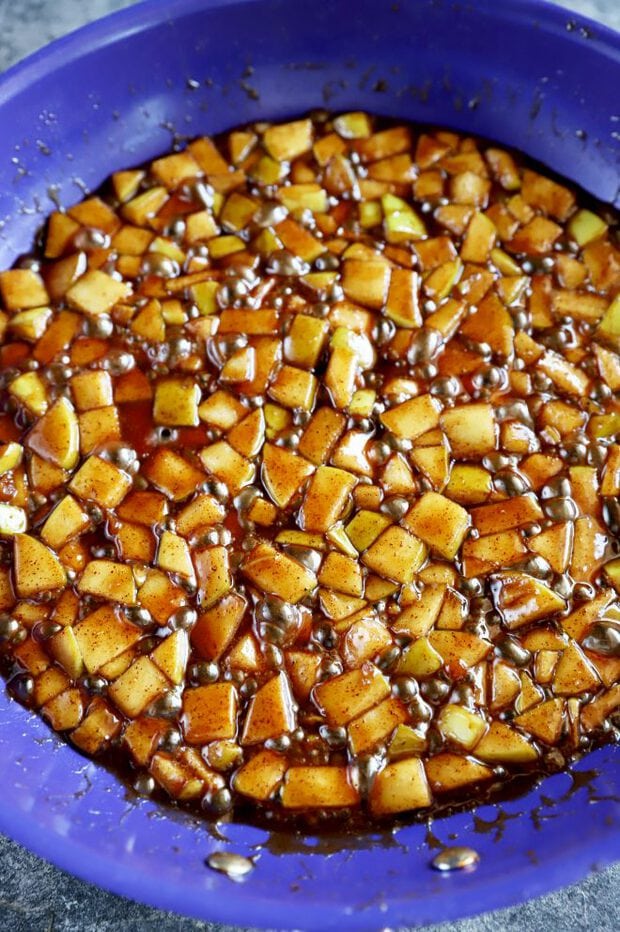 All you need is a wooden spoon to stir everything in the skillet as it cooks!
You will need a stand mixer or an electric hand mixer to make the whipped cream. However you can also use a whisk and a bowl if you want to do it by hand… but I never recommend that.
You'll also need a spatula to fold in the mixture together, and a loaf pan to fill with this heavenly ice cream. If you don't want to use a bread pan, you can also use an airtight container if that's easier for you.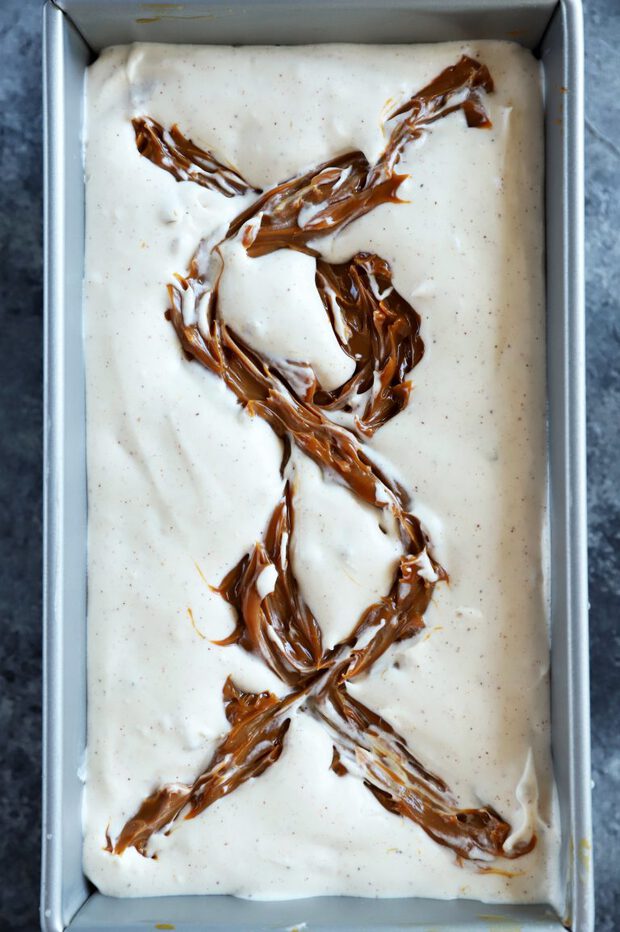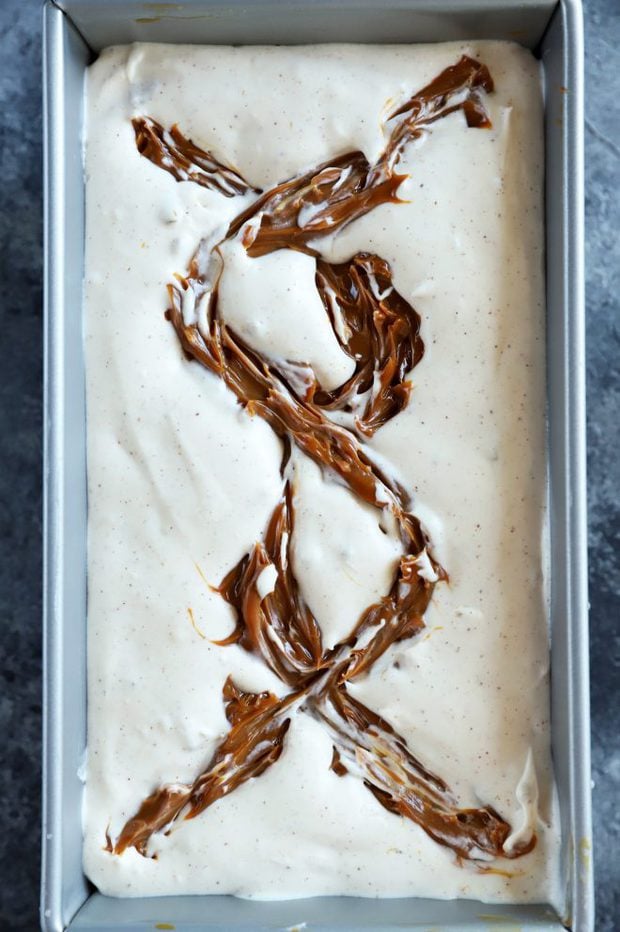 How To Make Apple Ice Cream
Cook down apples
First you start by cooking down the apples! I talked about this a bit before, but a nonstick skillet is super essential here because the mixture becomes this bubbling sugary fruit filling. A nonstick skillet makes it so much easier to get out of the pan! With the Tuxton Home Concentrix Cookware, it just slides right out.
Make whipped cream
To make the whipped cream, you can use a stand mixer or an electric hand mixer and a large bowl. You just want to make sure you get it whipped up to stiff peaks, without overbeating it.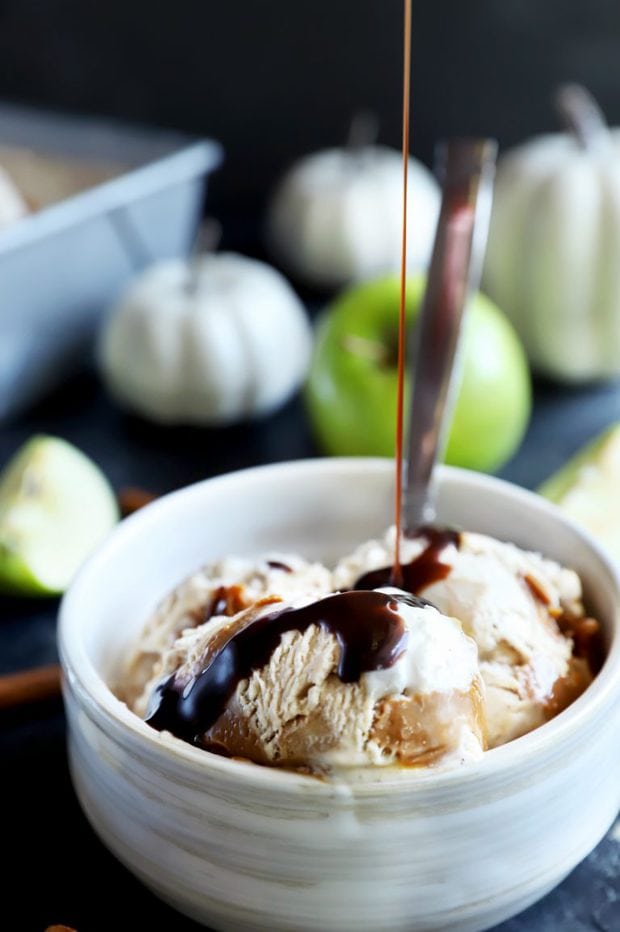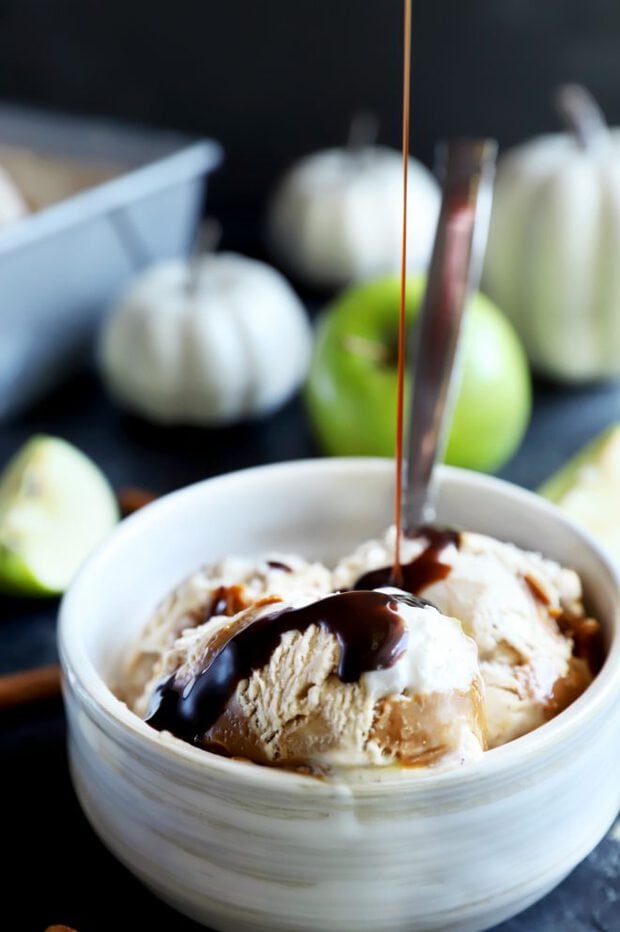 Fold together everything
After the apple mixture has cooled, you mix it together with sweetened condensed milk and then fold that into the whipped cream you just made. It's that easy.
Layer & freeze
All you have to do now is layer the whipped cream apple mixture with the dulce de leche. This helps you get a nice swirl in every single scoop of the ice cream.
Freeze it up for 5 hours or overnight and BOOM. Best. Fall. Dessert. EV-AH.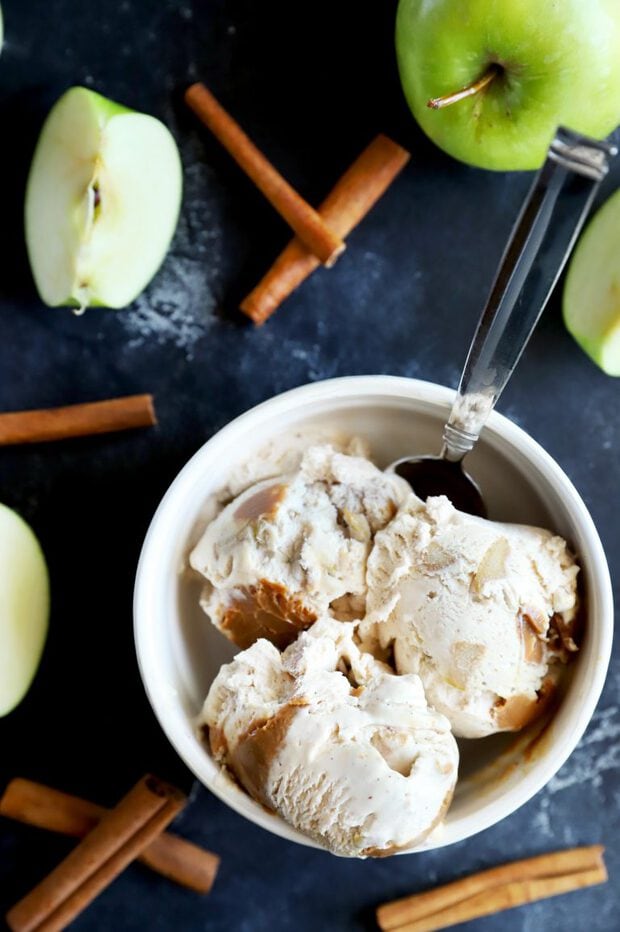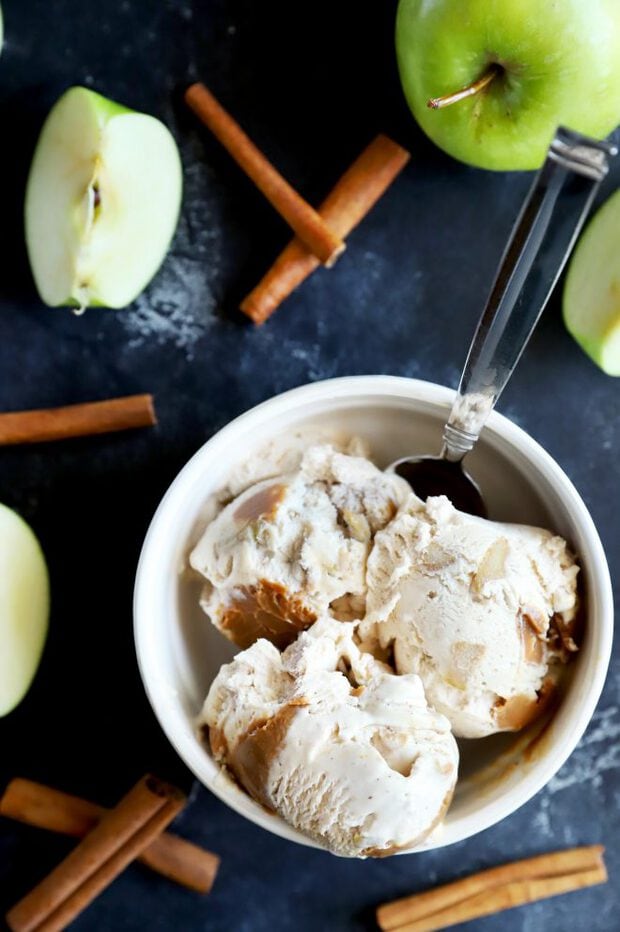 What is no churn ice cream?
No churn ice cream means no ice cream machine is required! In other words, you don't have to worry about having any fancy equipment to make this recipe. It's still just as creamy and smooth as regularly churned ice cream.
Just a heck of a lot easier!

How long does no churn ice cream take to freeze?
For this particular recipe it takes 5 to 6 hours for the ice cream to freeze through completely so it's ready to serve. Now, it's pretty soft at this point, so if you like your ice cream on the more solid/frozen side, I say leave it overnight for the best texture.
The best part is, you don't have to let it thaw at room temperature to get it soft again. All you need to do is run your ice cream scoop under hot water for 30 seconds and it'll come out like a dream!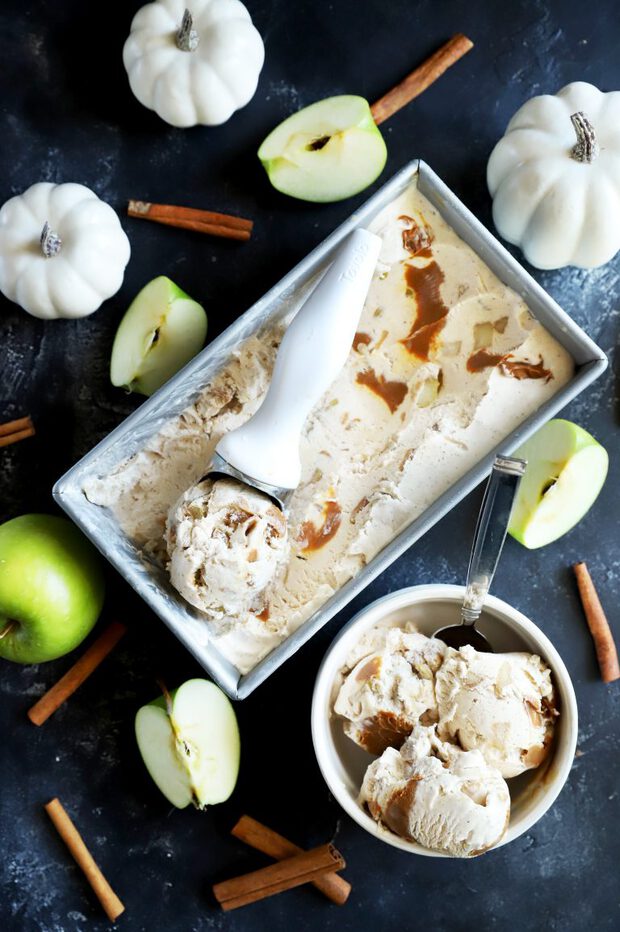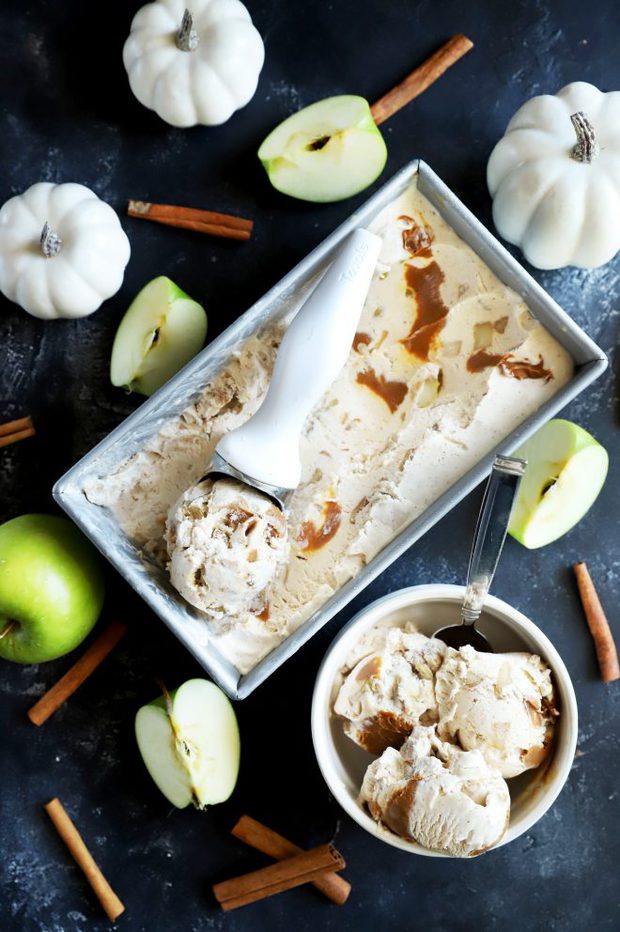 Can I use a different apple for the ice cream?
You certainly can! I personally love green apples because that's what I like to use in apple pie and it gives the ice cream that apple pie flavor. However, you can use other baking apples like Gala, Golden Delicious, Honeycrisp, or Braeburn.
Wondering what to serve this ice cream with? Try adding a scoop to my apple blackberry crumble… It's super simple and can be made anytime of year with fresh or frozen blackberries!
If you are looking for another tasty ice cream, this chocolate chip cardamom ice cream is absolutely addictive.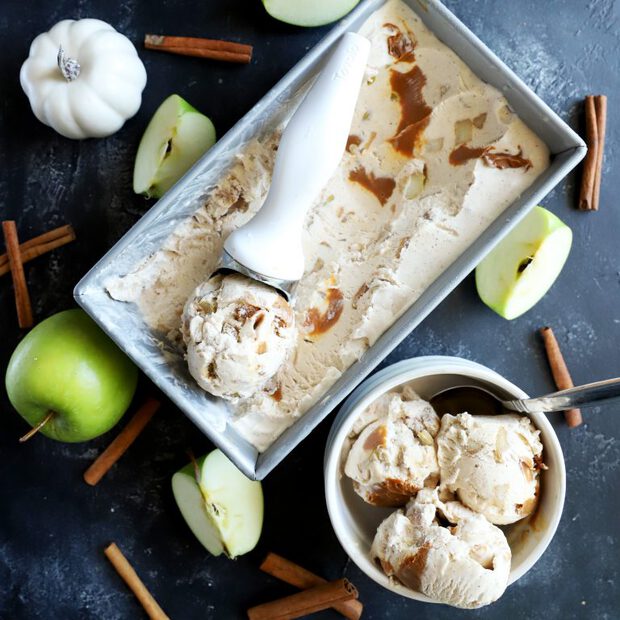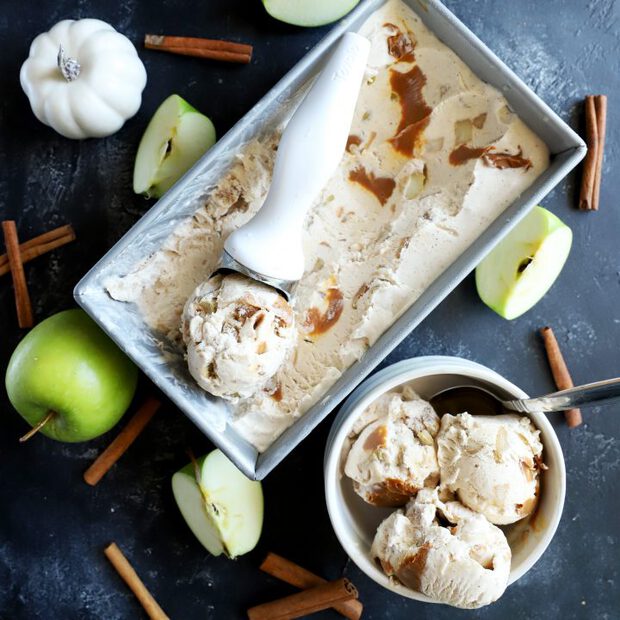 Caramel Apple Ice Cream
Additional Time:
5 hours
15 minutes
Total Time:
5 hours
35 minutes
Homemade no-churn ice cream is studded with fresh cooked apples and apple pie spices, then swirled with dulce de leche!
Ingredients
2 Tbsp butter
2 medium apples, chopped
¼ cup brown sugar
1 Tbsp white sugar
1 tsp ground cinnamon
1/4 tsp nutmeg
1/4 tsp ground cloves
½ tsp vanilla extract
2 cups heavy cream
1 14oz can of sweetened condensed milk
1/4 cup dulce de leche
Instructions
Add butter to a large nonstick skillet over medium-high heat. Once melted, add apples, brown sugar, white sugar, cinnamon, nutmeg, cloves, and vanilla. Cook until softened, stirring occasionally, about 6 to 7 minutes.
Remove from heat and cool the apple mixture completely.
In the bowl of a stand mixture fitted with the whisk attachment, beat heavy cream until it forms stiff peaks.
In a separate medium bowl, stir together condensed milk and apple mixture until combined.
Fold the apple mixture into the whipped cream, until combined.
Add half of the mixture to a 9x5-inch loaf pan. Spread into an even layer. Dollop half of the dulce de leche over the top and use a knife to swirl.
Top with remaining whipped cream mixture. Dollop the remaining dulce de leche over the top, swirling again with a knife.
Cover with plastic wrap and freeze for 5 to 6 hours (or overnight).
Serve with chocolate sauce drizzled on top!
Recommended Products
As an Amazon Associate and member of other affiliate programs, I earn from qualifying purchases.