Late summer dinners call for a fruity, refreshing, and not-too-sweet finish. Blackberry Peach Shortcake Stacks with Mint Whipped Cream strike the right chord at the end of any meal! With macerated peaches and blueberries, these balanced shortcake stacks have just enough sweetness to make you feel indulgent without weighing you down.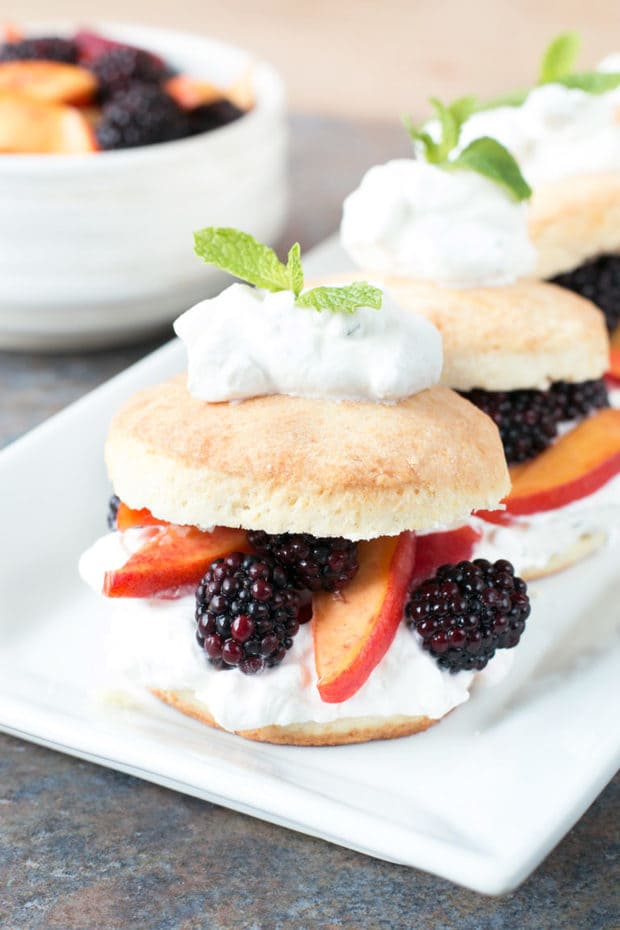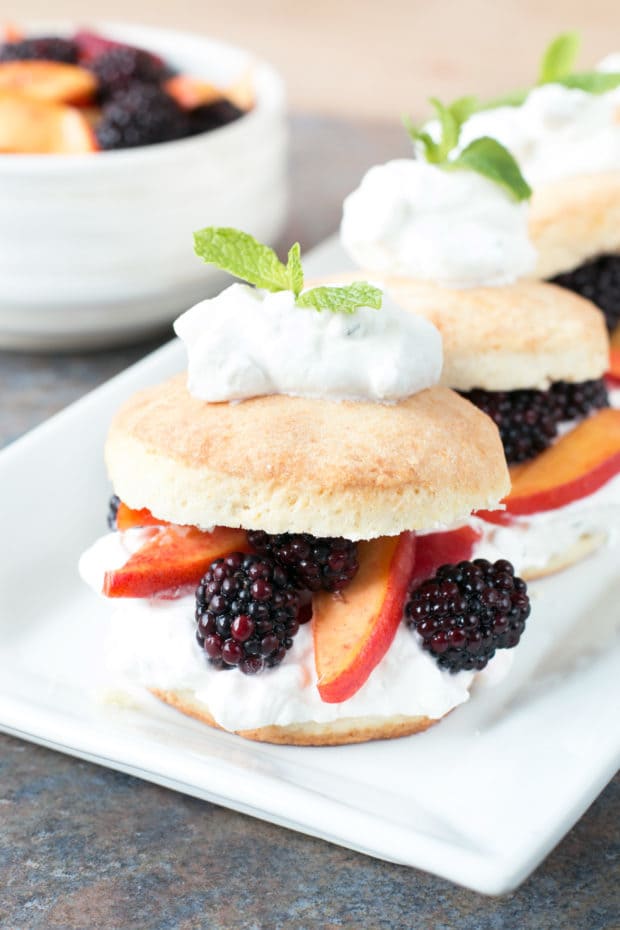 Please note that some of the links below are affiliate links. If you make a purchase through one of these links, I will receive a small commission. Thank you for supporting Cake 'n Knife!
Sooooooo be honest with me… Are you getting sick of ALL the peach things lately?
Because I am so NOT.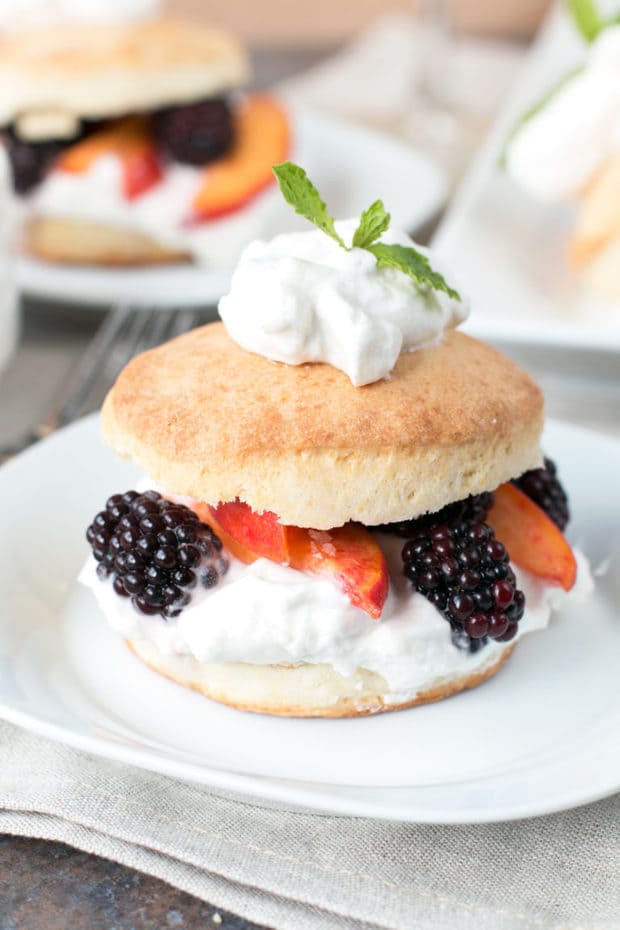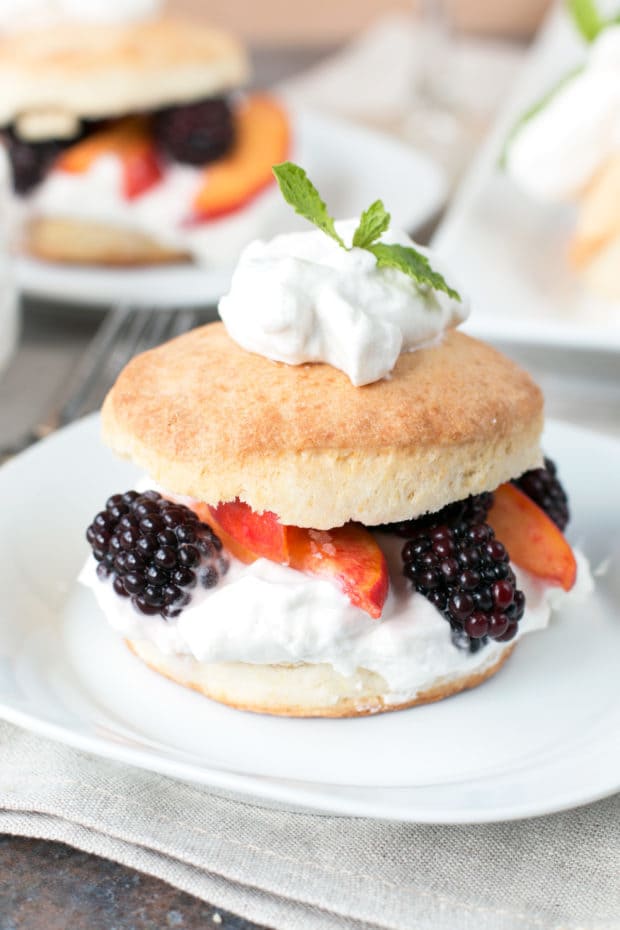 At the end of the summer, I always get a craving for all the fruit that's in season. From peaches to berries, pluots (more to come on these magical beauties later this month) to mangos, I'm munching on fruit for days and daysssss.
That's why I feel like these shortcake stacks are the dessert that embodies all of my late summertime feelings.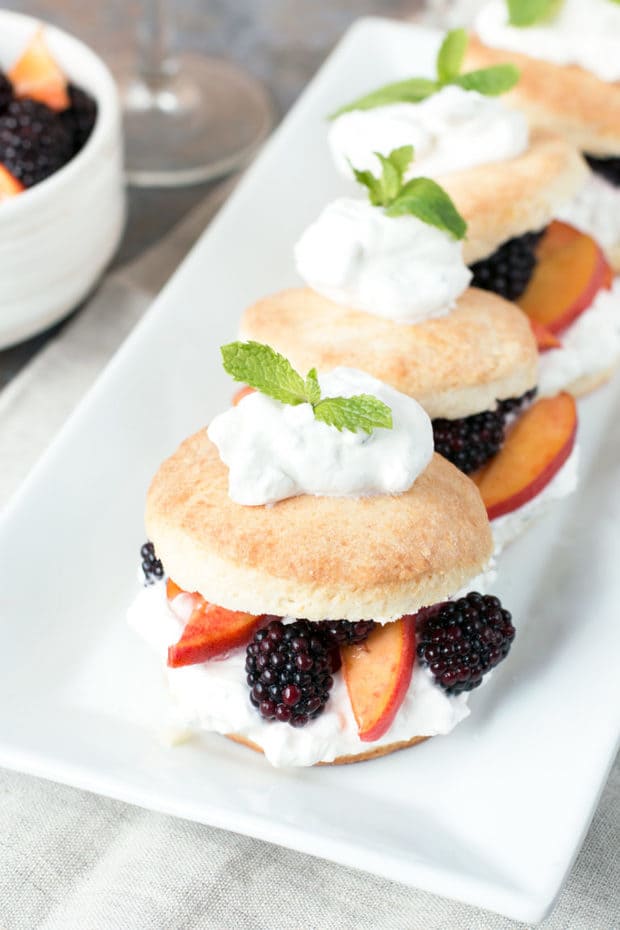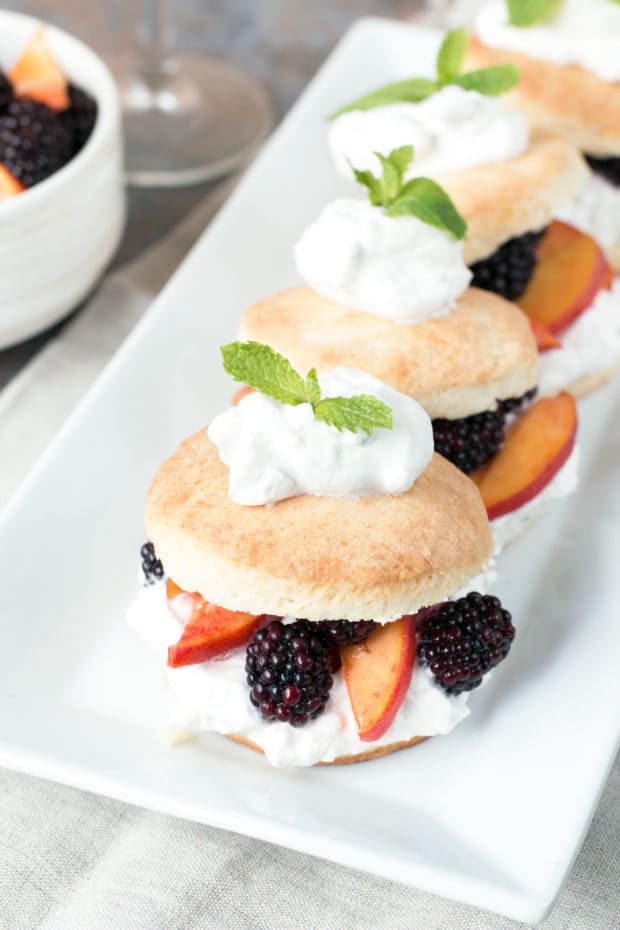 AND it's a WONDERFUL way to celebrate….. a virtual baby shower! I'm here today to share this stunning dessert as a celebration of my friend Stephanie over at Sustaining the Powers who has a new addition to her family! I couldn't be more thrilled for this amazing woman! Not to mention, I can't wait to see the first pictures of the little nugget…
Don't forget to check out the full round up of recipes to celebrate Stephanie's virtual baby shower below!! There are so many delicious bites and indulgences, you HAVE to check them out 🙂
Mini Lemon Cheesecake Bites from A Joyfully Mad Kitchen
Strawberry Watermelon Slushies from I Say Nomato
BLT Bruschetta from The Speckled Palate
Spinach Artichoke Phyllo Bites from A Savory Feast
Limoncello Lemonade from Feast + West
I don't know about you, but I've always enjoyed the simple pleasure of macerating fruits. When you let the fruit soak in it's own juices with just a little bit of sugar and lemon juice, the flavors of any fruit are emboldened ten-fold.
The richness of the peaches and the tartness of the blackberries pair together in a fruity bliss that would make your mouth water simply on their own.
It's basically fruit magic.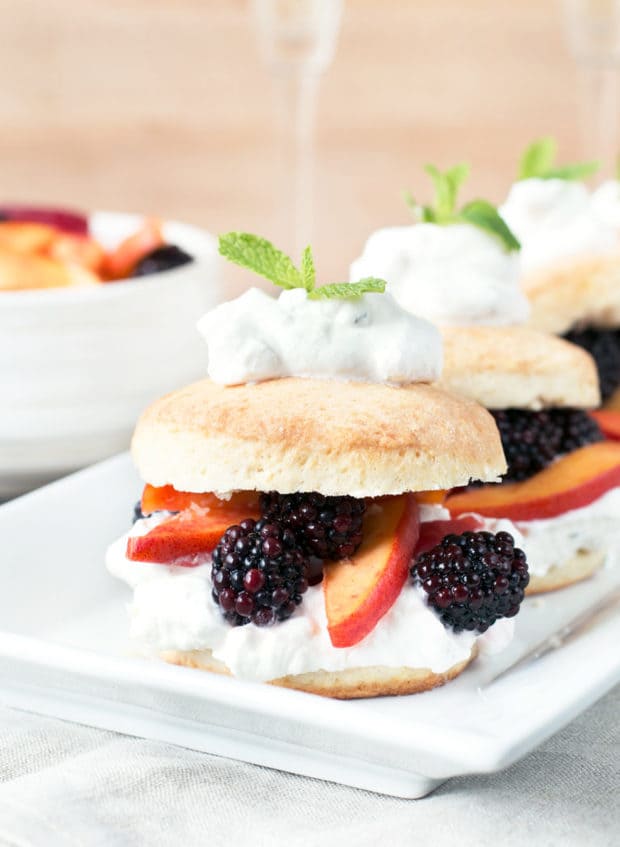 I'd say the fruit is definitely the star of this dish, but I would be amiss if I didn't highlight the base of this whole recipe – the delightful shortcake biscuits.
This biscuit recipe is SO easy to make. It takes no time to put together and the flavor is just the right vehicle for any shortcake you have in mind.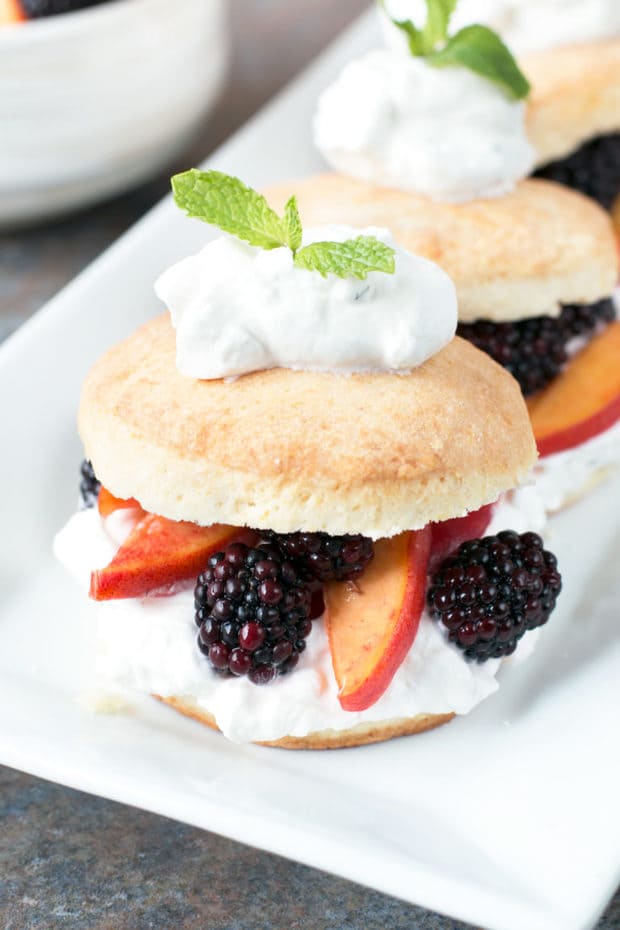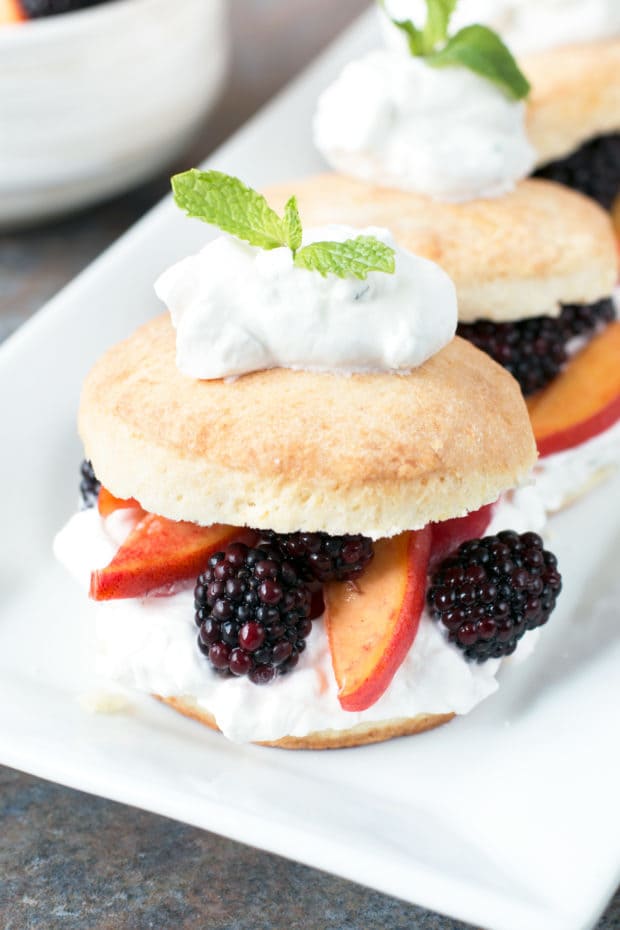 Not to mention the leftovers are perfect for breakfast the next day with a bit of butter and jam… YUM.
When you combine all of this with the fresh and cooling mint whipped cream, you have a dessert that was not only easy to create, but is even easier to plate up and serve without freaking out over how to make it gorgeous. It's a celebration of flavors in every bite and a real treat for whoever you want to spoil this week 😉
This Recipe's Must Haves
Pin this Blackberry Peach Shortcake Stacks with Mint Whipped Cream recipe for later!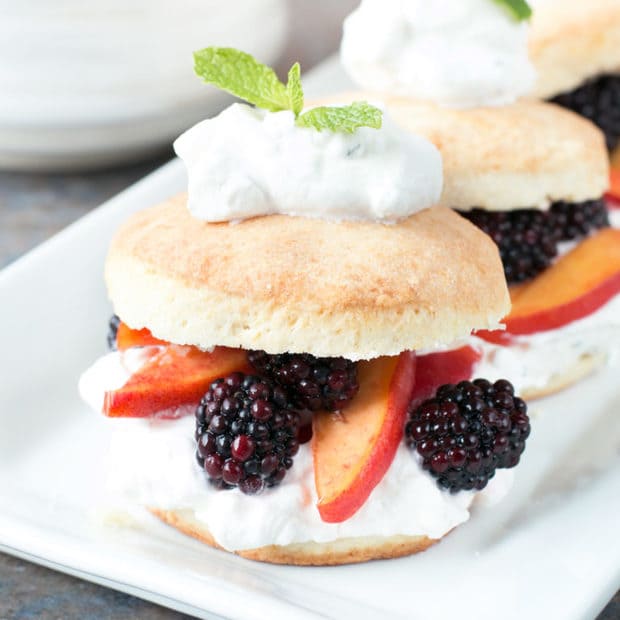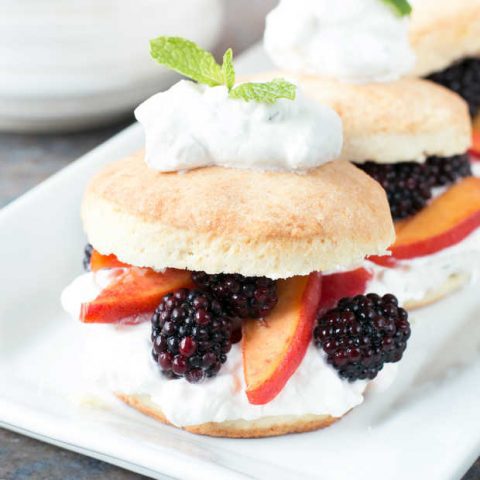 Blackberry Peach Shortcake Stacks with Mint Whipped Cream
From-scratch biscuits make this fruity dessert just the right summer dessert, perfect for peach season! The mint whipped cream adds just the right amount of freshness, making these stacks irresistible.
Ingredients
Blackberry Peach Filling
3 peaches, pitted and sliced
1 1/2 cups blackberries
2 Tbsp sugar
Biscuits
1 1/2 cups flour
1 1/2 tsp baking powder
2 Tbsp sugar
1/2 tsp salt
1 1/4 cup heavy cream
Mint Whipped Cream
1 cup heavy cream
1 1/2 Tbsp sugar
1 tsp vanilla
2 Tbsp freshly chopped mint
Instructions
Preheat oven to 425 degrees. Line 2 baking sheets with silicone mats or parchment paper.
In a medium bowl, combine peaches and blackberries with 2 Tbsp sugar. Stir to combine and let fruit macerate for 20 minutes.
In a large bowl, sift together flour, baking powder, sugar and salt for the biscuits. Pour over heavy cream and mix together dough with your hands until the dough comes together.
Dump dough out on a flat work surface that's been dusted with flour. Roll out the dough to 1/2-inch thick. Cut into 2-inch circles.
Place dough circles on lined baking sheets. Bake for 15 minutes until golden. Cool slightly.
While the biscuits are baking, in the bowl of a stand mixer, beat together ingredients for the mint whipped cream.
To make the shortcakes, cut the biscuits in half. Spread a layer of mint whipped cream on the bottom halves of the biscuits. Top with macerated fruit and other halves of the biscuits.
Top with a dollop of whipped cream and a sprig of fresh mint. Serve immediately.