Please note this post contains affiliate links.
Pumpkin Spice Ribs are just the meaty deliciousness you need in your life for fall. Warming pumpkin spice amps up the flavor in the dry rub mix, making the ribs sumptuous and rich. The dry rub is so flavorful, you won't even think to add any sauce!
YOU GUYS.
I did a kinda crazy thing.
You know how everyone is currently losing their minds of pumpkin spice EVERYTHING?
So I might not be a PSL girl, but I love me some pumpkin spice.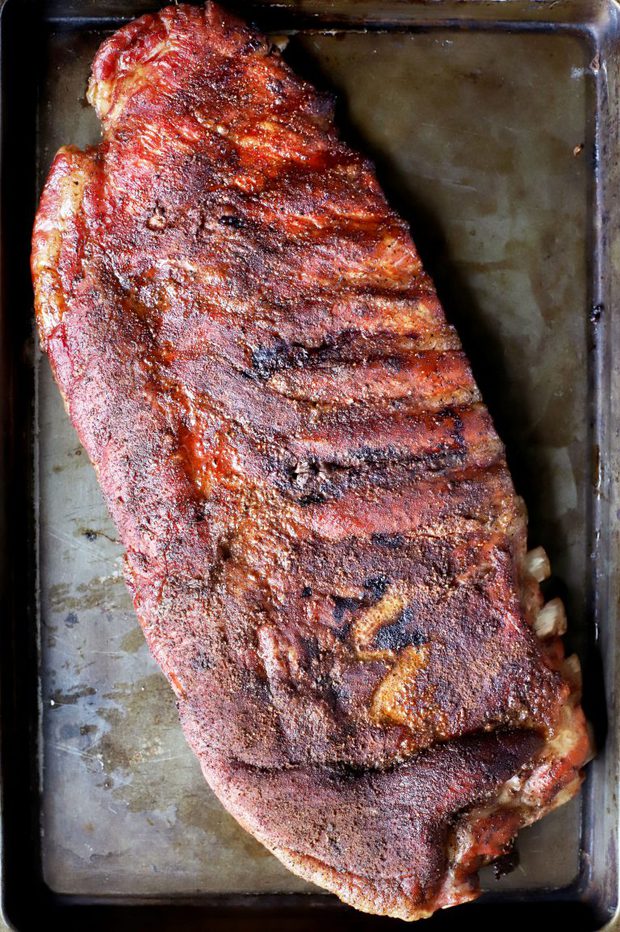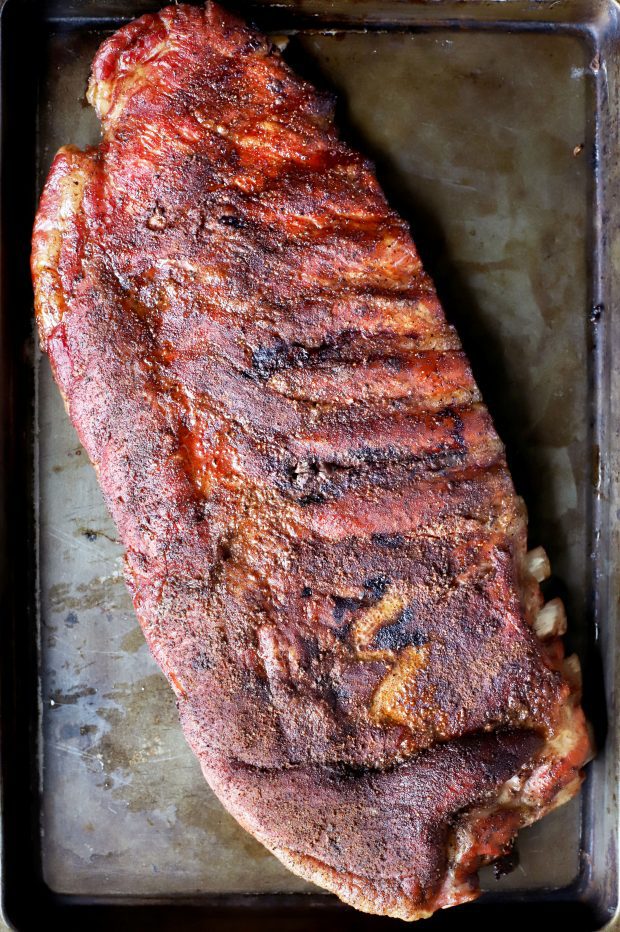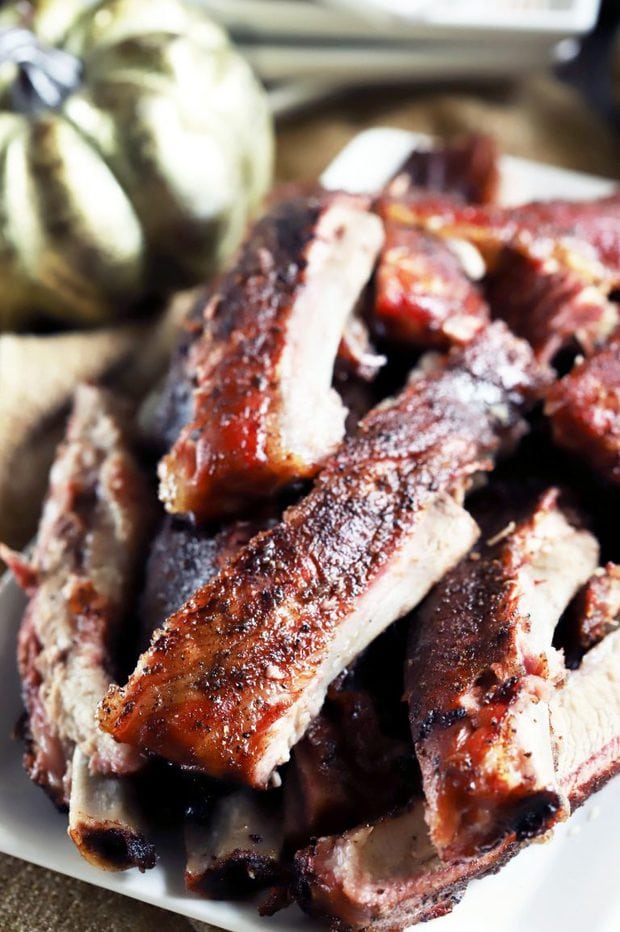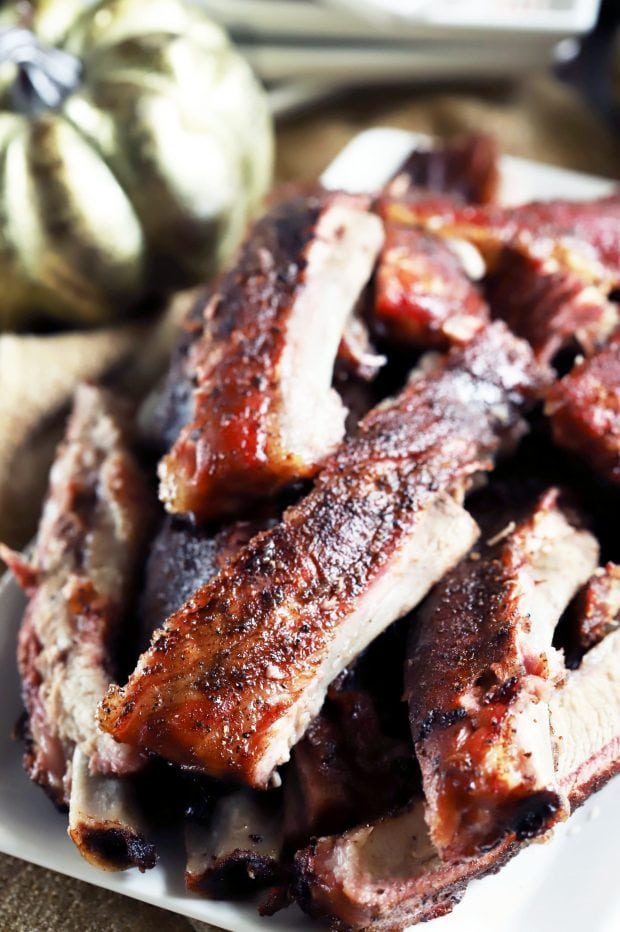 The rich, warming flavors of the spice mixture really sink me into those cozy fall feelings, full of plaid, flannel, boots, and falling leaves. So I couldn't help but ask myself, why oh why must these flavors be reserved for sweet things only?
The answer is, THEY DON'T.
Sorry about all the caps in this post, I just don't know how to contain my excitement right now. I also might be hyped up on three shots of espresso. It's one or the other. Or both. Anyways….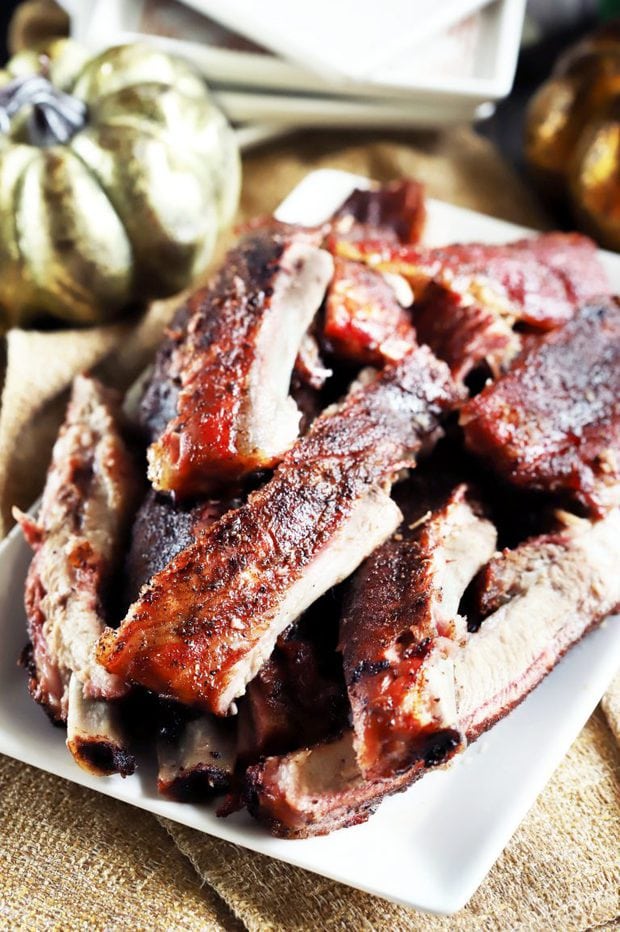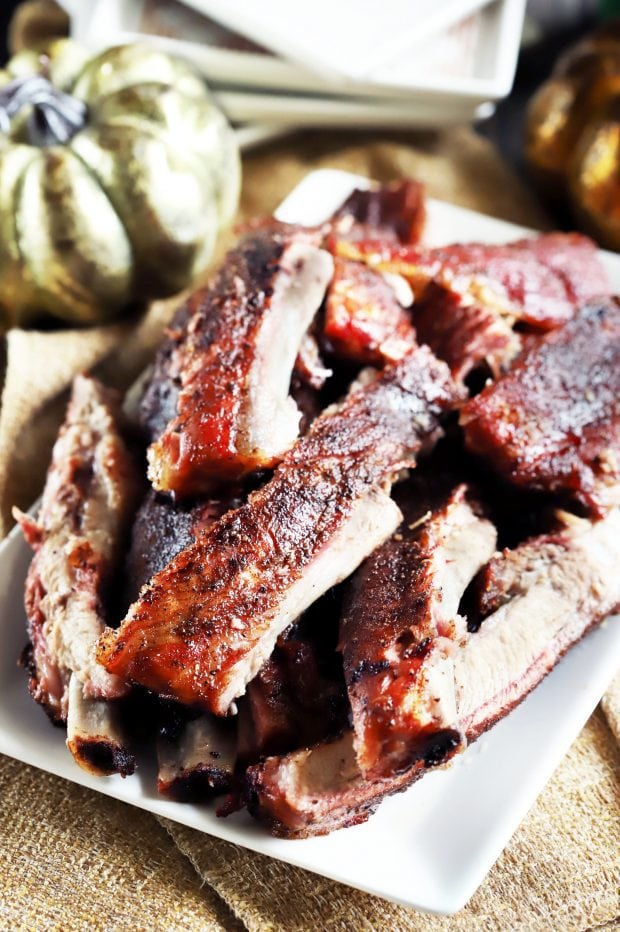 I think I have stumbled on something truly amazing here. I have never used the favorite fall spice mixture in a savory preparation, and it's truly delicious.
The pumpkin spice is added to a dry rub with other savory flavors like black pepper and mustard powder, but the overlying taste as you bite into that juicy rib meat is the pumpkin spice. Paired up with the ribs, the spice taste isn't overwhelming to your palate. Instead it plays over your taste buds, making you feel like you are taking a big meaty bite out of fall.
These ribs cook low and slow for a few hours on the grill. I like to start with cooking them for a couple of hours straight on the grill to get the crust formed on the outside.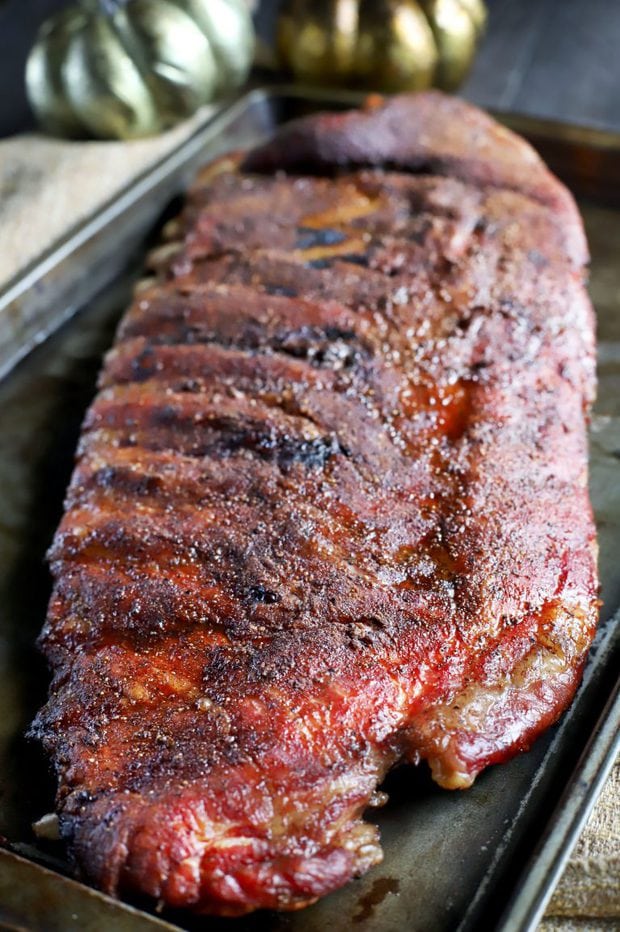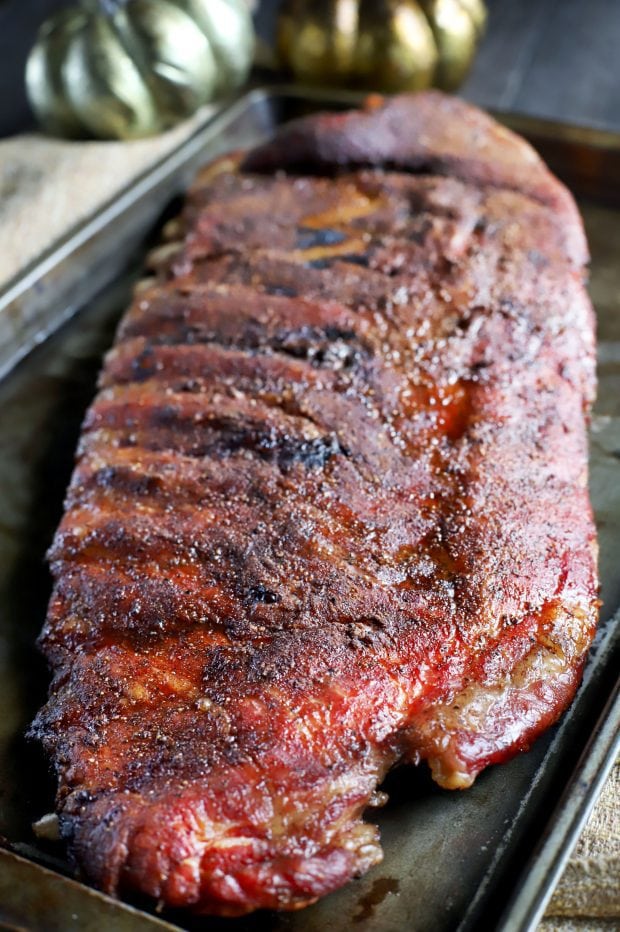 Once you have that crust formed, you wrap the ribs in foil and put them back on the grill for another hour and a half or so until they are cooked through. By wrapping them in the foil, you get an added juiciness to the meat and on the outside of that dry rub crust that you built up earlier.
This makes for ribs that are juicy and tender, while also have a nice spiced crust on the outside that isn't too dry. You honestly won't feel the need to add any sauce to these bad boys. They are finger-licking fantastic without it.
TRUST ME.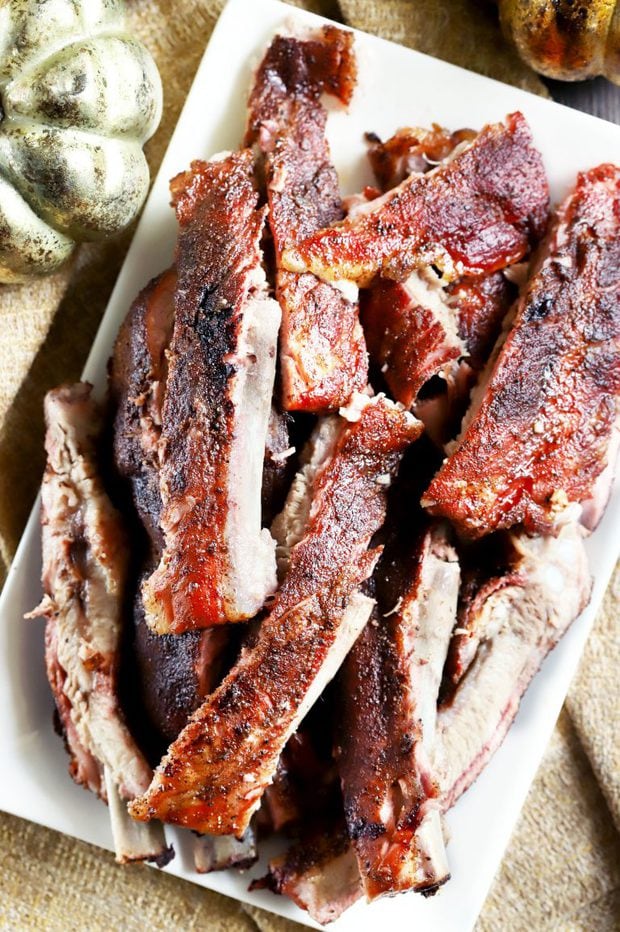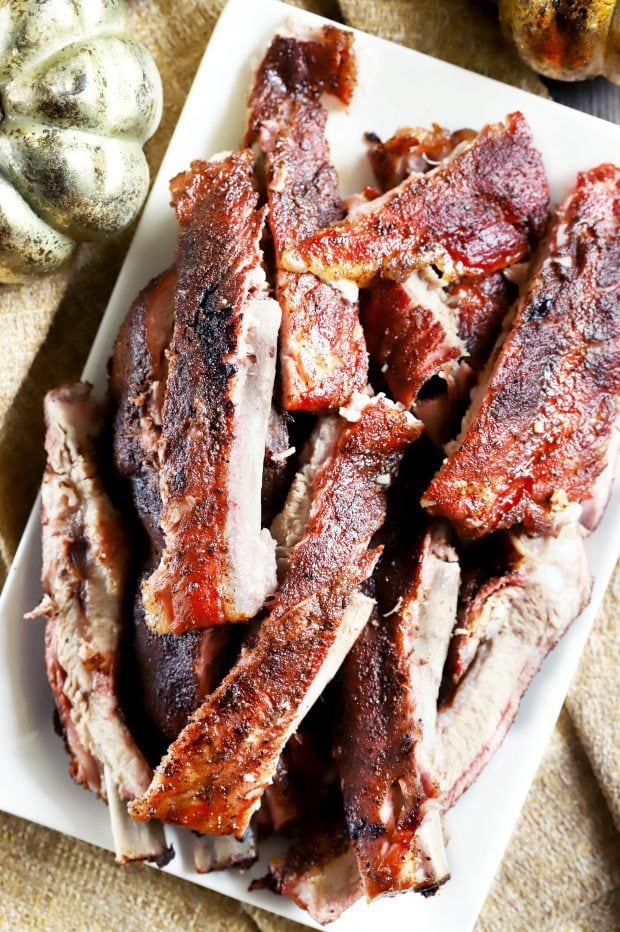 Let's all embrace the savory side of this season's favorite flavor, shall we?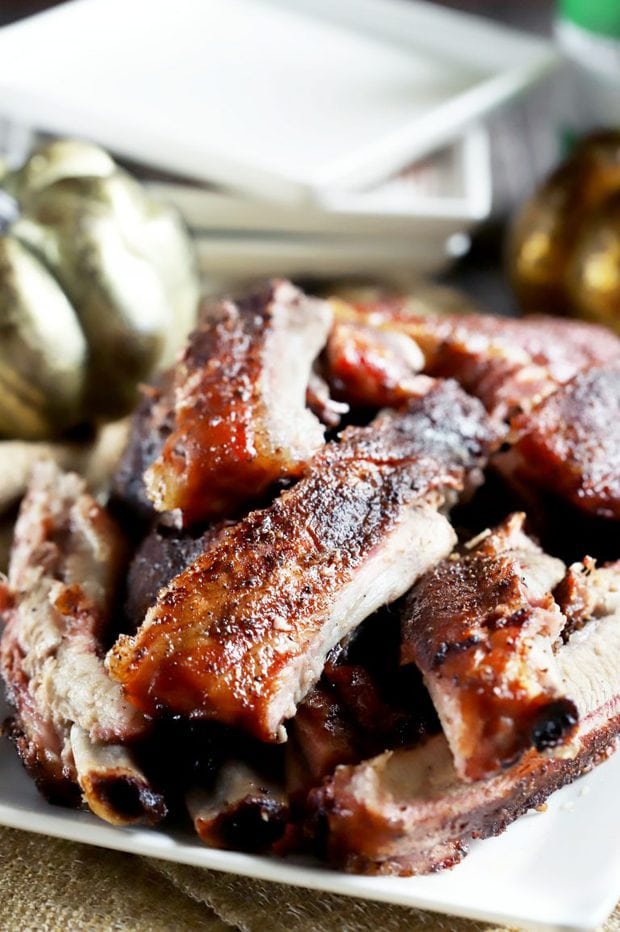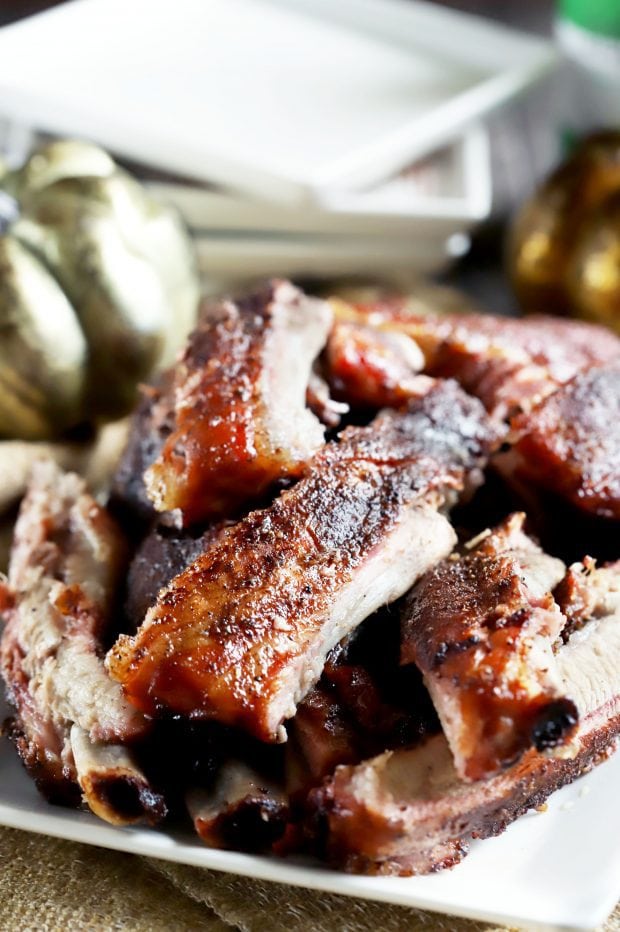 This Recipe's Must Haves
When it comes to making spice mixes like the dry rub featured in this recipe, I rely on a good set of glass prep bowls.
Traeger grill tongs are the ultimate tongs for grilling. They are large and super strong so you don't have to worry about dropping those heavy racks of ribs!
You all know by know that I am a Traeger girl. I seriously can't tout them enough and I am still in love with my Traeger grill. It makes these ribs extra tender and flavorful. I used their pecan pellets for this particular recipe to get some of the light nutty flavor in it, but you could also use their hickory pellets for more of a rich woody flavor!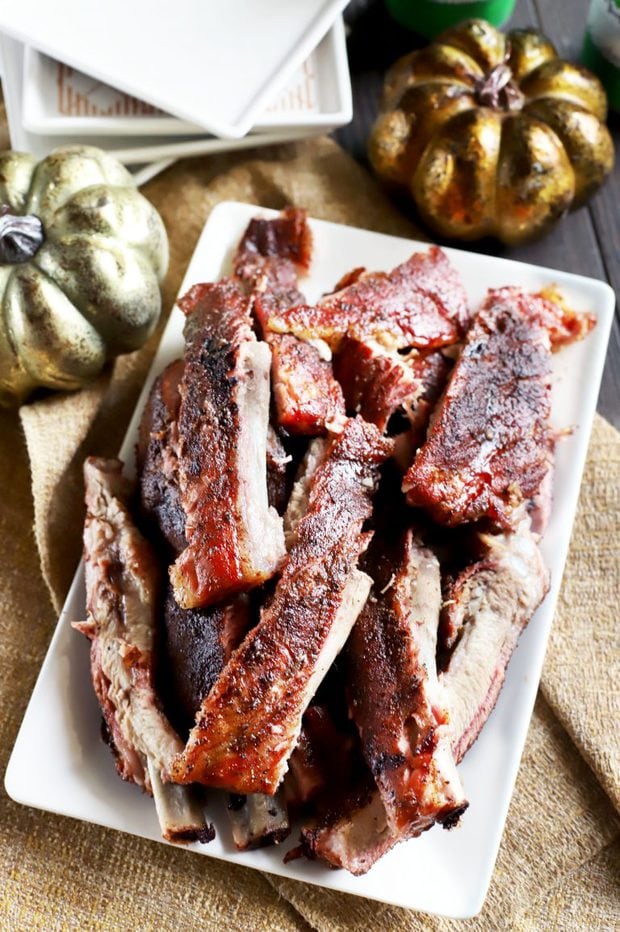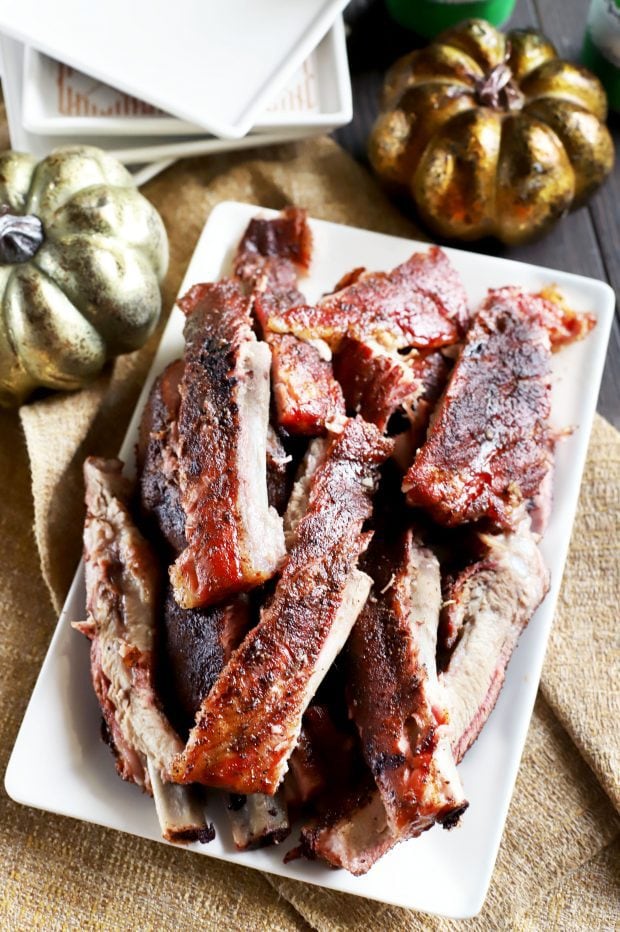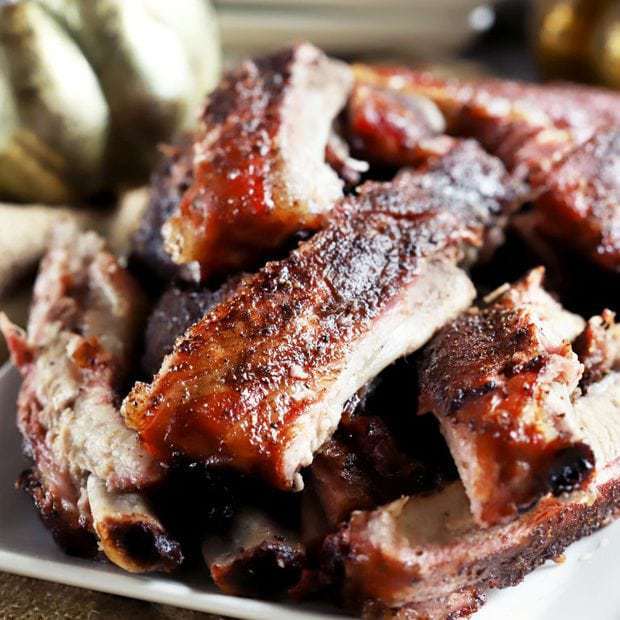 Pumpkin Spice Ribs
Yield:
Makes 2 racks of ribs
Additional Time:
1 hour
30 minutes
Total Time:
3 hours
45 minutes
This is the only rib recipe you need for fall. Savory, warming, and juicy, these ribs are the bomb diggity dog.
Ingredients
2 racks baby back ribs
1 1/2 Tbsp salt
2 Tbsp light brown sugar
2 Tbsp pumpkin pie spice
2 tsp mustard powder
3 tsp garlic powder
1 1/2 tsp onion powder
2 tsp black pepper
Instructions
In a medium bowl, stir to combine salt, brown sugar, pumpkin pie spice, mustard powder, garlic powder, onion powder, and black pepper.
When ready to cook, set grill temperature to 250 degrees F. Preheat with the lid closed for at least 10 minutes.
Rub the ribs generously with the dry rub on all sides.
Place the ribs on the grill and cook for 2 hours. Remove from grill and carefully wrap each rib rack in a layer of foil. Return the ribs to the grill and cook for another 1 1/2 hours.
Remove from grill and let rest 5 to 10 minutes before cutting and serving.