Lemon Raspberry Basil Ice Cream is a tart, sweet and herbaceous treat that'll blow your normal ice cream routine out of the water. If you haven't tried fresh herbs in your desserts, you're seriously missing out!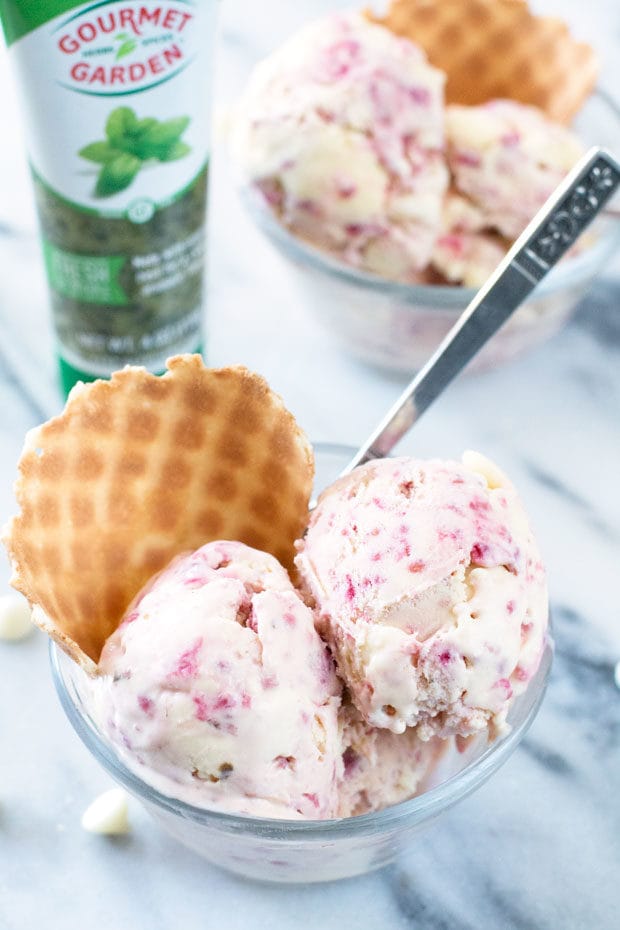 Today is a big, exciting day! My cousin is getting married today! Which also means I have an excuse to leave the office early, dance like a loon, drink one too many glasses of wine, and *hopefully* sleep in for the first time in…. a long time. I know I shouldn't be this excited for a break considering all of the breaks I've taken over the past few weeks – but all the prep work I go through before each break leaves me all wound up.
Plus coming off one amazing weekend into a work week is hardly motivating. I'm pretty darn proud of myself for making it to this point and for actually sharing food with you this week.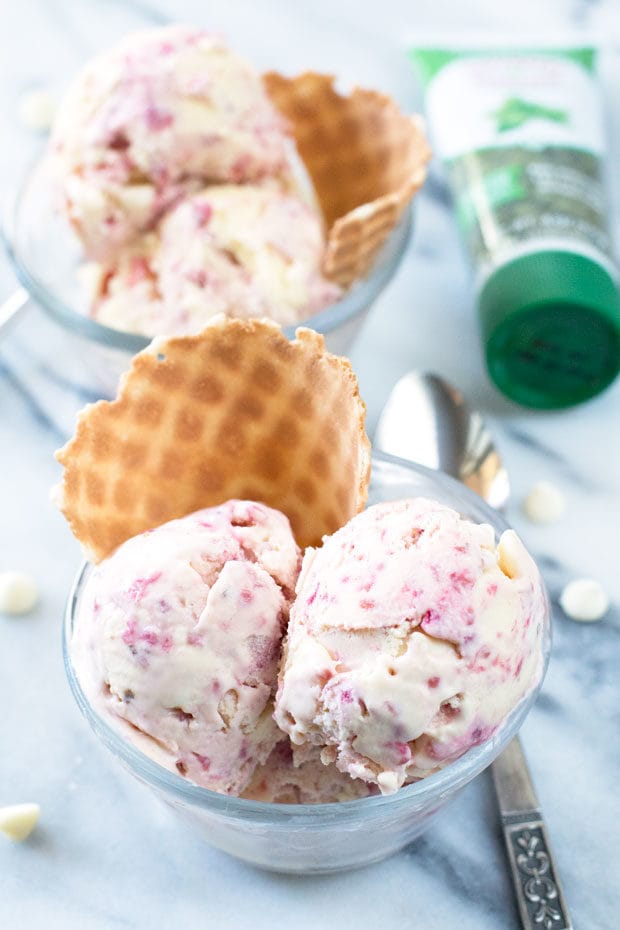 Speaking of sharing food… How incredible does this ice cream look?! Those pretty pink speckles are nothing compared to how ri-DONK-ulous it tastes.
You all know I turn to ice cream when I can't sleep, and with insomnia kicking in hardcore this week, it's been the only thing my body and mind really want to make. Instead of yet another lemon raspberry something (remember these cupcakes?!), I wanted to give it a little something extra.
That something extra just so happens to be basil paste from Gourmet Garden.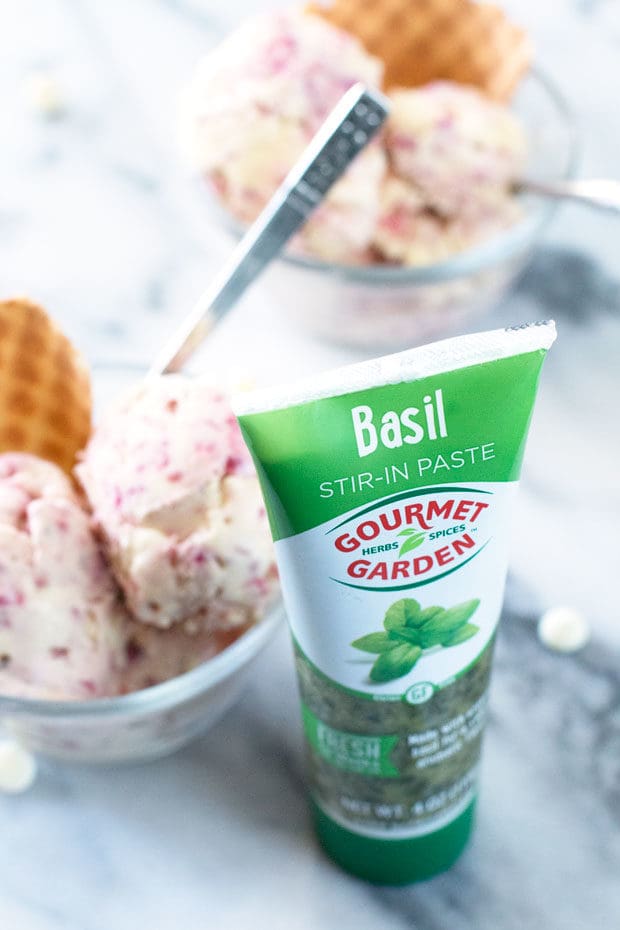 I know, I know, I know. Why are you putting basil in ice cream, Meghan? Are you crazy?
I am just crazy enough to put basil in my ice cream, folks. All of these new ice cream shops popping up around Denver are using fresh herbs and crazy things like miso paste, so I figure if they can, why can't I?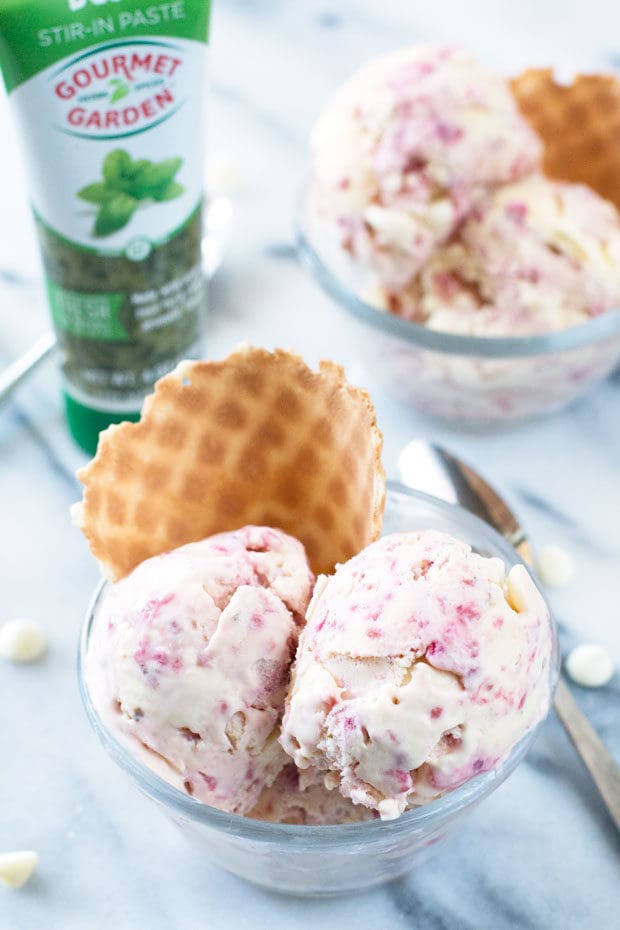 Thus Lemon Raspberry Basil Ice Cream was born!
Instead of just throwing in some fresh basil to infuse the ice cream base, I wanted the basil flavor to pop with the raspberry. So I made a raspberry basil compote with the Gourmet Garden basil paste to swirl in at the last second while the ice cream is churning. The fresh basil paste makes all the difference. Using fresh basil leaves just wouldn't have given it the flavor I wanted without having to use an entire package of basil.
The result? An delicious punch of basil that is totally balanced out by the creamy lemon ice cream and tart raspberries.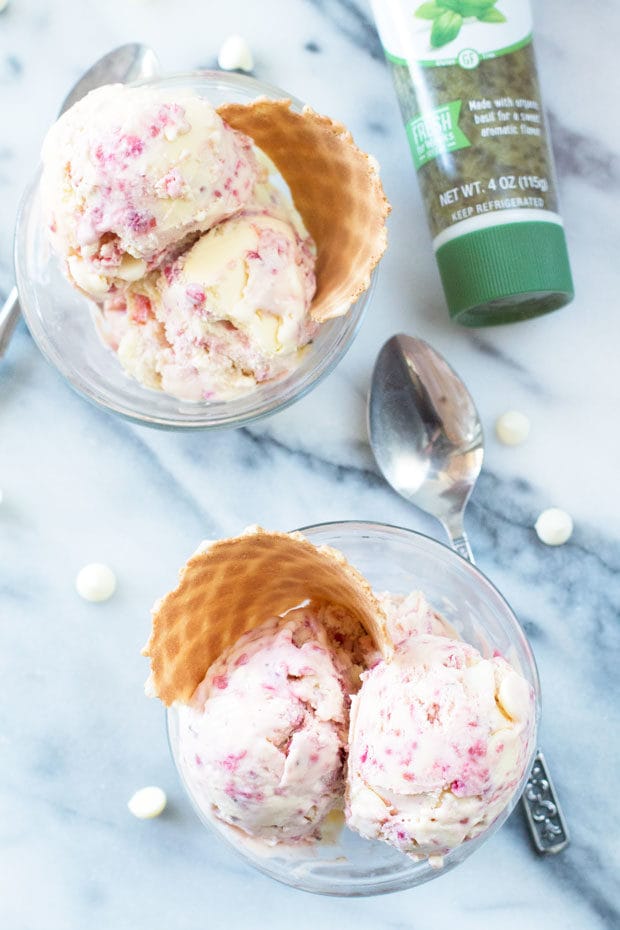 Drooling yet? Grab a spoon and dig into this Lemon Raspberry Basil Ice Cream!
Disclosure: I received free product from Gourmet Garden and was compensated for my time as part of this post. As always, all opinions and recipe are my own. Thanks for supporting the brands that support Cake 'n Knife!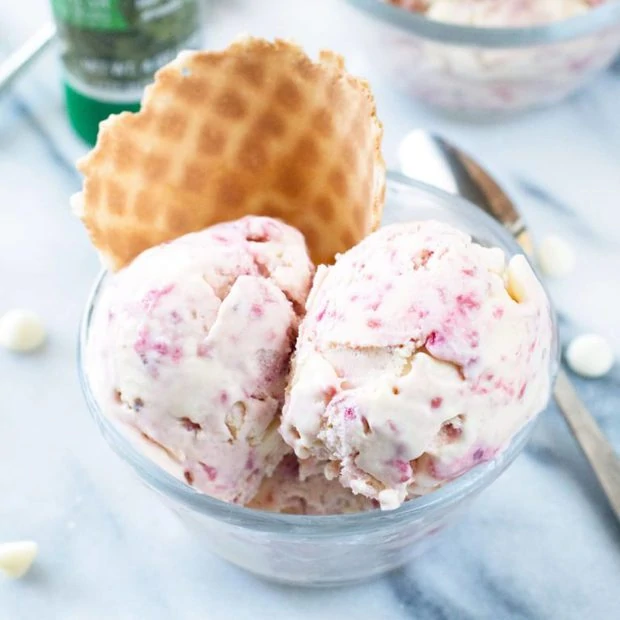 Lemon Raspberry Basil Ice Cream
Total Time:
9 hours
35 minutes
Tart, sweet and herbaceous, you'll be surprised how well basil works in desserts!
Ingredients
Raspberry Basil Compote
1 cup raspberries
2 1/2 Tbsp sugar
1 tsp Gourmet Garden Basil Paste
Lemon Ice Cream
2 cups heavy cream
1 cup whole milk
1/4 cup + 1 Tbsp granulated sugar
Pinch of salt
7 egg yolks
3/4 tsp vanilla extract
1/4 cup + 1 Tbsp lemon juice
1/2 cup white chocolate chips
Instructions
In a small saucepan over medium-high heat, stir together raspberries and sugar. Cook until the raspberries break apart and it becomes a smooth sauce, approximately 4 to 5 minutes. Stir in the Gourmet Garden Basil Paste. Cool completely.
In a medium saucepan, stir together the milk, heavy cream, 1 Tbsp of sugar and pinch of salt. Cook on medium heat until the mixture comes to a boil.
In a medium bowl, whisk together eggs and 1/4 cup sugar. Add approximately 1/2 cup of the hot milk mixture to the egg mixture, whisking as you add it slowly. Continue to add the milk mixture 1/4 cup at a time until it's all been mixed in. Transfer the mixture back to the saucepan.
Cook over medium-low heat, stirring constantly, until the mixture thickens and coats the back of a metal spoon. Remove from heat and stir in vanilla and lemon juice. Add the custard to a large bowl and cover with plastic wrap, making sure the plastic wrap touches the surface of the custard to prevent a film from forming. Chill completely.
Add the custard mixture to your ice cream maker and churn according to the manufacturer's instructions. In the last few moments stir in the compote. Pour into a container and top with white chocolate chips. Chill for a minimum of 6 to 8 hours before serving.