Vanilla Cupcakes with Lemon Curd Filling & Blackberry Buttercream Frosting are a bright, light, and citrusy burst of moist deliciousness. The fluffy cupcakes are filling with lemon curd, then topped with the best buttercream frosting, made with fresh blackberries!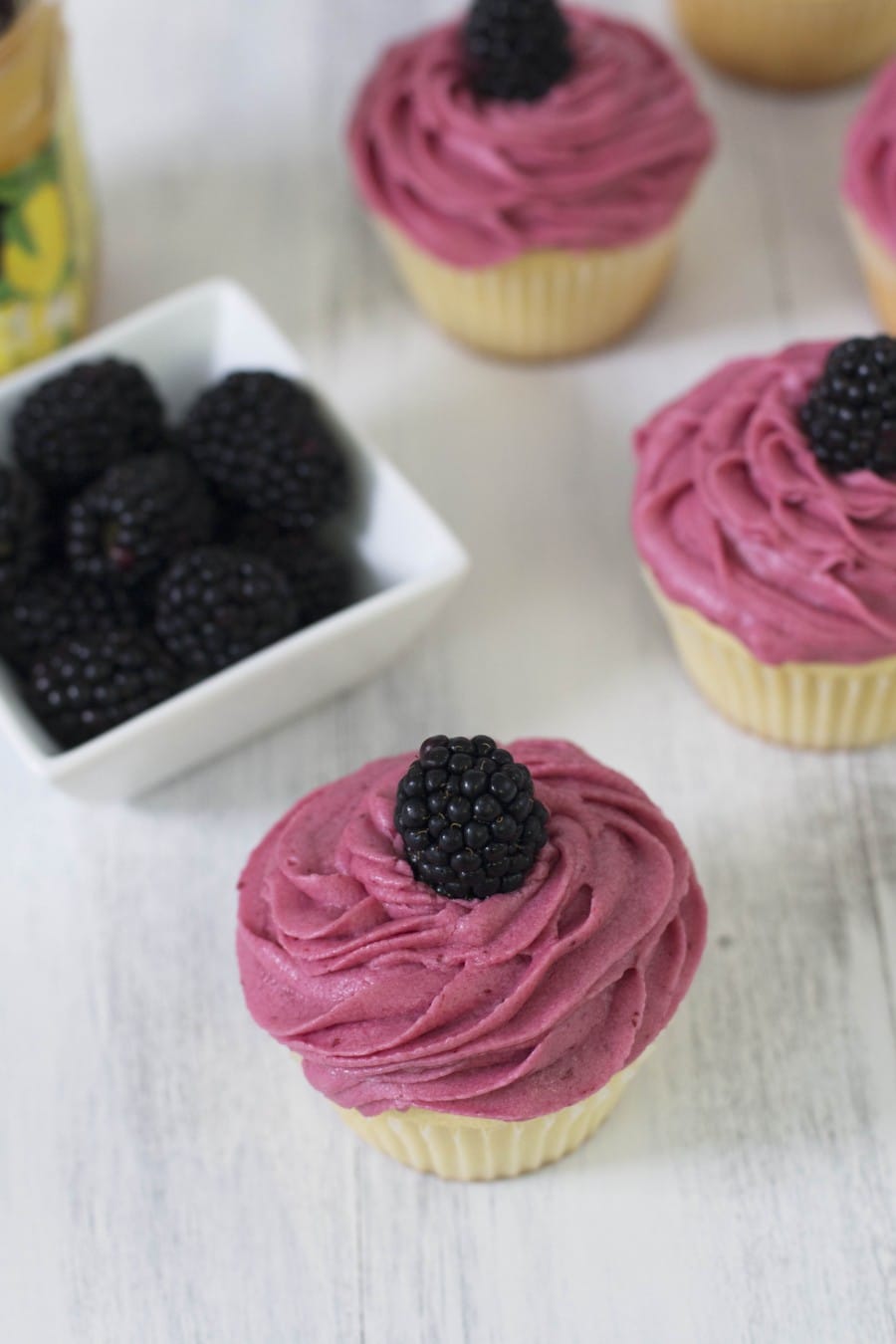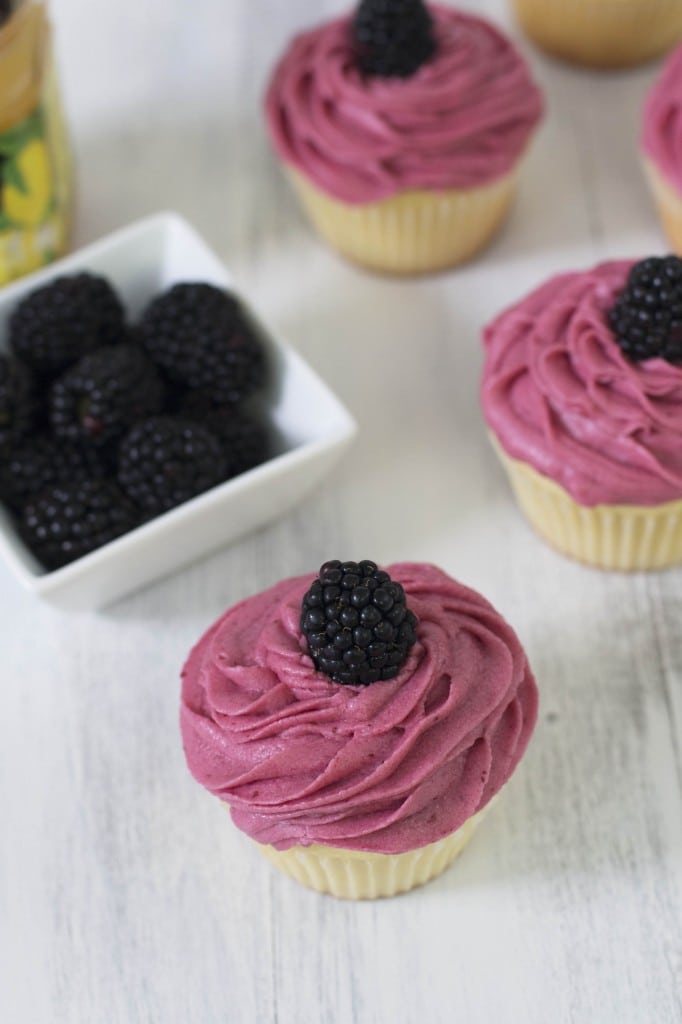 I finally made a cupcake!
Not just ANY cupcakes though…
Vanilla cupcakes with lemon curd and blackberry buttercream frosting!
For the first time in months (since my pumpkin cupcakes last YEAR), I actually made a cupcake!!! I know this cupcake may seem simple on the outside, but on the inside…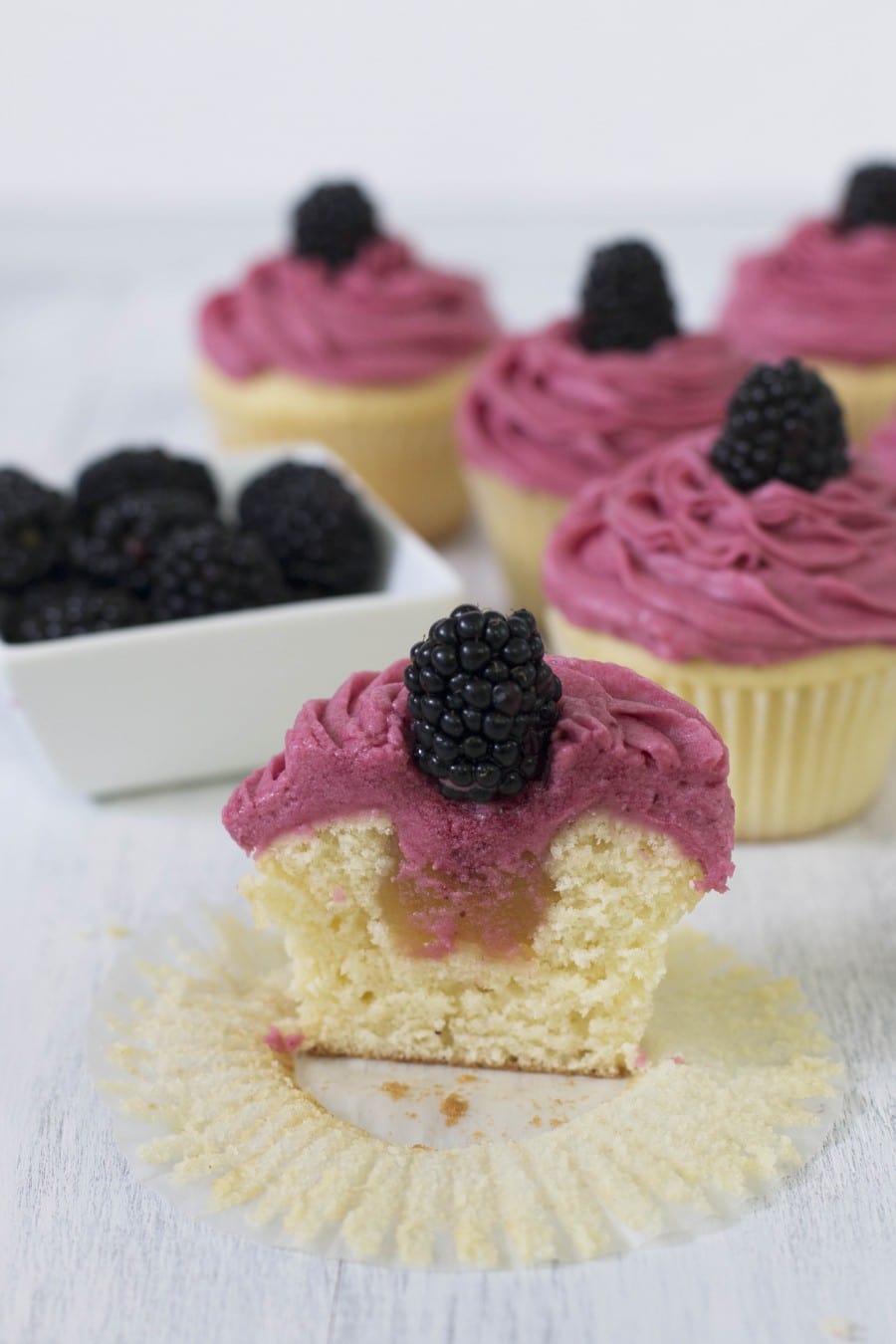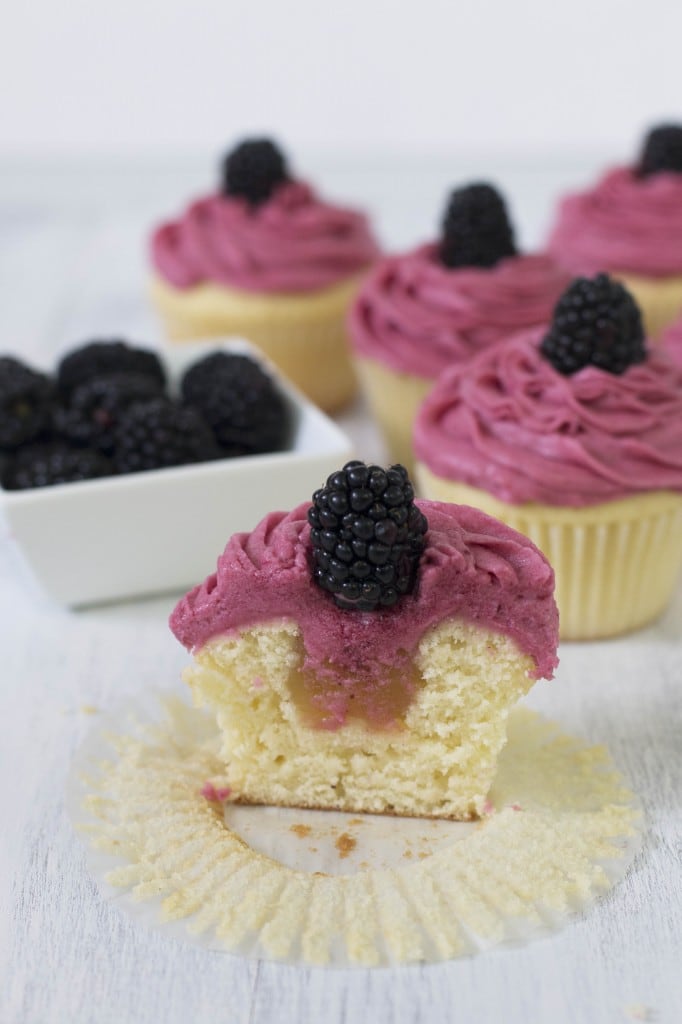 Hey, there's a party in there!
Though I love to bake, my past is littered with cupcake tragedies. I hate to share this deep dark secret with you all, but there was a long period of time where I could not make a cupcake to save my life (thus the lack them showing up on this blog). All the time I would be plagued with sunken centers, overflowing batter, density issues, and worst of all, atrocious decorating attempts (not to say that my piping skills have improved that drastically…).
When anyone would mention the possibility of me making a cupcake, it would result in my "not hearing them" or a dozen burnt or underdone cupcakes…
Not a pretty sight.
However I made a promise to myself that I would try again when summer rolled around. Boy am I glad I did! Destiny intervened and these cupcakes came out of the oven just like I wanted them to. It was just the small miracle I needed from my oven and the universe.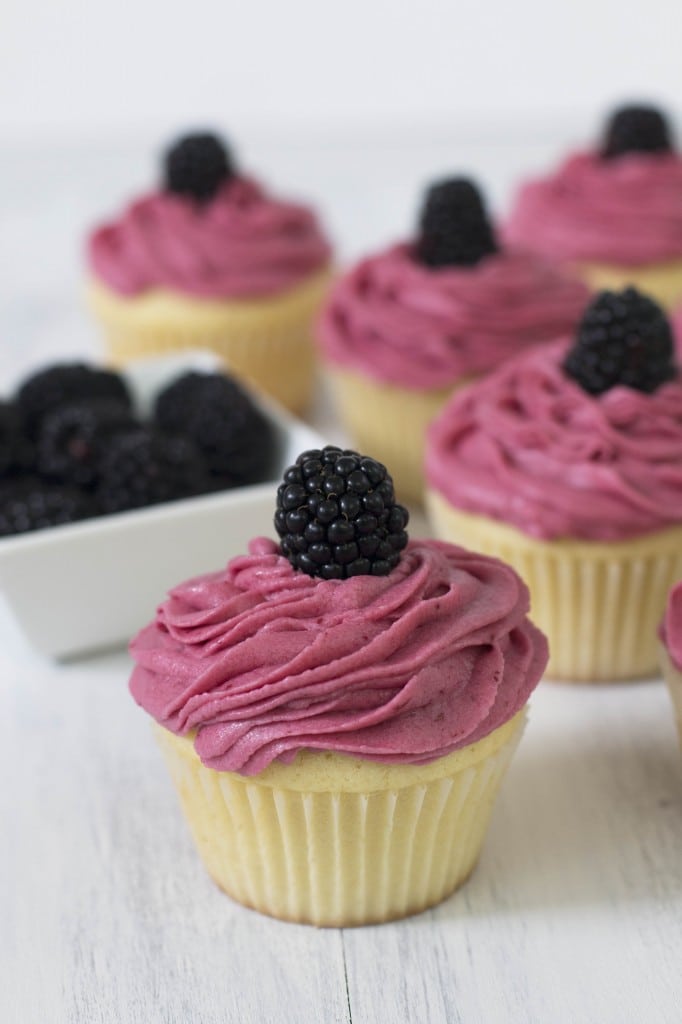 Biting into one of these is like biting into a ball of fruit-filled sunshine. The vanilla cupcakes perfectly wrap themselves around a tangy lemon curd filling and the pillow-like blackberry buttercream frosting is (quite literally) the icing on the cake.
If someone in your life needs a little sunshine (and hey, who doesn't?), these cupcakes will put a smile on anyone's face and stomach!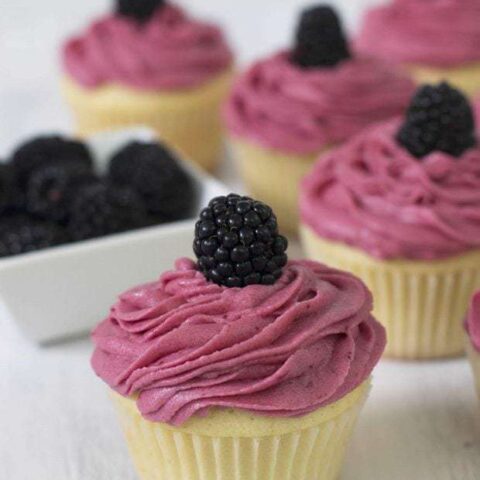 Vanilla Cupcakes with Lemon Curd Filling & Blackberry Buttercream Frosting
Additional Time:
30 minutes
Total Time:
1 hour
10 minutes
Fresh and light, these lemon and berry cupcakes will put a smile on anyone's face!
Ingredients
Cupcakes
3 cups sifted all-purpose flour
1 Tbsp baking powder
1 tsp baking soda
1/2 tsp salt
1 cup (2 sticks) unsalted butter, room temperature
2 cups sugar
4 eggs
1 1/4 cups buttermilk
1 1/2 tsp vanilla extract
1 10oz jar lemon curd
Frosting
1/2 cup blackberries, pureed and strained
1 cup (2 sticks) unsalted butter
4 cups confectioner's sugar
1/4 tsp salt
Additional blackberries for garnish
Instructions
Preheat oven to 350 degrees. Arrange oven racks in the center of the oven. Grease two 12-cupcake pans with cooking spray or line with cupcake liners.
In a large bowl, sift the flour, baking powder, baking soda, and salt together. Set aside.
In the bowl of an electric stand mixer, using the paddle attachment, beat butter on medium speed with the sugar until it forms a softened paste. Add the eggs in one at a time, beating after each until incorporated. Stop once or twice between adding the eggs to scrape down the sides of the bowl.
Set the mixer to a low speed and alternate between adding the flour mixture and the buttermilk, a little at a time. Once fully incorporated, beat in the vanilla.
Divide the batter evenly between the cupcake pans, filling each cupcake mold three-quarters full. Bake in the oven for 20 to 25 minutes or until a cake tester comes out clean. Transfer the pans to wire racks and cool for at least 15 to 20 minutes, before turning out the cupcakes to cool completely.
While the cupcakes cool, make the blackberry buttercream frosting. Add two sticks of butter to a large bowl and beat with an electric mixer on high for about 1 to 2 minutes. Reduce speed to low and slowly add the confectioner's sugar, beating until combined. Add the blackberry puree and salt and increase speed to medium. Beat until smooth and fluffy. Set in the refrigerator until you are ready to frost the cupcakes.
Using a cupcake corer (or a small pairing knife), remove the center of each cupcake. The hole you create should be about a 1/2 inch to 3/4 inch deep. Fill each cupcake with approximately 1 to 2 tsp of lemon curd.
Frost cupcakes as desired and garnish with blackberry on top.
Recommended Products
As an Amazon Associate and member of other affiliate programs, I earn from qualifying purchases.