I just LOVE all this color, don't you??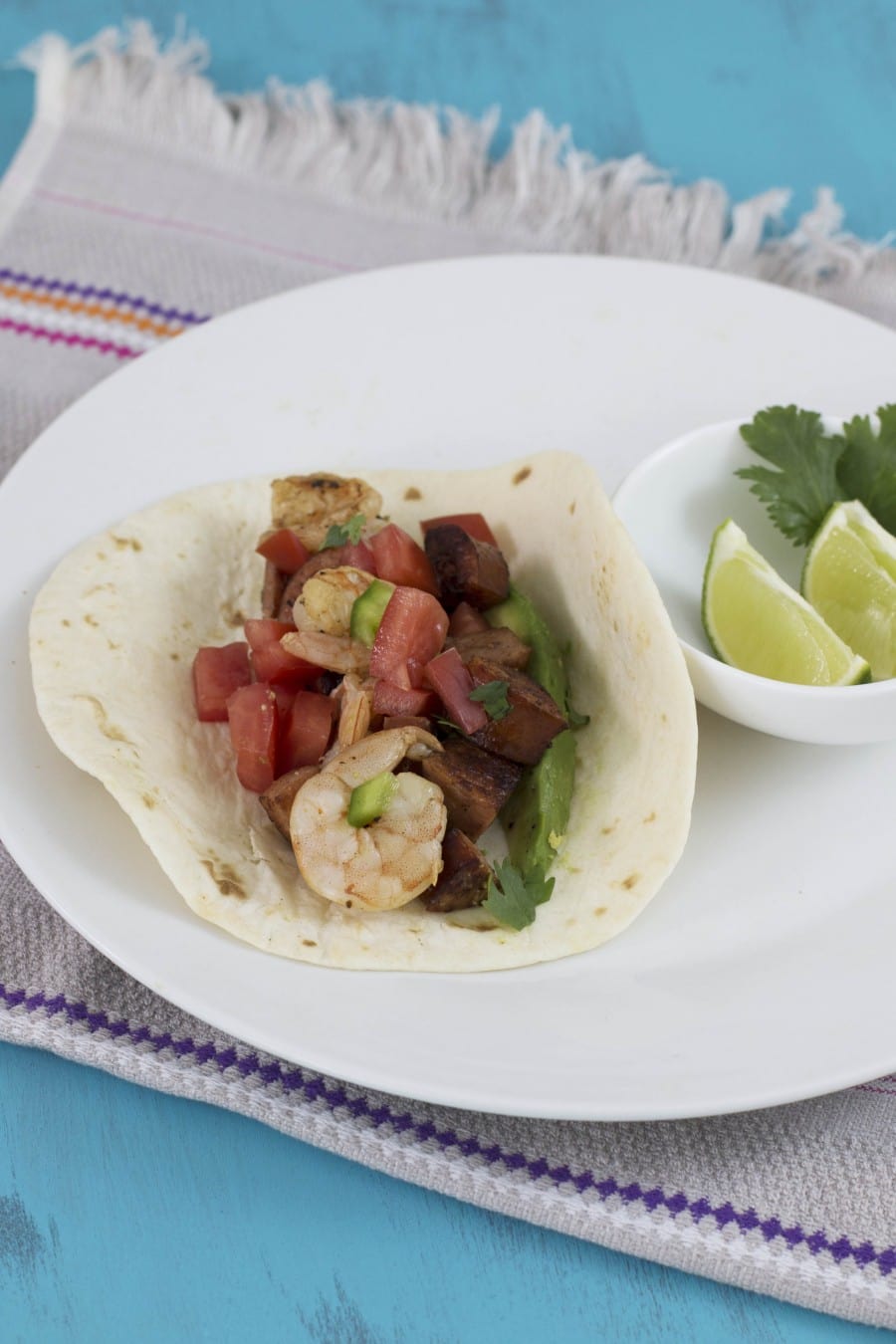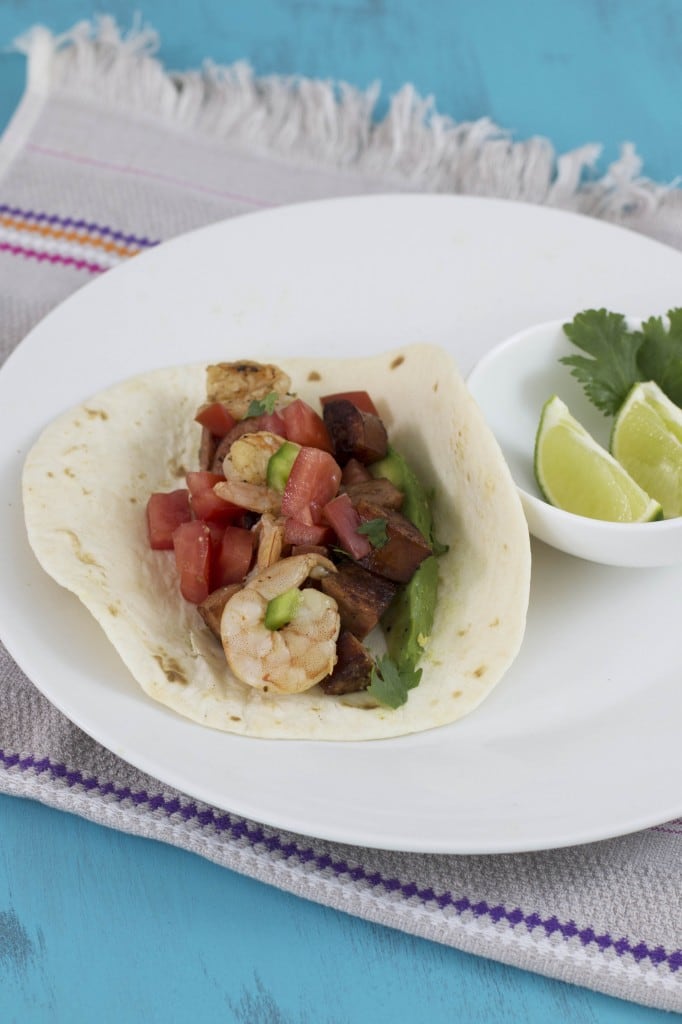 It's such a party on the plate, you can barely bring yourself to sink your teeth into it because it's so gorgeous. Then you take a bite and you can't understand why you ever thought you would be able to just sit and stare at the simple beauty of it.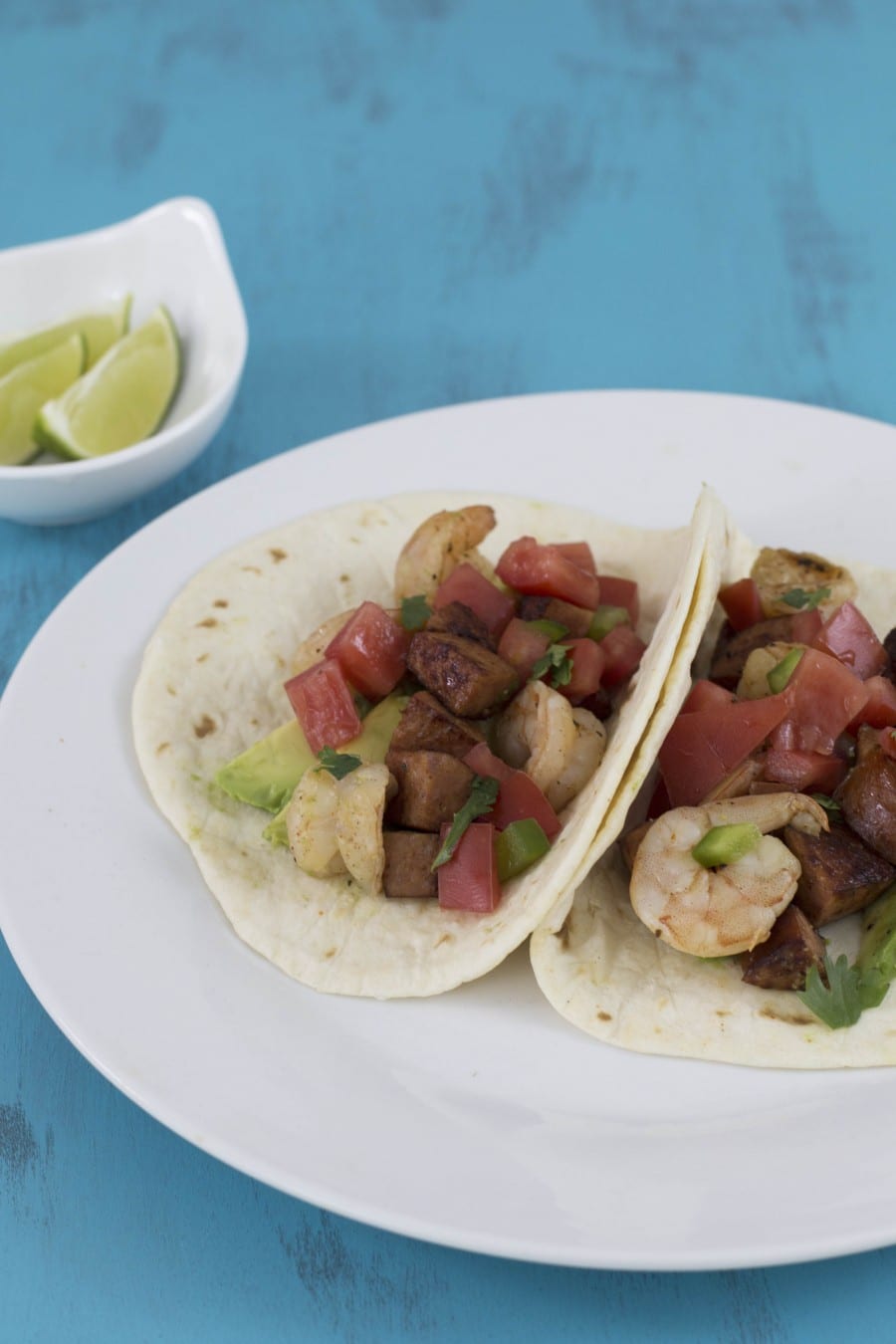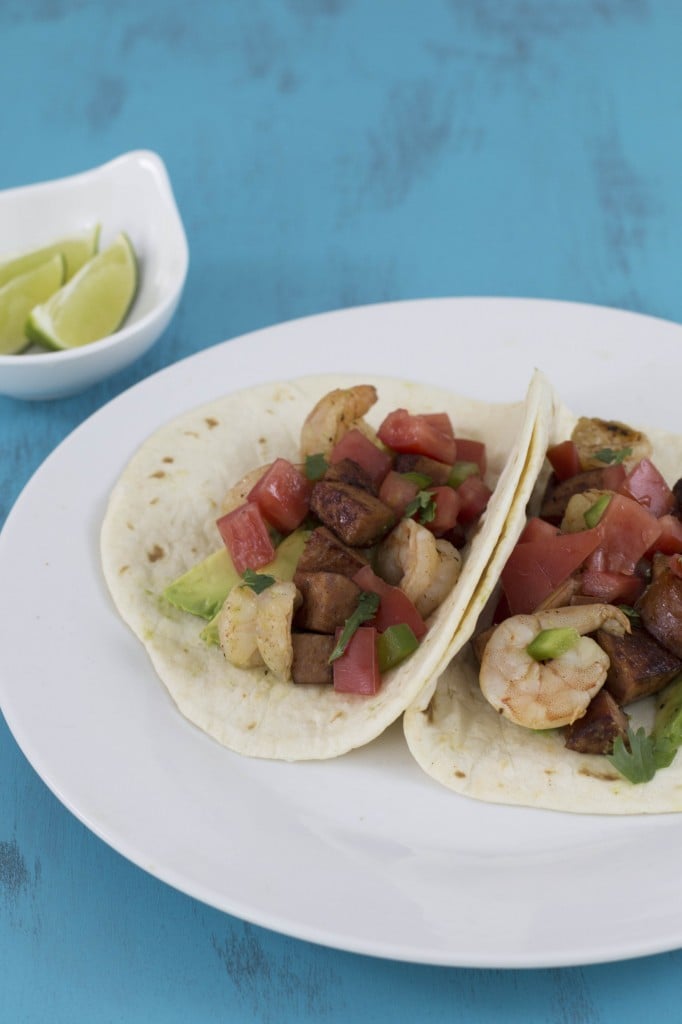 Speaking of colorful, I think I might be going through some sort of life transition because I am embracing a lot more color in my life (you know, outside of just my food). Generally I am the girl in black or other neutral colors, I would drive a neutral colored car, plain nail polish (or none at all), you get the idea. But this year, this summer, I am somehow changed. I am embracing neon pink nail polish, I am now driving around in a shiny red car, I am actually wearing bright pink (yea that's a new one). I am somewhat suspicious that this is some sort of crisis of slowly approaching age 30 and I am starting to revert to thing that I loved as a child….
Or maybe I am finally giving into the rebirth of 80s and neon that's been happening recently…
Don't worry, I won't be sporting the side ponytail and leg warmers. Though don't dare me to, because then I will have to and will ultimately fall in love with it.
But seriously, tacos. These tacos.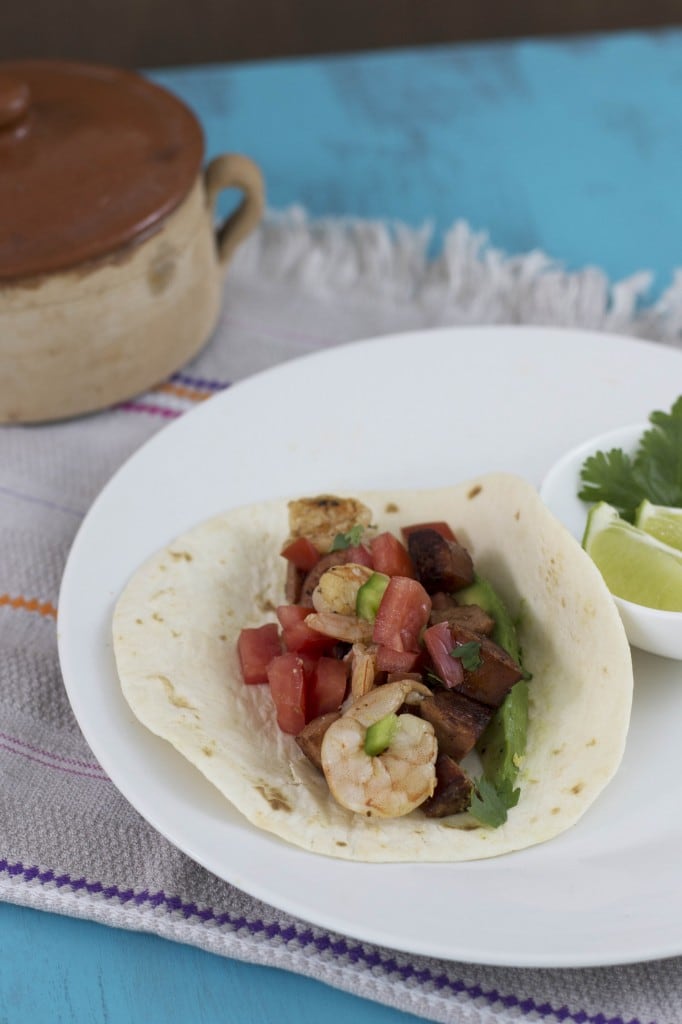 Can I just tell you how much I love, love, love the combination of shrimp and Andouille sausage? The light, plump shrimp and the spicy, smoky sausage are a meaty-seafood match made in heaven. Pile on all the veggies and lime juice you want to, because the shrimp and sausage will sing right through with every bite.
Delish times infinity (and beyond!)!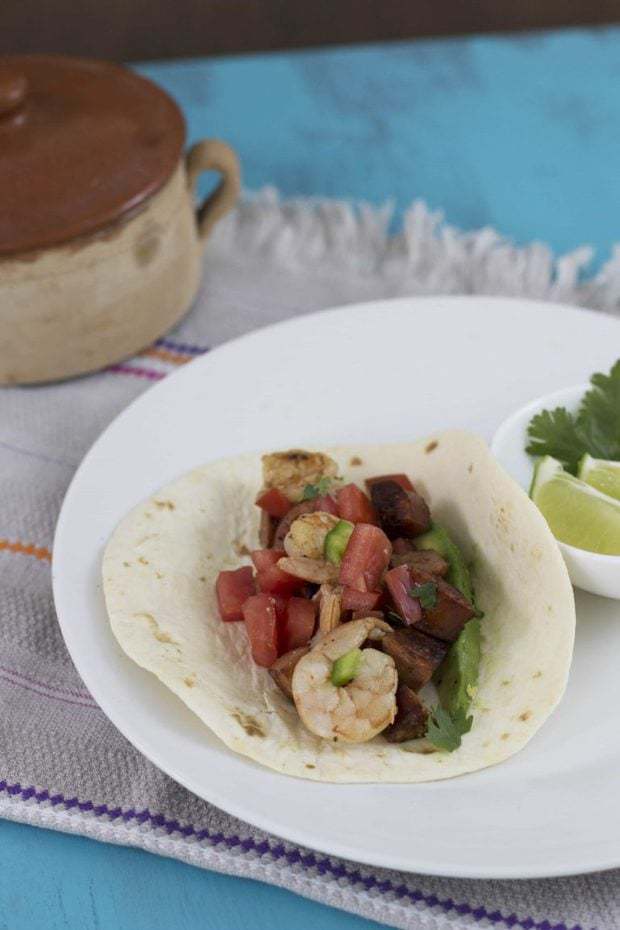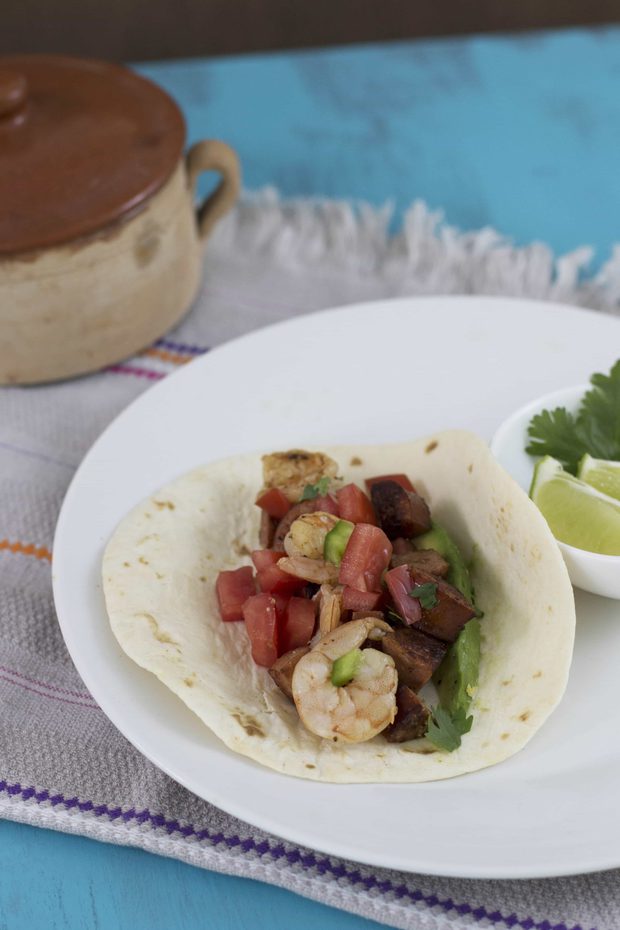 Shrimp & Andouille Sausage Summer Tacos
Additional Time:
5 minutes
The perfect combination of seafood and meat come together in these light and fresh summer tacos.
Ingredients
3/4 lb large shrimp, peeled and deveined
1/2 tsp salt
1/4 tsp cayenne pepper
2 large andouille sausages
6 small flour tortillas
1 large tomato, chopped
1 avocado, sliced into thin strips
1/2 jalapeno, seeded and diced
1 lime, cut into wedges
Fresh cilantro for garnish
Instructions
In a small bowl, combine the shrimp, salt and cayenne pepper. Set aside.
Heat a medium skillet over medium heat. Chop the andouille sausages into chunks that are roughly the same size as the large shrimp. Add the sausage to the skillet and cook until brown, about 4 to 5 minutes. Add the seasoned shrimp to the skillet with the sausage and cook until the shrimp is pink and plump, about 2 minutes. Remove from heat to a medium bowl.
Warm the small tortillas in the microwave between two damp paper towels for about 20 to 30 seconds until soft and pliable. Divide the tortillas between two large plates.
Now it's time to build your tacos. Place a couple slices of avocado in each tortilla. Add shrimp and sausage to each tortilla, dividing evenly between the tortillas. Top each taco with tomato, jalapeno, and a squeeze of fresh lime juice. Garnish with cilantro and devour immediately.